Cute Couple Poses That Make Our Hearts Go Awwww!
Awkward, embarrassing, and funny are all things couples think a pre-wedding shoot is. But once they decide to go for it, they create memories that last a lifetime. Let's look at some cute couple poses that are every bride's and groom's favourite!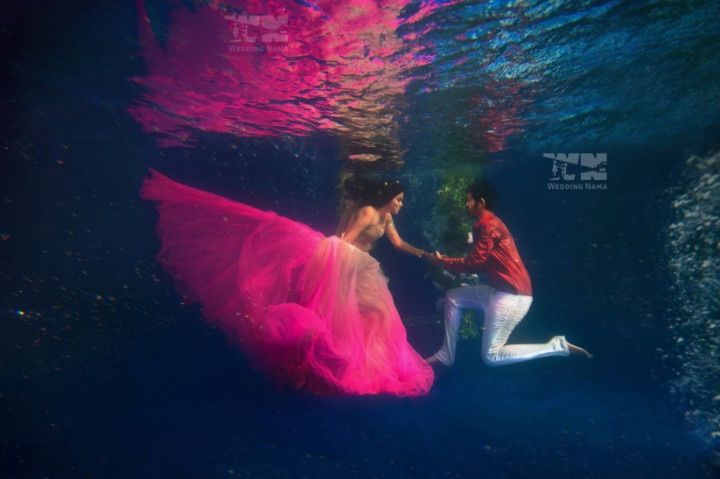 While there are infinite ways of how a pre-wedding shoot can be done, couples usually like to go for something out of the box. Some brides and grooms like to attempt for things that are overly dramatic and unlike them in real life (where the Bollywood influence plays a role). On the other hand, others like to use their own lifestyle and personality to create something that is unique to their own story. We love all pre-wedding shoot ideas, either this way or that because we believe that it is the moments they create that matter more than the backdrop and props. Our hearts melt every time we see pre-wedding shoot pictures, sometimes not even knowing the couple personally. So what are these cute couple poses that make everyone go awww. Let's list them down and help you choose your favourites from the lot.
1. Into each other's eyes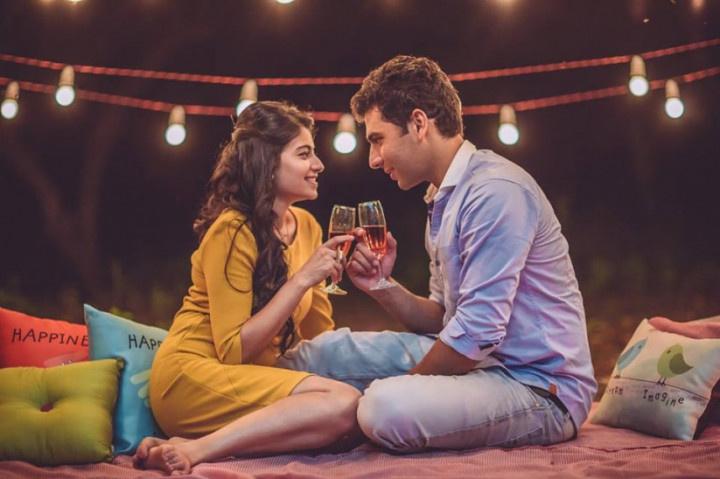 As cliché as this might sound, there is no perfect picture than one with you and your partner looking into each other's eyes without caring about what's happening around you. Some of the cute couple poses require much more effort than this one. But, any romantic backdrop with wine in your hand and love in your eyes is just about perfect to get this one right.
2. In the Middle of a Conversation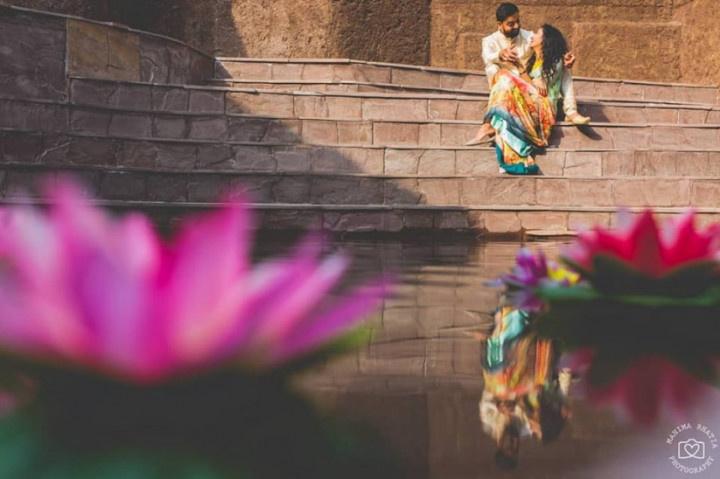 Candid shots are the new thing and most couples no longer enjoy the old typical poses. While there are gazillion candid ideas for cute couple poses, our favourite is the one that seems to be clicked in the middle of an interesting conversation. Well yes, this one must be planned too just like all the other candid shots. The spark between two people is very easy to be captured when they are talking to each other. So all you need is a great backdrop like somewhere near the lake where your reflection in the water can add some more drama to your cuteness.
3. When he picks you up and twirls you around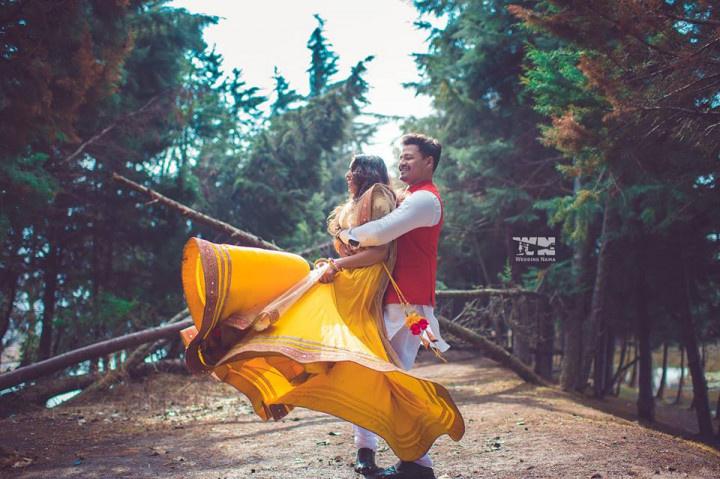 Pre-wedding photo shoots are all about over the top poses and not so subtle moves. This one although marks itself somewhere in between dramatic and subtle. This cute couple pose is all about the comfort that you share with your partner. One of the easiest to crack, this one does not really require a background or props. All you have to do is be in the moment and enjoy it. While the lifting and twirling might seem little technical, it honestly is about the act of happily playing along and being comfortable with each other than cracking the angle or the pose.
4. A Peck on the Cheek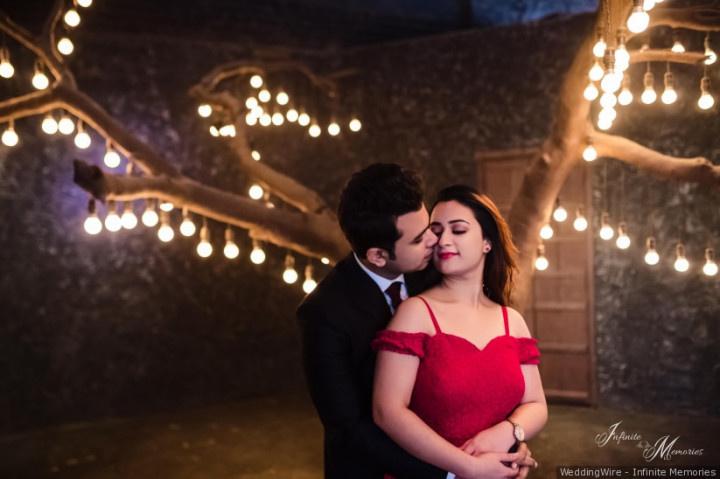 A peck on the cheek means care, it means you are adored, it means you were missed, it means you are wanted; it means a lot of things. For your pre-wedding photo shoot, it means all these things and more. While people say that kiss of love is the one on the lips, there is something about a peck on the cheek that expresses so much more than just love. This is one of the most romantic cute couple poses that just needs a well-lit backdrop with, say candles or lights and for you and your partner to be in the moment and feel the emotion.
5. The Proposal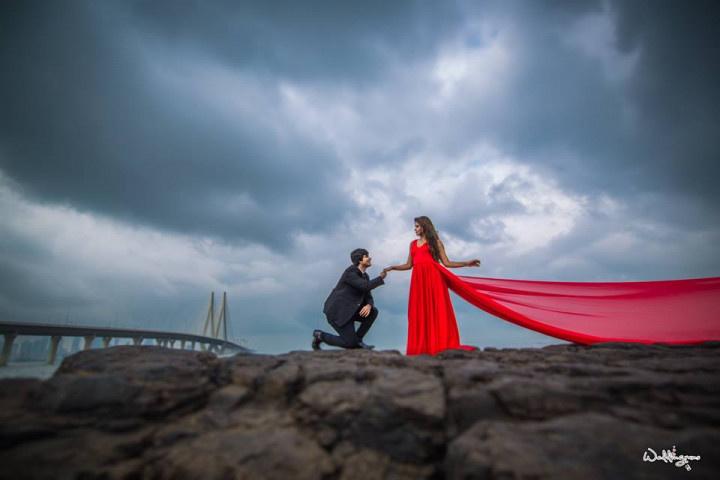 Every woman, however romantic or not, needs her man to at least once go down on his knees and ask her the real question. For most people, this is that golden moment that only happens once, but we'd say you must replay it for your pre-wedding shoot. No album is complete without the cute couple poses that tell the world how it all began.
While some couples like to recreate this moment very authentically and how it actually happened in real life, some like to make it a little extra the second time around. For the grooms who haven't really gone down on their knees and popped the question, make sure you choose the most romantic backdrop (preferably in open, under the sky)and make it up to your bride by doing it with much more charm and romance.
6. Being Silly with Your Partner-In-Crime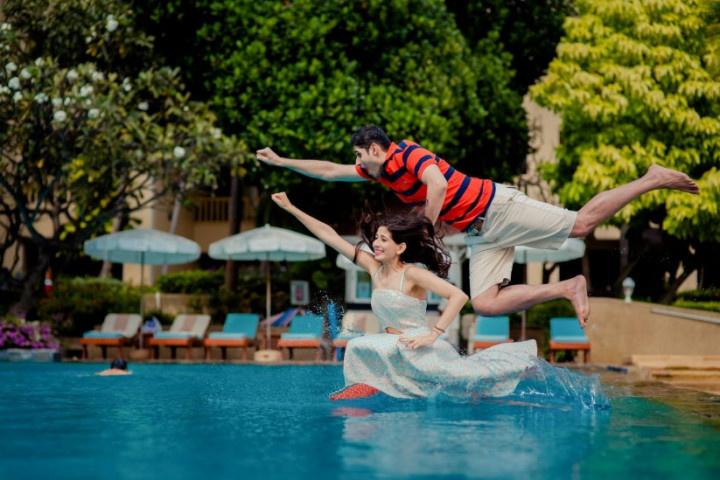 Enough of all the romantic cute couple poses, it is time you go for a fun pose that is sure to make every other bride and groom jealous. While most couples think it is tiring to go through the entire pre-wedding shoot with the change of costumes and venue, we believe that it is important that you have some fun while doing it. That's why enough of all the loving and kissing, let's talk silly. This particular pose depends completely on how crazy you and your partner can be. The sky is the limit when it comes to having fun and swimming pools are one of the craziest backdrops to pull this one off. The key is to let loose and not care how you must be looking.
7. Role Reversal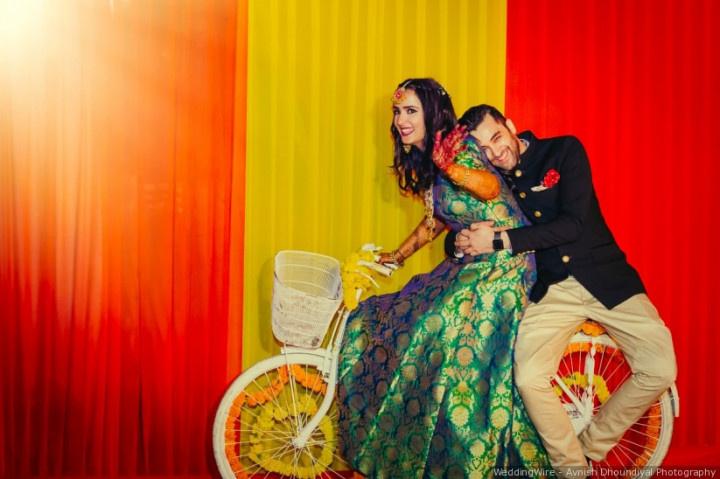 Most pre-wedding photo shoots have a typical groom riding the bike and bride sitting behind him sort of a picture. The fun of getting a pre-wedding shoot is to go for something eccentric and unique. One of the quirky and cute couple poses that we loved in recent times is one where the bride and groom chose to reverse the roles that are typically decided by society. The bride was seen riding the cycle while the groom sat behind hugging her adorable. We'd love for all brides and grooms to give the role reversal pose a try. You can choose to adopt the concept with any other prop that fits in your photo shoot. It is a fresh concept and we totally love it.
8. For the Love of Desserts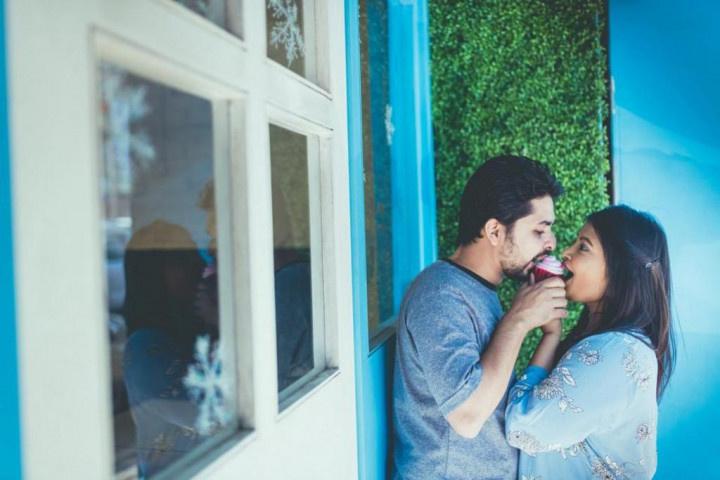 The best way to decide the theme for your pre-wedding shoot is to go by what really connected you and your partner from the very beginning. We know that it is food for a lot of couples but desserts for even more of them. This cute couple pose shouts out loud that there is no joy greater than the joy of sharing your cupcakes. (just kidding ;)) For whatever it's worth, you must do it cordially once for the camera before you start fighting over who gets the bigger chunk. If you're not a fan of cupcakes, this shot works with ice-creams, cakes, pancakes and waffles too.
9. Lying on Grass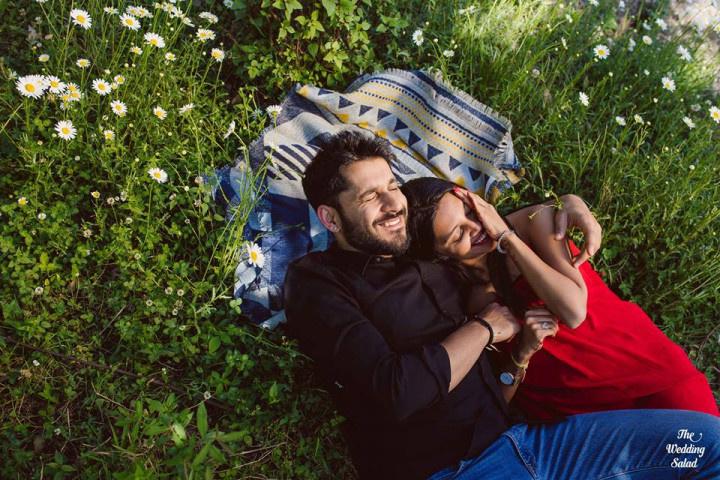 Sometimes we try too hard to create something that is too simple. The same holds true for couples trying too hard to create a spark with their cute couple poses. It is sometimes just as simple as lying on the grass with your partner and just staying true to the moment. This one is undoubtedly the filmiest shot of the lot but it works too. All you need for this shot is a garden as lying on grass is itself romantic enough to create an electrifying moment on camera.
While most couples think it is easier said than done, we assure you that this cute couple poses really don't need you to overwork or over stress yourself. We've tried to put together the simplest and yet the cutest must try poses that are sure to sort you pre-wedding photo shoot album.
Liked our ideas? Tell us in comments which according to you are the cutest couple poses that you have come across.