20 Indian Wedding Images That Left Us Wowed & Made Us Believe in Love at First Sight
Once in a while, you come across awe-inspiring Indian wedding images that are absolutely stunning. Sometimes it's the emotions, other times it may be the décor or the perfect lighting. Here are some images that truly left us speechless.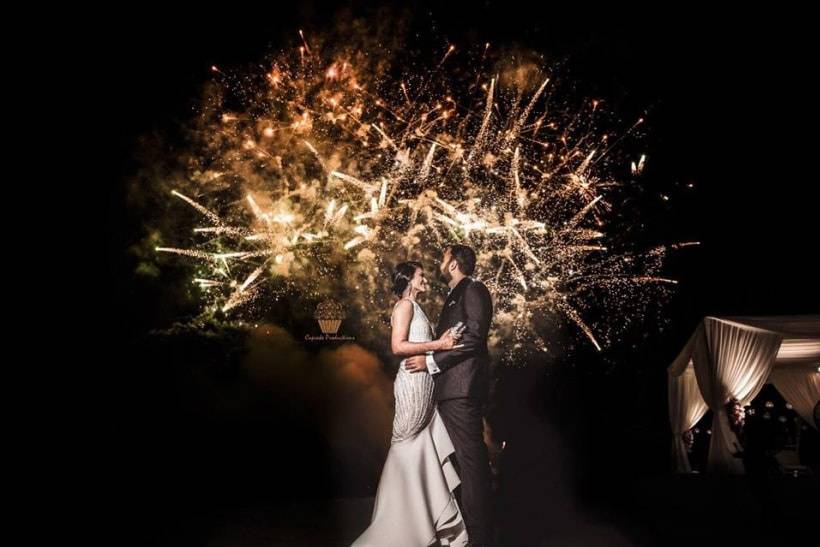 When looking for stunning Indian wedding images, it was surprising to see how the tiniest of details can make all the difference. Pictures of happy couples, rituals being performed, exquisite pre and post wedding shoots and excited wedding guests dancing with joy - everything adds its own charm, beauty and meaning to wedding pictures.
But, there are some pictures that have it all; the emotions are perfect, it looks great, the backdrop, colours, timing and every element that goes into a picture perfect moment come together to produce something outstanding. This is a list of exactly that! Also, nailing your first few pictures as a couple is important because they become a living proof of a beautiful life that you are about to embark upon! So, pay attention to each of these Indian wedding images and add these oh, so cute poses to your treasure trove of memories!
We have curated 20 Indian wedding images that have it all and are perfect in every true sense. Feast your eyes, take inspiration and see for yourself what makes these Indian wedding images breathtakingly awesome. so, start checking out these Indian wedding images now!
1. All Hearts - Because It Begins From the Matter of the Heart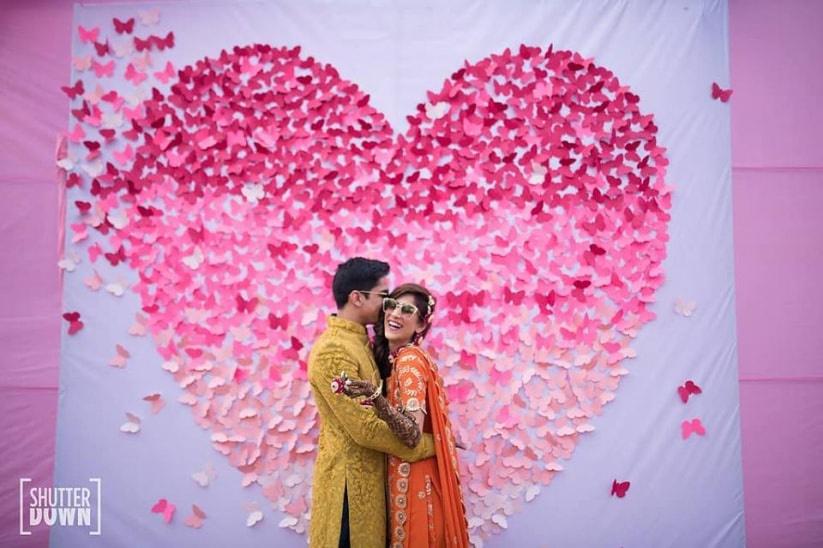 The DIY origami heart-shaped backdrop and of course, the happy-in-love couple who definitely has butterflies fluttering in their stomach. The backdrop of an image matter, as they set the tone and the mood of any emotion right! A few pretty looking hearts and you will feel an outflow of emotions you never knew existed!
2. Whimsical Setting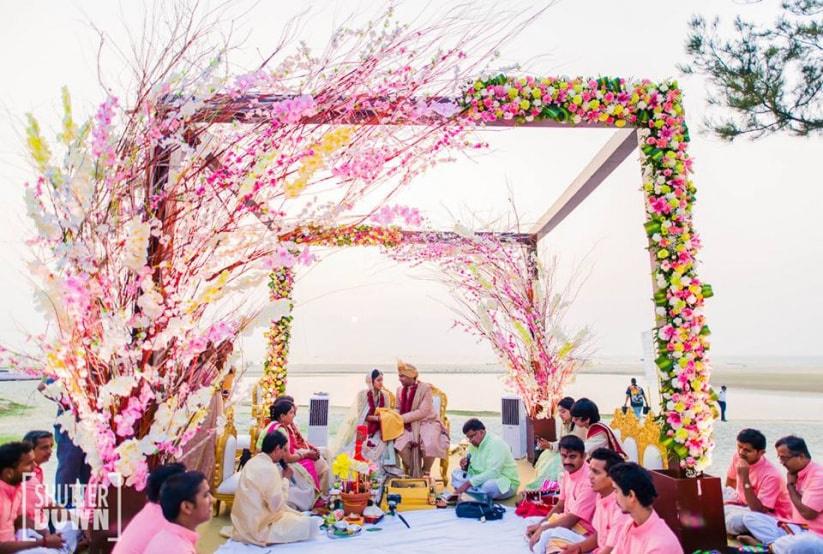 The brilliant and vibrant floral Mandap decor, set against the natural beauty of a lake. A whimsical setting and a partner in crime in all we really need in life, right? We know we do!
3. Brighter than the Sun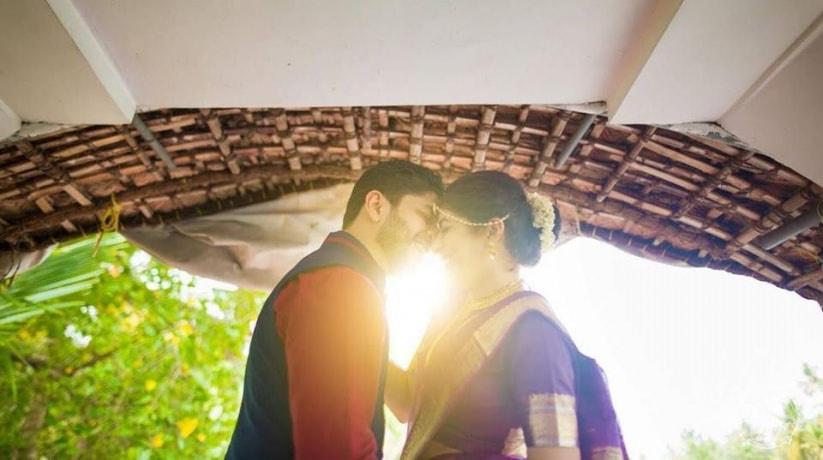 The perfect timing of the shot with the sun rays caught between the couple exuberating sheer happiness. A love so bright that it consumes you, yes that's what we are talking about!
4. Side by Side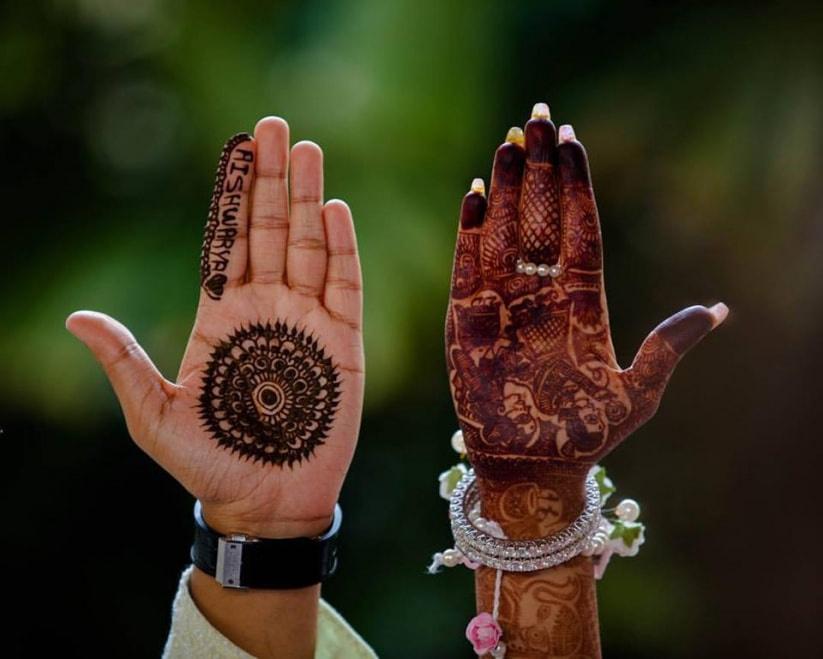 This has got to be one of the most thoughtful couple of pictures at a Mehndi ceremony. The intricate bridal Mehndi and the groom's mandala design Mehndi create a beautiful visual together. Side by side, through thick and thin of life and through the sands of time - that is the only promise we all need in life!
5. Bride Squad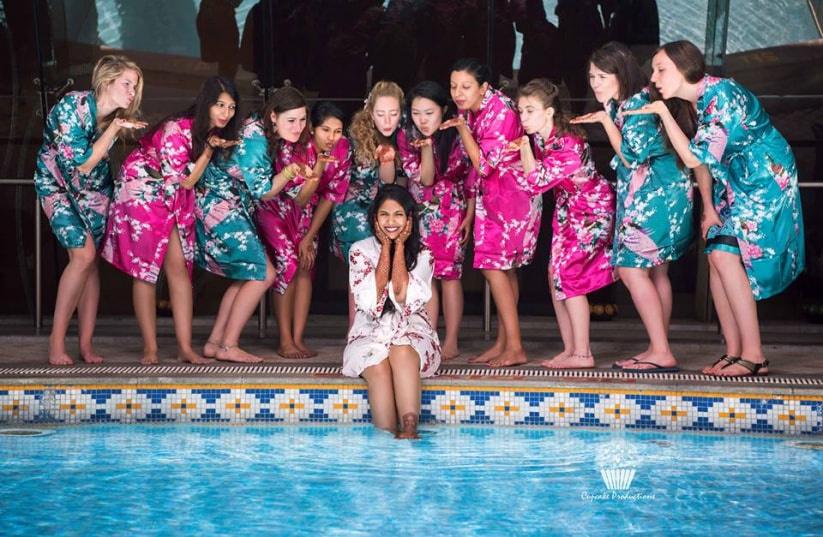 Everyone loves the girl gang pictures but add a pool and matching tropical print robes and you have something beyond beautiful. Your squad has been through you always and therefore they deserve an appreciation post. And, there is no better way of doing so than this!
6. Sister Mister - The Only Thing That Really Matters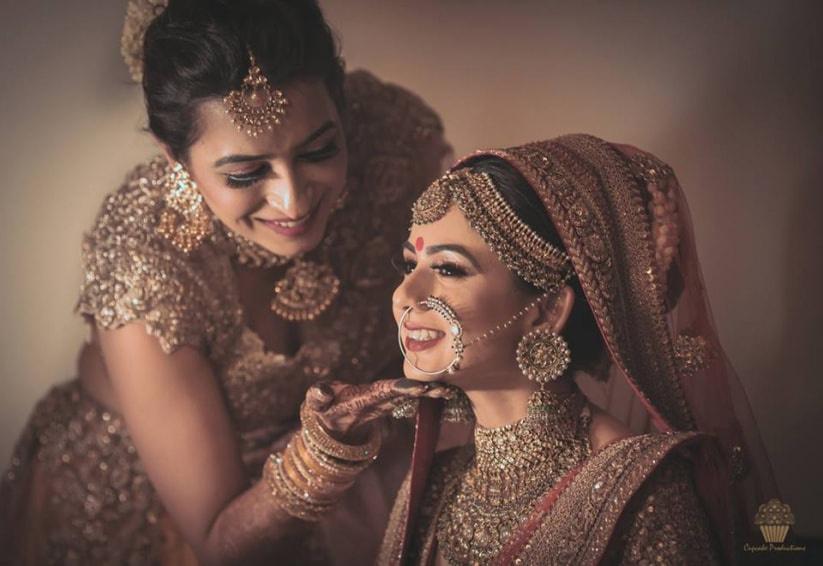 The love between sisters is definitely adding to the beauty of this glitter gold bride. These moments of calm just before the wedding are perfect for heartfelt emotions and pictures.
7. Dream Come True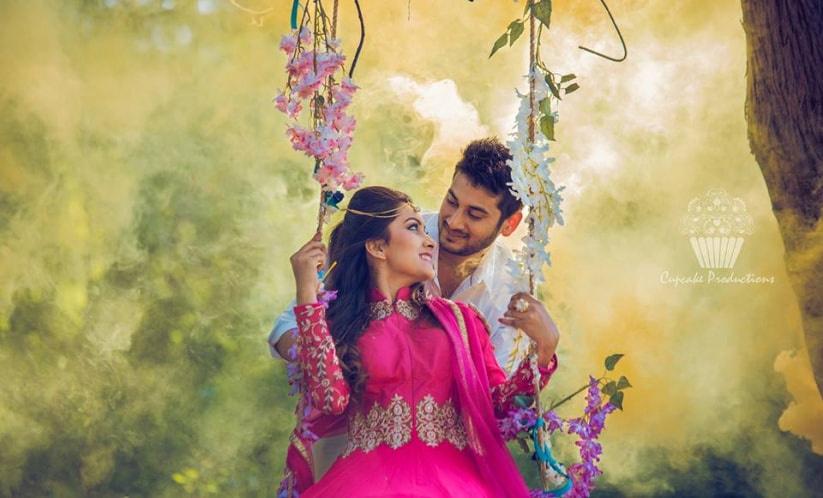 The absolutely dreamy setting created with sprays of colours in the background and a pretty floral swing makes this couple look like they are finally living their dreams.
8. In Sync We Believe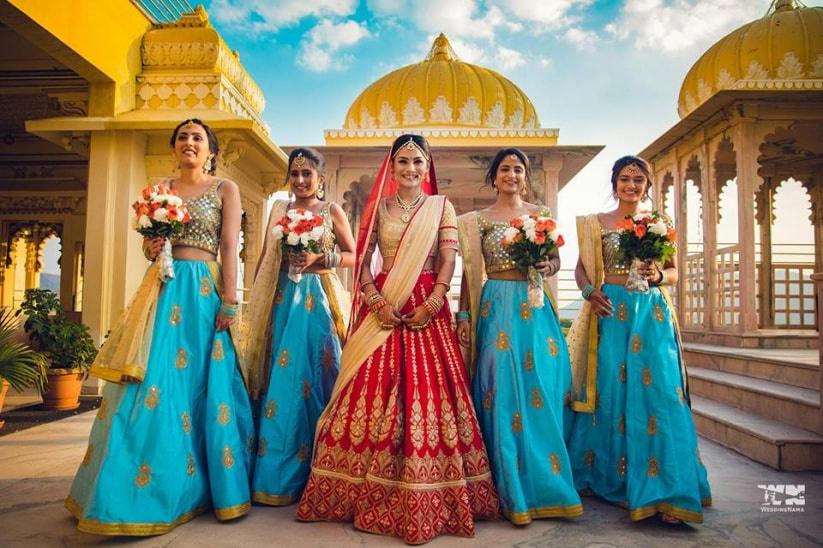 Another stunning picture of the bride with bridesmaids absolutely in sync. The royal background adds to the symmetry and finesse of this Indian wedding image.
9. Fresh as a Flower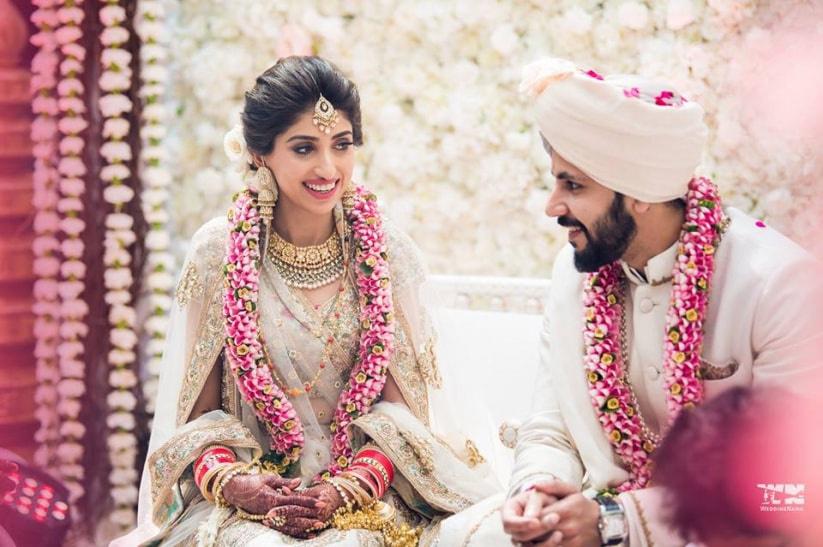 In one word the most outstanding element of this picture is the freshness of it. The reds, golds and bright lighting have been exchanged for a fresh take of natural lighting, pastels and pinks.
10. Mumma's Boy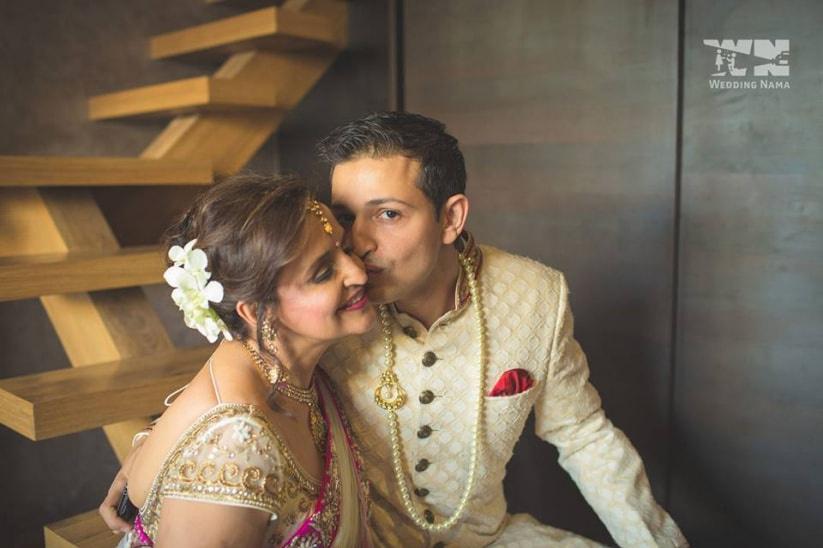 The love between a mother and son is precious, here's a visual proof of it! It's a pure, happy and an 'awwww' kind of a picture.
11. Three Musketeers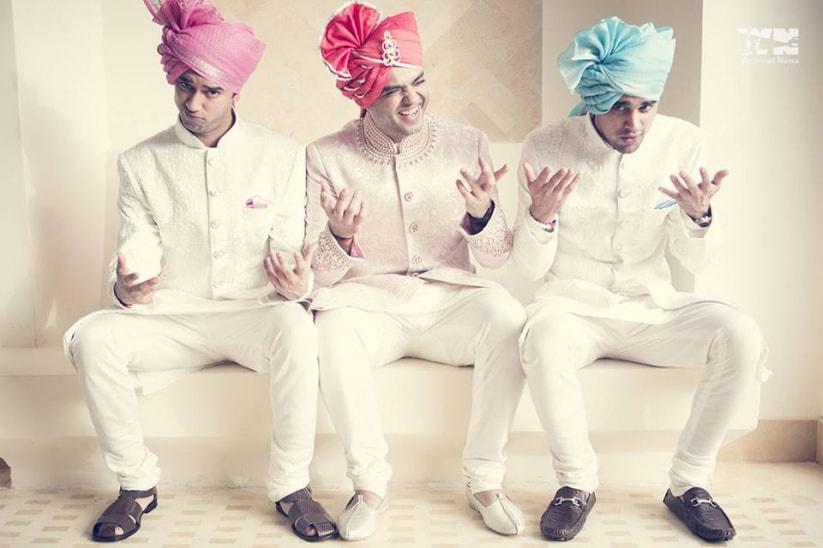 Forget Bride Squad! These Groomsmen are giving us major goals. The crisp white attire with vibrant turbans and quirky personalities is a major hit.
12. Vintage Vibes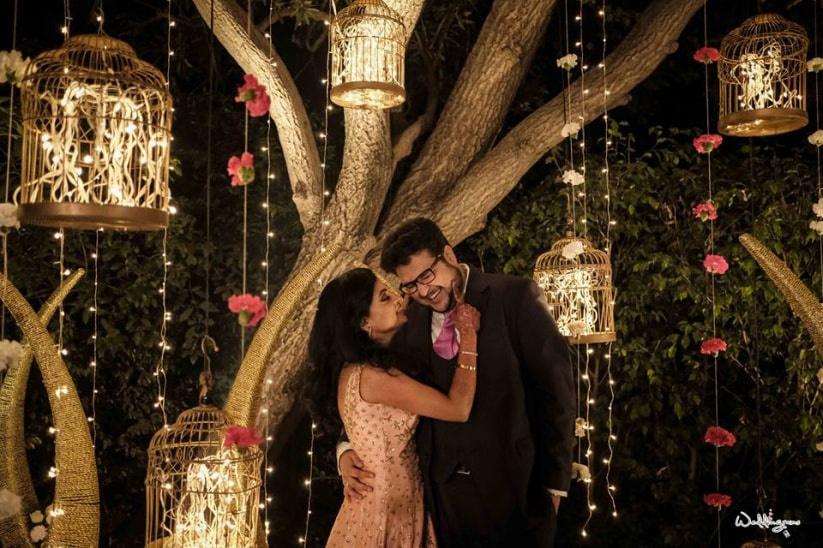 The vintage decor and lighting add a beautiful touch to this couple picture. It's one of those Indian wedding images that set decor and couple goals.
13. Bride with Swag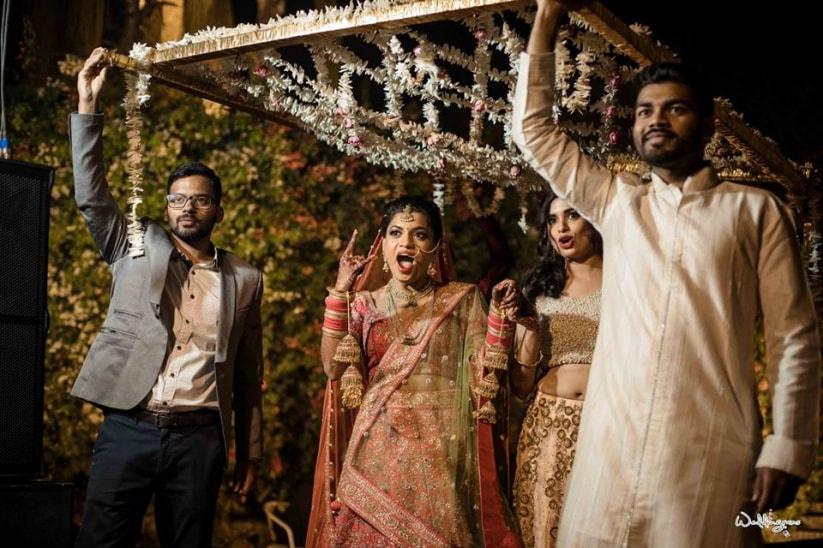 Move over shy and coy brides, this bride shows a full swag bridal entry. We love how excited and confident this bride is to put her best foot forward.
14. Dirty Dancing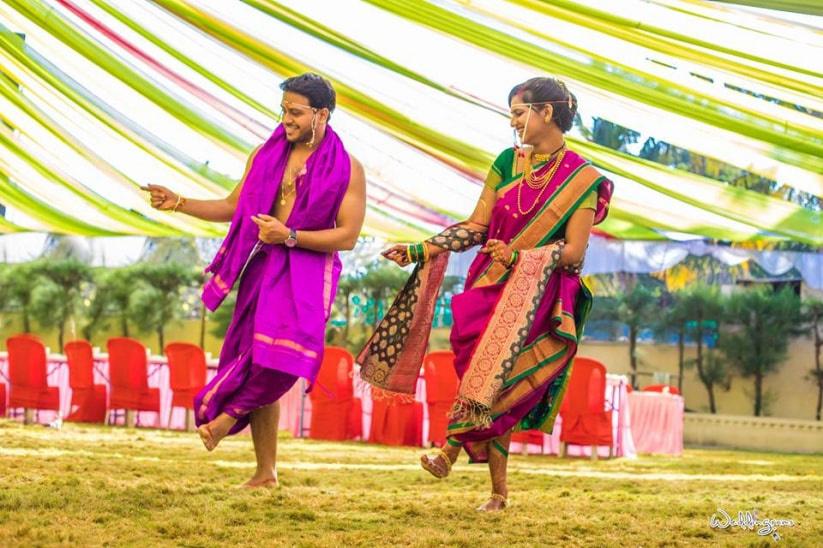 Tango, Salsa and Ballroom dancing are clichéd, this couple goes full Desi and shakes their leg to some cool folk dance moves. Look how in sync they already are.
15. Chic but Crazy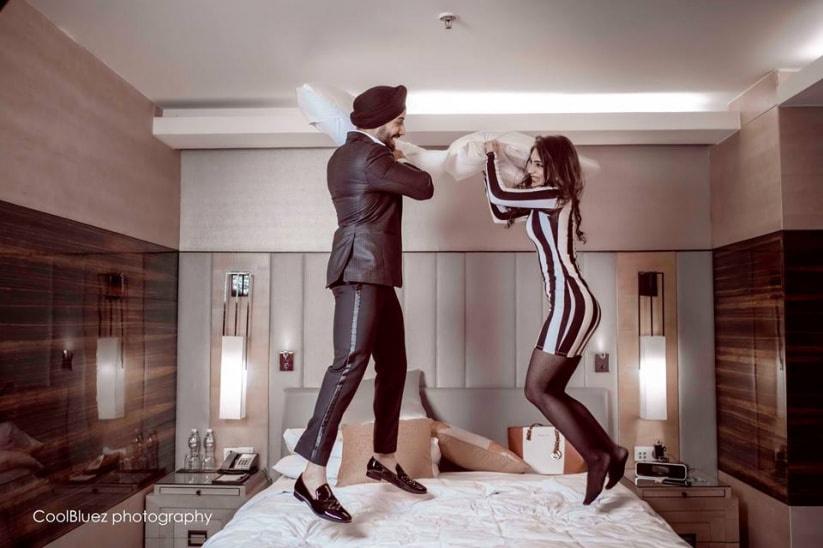 This one looks straight out of a Vogue magazine cover shot. The uber stylish monochrome dressing set against a crazy pillow fight pose is the definition of chic, with a dash of crazy.
16. Fight for Love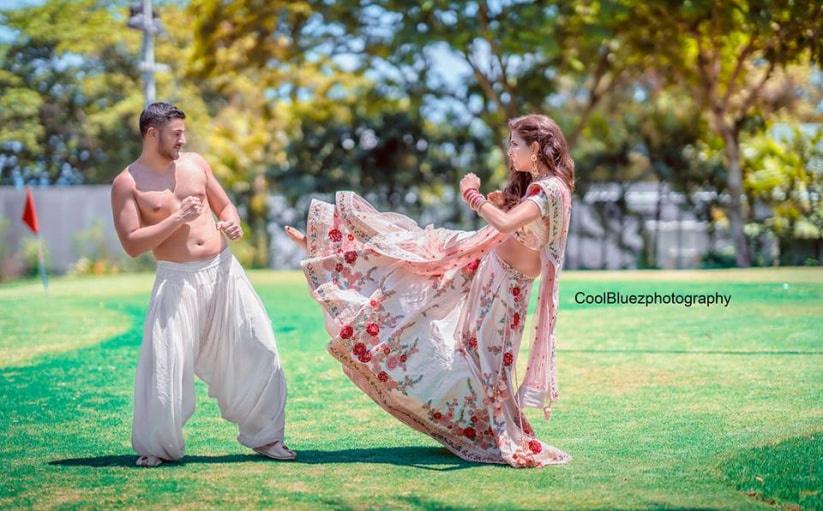 This couple takes their love for fitness and martial arts all the way to their wedding day photo shoot. How cool is this?
17. Mr & Mrs Mushy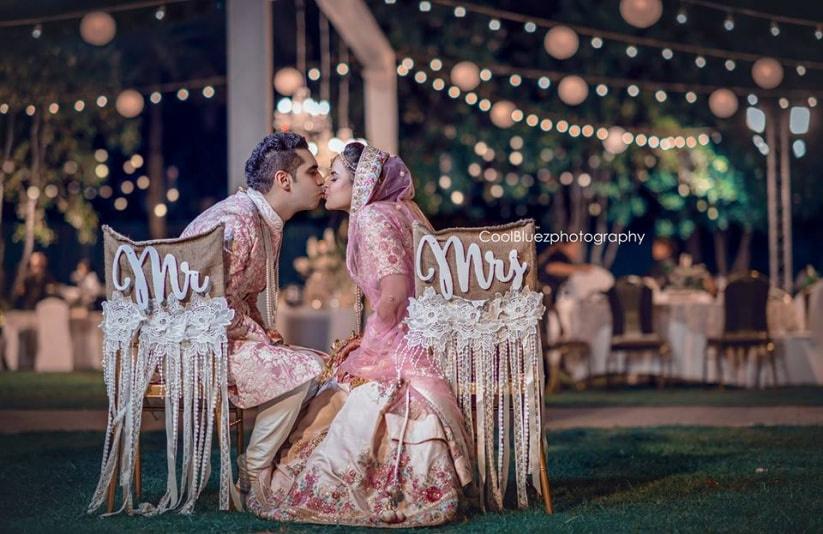 Apart from the mushy moment being shared by the now Mr & Mrs for life, the beautiful chair decor adds to the beauty, charm and meaning of this picture.
18. Under My Umbrella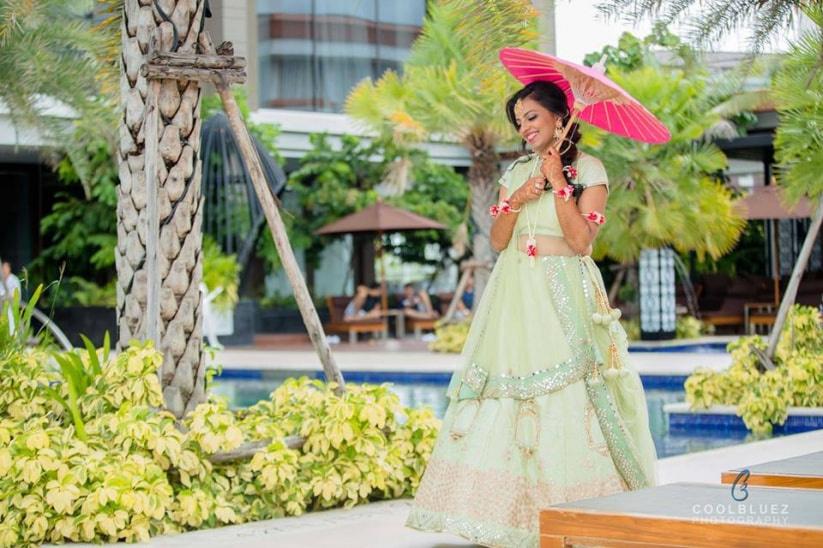 The props we add to our pictures can make such a huge difference to the results; just like this bright oriental umbrella adds a pop of colour and drama to this bride's picture.
19. Royal Affair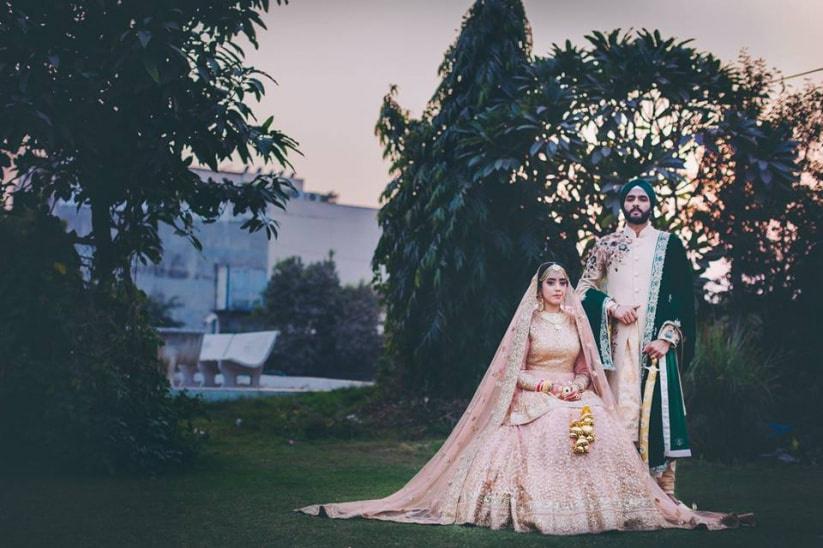 The whole royal pose makes this one of the most stunning Indian wedding images out there. The natural surrounding, the pastels and gold, and the emotions of love and pride all around make this a keepsake picture. This is one of those Indian wedding images that deserve a photo wall of its own.
20. I've got your back!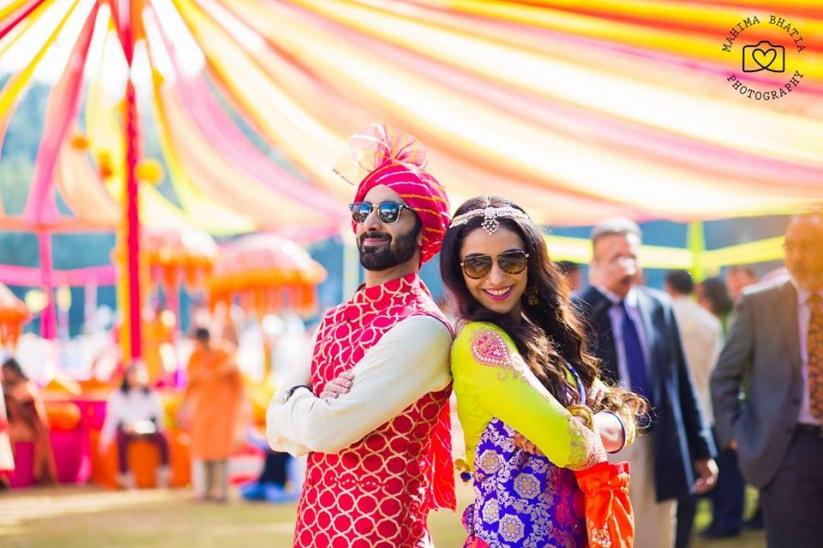 We love it when couples ditch the clichéd and mushy poses for ones that are more natural to them. This couple looks great and doesn't even need to look at each other to show what a crazy-power couple they are. The vibrant colours all around add to the beauty.
What a treat for the eyes! Aren't each of these Indian wedding images absolutely stunning? We hope these Indian wedding images gave you the couple goals that we all look for!
What makes a picture outstanding according to you? Tell us in the comments below.