6 Beautiful Indian Brides Who and Raised the Bar This Wedding Season and Left a Trail of "Wow" Behind Her
Take inspiration from these beautiful Indian brides who have flaunted their personal style through their bridal lehenga, makeup, jewellery and more. Bookmark the ones you like the most.
When you are looking for inspiration to plan your wedding, you come across such beautiful Indian brides who make you gasp in disbelief. Their glowing faces just keep raising the standards of what is beautiful. Every girl dreams of her wedding day and to look like a regal charm is one of those many things that every girl wants to achieve. While every bride has something unique to offer from her pricey taste and exquisite fashion, some just end up giving us major bridal wedding goals.
From their opulent jewellery to stunning makeup or perhaps the swag with which they owned their big day, we present to you a galore of brides who made us gawk at their photographs for hours. You can take cues from these brides for their makeup, jewellery and bridal lehenga. Take a look and find out what made them stand out from the myriad of brides this wedding season:
1. Gorgeous Bridal Lehenga Twirl
Your bridal lehenga should always complement your skin tone and enhance your beauty, just like it does for these brides. The whole ensemble is built by carefully choosing each element - its colour, embellishments, blouse design and dupatta draping style. So, make sure you shop for it like a pro with a perfectly defined bridal lehenga guide for buying, keeping expert tips in mind.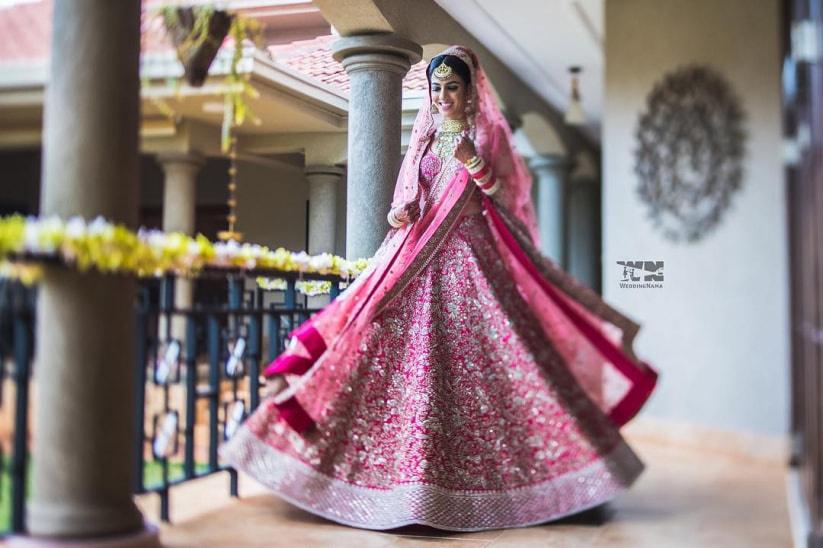 Why is she in the 'beautiful Indian brides' list? Remember every time we wore a dress with a flare as a kid? We would make sure to take the princess feels with the twirl. Since she is a happy bride twirling in a pretty pink lehenga and looking at her brings a smile on your face. You can also get clicked in this pose and please the little kid in you.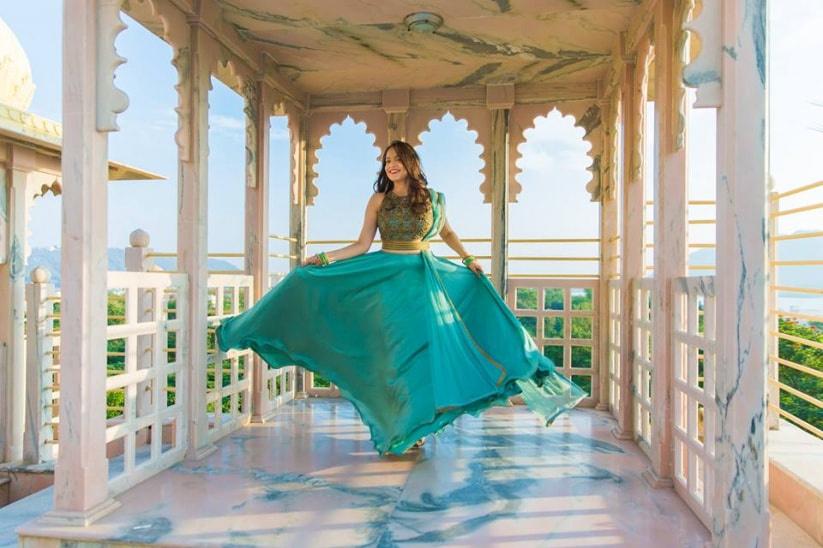 Her sea-green lehenga is a breath of fresh air and that is perfectly reflected on her face. That is why we call her one of the most beautiful Indian brides of the season. You can take cues from her for your Mehndi or Haldi attire and be quirky. The picture with the off-white background and the green trees located amidst the beautiful mountains is so soothing to the eyes of the beholder and it also adds to the royal feel of the wedding. Sea-green is not one of the most common colours that the brides choose, and hence the unique quotient is upheld.
2. Bridal Makeup game on point
If you believe that makeup can make you look good, you are only half right. For the makeup to accentuate your looks, you must have a naturally healthy and glowing skin. Most beautiful Indian brides look their best because they have followed a beauty regime and maintain a healthy diet.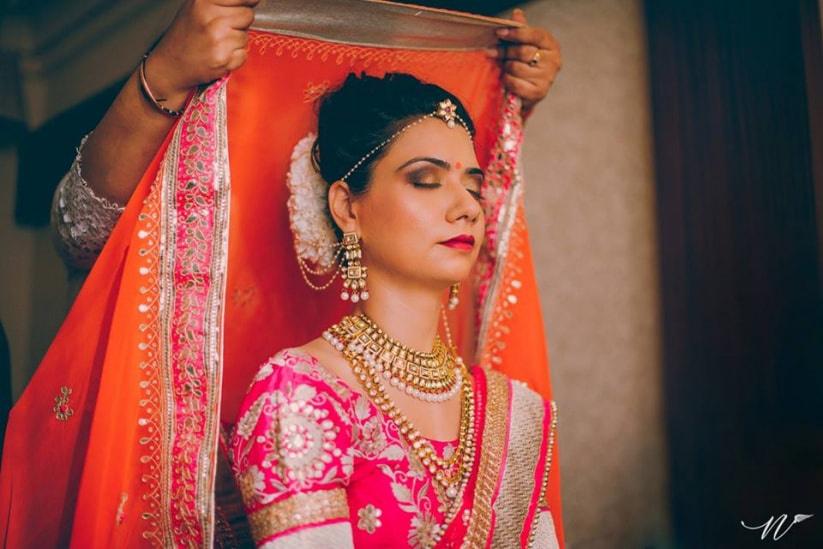 One look at the picture and you are wowed by her bridal makeup. Her eye makeup game is on point. It doesn't overpower her look but complements the attire. The lip colour matches her lehenga perfectly, something that you can easily do for your look. You can even bookmark this image to show it to your makeup artist to get a perfectly-balanced glamorous look. This is one of the most trending makeup hacks where the bride gets her makeup in the colours of the lehenga or similar tones and make it a perfect match for her D-day.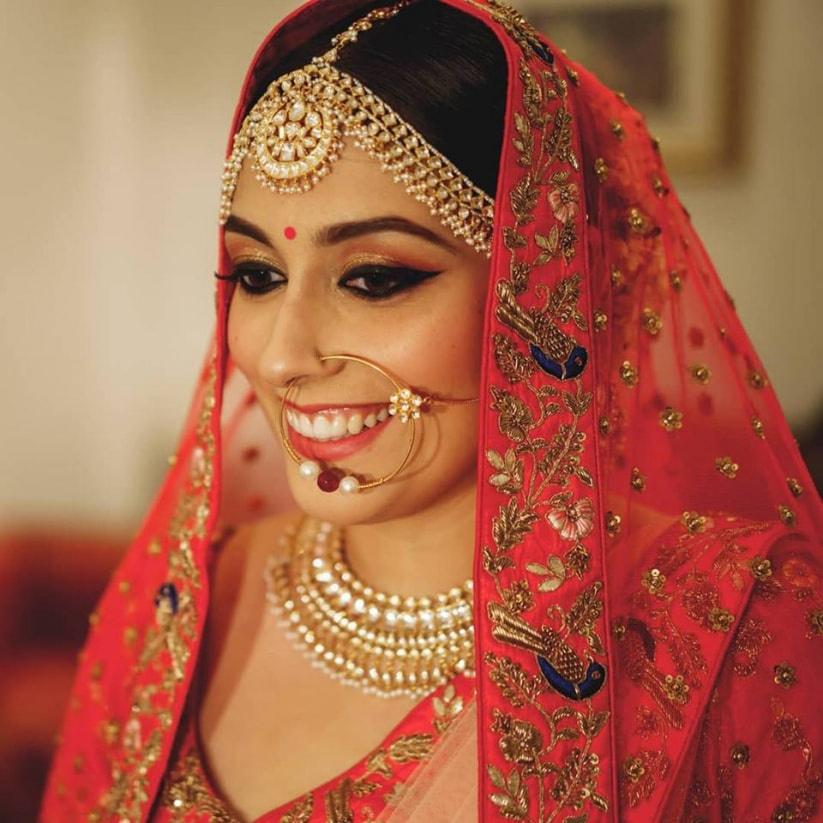 The winged liner looks perfect on this beautiful Indian bride giving her eyes a defined look. Her eye-shadow shade and lip colour are close to her natural skin tone making the liner stand out. You can do the same if you're going for a pastel or bright coloured lehenga. This makeup also suits best when you try out the pastel coloured lehenga with florals and your makeup is a little dewy with defined eyes to make it all in sync.
3. Glamorous Jewellery
To turn a beautiful look into an absolutely breathtaking one, you need the perfect accessories. Heavy gold and diamond sets, small choker necklace with Satlada or a simple Haar - the right accessories can be anything depending on your attire and the look you want to achieve. We see the beautiful Indian brides flaunt their selections.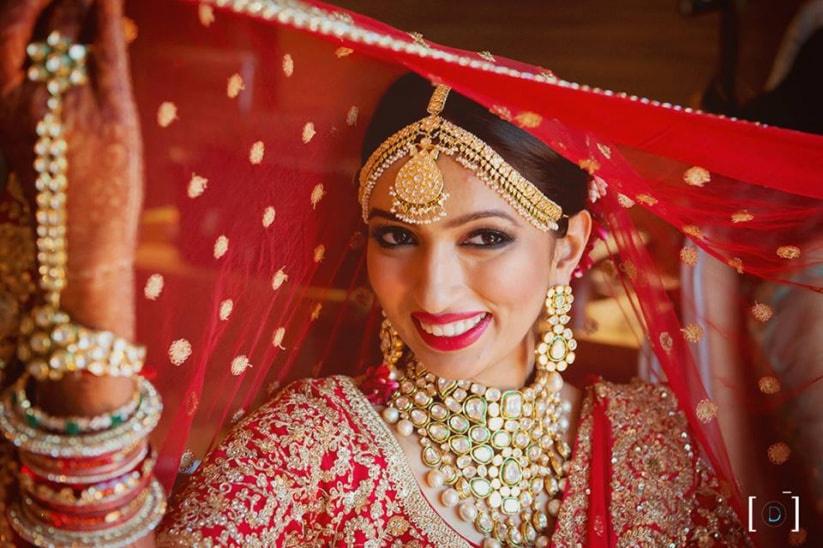 The smile on her face says it all. The Kundan jewellery that embellishes her red bridal lehenga adds to the traditional Indian look. Her Matha Patti style in gold and pearls looks amazing too. You can get one of the two and make it a statement piece for your look.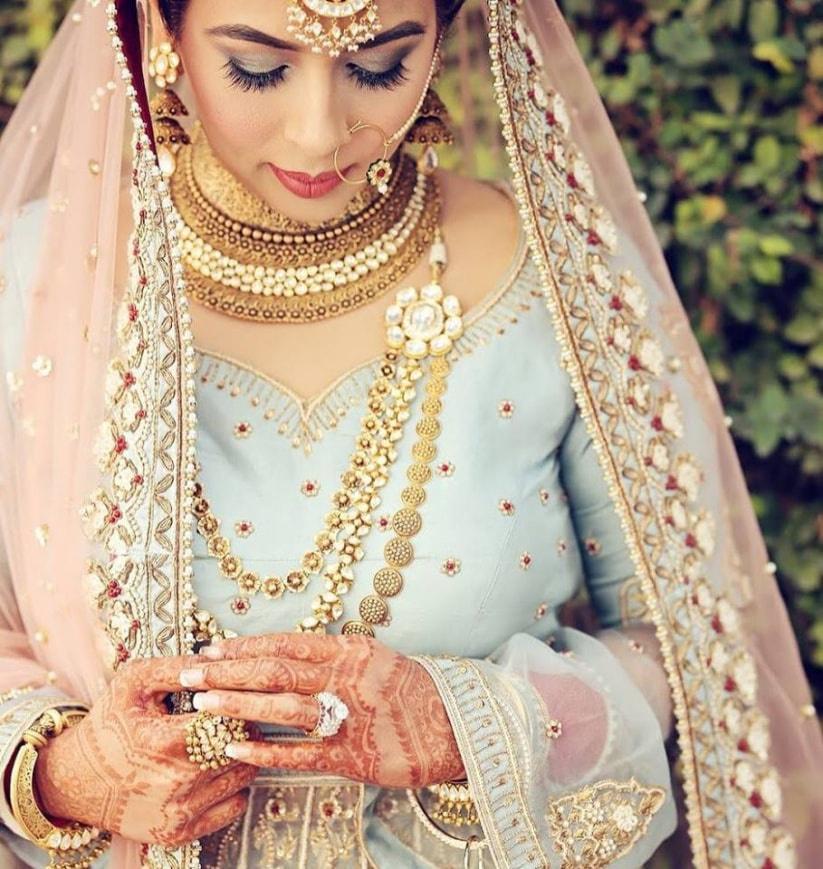 Her gold necklace, rings and bangle look amazing against the pastel blue lehenga. If you're choosing to flaunt such a shade, you can take all the styling cues from this beautiful Indian bride.
Of course, these women are some of the most beautiful Indian brides, but beauty lies in the eyes of the beholder. So, credit goes to their wedding photographers as well. They are the ones who capture them in their element and showcase their beauty through photos. There is no fun in being a beautiful Indian bride with pictures that don't reflect it. So hire a photographer who knows their craft and understands your personality well. Also, to ensure that your bridal look is pristine and refined try out a few makeup trials prior to your big day. Bad makeup and lighting lead to distressed photographs and your wedding album is going to be a testament to your new journey. So, make sure you are mindful of these little hacks as you will hold on to these photographs till the end of time. So, make sure you put your best foot forward.
Tell us in the comments which brides inspired you the most.