15 Breathtaking And Simple Mandap Designs For Your Dream Wedding
Creativity with Mandap designs need not be an expensive affair. Discover ways to get unique yet simple Mandap designs without going overboard with your wedding budget.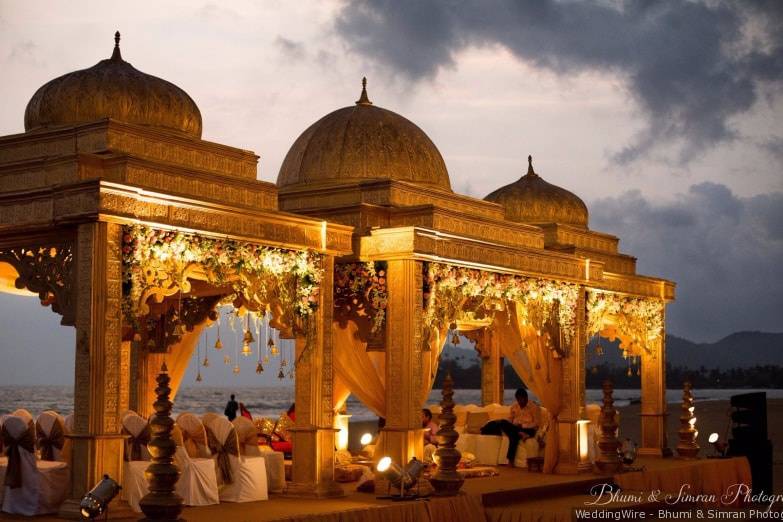 Your wedding Mandap designs can now be unique and elegant, and still, be budget-friendly. Even if you're having a royal themed wedding, you can have a gorgeous Mandap without having to burn a hole in your pocket. All you need are some innovative ideas for simple Mandap designs to make your wedding look like a dream. Choose any theme, location or colour scheme for your wedding; we have an extensive list of inspiring Mandap designs for you.
Mandap designs are the highlight of any wedding decoration and rightly so. They look so beautiful and display perfection which can enhance your entire wedding celebration. Simple mandap designs look gorgeous, effortless and ever so beautiful to be a part of your festivities. If you have always thought about what and how you should be decorating your big day, which themes to choose from, how to go about creating a masterpiece, well, then we have got you covered. Just take a look at some of the most wonderful simple mandap designs which you can make a part of your big day.
Floral Based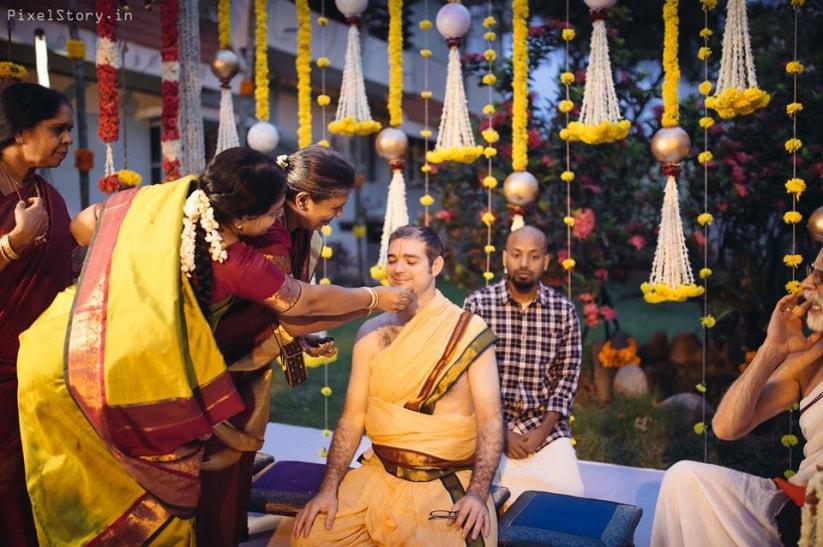 When it comes to wedding Mandap designs, flowers play the most important role. And that's the reason you must talk to your wedding florist about your flower requirements. They not only will accentuate your creative designs with their beauty but will ensure that your simple mandap designs is one of a kind. If you're opting for a destination wedding, always ensure the availability of seasonal flowers. Here are a few floral options for simple Mandap designs:
1. Marigold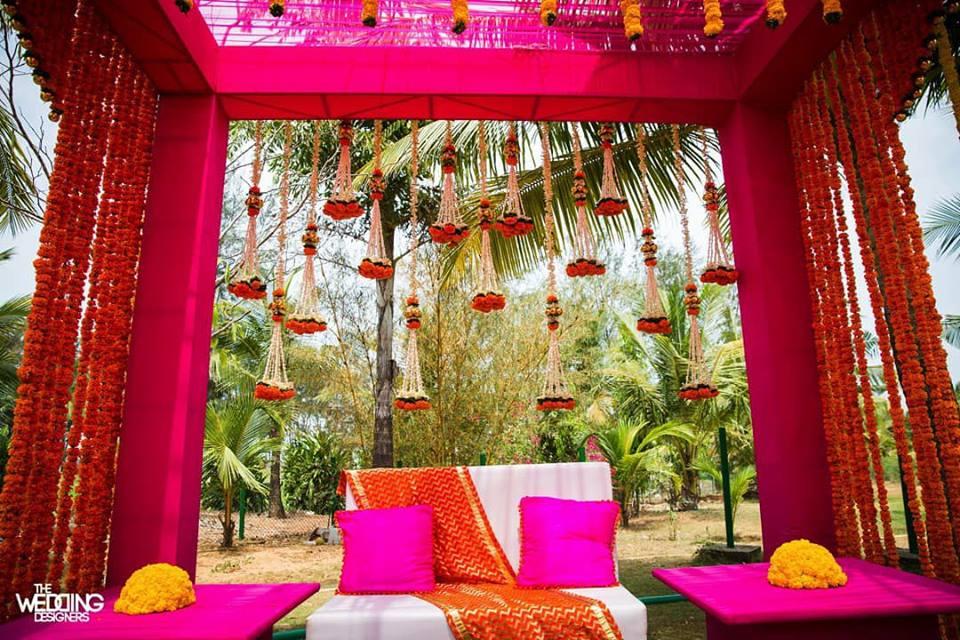 Marigolds are almost synonymous with weddings and festivals. They look beautiful but at a reasonable cost. You can use different shades of marigolds for Mandap designs. Use them to spiral up the pillars or as hangings. Not only these beautiful flowers add the touch of vibrancy and happiness in your wedding festivities but is closes related to Indian traditions and culture.
2. Rose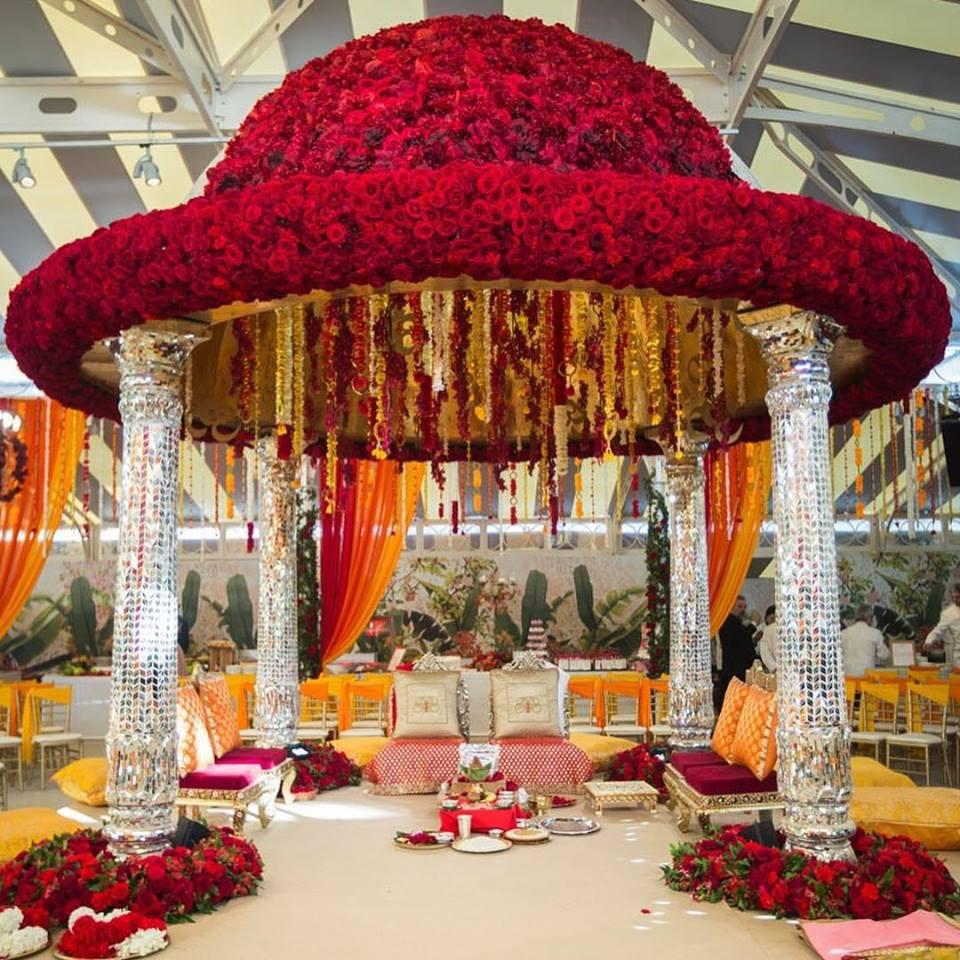 Whenever in doubt, just go for roses. Use roses for a making a Mandap canopy and bouquets. They will surely imbibe grandiosity and opulence in your simple mandap designs.
3. Mogra or Jasmine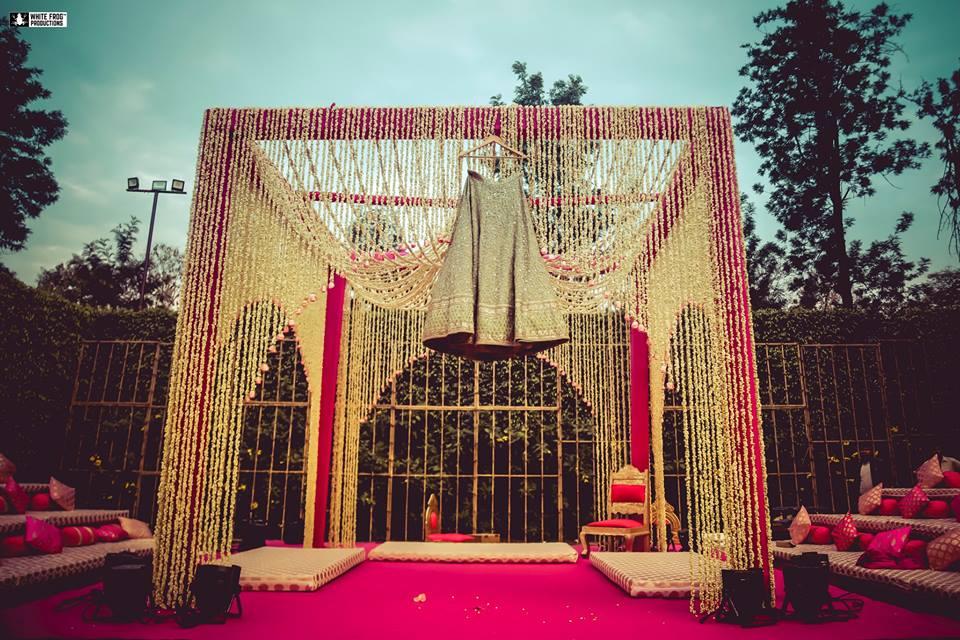 How about a fragrant wedding Mandap? Go for a Mogra Mandap designed with Gajra style streamers and hangings. Not only does an all white Mogra simple mandap designs look gorgeous but beautiful for your wedding pictures as well.
4. Mix and Match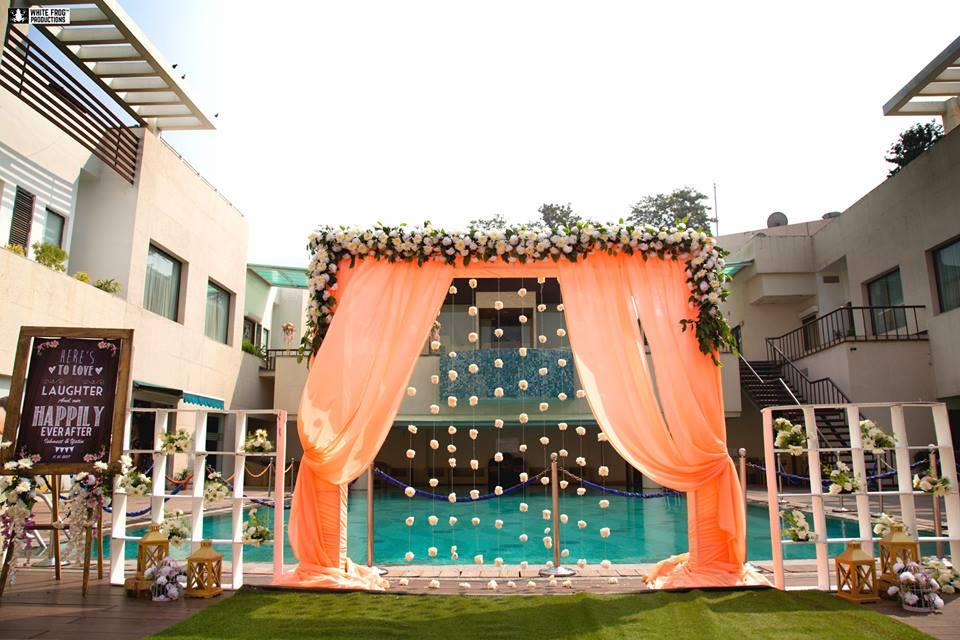 For those who would like to have a bit of everything! Mix the roses with marigolds, jasmine or orchids for simple Mandap designs. Consult your wedding decorator for ideas on floral combinations that would be best. You can mix and match the beautiful flowers with vibrant drapes as well.
Colour Based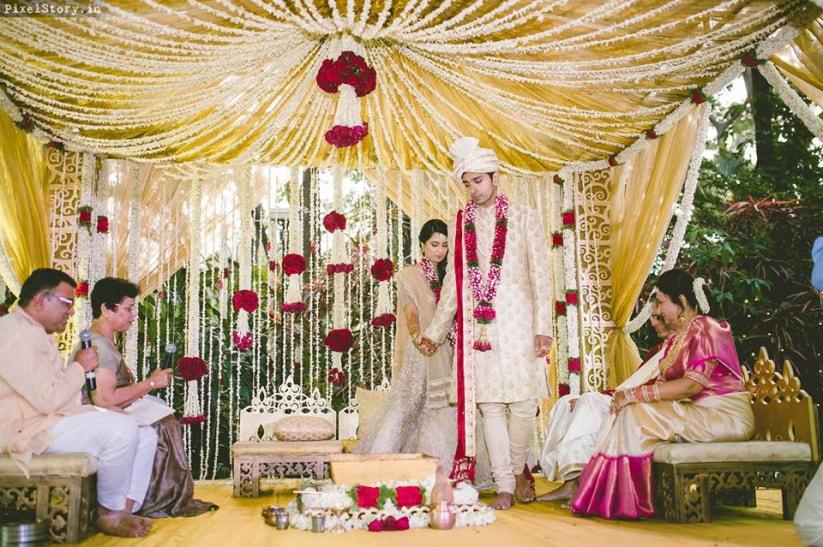 Another route to choose your Mandap designs is colour based. You can have a quick chat with your decorator with details of your outfit colours, theme and locations of your wedding. These details would help in choosing the right colour scheme for your Mandap. Let's give you a few ideas on simple Mandap designs based on colours:
5. Whites-Creams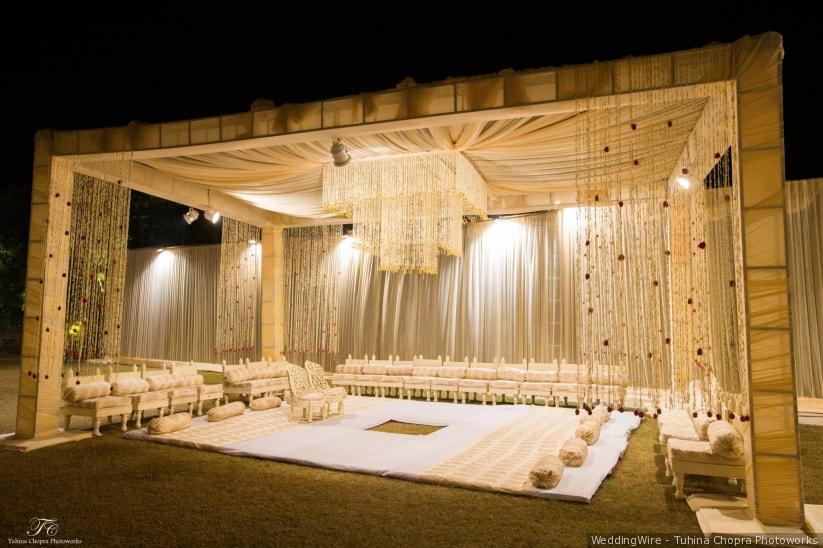 An all-white Mandap could be an ideal set up for a Fairytale wedding. You can use white flowers like Jasmine along with white drapes and seating. Off-white or beige are also quite preferred colours for simple Mandap designs. You are bound to have a fairytale feeling with this gorgeous simple Mandap designs.
6. Pinks-Peaches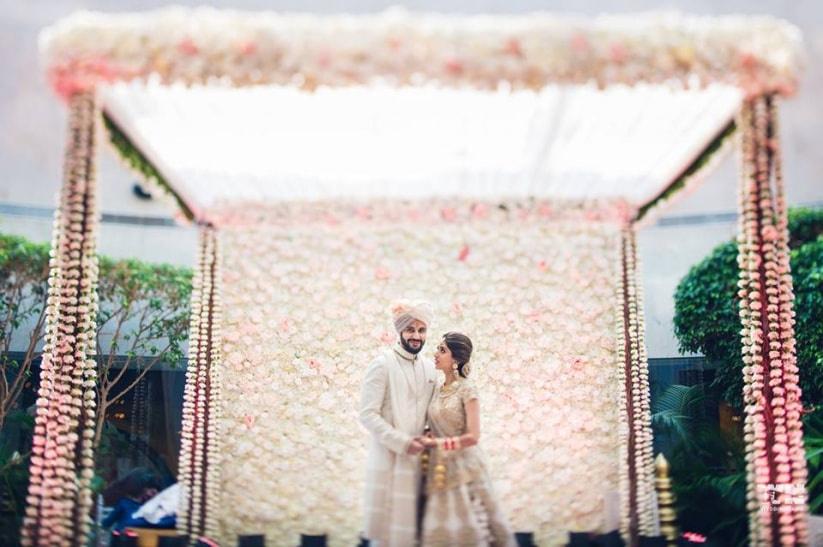 Take inspiration from the Virushka wedding for a pink and white combination for Mandap design. Perfect choice for a day wedding, soft shades of pink and peach can be used for fresh Mandap designs
7. Yellow-Orange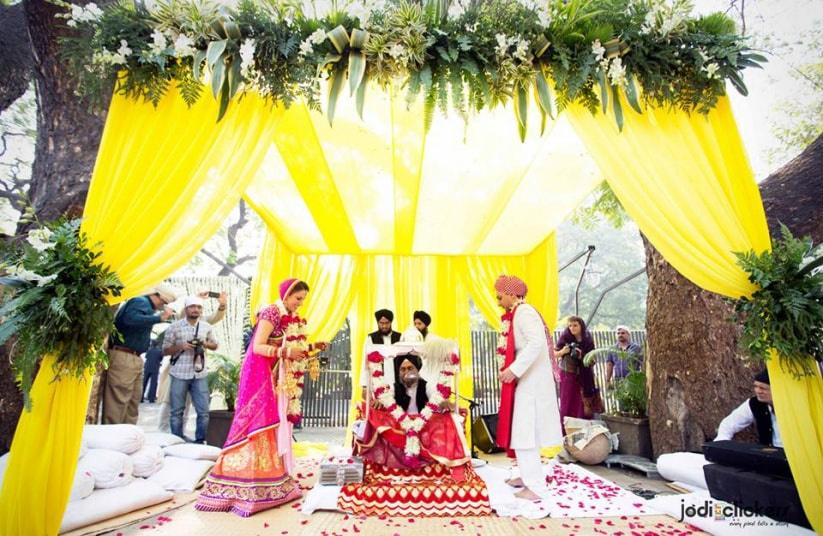 Try using yellow silk drapes or yellow powder pink drapes for a yellow-orange Mandap design. Moreover, you can always use marigolds in a single colour or in combinations.
8. Red-Maroon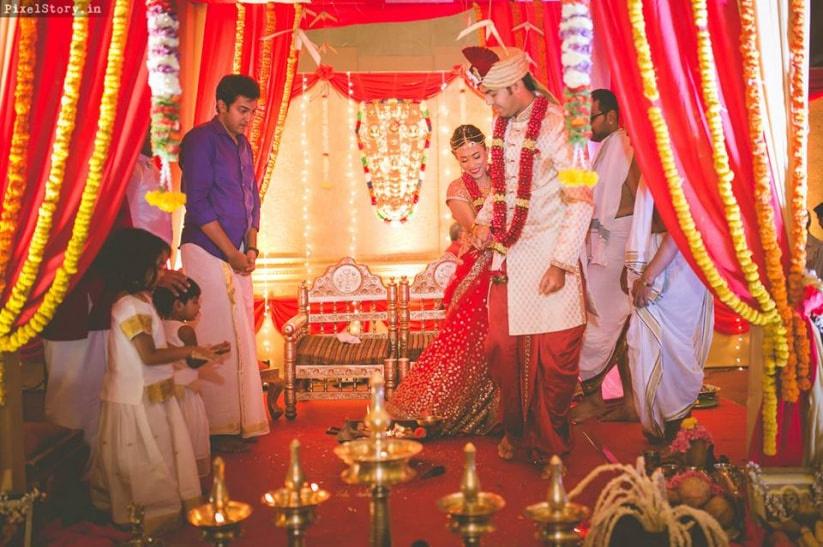 Being the colour of love, red never goes wrong with weddings. If you don't want to go overboard on the red, you can use contrasting combinations with cream or golden. Use rose coloured cushions and seating to go with the scheme.
Theme Based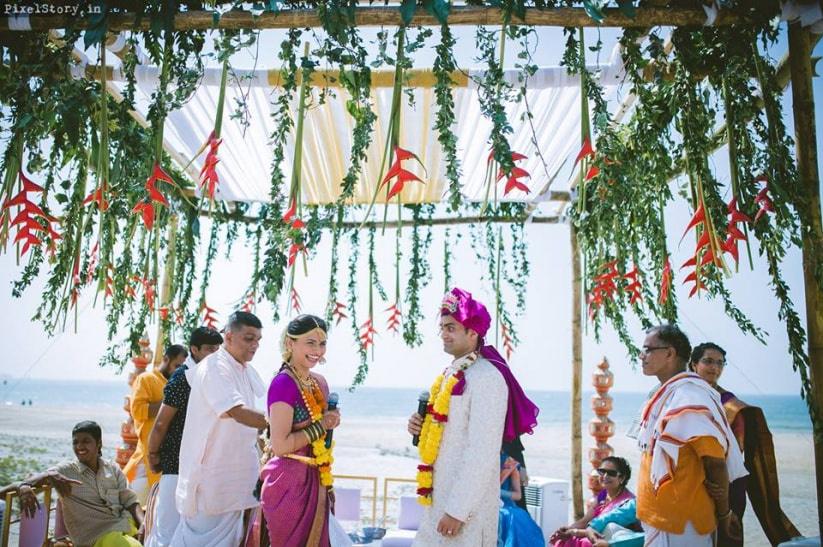 Are you planning a beach wedding, a green wedding or a forest wedding? Themed weddings are always fun for everyone. And the more fun part is orchestrating a themed wedding. Let's have a look at some interesting ideas on simple Mandap designs to go with your chosen theme for the wedding:
9. Beach Wedding Mandap Designs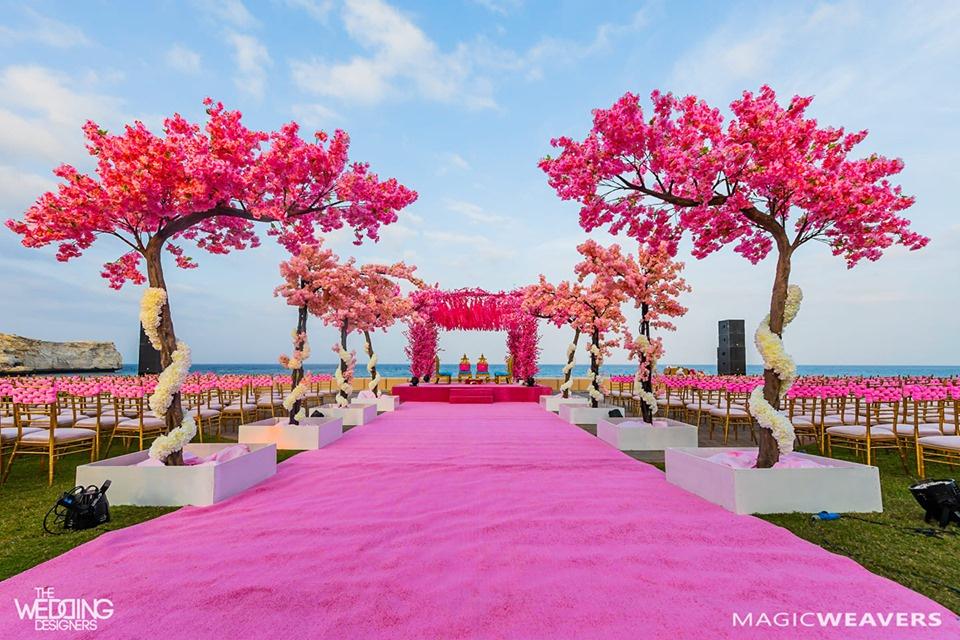 If you're arranging a wedding on the beach, you can choose breezy colours for your Mandap designs. Go for lilac or sea green drapes and floor seating colours. Soft peach, pink and white is also good beach colours. Use white flowers to match or yellow marigolds for contrasts. You can also hang streamers of shells for your beach wedding.
10. Forest Wedding Mandap Designs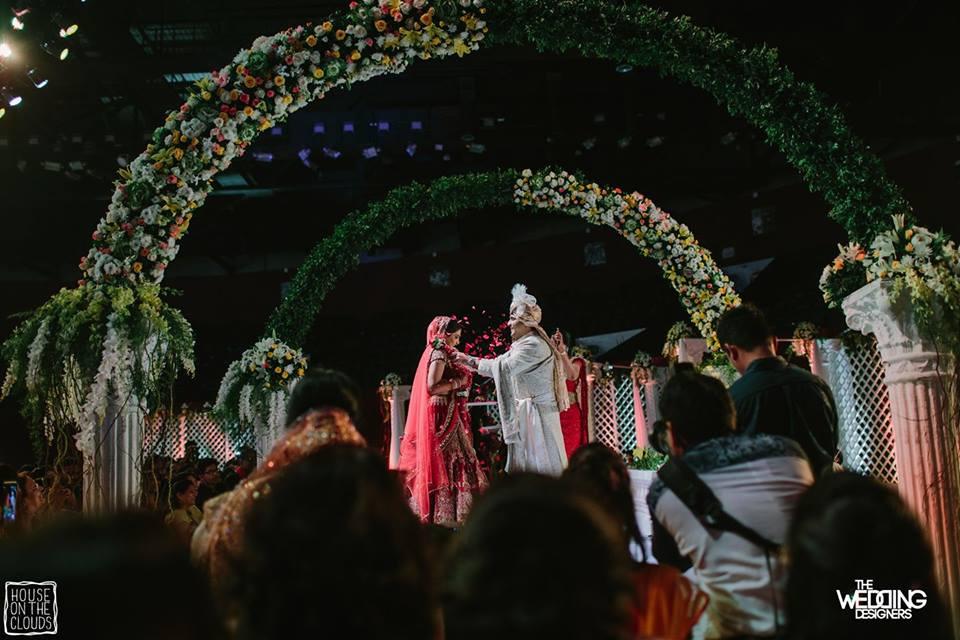 Forest weddings are naturally so beautiful that they really don't need much designing. If you're having an outdoor forest wedding, you can use green leaves and ferns for Mandap designs. Use botanical garlands for decorating the canopy of the Mandap.
11. Green Wedding Mandap Designs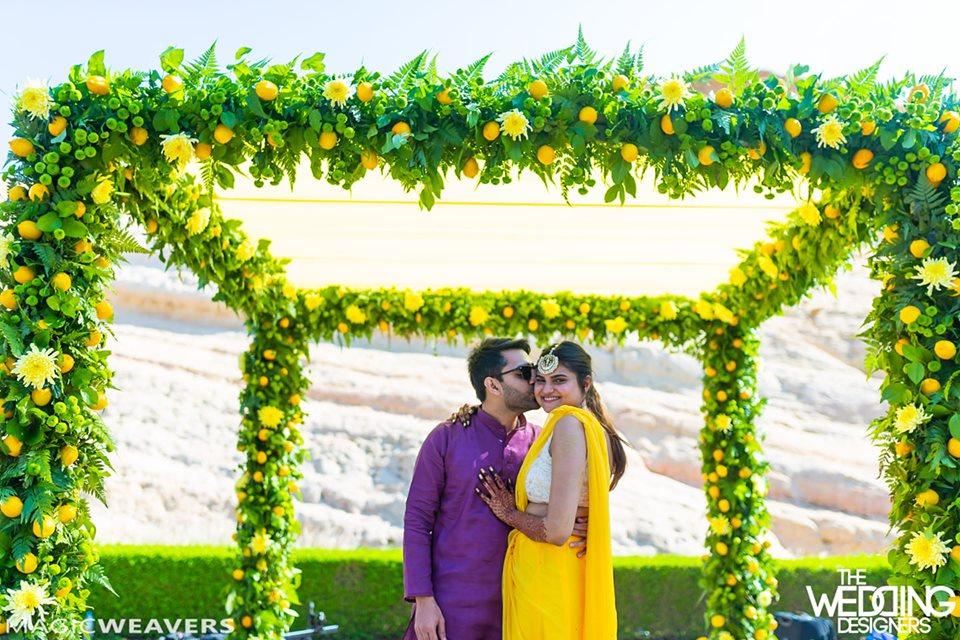 Couples who go for a Green wedding usually don't want extravagance. But who says the style has to be lavish and expensive? Use painted dry branches, twigs, coloured paper designs and lots of gorgeous drapes for your Green wedding Mandap. You can also use spare Sarees and Dupattas for decorating.
12. Temple Wedding Mandap Designs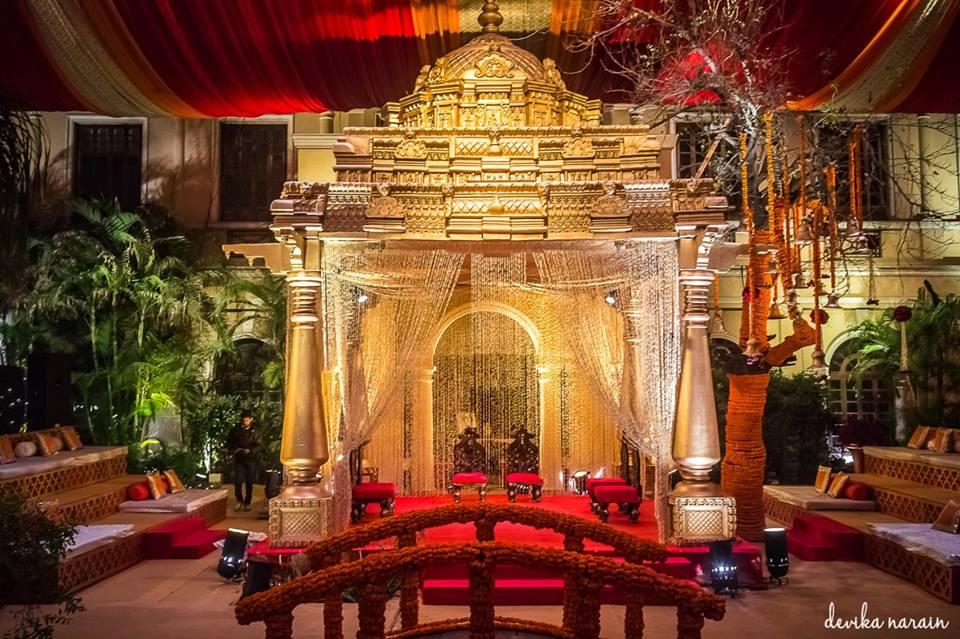 If you're having a traditional Hindu wedding in a temple you can still use simple Mandap designs for beautification. Yellow or orange marigolds would be the best choice of flower. You can hang little bells all around the wedding Mandap. Talk to your wedding priest about the permissions regarding temple decorations.
13. Royal Wedding Mandap Designs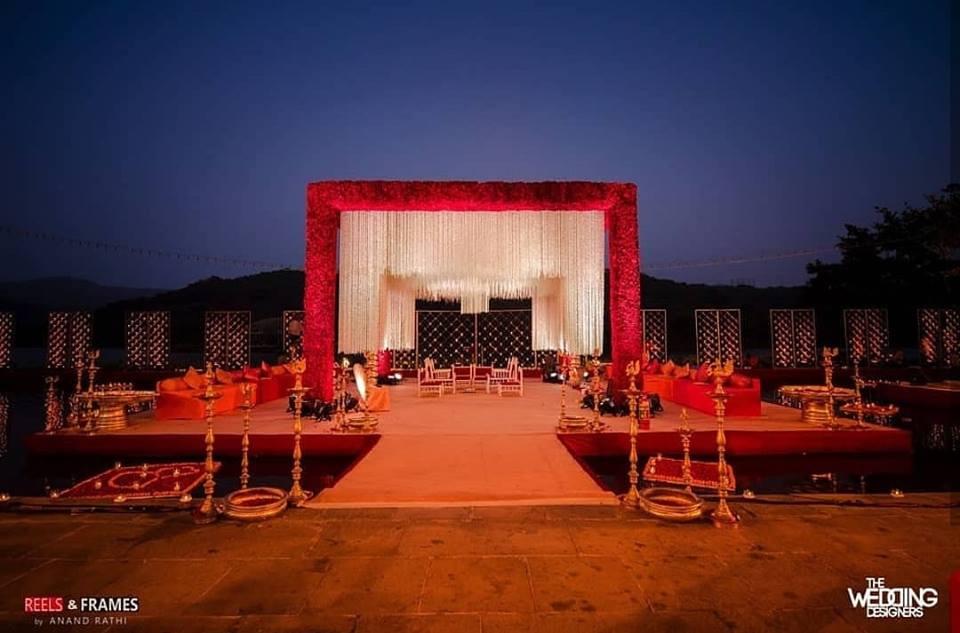 You can have a royal wedding at a fort palace in Rajasthan but you don't necessarily need to spend lavishly for an apt wedding Mandap for that. If it's a night wedding, use colourful lights, LED Diyas and cellophane papers covering Mandap lights to give a glorious look. You can use amber or golden for enhancing the ambience. In case it's a day wedding, use bright coloured Bandhani printed Dupattas and Sarees as drapes.
Regional Weddings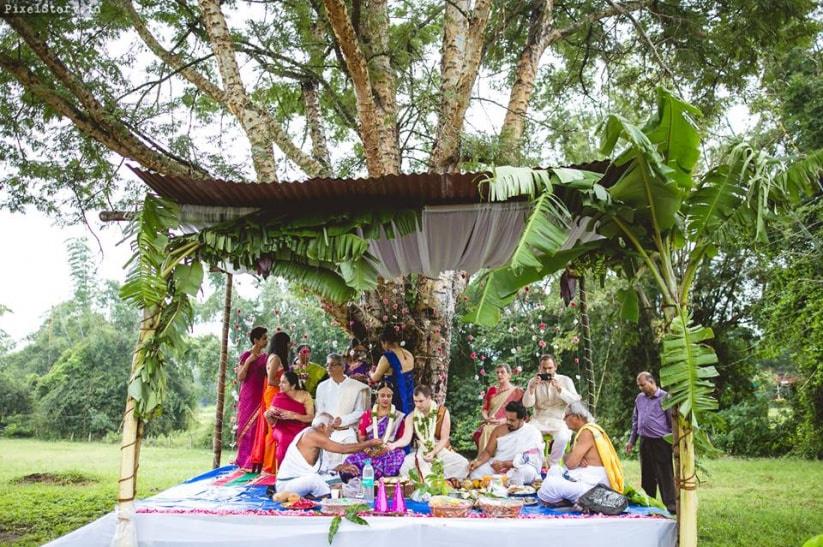 There are a few weddings in India where the Mandap decorations need to follow certain traditional norms. You can use the traditions in creating ideas for simple Mandap designs:
14. Tamil Wedding Designs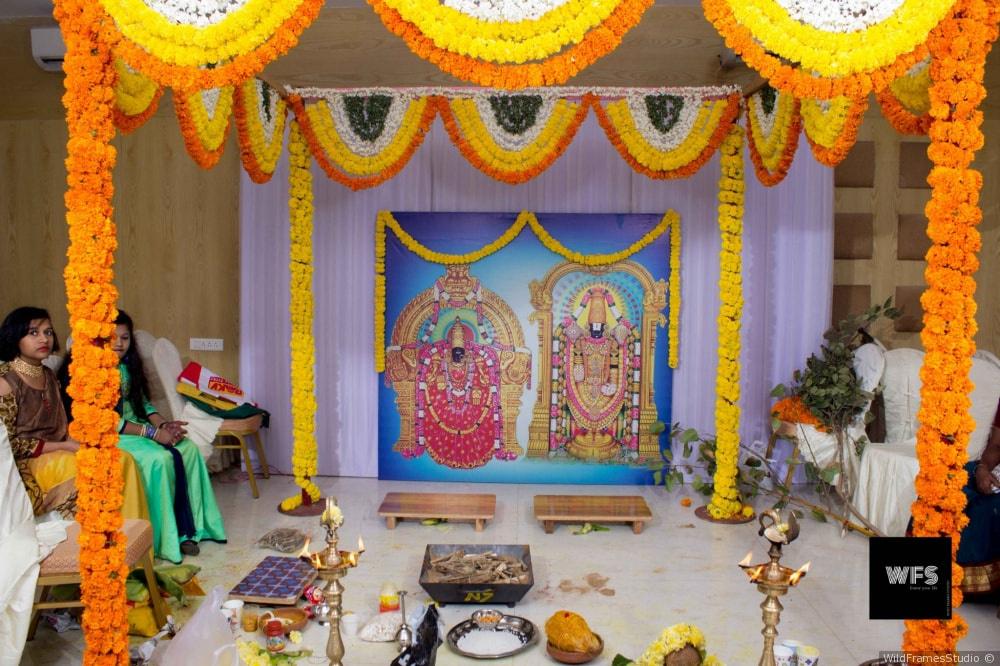 Tamil weddings have a particular ceremony called Arasanikkal in which the wedding Mandap is decorated with bamboo sticks and yellow cloth cover. In line with the tradition, you can use yellow or red flowers and earthen pots painted in yellow or a contrasting red as a Mandap design.
15. Bengali Wedding Designs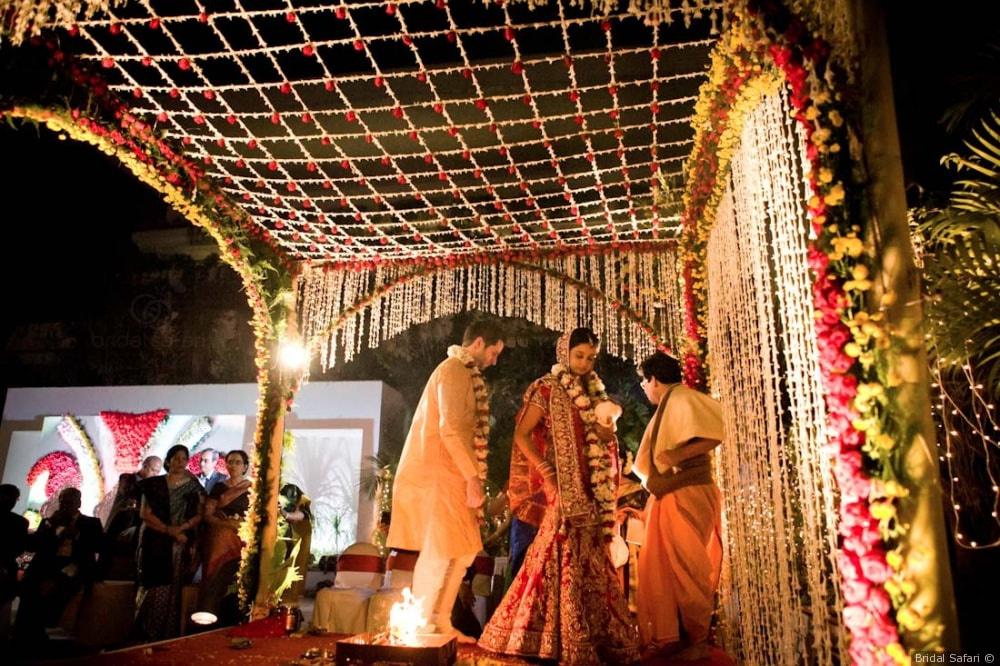 Small plantain tree is an absolutely fundamental part of a Bengali wedding Mandap design. Take inspiration from a Bengali wedding and you can use plantain leaves as your Mandap design feature.
There are so many creative ways to design your wedding Mandap. For example, you can use a Navri Saree as drapes on your Marathi wedding; a hand woven Gamasa or a Sador for a traditional Assamese wedding. Research and ask for help from your wedding planner to get unique ideas for simple Mandap designs on your wedding. After all, the Mandap is that special place where you finally tie the knot for eternal togetherness.
Share your own creative mandap design ideas with us and other brides-to-be in the comments below.