15 Marigold Flower Decor Ideas to Jazz up Your Wedding Venue
Marigold flowers have a timeless appeal to them. Here are some breathtakingly beautiful marigold flower ideas to recreate for your wedding decorations!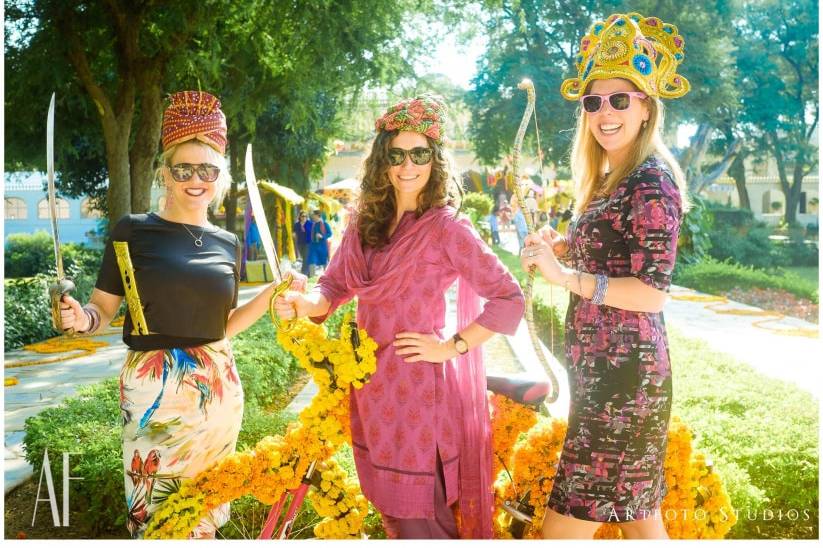 The good old 'genda' or the marigold flower is significant for reasons more than one. In the wedding scenario, it is one of the top choices for decorations. It is not just because they are vibrant and pocket-friendly. But they also have a traditional value where others fail to compete.
But isn't it kind of boring to opt marigold flower out of all the options you have? This piece is an apt answer to the question.
We have these 12 decor ideas which will entirely redefine the beauty of marigold flowers and jazz up your venue like none other:
1. The Lively Haldi Decor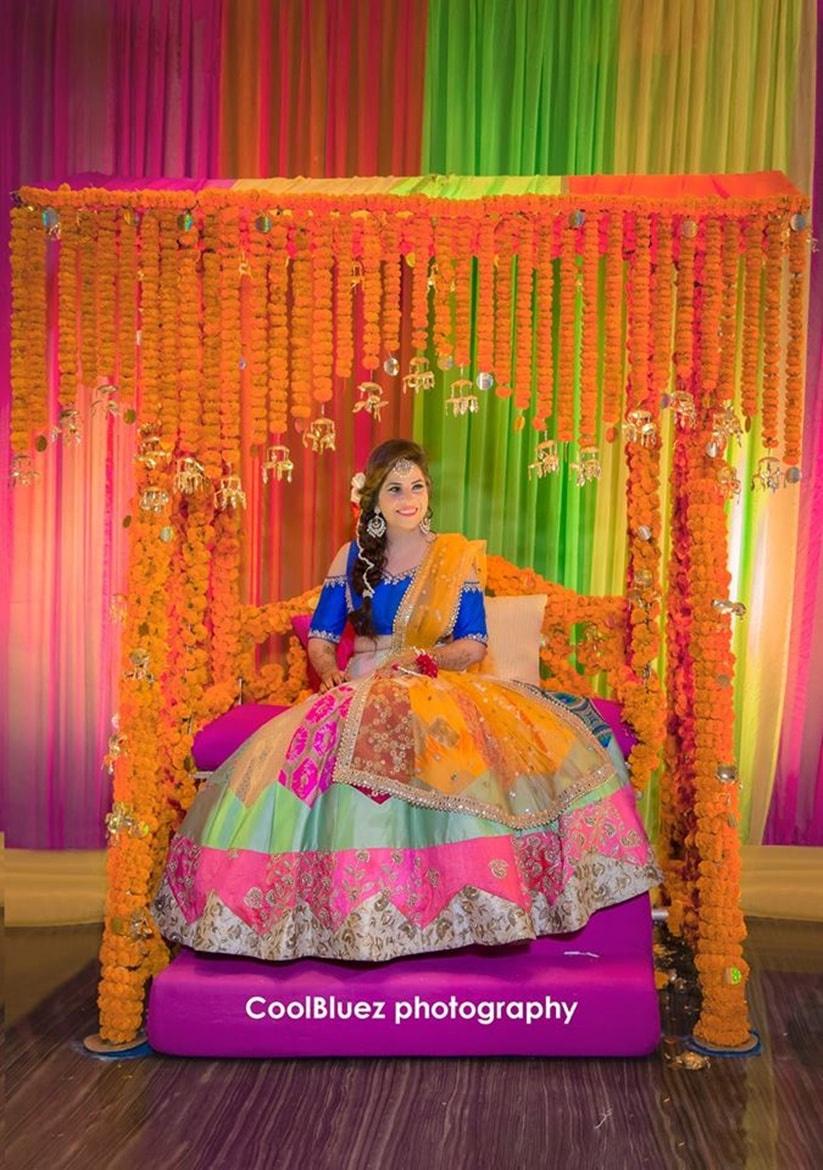 Turmeric or 'haldi' is closely related to the colour yellow but nobody said it can't be made lively with a few more colours, right? So, go on and create this colourful and lively decor for your Haldi function.
The best thing is that you can recreate this look without drilling a hole in your pocket. You just need to get a swing on rent or get your decorator to arrange it all.
2. The Layered Mandap Decor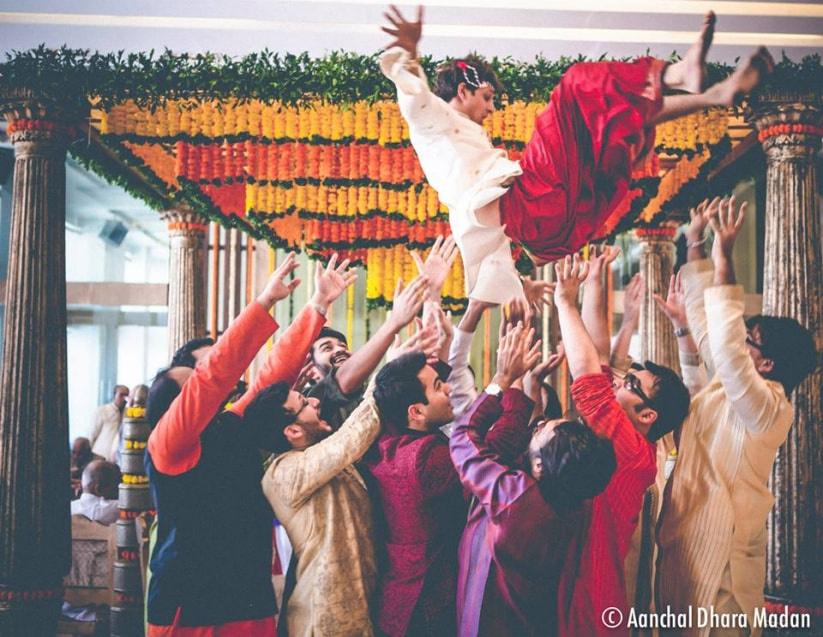 Looking for something fun and more intricate rather than a simple flower adorned mandap? We have you covered! Look at this decor which is a beauty to look at. The detailing here is done by layering marigold flowers and mango leaves, both considered auspicious in the Indian culture.
3. Marigold Flower Sangeet Decor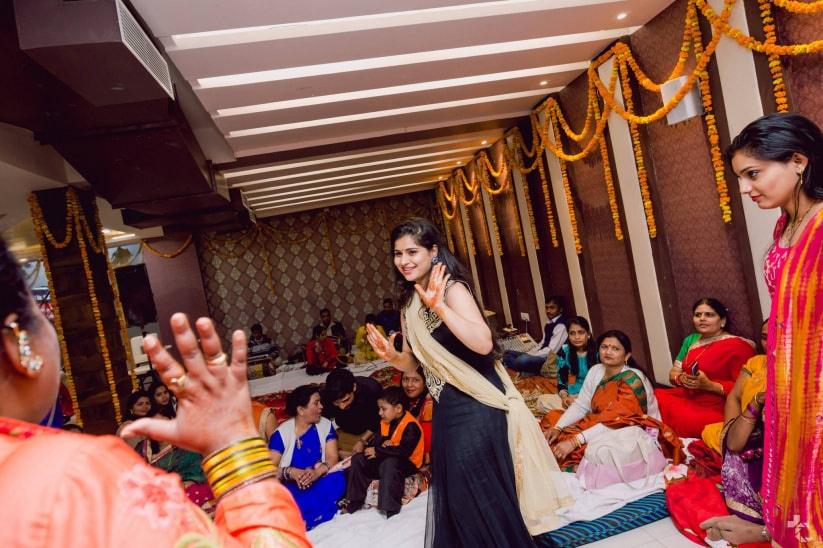 It is difficult to create a unique look of the venue for each of your functions but with a variety of flowers, you can make it possible. Try out this entirely simple and low-cost marigold decor for your Sangeet ceremony to add the required glow to the evening without causing much harm to your budget.
4. The Minimal Mehndi Decor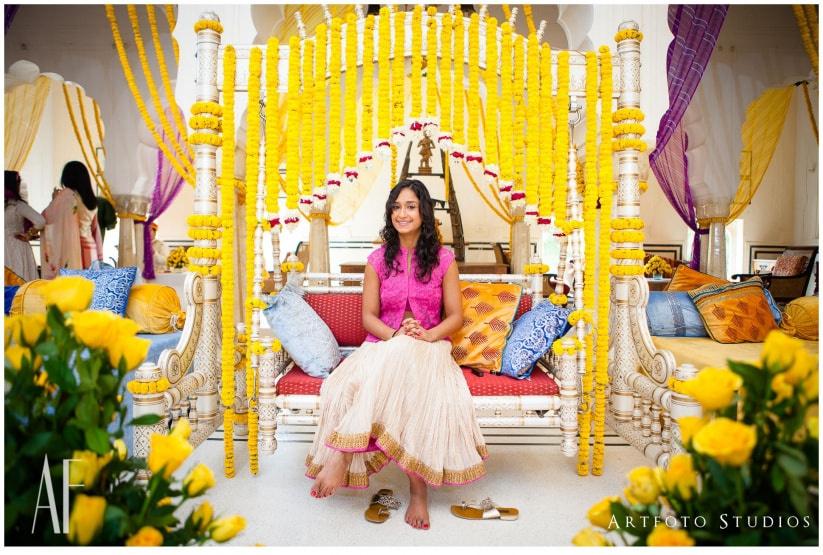 If you have planned a day-time Mehndi function, think no more! Marigold flower is just the right choice to give your venue a magical feel. And if someone told you that marigold doesn't gel well with indoor decor, show them this picture.
5. Marigold Flower Entrance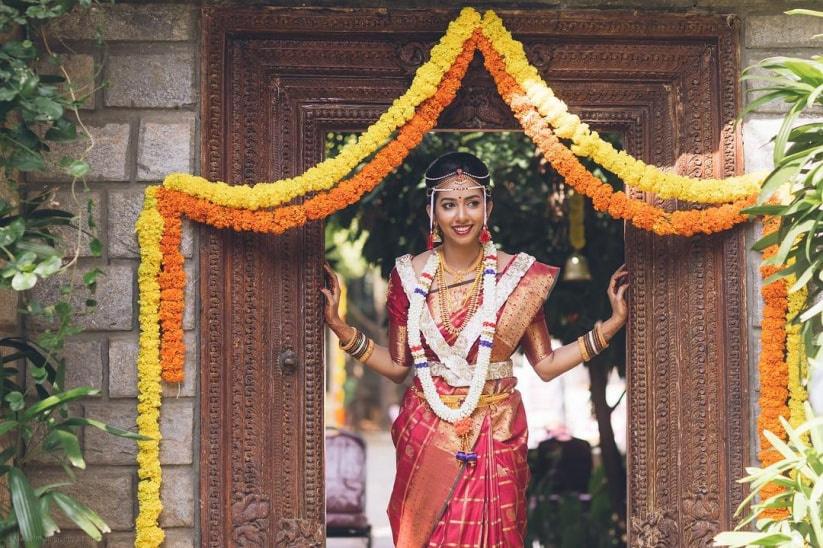 Look at this subtle yet spectacular entrance created with marigold flower detailing. Doesn't it look just mesmerising? And if you have the right venue to make this decor come to life for your wedding, the cost estimate is mad low to create this look.
6. The SWAG Photo Booth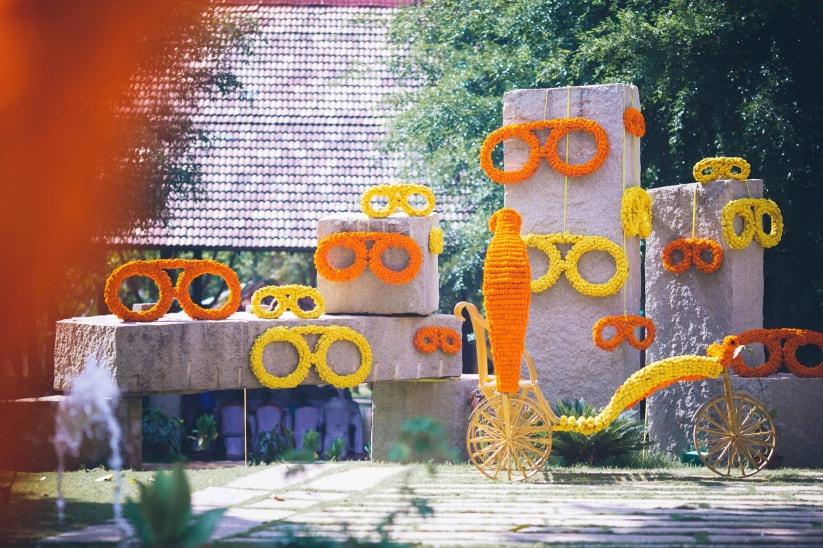 You can get a photobooth at your wedding without spending bundles of money for the same. This photo booth requires nothing more than some marigold flowers and a number of wooden frames for the base.
You can get this photobooth for your Haldi/Mehndi as well as your day wedding.
7. Marigold Flower Photo Booth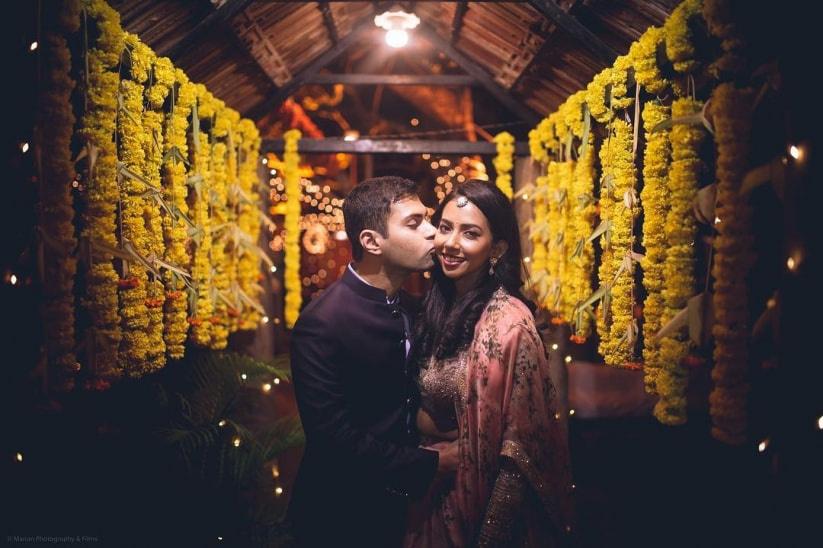 Your venue doesn't have enough space for a photobooth? Well, just find a fancy corner and get some marigold strings to work as the perfect background for taking gorgeous pictures.
It also works for Haldi ceremonies where the budget for photobooths is low and the decor in itself is ample to take spectacular pictures.
8. The Pretty Baithak Decor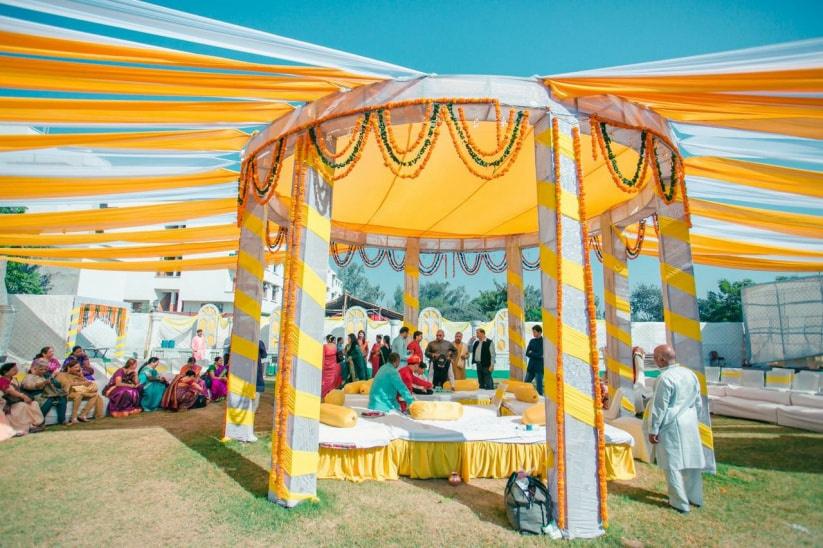 Baithak or the gathering area of guests is a popular setting in Indian weddings. It is the sight of happiness, togetherness, and fun-filled gatherings. If you are having a day-time wedding, you can consider brightening up the place further with this marigold decor.
The decor can also be adopted for Haldi, Mehndi, and Sangeet functions by altering the colour of the base clothing.
9. Marigold Flower Tree Decor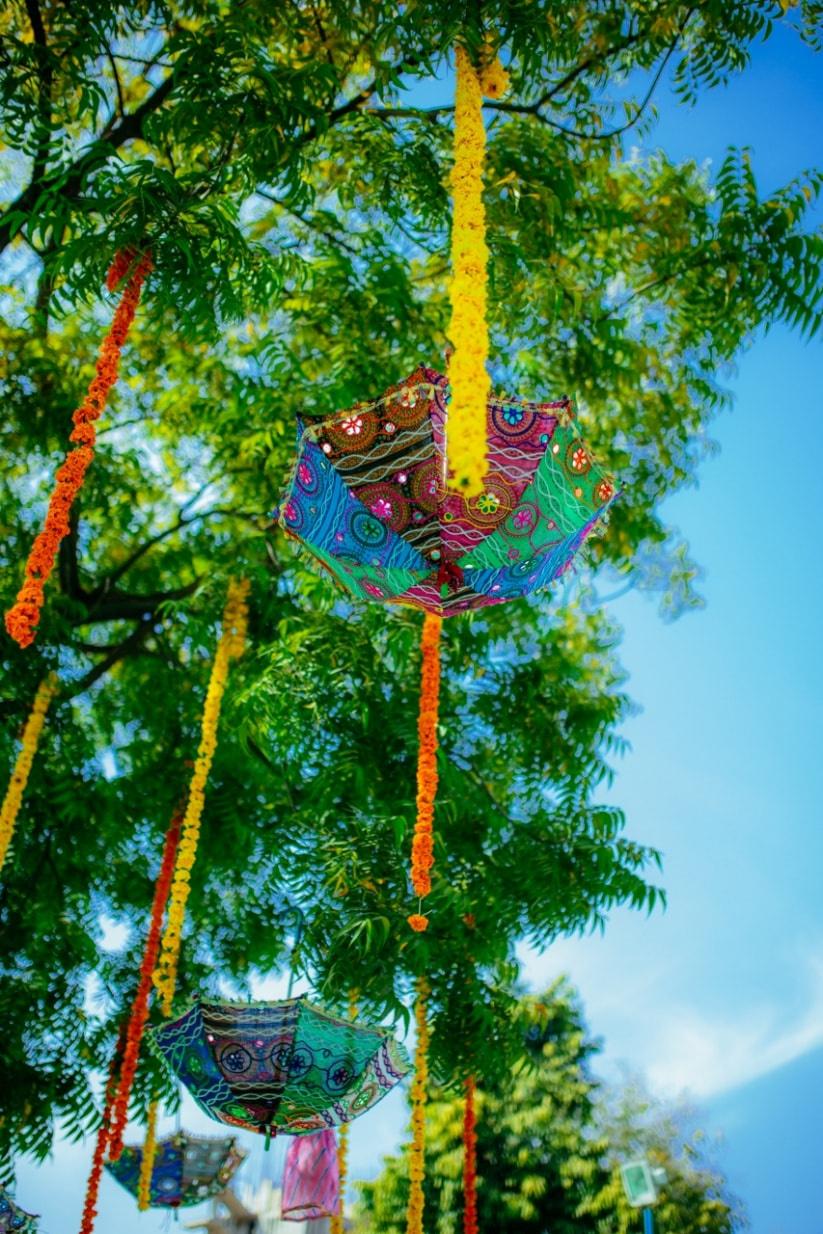 If you have a tree(s) at your wedding venue, you are all sorted for the decor. Just strings of different shades of marigold flowers along with some props can create the perfect look for your venue. It can be recreated for your Haldi ceremony too.
10. Marigold Decor for Color-themed Weddings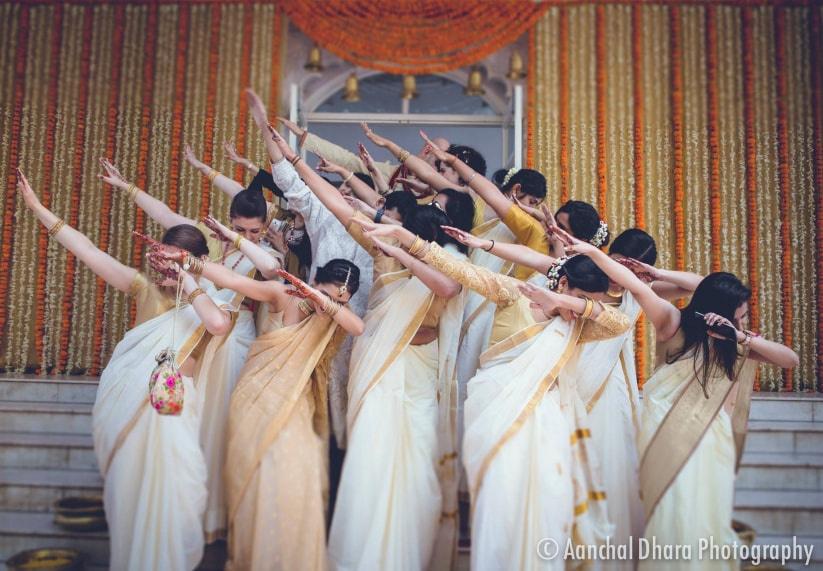 Planning a colour coordinated wedding? Check out this marigold flower wedding decoration. The decoration is special for two reasons. One, it is a subtly beautiful design. Second, it doesn't take away the limelight from you and everyone gleam more beautifully in their outfits than in a loud arrangement.
11. The effervescent mandap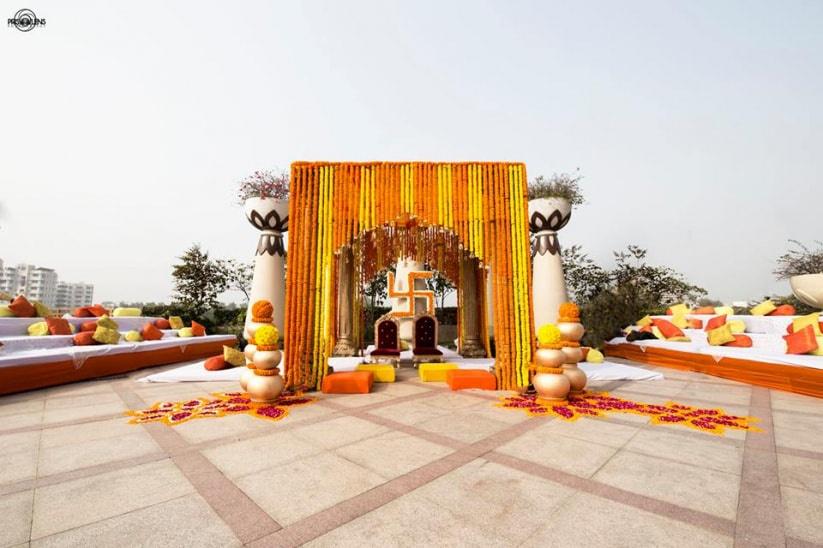 In most of our communities, the mandap is created at the residence. So, this is a wonderful idea to build for your rooftop mandap. It looks grand and makes for a beautiful place to take your vows in.
12. Embellished Table Decor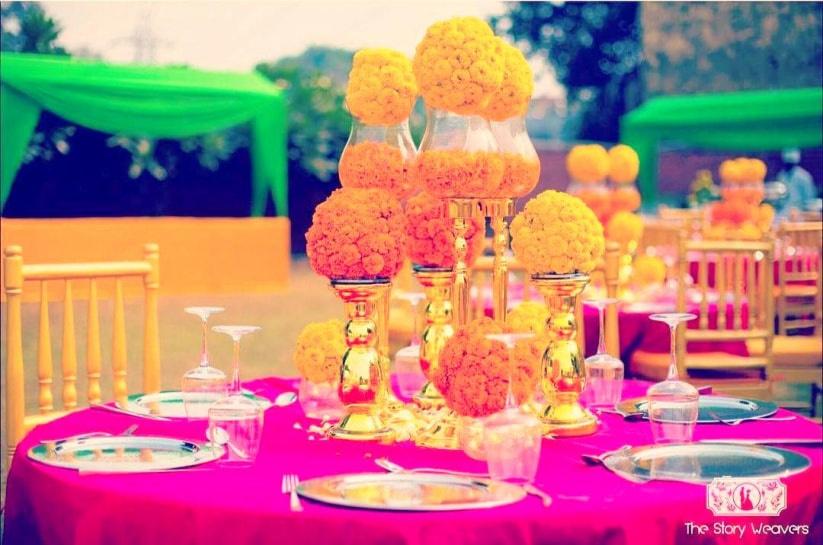 This is table decor at another level. While most of the decor is done using metallic props, it would have been incomplete without the marigold flowers. The plates and everything adds to the traditional look as well. Might be a bit expensive to the pocket, but totally worth it!
13. Pretty yellow Rangoli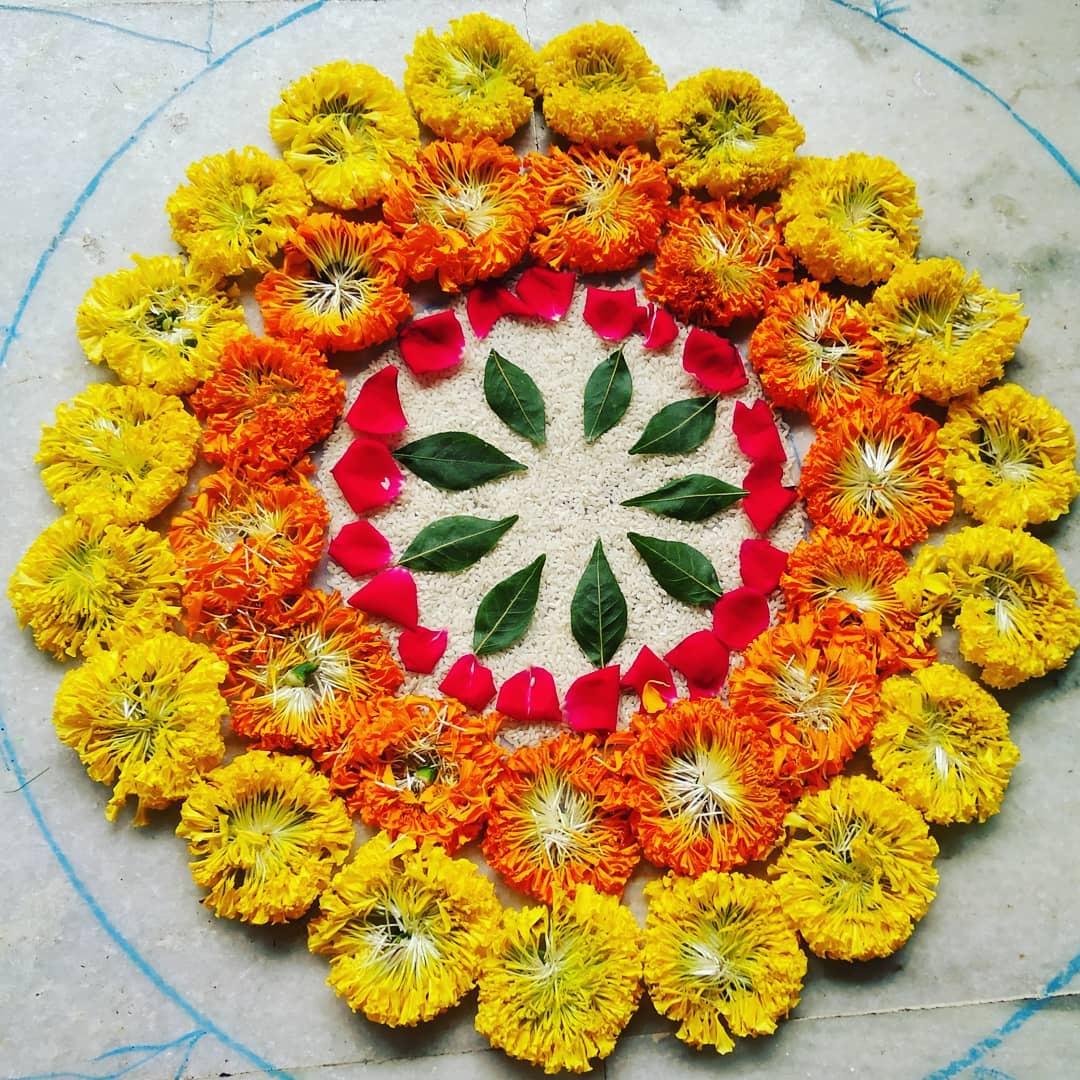 Image courtesy: State of Art on Instagram
Flower petals always make sense for a Rangoli design and if your choice bloom is the humble marigold flower, you already have a set of three shades sorted for your floor decoration ideas. Use the flowers as individuals, plucked blooms or even strings and chords and the see the many patterns you can lay out with them.
14. Upside down threads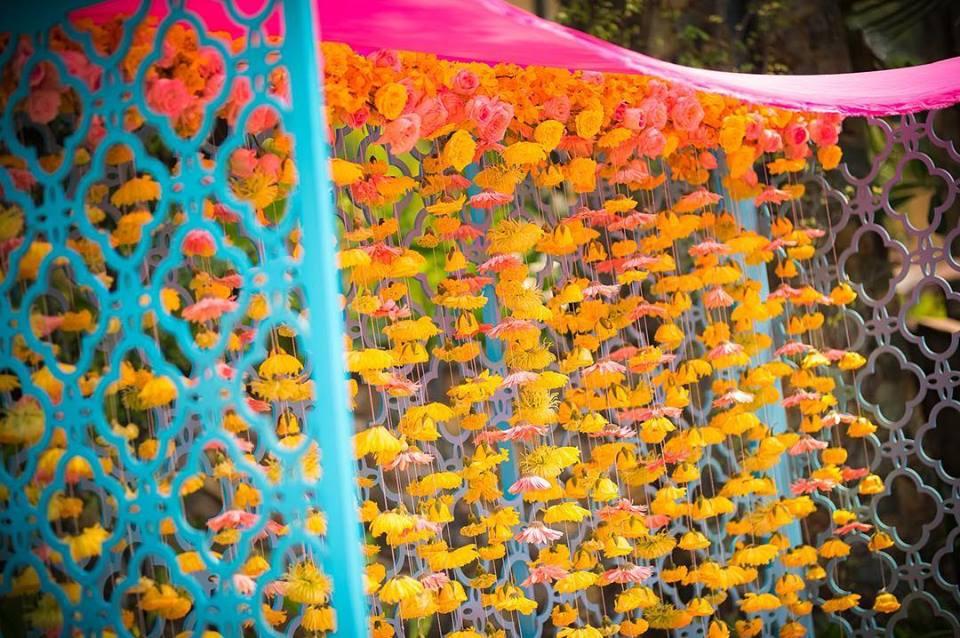 Think plain marigold flower strings are too simple for your tastes. Then flip them around and use upside down strings as hangings instead. These work with all kinds of structures - from a bridal seat to a canopy, an entrance to a wedding stage and doors to your home too. Don't remember to look up and delight in the shower for your photos though!
15. Marigold flower displays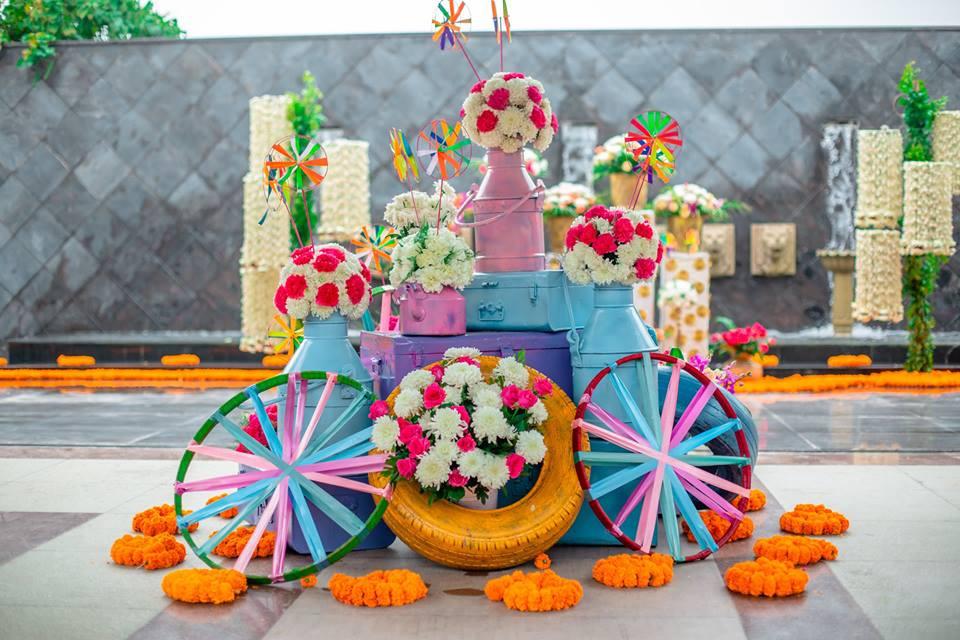 Do you think that the Genda phool would overpower all of your decor sensibilities? Don't worry. The marigold flower as a decor item can be teamed with an eclectic set of shades to suit your palette - from pop to pastel, with equal ease. Take your different elements - like the wheels, milk cans and bouquets here and add a little of turmeric shade to them. We promise, it's gonna look as great as this.
With all these beautiful decor ideas, we are sure you are convinced to choose marigold flower as the showstopper for at least one of your wedding functions!
Tell us which one you liked best in the comments below.