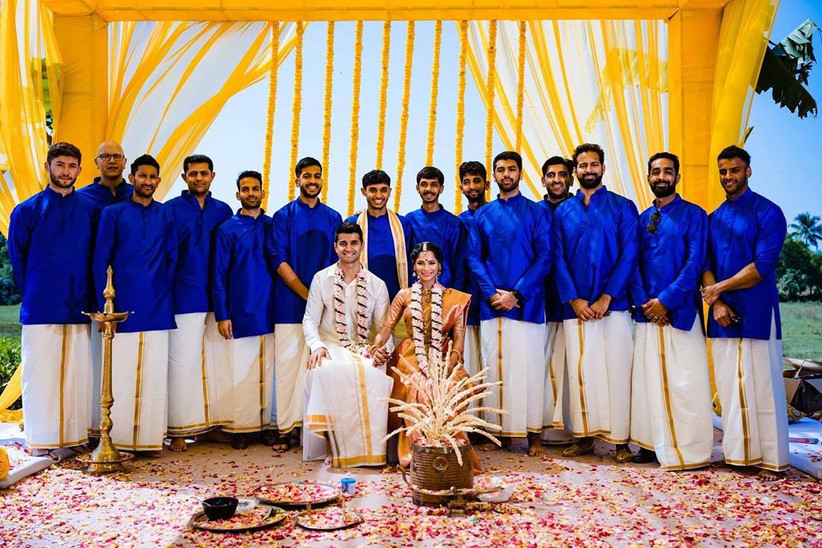 While citizens of our country (and several parts of the world) stay inside their houses, as the threat of Corona lurks outdoors; couples who have been planning their weddings for months have had to sit back and watch their dream wedding dates get cancelled and postponed amidst this pandemic outbreak.
As the driving force and dream makers of the industry, how do we come together and save their wedding dream ships from sinking? Here are a few ways in which we can -
Why Cancel when Couples can Postpone?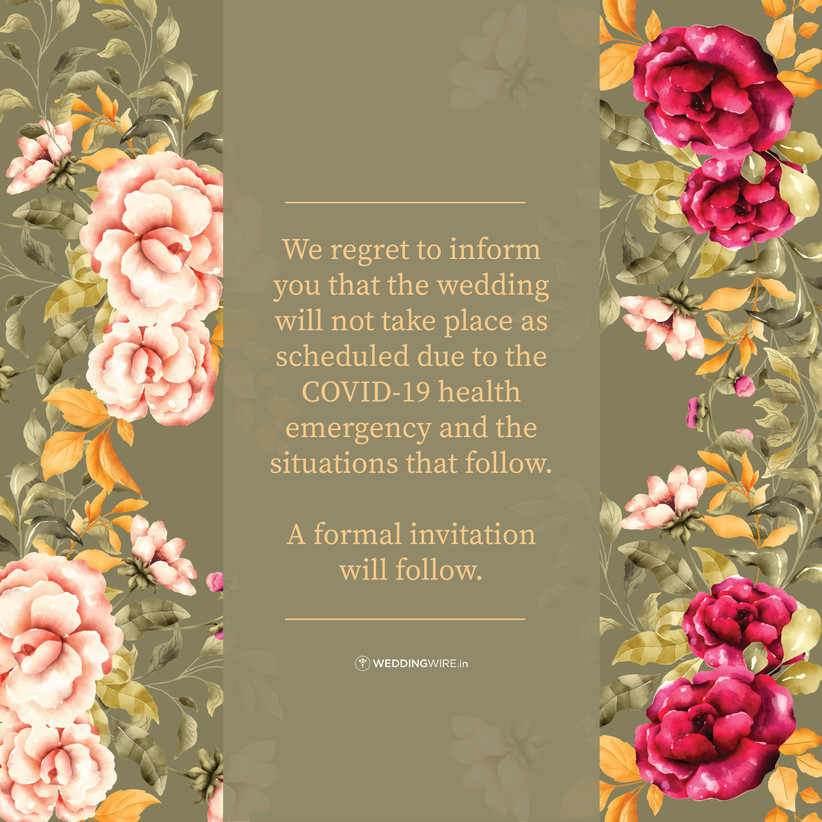 Between venue cancellations, flight cancellations, and the whole country on lockdown, planning for the happiest day of their lives has now become more stressful than ever. While these cancellations are the only sane solutions to the Covid 19 spreading problem, it need not be the only way out for our precious brides and grooms to-be. Use "Postpone" as the word of advice right now. It keeps the hope of wedding planning alive and also saves the couples and their families from burning a huge hole in their pocket.
Nitin Arora, M.D of Katalyst Entertainment shares, "Looking at the current scenario, I am advising clients to postpone it for at least 3 months. We believe that there will be a bigger bash and a more heartfelt celebration when all of this is over. When you sail through a difficult time together, there is no measure of the happiness in reuniting with your friends and family. 99% of our clients have agreed to this, thought with a heavy heart but they have understood the pros and cons and are re-looking at the wedding calendar dates. Believe me when all of this is over, we have better or more beautiful weddings. People will laugh and dance their heart out. The coming days will be beautiful."
Aditya Mahagaonkar, Founder of WhatKnot Wedding Photographers has some amazing advice for his clients who are postponing their weddings -
If their wedding was planned between March and May'2020, it is best to postpone the wedding to a date which is at least 3 months away. There is no point canceling since they have planned so much for their big day. We are asking our clients to stay in touch with all their vendors (Hotels, Decorators, MUA, Photographers, DJ, etc.) and keep them posted on the developments because searching and finalising them was a big deal and couples wouldn't want to go through the same again. Once postponed, we are asking them to make sure that the new dates are not part of the peak season. This will only make things tougher for them. All the vendors that they had finalised would mostly have a different fee structure (since it is the peak season) and will also be hard to get. The good ones usually get booked 6 months in advance. Also, no matter how much we love the Big Fat Indian Wedding, now is probably not the time for it. People are going to be skeptical for at least 6-7 months and that can lead to unnecessary paranoia. Keeping the wedding simple with fewer guests is a smart decision to make. We are also advising our clients to skip the International Destinations for now and Go Domestic. Once the lockdown is removed, beautiful domestic locations would open up for weddings. They can capitalise on it and have weddings in the prettiest of places in India."
Offer Deferred Dates and Confirm your Availability
We understand that words of assurance are not enough for our couples right now, which is why we recommend you to offer deferred dates to your clients and confirm your crew's availability on the same dates. Let them know that you will be there for them and plan their wedding with the same vigour when the corona clouds have floated away from our country and the sun of new beginnings is shining bright again.
Trrishant Sidhwaani, Director of DreamzKrraft Weddings has a strong advice for all brides and grooms to be, "Our advice to couples is to not panic! In a global crisis like this, they will unfortunately, have to wait for a bit more to get married. Most of the stakeholders in the wedding industry, the hospitality industry included, are trying to support them in whatever way they can; especially in their decision to postpone the wedding. Most people are also offering a deferred date until the situation becomes a bit clear. People who are planning for the future should continue planning their wedding; as no one knows when this current scenario will change. At most, their wedding may take place at a later date. It is important though to discuss with your vendors that in case the coronavirus situation does not get resolved by the time of your event; you will have to push your event to a further date. Continue planning your wedding, but keep contingency plans in place that will help ensure you are protected. It is more of a civic duty for which they have to push their weddings to a later date. And people are in fact taking this positively and using this down time that they spend in quarantine to focus on their weddings and figure how they can plan it better. At the same time, they are also focusing on safety, which is everyone's priority today."
Tips to confirm your availability with ease:
Have one on one conversations with your clients, communicate your availability options to them.
WeddingWire.in allows Photographers, Videographers, Wedding Planners, and Venues to get quality leads for dates they haven't yet booked. Just go to your WeddingWire Storefront to manage and add bookings to your calendar.
Add your Availability Dates on your website's home page for their convenience.
Use your social media for effective communication.
Be Flexible about Prices
We understand that corona has bruised the economy bad and it's bleeding. But for some couples and their parents, this was hard earned money that might have been saved for years for their wedding day. While your hard work and dedication to make the weddings as grand as they want it to be is the soul of the wedding, their finances is the body.
Soniya Dembla, Director at Camera Crew, says, "We are open to shooting for them on our available dates in the next six months or giving them a credit note for the booking amount. In the worst case scenario, where the wedding is getting cancelled, we have even returned the booking amount. It is the client and the relation which is much more important than money. We have lost money, but we are not the only one losing money right now, all business, all companies are bleeding but I believe we all will come out of this together as a country."
Romesh Dhamija, Founder of Studio RDP says, "These are unprecedented times and we have always dealt very personally with our couples and even though as per our contract it states that advances are non refundable for cancellations and postponement, we are trying our best to let our clients know that their advances are safe with us and we are willing to reschedule to any date that they are thinking of."
Monisha Ajgaonkar, Founder of The Photo Diary confabs, "We are suggesting alternative costing and discounting solutions like reduction in advance payments for the postponed dates on requests to avoid complete cancellations. Client delight and engagement has helped us reduce complete cancellation of bookings."
Stay Active on Social Media
People are looking up to the Internet and Social Media for information as well as entertainment right now. Actively communicate with your clients on whatsapp and comfort them with reassuring information through chats. Vendor Partners in the retail industry can always share their catalogues on mail or social media while their stores are shut. You might not see as many conversions online, but you can utilize social media to keep the communication loop ongoing.
Jewellery designer Archana Aggarwal says, "Owing to the industry we are in, fortunately we haven't had any cancellations, but a few requests to postpone the deliveries. Jewellery is not a perishable product or a time specific service. We are completely flexible and ready to adjust the present and future orders, best suitable for our clients. While our showroom is shut, we are already getting immense response from our clients over whatsapp, emails and social media."
Offer Personalised Solutions
There is magic in Personalised solutions. When you cater to a specific client and offer them exactly what they need, they know you care.
Monisha Ajgaonkar, Founder of The Photo Diary says, "We have decided to deal with each client, one at a time. We're personalising solutions to cater to their needs. We are trying to keep calm and help our clients from making hasty decisions, while giving them space and time to think to get back to us. We're anticipating customer needs, and empathising with them. From arranging video calls to sharing picture references to keep them happy while they picturize their wedding, we are trying to keep them engaged and help out with planning in the future. We are also open to cancellations, as we cannot blame anyone, and it's no one's fault, we'd rather maintain good relations with them and support one another."
Have Optimistic Discussions with them
Ruchita Bansal, Founder and Creative director, Izhaar says, "My advice to the brides and grooms (to-be) out there is to deal with the situation with patience and persistence. There is always a silver lining after a dark cloud and we should focus on the silver lining. 'We shall overcome.' Once this phase is over, all you have to do is plan the weddings and occasions with the same zeal and zest. After every storm there is clear sky! After every winter there is spring and after every halt there is something big and better coming up! We are taking it very optimistically and these are just temporary cancellations, which are very necessary. Once, the situations get better, everything will resume to normal and that's how we console our clients too." We couldn't have said it better. Spark hope and positive thoughts in their mind, tell them this is just a phase and when all of this is over, their guests will be safe, and their wedding will be one amazing experience.
Do you have some tips to share? Join the discussion about the impact of Corona in our Community and share all your tips with brides and grooms to be.