Wedding Planning in 2021 Webinar by WeddingWire India
If you are wondering about wedding planning in 2021, we bring to you exclusive expert advice on wedding planning in 2021 by top industry experts to guide you. Read to know more.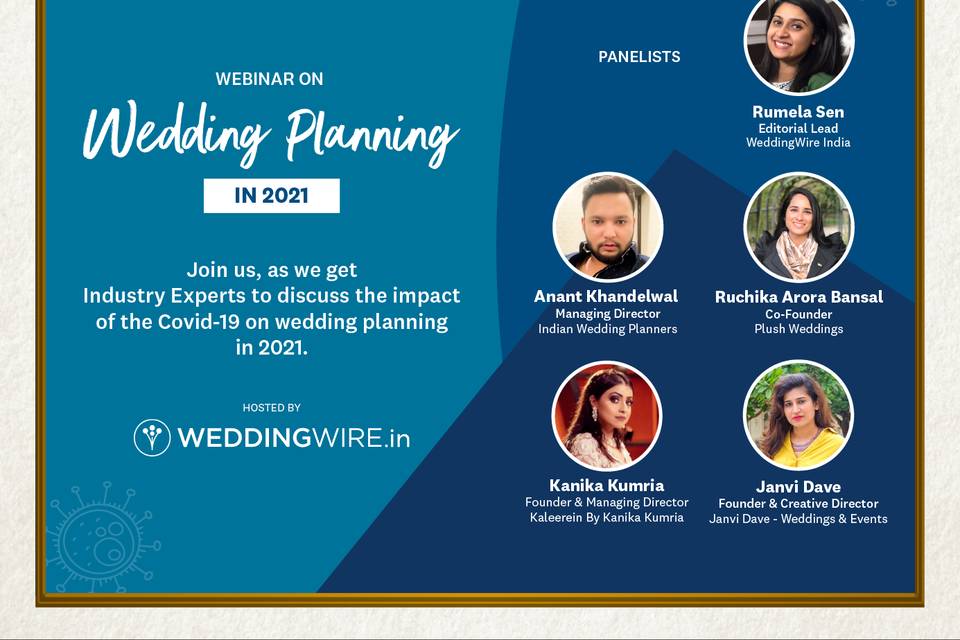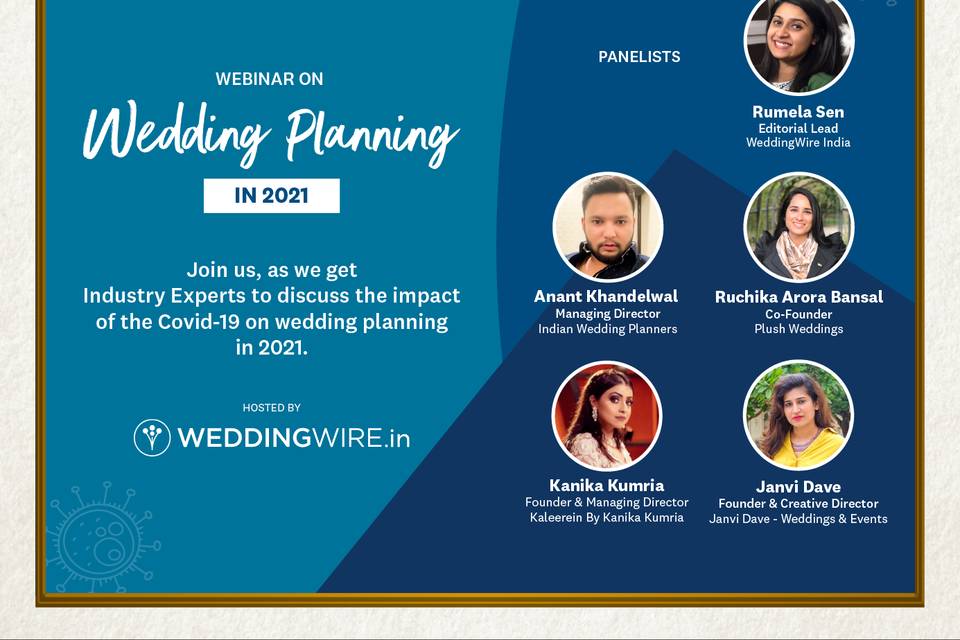 Since the global pandemic hit us last year, a lot has changed drastically in the field of weddings. It is quite evident that there is a sense of uncertainty that has shrouded the whole wedding scenario in India especially for the couples who have had to postpone their wedding once in 2020 or had waited for 2021 to plan their dream wedding. While the first half of this year seemed a little tricky, the top industry experts have come together to help you and guide you as you sail through these uncharted waters once again.
Right from the fad of intimate weddings to the new challenges, the experts are here to discuss the new trends, the format of weddings in 2021, digitisation and the safety measures for a competent way forward with wedding planning. Read on to know it all in details straight from the pros.
What is the consumer sentiment about wedding planning in 2021?
2021 brought with it a new wave of uncertainty and the wedding business is no exception to the effects of that wave. Couples and their families are expressing mixed emotions when it comes to planning a wedding amidst the pandemic. WeddingWire India's Editorial Lead, Rumela Sen says, "With the entire night curfew and other restrictions back into being in many cities and states of the country, couples are going through a lot of dubious conditions. There are actually two types of responses that are majorly being noticed among the couples. Firstly, there are some couples who want to get married on the same date as planned and they do not want to cancel/postpone their wedding any further. These are the couples who are planning an intimate wedding with close family members only because many state governments have allowed intimate weddings with a certain set of regulations that are to be followed. They might want to throw a bigger reception or a party for all when things look brighter. Then there are couples who have decided to postpone the wedding to a later date, this very year. They are prioritising health over everything else and therefore are reaching out to vendors to figure out other wedding dates."
She continues to add, "There is a shift in the demand similar to last year when it comes to weddings where weddings are now being planned mostly in the second half of the year."
It is safe to say that the learnings from last year are being implemented this year as well.
What are the challenges in planning a wedding in 2021?
Janvi Dave, the Founder and Creative Director of Janvi Dave - Weddings and Events has to say, "There is in fact a stark difference between last year and this year. Last year we were not very aware of COVID - what the virus was, how bad the infection would be and how to deal with it. But this year, it is safe to say that we have some experience in planning a wedding amidst the pandemic because of being able to plan and execute weddings last year as well. There is uncertainty, of course, because of the 2nd wave; but we have our hopes high thinking of the vaccination drive in India especially for the youth now aged between 18 to 45 years of age. This can be looked at on a positive note despite the uncertain times that lie around. I am hoping that the upcoming season is better than the last."
Ruchika Arora Bansal, Co-Founder of Plush Weddings, adds to that saying, "Speaking from the perspective of the Delhi NCR, where we mostly function out of because our office is in Gurgaon, there are a lot of local weddings happening as opposed to destination weddings which happened only in the beginning of last year when the pandemic was not a threat. The major issue is, for instance, is that there is a curfew in Delhi and we are based out of Gurgaon so even if the client has shifted their events to Gurgaon, there are still so many employees, manpower and workers who reside in Delhi and need to travel to Gurgaon. This is getting very difficult. There are day passes available for sure, but procuring them is a very tedious process - going through all the authorities involved and so on. This is one of the major challenges we are facing currently mostly because of the curfew and lockdown. Movement is not very smooth which makes everything stressful and it takes a lot of work to put everything together."
Anant Khandelwal, Managing Director of Indian Wedding Planners has to say, "The bigger challenge, I think, is unable to plan things the way they used to be. There are times and situations when we might not be able to make amendments on such short notice. But on another note, this is also a test of our professional capacities and a lesson to brush up our skills when it comes to crisis management."
What is going to be the format and future of weddings in 2021?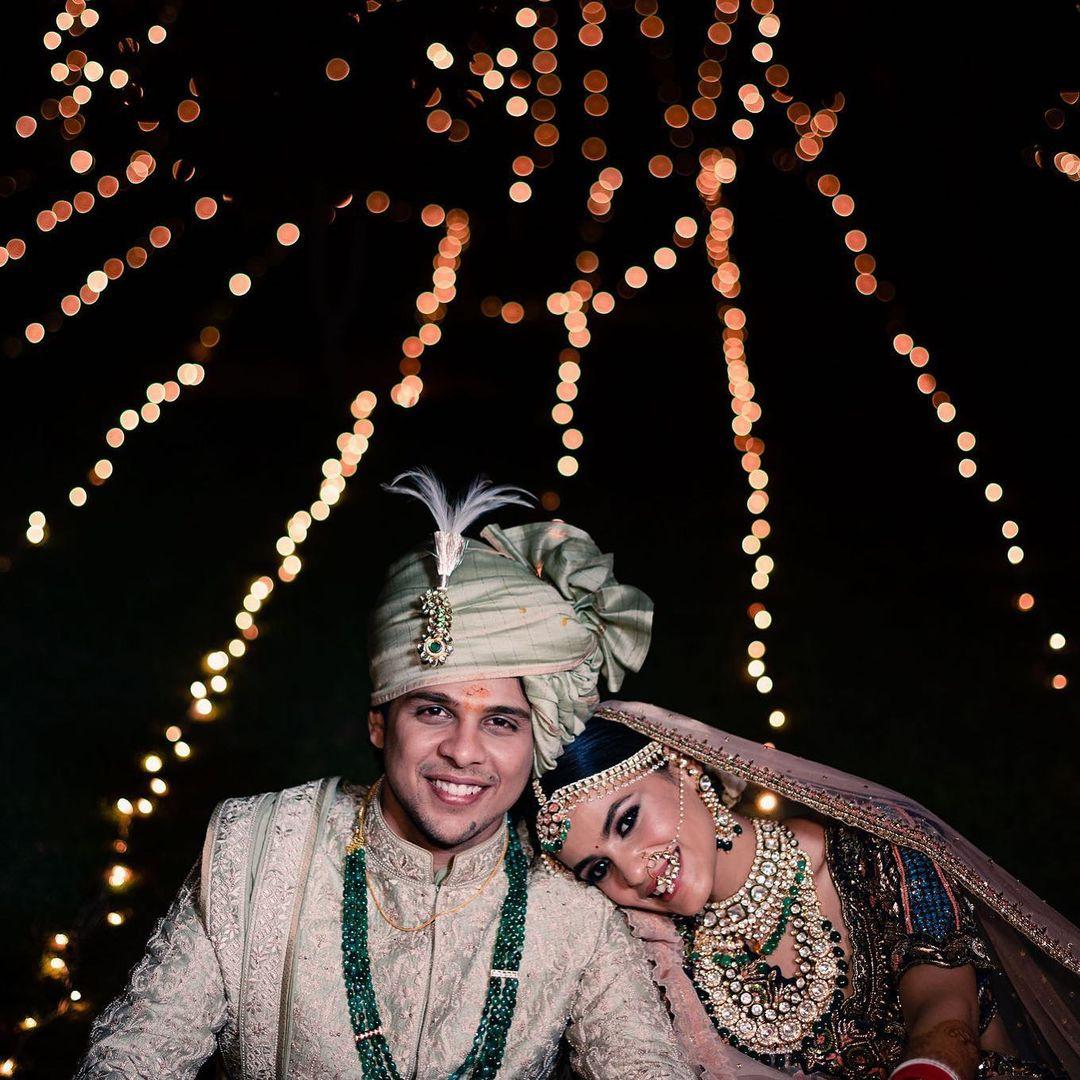 Kanika Kumria is the Founder and Managing Director of Kaleerein by Kanika Kumria. Talking about the format of the weddings in 2021 with all the different types of weddings that we saw in 2020 like intimate weddings, minimonies and so on, Kanika says, "It's going to be the same as it was in 2020 when it comes to the format of weddings. But people tend to expect a lot from intimate weddings too. For instance, they want it to be as large and happening as the big fat Indian weddings. The nitpicking remains the same, the guest management requirement remains the same from our side. The length of the list needs to be taken care of by the couple and their families with only the most important and closest people getting to be a part of it. But the rest of it remains the same for us. In the near future, even if the upper limit of the number of guests is 20 people, the management for all intimate weddings remains the same until we beat COVID or everyone gets vaccinated!"
One cannot discuss the future of weddings and their formats in 2021 without talking about destination weddings. Since January 2020, the world at large has seen a setback in the destination wedding space. On that note, Anant Khandelwal says, "Because of the pandemic, in terms of planning, the entire process has gone for a toss. There is a lot of chaos and confusion faced by the couples, their families and even the vendors for now. But now I see a ray of hope for weddings because the weddings never stopped. Even in 2020, when the concept of minimonies was just introduced, couples and families accepted it with open arms and weddings still happened and that is what keeps us going."
On one hand, weddings are constantly being downsized for safety measures and on the other, personalization at weddings is increasing evidently. People are shifting their focus on smaller details and storytelling to share the love and intimacy with their own families and friend which was not very possible with a grand guest list. When it comes to the trend of personalisation, Ruchika Arora Bansal says, "When it comes to talking about personalisation, the list is really long! Personalisation is something that remains constant - irrespective of the downsizing in weddings or not. There are a couple of things that people have taken up, for example, the venue could be more personalised - a place where they met, ancestral place, etc. A shift from destination weddings, picking grand venues and similar ideas have come into place, where couples are now picking boutique venues, restaurants and their own backyards for hosting the wedding. This is indeed a wonderful scenario because to host weddings at these boutique properties and homes is an unmatched serene feeling altogether. Even when you consider the bigger picture like sustainability, couples can now, more than ever, pick sustainable options for their wedding like upcycling wedding wear to getting into slow fashion, picking food that is packed to avoid wastage and so on. If celebrities can do it, so can we! Look at Dia Mirza's wedding - it was a huge learning for all of us. Impersonalisation can come into the favours and personalised gifts and cards as well where a smaller guest list can be handled better."
There is another very significant aspect to consider when we talk of the future of weddings and that is the budget of the wedding planning process. Postponing a wedding or downsizing one might require you to replan the wedding budgets. Or not? Here is what Janvi Dave has to say, "When we talk about big fat Indian weddings, a big chunk of it lies in the long guest list. But there are many couples/clients who are planning small weddings with that budget too. On one hand, there are weddings that are planned overseas that are being indefinitely postponed and on the other are weddings that are postponed already and now the couples are not agreeing to postpone it again. The couples who are open to the idea of hosting a small wedding ceremony without any further delay, are allocating more budget to the premium venues, premium vendors, more personalisation and other such luxe options. They have started focusing more on quality rather than on quantity. The celebrations are still kept lavish despite the shorter list of guests."
What is the role of digitisation in wedding planning in 2021?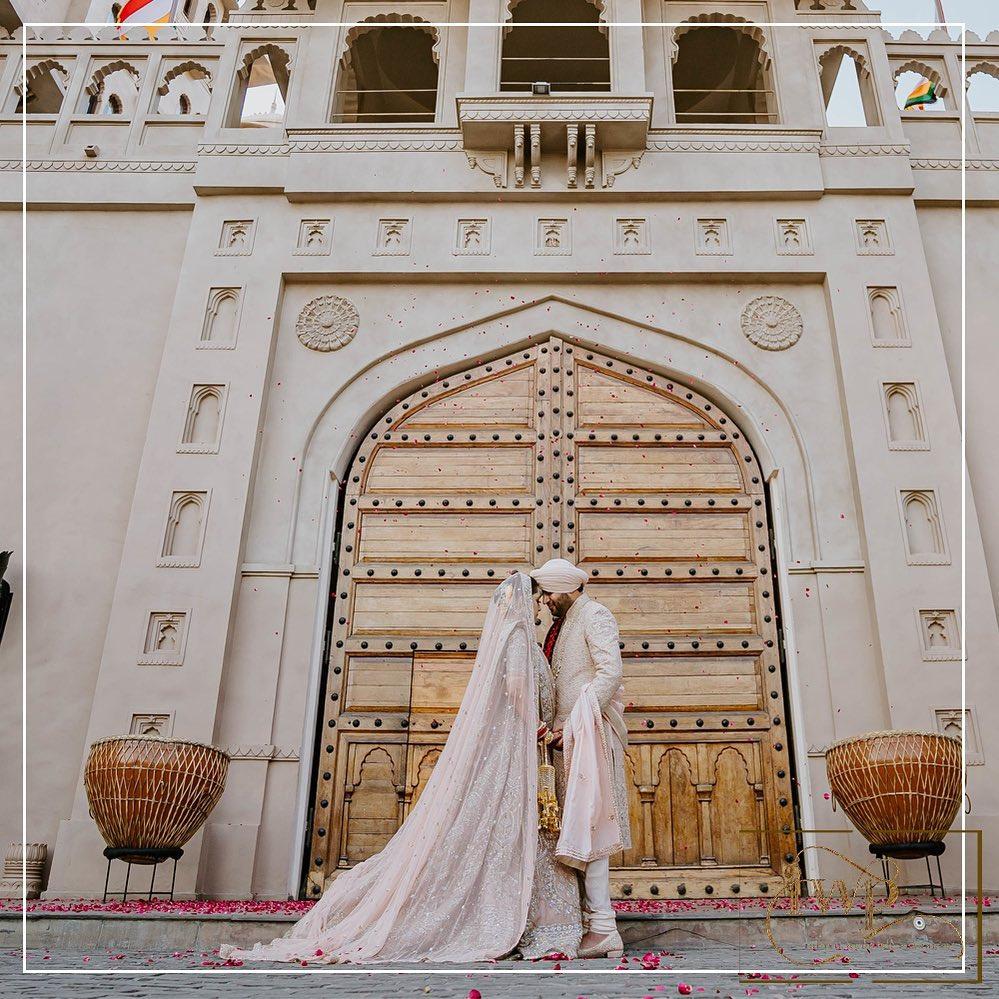 Rumela Sen gives us valuable insights and says, "Digitalisation is playing a very important role, it has expanded the scope of wedding planning as well as celebrations for couples. We saw an increase of +19% YOY on March 21 in a couple of inquiries on our platform and an increase of +18% in website traffic for Feb 21. Our new couple sign-ups increased by 47% Year on Year during March 21. We make it possible for couples to find all kinds of wedding businesses and venues from our platform. Apart from booking the right vendors for the wedding, live streaming of the wedding from the venue, having a wedding website to handle all guest communications, virtual bachelorette parties, planning e-invites are also various ways planners are suggesting to our couples right now."
Speaking about the effect of using online wedding planning platforms and the evolution towards the digital age in weddings, Anant Khandelwal says, "I personally think that online platforms have given the consumer more than enough details and options that often delay the process of decision-making because the more they look, the more confusion there is. We would anyway take time to build the relationship and trust with the client, but now digitisation has added on. However, since online platforms have come into being, our meetings are happening online where it is making our work easy and accessible too in these times."
When we talk about digitisation and online platforms, e-invites and wedding websites play a very vital role here. Speaking about the future of physical invites and the way forward for e-invites, Janvi Dave says, "E-invites, wedding websites, apps and so on are the need of the hour, to be honest - they saved the day. People have now opened up to accepting e-invites gradually because, with the pandemic, e-invites are no longer just optional. They have almost replaced physical invites and become a mandate. If you look at it on a more positive note, then digital spaces are a great way to include creativity, animations, photos, videos and so on. Having said that you cannot completely write off physical invites because physical invites are very significant in Indian culture. However, I think the number will be affected when it comes to physical invite because now we have accepted and acclimatised to the new modes of invitation. And when the time for physical invites returns, experts need to become more creative; now that the world has gotten used to e-invites and digitisation!"
Ruchika adds to Janvi's observation by saying, "To add to that, in the end, it all boils down to the people loving the touch and feel of warmth and connection that a physical invite brings along - apart from of course the mithai ka dabba, savouries and favours that come along. Physical invites will never go away completely, it is here to stay - but we need to strike the balance."
There are weddings where people are bringing in online entertainers who are providing clients with live shows even. Yes, entertainment makes for an important part of Indian weddings. With the pandemic, there might have been a dip in the business for entertainment providers. On similar lines, Kanika says, "Entertainment sort of remains the same. It is not as huge and OTT as it used to be during the pre-pandemic times. But the special performances, first dance, family dances and Sangeet and so on are still very much in place. However, with the DJ and outsourced entertainment, we need to maintain the social distancing norms. For now, we see a dip in celebrity performances, stand-up and so on who would come physically to the weddings as outsourced wedding entertainment."
What are the safety measures for the clients as well as businesses?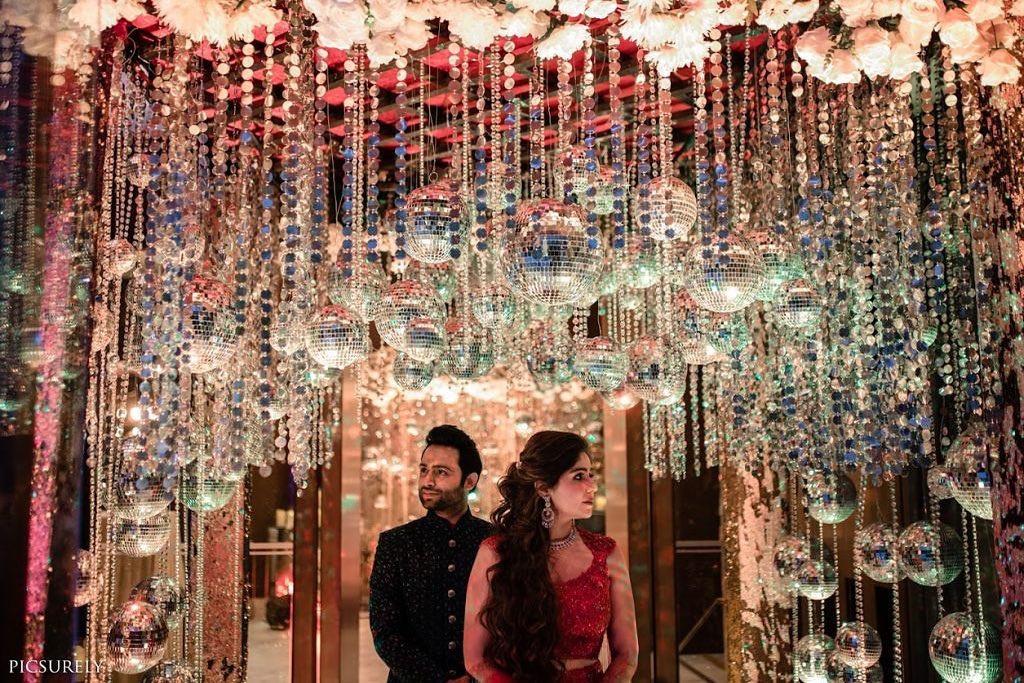 Talking about the safety precautions and norms that need to be taken care of while planning a wedding in 2021, Ruchika says apart from what already existed as a part of the 2020 guideline set by the government, there are a few more pointers. She says, "Apart from what existed, I think kids under a certain age like 5-6 years and aged people on the guest lists who are above 55-60 years should be avoided. As much as it breaks my heart, it is for the best of both the client as well as us. In fact, as a part of the RSVPs that we as a team follow up on, we ask the guests to get a COVID test done and show their test results to us before their arrival so that we can plan guest logistics and manage the situation better. I would also urge people to keep wearing the masks even if it is just an intimate wedding where your dear ones have gathered."
Janvi Dave says, "The planning has to get stronger and more streamlined. Going through the SOPs and tasks with your team is of utmost priority and contingency plans are a must. Keep safety as a priority while planning your wedding. Cut down on the last-minute running around so that you can lay back and enjoy, while also taking a break between events to be rested well (for vendors)."
Anant Khandelwal adds to that saying, "Be ready with a plan B. In case of certain sudden changes when it comes to government guidelines or any situation, planners should be ready with a second or even third set of the wedding budget, alternate bookings, and so on and the clients should be open to new ideas."
Ruchika, "To add to that, I would want to say that we as planners will do our bit for sure but it is a humble request that there has to be a level of understanding, freedom and trust coming from the client as well to let us bridge the gap between them and the plan. We sure are magicians who bring dream wedding to life, but only when the client showers us with a certain level of trust and confidence, can we go all out to make things happen."
Kanika finally adds to that saying, "I am of the opinion that the client has to be well-informed right from the first about any contingency plan or Plan B and the possibility of any changes. Along with that planners can discourage the clients from asking for the moon and actually give an alternative that is attainable. Another specific observation is that the buffet should be cancelled for a while and sit down meals should be the norm to avoid the spread of the virus. In a sit and eat arrangement social distancing norms can be followed easily."
Wedding planning is anyway a very tedious process. With the multi-faceted actions that need to be carried out simultaneously, doing it all by yourself might get stressful. Keep your wedding planning stress at bay and hire a wedding planner who can help you with your planning responsibilities. In fact, with platforms like WeddingWire India, you can actually start planning your wedding from the comfort of your homes right away.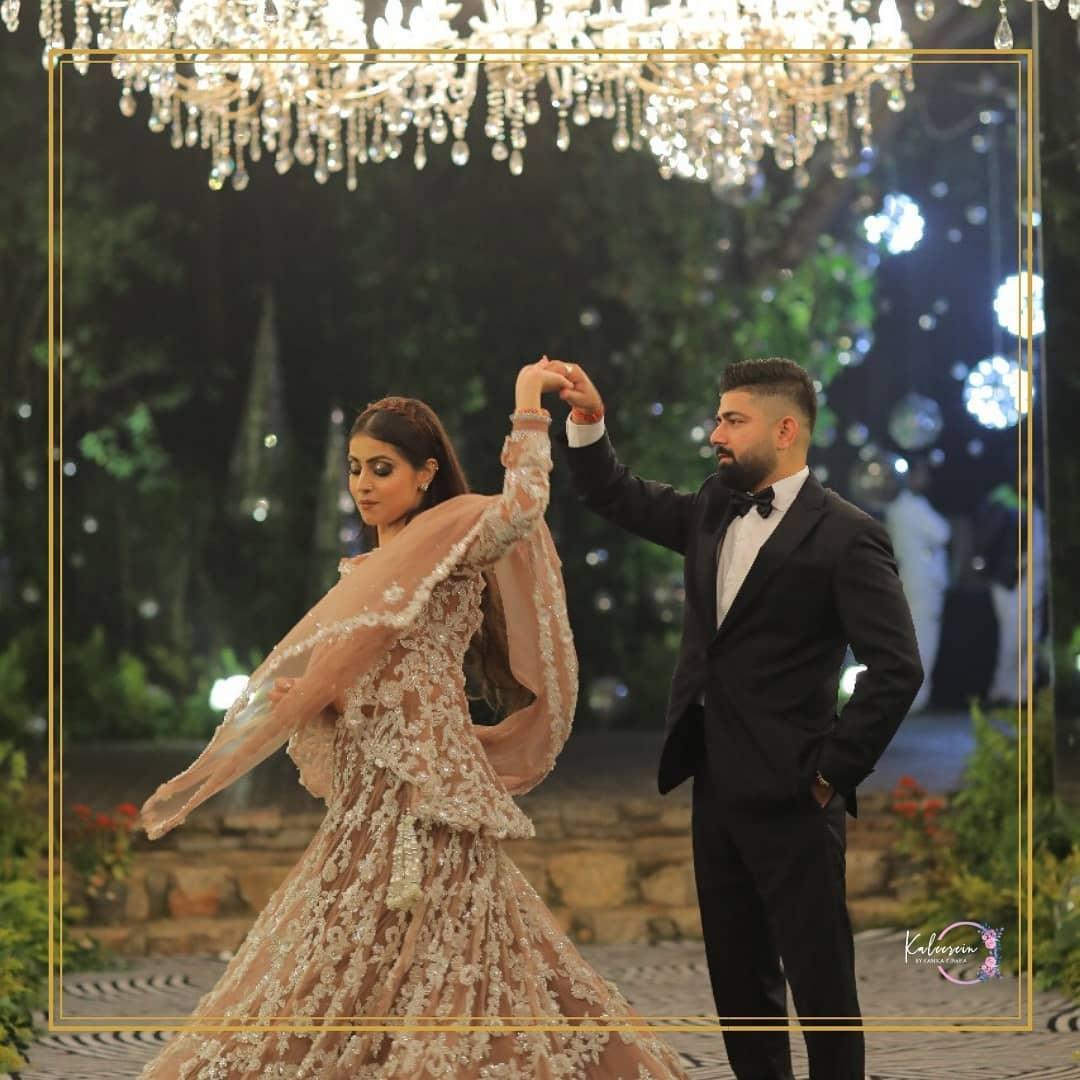 The industry experts have come together to talk about the different aspects of planning a wedding in 2021 with an ongoing pandemic. Their talks on safety while keeping the creative essence of the industry in place is surely a ray of hope that wedding planning in 2021 looks promising. The trend of intimate weddings is going to stay for good and the inclination of millennials towards hosting a small wedding is worth mentioning especially in a country like India where weddings are celebrated like a grand fair for days.
If you are planning your wedding in 2021, apart from looking out for auspicious dates in 2021 you must also hire the perfect wedding planners who can assist you and guide you into planning your dream wedding, fuss-free.