10 Inspirational Ideas for Marriage Mandap That Will Amp up Your Decor for the Big Day
One of the major decor concerns for the wedding day revolves around the marriage mandap. If you want an attention-grabbing and awe-inspiring idea for decorating it, all you have to do is read on.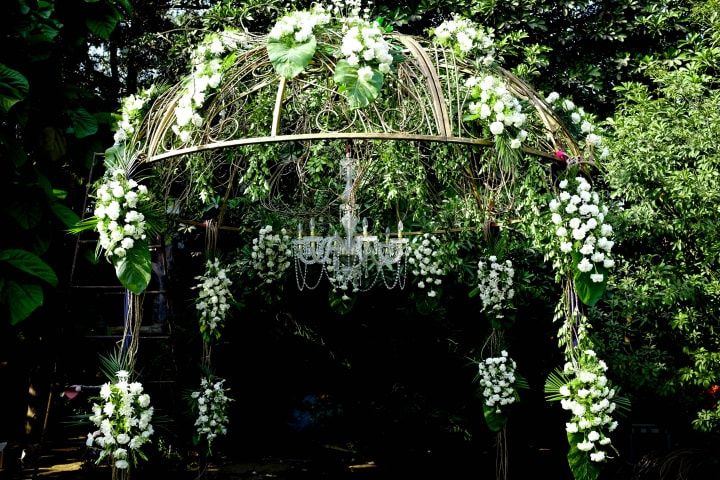 When you imagine your wedding, taking Pheras around the holy fire, you visualise the complete setup. What sort of mandap do you imagine? Did you give it any thought? If not, then you should because a lot of your wedding pictures will be clicked here. Set up your marriage mandap as carefully as you would your wedding ensemble. Whether you are the type who wants to own the latest trends, the one who is themselves a trendsetter or the one who likes the classic approach, we have something for everyone. Here is a list of 10 marriage mandap decoration ideas that you can take inspiration from.
1. Umbrella mandap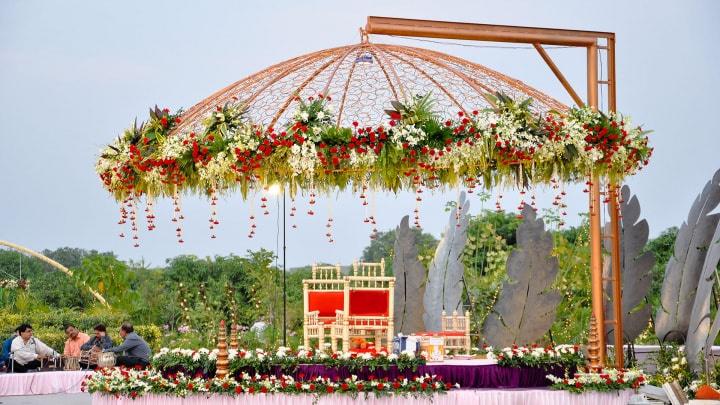 We've seen umbrella wreaths as seating backdrop for the bride and groom and floral umbrellas replacing Phoolon ki Chaadar but did you ever imagine an umbrella-shaped marriage mandap? As you can see here, the installation is fixed at one side giving support to the overhead umbrella. Adorned with red and white flowers, the floral decoration is not added just on top but also surrounds the circular mandap along its steps. You can also go for the same approach and choose flowers that go with your wedding theme.
2. Mandap gardenia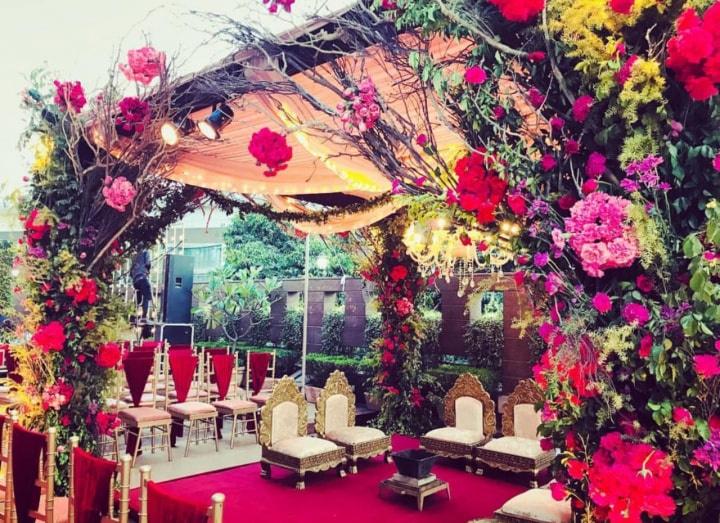 Doesn't this mandap bring a smile to your face the moment you look at it? All thanks to the floral arrangement, drapes, fairy lights and chandelier that give it the right pop of colour and jazz. The garden-like look is enhanced by all the botanical elements the various shades of flowers. For your own marriage mandap, you can also choose such uncut flowers and use lots of lighting. This way, your marriage mandap will look pretty during the day, as well as the night. It only seems fitting that the colours of the seating are neutral amid this burst of garden colours.
3. Gazebo mandap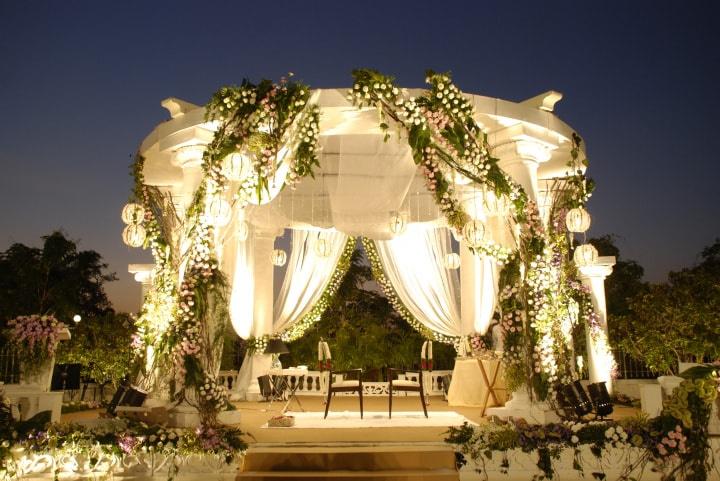 A marriage mandap, gazebo style. Doesn't this mandap look like it came out straight from a Hollywood film? Where the film's last scene is the couple's kiss under a gazebo. Taking inspiration from the same filmy sequence, you should totally tie the knot under it if you are a movie buff. The white decor with paper lanterns and botanical decor looks classic and elegant, perfect to fit into the wedding dream of yours. If your wedding theme is vintage or the colour white, you should totally have this marriage mandap for your big day.
4. Beach deck mandap setting
Are you planning on having a destination wedding on the beach? Setting it up on the deck is an excellent idea if you do not want to spoil yours and your wedding guests' attire. Make use of the natural colours as it has been done in this marriage mandap. The drapes around the mandap mimic the shades of the sea and bouquets reflect the bright shining sun. Keeping the seating all-white is the perfect tribute for the clouds of the scenery. Addition of these colourful umbrellas just adds to the overall appeal.
5. Floating mandap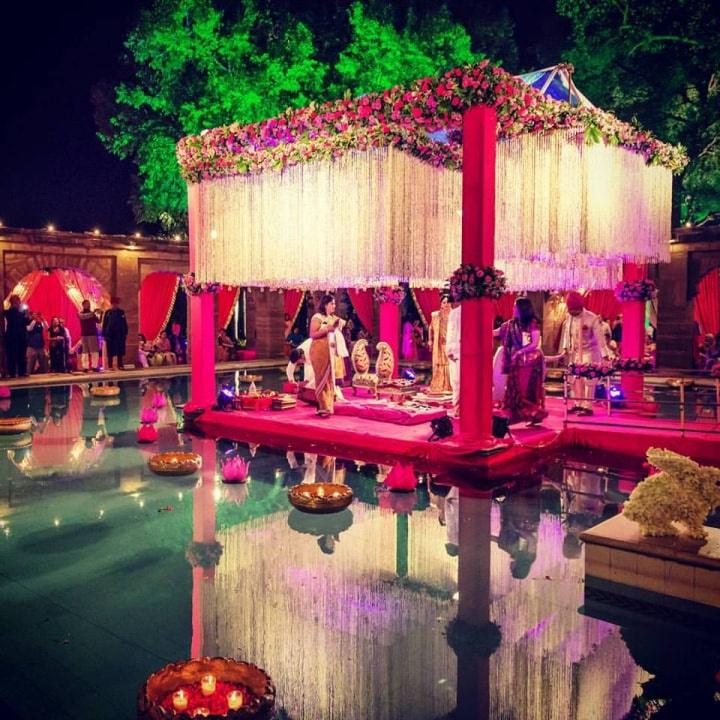 In the recent wedding seasons, the concept of floating mandaps has been trending. Fix it over a swimming pool or look for a venue that has a dedicated concrete area to do so. This picture looks straight out of a fairytale and you can have the same effect for your wedding if you choose a floating marriage mandap.
6. Rustic dome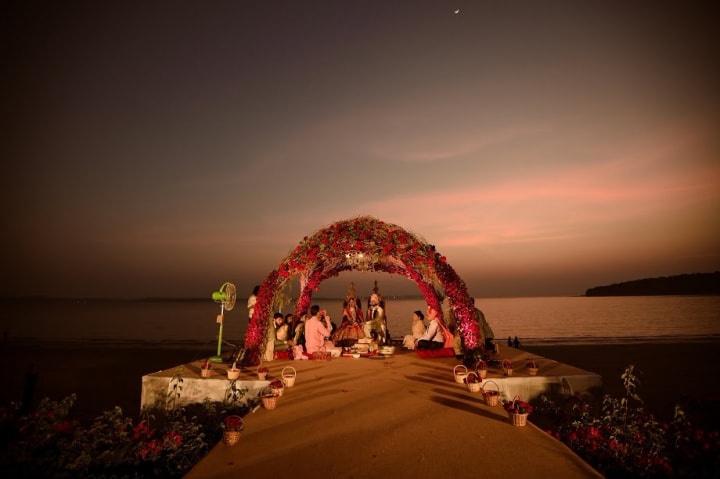 Are you also in awe of the beauty of this rustic dome for a marriage mandap? Conceptualised and executed by the bride, Aash Studio's owner, it looks whimsical against the sea and sunset. The chandelier in the centre lights it up in both senses, literally and figuratively. If you're having your wedding somewhere along the waterfront, you should definitely consider this marriage mandap.
7. Rustic ceiling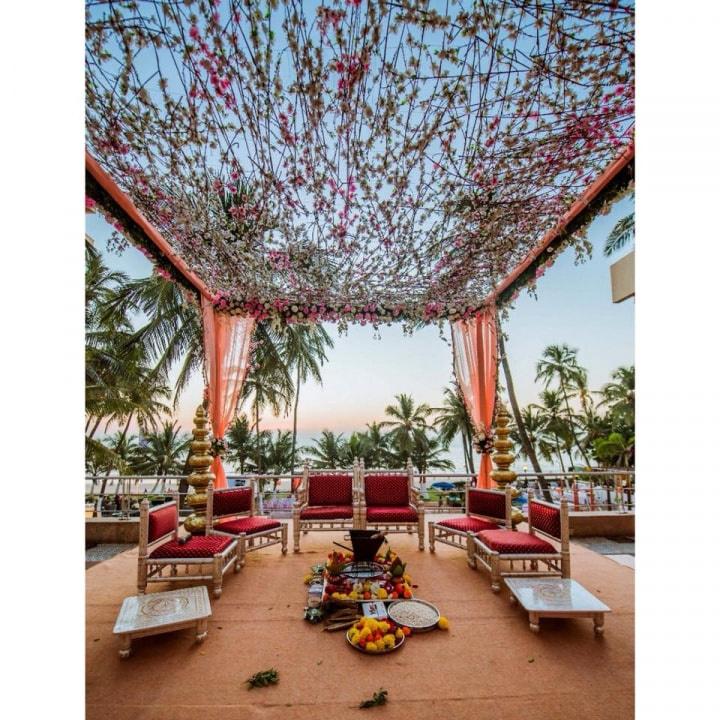 Overall a simple-looking marriage mandap, it's the ceiling that takes the cake for this one. If you're hosting your wedding at a destination with pleasant weather then you should surely enjoy its weather in such an open mandap. The rustic ceiling isn't necessarily loaded with flowers so it will also allow you some cost-cutting there.
8. Kalash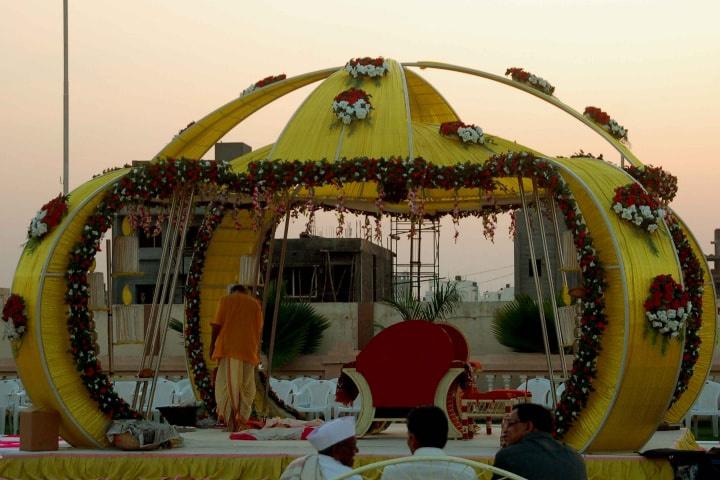 The auspicious Mangal Kalash inspired marriage mandap. If you want to go all out, why not choose something along these lines? Mangal Kalash is one of the most important items of every Puja. Setting up an installation inspired by it reinforces the traditional aspect of a Hindu wedding. Choose this marriage mandap if you hold traditions close to your heart and have a special respect for them.
9. Double mandap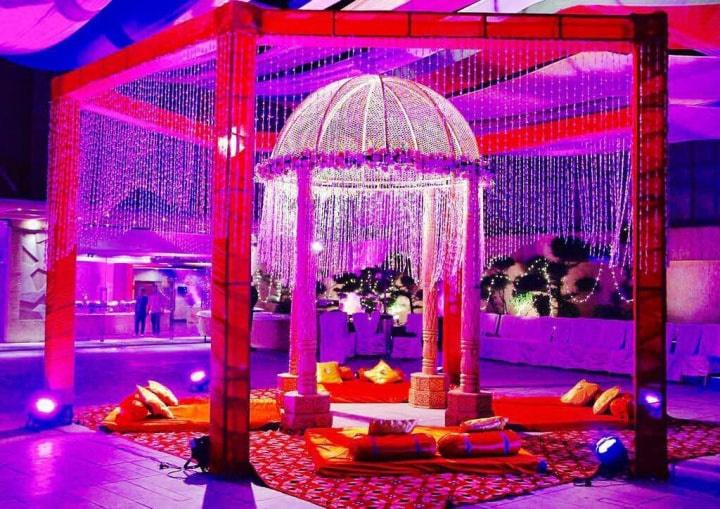 How about a Russian Doll inspired marriage mandap? This double mandap is perfect for arranging seating areas separately for the couple and Pandit ji, and the relatives. The lighting all around puts the mesh dome in focus. And we totally adore the hanging mirror threads. Wil you choose this marriage mandap for your wedding?
10. Botanical decoration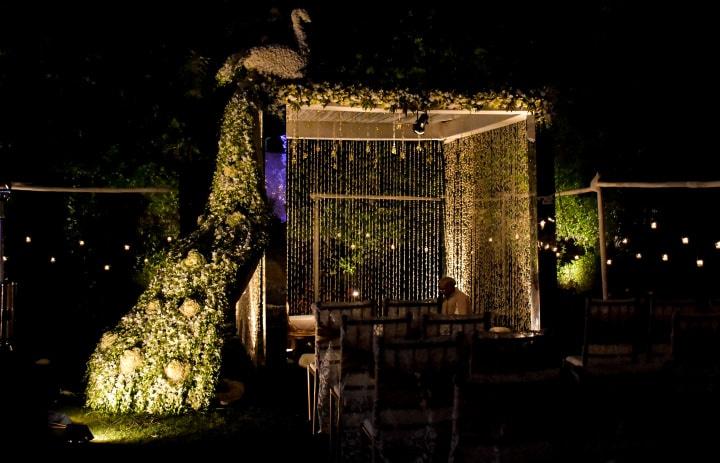 Ah! The beauty of it! Arranging a botanical peacock on the side of the mandap amplifies it appeal to another level. Botanical animals have become a common sight at modern weddings. People place elephants and swans at the entrance and owls and other small birds around the venue as flower decoration. You can do so for your marriage mandap and give your wedding guests something to remember.
Now that you have seen so many hit ideas for marriage mandap, we're sure, your head must be spinning with confusion. What you can do to ease yourself is to talk to your wedding planner or wedding decorator and figure out the costs of all the options you like. Then you can easily see what falls in your budget and if something that you like goes beyond, you can figure out ways to make it cost-efficient for your wedding.
Share your thoughts in the comments below.