Breathtaking Marigold Flower Decoration Images for Wedding
Marigolds & weddings go hand in hand in our traditions. Check out some creative Marigold Flower Wedding Decoration ideas that you could use on all events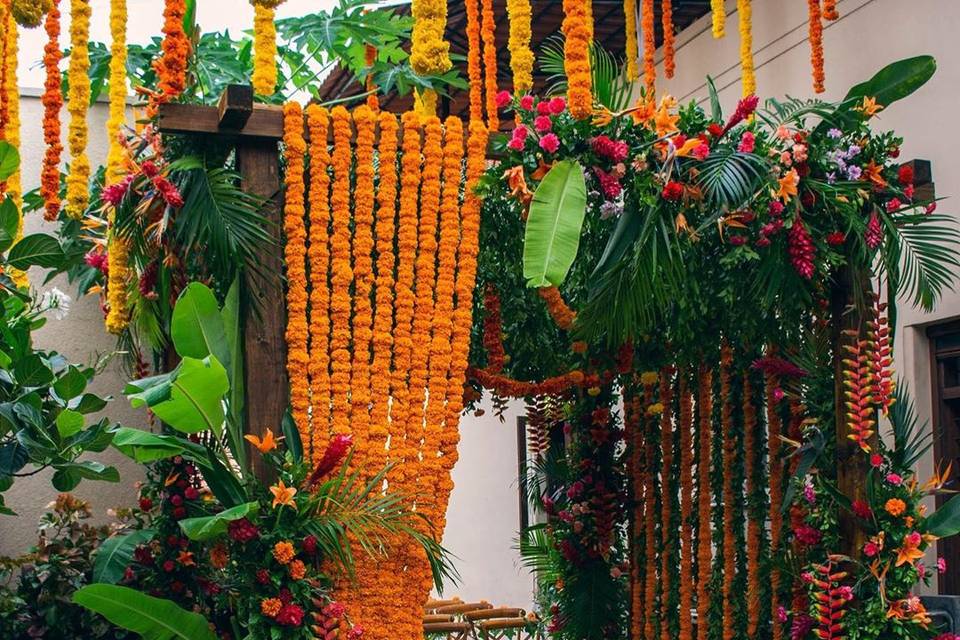 Golden, yellow, orange, rust...there's something about different shades of this vibrant bloom that naturally induces a feeling of celebration! Marigolds simply fill the air of every wedding venue with a pure sense of festive bliss. Talk about your Jhoola decoration on Mehndi, flower Rangoli decor on Haldi or floral decorations on an intimate wedding-Marigold Flower Wedding Decoration is something that adds colours and vibrancy to every Indian wedding event.
So, if you're curious to explore some creative ideas to use Marigold flowers on your wedding ceremonies, read on! Check out the stunning images and you might just get ideas for your own wedding decor!
Marigold Dome with Drapes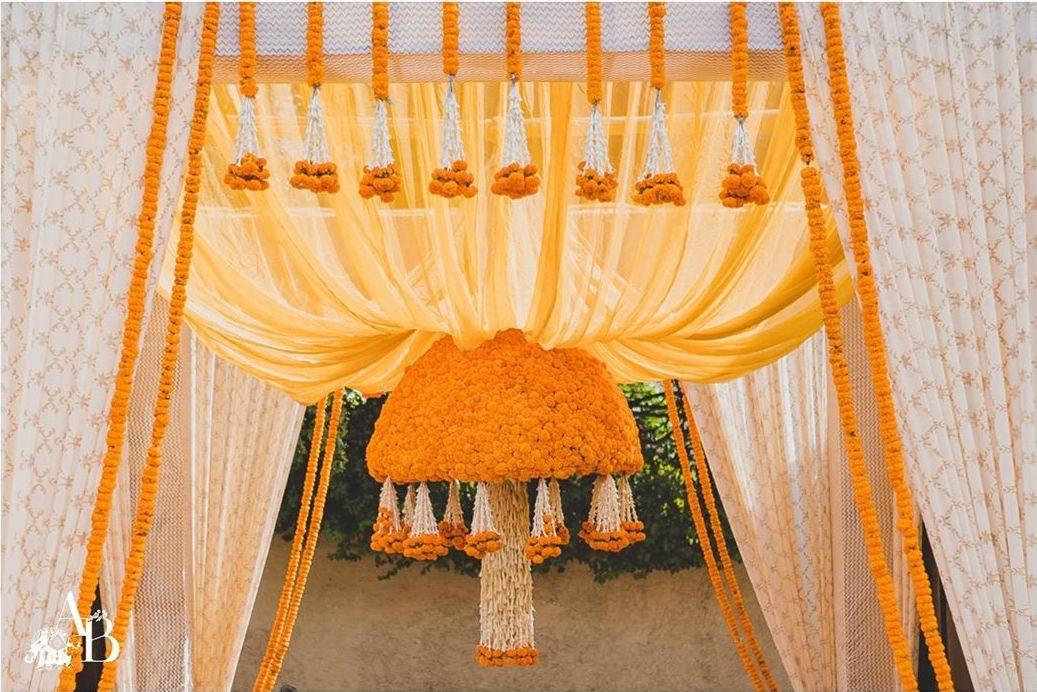 For an intimate wedding, try this Marigold Flower Wedding Decoration at the entrance gate. The marigold flowers clustered to form a dome-shaped structure look the right amount of grand for your wedding. The hanging white flower streamers and the dupatta drape decoration in matching pale yellow complete the whole decor outlook.
Marigold Cane Baskets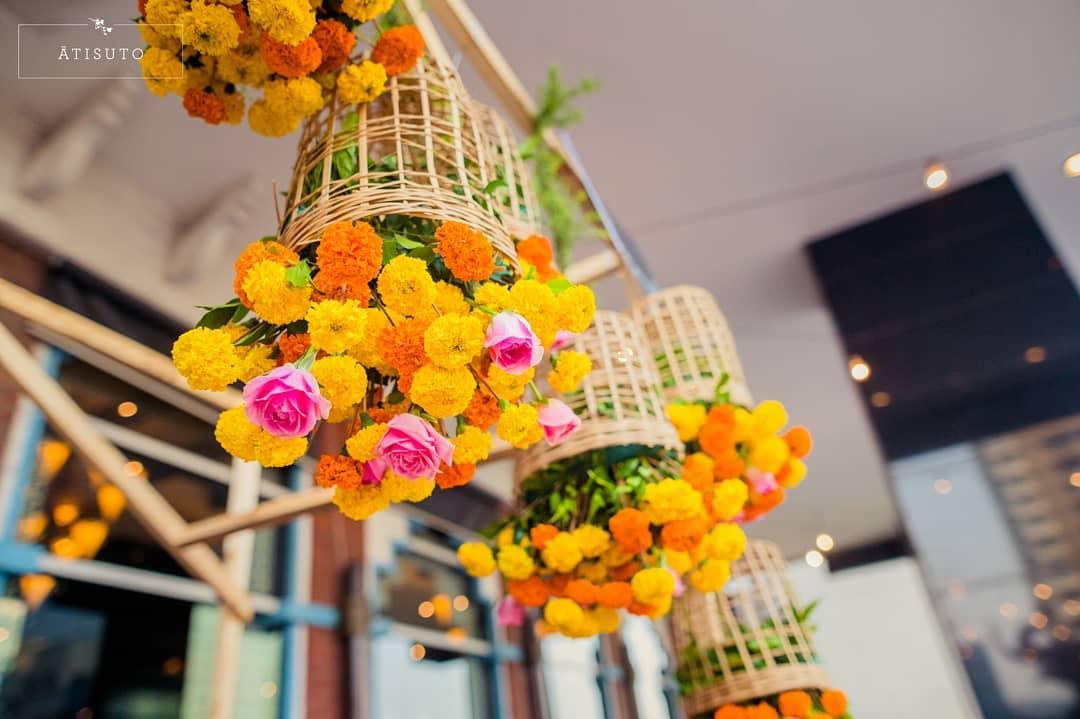 Looking for some cute Marigold Flower Wedding Decoration ideas for your contemporary theme wedding? Check out this innovative design by Atisuto events where they used inverted cane baskets filled up with marigold flowers and leaves. You could hang these baskets around your venue or at the entrance of the event area. This kind of decor would look charming for your Mehndi, Haldi to Sangeet events. Mix the marigolds with a few pink roses to add a little variation.
Marigold Jhoola Decor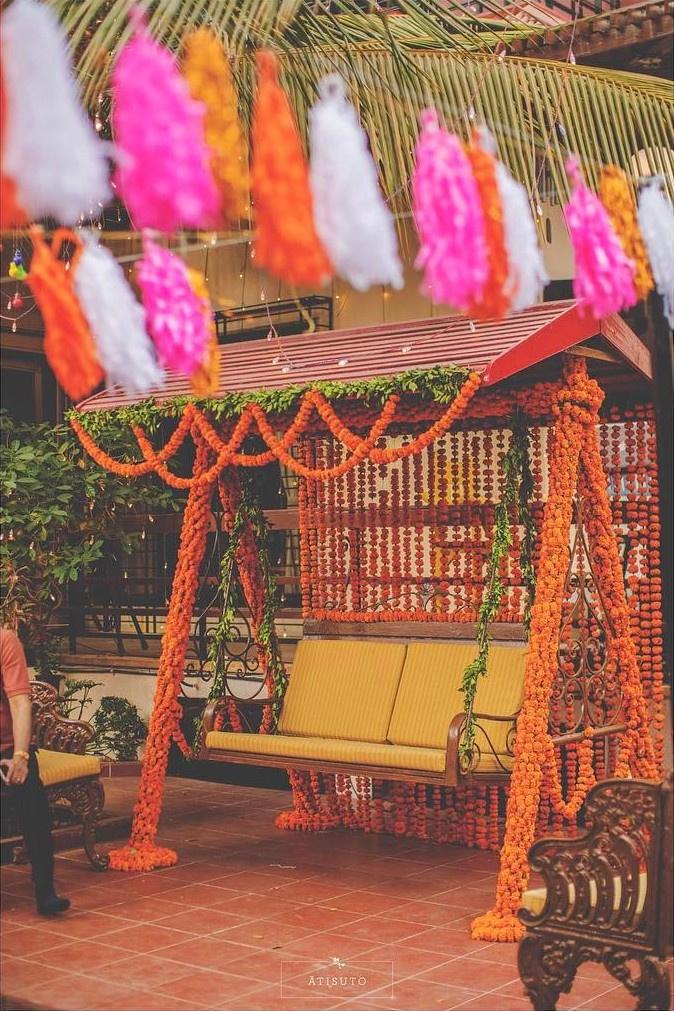 One of the most popular Marigold Flower Wedding Decoration ideas is to use them on Jhoola decor. Jhoola decoration is quite a raging trend among couples especially carried out at Mehndi functions. The rustic-looking wooden Jhoola decked up with orange flowers and coordinated drapes spiralled throughout the stands- that's an all-time classic favourite decor idea you must consider!
Marigold Curtains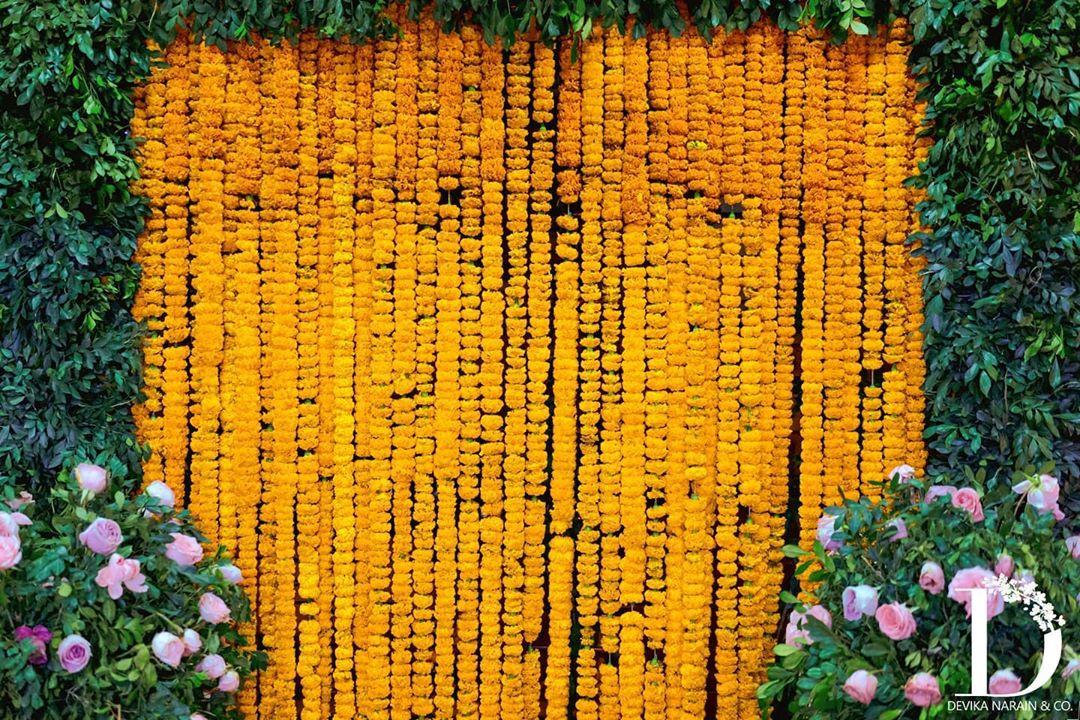 Sometimes the simplest Marigold Flower Wedding Decoration ideas could go a long way! Like using numerous streamers of bright yellow Marigolds to create a floral curtain on your venue wall. In fact, this could also be a great wall decor idea too. Surround the Marigold curtains with green leaves and ferns to give your stage decor an extra eco-friendly touch!
Grand Marigold Chandelier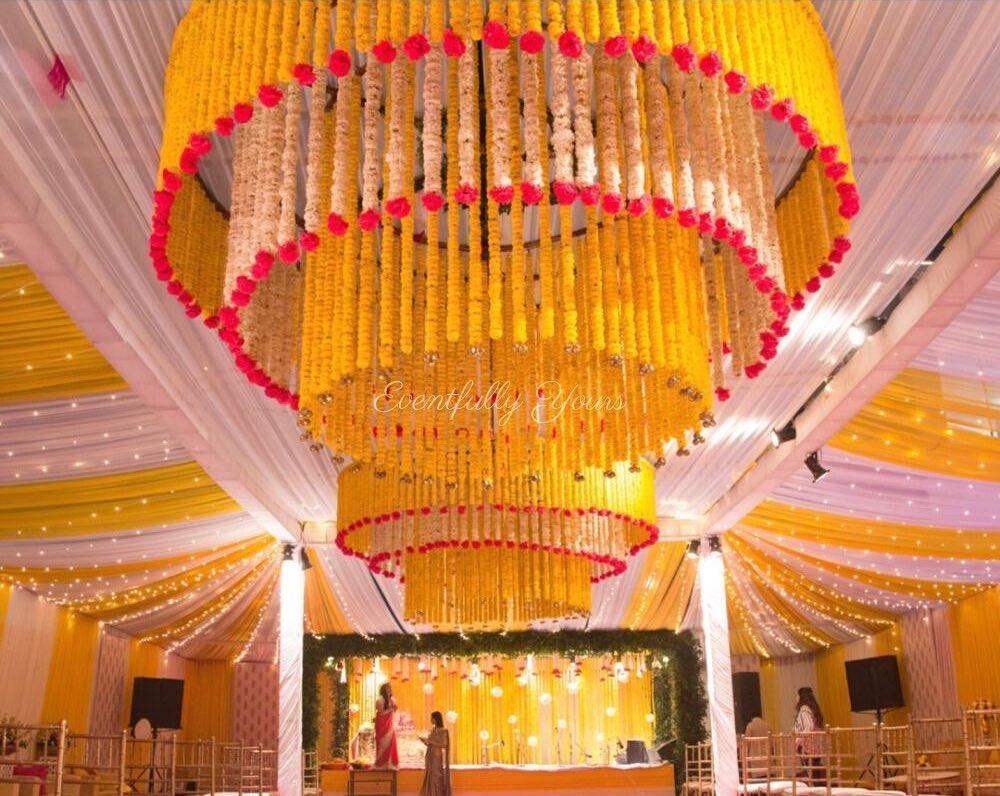 Planning a grand wedding reception? Using Marigold Flower Wedding Decoration to create multiple layers of a floral chandelier enhances the look of your venue with its grandiose. Use different shades of marigolds like orange and yellow along with white flower streamers to create concentrically circular patterns. Cover your entire ceiling with these exotic chandeliers to create a fragrant environment.
Marigold & Kalash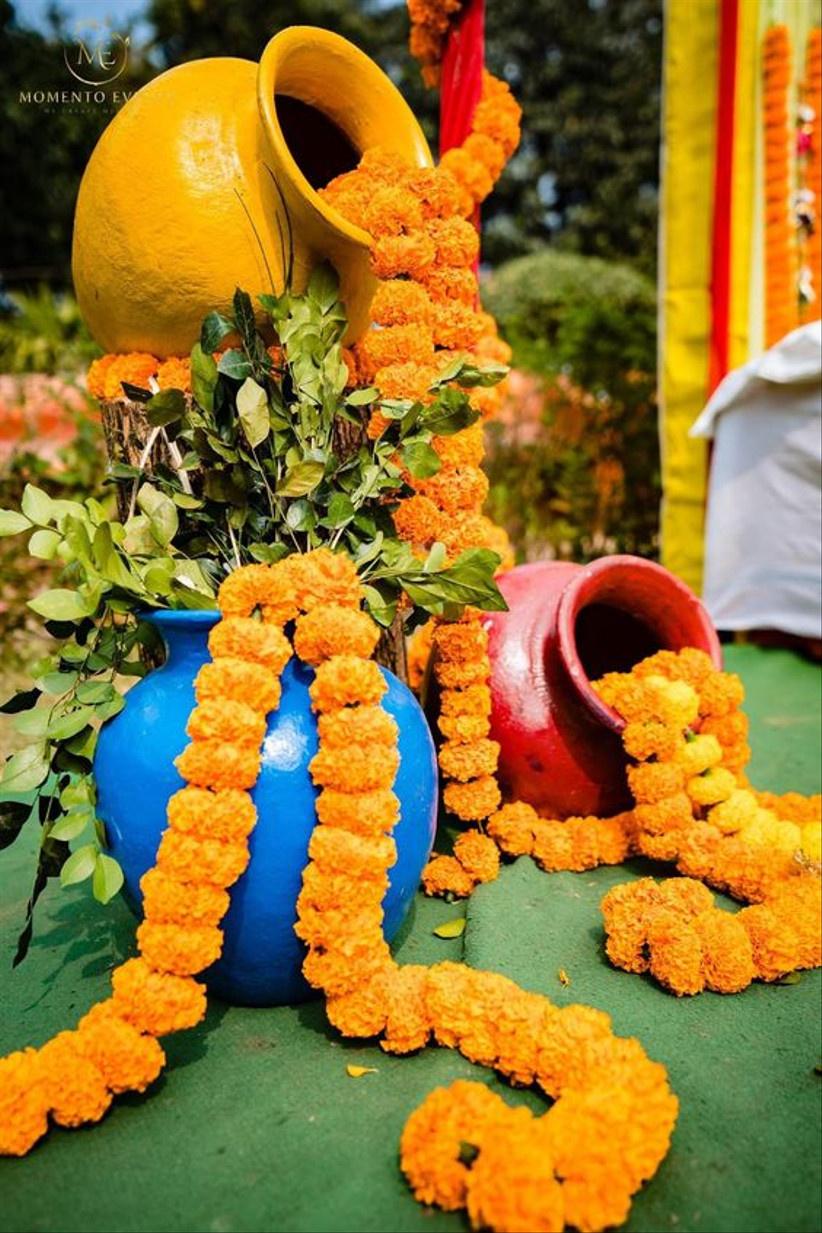 Try this simple yet creative Marigold Flower Wedding Decoration idea for a DIY decoration! Paint some earthen pots or Kalash in yellow and red to keep up with the wedding colour themes. Fill them up with marigold streamers and make them look like flowing out of the Kalash. This simple idea would look just spectacular on your wedding photo album for its sheer creativity. You can further paint a few colourful Rangoli patterns around the Kalash area for special effects!
Floating Marigolds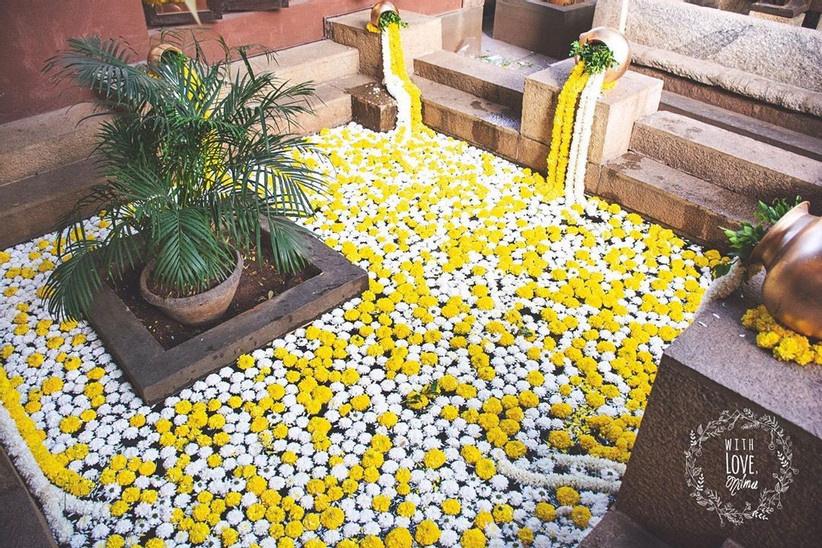 Another quite simple but always a popular choice for Marigold Flower Wedding Decoration! All you've got to do is fill up an indoor water fountain or a pool with colourful Marigold flowers and Voila! You got a stunning Marigold Flower Wedding Decoration for your event! The floating flowers look absolutely marvellous for an intimate wedding function. Especially if you're planning an indoor wedding ceremony, you must try this decoration idea. Pick your favourite Marigold colours and paint the pool with flowers!
Marigold Alley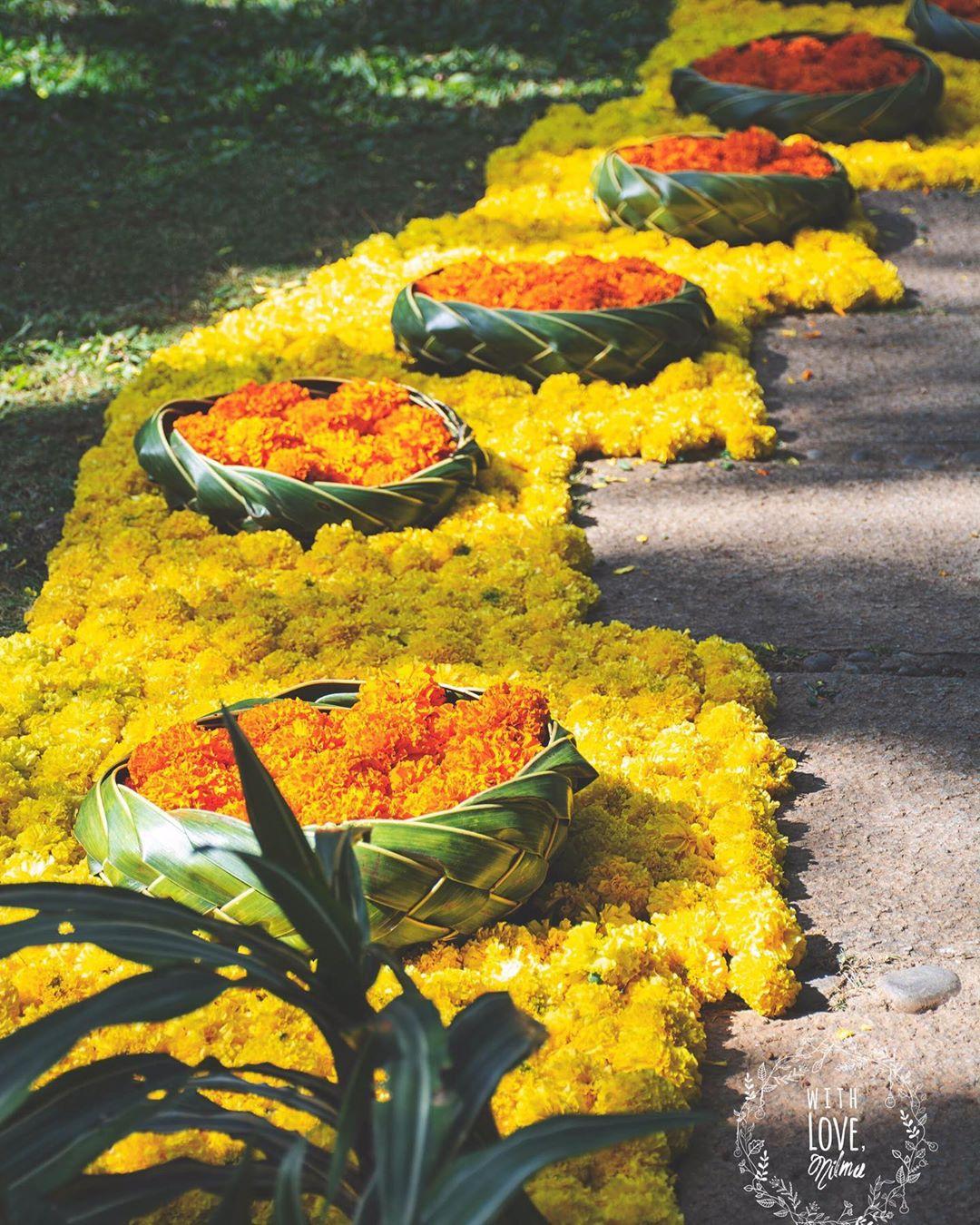 How about creating an alley exclusively made of marigolds? Design a curvy path along the entrance or around a huge courtyard entirely with Marigold flowers or petals. To add some extra punch, place bowls made out of coconut leaves along the floral path and fill them up with petals too! This kind of decoration would be ideal if you're planning a courtyard wedding.
Marigold Photobooth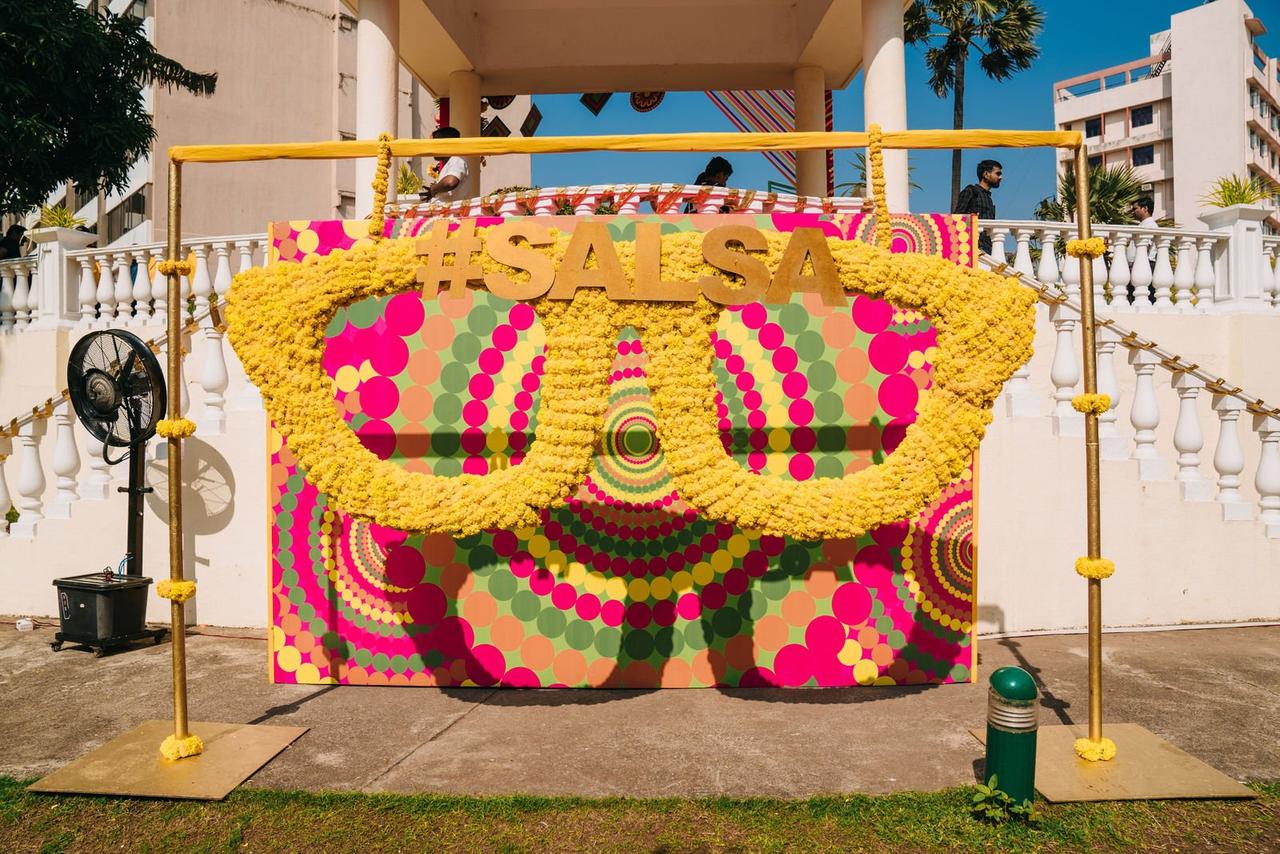 Who doesn't love a photo booth with an overdose of quirk? Let's explore some Marigold Flower Wedding Decoration ideas in the wedding photobooth area! Add these oversize glasses made of yellow Marigolds placed before a bright colour background in pink and yellow would surely be a huge hit at your Mehndi/Sangeet/Cocktail! Don't forget to use some innovative bridal hashtags along with the Marigold wrapped sunglasses!
Play around with ideas and styles with your Marigold Flower Wedding Decoration. Use different decoration props like Kalash, old bangles, pools, pillars or ceiling for your Marigold decor. Wrap the pillars with Marigold garlands or fill the pool with Marigold petals. Don't forget to use lots of Marigold petals of different shades in your floral Rangolis too. Use your imagination and take help from wedding decorators to glam up your wedding venue using these beautiful flowers!
If you need help with your wedding decor and planning, take a look at our vendors' list.