12 Stylish Sangeet Decoration Ideas to Light up Your Ceremony
Sangeet decoration can often keep brides up at night – simply because there are so many options to choose from! Here's how you can make your sangeet look great!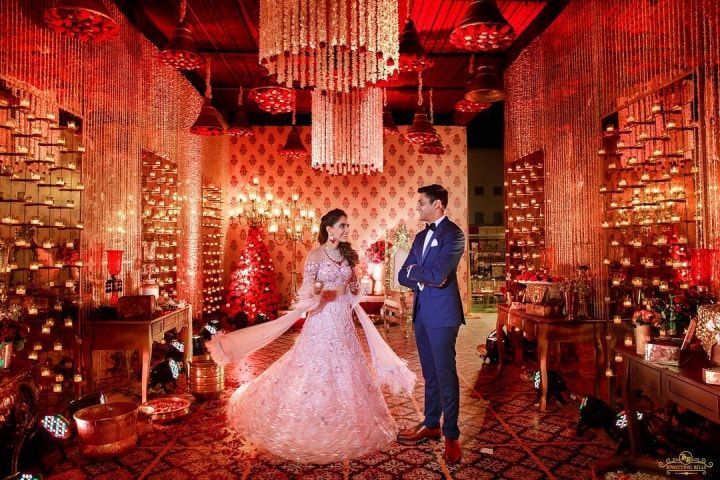 The Sangeet is often the most rocking event during one's wedding week. Great music, dancing, and emotionally-charged performances from friends and family often make this a night to remember. So, it's natural to want to make sure that the function looks great. The following are a few Sangeet decoration ideas for every budget that you should consider:
Sangeet Decoration Ideas for a Lavish Wedding!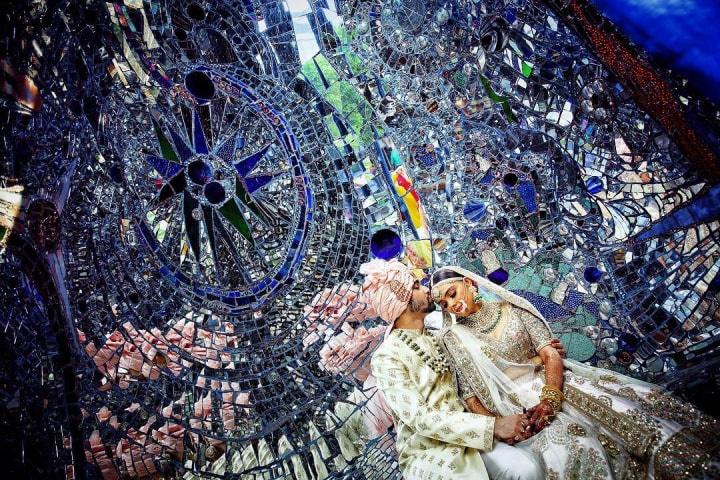 If the sky's the limit as far as your budget is concerned, then you can certainly go all-out with your Sangeet decoration. The following are a few ideas for a lavish wedding:
1. Swarovski Crystals
Swarovski crystals are supremely pretty and they capture and reflect light so beautifully that it makes them ideal for a glitzy night event. You can have Swarovski centrepieces on tables, or elegant goblets if you're looking to create a very high-end aesthetic. A disco ball studded with these crystals can also look great hanging over the dance floor!
2. An OTT Stage
Performances are a huge part of Sangeet functions so why not give them the stage they deserve? Take your cue from Priyanka Chopra's lavish stage and create one that'll make any Bollywood awards ceremony jealous!
3. Destination Event
Honestly, there's nothing more exciting than a well-organised destination wedding. If you want to go the extra mile, rent out a cruise ship just for your guests and have an amazing event in the middle of an ocean.
4. Star-Studded Performances
Now that the Ambanis have flown Beyonce down for their wedding, there's no reason why you shouldn't consider flying down your favourite artist too! While many people ask B-Town celebs to perform at weddings, you can step up your game by tracking down your favourite band or singer abroad.
Easy Sangeet Decoration Ideas for Your Wedding!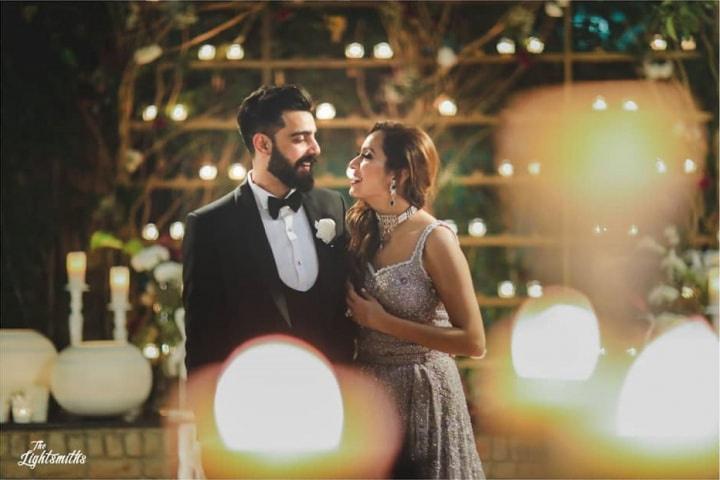 If going all-out isn't really your style, don't worry about it. We've got you covered with these easy Sangeet decoration ideas:
1. Use multiple lighting options
Often, lighting is used as a communication tool in performances. You can enhance your dances by coordinating with an AV person (read: your cousin who's studying Engineering) during your rehearsals to use different coloured lights to convey different emotions.
2. Embellished candles
Using Embellished candles is a really easy way to up your décor game, without having to spend an arm and a leg. If you use the right faux crystals, your candles can have an extremely upscale look.
3. Have a dance floor
If you do not want to have a separate stage for performances, using a simple dance floor that has lights in it can do the trick too. The idea is to demarcate space for dancing.
4. Flower arrangements
Flower arrangements are classics when it comes to any wedding décor. Use them as centrepieces on all tables to create a cohesive aesthetic throughout the venue.
No-Cost Decoration Ideas for a Home Sangeet!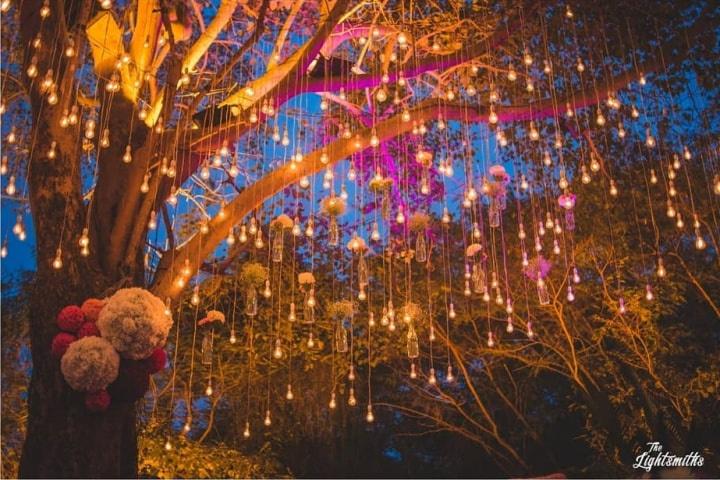 There's nothing more intimate than a Sangeet at home and if you have the space for it, then why not?! Here are a few décor ideas you should use to deck up your home:
1. Polaroid strings
Use twine (or any other rustic string) and tie together Polaroids of you and your Bae to create a streamer of pictures. You don't have to use an actual Polaroid camera – just print the images on small glossy paper!
2. Fairy lights
Let's be honest – we've seen fairy lights almost everywhere but somehow, they never seem to lose their charm. If you have a lawn in your home, string fairy lights in trees or tall plants for an ethereal look.
3. Marigolds
Marigold strings are a classic and though they aren't exactly 'no-cost', you must have them in your home during your wedding. String the gate and doors of your home with these lovely flowers for a look that's traditional and beautiful.
4. Rangoli
Rangolis have been used as a décor element in Indian household for years, and rightly so! One can easily create beautiful patterns in the driveway with coloured powders. If you don't think of yourself as someone who can draw, find printable Rangoli stencils on the internet and use those!
No matter what your budget is, you can make your Sangeet look great. Ultimately, what matters the most is how you feel on this momentous day. So, do not stress about the aesthetics and focus on your happiness more than anything else!
Get in touch with professional wedding planners for more fantastic décor ideas!