Flower Arrangement Ideas for Your Wedding
If you love floral details, this one is for you. Here are a few ideas to help you include beautiful flower arrangements in your wedding décor: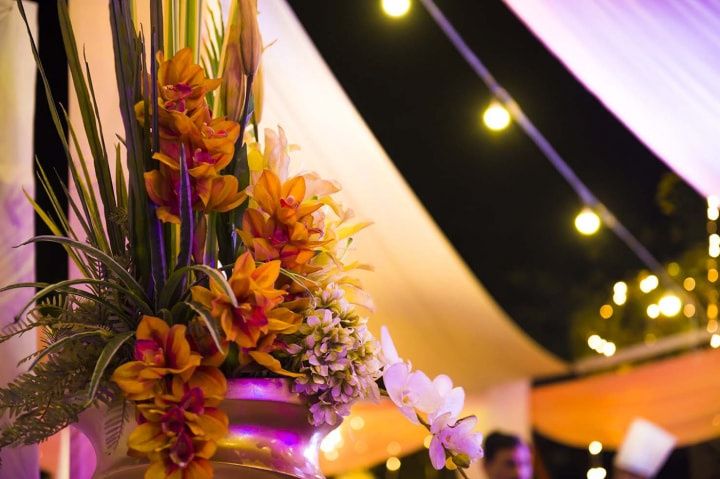 On the ceiling
Opt for an exquisite looking ceiling with carefully selected garlands. You can ask the decorators to drape them everywhere and ensure that they match the light. It'll be a sight to behold – unusual and incredibly pretty. This works really well for an outdoorsy wedding and helps set an earthy vibe.
Unique details
If you're tired of conventional ideas but still wish to include flowers in your decorations, got for unconventional choices such as including flowers in tiny glasses or tiny baskets everywhere. You can even include it as a part of your theme for one of the parties and ask your guests to turn up wearing flowers in some way to celebrate the occasion. It'll be fun and you'll be in for plenty of surprises.
Experiment
You can create beautiful props using flowers – exotic animals, intricate lettering, funky hats and more. Don't feel restricted by the usual ideas and ask your wedding vendor for fun ways to spice up the ambience. If you think out of the box, there is a plethora of options for you to pick from! There can even be room for a lovely little gesture where the groom gives flowers too his bride during one of the ceremonies.
Have a little fun
At one of the pre-wedding parties, arrange for lots of bright garlands. Welcome your guests with flowers and ask everyone to pick a garland for themselves. The ladies can even pick from the best options and wear flowers in their hair. This will be unexpected and entertaining for most guests. To top it all off, it'll make everything look really beautiful too.
Seating arrangements
This idea is very popular and has managed to stick around for decades. You can include floral details during the wedding reception: the tables can have pretty delicate trays with flowers on them or they could be draped around chairs. You can try to brighten things up by choosing several kinds of flowers instead to sticking to one option.
A floral fountain
If you're planning to include a fountain as a part of your décor, it's a good idea to have flower arrangements around it. It'll really add to the overall effect and make everything look extremely dreamy and romantic. You can consider adding more elements such as floating lily pads in the water to make everything look even more magical.