The Best Wedding Entertainment Ideas For Your Big Day
If you plan to make your wedding an unforgettable event full of excitement & laughter, here are some of the best wedding entertainment ideas to include on your big day!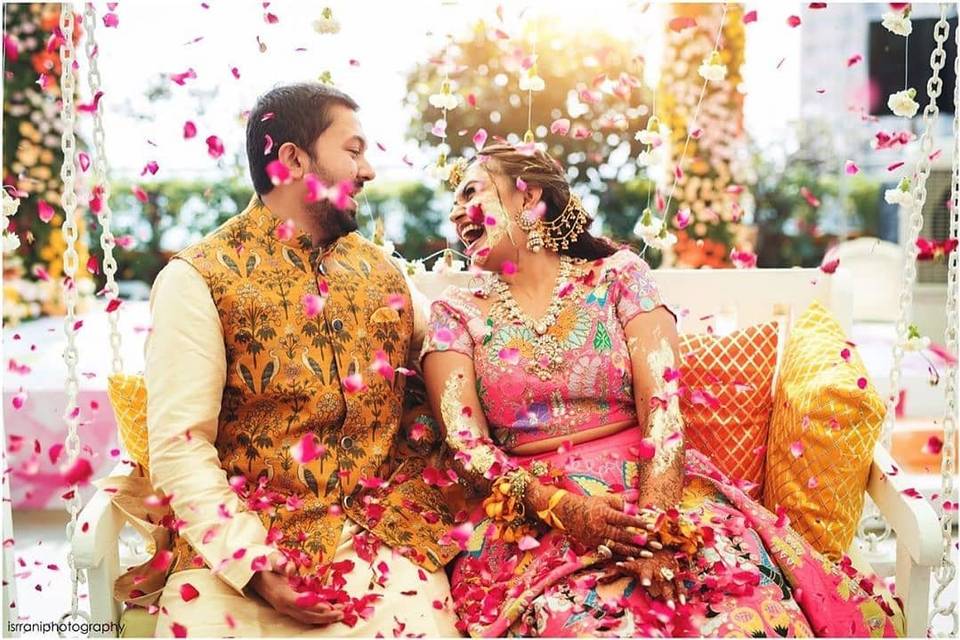 Weddings in India are one of the biggest carnivals hosted by families in the social and cultural front. Even an intimate wedding involves your near and dear ones from the family and your favourite group of friends. There are a lot of people involved at a wedding - right from the pre-wedding ceremonies or even before that.
Your wedding is a gala and to make sure that your guests are never bored, we suggest you plan some of the best wedding entertainment ideas possible.
So while you are busy with your last-minute fittings and confirming the time for Panditji's arrival or taking your saath phere, you will not have to worry about your guests. They will be kept entertained and your wedding will turn out to be an unforgettable party for them!
There are a lot of things that need to be considered while planning the wedding entertainment ideas like the age group of your guests, the budget, the timings and so on. Here are some of the best wedding entertainment ideas for your big day to turn out amazing!
Photobooth is a Must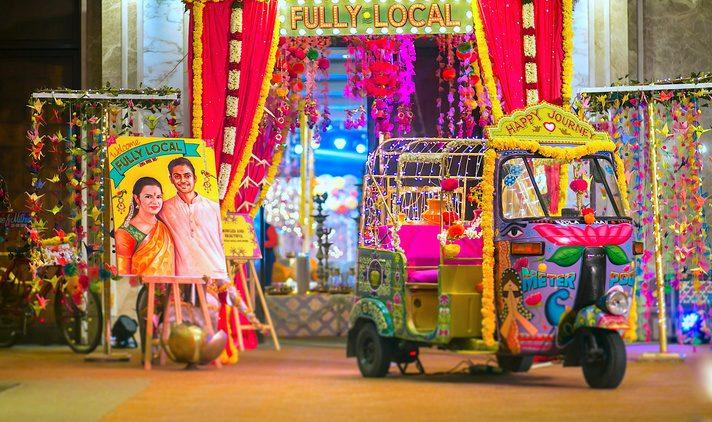 Image Courtesy: Pinterest
The Photobooth is a quirky addition to weddings and in fact to any other celebration. All it takes is a mesmerising backdrop and some quirky props, to make your friends and family members click fun photos of themselves and maybe carry them home after the wedding as memories. There is no doubt a photographer who is doing his best to capture moments from the wedding but his hands might be full or the Photobooth idea might just be more fun than normal photography. Let your guests say cheese!
Advice Cards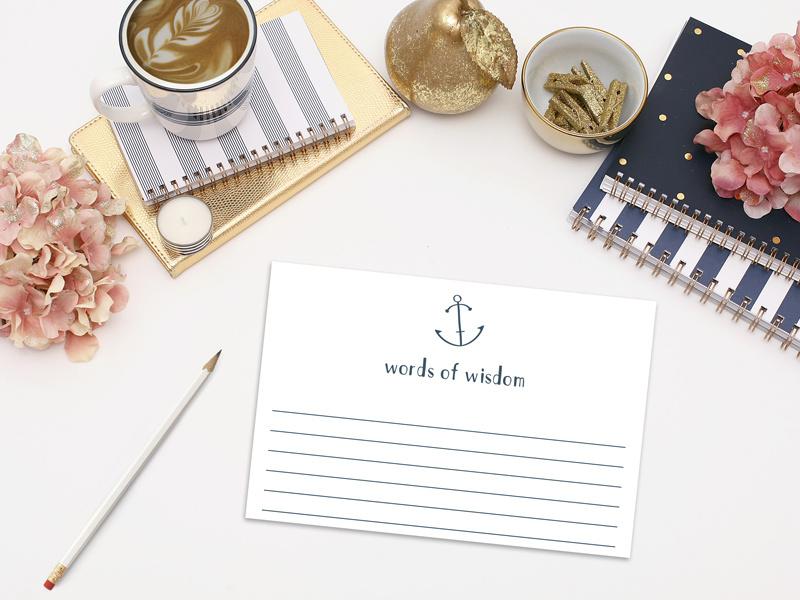 Image Courtesy: Dribble
This is a fun concept that has been picked from the western formalities that happen during a wedding. You can keep this at the entrance where your friends, family and colleagues will have to fill an advice card or a reminiscing card for you or your partner. This can also be done if your wedding has proper seating arranged for with a who-sits-where decided already. You can keep some placards around them and some pens to let the fun begin! You can choose to read them out during the reception or simply keep them as memories for yourself!
Table Chefs On the Go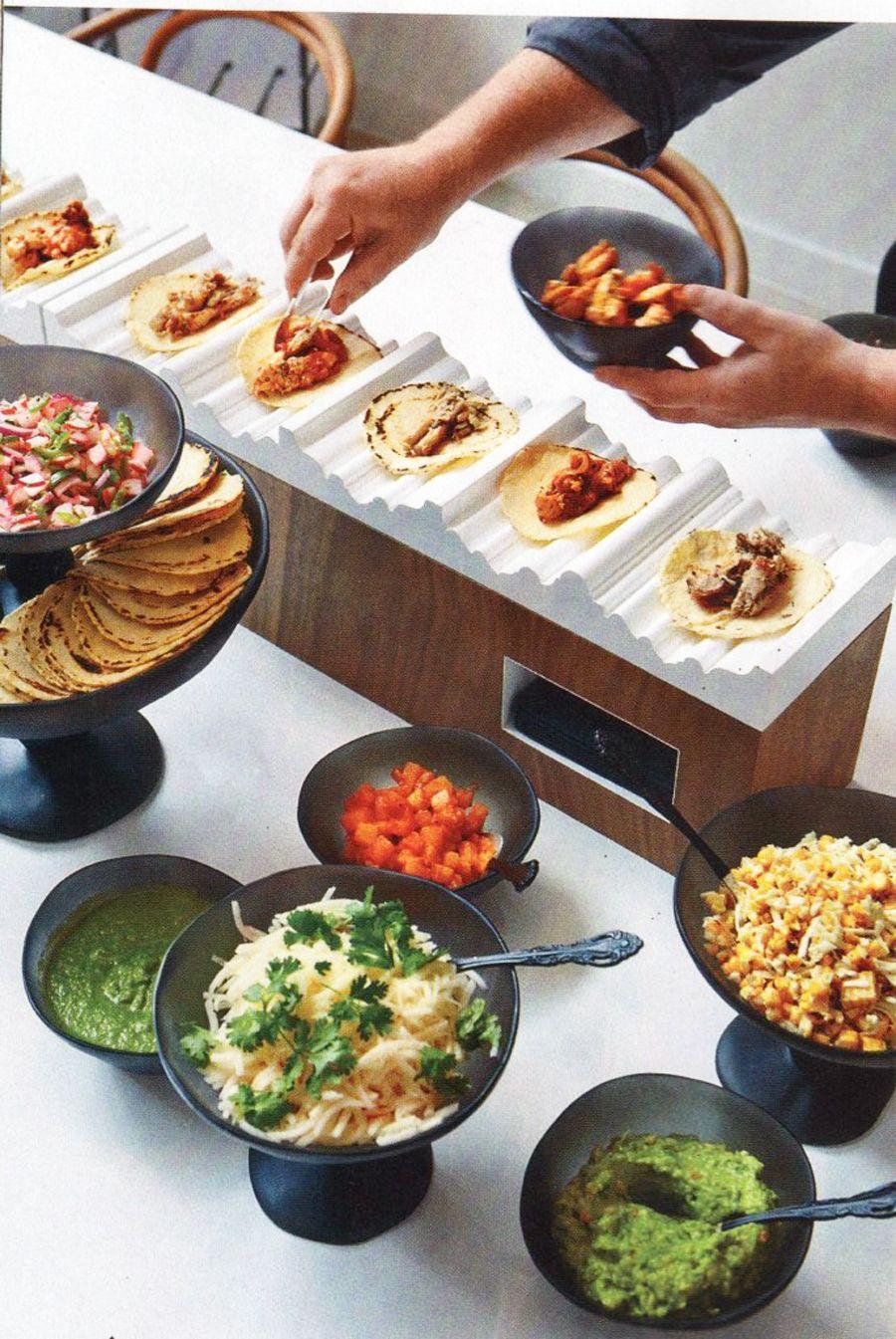 Image Courtesy: Luxirare
If you are not going with a buffet for your wedding feast, then table chefs are a wonder to cherish! You can nominate one guest from your table turn by turn to be the chef of the table and get them to prepare the next snack on the menu with the contents given to you on your tables. It could be a slider, a shawarma roll, a burger and so on! Sometimes you can also visit the next table and show off your culinary skills with some sizzlers!
Call the Magician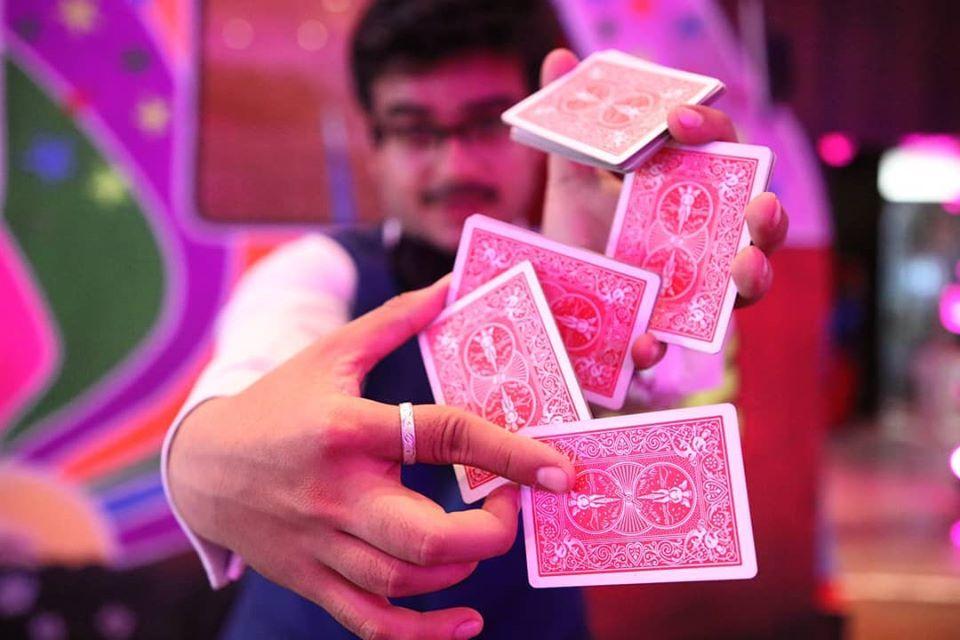 There is no human who does not find magicians fun! You heard us. From a kid of 5 to your uncle who might be 55 years old, everybody enjoys a magic show and to build the fun and mystery at the wedding party, you can include a magician in your itinerary for the evening. Let the man pull out some burgers from the inside of his hat or some flowers out of your friend's ears and make the crowd break into squeals of laughter and awe!
Stand-up Comedian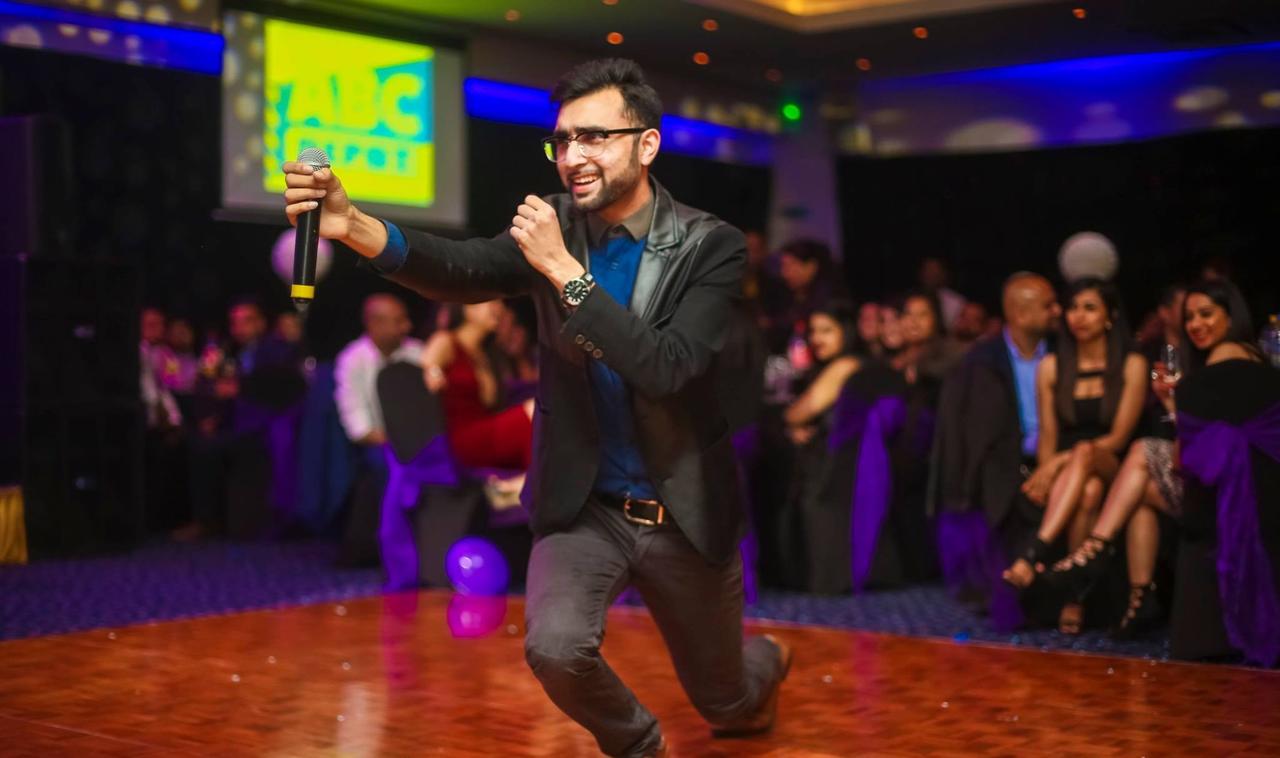 Image Courtesy: Bollywood Events Company
Stand-up comedy is a trending entertainment for weddings these days. Be it on the eve of your Sangeet or the reception party, you can call for a stand-up comedian to make your evening an unforgettable and jaw-hurting (for all the good reasons of course) affair! You will have to consider your guests before you pick this as your wedding entertainment idea because the thin line between funny and derogatory is often mistaken and it might be offensive for the guests.
Awards for The Guests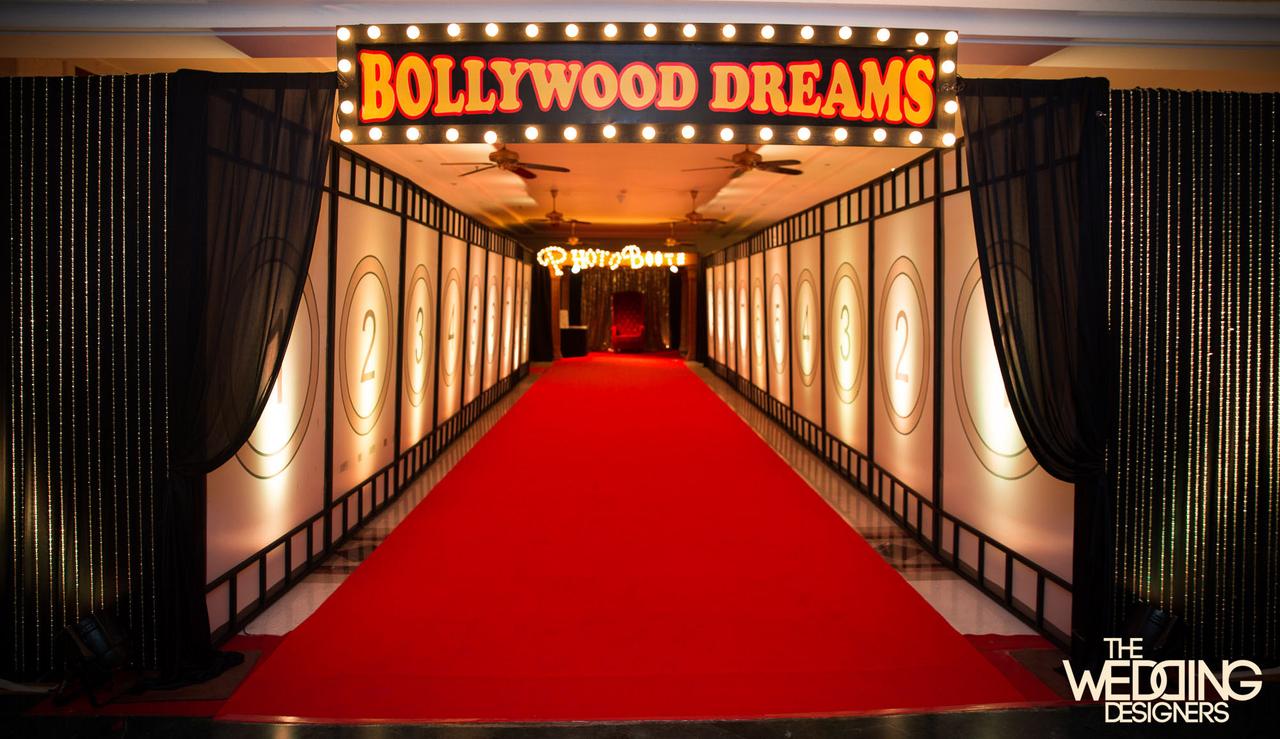 Image Courtesy: The Wedding Designers
Which true blue Indian does not love an award night? Make your wedding night a stardust one with special awards. Get your speech game on and make sure you include everyone - from the best dressed to your best man and that colleague without whom the office feels empty. The awards need not be great gifts, it could be as simple as a flower bouquet or a collection of dry fruits, chocolates and so on. This will be a great wedding entertainment idea as long as you cover everyone on the list!
Casino & Cards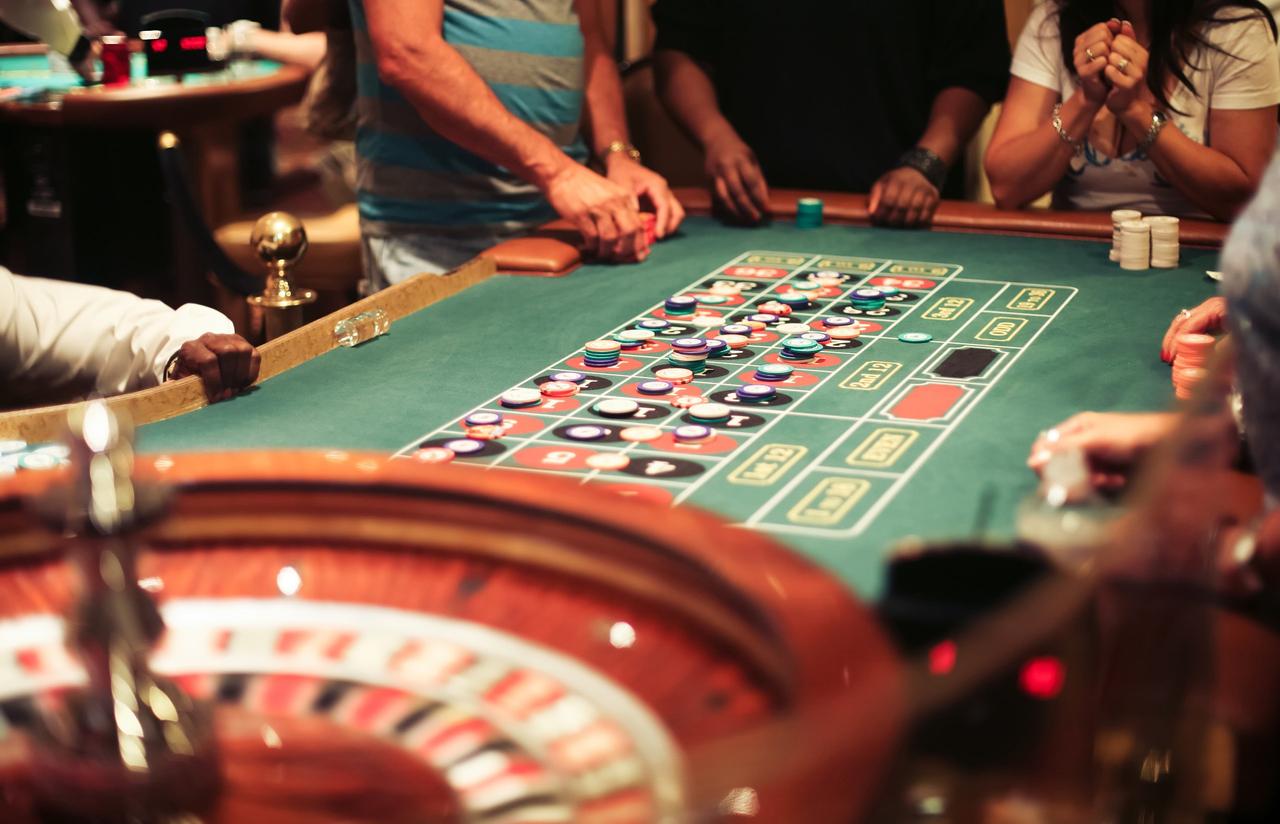 Image Courtesy: Busy Bee Events
A little game of Teen Patti or Roulette never hurts! Give your guests the experience of Vegas and Texas right there at your wedding by setting up some casino games for them to enjoy. Keep tokens to make sure nobody ends up losing a lot of money and return home sad from your celebration. So while you spend time talking to your caterer or your wedding planner for some last-minute changes, your guests can have a gala time!
Quiz it Up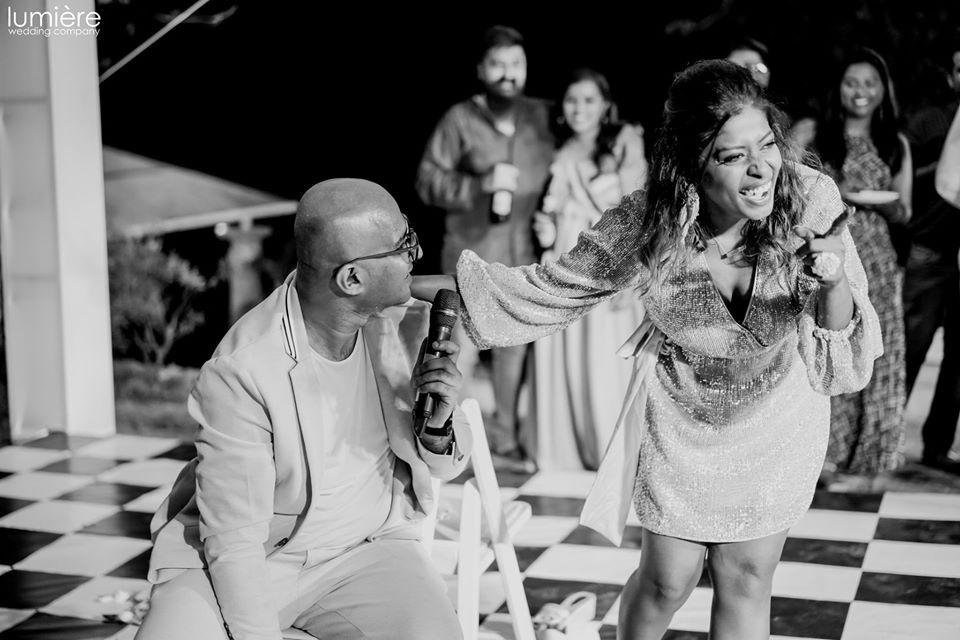 A quiz is a classic game at any wedding celebration that never fails. Make questions about your cousins, friends and other family members and let the crowd scream some guesses. You can even create a presentation with photographs from your childhood and include the childhood photographs of your guests as well. Let everyone keep guessing who is who! This is sure to be a lot of fun and you will enjoy it to the fullest while you keep everyone entertained.
Games for Days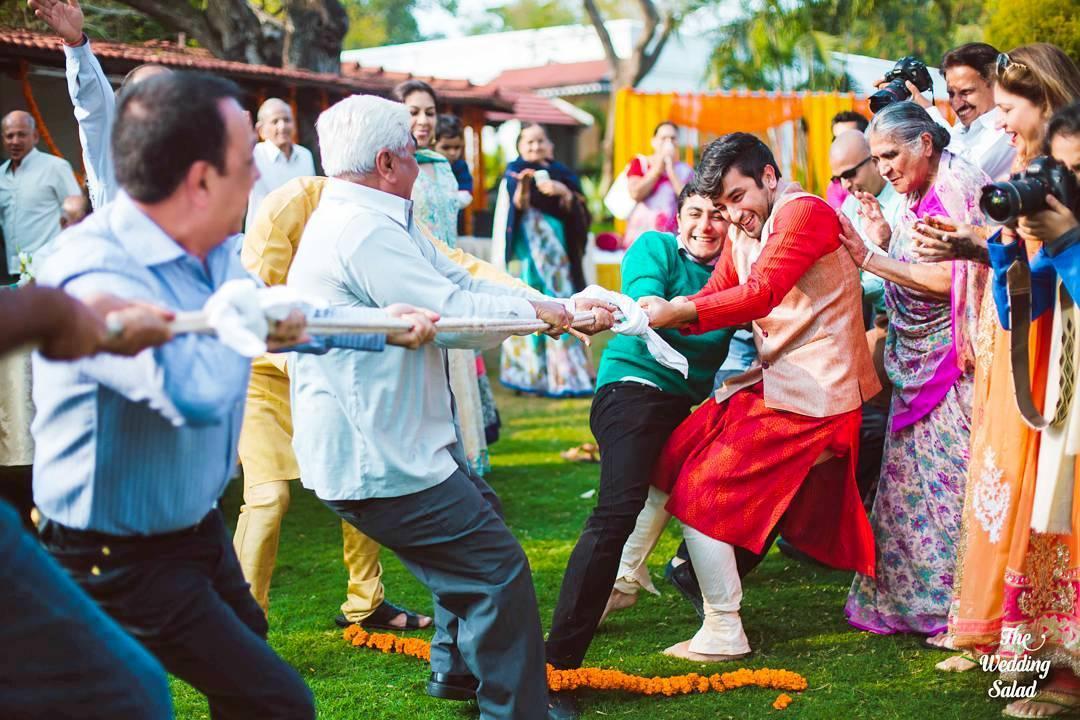 Image Courtesy: The Wedding Salad
A wedding without games sounds incomplete. There a lot of games like a giant Jenga or a giant snakes and ladders that can be included in your wedding as an entertainment idea. Your friends and family can spend hours trying not to throw the Jenga tower and get super competitive for the games making it all the more fun and happening!
Karaoke Night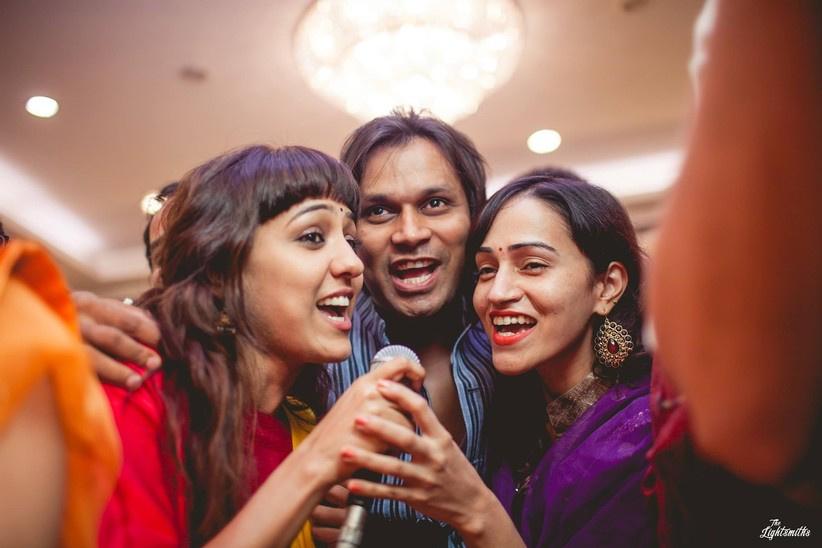 Karaoke is a definite hit among Indian families especially the elders. Get a screen up with the tunes and lyrics of some of the 80s gold music or 90s music on it and let your bathroom singer uncle take up the stage! Your guests will love the musical session you will create for them with just a mike and some Karaoke tune in the backdrop. This will bring the Kishore Kumar and Lata Mangeshkar out of their souls!
Circus Too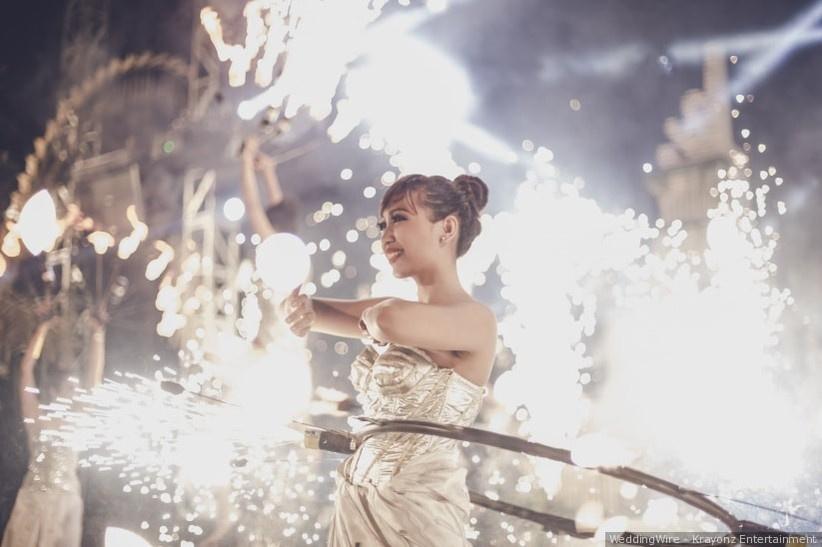 A circus does not necessarily mean a lot of animals and clowns it also means a show of gymnasts who will take the stage in shimmery and gorgeous outfits to set the stage and mood right for the wedding party. From a hula-hoop dance to walking on the rope and some flying somersaults can be an amazing idea to entertain guests. It will also keep the children at the wedding entertained for a long time!
Fireworks Show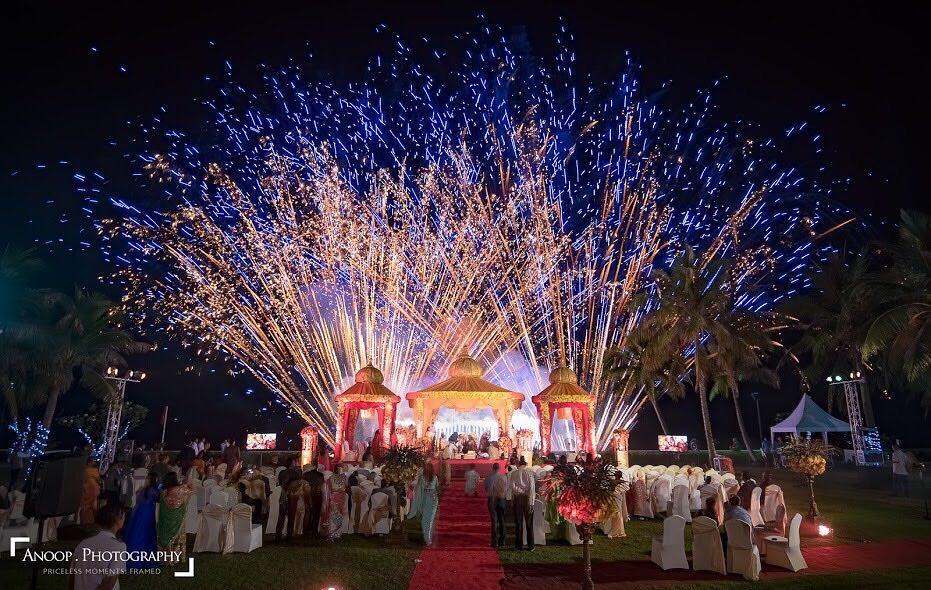 Image Courtesy: Anoop.Photography
Who said fireworks could only be used for stupendous entries of the couple or their Jaimala ceremonies? You could actually plan for a firework show that could go on for some time and let your guests enjoy while they sip some delicious cocktails. Fireworks are however very noisy so pick the right ones that are suitable for your guests and pets in your wedding.
Soothsaying is IN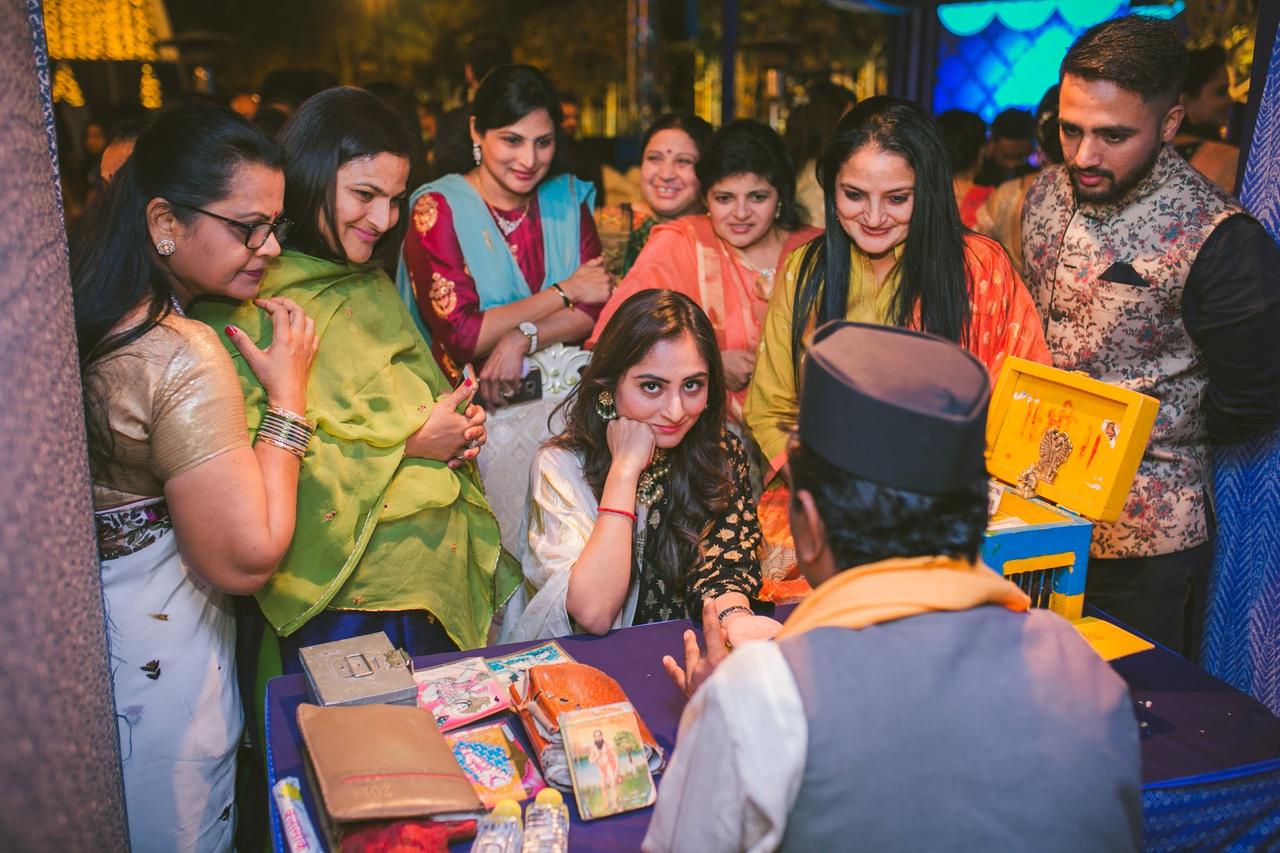 Everyone loves to know what the future holds and what should we be looking out for. Keeping that general love for soothsaying alive you can include tarot card readers or astrologers in your wedding. A speaking parrot can be a cherry on the top. Keep your guests entertained with the soothsaying at your wedding and the fun is applicable for the elders at the wedding too!
Flash Mob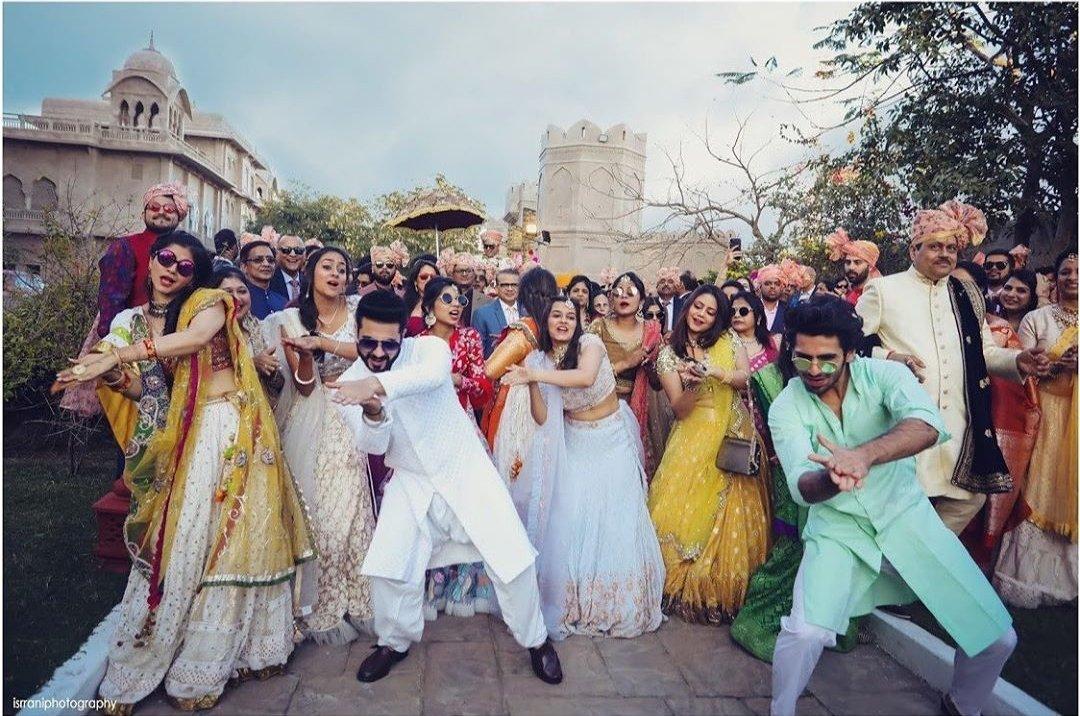 Flash mobs are a hit among the youths and it is often used to pop the question during a proposal too. You can yourself participate in the flash mob and take the crowd by surprise. Let the hoots flow in the air and make it an unforgettable night that will be etched to your memory for years to come. You can also hire professional dancers and take the guests for a sway!
Live Music, Please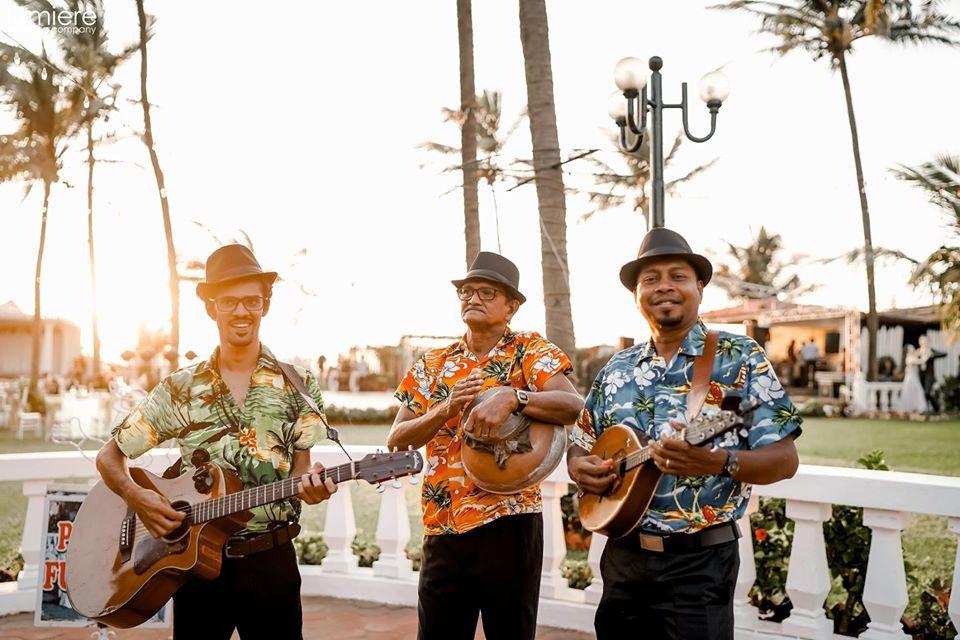 There is nothing that live music cannot light up. For your wedding or your reception and even your cocktail night, you can get a band to perform live at your wedding. The evening can start unravelling with soothing acoustic songs and the band can later play your favourite jazz music to get everyone on their toes ready to dance it off!
A Talent Show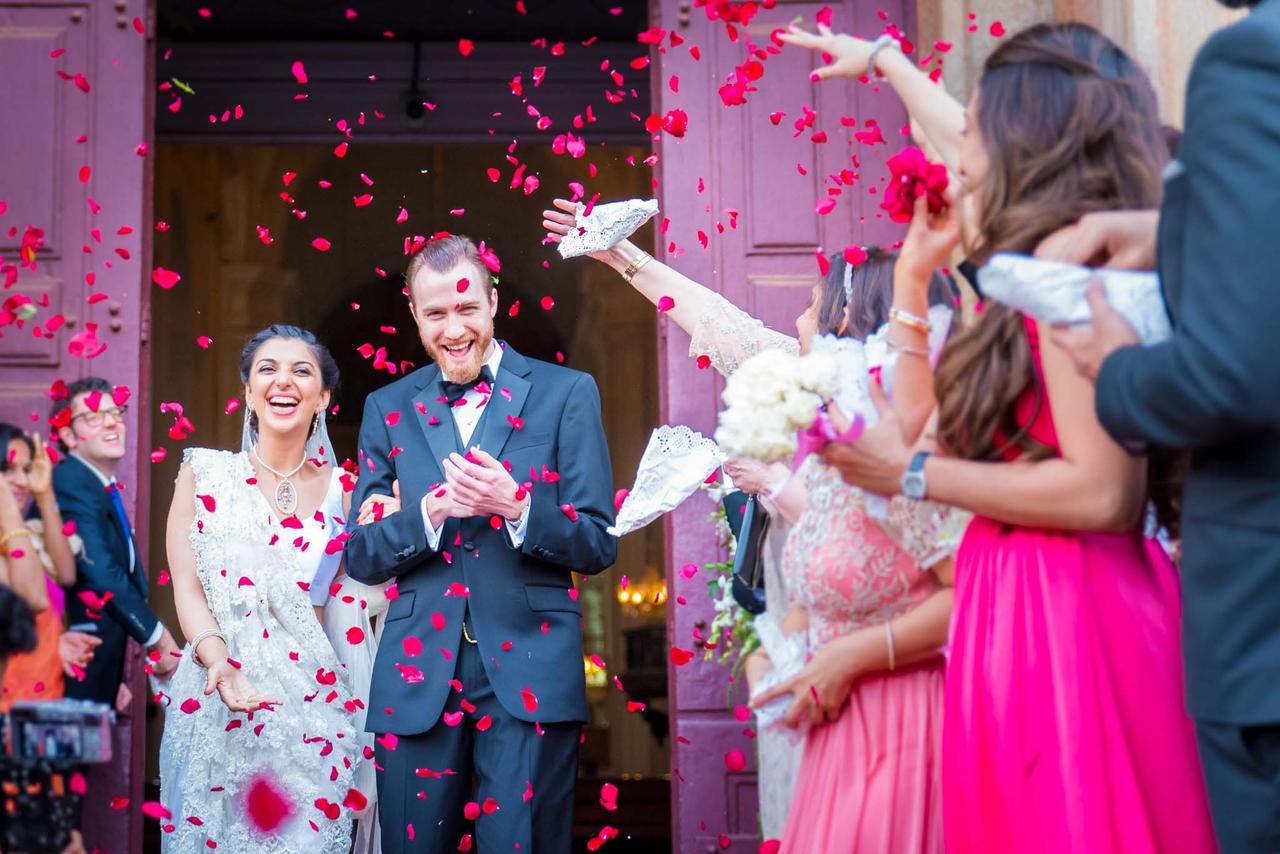 With everyone at your wedding dressed their best in gorgeous attires, it is no less than a red carpet event. You can actually turn it into one by announcing a surprise talent show and pair them up with partners to walk the ramp. Your guests can blow a kiss and maybe even take the crown home! They get a chance to flaunt their #OOTN on the stage for all to applaud and whistles to follow.
DIY FnB Bars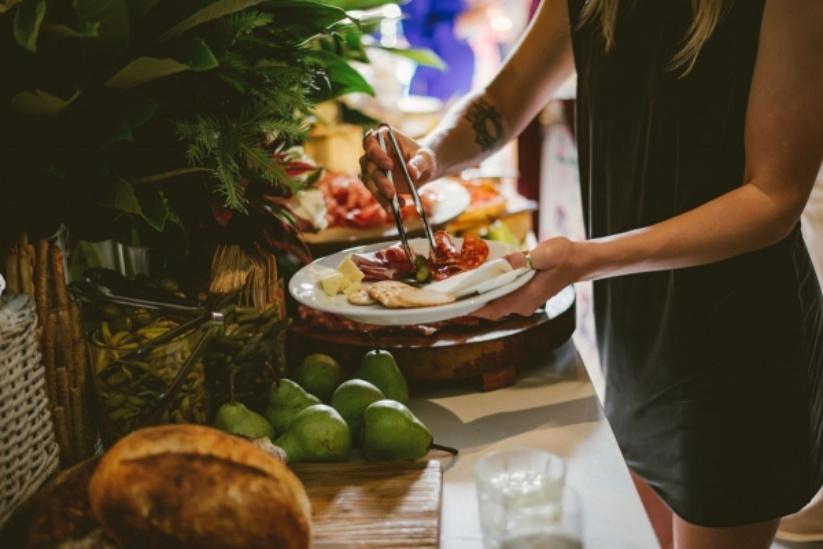 Image Courtesy: Tumblr
Food and beverages are one of the most crucial parts of a celebration and while your guests enjoy themselves to the fullest the flow of snacks and drinks through the evening should not stop. The key to happiness is often through the stomach and while it is already arranged by your catering partner, you can add to the fun by keeping FnB bars where your guests can spend a good time prepping their favourite snacks and own flavour of drinks. This is also a conversation-starter. With people gathering and discussing their choices, it will work wonders for the wedding fun!
Break a leg with the DJ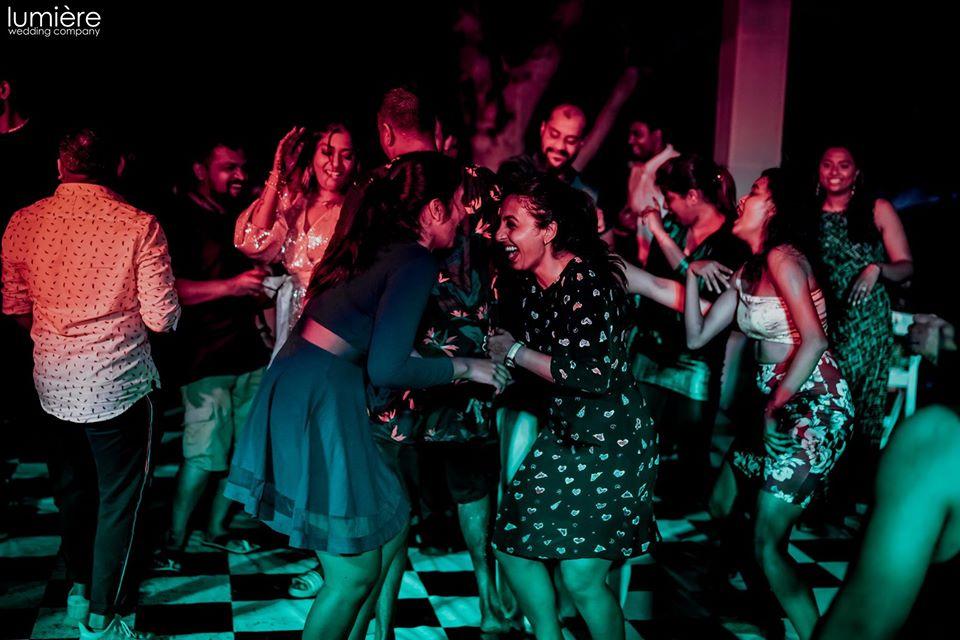 A DJ is a must-have at a wedding! How is it even legal to not have the last dance where one of your bridesmaids loses her shoes? Let your hair down with your entire family enjoying the twists and thumkas. Ask the DJ to play all your favourite tracks and sweat all your stress out from the wedding on the dance floor.
Keep a resting lounge for your elders at the wedding so that they get to enjoy without having a backache. Include little fashionistas in your wedding and let them participate in the show with some dance numbers! Make sure your wedding entertainment ideas include every guest you have invited for your big day with these exciting refreshments in store for them. You can also add exciting elements like a fire paan stall or an Emcee to the wedding for entertainment!
To include entertainment ideas for your wedding is a great way to plan your wedding and it becomes an instant best-seller at the wedding. You will carry a carousel of memories from these hep entertainment ideas that will make you and the guests at your wedding smile for years to come with your "remember when..." stories.
If you have any fun entertainment ideas for your big celebration, let us know in the comments below! Get in touch with the best photographers in your city to capture hilarious pictures of you and your guests at the wedding for your wedding album.