6 Ways to Include Children in a Wedding to Up the Cute Factor
It's important to ensure the little ones feel included in a wedding as they brighten up the whole ambience. Here are some fun ways to include children in a wedding!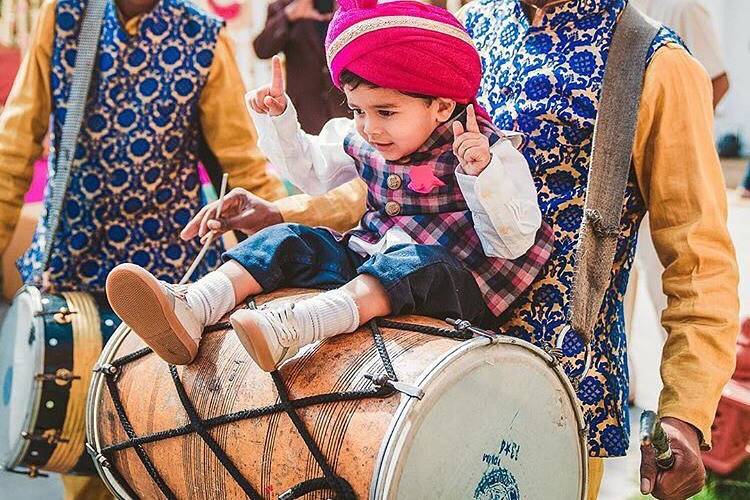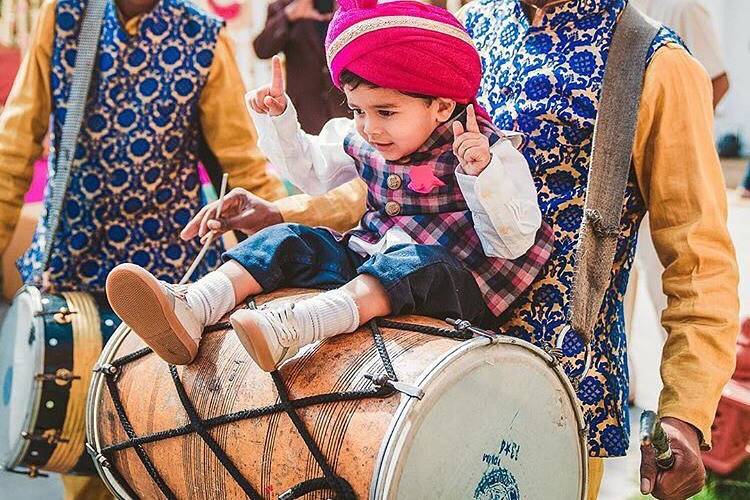 Image Courtesy: The W Story
Imagine how dull a wedding would look without the cute nieces running around in their princess dresses illuminating up the whole wedding venue with their giggles! Or the naughty nephews totally burning the dance floor with their jazzy moves! But there are a lot of moments when all the adults get busy with the wedding arrangements or pre-wedding preparations leaving the kids bored!
And a bored kid eventually becomes a cranky kid! Nobody wants that in a wedding, right? So, the best solution is to include children in the wedding assigning them tasks and involving them in fun activities. That would be a win-win situation for both parents and kids! Here are some ideas you might want to check out!
Kids at Wedding Stalls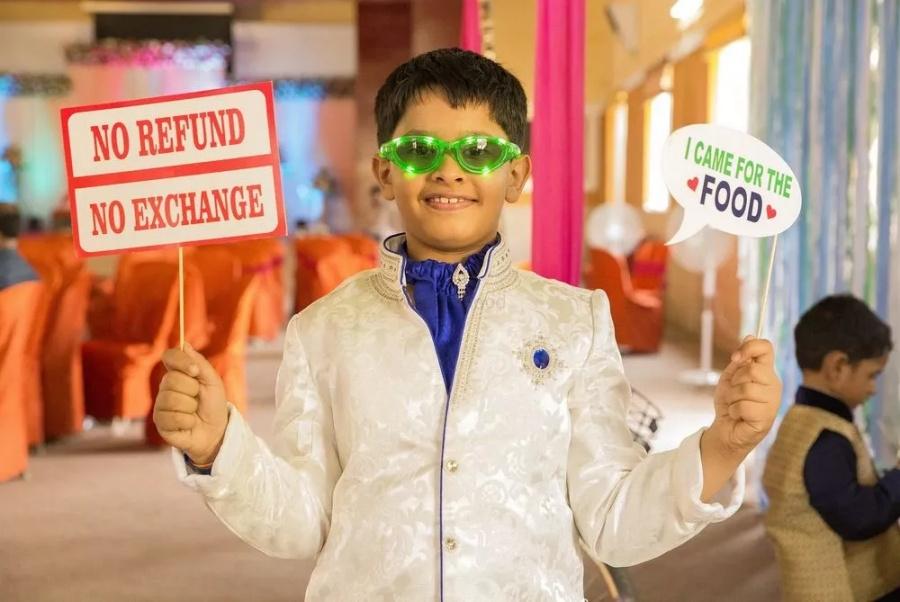 Dedicate food stalls, juice bars and tattoo joints exclusively run by kids (5 years or above). When you include children at weddings by assigning important tasks to them, they do it even better than the grown-ups! When your guests will see cute little kids are serving fresh juices or lemonades to everyone, who wouldn't want a glass? Or try setting up a tattoo joint where they stick those temporary tattoos to the guests, trust us, that one activity alone will take care of every kid in the wedding!
Pro tip: Dress the kids differently for different stalls. For example smart casual outfits for a tattoo joint and beautiful lehengas or summer frocks for a lemonade bar!
Kids on Sangeet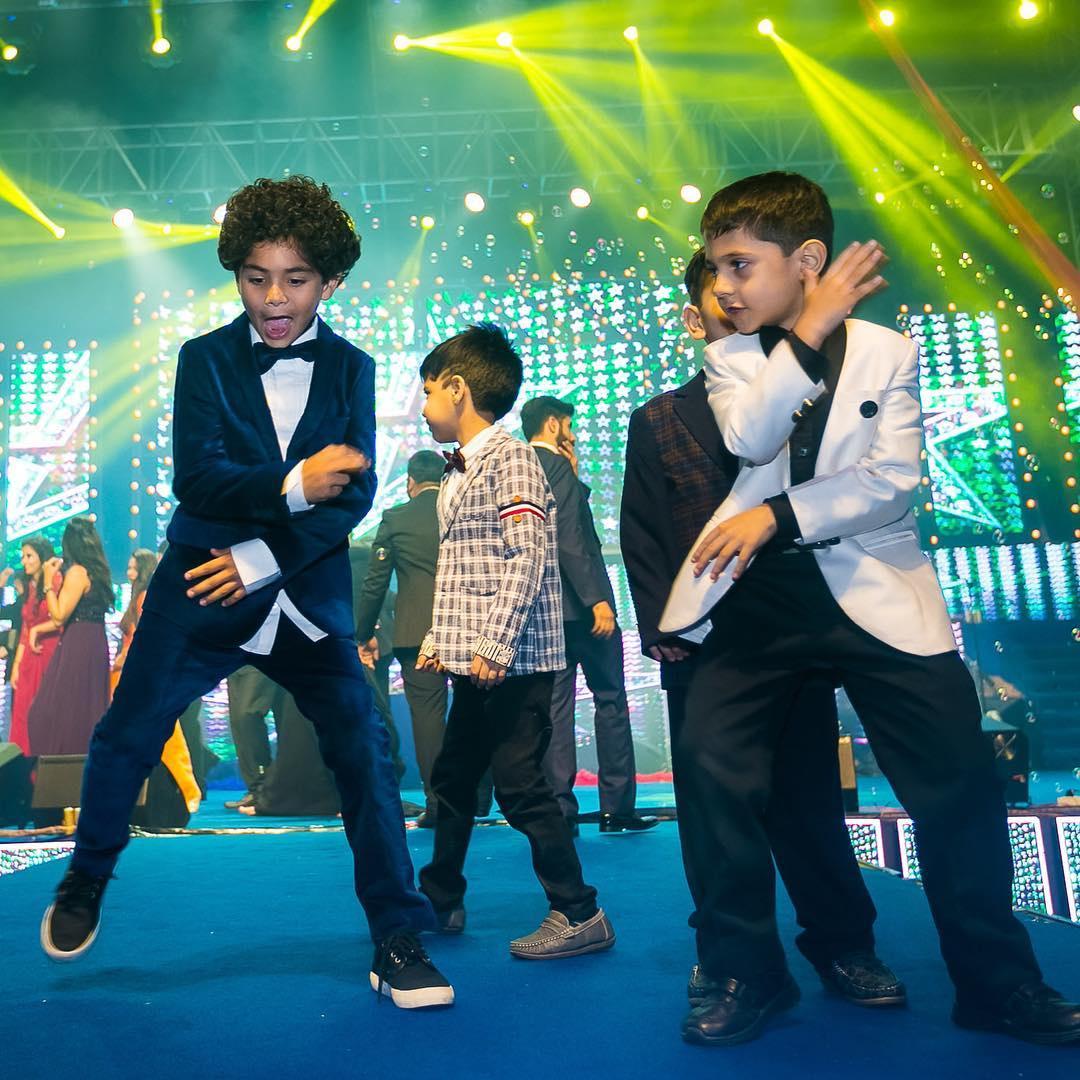 Image Courtesy: Stories by Joseph Radhik
Organise a Sangeet performance exclusively by kids! That's another great way to involve children in a wedding. Ask your wedding choreographer to prepare a kids group dance or ask the little ones to exhibit their own talents. Let there be a homey Sangeet party where the children can prepare skits, sing, play musical instruments, recite a poem or perform using a karaoke track. One with a humourous streak can even become the Sangeet emcee! Engaging children in cultural activities is a wonderful way to keep them busy as well as excited.
Pro tip: Dress the boys up in the brightest designer kurta pyjama or a blazer and doll up the girls with sassy hairstyles. It's their show tonight, after all!
Make way for the Flower Girls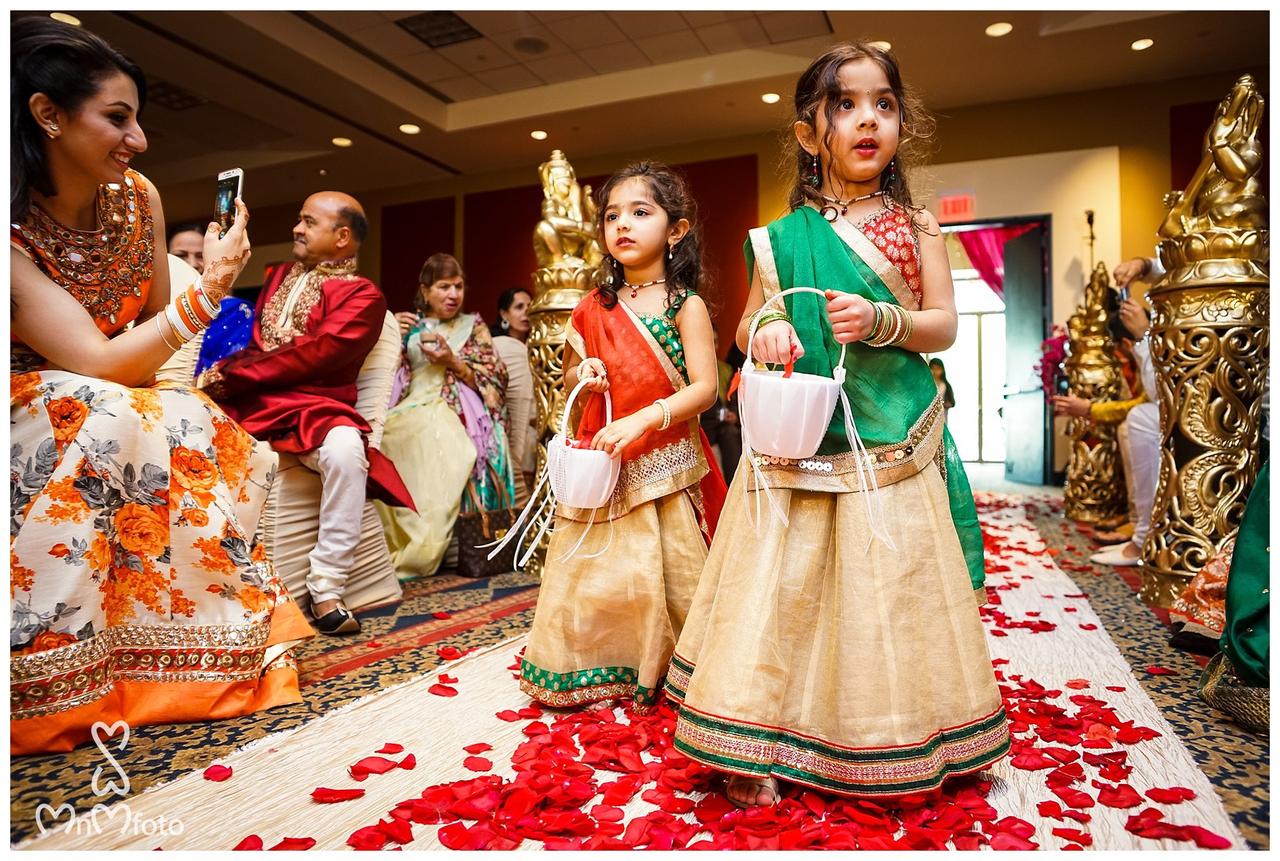 Image Courtesy: MnM Photo
One of the most loved ways to include children in wedding has to be the lovely flower girl act! When the adorable little angels walk down the aisle all dressed up in coordinated outfits throwing flower petals along the way, there isn't probably anyone in the venue who doesn't sigh! It's a beautiful way to allot them with a responsible job, especially in a Christian wedding However this tradition is followed in Hindu marriages too.
Pro tip: Make the flower girls do a dress rehearsal for the whole act. Colour coordinate their dresses with the bridesmaids' dress to make them look like a part of the squad!
Kids & their Props!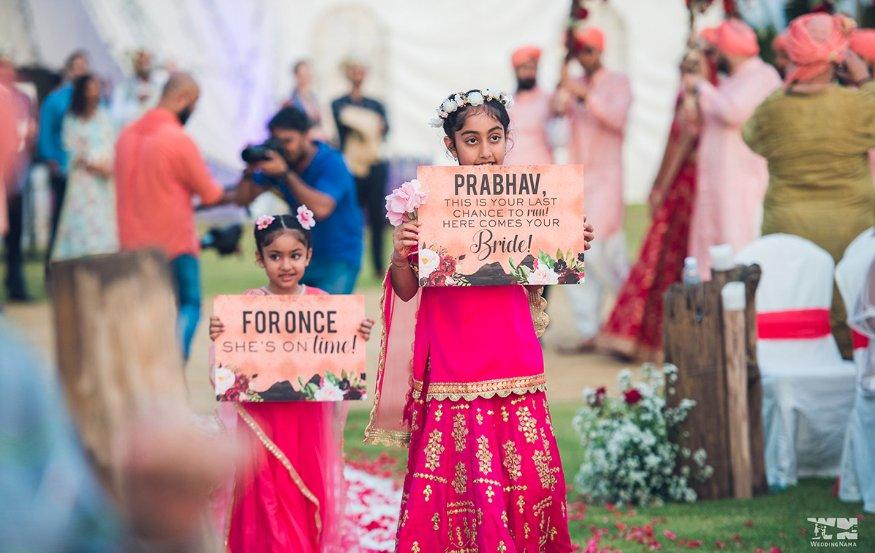 When the cute children in wedding hold up funny placards with quirky messages for the soon-to-be-groom, it's a delight for everyone! Assign kids from different age groups with appropriate boards like "Wait until you see the bride" or "Abhi, this is your last chance to run, she's on TIME"! etc. Other than wedding placards, you could ask the kids to be in charge of fun photo booth props and offer them to the guests when asked for!
Pro tip: Always keep an adult as a backup and to supervise at the photo booth station in case the kids decide to go crazy with the props themselves!
Games, Contests & more!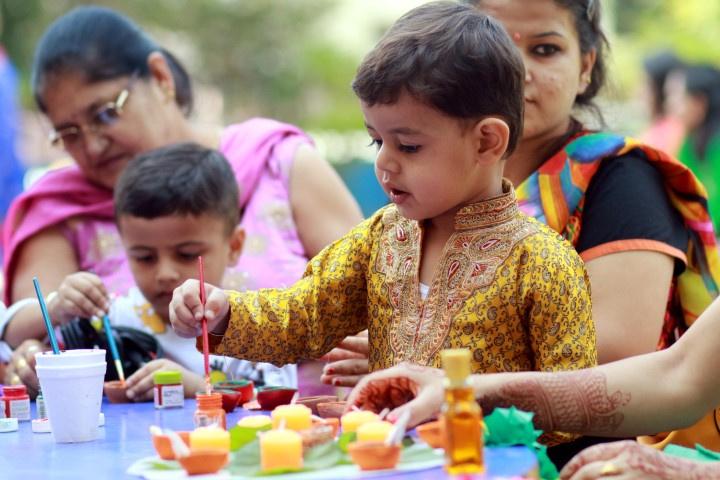 Image Courtesy: NewZnew
Here's a genius idea to keep the children in the wedding engaged while you also get some work done! Arrange a floral Rangoli, or simple Rangoli competition or Kalash painting contest for kids (10 years or above) with apt prizes. The idea behind such games would be to involve the kids as well get some beautiful DIY decoration done by young talents in the house!
Pro tip: Keep enough spare earthen Kalash, old bangles and dupatta for decoration games and contests!
Gift packing by kids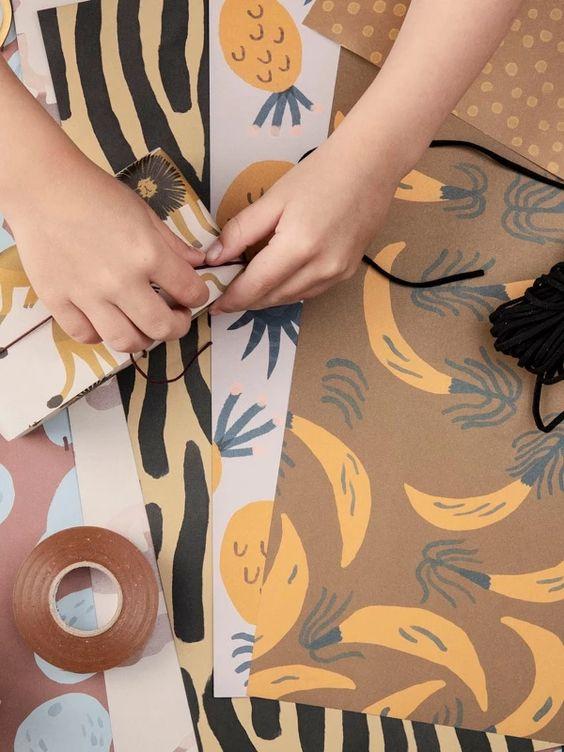 Image Courtesy: Burke Decor
One of the most effective ways to keep children in a wedding from getting bored is to include them in your activities. If you're thinking of DIY gift packing ideas, that's an excellent opportunity to take help from the children. In fact, in a typical Bengali wedding, the act of Tatto packing is a whole event enjoyed by family members and friends to pack the trousseau. Include the kids in cutting, pasting or writing funny notes, with adult supervision of course!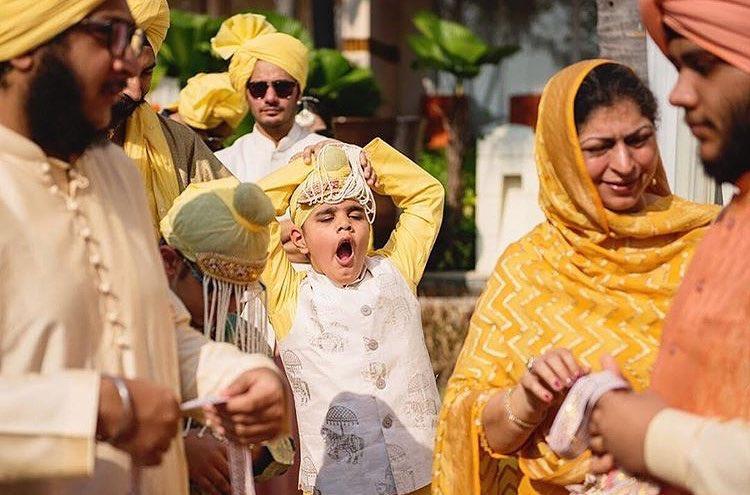 A wedding is a joyful occasion and it should be exciting for everyone, including kids. So if there is a large number of children at the wedding, think of varied games and activities to engage them. With a little supervision and guidance, it's amazing how creative children can get. Give them the opportunity to showcase their hidden talents by encouraging them to perform.
Involving kids in wedding decoration and gift packing are brilliant platforms to entertain everyone. Make sure you select appropriate kids outfits for each function. Let your wedding be more vibrant with the little ones!
Do you have more such ideas to involve children in a wedding? Share your thoughts with us in the comment section below!