Some young kids are fussy, some boys are shy, some like dressing up while some just want to run around at the venue. Whatever qualities your little one possesses, make sure that you always take these into account while purchasing wedding dresses for boys. The reason why we say so is that not all ethnic wear are carefree.
You might purchase a layered set of ethnic wear, but your kid might end up rejecting it completely. So make sure you purchase wedding dresses for boys that they will enjoy wearing. Having said that, we have been spotting some brilliant trends lately in the kid's department as well.
Making sure that your boy doesn't get left behind when it comes to the vogue bandwagon, here is a gallery to help you with the trendiest of the purchases.
1. Designer kurta set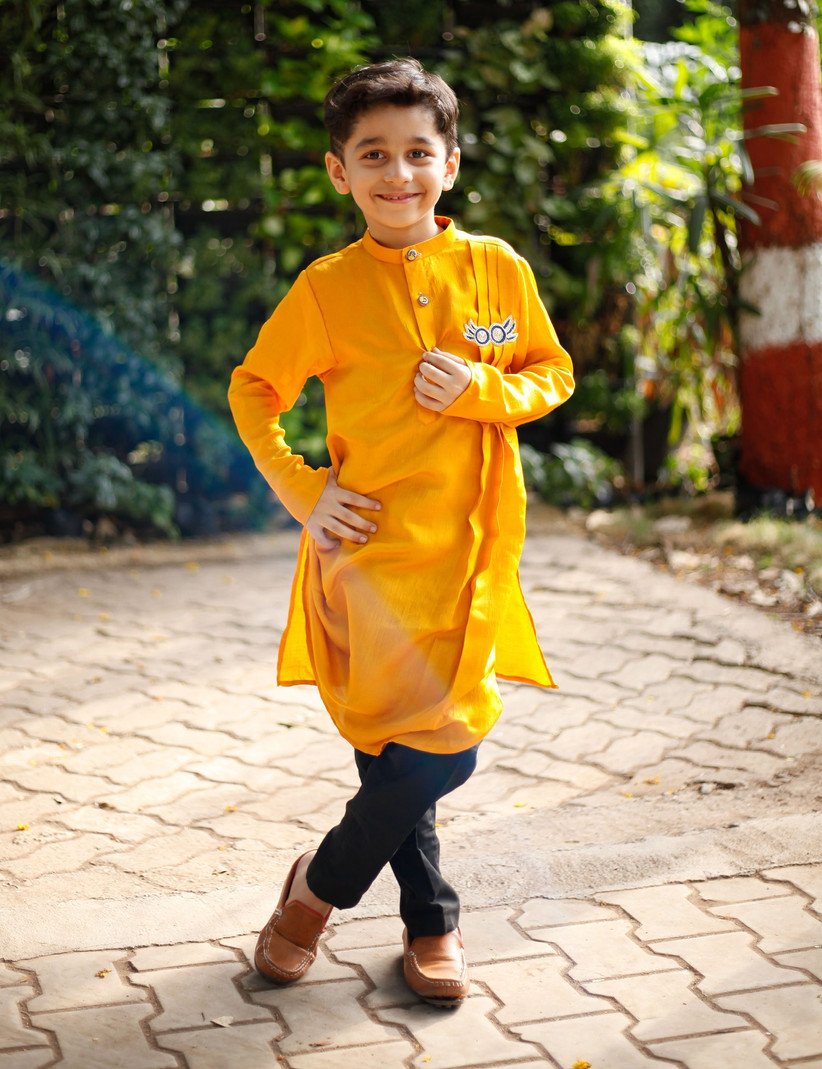 Image courtesy: Mini Firgun
The first choice that any trendsetting mother looks out for is the designer ethnic wear. When we say designer, you can expect abstract silhouettes, designer's signature styles, contemporary meeting the traditional and so on.
What's unique about such wedding dresses for boys is that each look stands out from the rest, giving the young boy a distinct style among his fellow cousins. If you and your kid decide on making that purchase, don't forget to put extra emphasis on the right fit and length of the designer kurta set.
The kurta should not be too long or too short either, as your kid will grow out of it in no time. So make sure that you have some room for altering later as well.
2. Nehru jacket suit set
Who better than Taimur Ali Khan to set the style records straight for boys of his age group? Coming from a royal background, he can often be seen decked up in a Nehru jacket suit set. So mothers of young style icons, make sure that you include a set like this in the wardrobe of other wedding dresses for boys.
The wearability is summer friendly, fuss-free and high on the style quotient. Did we mention that this look is an evergreen trend? Hence, you cannot go wrong with this style ever!
3. Like father, like son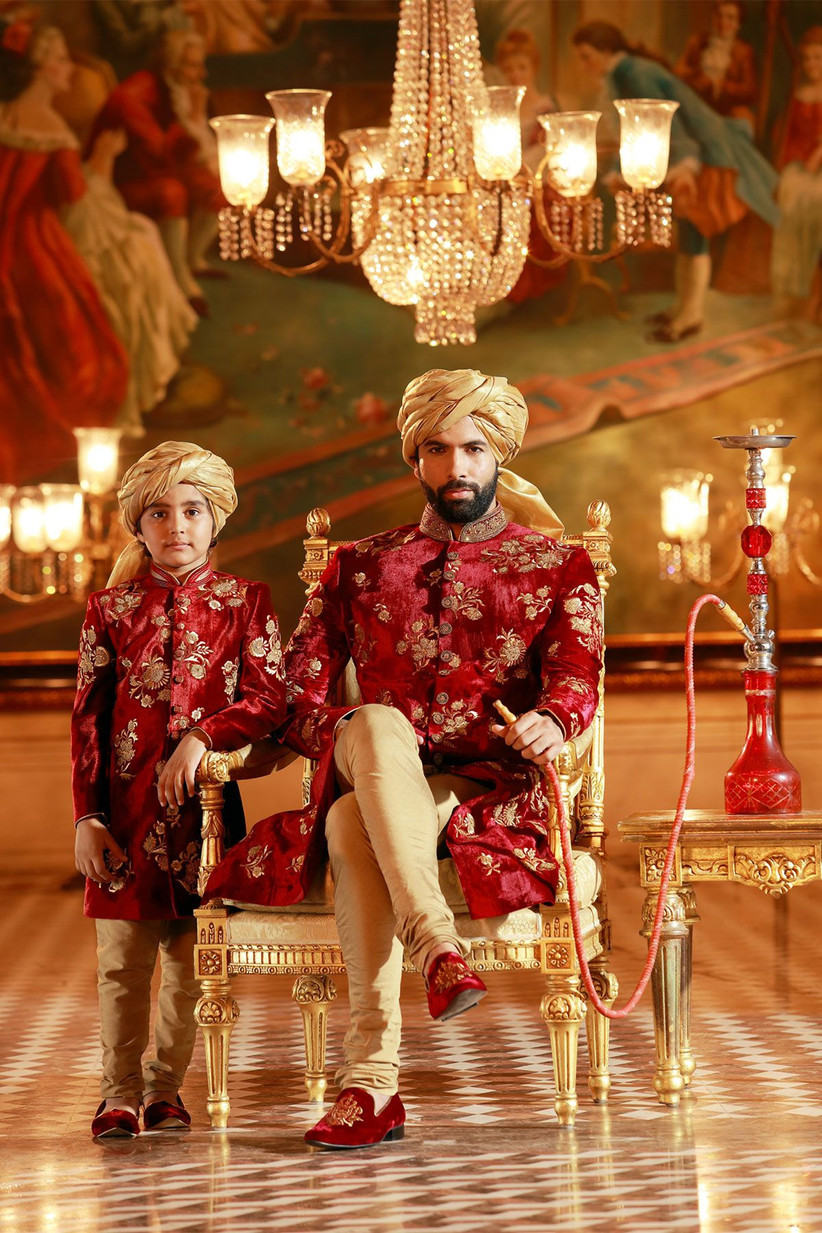 Image courtesy: Samyakk
This one has to be our personal favourite from the list. Why wedding dresses for boys have to be too kiddish? How about making them feel like a grown up by copying the father's style and getting the same suit sets stitched for the father-son duo?
Go a little extra and invest in duplicate pairs of footwear, turban and even the pearl necklace which the father plans on adorning to the wedding function. The opportunities are endless when it comes to a matching son - father's wedding look.
Right from matching tuxedos (or boys wedding suits) with the same kind of bowtie to getting Pathani suits stitched for a dance performance, you can prep up your camera, as this match is going to be undoubtedly the show stopper of the evening!
4. Angrakha suit set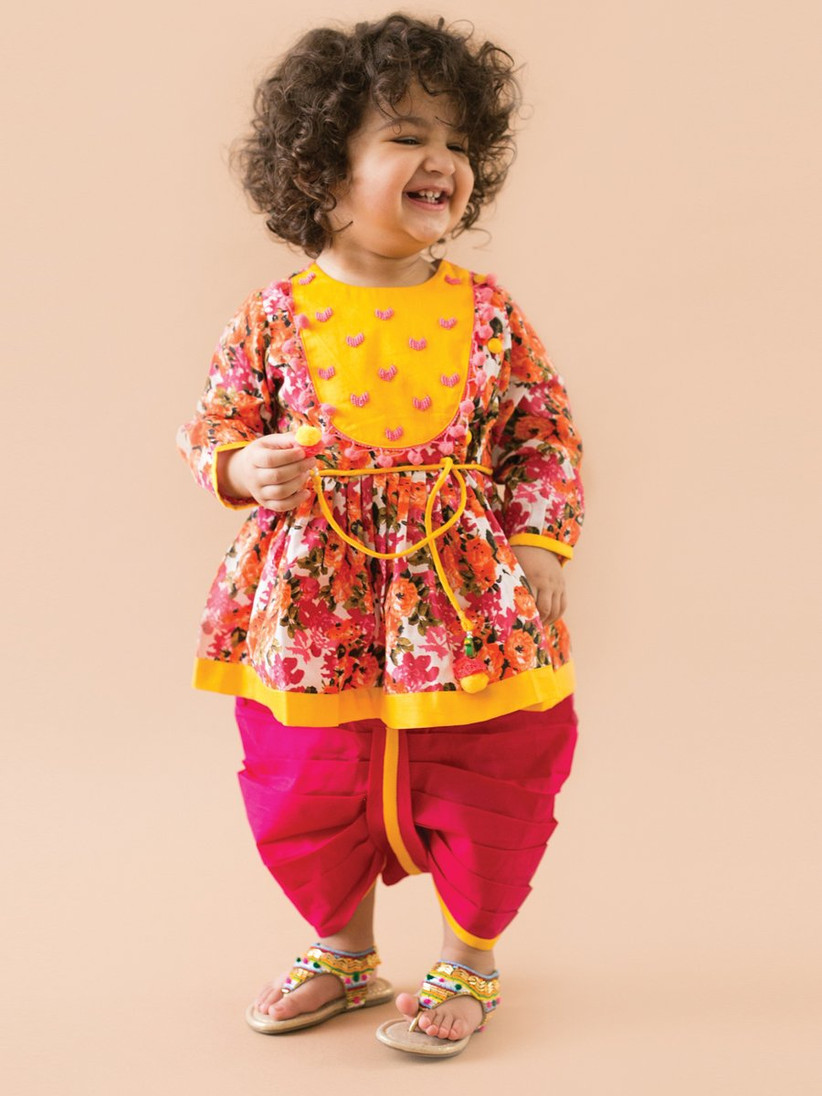 Image courtesy: Tiber Taber
Wedding dresses for boys, when colourful, make these youngsters look ultra cute and modish. Invest in traditional Angrakha suit bursting with colours, the Gujarati style. You can also invest in a timeless Mughal style Angrakha with muted prints and tassel embellishment for that regal look as well.
Depending on the comfort level of the boy, you can either team it up with a pair of Jodhpuri pants (a Jodhpuri coat pant set is also a good suggestion) or you can opt for a slimmer fit with Churidar Pajamas for the champ.
Kolhapuri single-toe footwear and Jootis go perfectly well with Angrakha suit sets, but if your boy tends to be carefree, you can go ahead and invest in neutral toned strap-sandals instead.
5. Summer sherwani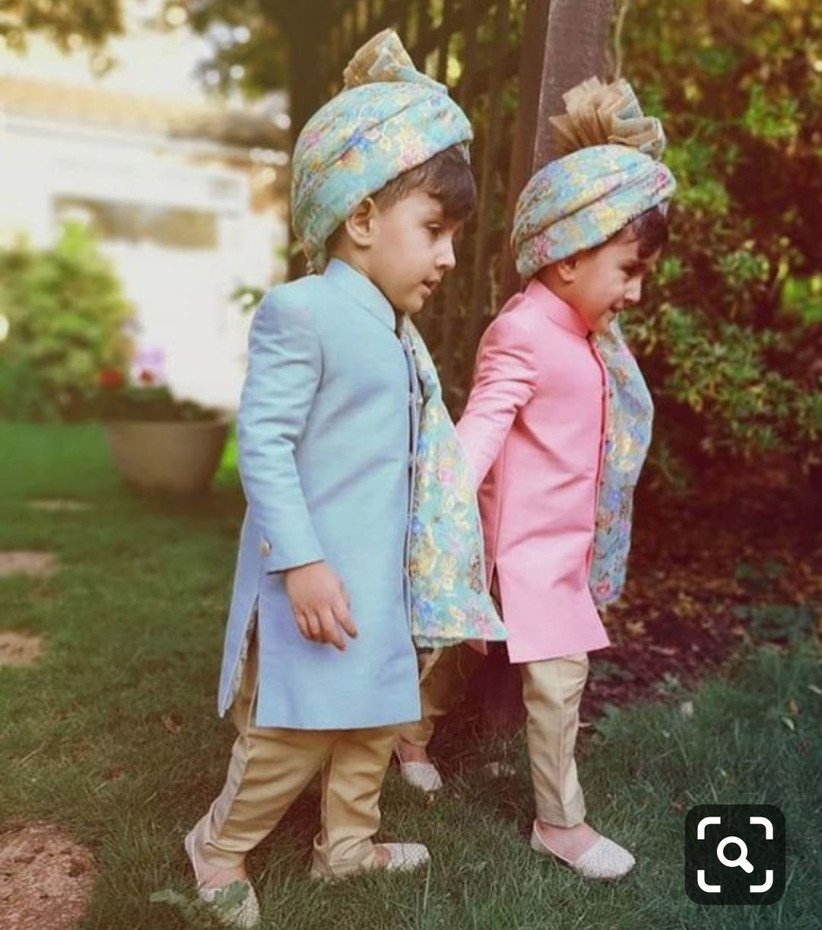 Image courtesy: Wattpad
The summer season is all about pretty pastels and faded floral prints. Incorporate these summer favourites to the wedding dresses for boys in your house.
We are absolutely in love with these printed turbans as accessories with wedding dresses for boys. But in case your child is not open to the idea of it, you can go ahead and match a printed Sherwani with mono-hued kurta pajamas as an alternate.
Styling it right - Some wedding dresses for boys tips
When we talk about accessorising these looks, make sure that you invest in versatile props to match them with the most number of wedding dresses for boys. For example, go for footwear in simple colours like black, white, gold and silver as these four shades go very well with any look and colour palette.
Another great tip while purchasing wedding dresses for boys is to make sure that the dresses come with the scope of expanding and adjusting the size in terms of width and height both. This way, your child will be able to wear the dresses for at least a year or three, irrespective of his physical growth. That works wonderfully for your wedding dresses for girls too.
Tell us what types of wedding dresses for boys do you plan on adding to your little one's wardrobe?