15+ Trending Wedding Sherwani Designs from Tarun Tahiliani's Tasva
Find 15+ wedding sherwani designs approved by celebrated Designer Tarun Tahiliani as he forecasts the top groom's sherwani trends for the upcoming wedding season.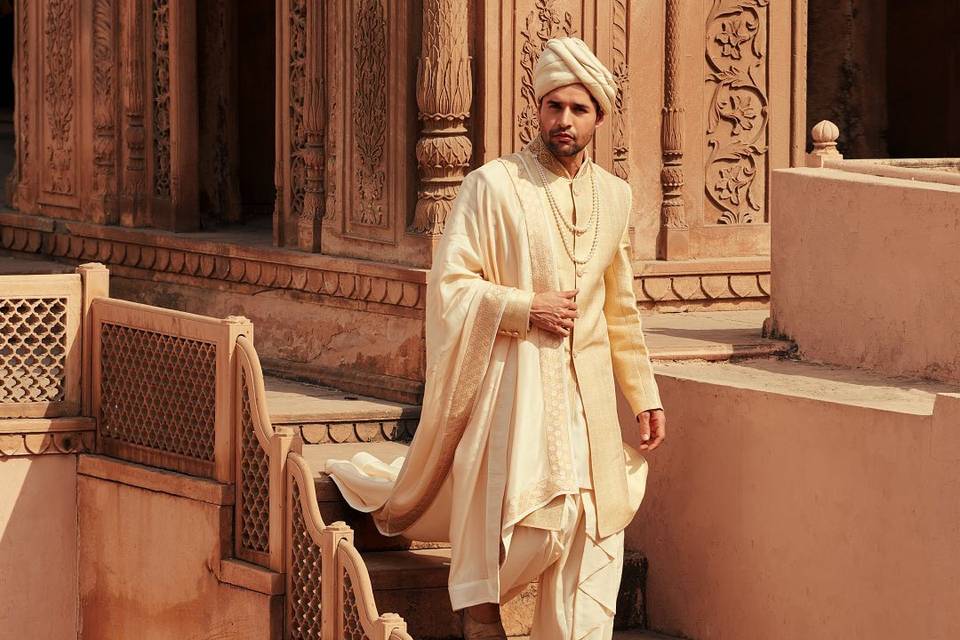 The new age groom is versatile, leans into his personal style and wears his style sensibility on his sleeves. Resonating with this new-age demand, Tarun Tahiliani's collaboration with Aditya Birla Fashion & Retail Limited (ABFRL) birthed Tasva in 2021, an Indian menswear brand that presents a new perspective on ethnic wear.
Couples of this generation are experimenting with different themes for their pre and post wedding events and ditching traditions to embrace the unconventional. However, the wedding day sherwani design for a groom continues to be a classic choice, resonating with their cultural identity. Tasva's sherwani designs offer just that, with a balanced, sophisticated evolution. From colors to cuts, designer Tarun Tahiliani offers all that and more to grooms of today who are looking for cost-effective fashion-forward dressing.
In this blog:
Buy Sherwani Designs for Grooms by Tasva
Tarun Tahiliani Reveals Top Wedding Sherwani Trends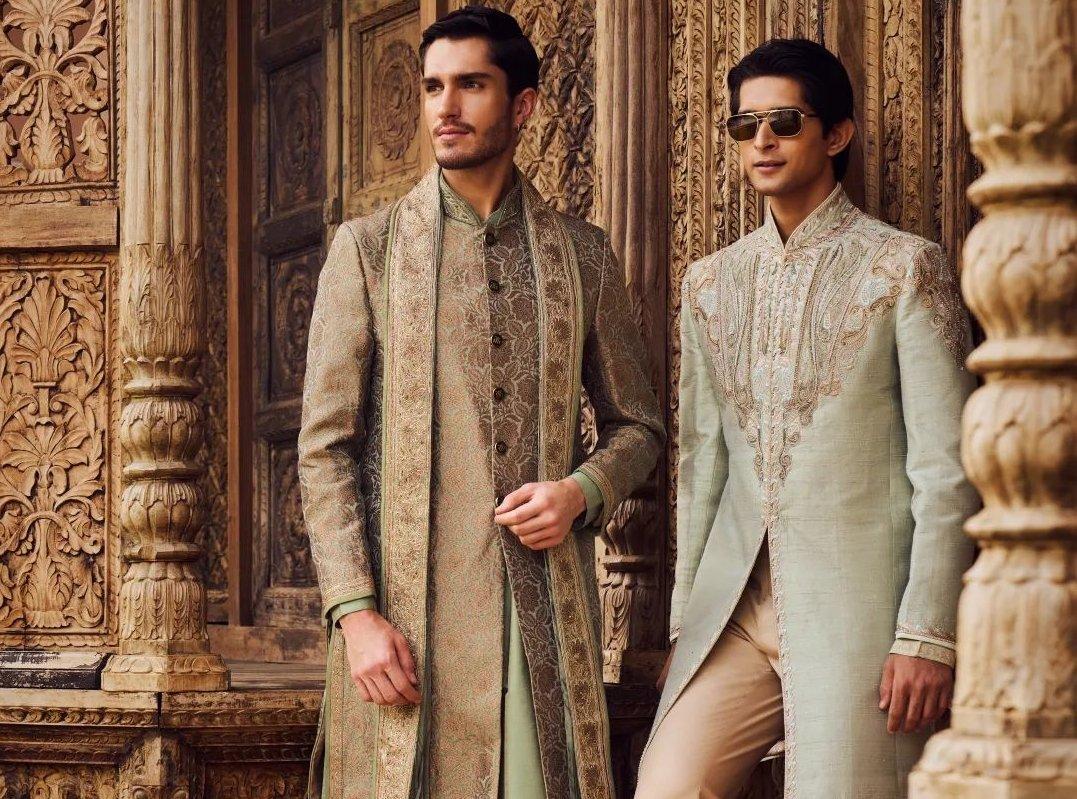 In couturier Tarun Tahiliani's words, "The Tasva groom is someone who has an awakened sense of agency, who likes to actively partake in the journey of finding the right attire for his big day, and who has a sense of tradition as well as modernity. A true modern Indian man."
Wedding Sherwani Essentials
The celebrity designer suggests a new-age groom look for a wedding sherwani design that helps him define a part of himself.
Find comfort in your wedding sherwani
Choose a craft that tells a story
Choose a comfortable fabric that meets your expectations
Pick a style that is unique and carries an image that is class-apart.
TT's Top Favorite Wedding Sherwani Styles & Trends
There are endless inspirations and new designs available on the internet today. Designer Tarun Tahiliani shares his top favorite wedding sherwani design trends to help grooms cut to the chase.
A wedding sherwani with elaborate artwork and techniques of zardozi
A wedding sherwani with a traditional ogee jaal and techniques of aari and pearl work
Angrakha sherwani with a unique outlook for the silhouette
Everything Tasva, from classic silhouettes to experimental shapes like angrakha, drape styling of the sherwanis using different stoles
Trending motifs like patterns from art deco, mughal buttas, and floral jaals
Pastel shades like jade, salmon and powder blue
Experimenting with brown, beige and black sherwani designs
Editor's Pick: 15+ Trending Wedding Sherwani Designs from Tasva
Gold Brocade Sherwani Design for Grooms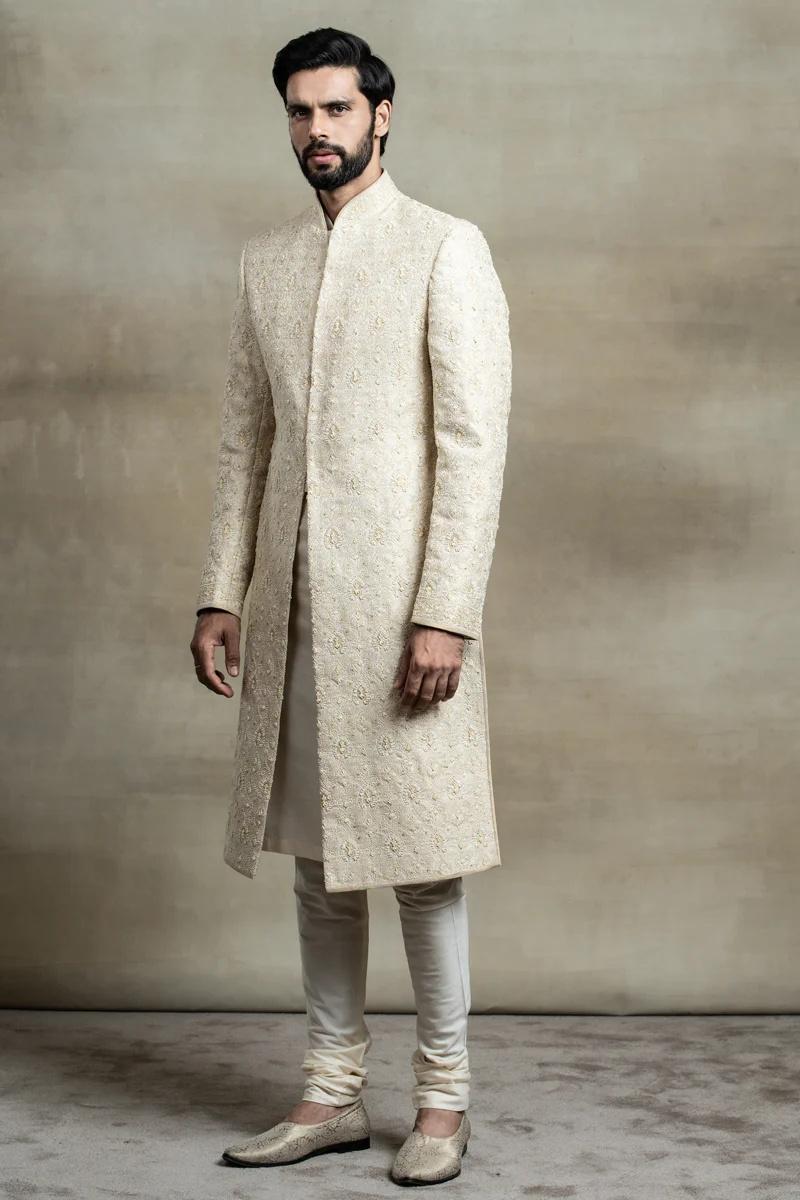 Check out this classic brocade wedding sherwani dipped in a timeless shade of gold. I love the Zardozi work that is subtle and absolutely perfect for the modern day minimal groom. This set comes paired with a kurta churidar. Add a classic pair of brocade mojaris to give this look a royal edge.
Price: 39,999/-
Maroon-Embroidered Wedding Sherwani Design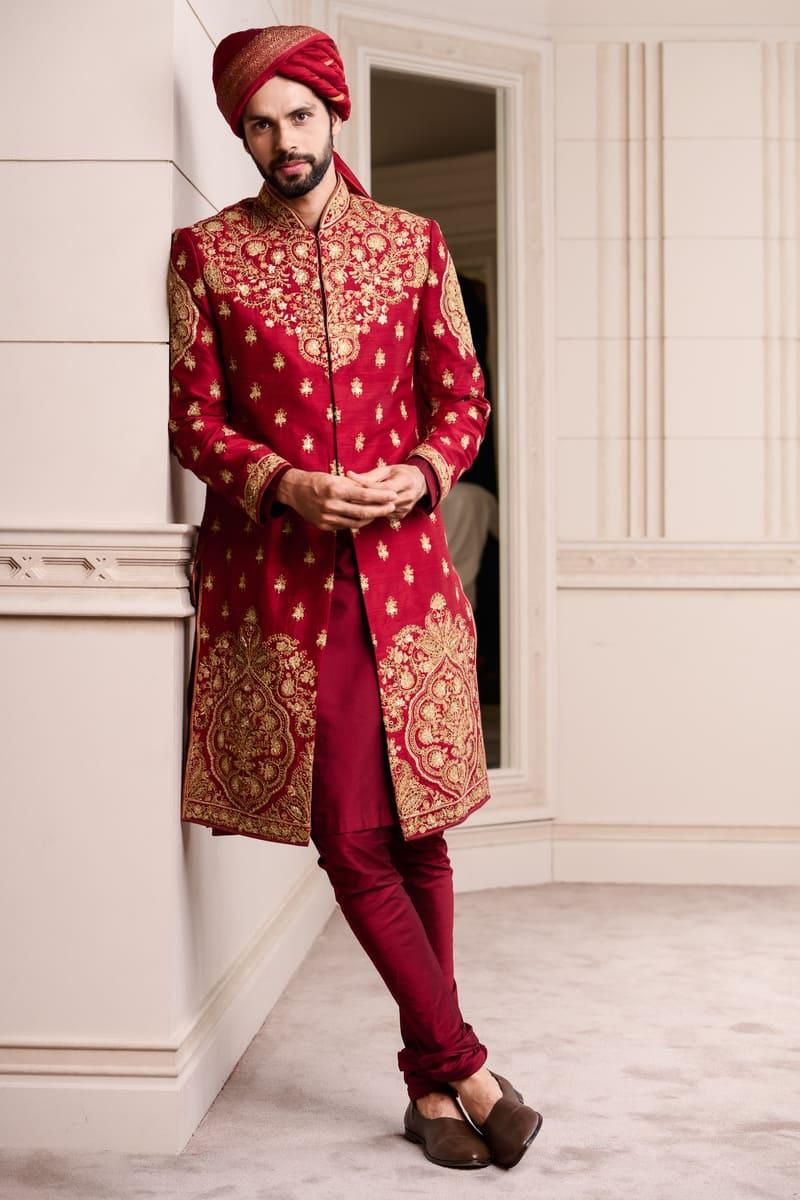 The recent weddings have seen a swarm of classy grooms in ivory sherwanis. I personally miss the Indian wedding colors in these wedding palettes. This maroon embroidered groom's sherwani design is for men who are in awe every time Ranveer Singh flaunts an iconoclastic look. You are bold, you are beautiful, and the color red is as much for the groom as it has ever been for the bride. Don this silk sherwani to show the world how!
Price: 39,999/-
Shimmering Gold Embroidered Sherwani Design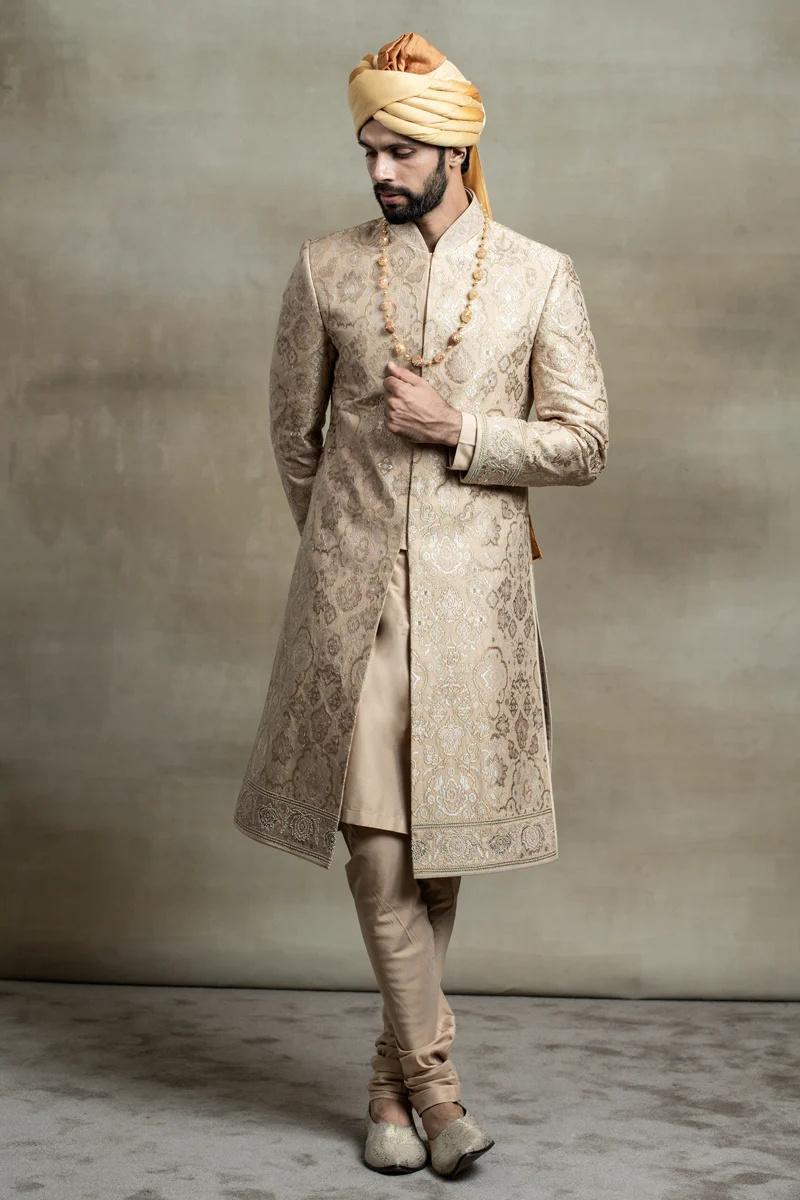 Dipped in gold but not conventional, and so on-point for the modern day groom! My favorite thing about this gilded wedding sherwani for grooms is that it shimmers with gold and yet stands elegant and sombre in a sherwani jacket style.
Price: 29,999/-
Gold Tissue Resham Brocade Wedding Sherwani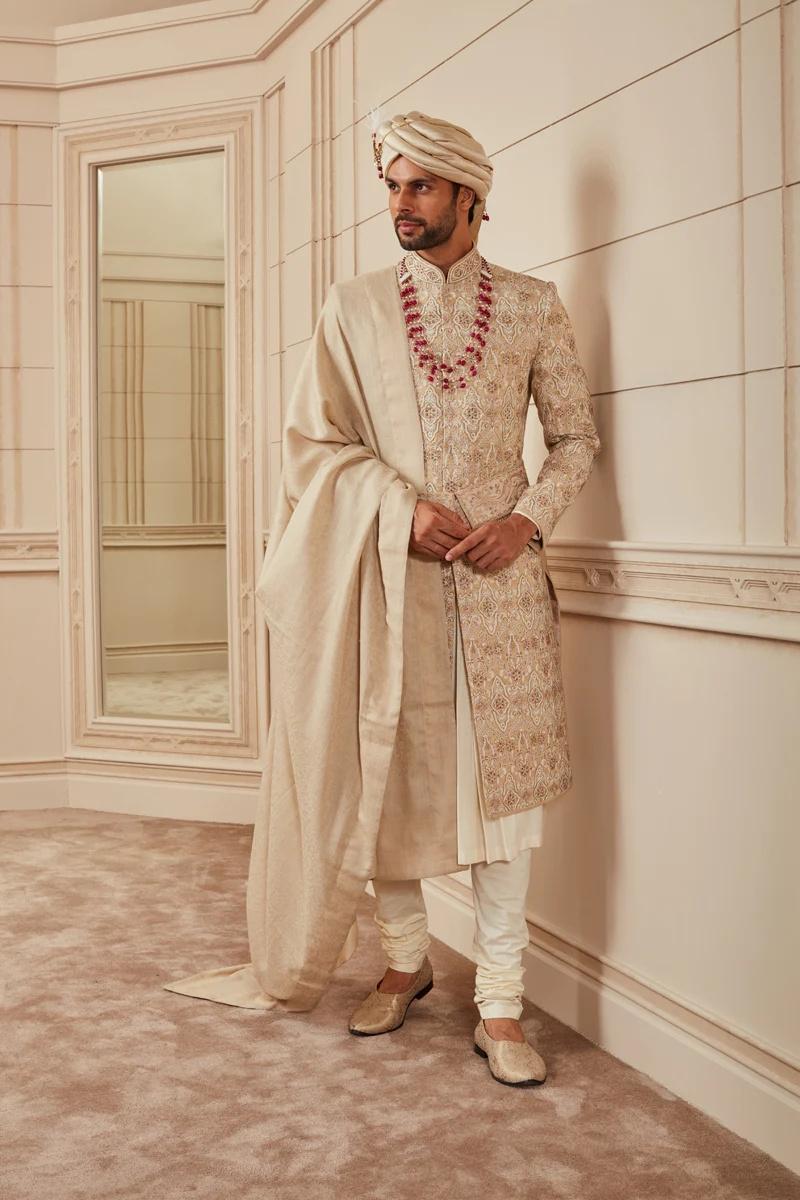 The new age groom likes to throw a cocktail party to remember for ages but will also come dressed as a traditional groom for the wedding rituals. I absolutely love the blend of cultures, the acceptance of traditions, and the balancing of the new-age demands here. If you resonate with the new-age groom who has his priorities set, check out this gold tissue embroidered wedding sherwani made with brocade silk and royal on your wedding day.
Price: 49,999/-
Elegant Embroidered Pink and Grey Sherwani from Tasva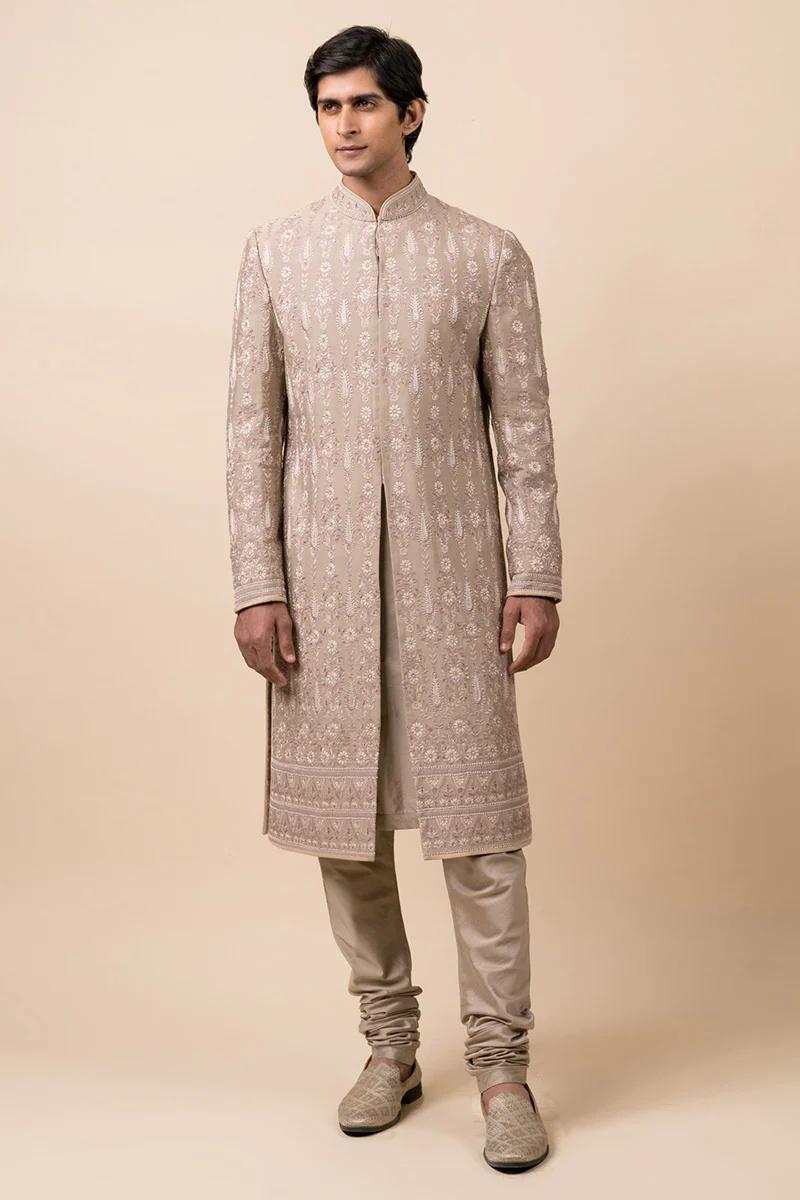 This elegant embroidered pastel wedding sherwani is for grooms who have charming personalities and radiate a sense of studied panache. If you believe (as I do) that the true reflection of your style is in the details you choose, focus on the placket style and embroidery of this sherwani design.
Price - 34,999/-
Ivory Classic Silk Wedding Sherwani Design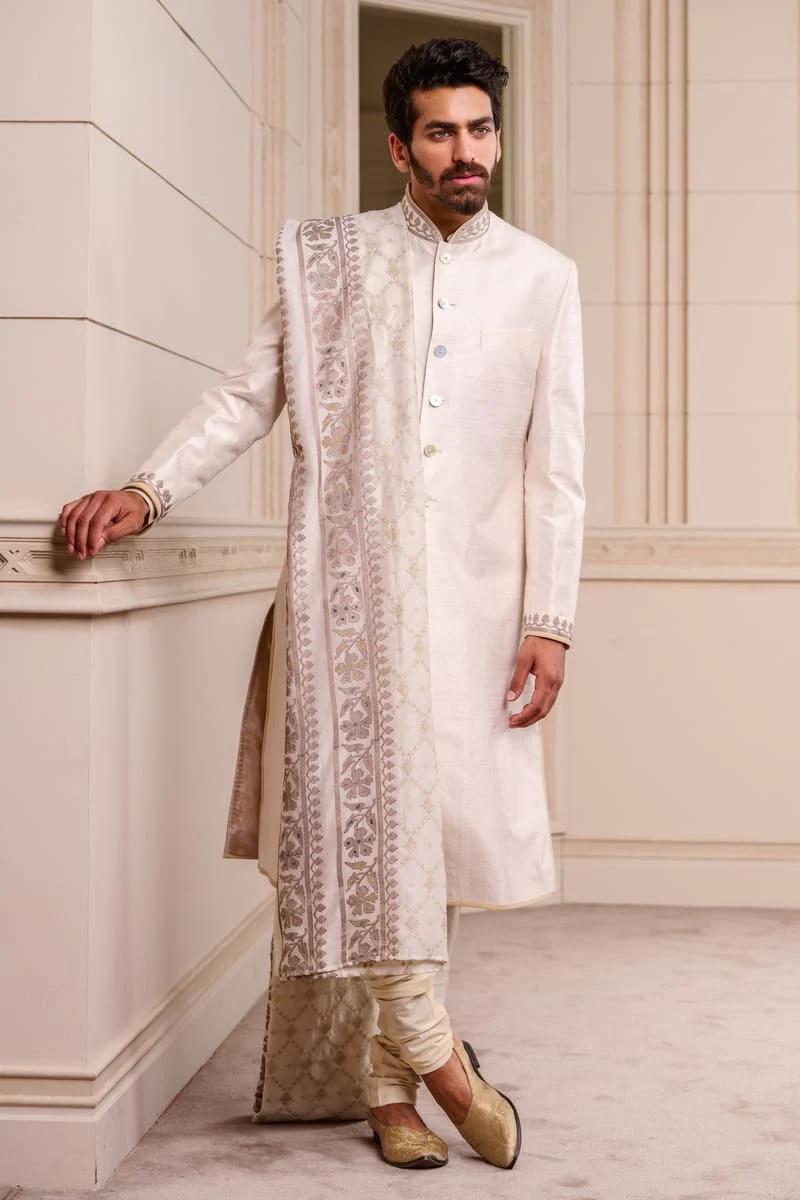 Looking for a versatile sherwani design that walks the line between wedding wear and festive wear? Create a splash of elan on your wedding day in this classic sherwani for grooms made of pure silk. Paired with a Jamdani stole and ivory churidar, this sherwani set creates a refined style statement.
Price: 29,999/-
Pink Sherwani with Pearl Highlights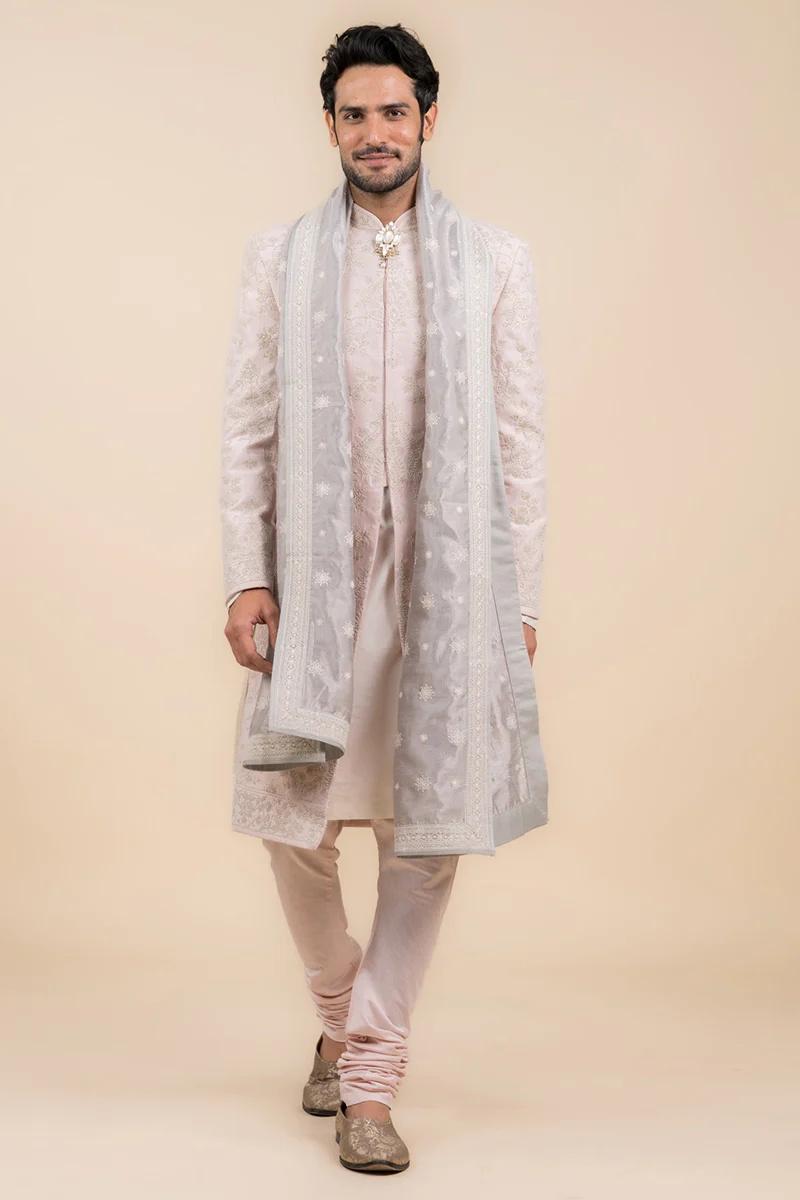 The first rule of dressing up for grooms in 2023-24 is that there is no rule. Check out this pink sherwani for grooms that can bring a Bollywood night to life at your wedding sangeet ceremony or engagement party. With pearl highlights and resham embroidery, this pastel sherwani is a perfect choice to add to your wardrobe and can be easily reused for festivals or as a wedding guest.
Price - 29,999/-
Light Gold Brocade Wedding Sherwani Design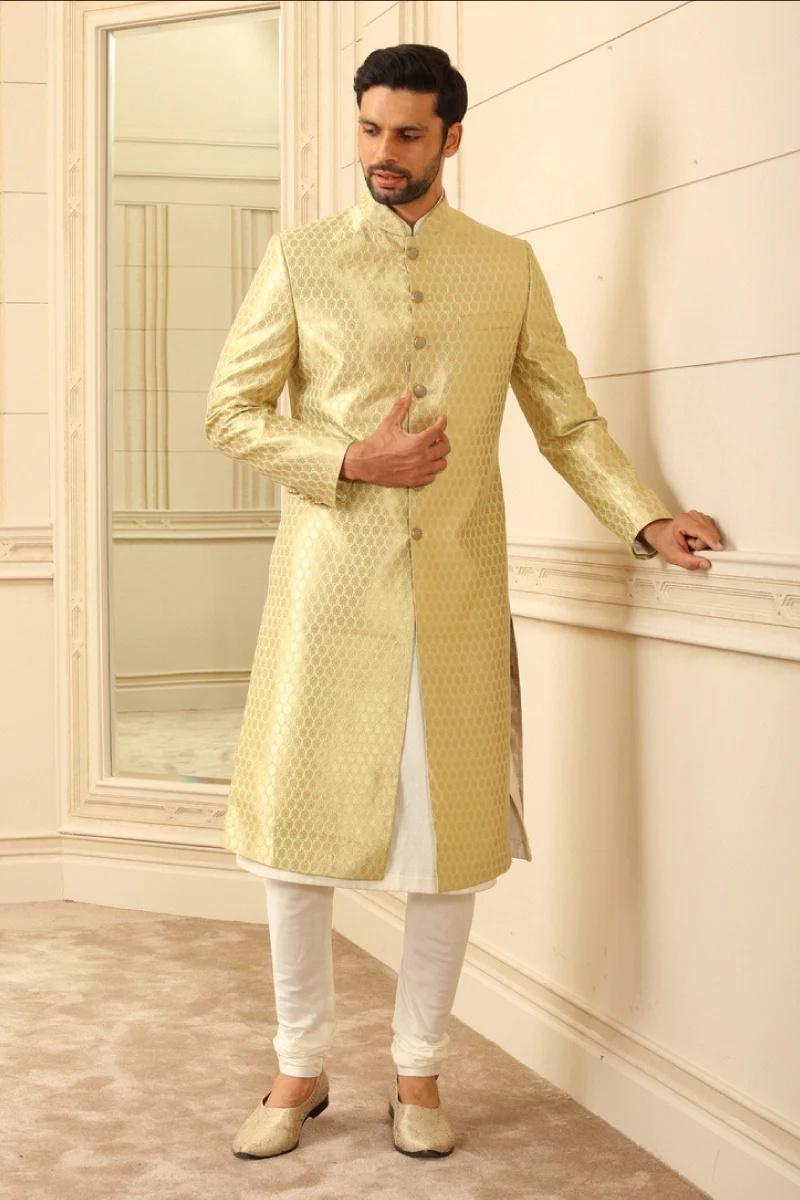 I highly recommend this color if you are willing to take the less-traveled road of wedding fashion. One might say gold is a conventional color for this generation of grooms, but I beg to differ when the gold shade is not muted with other colors and stands out with its bright tinge and adorns a brocade fabric. Let some heads turn as you walk down the aisle to the mandap in this light gold kurta and churidar set.
Price: 12,999/-
Pink Wedding Sherwani with Aari Embroidery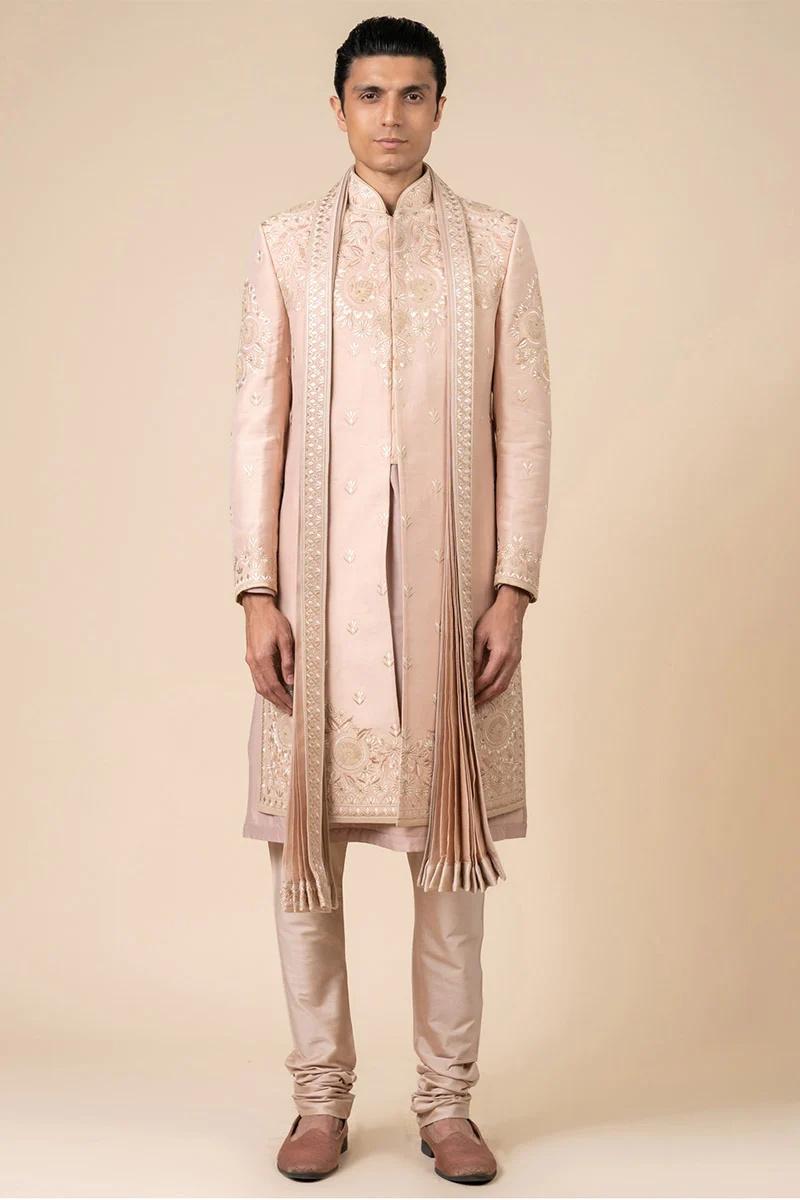 Howdy, pastel lovers! If you have been scrolling through to find that perfect color coordinated wedding sherwani for your pastel wedding, you can stop right here! This pink sherwani for grooms from Tasva stands out with the resham aari embroidery work and intricate tissue applique work. Plan a romantic morning wedding and show up in this wedding dress to set the mood!
Price: 24,999/-
Book a Trial in Tasva, Hyderabad
Zardosi Work Groom Wedding Sherwani Design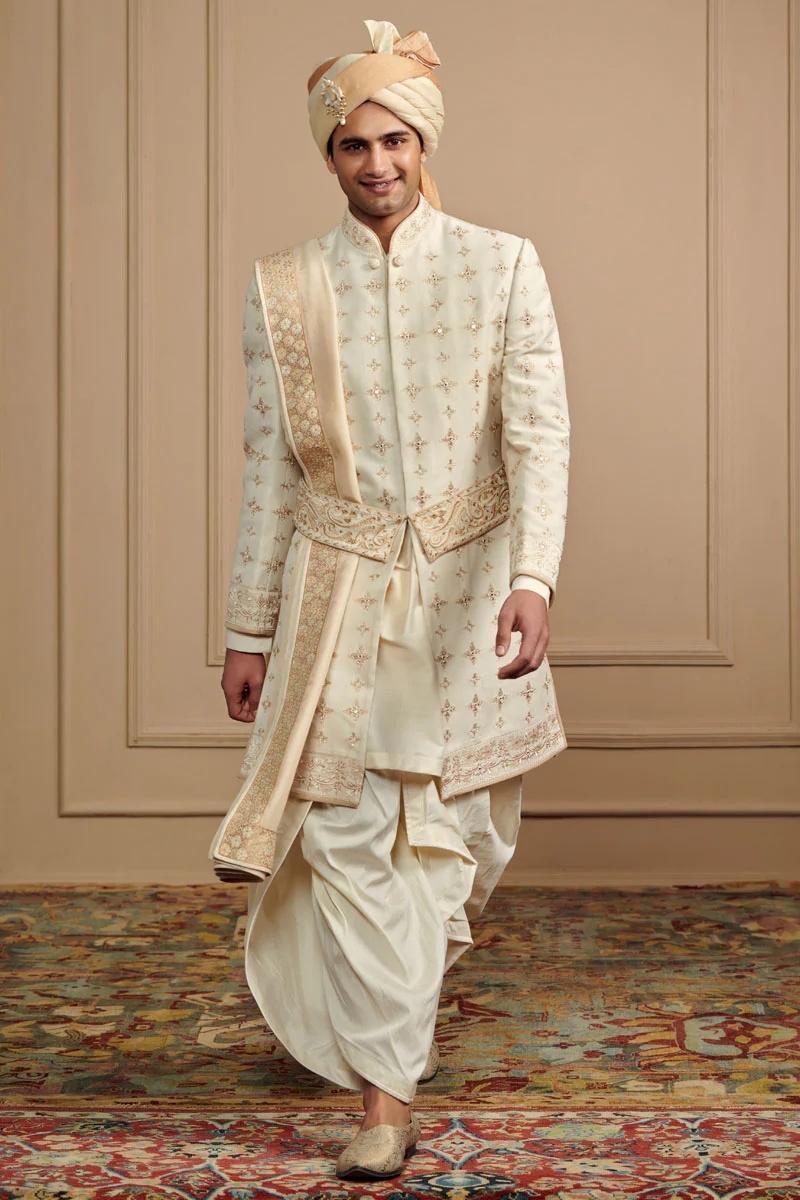 This Indian wedding groom sherwani has embroidery with zardosi, resham, and mirror work—all of the top embroidery styles that new age brides are also opting for in their wedding sarees or bridal lehengas. Pick this sherwani design, coordinate it with your beautiful bride, and create the perfect couple wedding dress goal for the upcoming season.
Price - 24,999/-
Angrakha Styled Layered Ivory Sherwani Design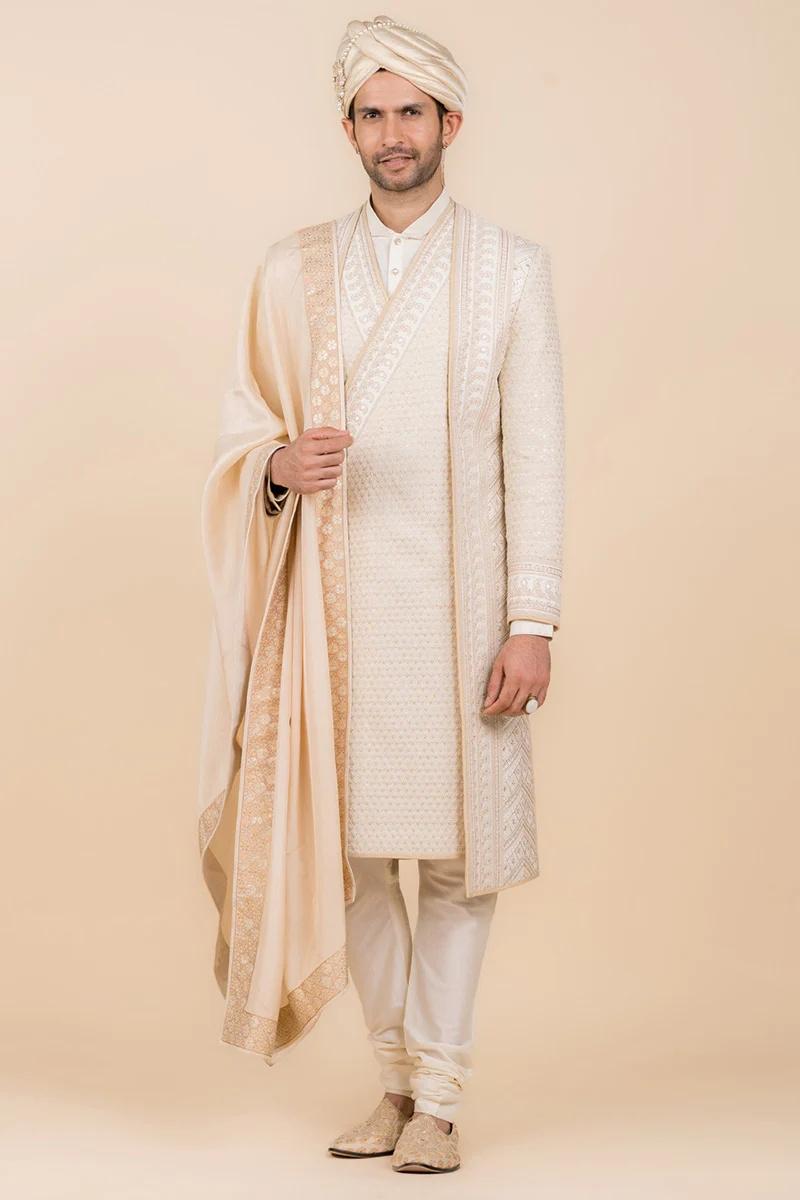 Here's a royal wedding sherwani look from Tasva, which is nonchalant and classic! This ivory angrakha style layered sherwani for men is adorned in pearl and dori embroidery with dabka print, enhancing the royalty of the fabric.
Price - 59,999/-
Classic Black Sherwani for Unconventional Grooms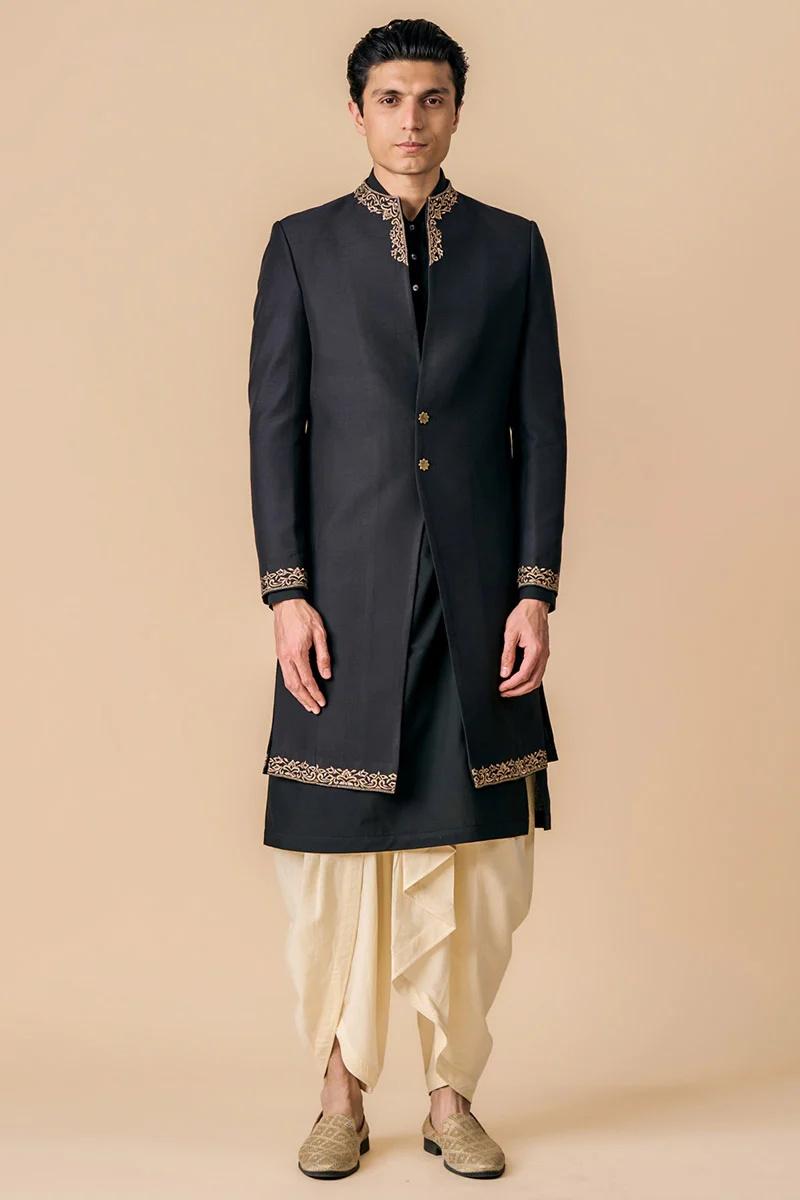 Not one to err on the side of caution? Don this classic black sherwani for one of your wedding events and spruce up the occasion. It's going to be an absolutely awe-inspiring scene right out of a Bollywood movie if your bride can coordinate and flaunt a stunning black lehenga for the night. The old-world charm of the sherwani style makes this design perfect to be paired with dhoti bottoms as well as simple pajamas.
Price: 19,999
Zardosi and Dori work Sherwani Design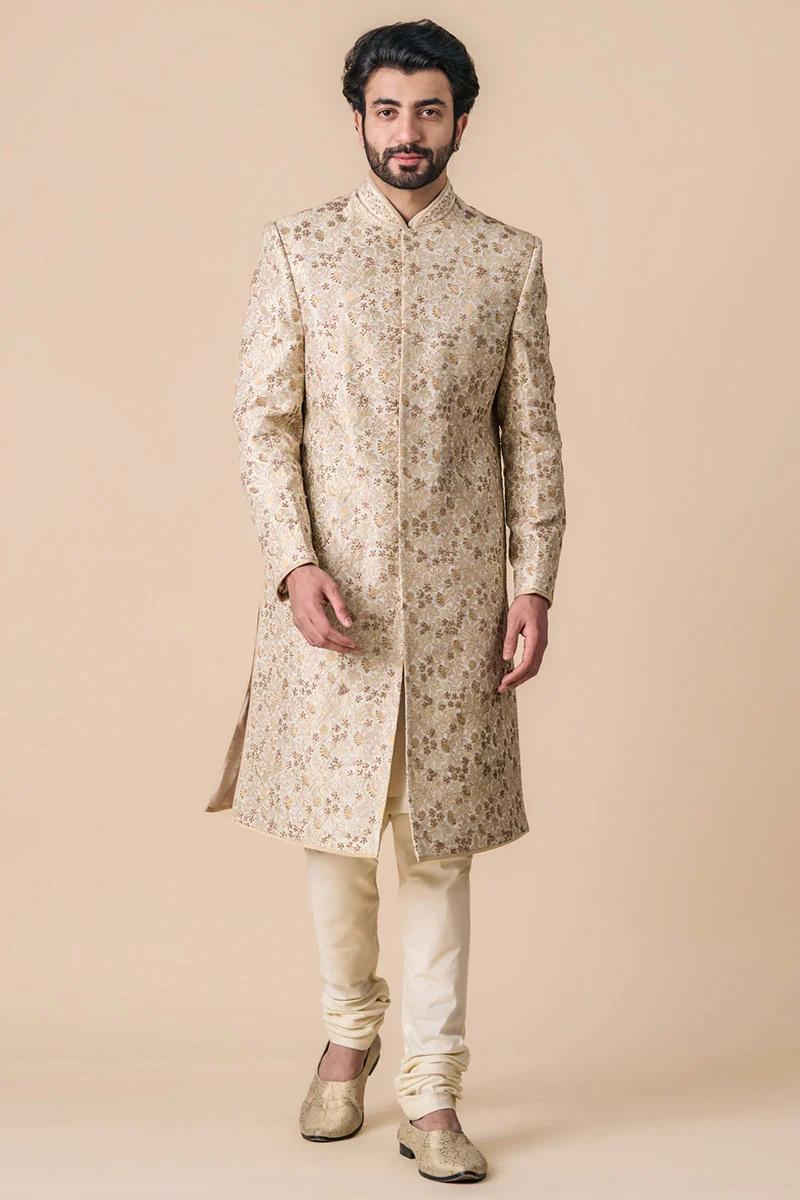 Adding to the cultural allure of your wedding celebration, this ivory embroidered sherwani blends zardozi and dori embroidery and floral patterned brocade silk together to give you the perfect wedding day attire. Indian weddings are extravagant celebrations, regardless of their minimal or intimate wedding themes. This sherwani is one of my favorite picks because it strikes a perfect balance between the two concepts.
Price - 54,999/-
Classic Ivory Wedding Sherwani Design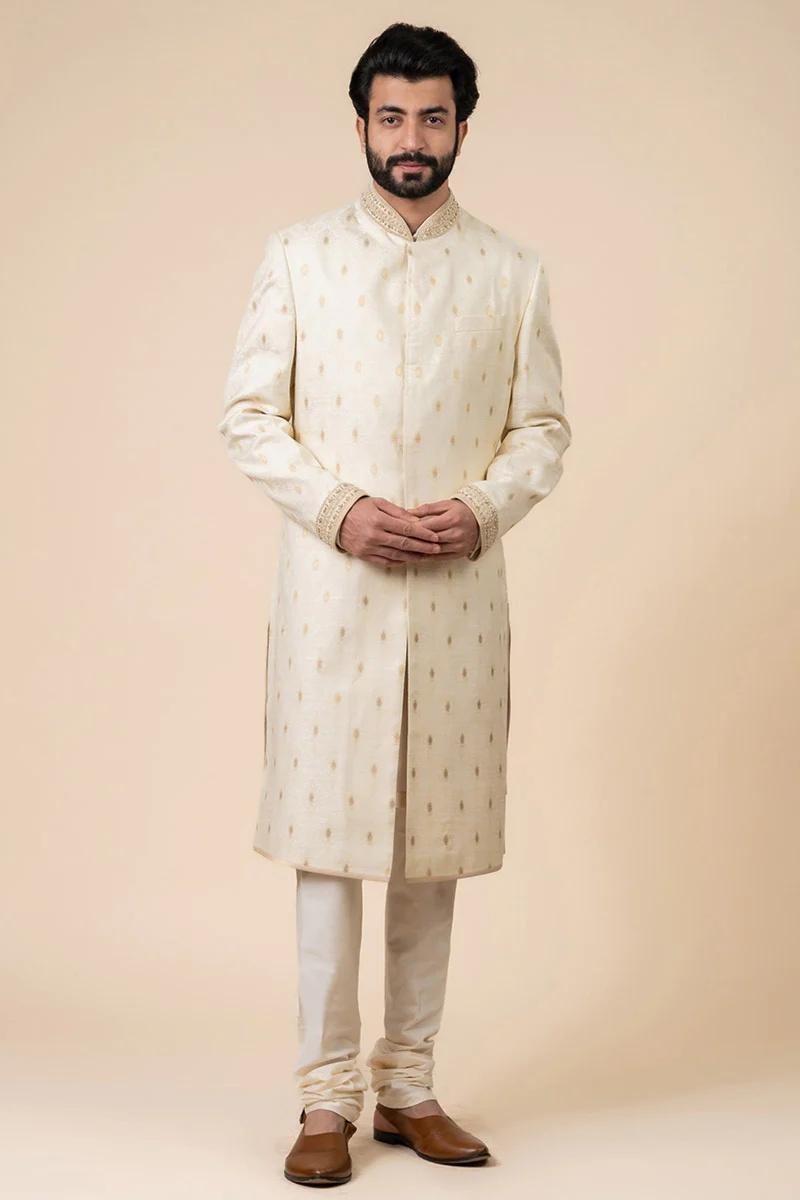 If you are big on minimalism, this ivory sherwani with an embroidered collar design weaved in a classy brocade fabric is the perfect pick for your wedding day. With simple style details and traditional aari and zardozi embroidery, you can never go wrong with a wedding sherwani design that offers a complete Indian groom look.
Price: 14,999/-
Classic Wedding Sherwani in Schiffli Base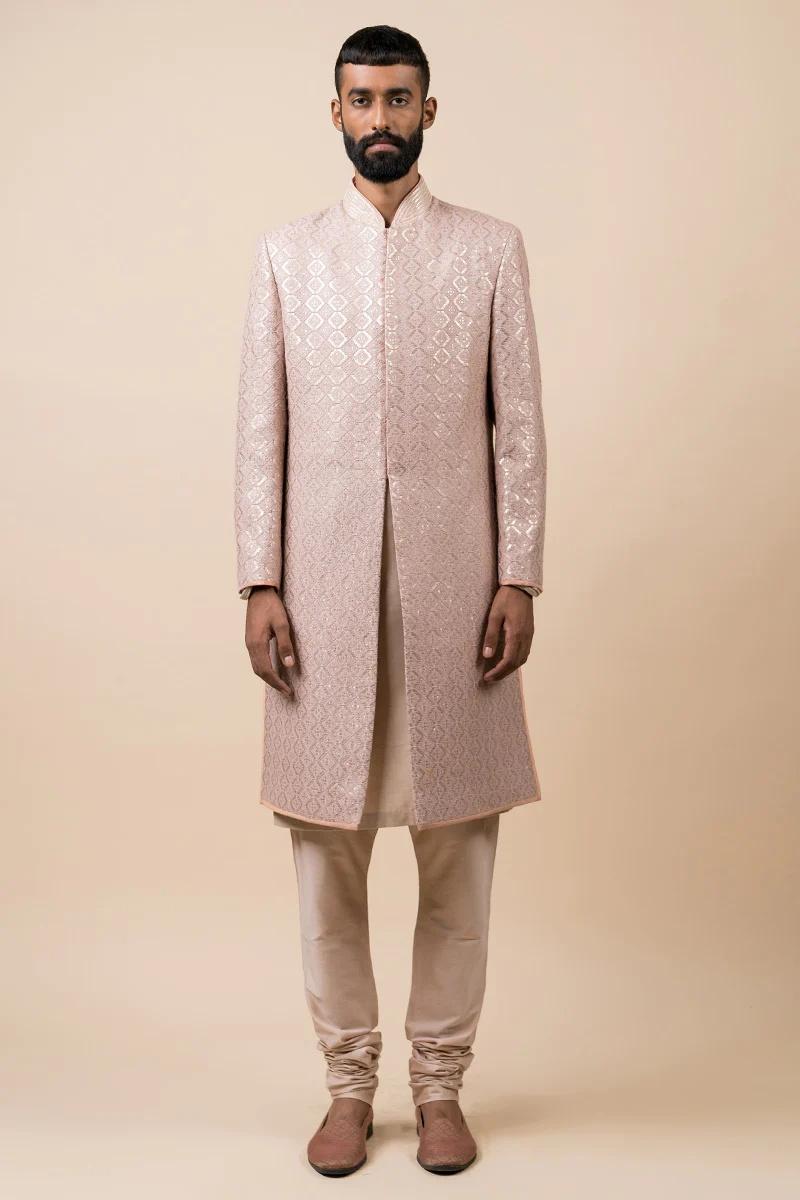 Elevate your sartorial game with this long jacket style wedding sherwani dress weaved with Schiffli fabric. The sherwani is dipped in this season's current favorite pastel shade - pink, and stands out with its textural and color accents.
Price: 19,999/-
Book a Trial in Tasva, Bangalore
Hand Embroidered Gold Wedding Sherwani Design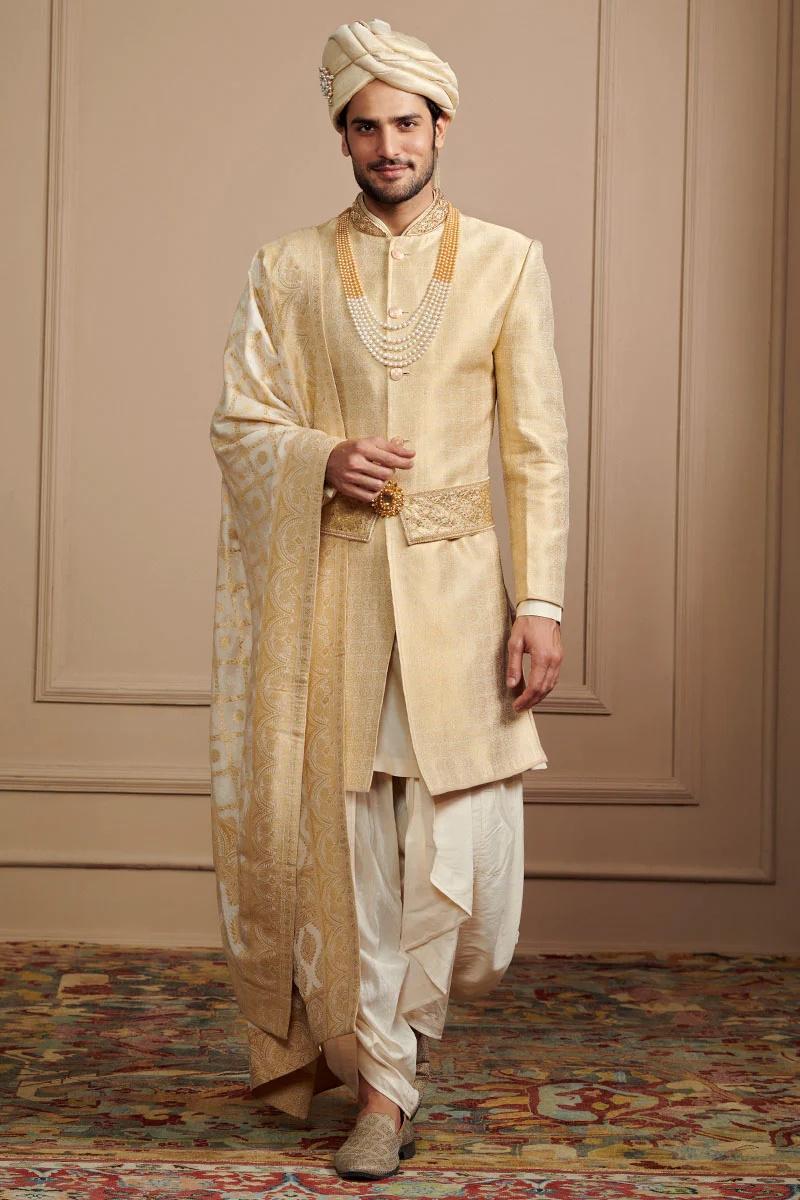 Marry comfort with traditions and stand out as a minimal groom in this hand embroidered gold sherwani design. French knots and zari work accentuate the collar and belt of this sherwani, and the jacquard fabric gives it a royal touch.
Price: 14,999/-
Top Blogs on WeddingWire India