Suave Shades of Blue Sherwani for the Dapper Grooms-to-be
Blue is an ingenious colour and a groom can never go wrong with it for his D-day. Check out some stunning blue sherwani options in different hues of blue to choose for your special day.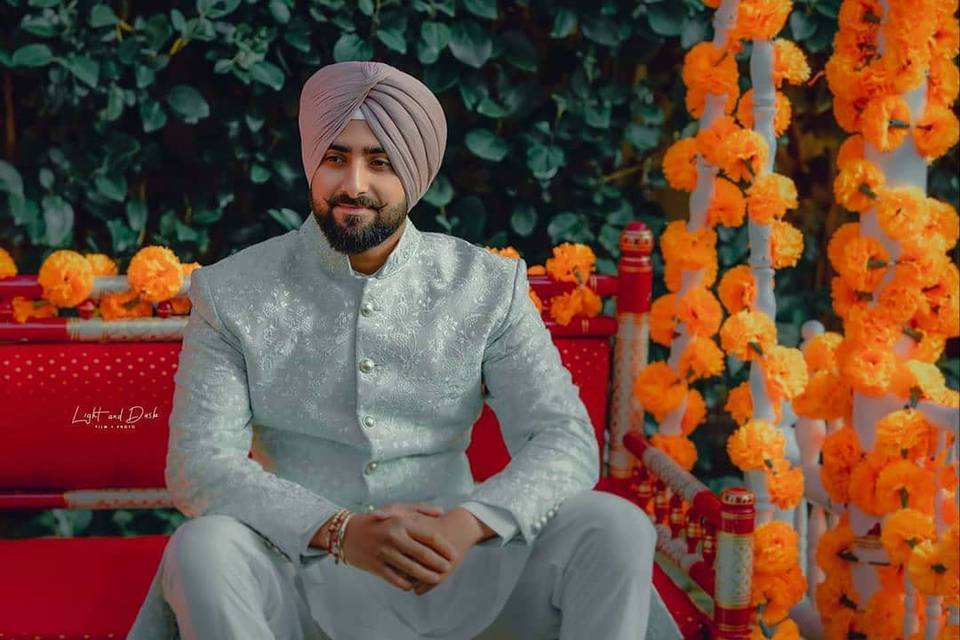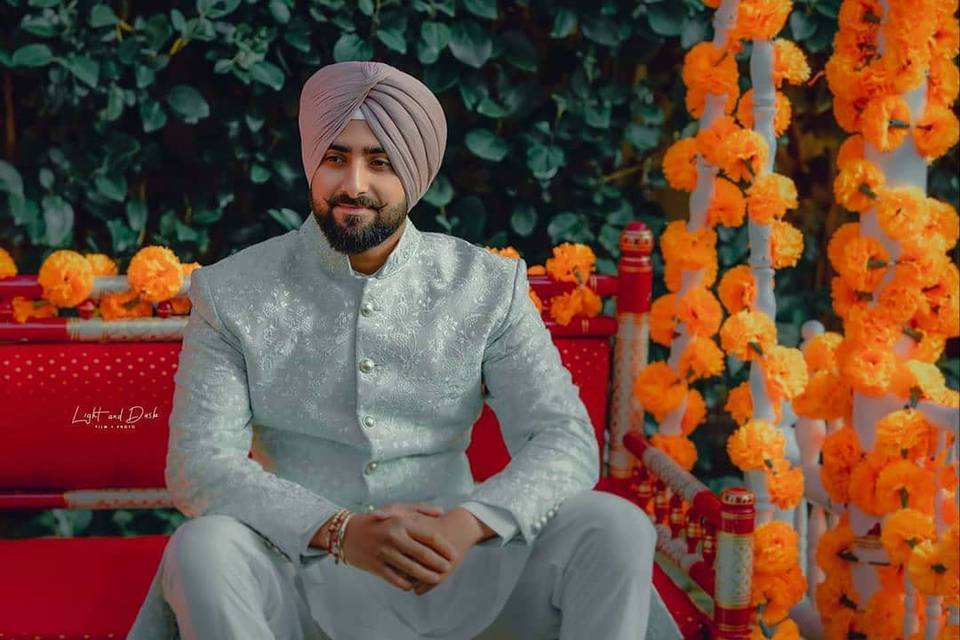 Image Courtesy: Light and Dusk
When trumpeting down the street with a full-fledged baraat, one thing's for sure – the groom's style must be on point, and what better than a blue sherwani to get the swag on? We know blue is one of the most dominating colours in every man's wardrobe, but what's not to love about that. The colour is classy, versatile and of course, found in abundant hues. From ice-blue to powder blue, you name it and you have it.
While warm-toned pastels have dominated the Indian wedding wear for quite some time now (with mostly beige and off-white insight), blues still have a stern place on the colour palette when it comes to grooms wear. But we must say, the different hues of blue are much experimented-with in today's time and we're only glad it happened.
If you're a groom-to-be who just cannot look any further than choosing blue for his wedding gear, we're here with an array of options for your blue sherwani. Crafted in different hues and embroidered, these sherwani options will ease your search for the perfect wedding sherwani, right here.
So, scroll down and pick your favourite from all of these stunning and different options of blue sherwanis.
Aristocratic Blue Sherwani for Groom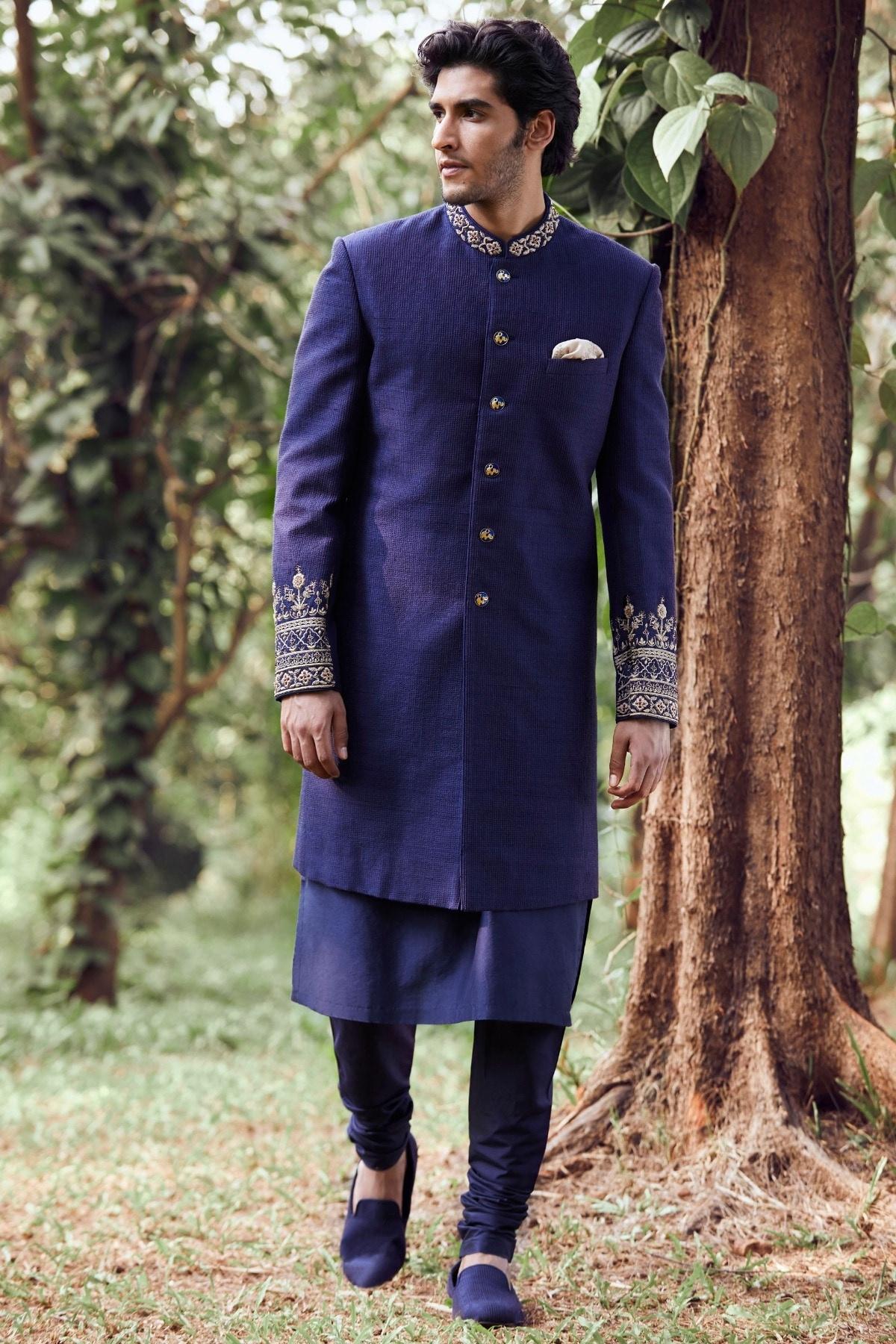 Imbued with traditions of royalty, this sophisticated silk sherwani in navy blue by Anita Dongre comes with an immaculate all-over stitch line work, a front pocket, and hand-embroidered regal motifs inspired by palace arches on the collars and the cuffs. Take in the intricacy of royal embroideries that cuff the sleeves, embrace the collars, and envelop you in luxury for your big day.
Floral Print Teal Blue Sherwani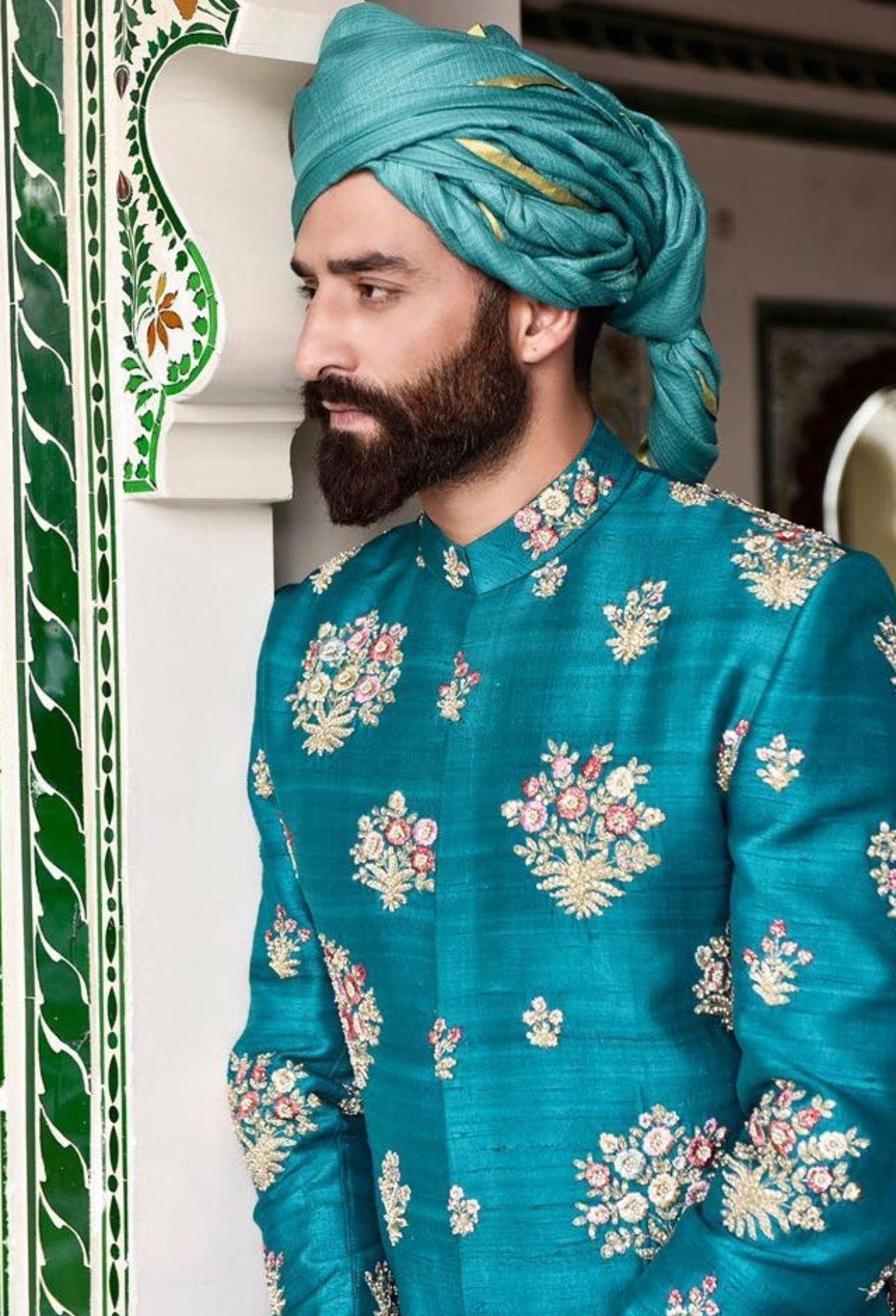 Image Courtesy: Sabyasachi
This floral blue sherwani by Sabyasachi is definitely not for the faint-hearted. The vibrant colour tone with lively floral embellishments needs a wearer who is ready to experiment. Even though florals have been dominating the groom wear space for quite some time now, it can be tricky to pull it off like a charmer.
Quilted Yale Blue Sherwani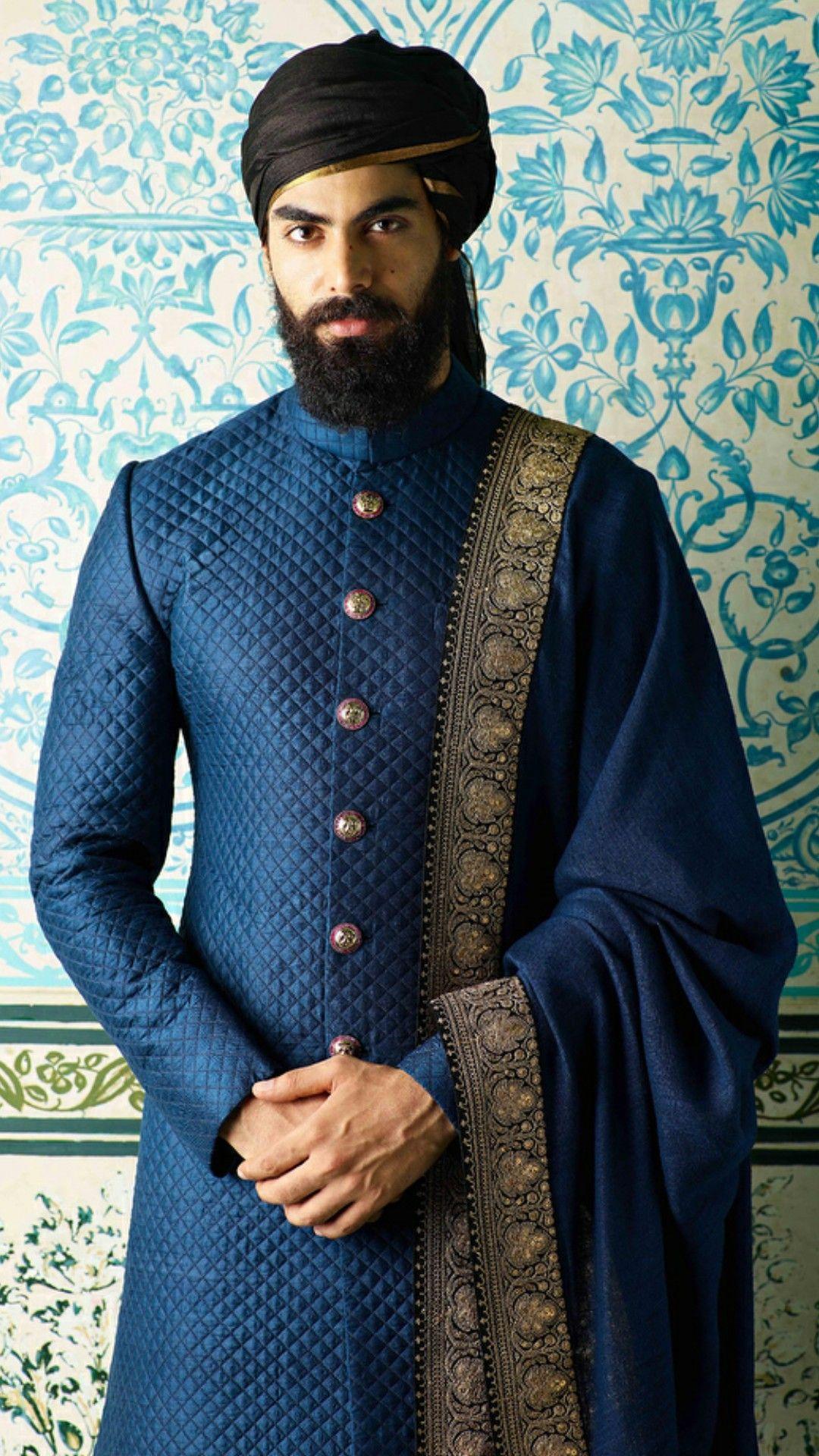 Image Courtesy: Sabyasachi
A quilted patterned sherwani is all you need to exude a rich personality and no one better than India's most-favourite designer, Sabyasachi knows how to bring that together in a garment. This yale blue is such a stunning colour to be worn by the groom-to-be for his fairy-lit sangeet night.
Space Blue Sherwani with Maroon Accents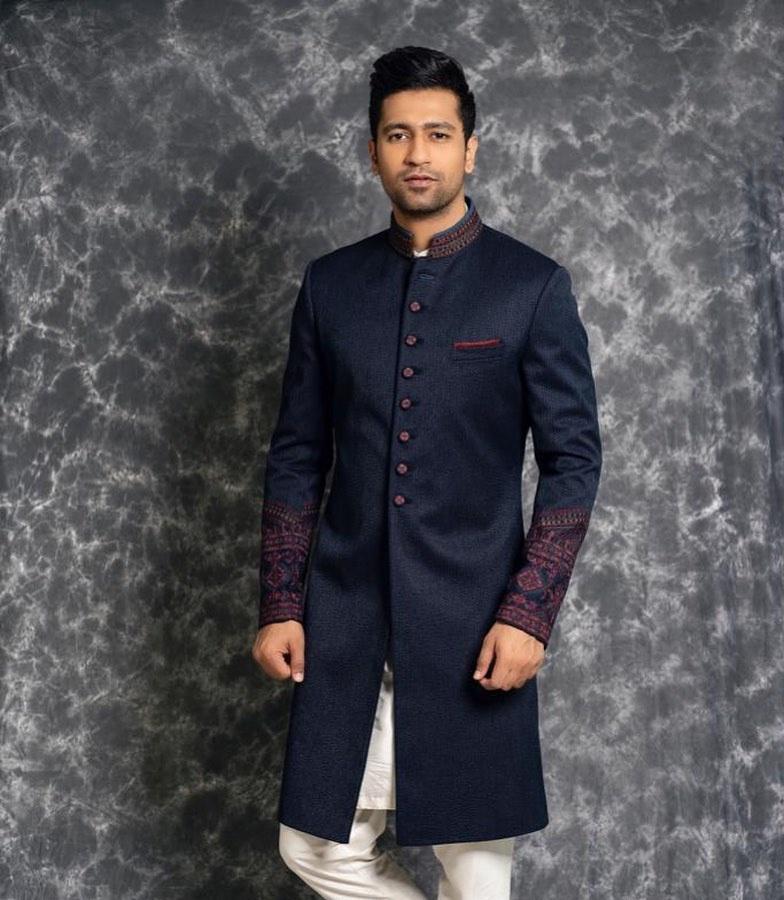 Think of Shantanu & Nikhil when you think of structured groom wear in deep hues because their finesse is unmatched. Talk about breaking the monotony of one colour and they'll show you how to do it by adding hints of note-worthy embroideries so effortlessly into their creation. This space blue sherwani with highlights of maroon embroideries is truly speaking for itself.
Rich Tiffany Blue Sherwani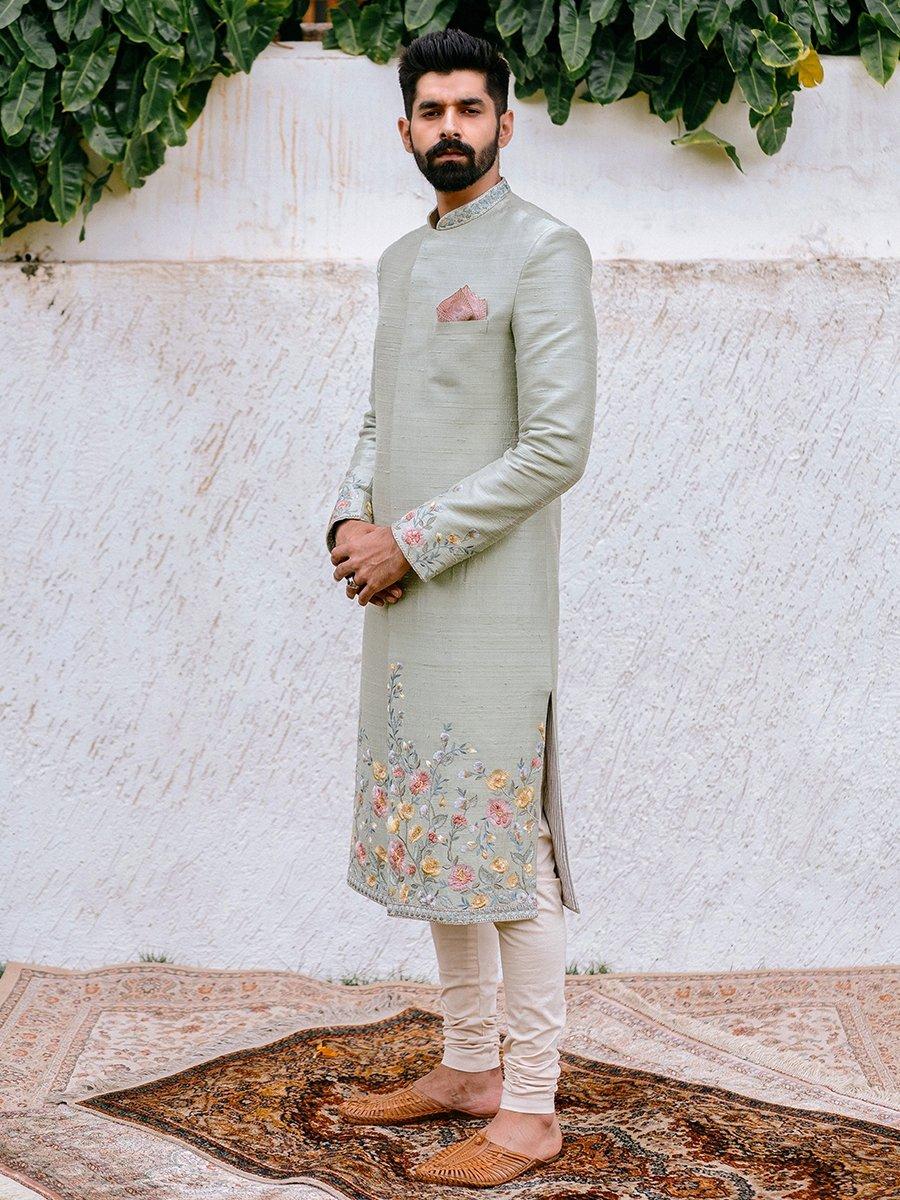 The mere sheen of this Anushree Reddy tiffany blue sherwani is gawk-worthy and such an irresistible piece of craft. Enhanced with subtle floral accents and a contrasting pocket-square, this blue sherwani is giving other blue sherwanis a run for their money. We absolutely adore it!
Lightly Embroidered powder Blue Sherwani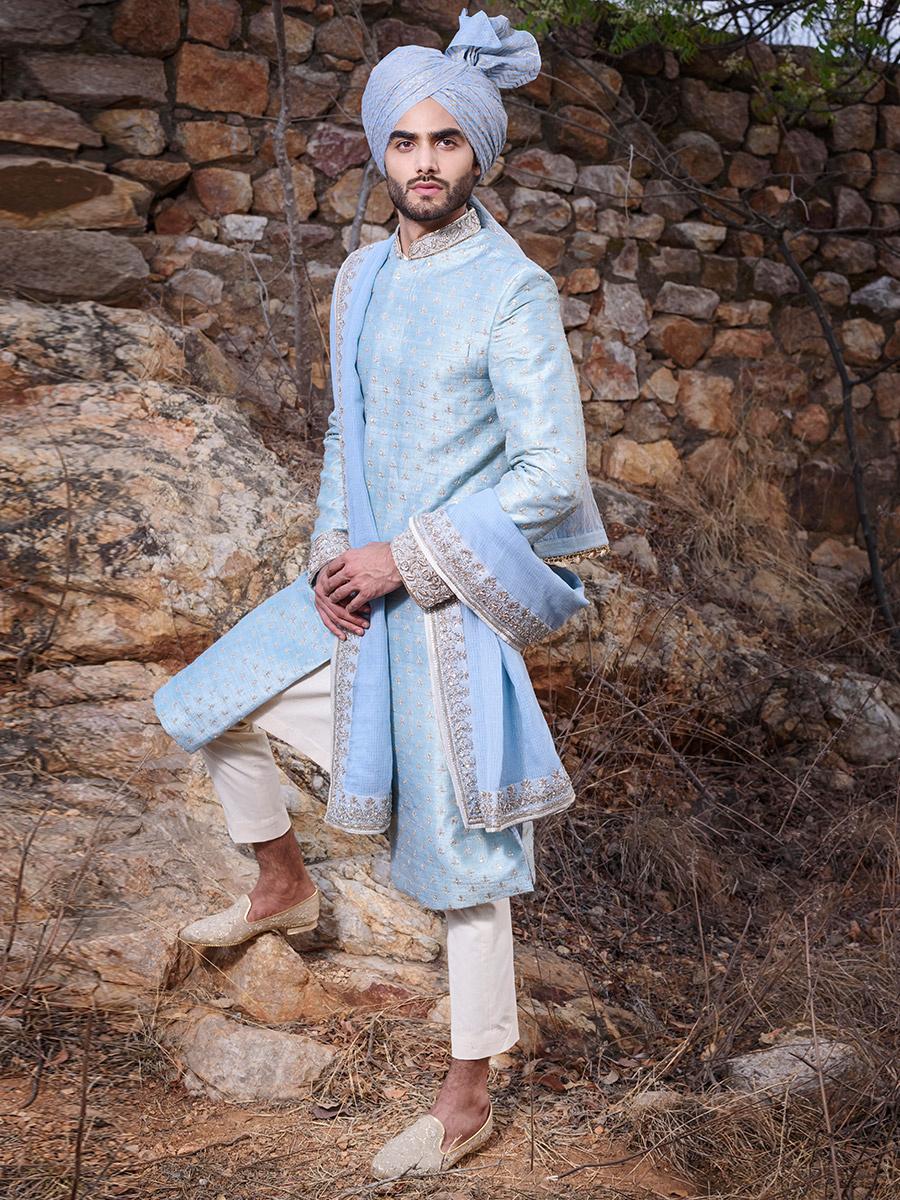 Keep it basic yet distinctive with this powder blue sherwani by Anushree Reddy. The gold booti embroidery is, however, a very common kind of detailing you'll see in sherwanis but what makes it so eye-catching is the freshness of the powder blue colour.
Motif-printed Sapphire Blue Sherwani
Who's up for this stunning blue sherwani with bold traditional motifs by Anita Dongre? We are, for sure. The hints of dull gold and green when placed on a royal background like sapphire blue, really brings out the vivaciousness of the embossed print; making it one stunning masterpiece.
Pale Navy Blue Sherwani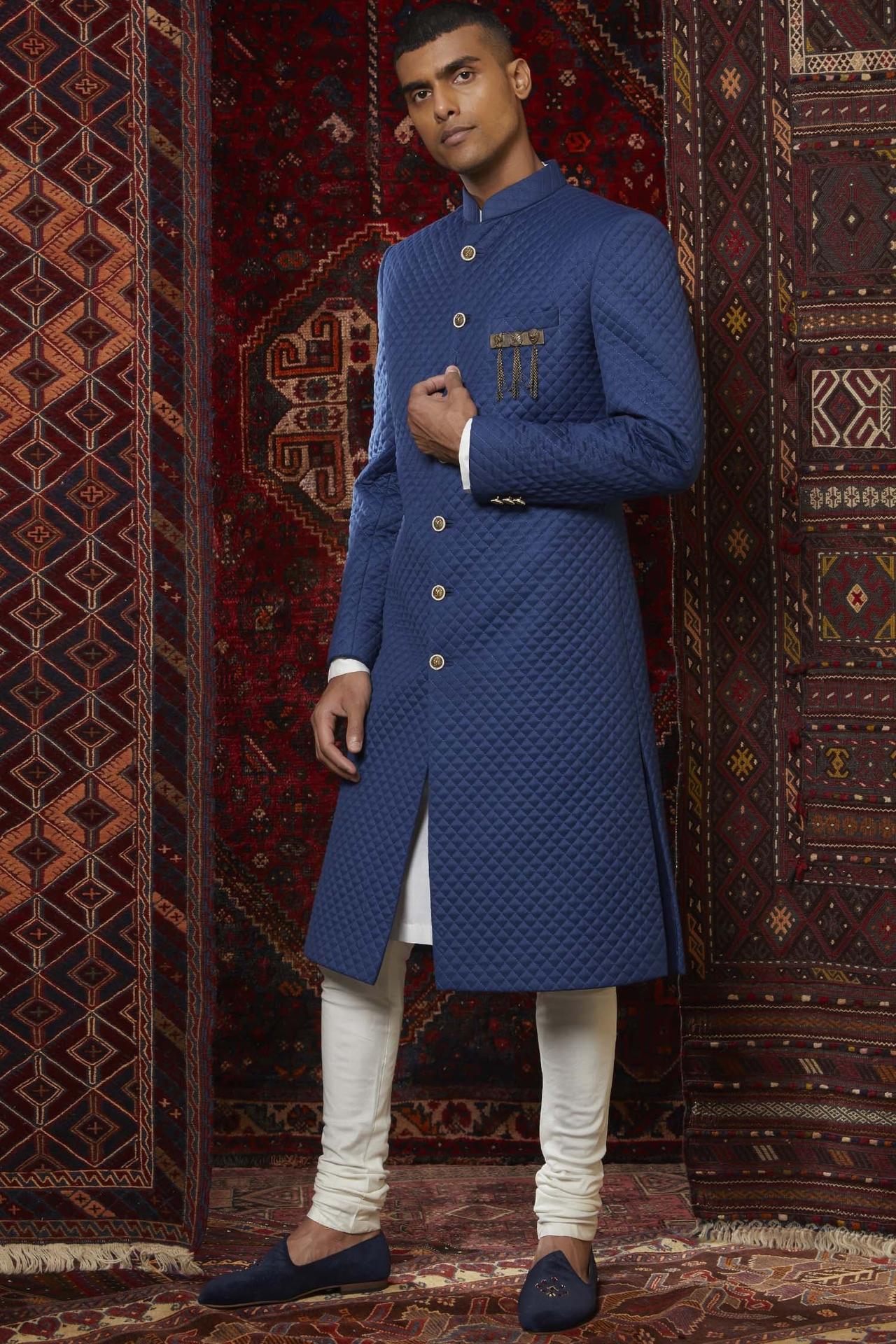 Perfect for a sundowner wedding, this pale navy blue sherwani by Qbik is yet another lust-worthy piece a groom-to-be can get his hands on. The sherwani which is fabricated with a quilted pattern instantly adds tons of character. We're totally eyeing those gold-tinged buttons and that antique pocket pin.
Royal Indigo Blue Sherwani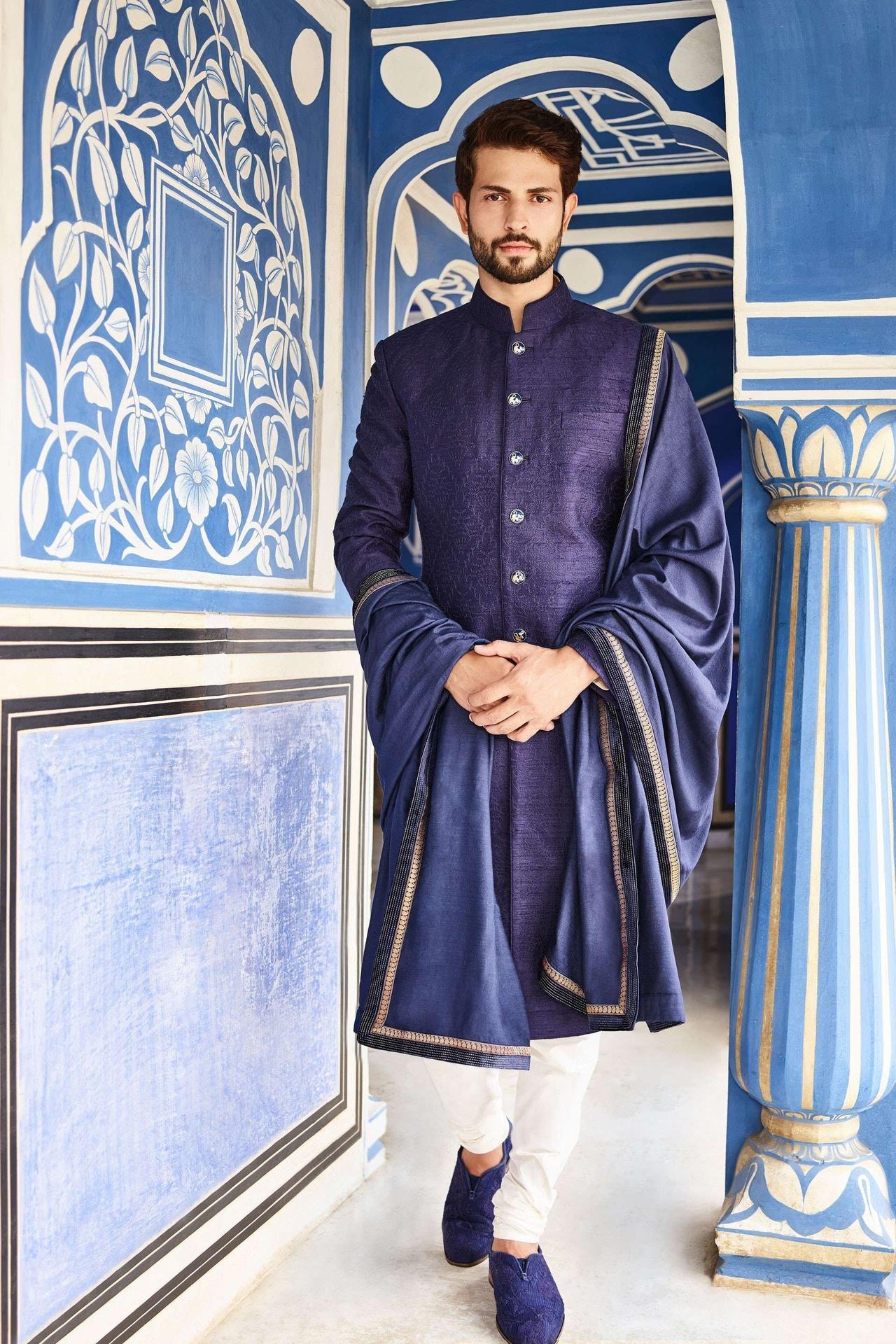 Signifying the rich culture of Jaipur, Anita Dongre's collection is a testament of fanfare and grandiose. One cannot deny that after laying eyes on this princely indigo hue. The textured blue sherwani paired with a flowing silky dupatta perfectly blends in with a man's tough yet sensitive demeanour.
Fully-embroidered Ice Blue Sherwani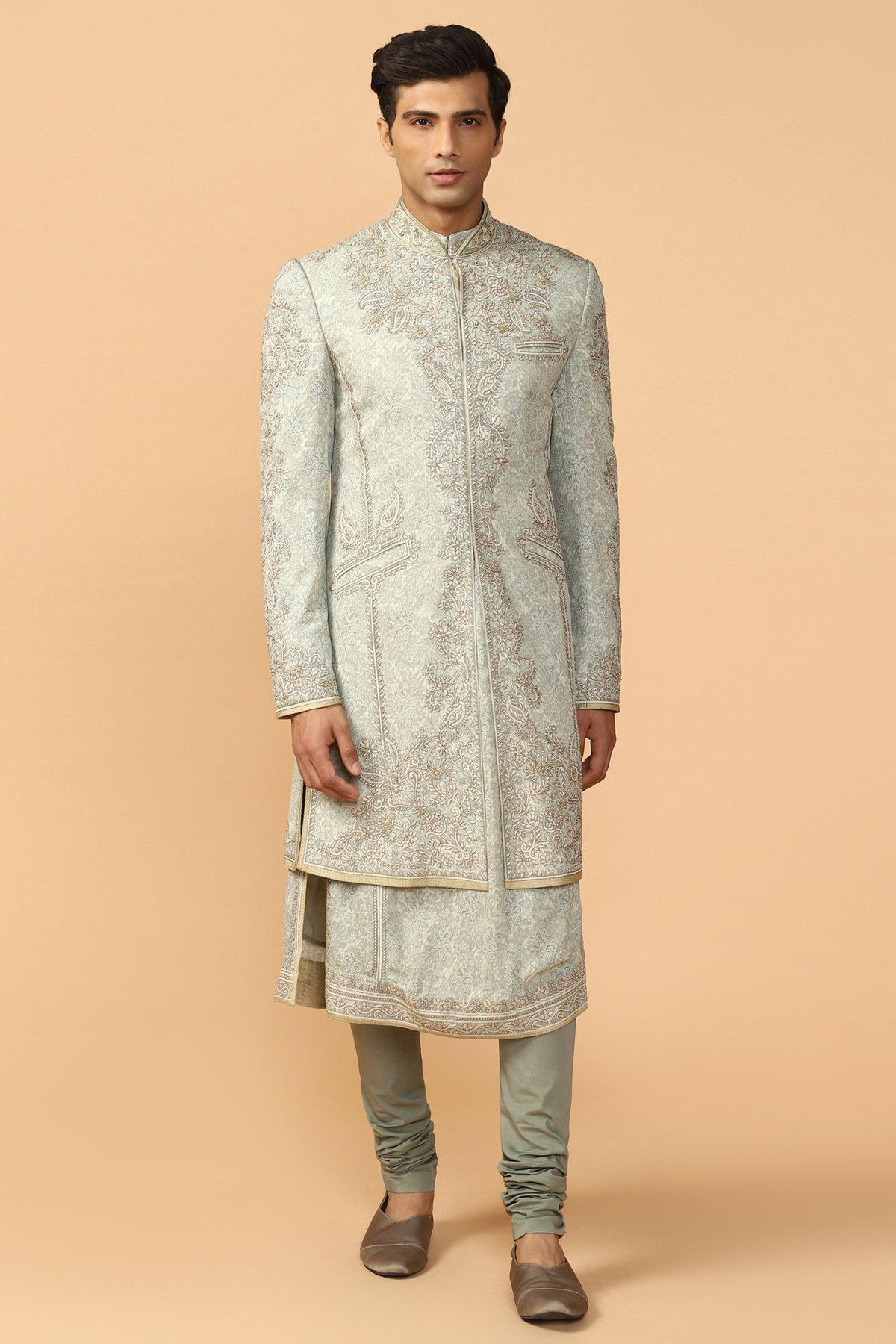 Exquisite embroideries and eloquent patterns are synonymous to the designer, Tarun Tahiliani and this ice-blue sherwani dress is a testimony of his graceful creation. Weaved with dull gold and silver threadwork, we're head over heels over this unusual blue hue for the dapper groom-to-be.
Blue can be a really addictive colour–especially for grooms since it is so basic and doesn't need a lot of effort. But take our advice for it, don't hesitate to experiment with different hues of blue like teal blue or powder blue, you'll thank us later. You never know what could match perfectly with your persona. Step away from your comfort zone by choosing an unusual sherwani suit whilst still being on the edge of it by choosing the colour blue.
Pro tip 101 - always pick your shoes right for the sherwani you pick, because your shoes can make or break the look.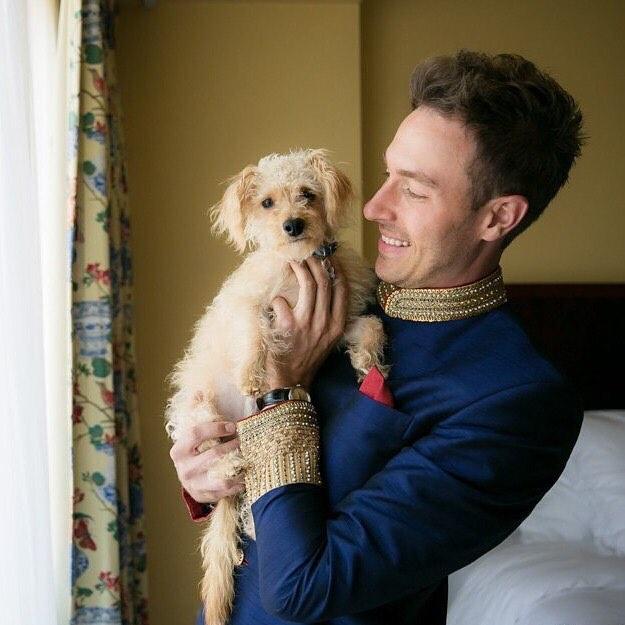 Image Courtesy: Lin & Jirsa
Which blue sherwani matches with your vibe? Write to us in the comments below! Want to get your hands on one such stunning sherwani? Check out our directory of designers and book your favourite right away!
-With words by Anwesha Das.