Experts Reveal- Trailblazing and Top Menswear Trends 2021
Are you a groom-to-be and looking for the latest groom wear trends? WeddingWire India speaks to the connoisseurs of the grooms' wear industry to underscore the changing menswear trends for weddings in 2021.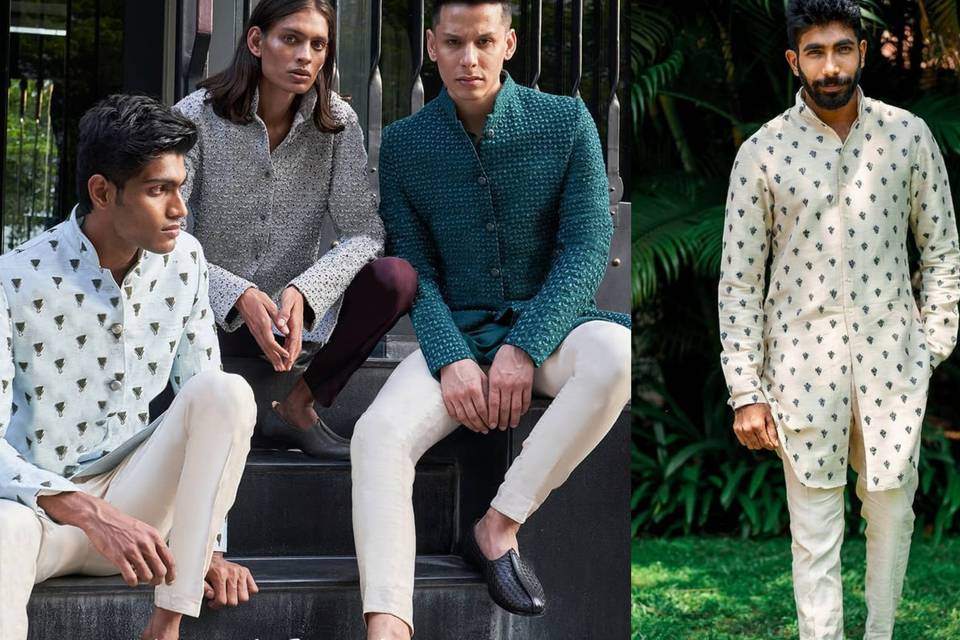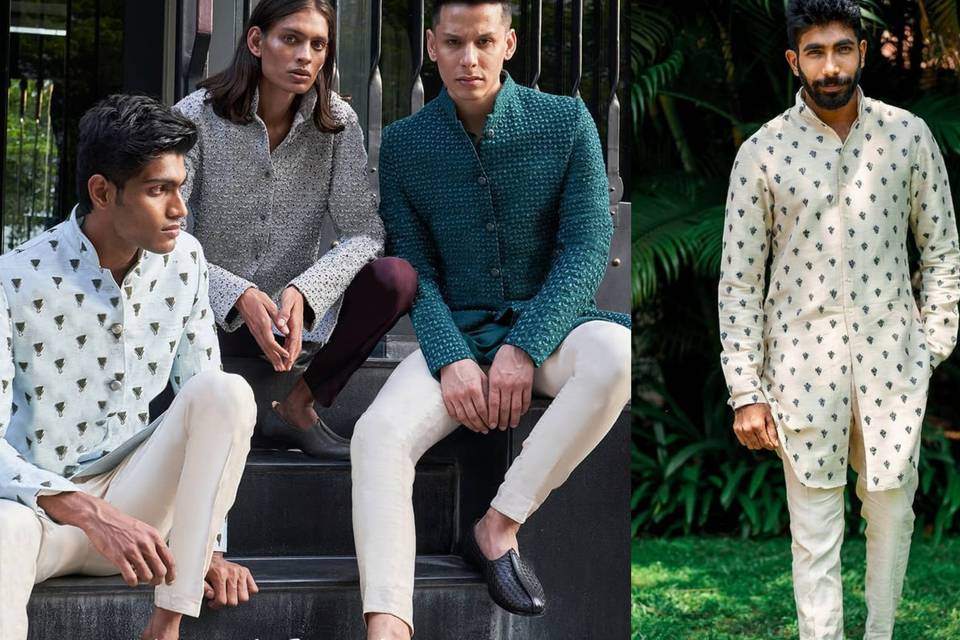 Image Credits - Kunal Rawal
Unlike all other years, this year has witnessed a major transformation due to the pandemic. Yes, there are changes in dining trends, invitation trends, and men's fashion trends. In menswear trends 2021- we are facing a surge in areas like online shopping; customized trends and sustainable shopping. There is a focus towards sustainability and conscious consumption rather than unnecessarily splurging. To know more about the transformation in the grooms wear trends we speak to Kunal Rawal and Kunal Anil Tanna who are shedding some light on the wedding style trends for grooms in 2021.
More of Conscious Consumption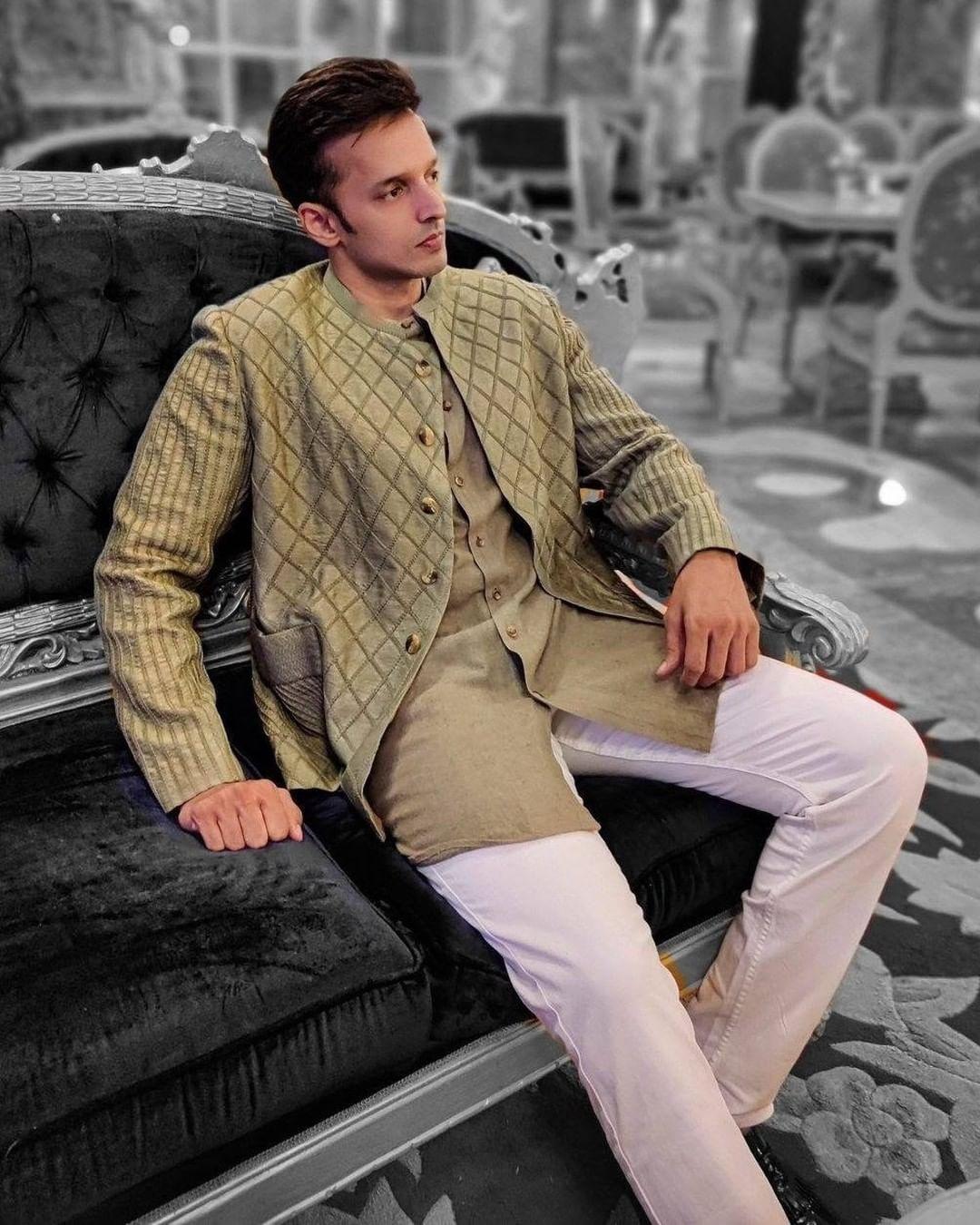 Image Credits - Kunal Anil Tanna
Due to the pandemic, there is an evident increase in conscious consumption. The Indian grooms are deliberately picking up outfits for their weddings in a mindful way. They are wisely cherry picking timeless pieces/ timeless sherwanis that can be repeated even if there are changes in the fashion cycle. Furthermore, the men are lured towards bespoke wear and that is why they want to buy something that is versatile and can be worn later. The customers are particular to know if the menswear is customised or is it handmade. Kunal Rawal shares,"I think the transition has been very smooth for us. We've always pushed customized one of a kind pieces and I think with the current climate, people have become more interested in buying products that are custom made for them. Today's customers are interested to know whether a piece is handmade in India or machine produced. People are looking for versatile separates, something that they can style differently at a later day to look completely different; offering the client value for money. Overall, I feel like today's customers are moving towards conscious consumption rather than mass produced garments and we've always focused on creating for the customer rather than a mass audience." Thereby, we see more in conscious consumption in menswear trends/grooms wear -wedding season 2021.
Increase in digital intervention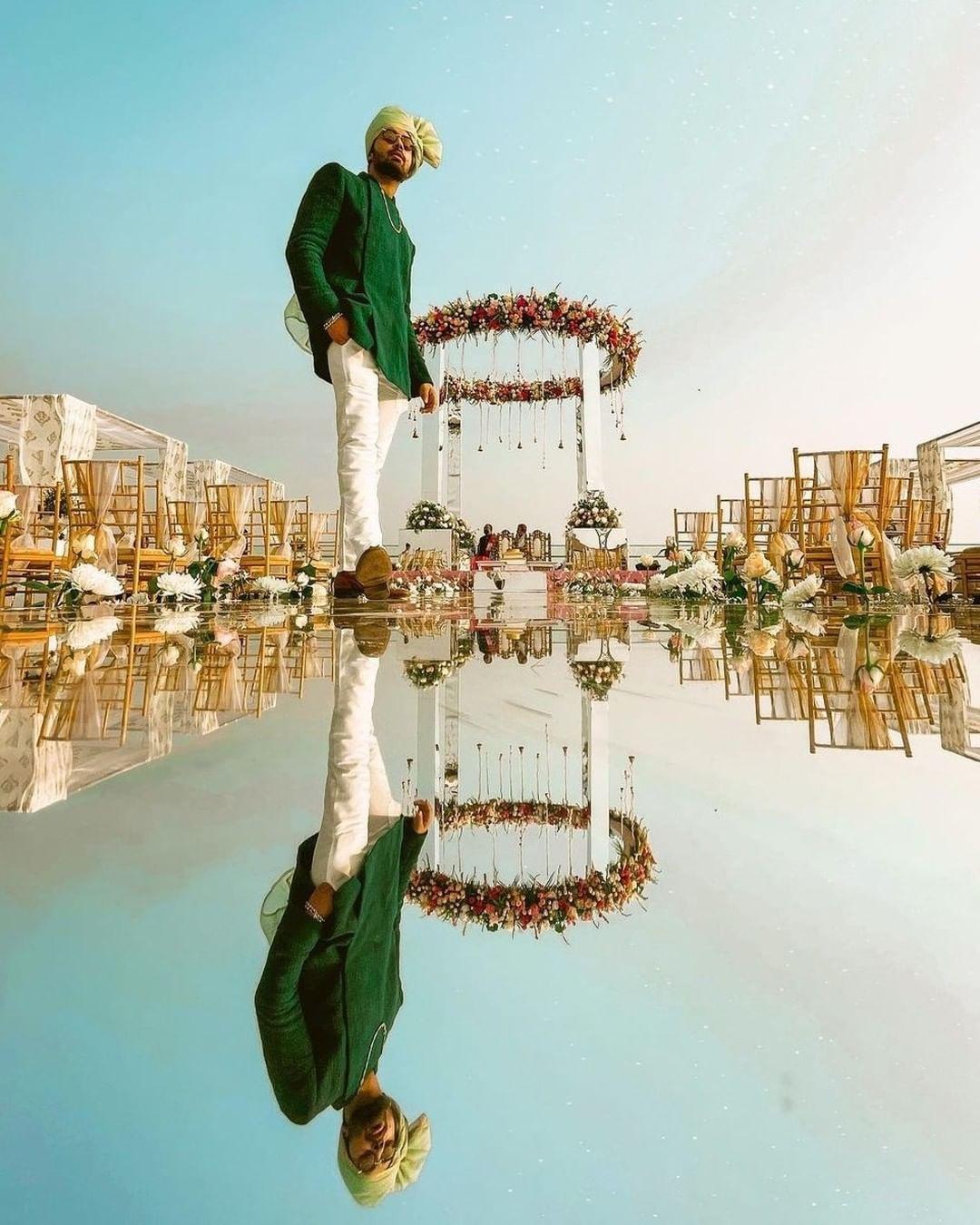 Image Credits - Kunal Anil Tanna
Due to the pandemic, we can see a change in the dynamics of Indian fashion industry. Many fashion professionals have started doing virtual events, fashion shows and demonstrations. Thereby, restraints on physical gatherings led to the surge in virtual exhibitions and shows. The virtual showroom now has become a marketplace platform for fashion designers and artisans to exhibit their past and current collections to consumers, enabling B2C sales for inventories. Further, the e-commerce approach is helping designers as the customers are comfortable purchasing directly from the online portal shopping rather than showrooms. Along with that we can find provision of arranging virtual fittings, across India delivery and live sessions. Kunal Rawal avers, "We've really gone all in with the digital approach. For starters, we've really embraced the process of virtual fittings, though not the most ideal, I think it's important to constantly communicate with your consumers. Apart from that, we've done two digital shows during the pandemic both of which are perfect for the modern-day groom. We've taken a more e-commerce approach on both collections, all pieces were launched worldwide right after their respective shows, allowing consumers to purchase any outfit they like directly from our website. Since the focus of events is also shifting to digital, we've amplified the details on the top of the garment so that from a digital view the outfit looks and feels the same, if not better than before. We've also shifted our focus to versatile separates so that each outfit can be used to make 4-8 looks without looking like a repeat giving you value for money!"
Kunal Anil Tanna avers, "The E-commerce option has been around since a few years now and has also proven to be extremely beneficial; now more than ever. It facilitates to motivate shoppers to indulge in luxury purchase whilst maintaining the safety protocols and social distancing. During the lockdown, populace have become comfortable with the option of virtual wedding wear shopping, making E-commerce a reliable source for business in the long run."
Trending off-beat color palette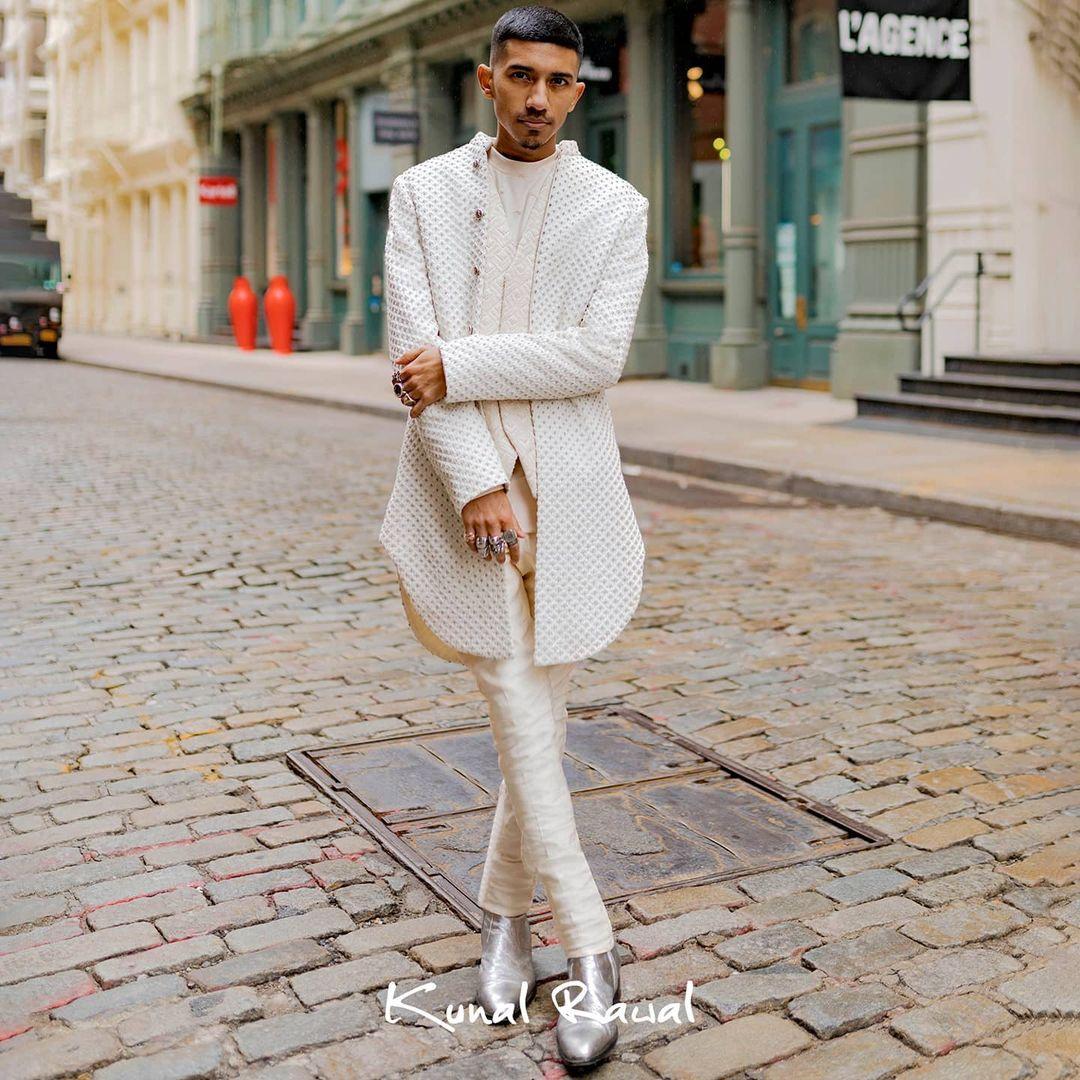 Image credits - Kunal Rawal
Designer Sherwani and other grooms wear have remarkably shifted from the basic styles to new-age styles, colors, and silhouettes. What creates a stir is the color he decides to don on his wedding day. And in the contemporary era, the sherwani options for the grooms are limitless. Nowadays men go for jaw dropping white/ivory hued grooms sherwani or they go for off-beat colors like- frozen blue, pastel pink olive green, mauve for a subtle look." These grooms looked dapper and dashing in the shades of pastel blue, emerald green and fresh lavender too. Kunal Anil Tanna says, "Keeping in mind that the wedding ceremonies have become an absolute intimate celebration, the colour palette is full of warm pastels and the eternal Ivory."
This Wedding Staples for men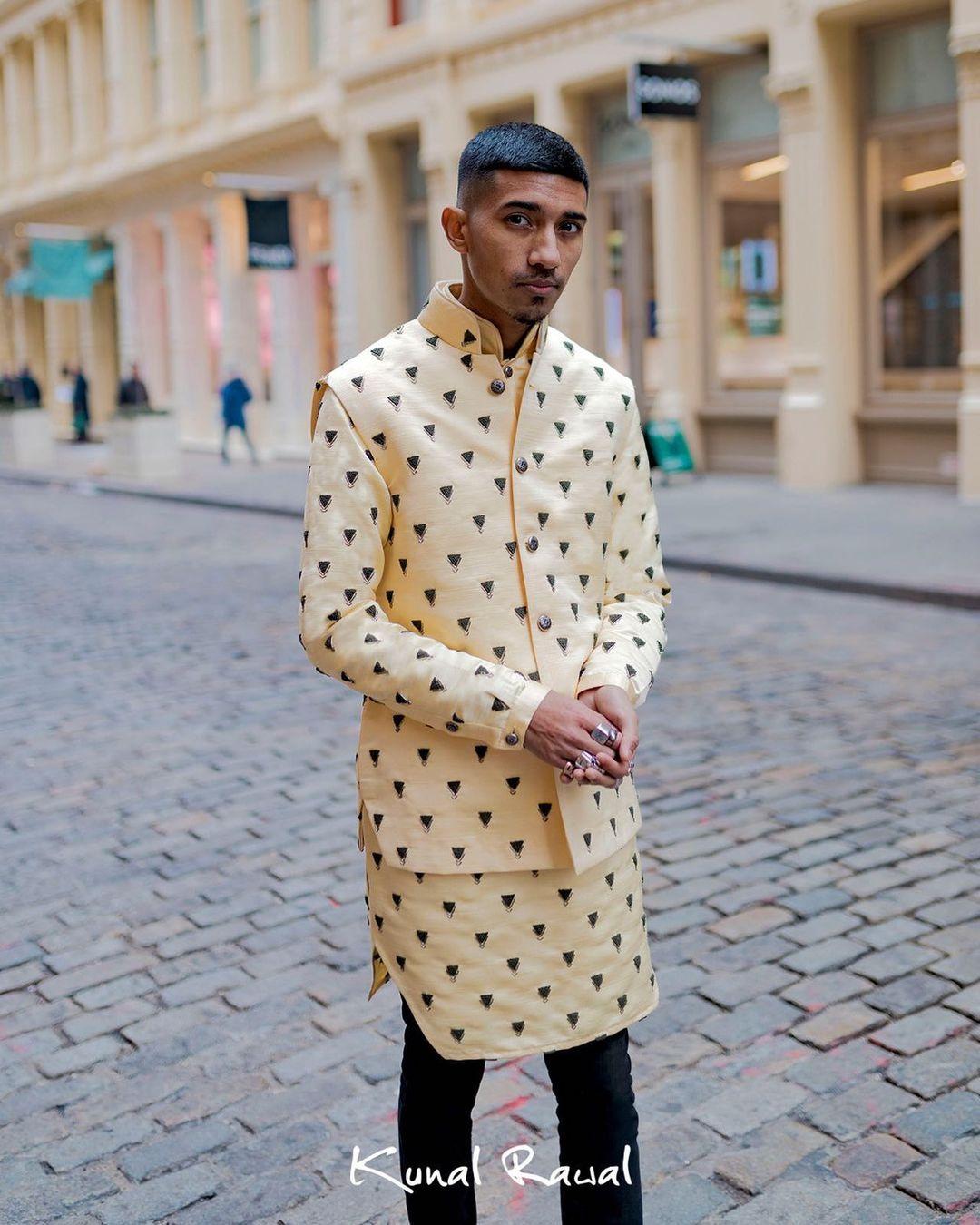 Image Credits - Kunal Rawal
The stark black-and-white can be seen throughout the year. Also, geometric is seizing the trend too this year. In traditional menswear, printed Indian pure silk kurta churidars paired with micro quilted silk jackets and printed silk kota safas are creating a stir. The offbeat staple this season would be angrakha kurta and izhar pants. Kunal Anil Tanna says on this, "Classic, elegant and minimal are key style trends at the core of Groomswear in India for 2021. The silhouette stories are eternal Indian classic structures and the colour palettes are essentially muted pastels and neutrals with a hint of festive glee. The vibe is minimal keeping in mind the intimate celebrations. Florals are slowly being replaced with intricate yet structural patterns. While combinations too are chosen with a subtle and soft hue approach." He further shares, "This year the trends are more inclined towards minimalism. With vintage silks and muted tone on tone thread textures/embroiders being most preferred."
Sustainable Outfits
Sustainable fashion is top of mind for the global fashion industry right now. We asked our experts and they shared an insight on this, Kunal Anil Tanna says, "Sustainability has been a concept professed globally. The post pandemic scenario will make it imperative for every individual to consider this on a more serious and urgent basis. Sourcing Local and motivating local craftsmen has become a vital aspect of our workforce." While Kunal Rawal says, "The correct conversations have gained more steam during the pandemic. I feel like consumers and the fashion industry are shifting their focus to sustainability, conscious consumption, and most of all handmade, local, and one of a kind piece. The focus is definitely shifting from quantity to quality. As functions start getting smaller and more intimate, we as designers are able to focus more on the intricate details for each piece - adding detailed thread work and customising the pieces for each client, making the whole process more memorable and enjoyable!"
Styling tips for Men
Image Credits - Kunal Anil Tanna
Grooms just don't want to clad into the usual mundane formal blazers for weddings but seek to experiment and try out trailblazing outfits. After all, it is an era of suave grooms and groomsmen who are keen to amp up their persona as much as brides and bridesmaids. With Indian wear, experimental kurtas, neckpieces- men want to look dapper and suave. Rest, a good hairstyle along with that can do wonders.
No, the wedding day is not all about the bride! So, grooms gear up to stand strong looking dapper whilst adorning the above trends which is taking the winter wedding by storm. To know more download our application and visit the website.