7 New Trends in Rajputi Sherwani for the Modern Groom
A Rajputi sherwani is a royal attire that speaks of a magnanimous style. The traditional attire has been given a new-age spin to suit the style and personalities of modern-day grooms. Here are different ways this kingly wedding attire can be made tre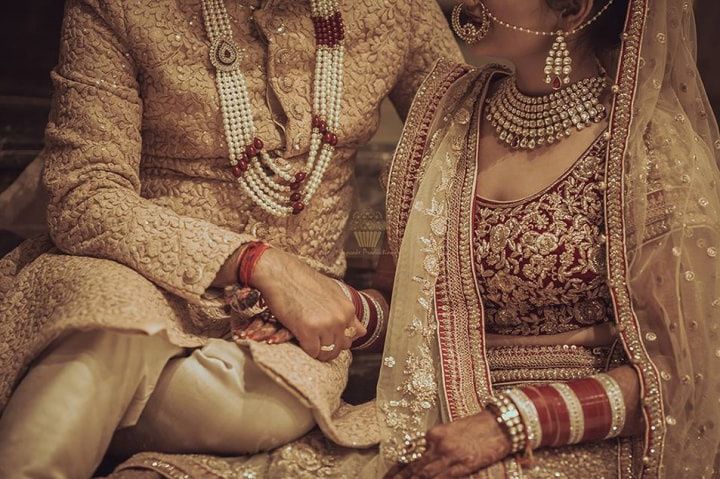 When someone speaks of Rajputani sherwani, or culture in general, adjectives like royal, opulent, rich and magnanimous instantly come to mind. The Rajputs are known to live a rich life; be it the traditions, the attires or even the jewellery and handicrafts. Bold and bright colours, heavy jewels, intricate handwork and rich fabrics are synonymous with the Rajputi sherwani. Owing to these opulent accents, it naturally is one of the most popular choice of attire worn by grooms across the country.
However, there has been a shift in rends and while the Rajputi sherwani continues to trend as a wedding outfit for grooms, its styles and accents have been tweaked to cater to modern styles. The Rajputi sherwani today, like the grooms of today, is a balance between the traditional style and modern elements. How has the Rajputi sherwani been modernised? A change in fabrics, embellishments and colours is all it takes to make the regal Rajputi sherwani a contemporary wedding attire.
Here's how you can style your Rajputi sherwani to give it a modern personality.
7 Ways to Style a Modern Rajputi Sherwani
1. Aari Work Motifs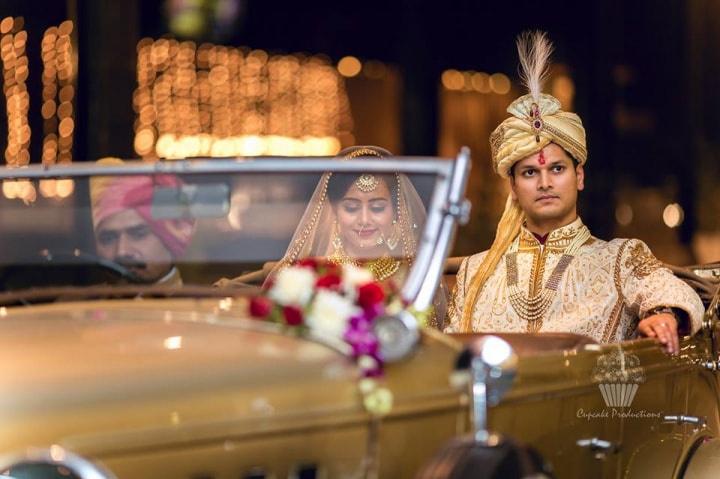 Aari work is a traditional handwork that uses gold threads and a hooked needle to create embossed embroidery work. Traditional Rajputi sherwanis comprised of heavy and intricate patterns of Aari work, however for a more modern look you can opt for sparse or small motifs made with accented Aari work design. Small Aari work motifs or bold shoulder accent designs, with intricate detailing on the cuffs and collars is a great way to keep both traditions and trends.
2. Delicate Hand Embroidery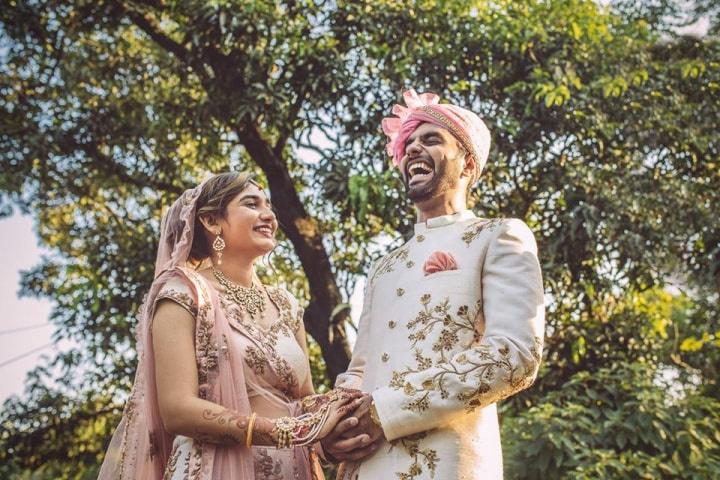 If you thought delicate hand embroidery was only for feminine attires, think again. Delicate floral embroidery, embroidered paisleys or thin lines of geometric hand embroidered patterns are a great way to dress up a Rajputi sherwani. You can use a rich fabric like silk or a heavy one like linen to enhance the embroidery work. This embroidery can be matched to the colours of the bride's attire to create a symmetrical and stunning couple look.
3. Zari Work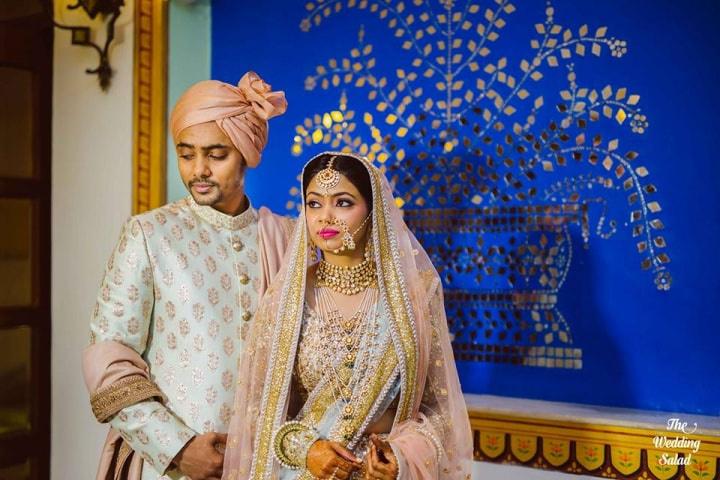 Like the Aari work, Zari work too is an ancient form of handwork that was commonly seen on attires one by Rajput emperors. It is undoubtedly one of the most brilliant artworks, making it groom-worthy. Instead of opting for a heavy and intricate Zari work, you can opt for something more delicate and sparse. Zari work motifs all across the Rajputi sherwani will give it the right amount of traditional glimmer and trendy sparkle. Choose a contemporary colour like teal blue, lavender or burnt orange to give it an even more new-age look.
4. Brocade Fabric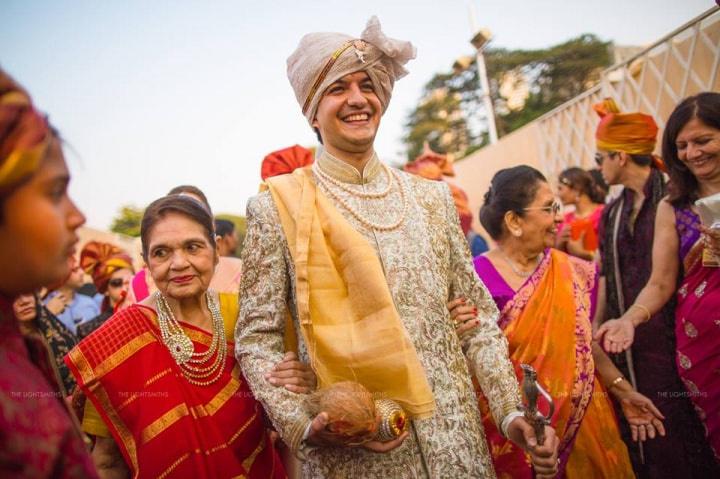 If embroidery and embellishments are not your style, but you still want a rich and royal wedding look; opt for a Rajputi sherwani made with brocade fabric. It is a heavy fabric that has interwoven gold and colourful thread pattern. You can easily get great looking brocade fabrics in rich and bold colours, subtle ones, modern and geometric patterns and even delicately enhanced ones. Pick your style and look dapper!
5. Velvet Fabric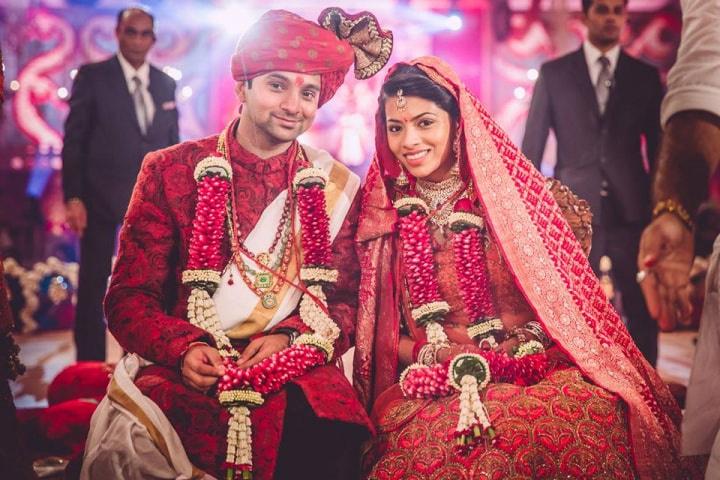 Velvet fabric is high on trends for colder season weddings. Velvet has a natural sheen to it and can easily be self-enhanced with patterns or even delicate Zari work to enhance cuffs, collars and borders. Velvet in a deep earthy tone or stylish hues of blues and purple are trending this year in wedding fashion. A Rajputi sherwani in velvet will be nothing less than a showstopper attire.
6. Linen Fabric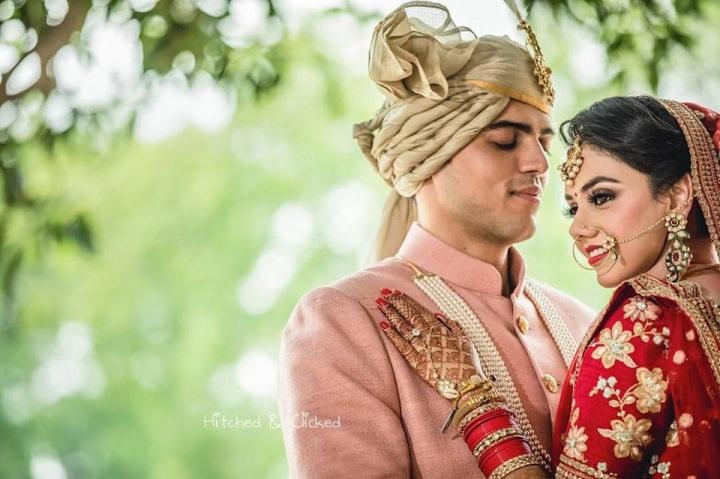 If you thought linen was only for high-end organic fashion, or casual wear, you'll be surprised how amazing a Rajputi sherwani made with linen can look. It is a breathable and comfortable fabric that has grown to become a part of high-end fashion, owing to its natural production techniques. It has a raw look that enhances the modern edgy look it creates. A linen Rajputi sherwani in nude or pastel shades is the perfect groom attire for day-time weddings and bolder tones for evening weddings.
7. Contemporary Colours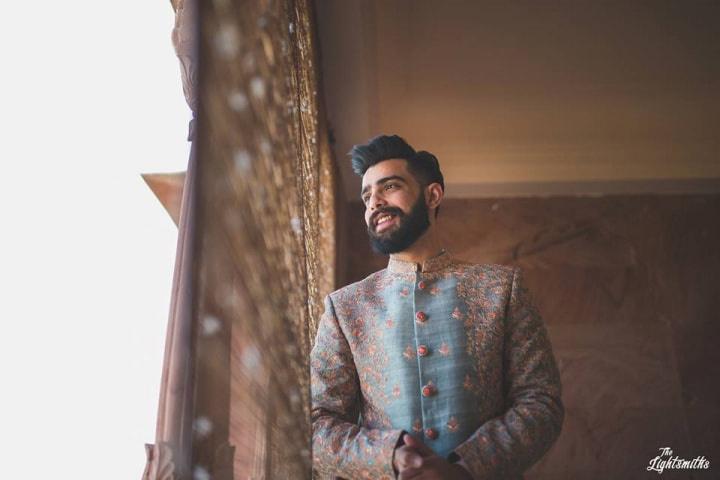 Another simple way of giving the traditional Rajputi sherwani a trendy twist is by going for contemporary colours. Usually, a Rajputi sherwani is worn in creams, whites, or nudes with a hint of red, maroon and gold. Change the trend by going for modern groom colours like pastels, royal purples or vibrant shades of pink and orange. You can even combine two contemporary colours that create a striking look.
Isn't that simple? All it takes to turn a traditional Rajputi sherwani into something stylish and modern is a change in fabric, design work or colour. You don't need to try too hard to strike the tradition-trend balance when it comes to something as royal and remarkable as a Rajputi sherwani.
What style of Rajputi sherwani would you suggest for a modern look?