100+ Trailblazing Reception Dresses for Men That Can Never Go Wrong
If you are stressing over what to wear at your reception, here is a list of top reception dress for men ideas to help you out to choose your outfit.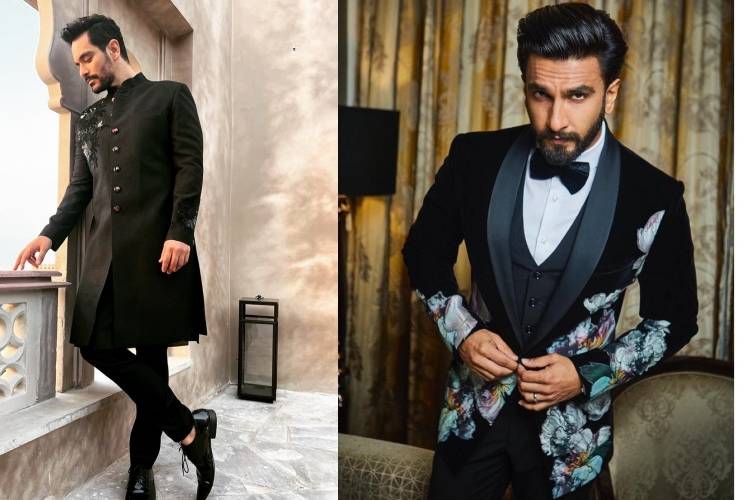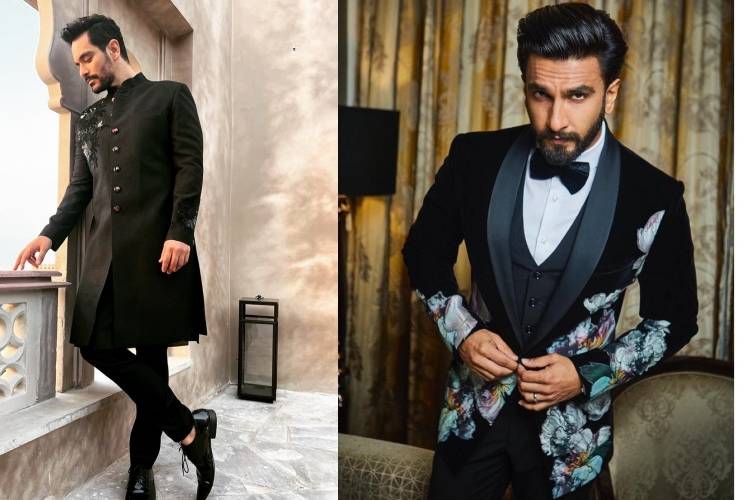 Image Courtesy: Rohit Bal (L), Gaurav Gupta (R)
Reception is a grand party that is mostly hosted by the groom's side and this day is a celebration of the just-married couples. It is a big day for the bride as she gets officially introduced to her in-laws, the groom's family, friends and so on as the Missus. While the bride spends hours picking her reception gown or a sequin saree to turn heads, the groom needs to look dapper too.
It is literally that one day when everyone who knows the groom and his family is present to bless the couple's new beginnings. And to make this day even more memorable, make sure that every eye that lays on you is left wowed. From traditional sherwani and Kurta Pyjamas to the sharp well-fitted tuxedos - you will be thrilled to see the variety of options available for you to pick from.
Upto 30% off on Wedding Sherwanis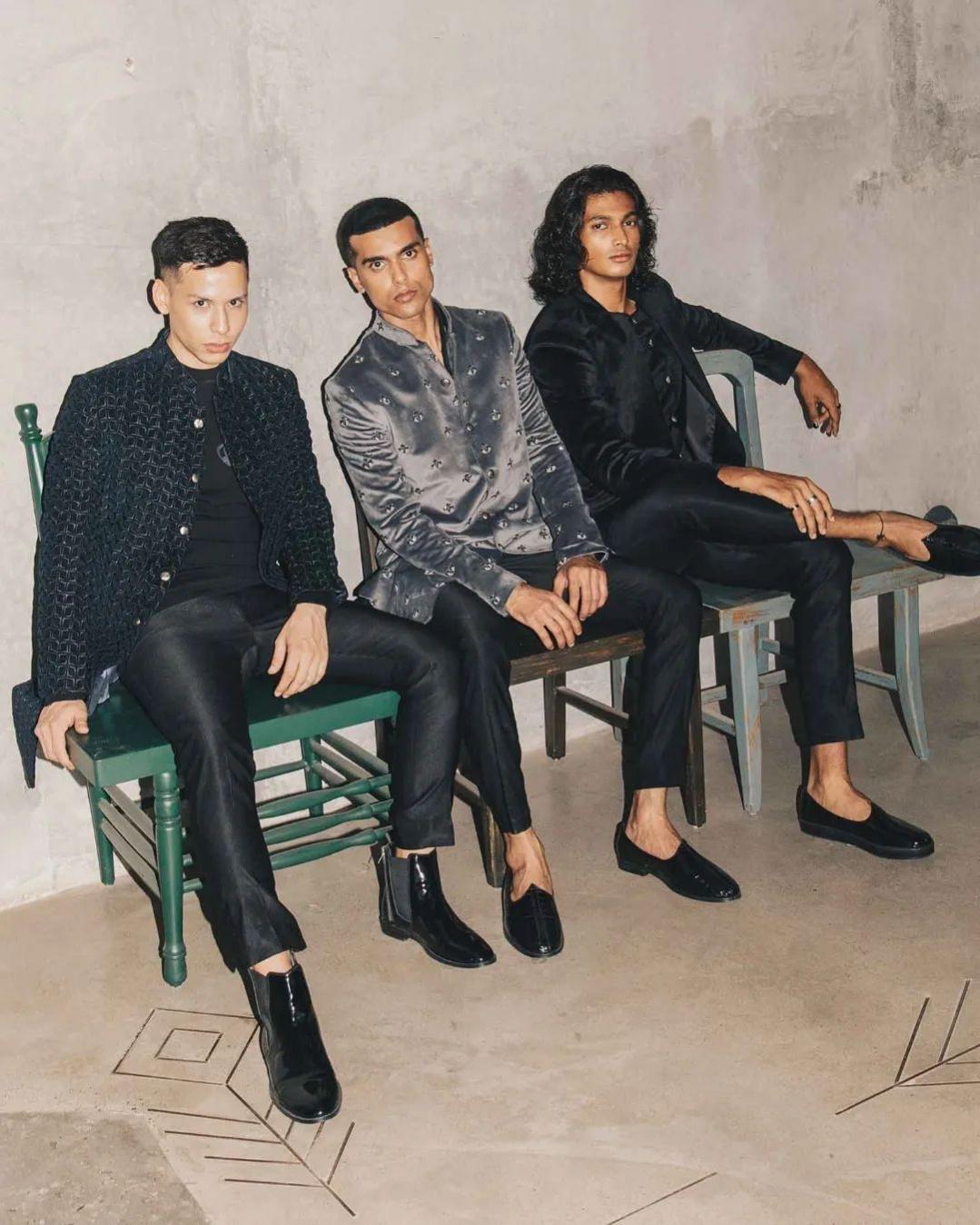 Image Courtesy: Kunal Rawal
Whether it is your wedding reception or whether you get a wedding reception invitation, one of the first things that pop up in your mind is, "What will I wear through the day?" And, yes, this is not only for females, here we are discussing men as well. Indeed, the time has changed and now men are also becoming fashion enthusiasts and how.
Traditional Indian Reception Dress for Men
Modern Indian Reception Dress for Men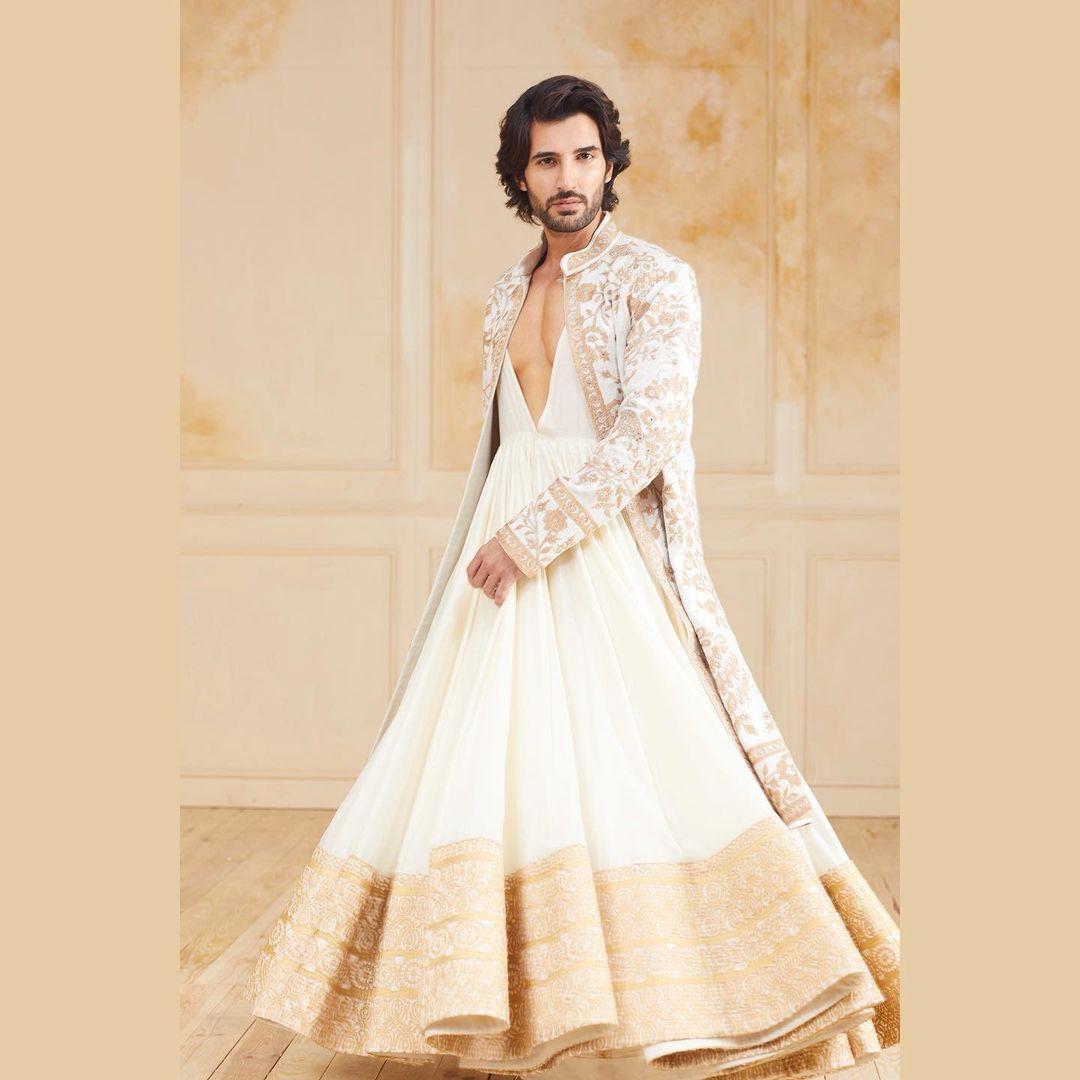 Image Courtesy: Siddartha Tytler
A masterpiece created by none other than Siddartha Tytler celebrates the coming of age reception dresses for men with this conventional silhouette with a twist for all the handsome grooms. This Anarkali for men also famous as manarkali is a creative rendition from his 2022 couture collection. The Bandhgala sherwani jacket with a deep V-neckline is a class apart.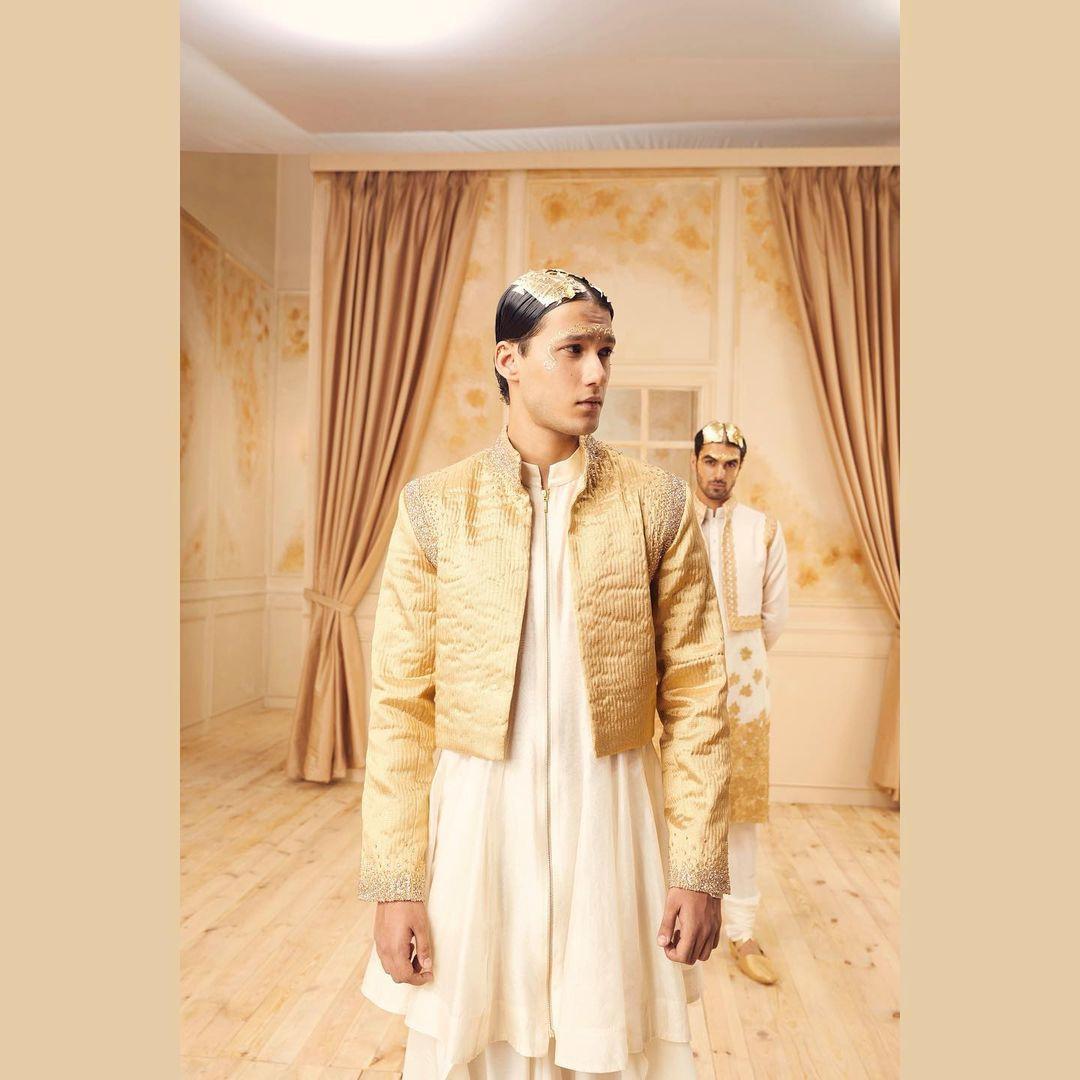 Image Courtesy: Siddartha Tytler
One was not enough! Yes, we are swooning over this impeccable design for reception dress for men. The dhoti with a peplum top for men looks inspired by the Rajasthani traditional wear for men and the golden foil jacket on top adds a pinch of edge to the otherwise traditional reception dress for men.
Floral Sherwani Reception Dress For Men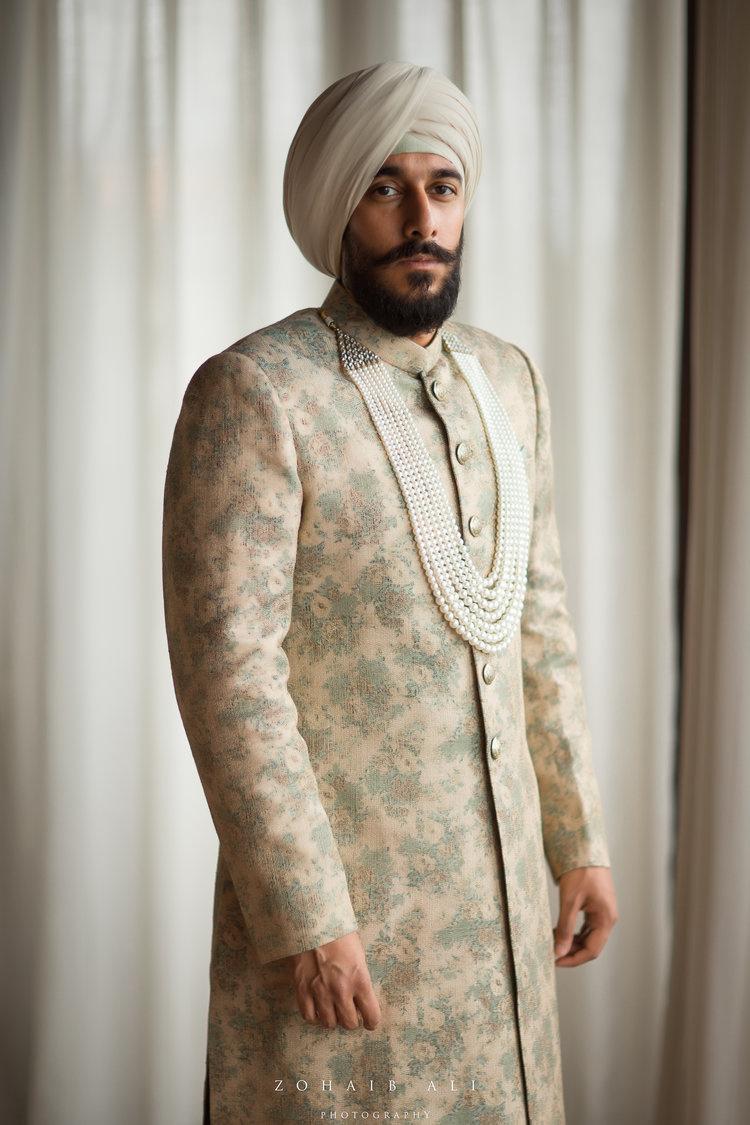 Image Credits: Zohaib Ali
A pale green sherwani reception dress for men is not something that you see at every other wedding. The unique colour looks even better when your partner is wearing something similar. This floral green is a giving a royal look with pearl garland.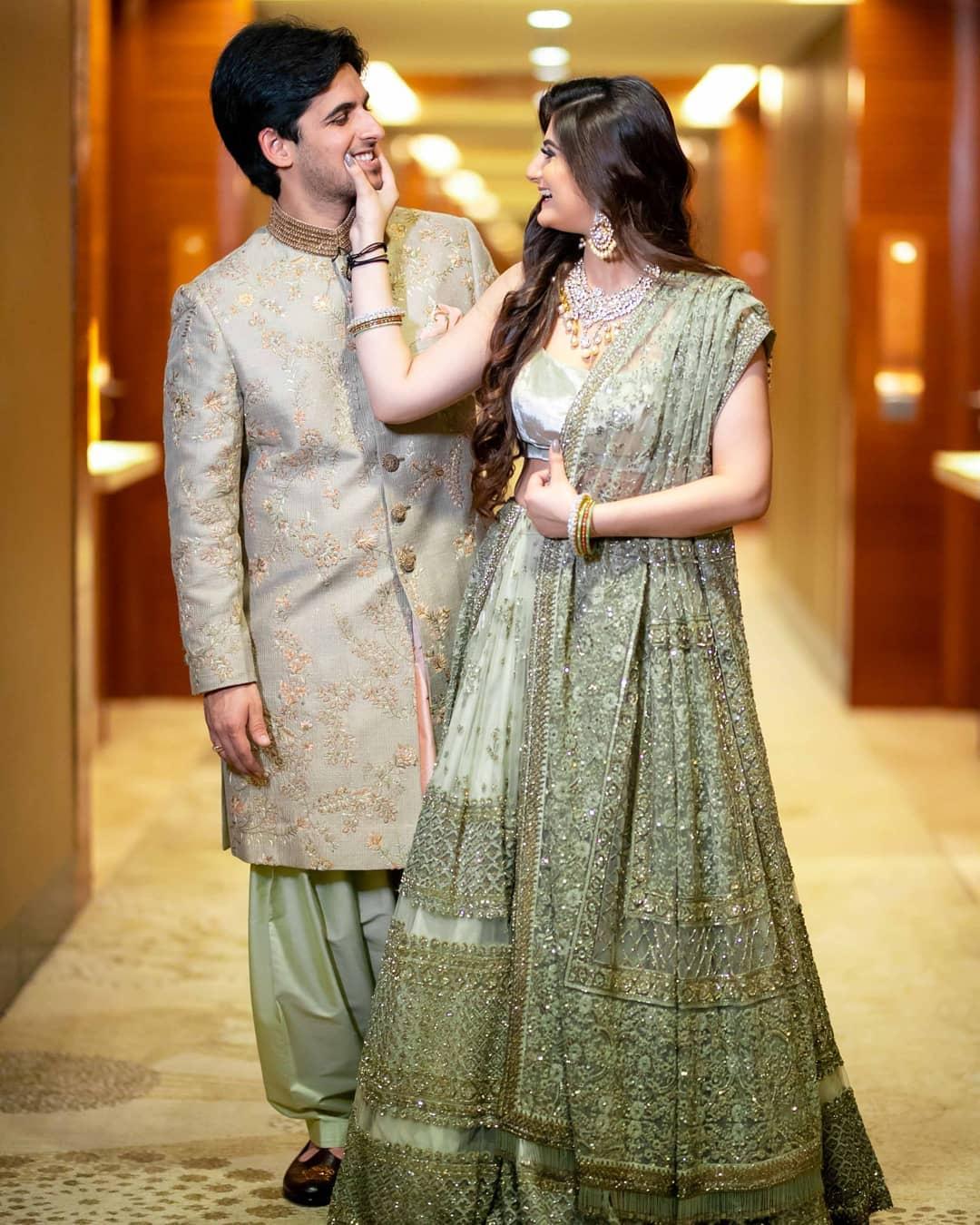 The floral patterns in this reception dress for men are subtle because of the fine embroideries on it. This reception dress for men has a beautiful jacket, the bottoms are the traditional ones. The jacket has a peach colour lining, which is in contrast with the outer colour.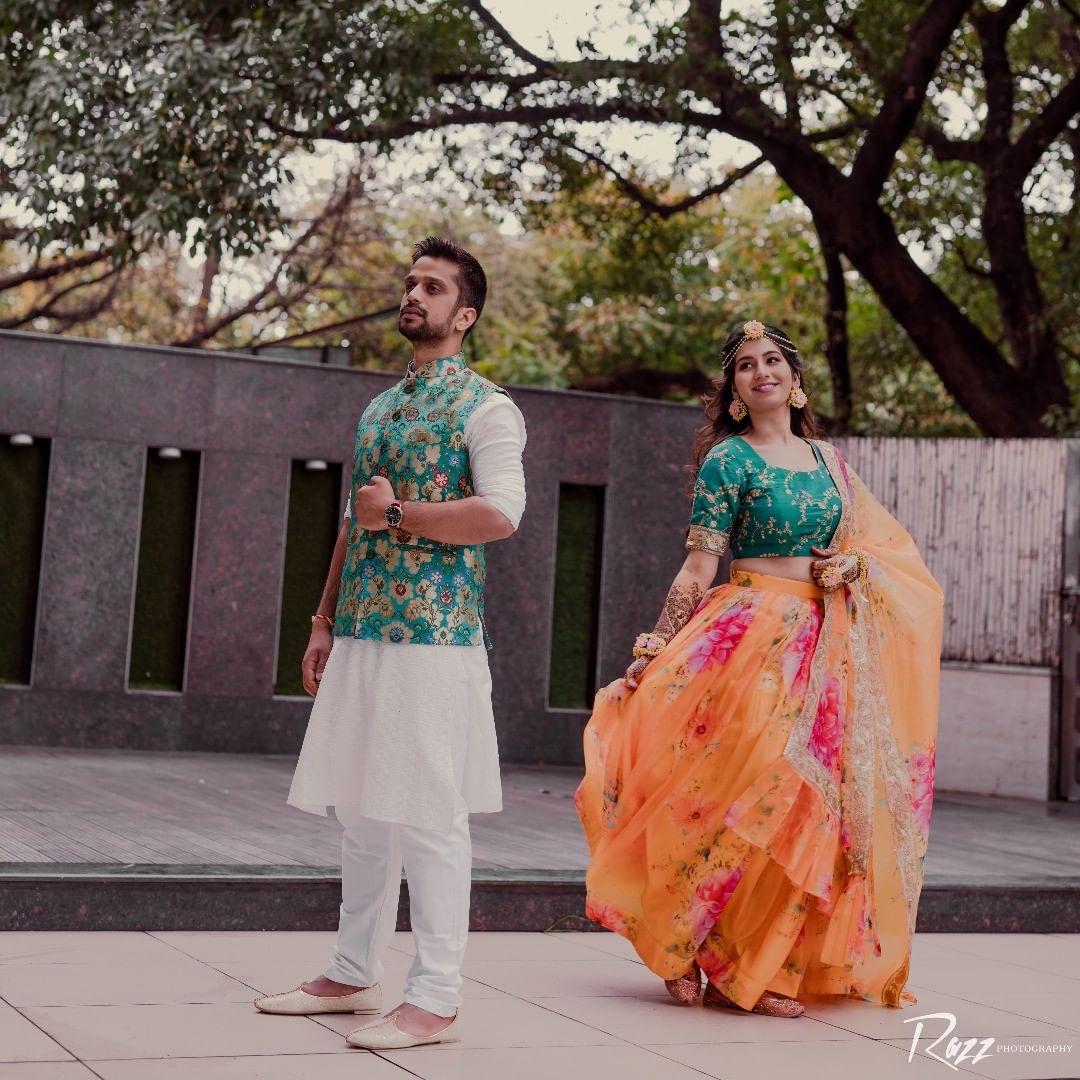 You cannot get more classic than a white kurta pajama when it comes to traditional Indian wear. What makes this an interesting choice of attire for the reception is if you are having a day reception in an open event space. The highlight of this outfit is the teal jacket with floral patterns on it. This adds immense character to this outfit, making it a perfect reception dress for men.
Long Kurta Reception Dress For Men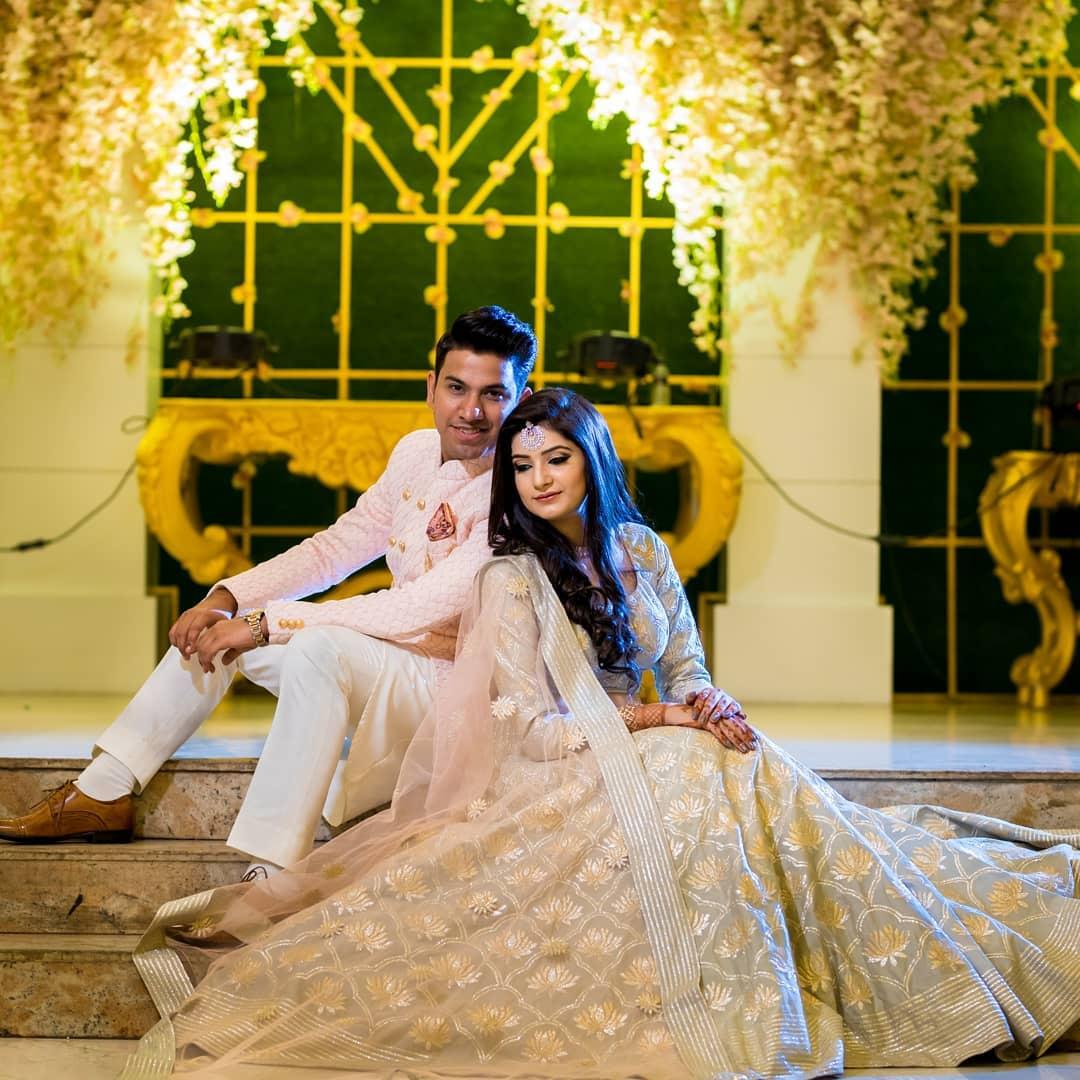 If you want a classic and elegant look then this reception dress for men will surely help you. The baby pink colour always looks incredibly great with white and this is the exact combination used here.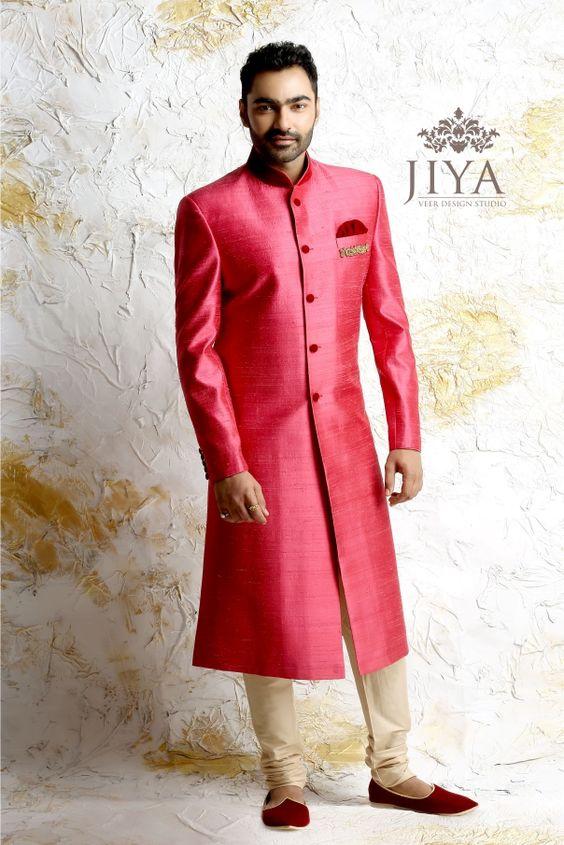 Image Courtesy: Veer Design Studio
An elegant jacket with golden double buttons on this long kurta worn with a pair of white pants makes it a stunning outfit. It becomes even more perfect when your bride is wearing something in a light colour. Also, a dark kurta looks extremely charming and royal.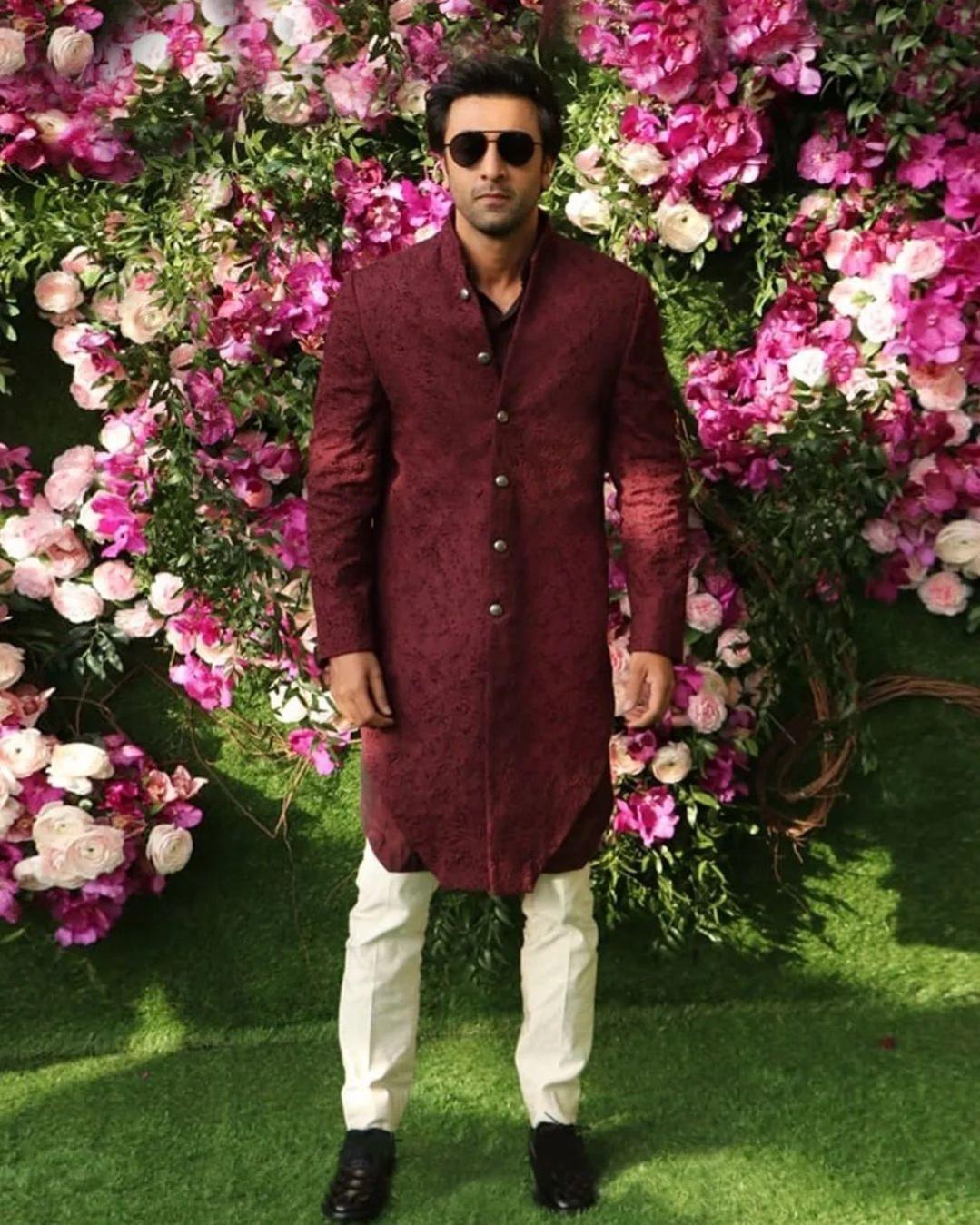 Another dashing long kurta with trousers is seen in Ranbir Kapoor. The actor dons a wine small foliage embroidered sherwani with ivory pants and black formal shoes. The sherwani flaunts the signature Kunal Rawal knots and we cannot take our eyes off this outfit. You can pick this reception dress for men by Kunal Rawal.
Elegant Sherwani Reception Dress For Men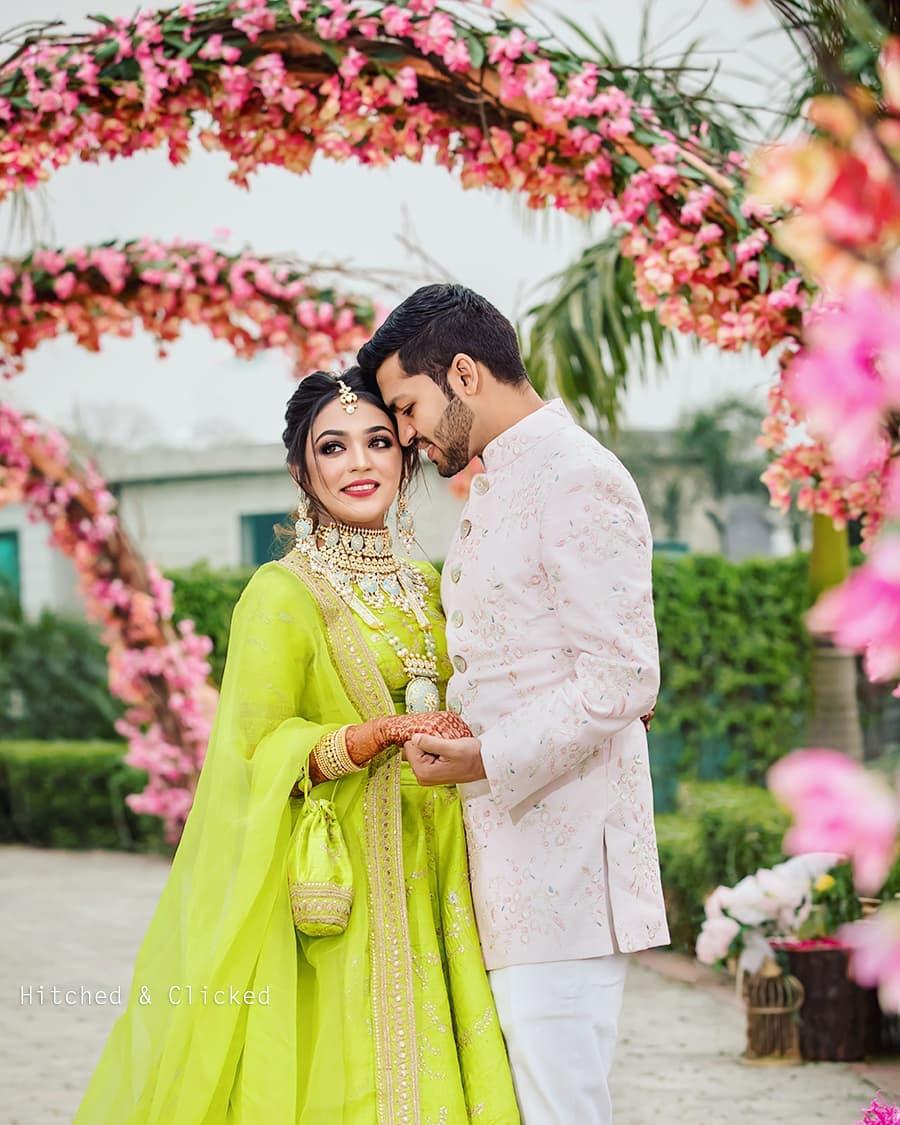 Another elegant reception dress for men, this ivory jacket with incredibly fine embroidery patterns makes it an ideal fit for someone who is looking for a classy look. The high Bandhgala suit design of this jacket has small floral patterns on it. The big buttons are another feature that makes it so elegant. Match the jacket with white pants to make the two colours blend with ease.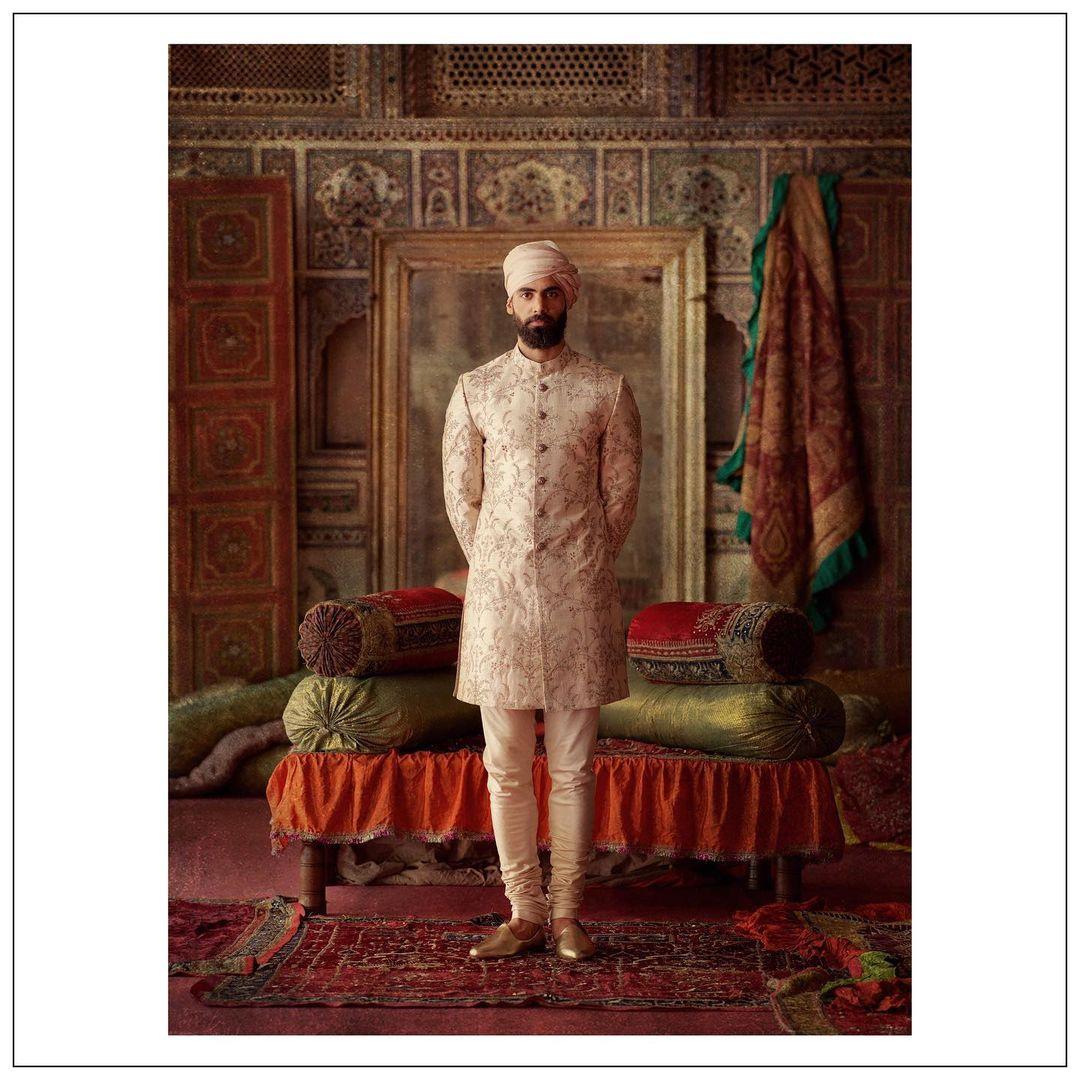 Image Courtesy: Sabyasachi
If you want to adorn the 'Maharaja look' then you should swear by the ivory suit that we have cherry-picked here. Ivory sherwani is a reception dress for men that can never go wrong - be it a big fat reception or an intimate one.
Also Read: Looking For Latest Wedding Dresses For Men? Check These Out
Indo-Western Reception Dress for Men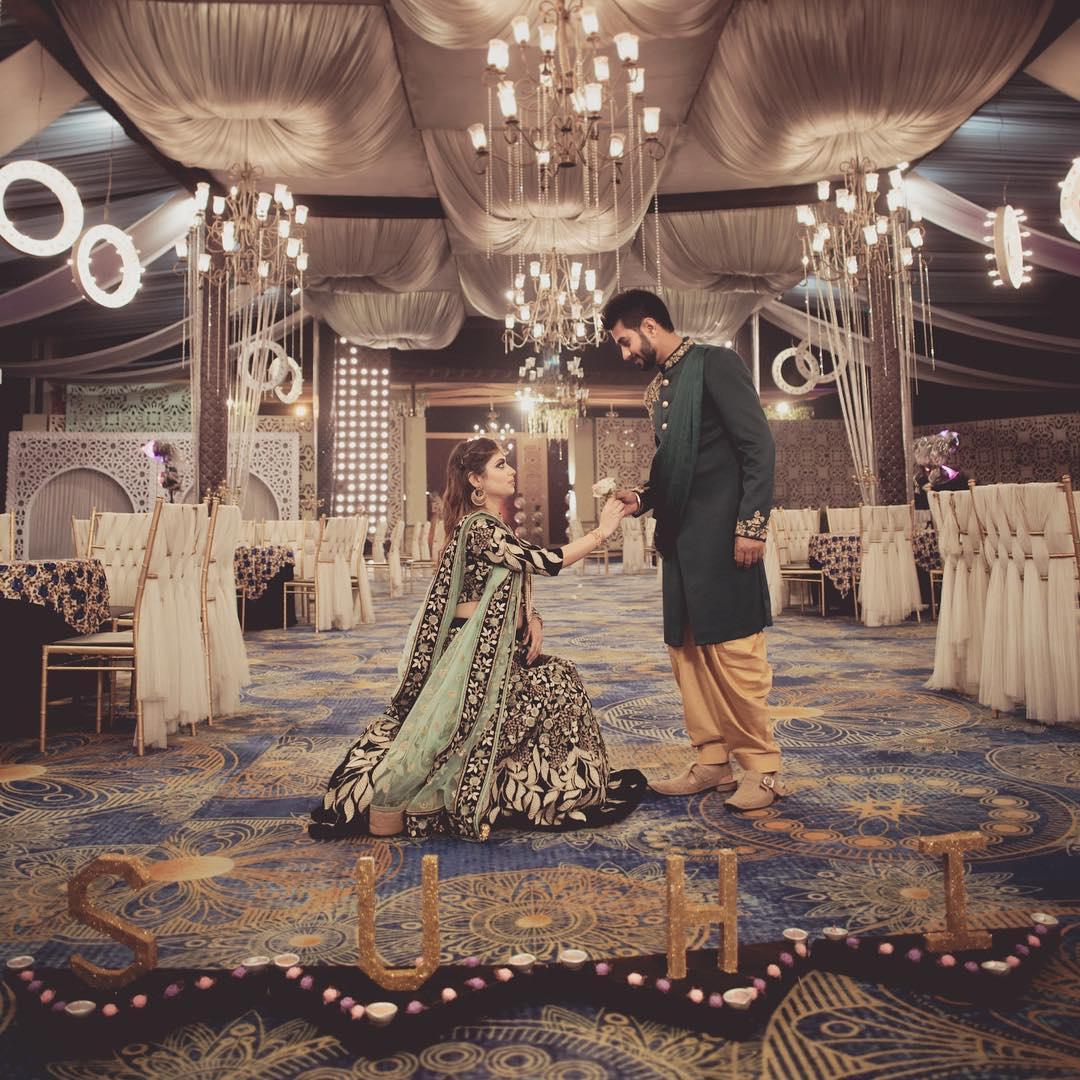 Nowadays, more and more men are opting for Indo-western wear as they have the Indian touch to it but still look vibrant and different when compared with other traditional attires. The combination of green and golden in this attire makes it perfect for someone who is looking for a different look.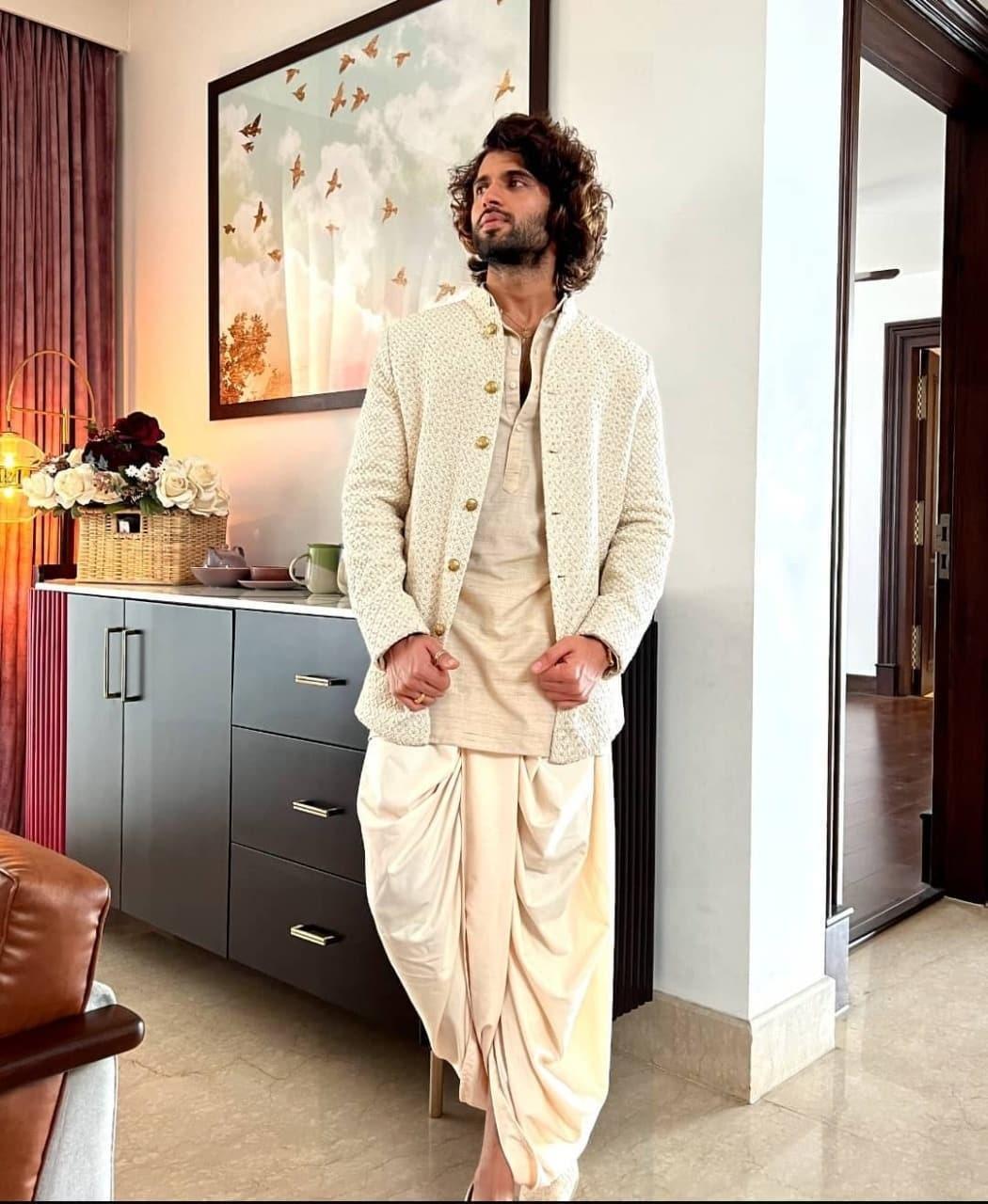 Image Courtesy: Kunal Rawal
Serving dashing looks, this Kunal Rawal ensemble of a classic French knot embroidered bandhgala with a short kurta and dhoti pants is a hoot and you will look amazing if you pick it as your reception dress.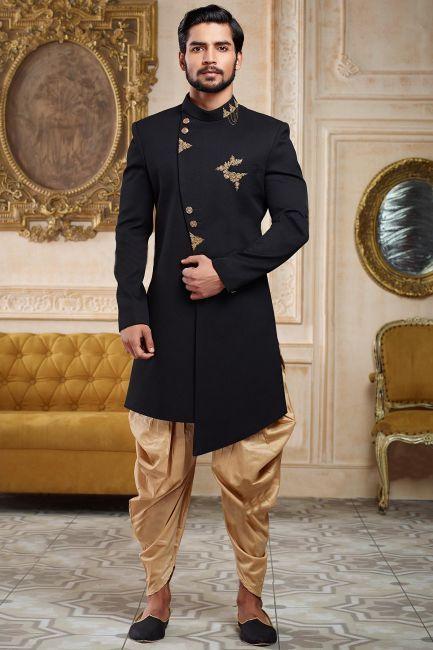 The jacket has an urban design with a shawl-like finish on top of it. The cuffs and the neckline have golden embroideries on them to add more detail to the attire. The other black design from Samyakk India is again dapper reception wear for men.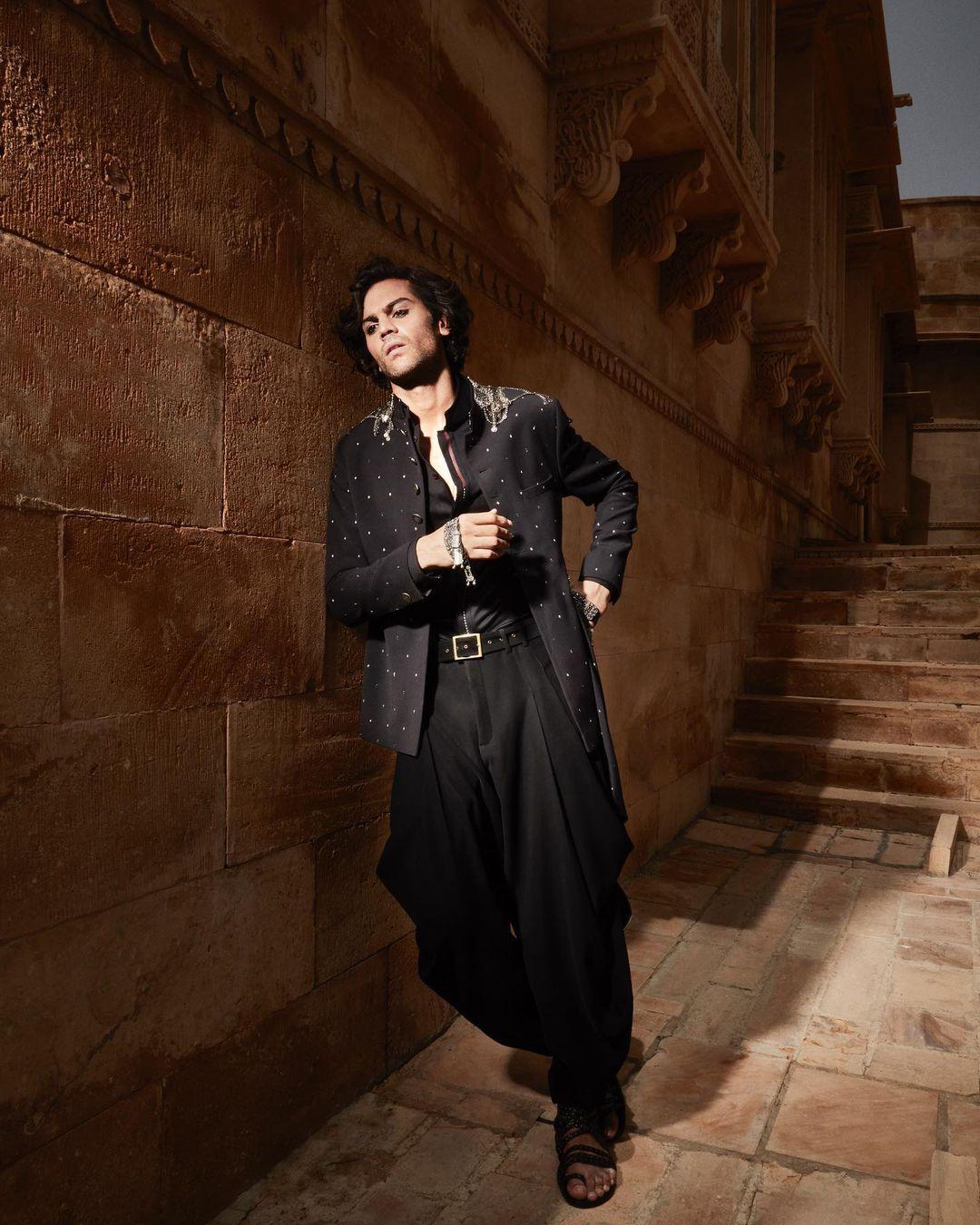 Image Courtesy: Shantanu Nikhil
A symphony of drapes elevated with intricate detailing and masterful craftsmanship for the new-age man, you'll be impressed with this black bandhgala with the signature neo-drape and metallic epaulettes paired with black cowl pants and metal studded gladiators. You can pick this reception dress for men for your Cocktail too.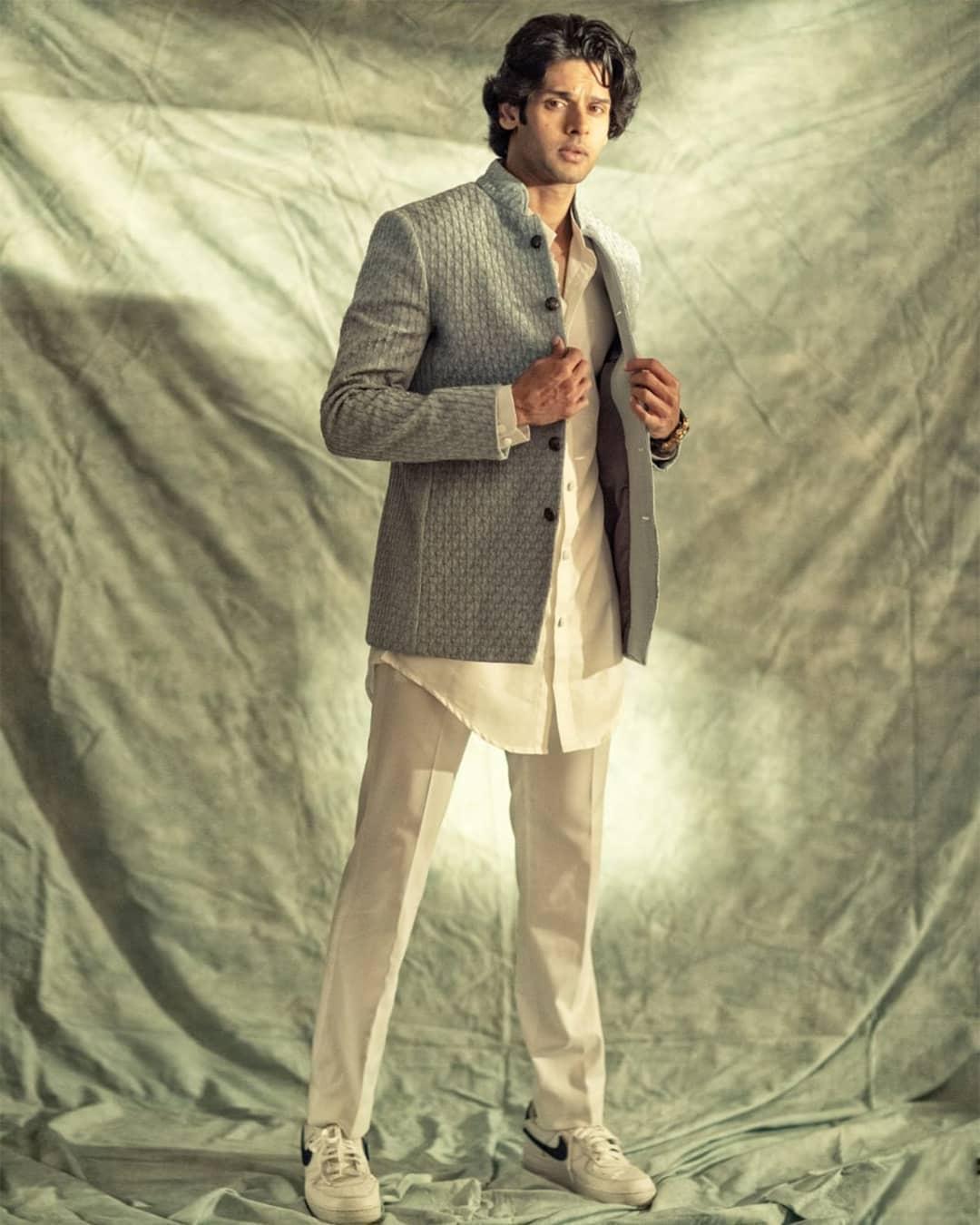 Image Courtesy: Kunal Rawal
Paired with a dolphin hem kurta, this sherwani jacket by Kunal Rawal is a show stopper. Keep it cool but classy and watch the magic unfurl with this reception dress for men.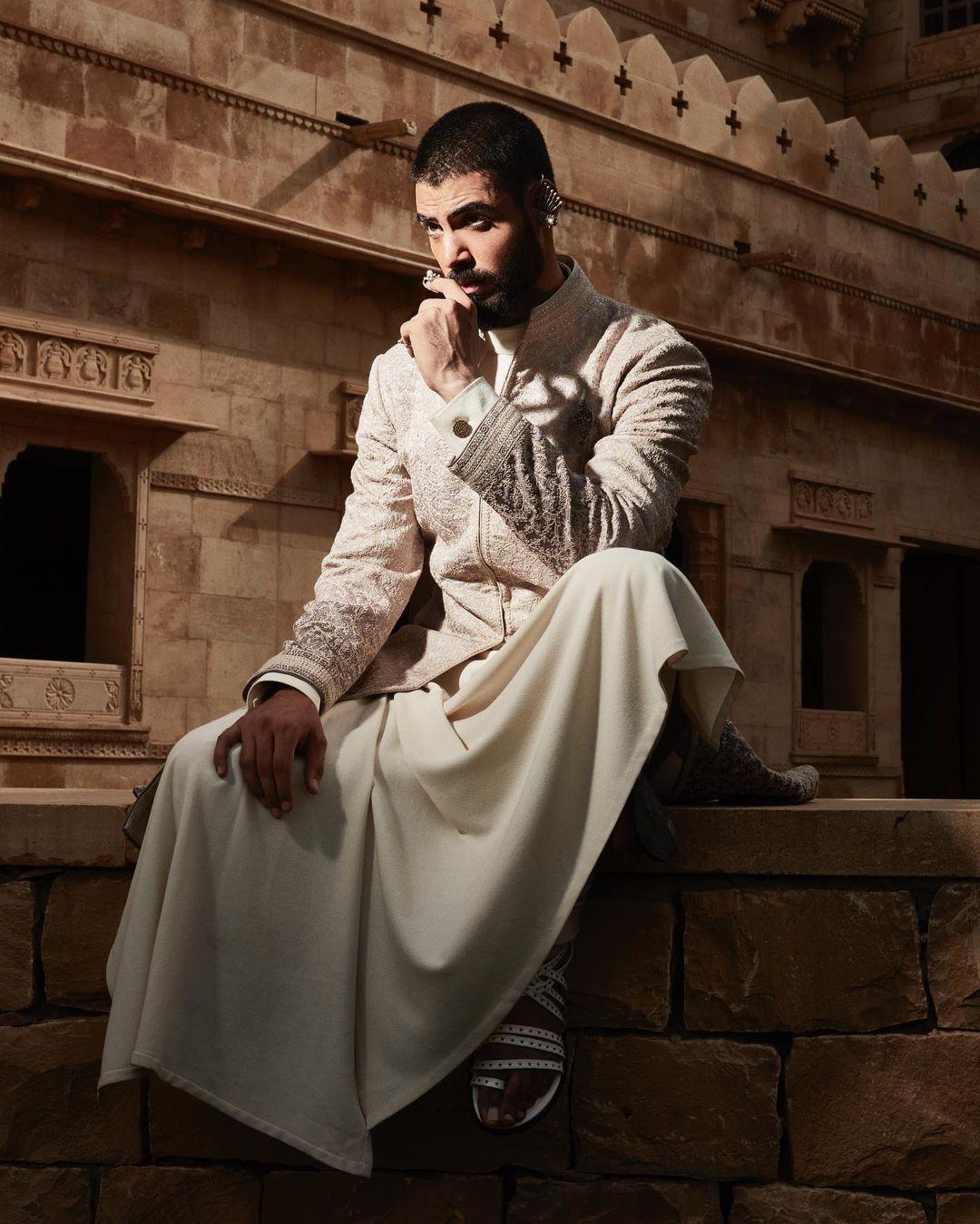 Image Courtesy: Shantanu Nikhil
Ethereal ivories and draped details overlooking a palatial background brings out royalty in an elegant and majestic way for our millennial grooms. Ivory sherwani adorned with intricate handwork and tonal details paired with the house's signature draped kurta by Shantanu Nikhil is a charmer when it comes to reception dresses for men.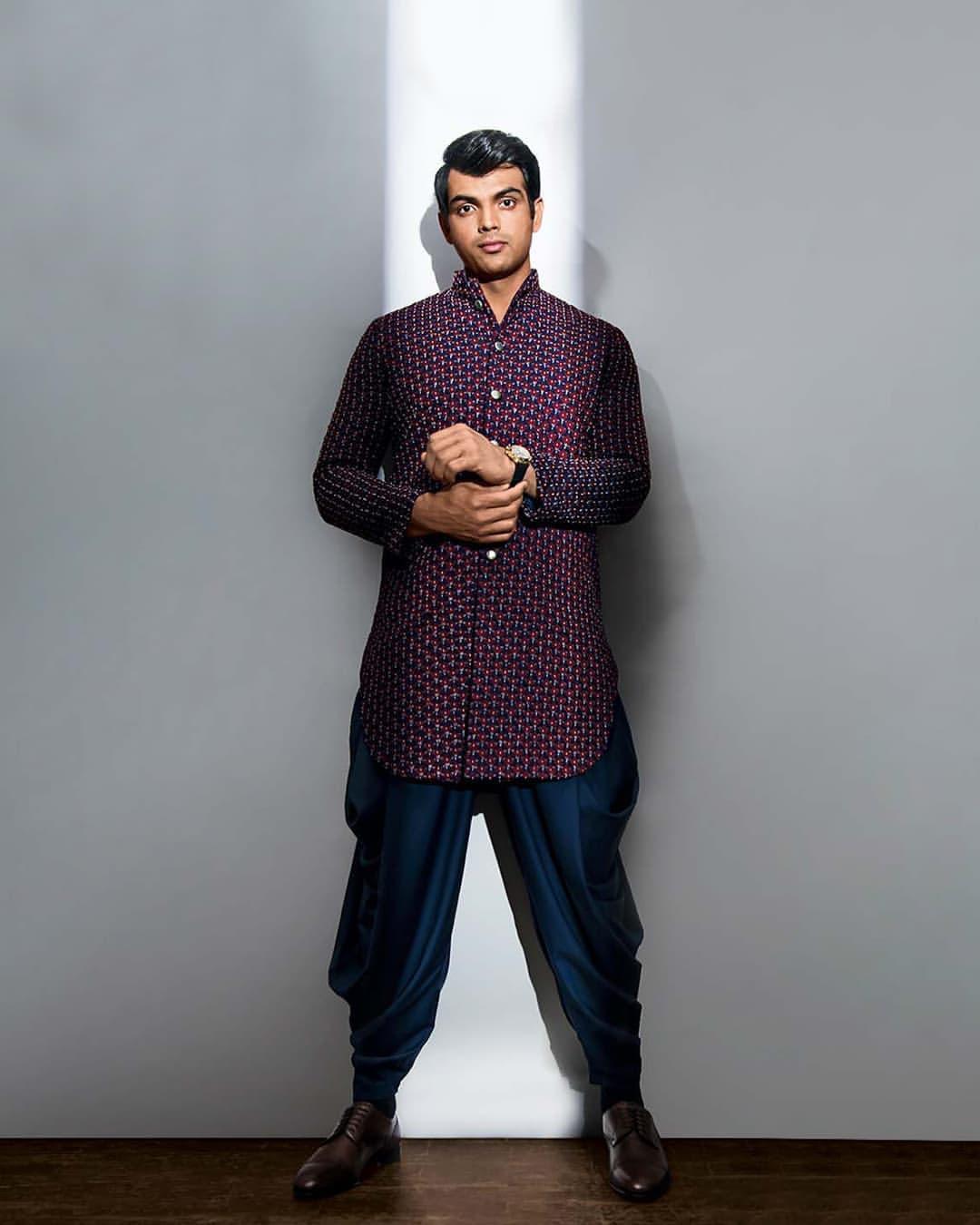 Image Courtesy: Kunal Rawal
The man, the myth, the sporting legend, Neeraj Chopra wears a navy and wine contrast carreau motif embroidered sherwani and we cannot take our eyes off. You can pick this indo-western reception dress for men and look fantastic on your big day.
Western Formal Wedding Reception Dress for Men
The Classic Black Suit Reception Dress for Men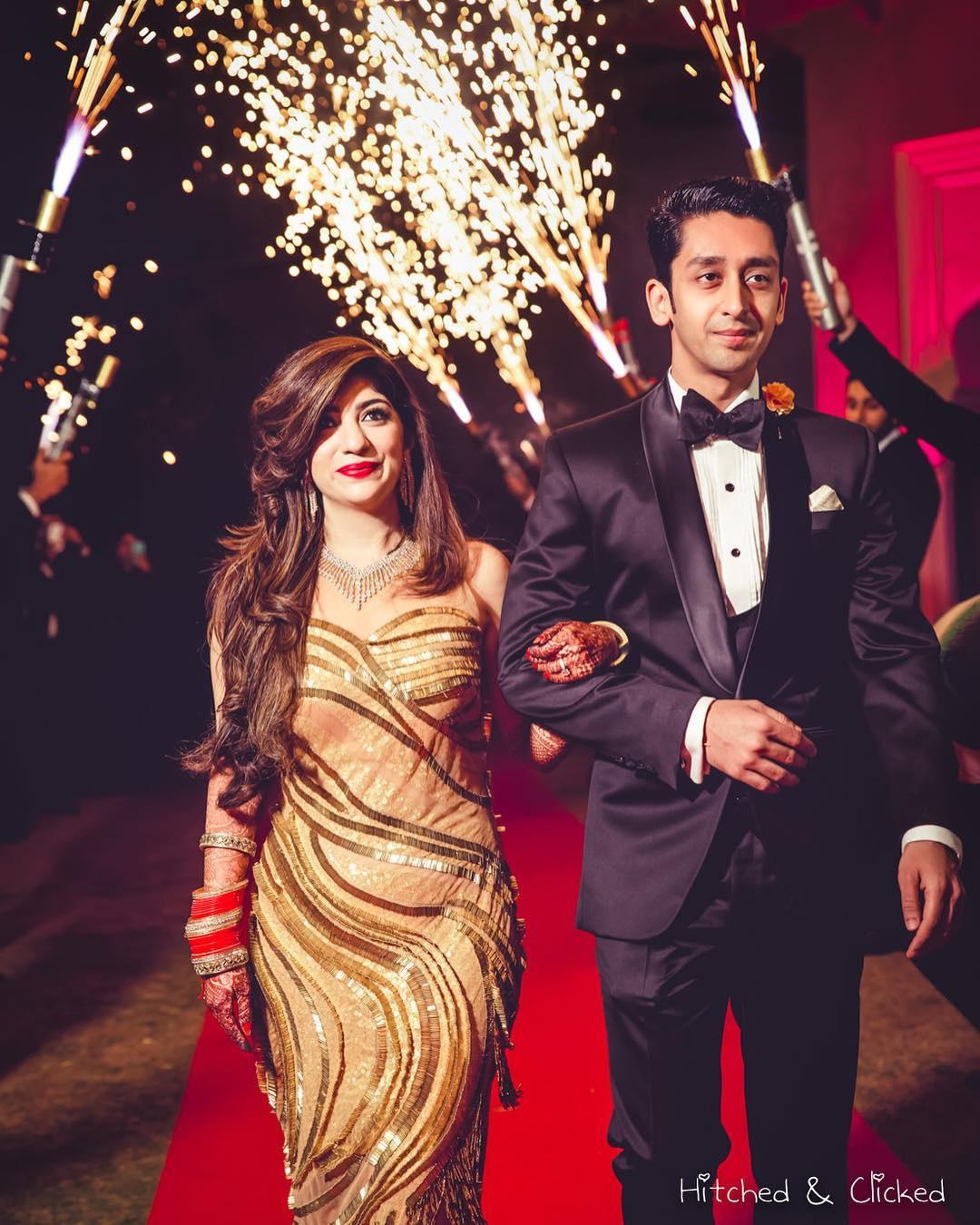 You can experiment with various attires but it is quite rare to top the look of a black suit. Such a suit is the perfect reception dress for men, especially when the function is at night. A high-waistcoat and a bow tie complete this three-piece tuxedo look.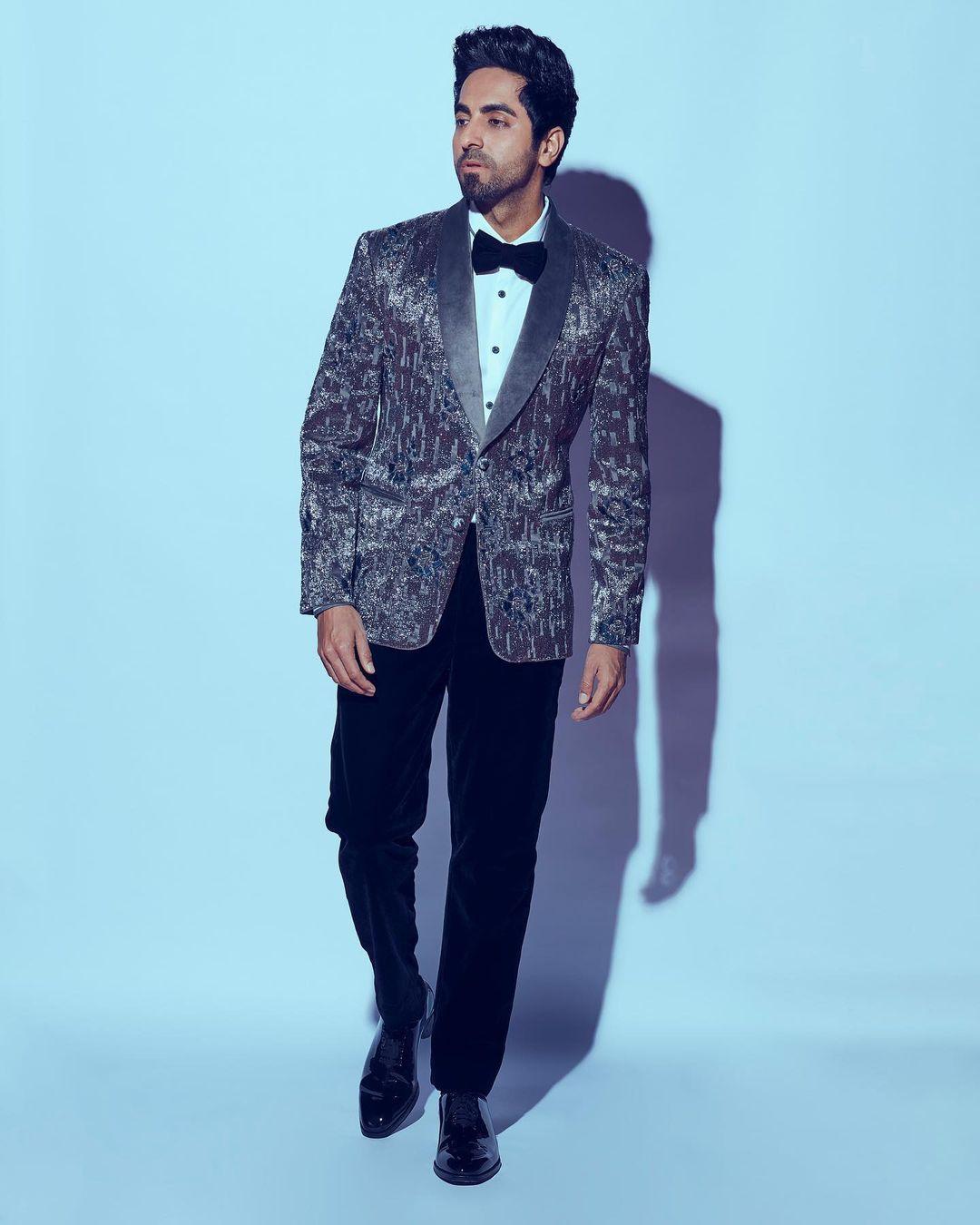 Image Courtesy: Manish Malhotra
A velvet blazer with shimmer and sequin detailing, this Manish Malhotra piece is a charmer you cannot miss. Add this beauty to your reception dress for men shopping list and strut your way into the reception looking stunning as ever.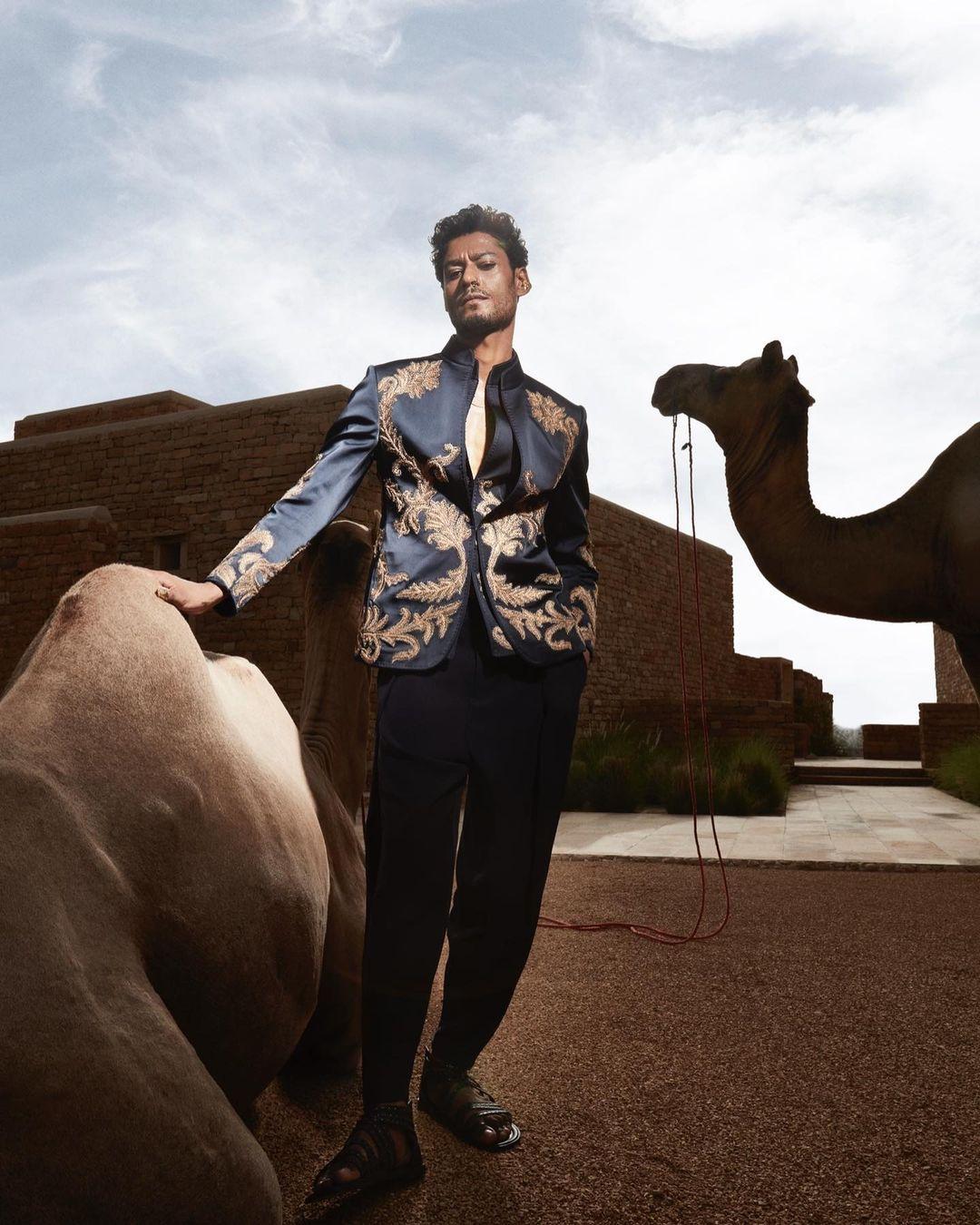 Image Courtesy: Shantanu Nikhil
Royal blue short Bandhgala jacket with gold palatial hand-work paired with cowl pants makes it all look edgy and dreamy!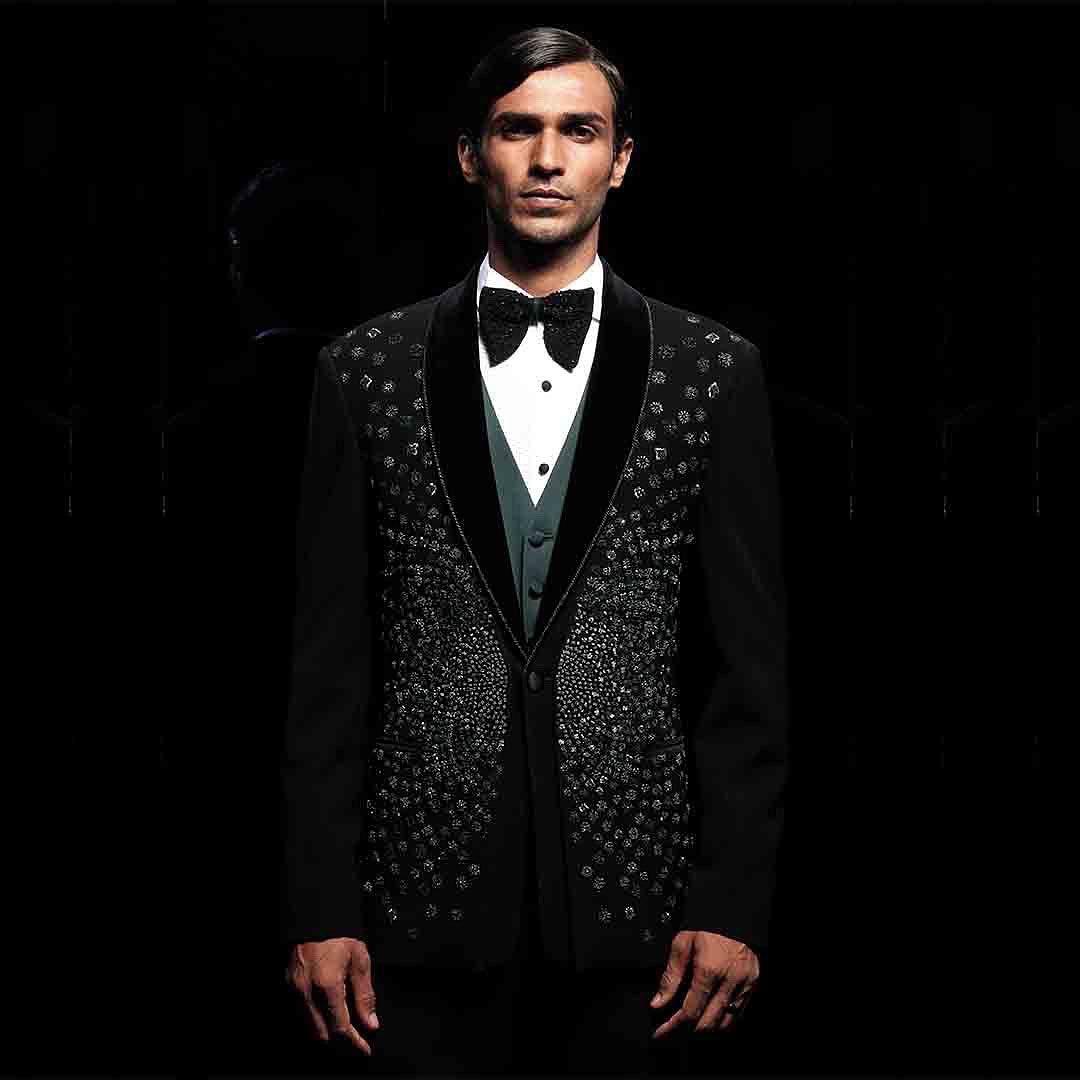 Image Courtesy: Rohit Gandhi Rahul Khanna
Opt for a material that has a bit more shine on the fabric so that it looks great at night. Since wearing the dress at reception is all about wearing matching clothes, your bride needs to wear something modern, along the lines of a gown. Else, if you want to look different then adorn a faded black suit and get ready to steal the limelight.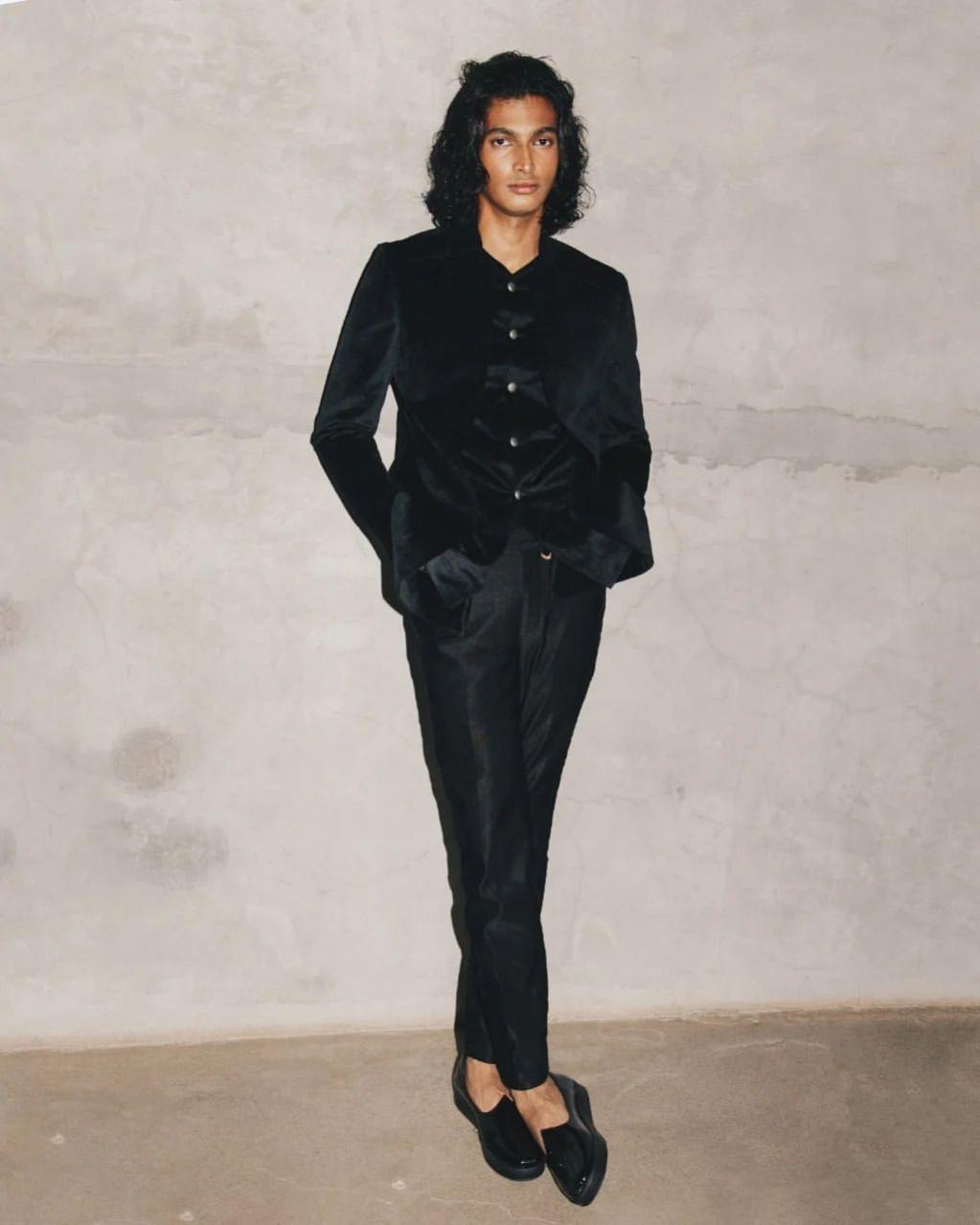 Image Courtesy: Kunal Rawal
A conventional western formal reception dress bu with a bandhgala jacket. Yes, this ensemble includes a short bandhgala velvet jacket in black with trousers and a waistcoat in black velvet too. You can use this velvet outfit for men to complement your bride's velvet lehenga.
Also Read: 13 Trendy Velvet Outfit Ideas for the Grooms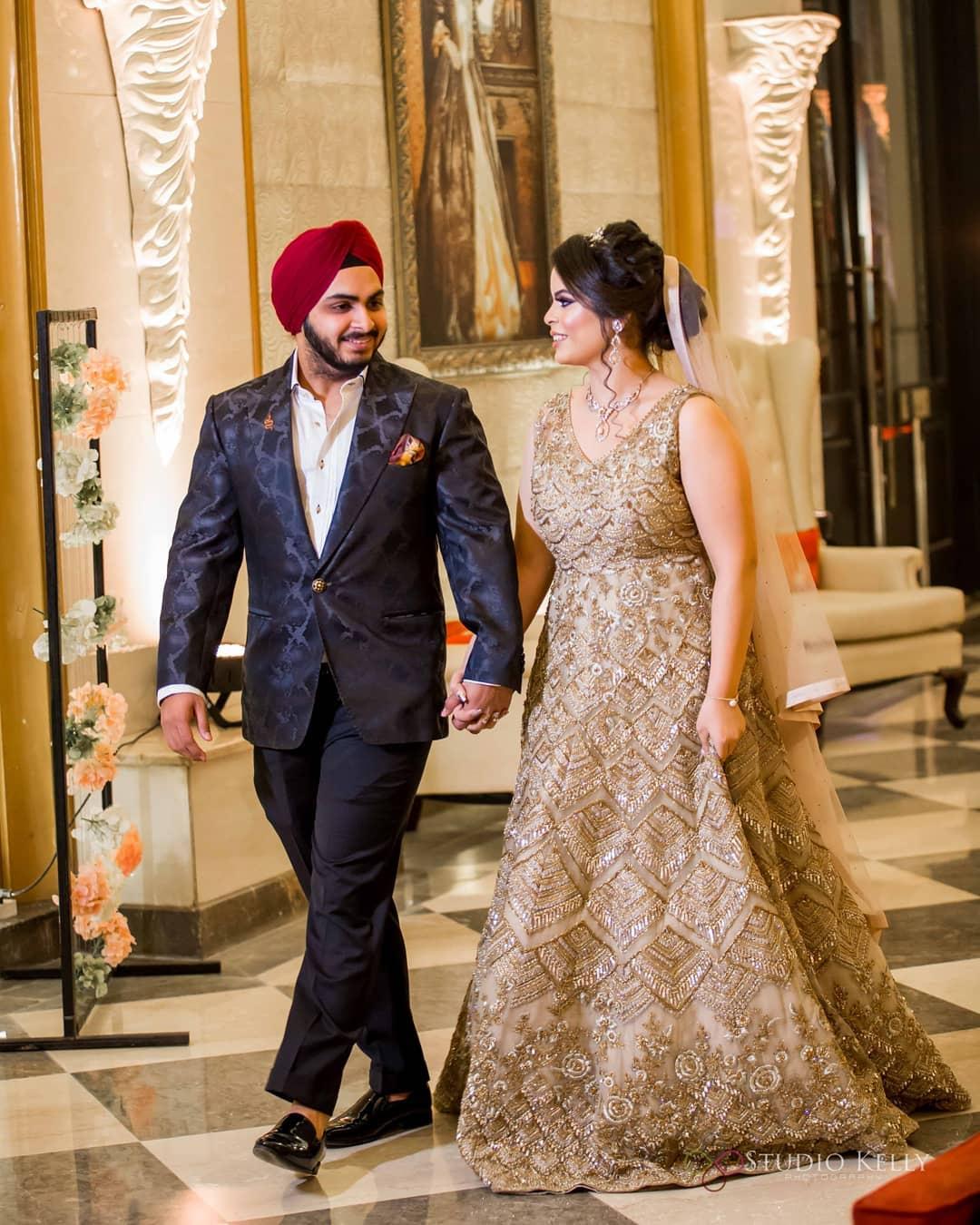 How about a black suit but with a printed black jacket? This look is quite different from the usual black and white suits and is trending these days. This jacket has a hologram finish to it, giving different shades of black when light falls on it from different angles, revealing the patterns at that moment. You can go for a look without a tie or a bow. Wear it with a white shirt to give you the perfect contrast look.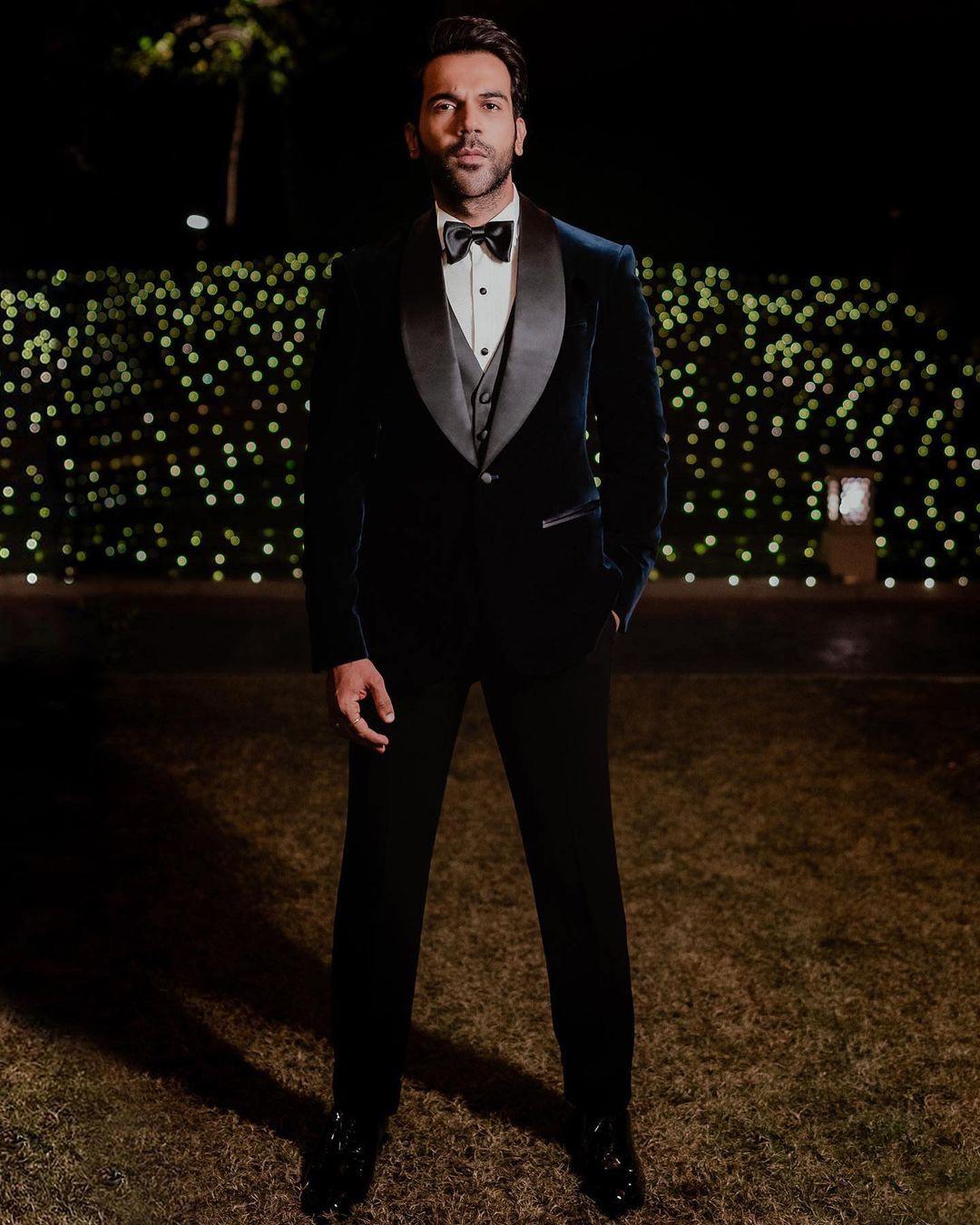 Image Courtesy: Rohit Gandhi Rahul Khanna
Rajkumar Rao wearing the classic Zircon Tuxedo, custom-crafted in midnight blue velvet trimmed with a stylised satin lapel collar and lined with silk for his wedding festivities. The timeless piece will amp your overall aura and make you look sharp on your Reception. A black tux can never go wrong as a reception dress for men.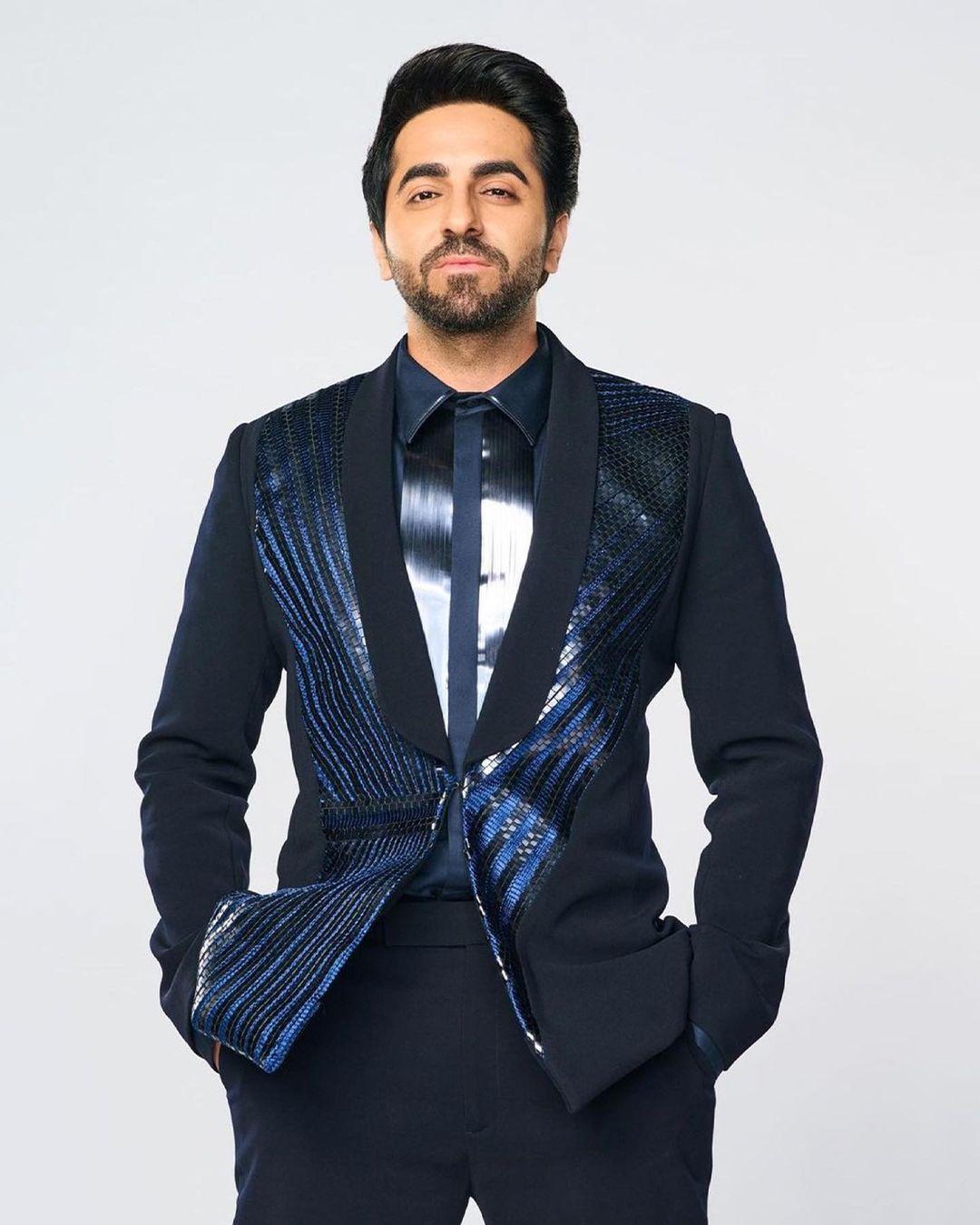 Image Courtesy: Amit Aggarwal
Ayushmann Khurrana sports a metallic structured tuxedo from the 'Victore' collection by Amit Aggarwal. The metallic accents n this outfit is one head-turner for your reception dress for men.
Also Read: Take a Look at the Trending Groom Outfits With Metallic Accents for Inspo
Wedding Reception Dress for Male Guest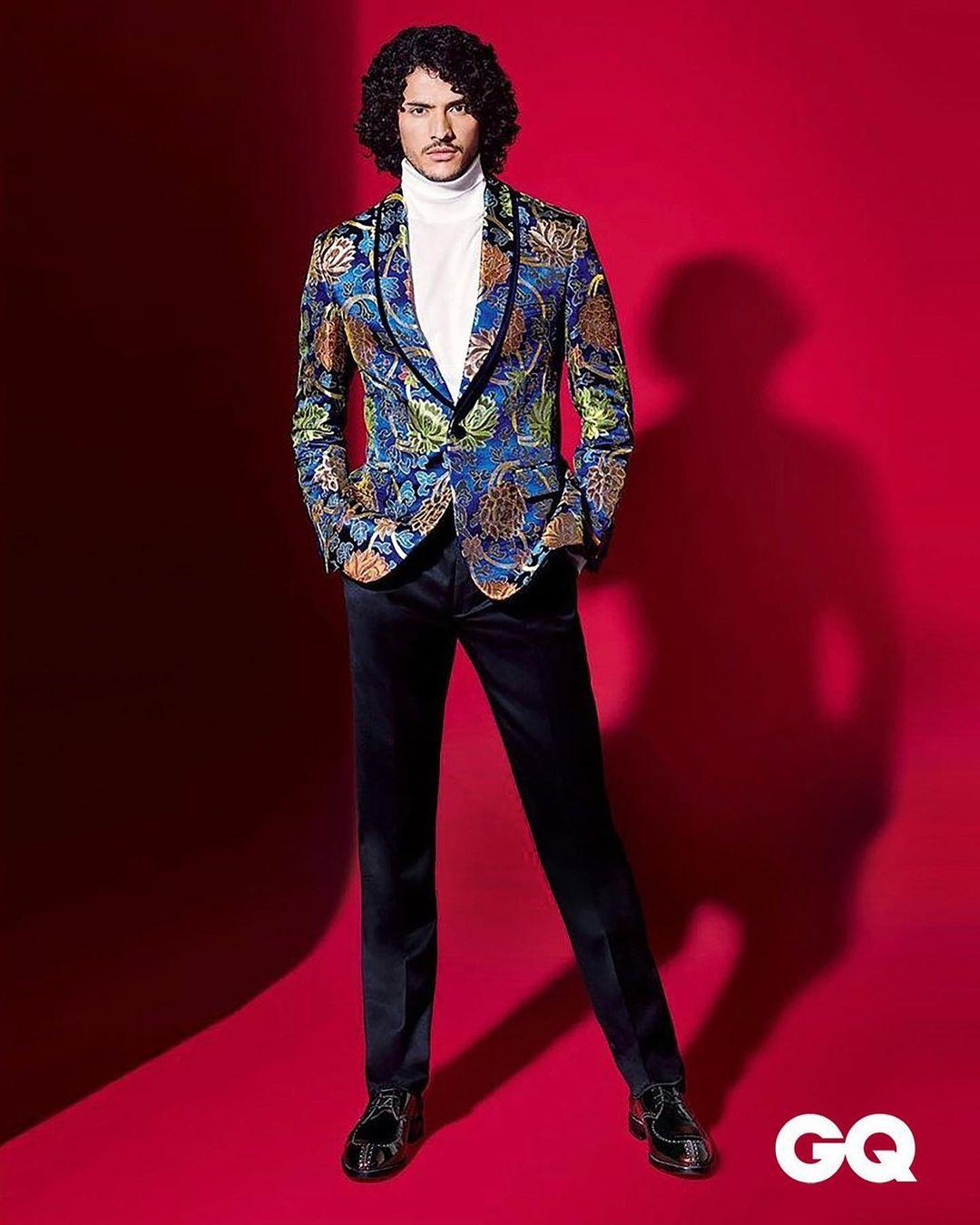 Image Courtesy: Rohit Gandhi Rahul Khanna
The Fierce Floral Tuxedo by Rohit Gandhi Rahul Khanna features a Foliage Jacquard Tuxedo bringing an edgy new verve to winter florals. Wear it for a destination wedding reception at a resort or at a quirky themed Cocktail and look dapper as ever.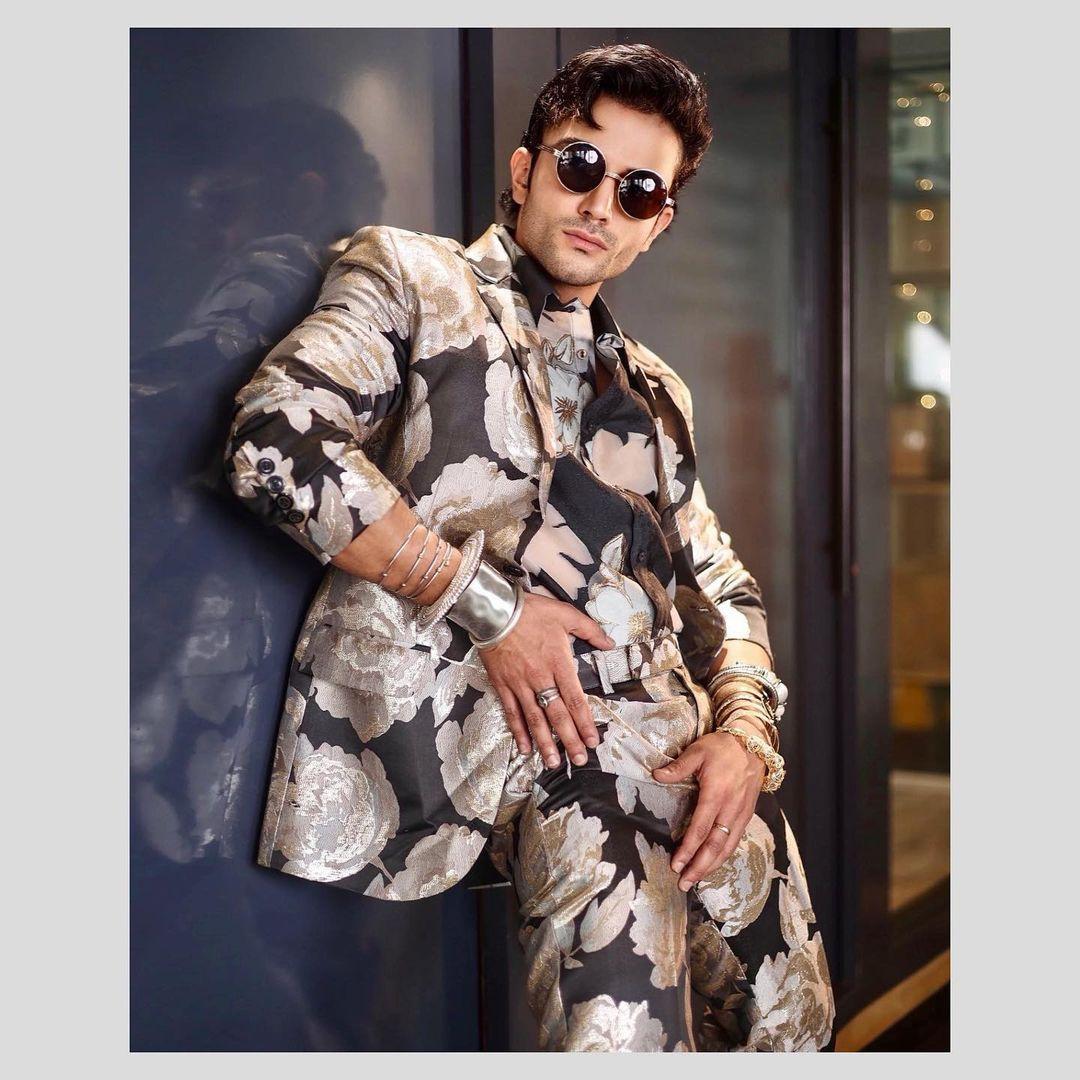 Image Courtesy: Siddartha Tytler
Apart from the bride and the groom, it is equally important for the guests to clad up in their best traditional dress. Marriage reception dress for males and females varies nowadays- some wear traditional like six yards and some wear modern ensembles with trendsetting patterns. Nowadays, combinations with Nehru jackets are working well for men and plain westernised gowns and six yards are seizing the fashion trend.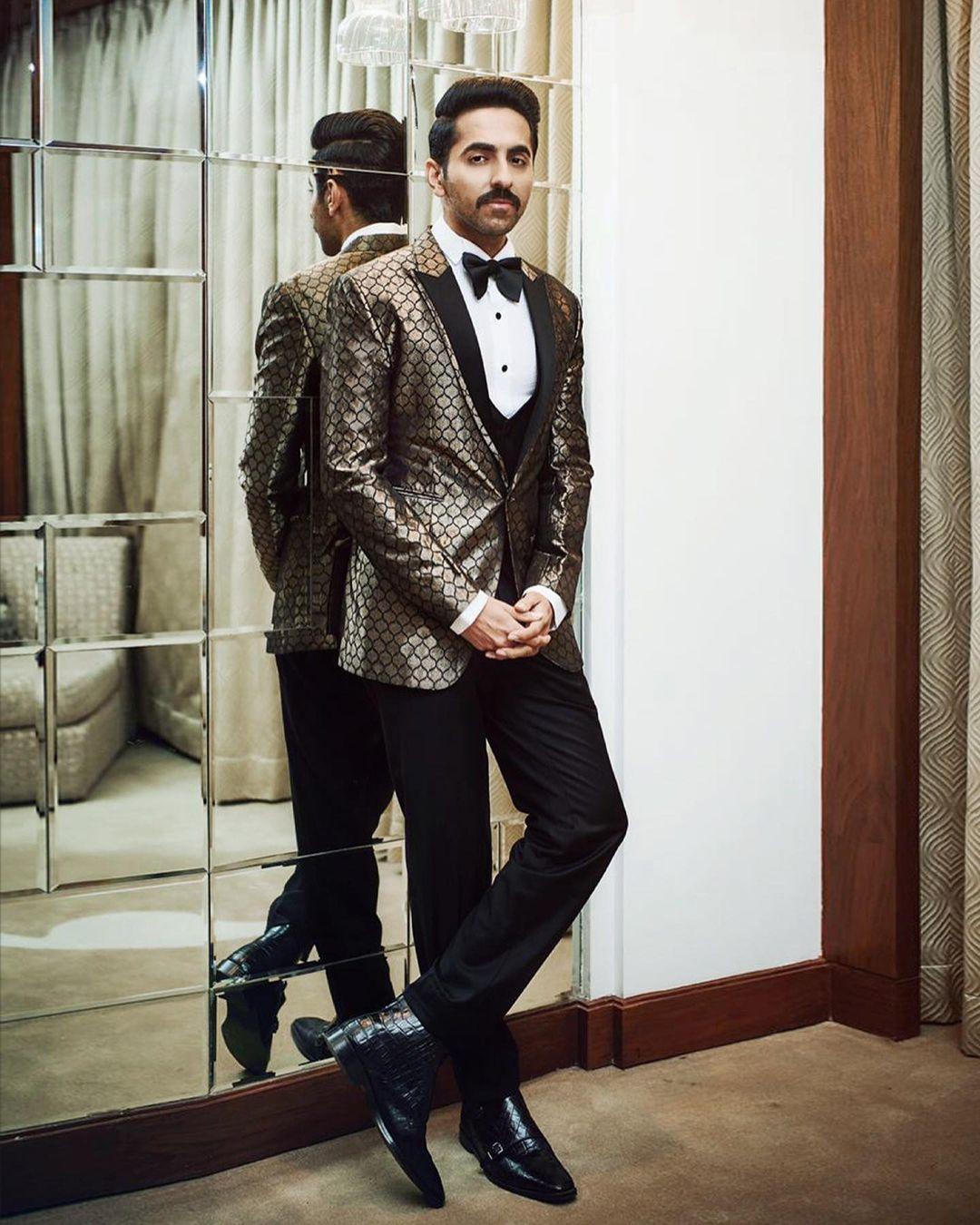 Image Courtesy: Rohit Gandhi Rahul Khanna
It's your best friend's wedding reception and you cannot pick a run-of-the-mill outfit. Take a look at this Rohit Gandhi Rahul Khanna ensemble that includes a three-piece Hudson Tuxedo featuring a one-button single-breasted front, black satin lapel, slim fit construction fashioned from luxuriously soft metallic Jacquard styled with sharp black trousers.
Reception Dress for Male and Female in India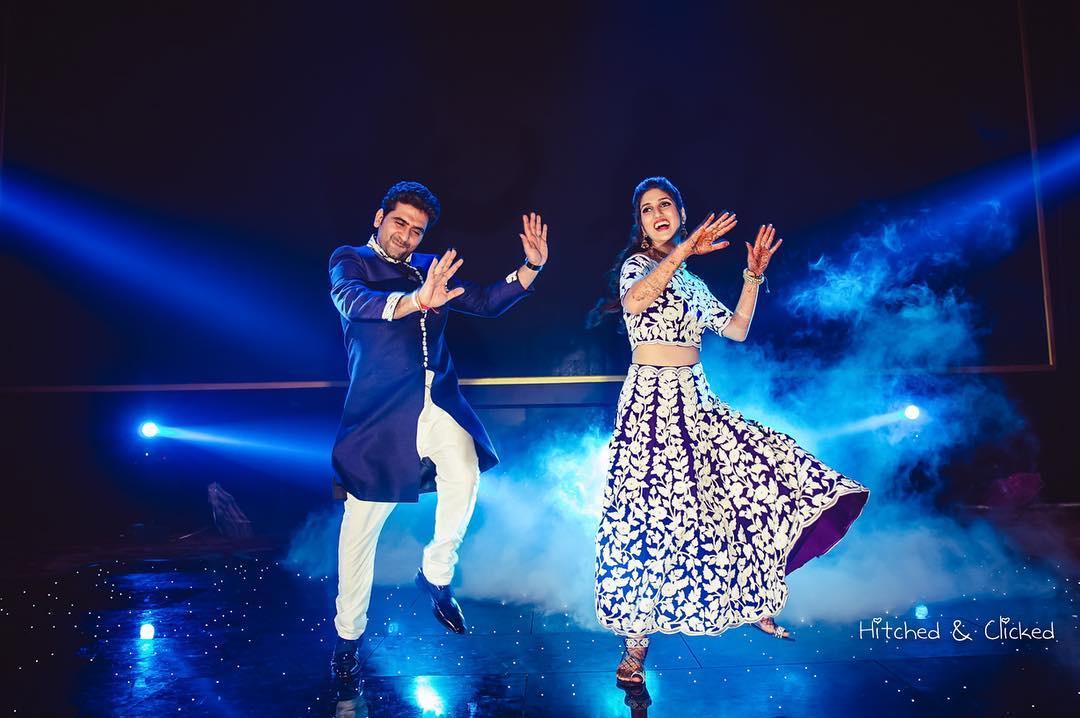 When it comes to wedding fashion, the first thing that comes to most minds is the clothes of a bride. When you search for fashion tips online, you will be flooded with content related to ideas for brides. Though, we also understand that styling a man for his wedding is equally important and which why here we bring some important ensembles that can be adorned as a reception dress for men here.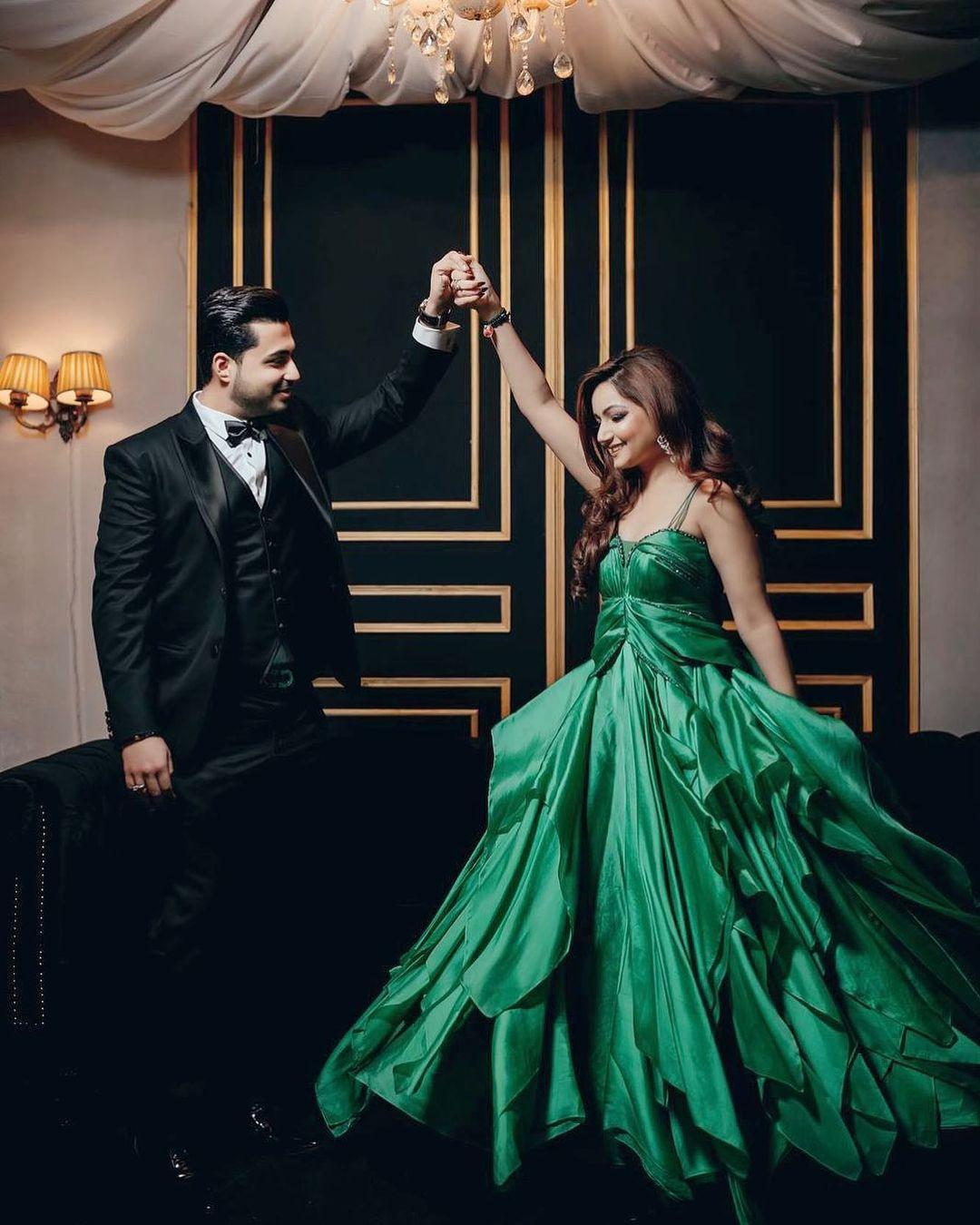 Just like the bride thinks a lot about what to wear on the different occasions of a wedding, the grooms think about making sure that they look their best whilst complementing their beautiful brides on such days. While you wear traditional clothes at your other wedding ceremonies, a reception is one function where you can dress in some modern or western outfits. Another idea for a reception dress for men is to wear an Indo-western outfit. These will have the feel of traditional clothes but also the touch of modern designs to them
As it is natural that you get confused about the perfect reception dress for men, especially if you're looking for something that complements your bride as well. Nevertheless, we have created a listicle of top reception dresses for men that can never go wrong.
We fell that you must mix and match to get the perfect attire for your reception. Consider the facts like whether it is an indoor or an outdoor event. More than that, make sure that you match your attire with the bride so that you look great as a couple.
Check out these menswear stores near you that offer great clothes!
Read More -
Mehndi Design | Proposal Lines | Simple Finger Mehndi Design | Arabic Mehndi Design | Propose Day Quotes for Boyfriend | Wedding Anniversary Wishes for Sister | Tamil Wedding Calendar | Simple Mehndi Design | Pre Wedding Quotes | Engagement Anniversary Wishes | Funny Wedding Wishes for Bestfriend | Blouse Design | Rangoli Design | First Night Tips for Bride | Wedding Anniversary Wishes