8 Quirky Wedding Reception Invitations for Your Exciting Guest List
Are you looking for creative ideas on drafting some unique wedding reception invitations for your guests? This article can help you get inspired.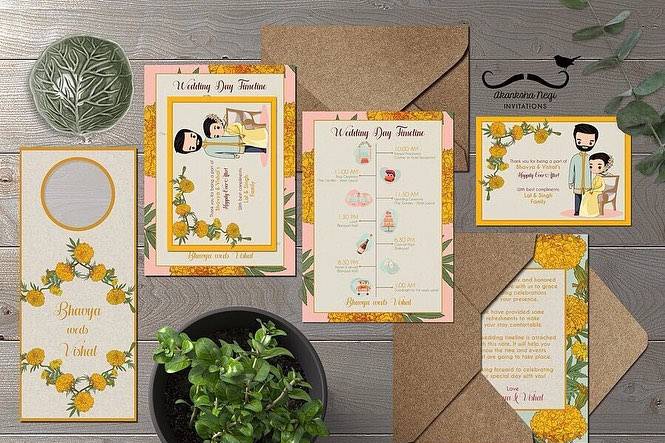 Your wedding reception is one day that marks the end of all the wedding formalities and provides you with an opportunity to freely celebrate the big milestone of your life. On the wedding reception, there are no rituals or formalities that you have to worry about and let loose of all your stress.
Coming to the wedding reception invitations, you can attach a small card with your main wedding card if you are hosting the reception close to the main wedding function or else hand out a special invite separately if you plan on hosting the reception after some time. These days, many people are choosing to go for out of the box ideas when it comes to drafting their wedding invites that add a personal touch for your guests.
The following are some creative wedding reception invitations designs that you can take inspiration from-
This Simple and Traditional Wedding Reception Invitation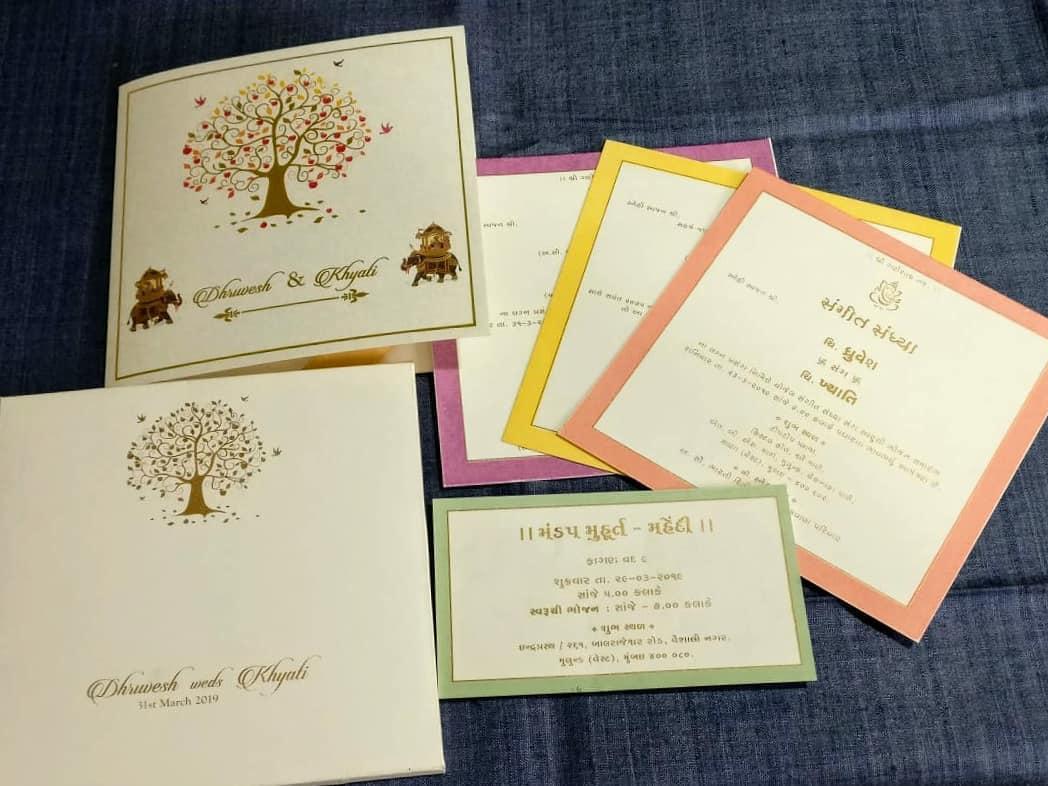 Image Courtesy: Gift A Box
We start this list of wedding reception invitations with this simple and traditional card design that is away from all the frills and has a more straight to the point approach. Similarly, you can go for such designs if you want to keep things simple and embrace your ethnic routes, such cards make for a good choice to send out to your guests.
The Beautiful Peacock Wedding Invitation Card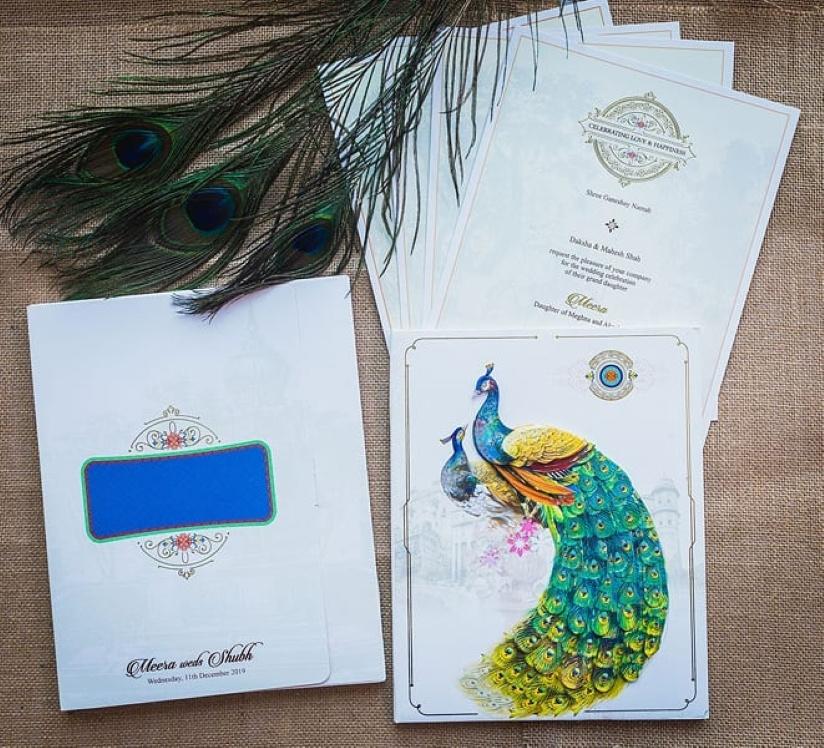 Peacock, the national bird of our country, has long been seen as a symbol of beauty, extravagance and flamboyance. For this reason, peacocks have long been used as a prop to make our surroundings look more beautiful and visually pleasing. You can incorporate such elements to make your wedding reception invitations look more quirky and help them stand out from the usual boring designs.
This Faded European Style Wedding Reception Invitation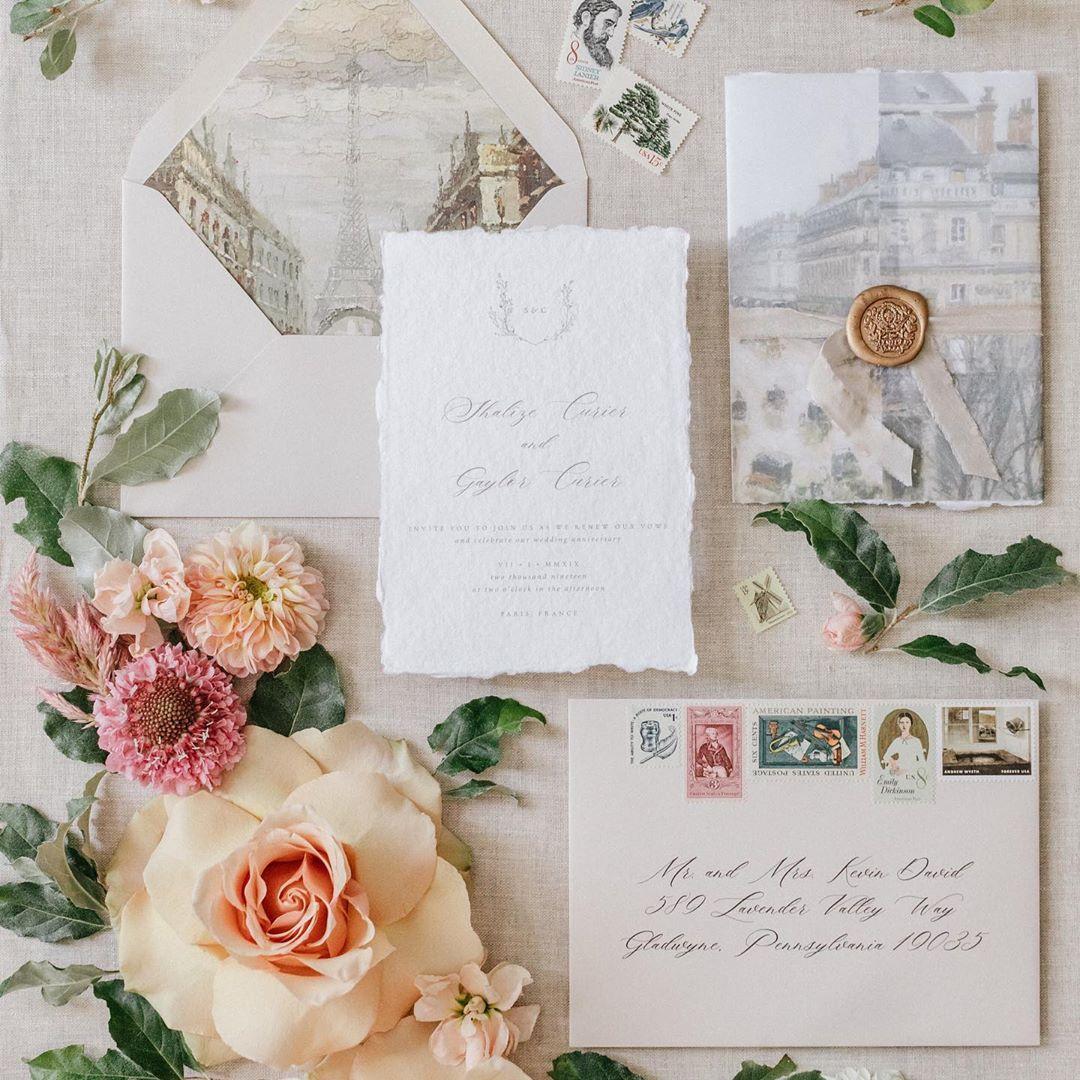 Image Courtesy: Paper Tree Studio
Here, we have a more modern and subtle example of wedding reception invitations that has a design inspired by contemporary European invites that look so subtle and understated. For your Reception invites, you can choose to incorporate the theme of your wedding or the venue where you are hosting your wedding as in the above picture.
This Creative Invite With Graphic Illustrations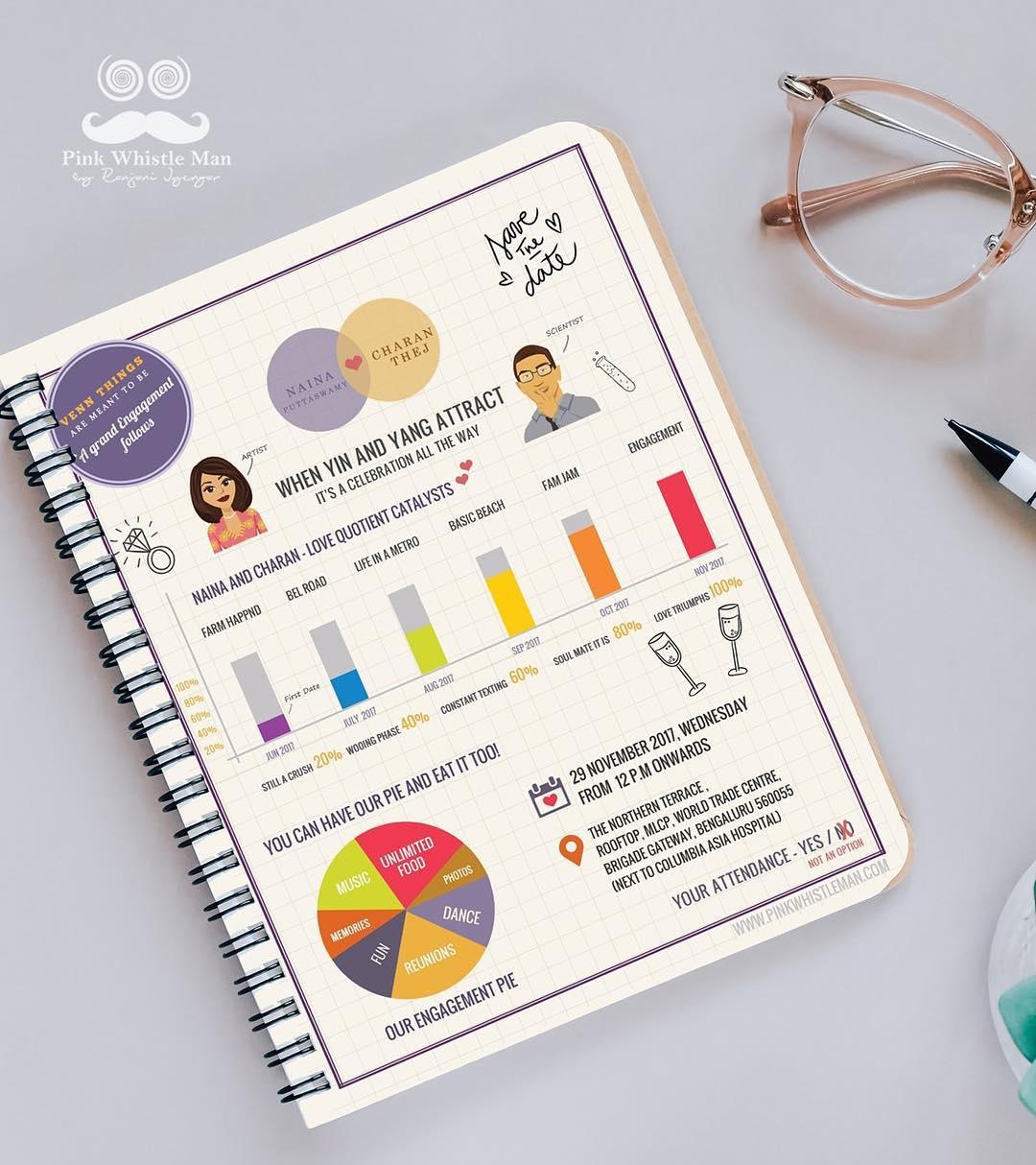 If you want to keep your wedding reception invitations out of the box and completely unique, you can take inspiration from this bright and colourful invite with these quirky graphic illustrations that tell the story of your relationship to the guests. Such insights help the guests get a more personal and fun experience with their invitation.
This Simple Invitation Card With a Graphic Timeline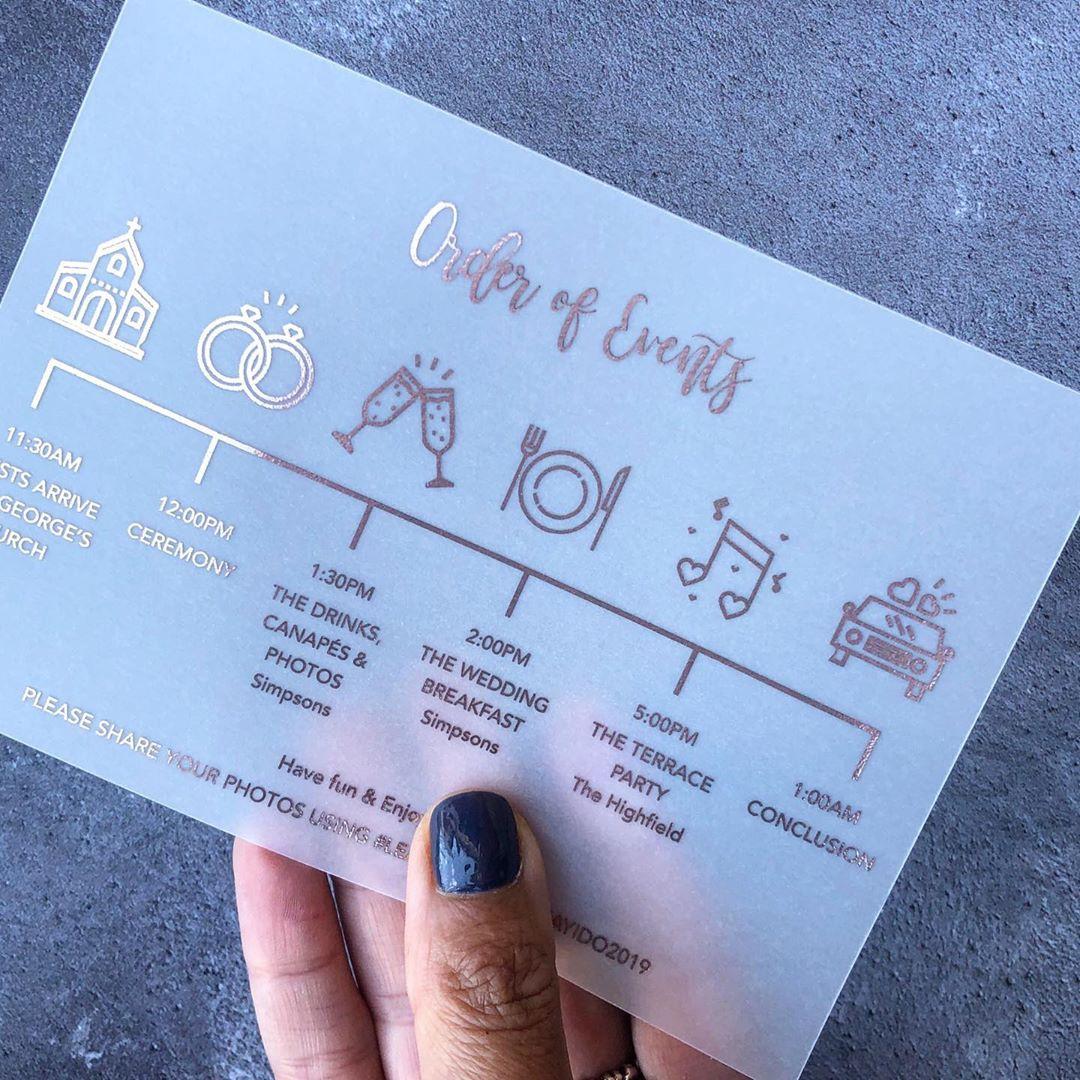 Image Courtesy: Polka Dot Paper
Next on this list of wedding reception invitations, we have this simple yet quirky invite with an illustration that gives the guests a timeline of the reception function. You can also use such creative touches to uplift the design of the invite and leave a more lasting impression on your guests.
This Elegant Royal Blue Wedding Reception Invite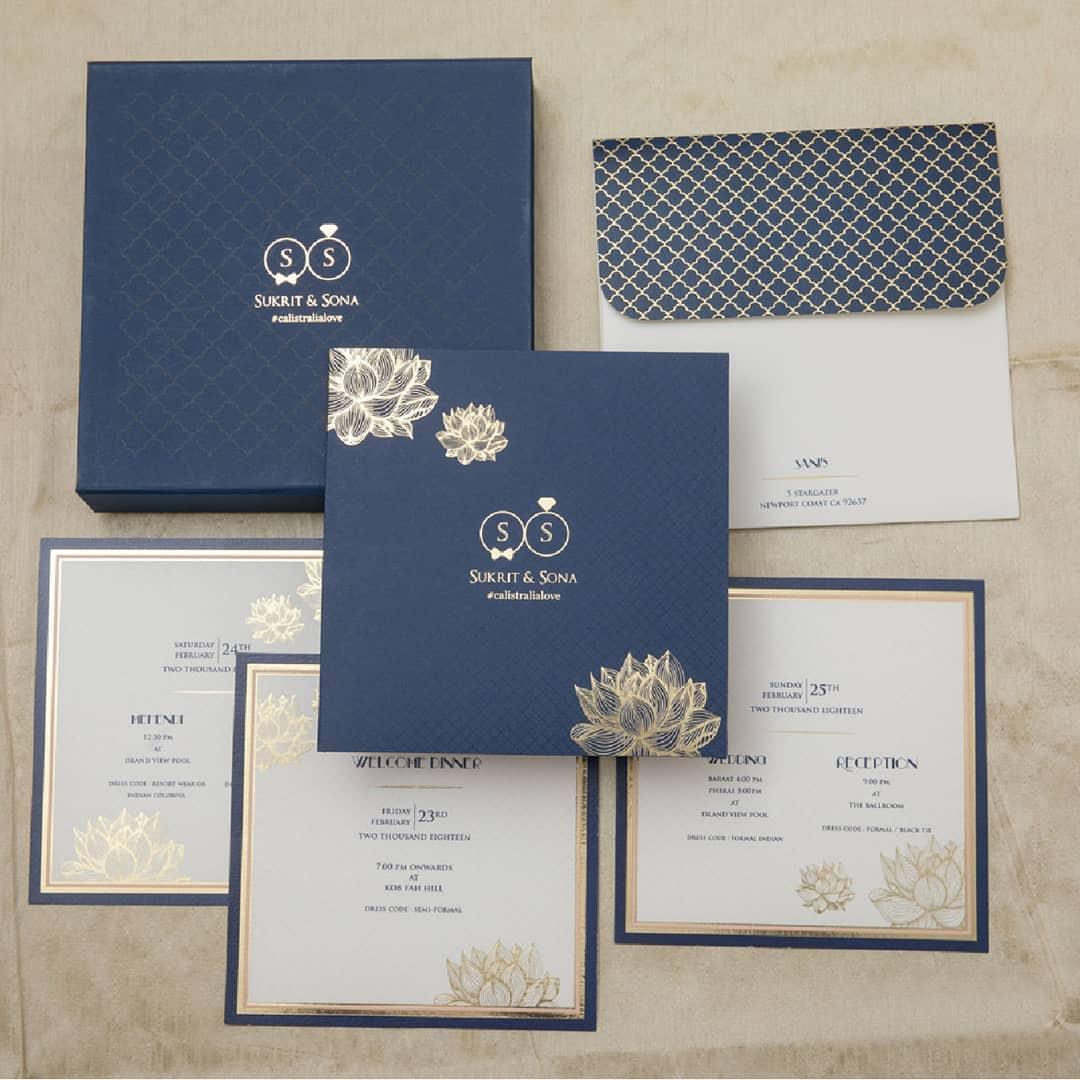 Image Courtesy: Shahi Cards
This royal blue wedding invite oozes luxury and elegance like nothing else, the design is simple and makes for a fine wedding invite for you to hand out to your guests. A splash of gold and the floral design takes the design to the next level and adds to the aesthetic appeal of such wedding reception invitations.
This Cute Wedding Reception With Caricatures of the Bride and Groom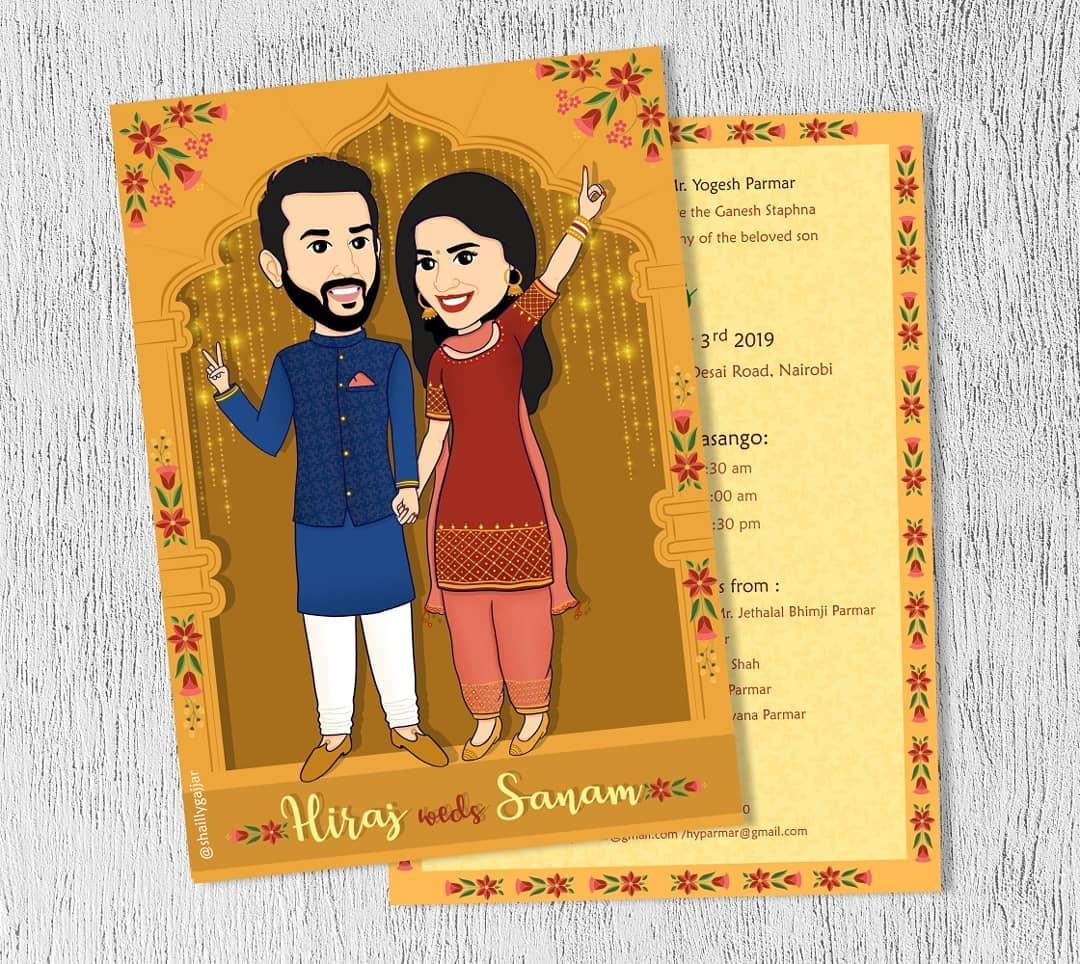 For your wedding reception invitations, you can go for this creative invitation design that will always be remembered by all your guests for a long, long time and will leave them in awe of its cuteness. You can also get cute caricatures of you and your spouse-to-be on the invite that will add an artistic dimension to the invite that and will help capture the adorable innocence of your relationship in a unique way.
This Deep Red Floral Wedding Reception Invite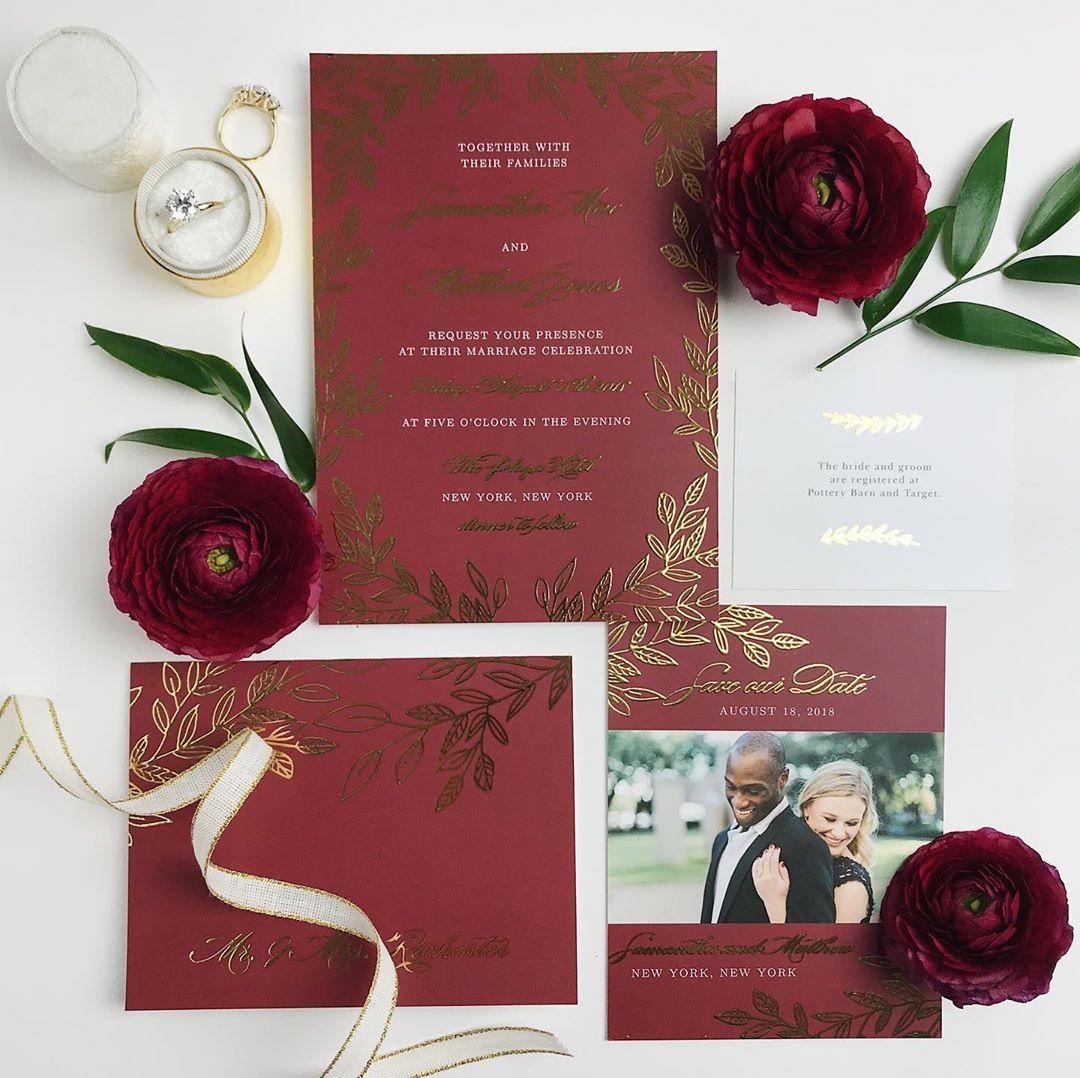 Image Courtesy: Vancity Weddings
To conclude this list of wedding reception invitations, we have this elegant deep red invitation card that sets the tone for a royal wedding reception to your guests. The design is elegant and oozes sophistication like nothing else.
Also, you can never go wrong with floral design elements when it comes to weddings, as they are appreciated for their beauty by all kinds of people.
Your wedding reception invitations are very important as they are your first point of interaction with the guests and help you set the right tone for the wedding festivities. We hope that this list of wedding reception invitation designs help you come up with new and exciting ideas that capture the essence of your wedding celebrations.
Get in touch with these wedding invitation card makers for great designs!