10 Floral Invitation Card Design Ideas For Your Big Day
Wedding invitations are very important as they set the tone for the wedding. We have created a list of 10 floral invitation card designs to help you create the best one for your wedding.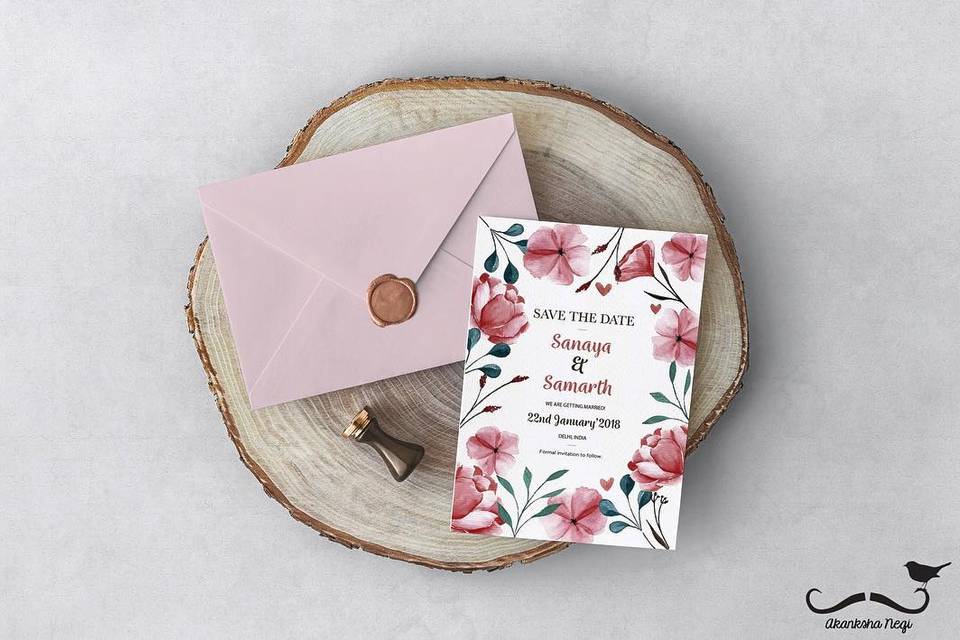 Wedding invitations are the first point of interaction between you and the guests for the wedding. The wedding invitation card gives the guests an idea of what to expect from the wedding.
It is only natural that the wedding invitation card design becomes very important in order to set the right foundation for the events of your wedding day. You can go for various themes with your wedding invitation card design as long as it suits the theme of your big fat Indian wedding.
Floral designs, in particular, are very popular when it comes to wedding invitations as they add a level of beauty to the design that imparts an artistic message to the viewer.
The following is a list of 10 floral invitation card design that you can take inspiration from to create the best invitation design for your wedding.
1. Geometric Shape Design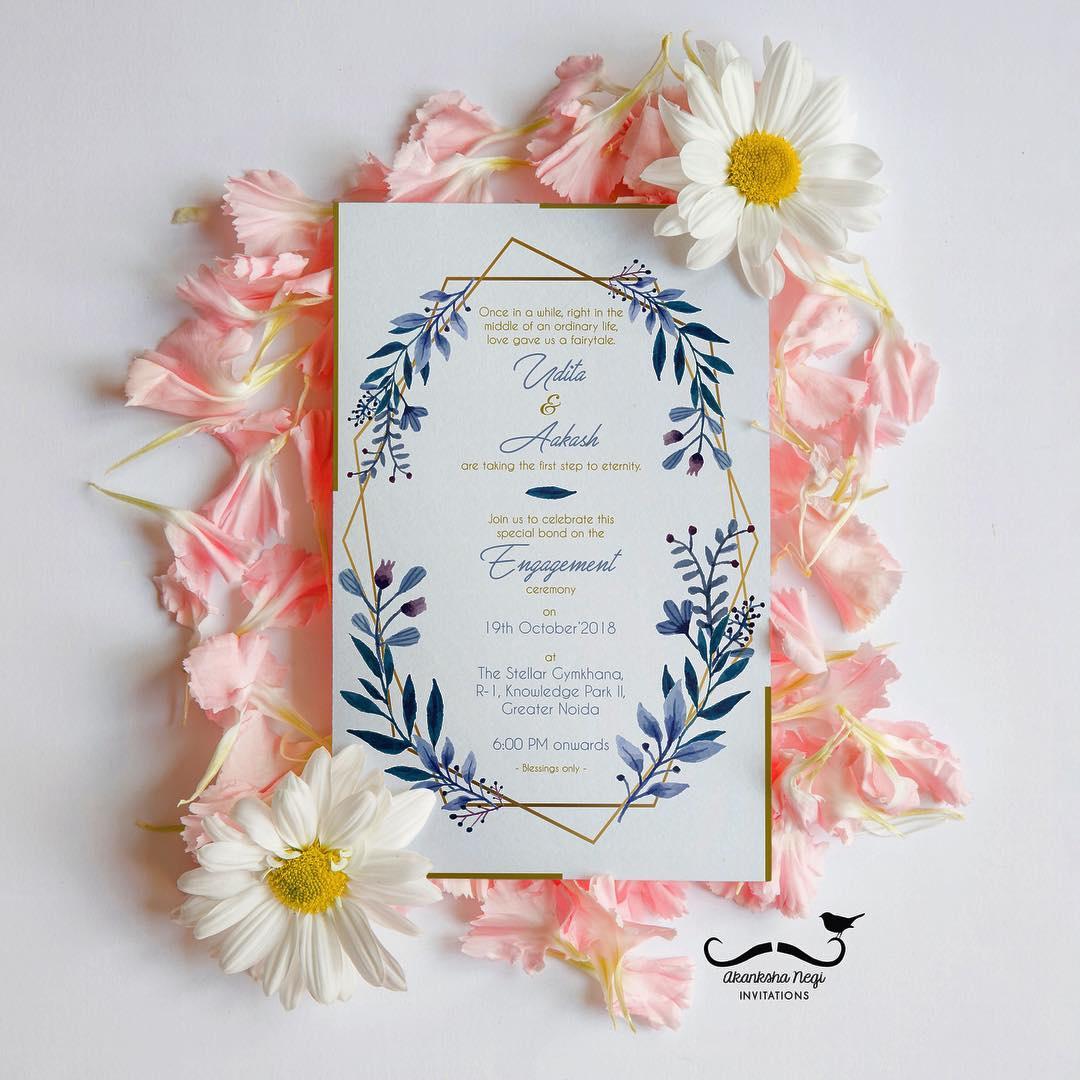 This invitation card design incorporates a floral design on top of a geometric pattern. The colour combination of a pastel blue and dark blue along with some elements of gold make the design look elegant and chic. You can incorporate such design elements if you want to go with a similar approach.
2. Dark Blue floral design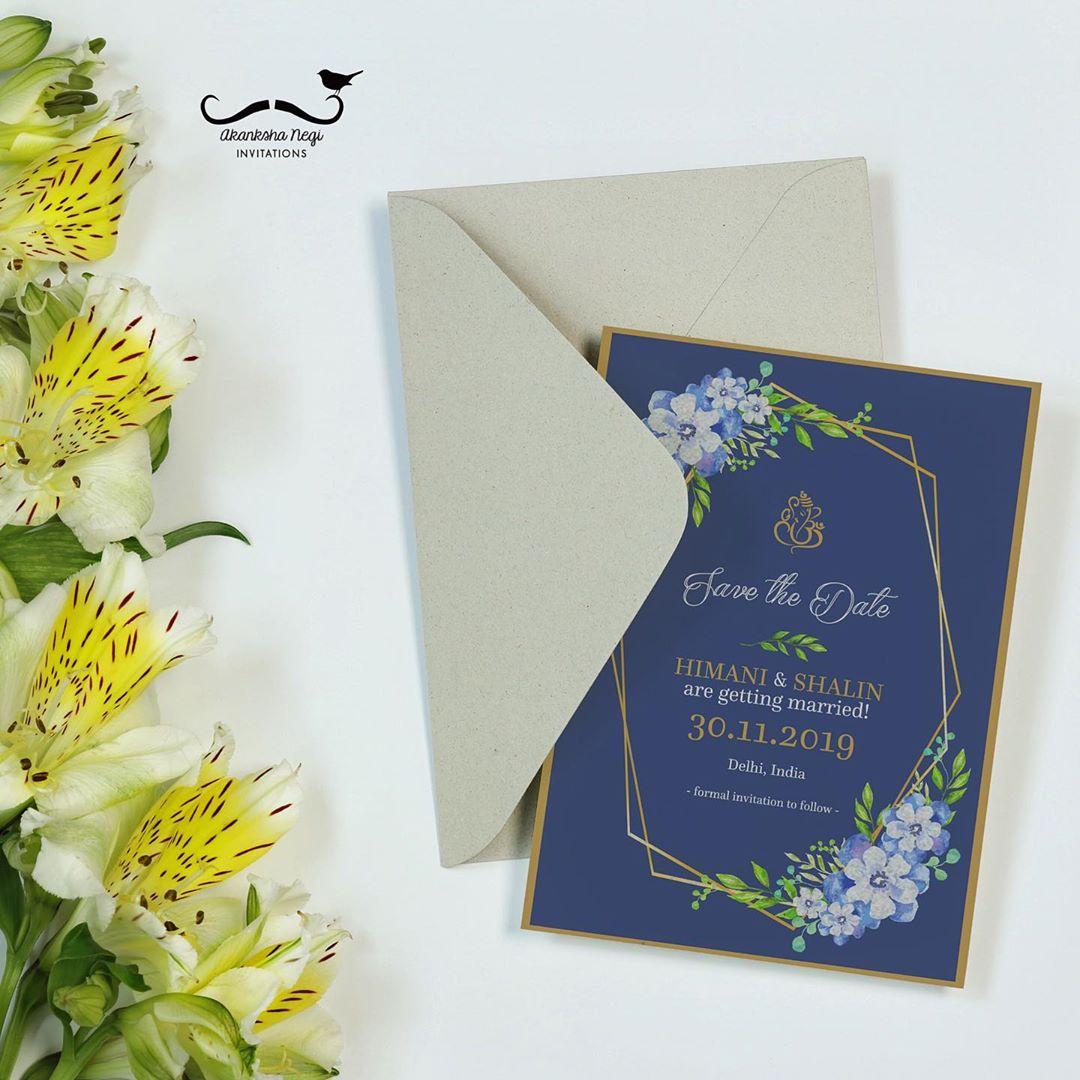 Here we have a dark blue card design with a bunch of oleander flowers in the corners. The blue colour gives a sense of calmness, royalty and subtle elegance that works well with a floral design pattern. Consider it especially if you are going for a blue theme for your wedding.
3. Tropical wedding invitation design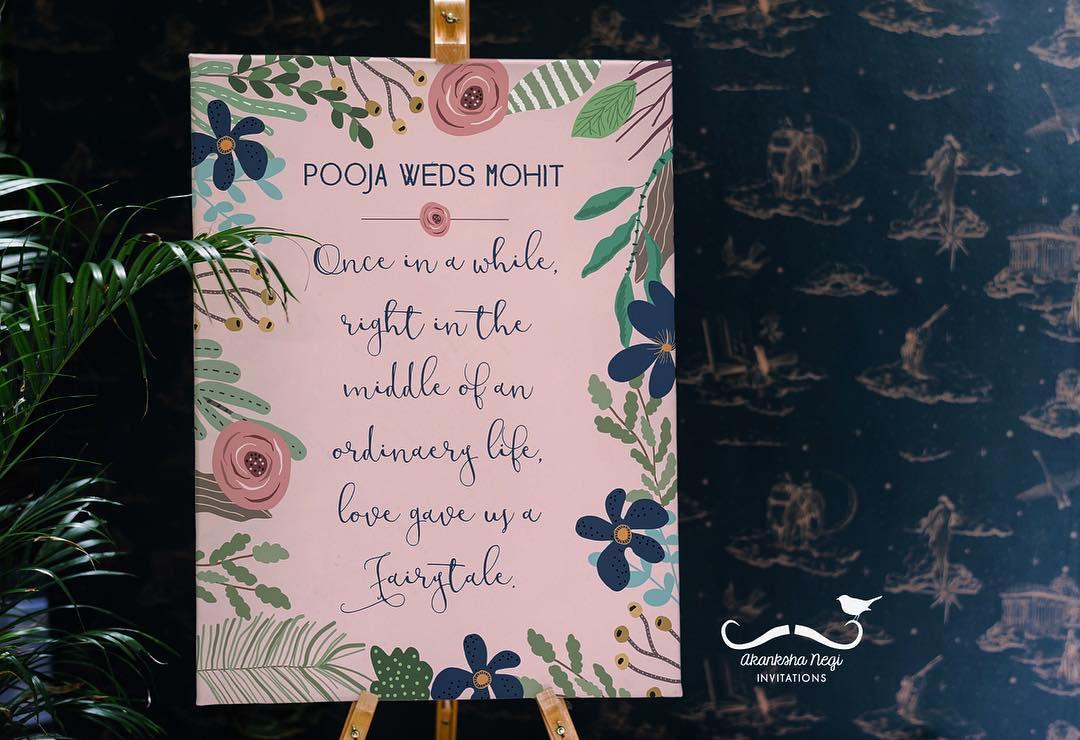 This invitation card design provides a breath of fresh air from the usual restrained and conservative wedding invitation designs that we are used to. The floral pattern is more modern and gives a tropical vibe to the invitation. The font and the colours used to combine together to create a funky and modern wedding invitation.
4. Painting style floral wedding invitation design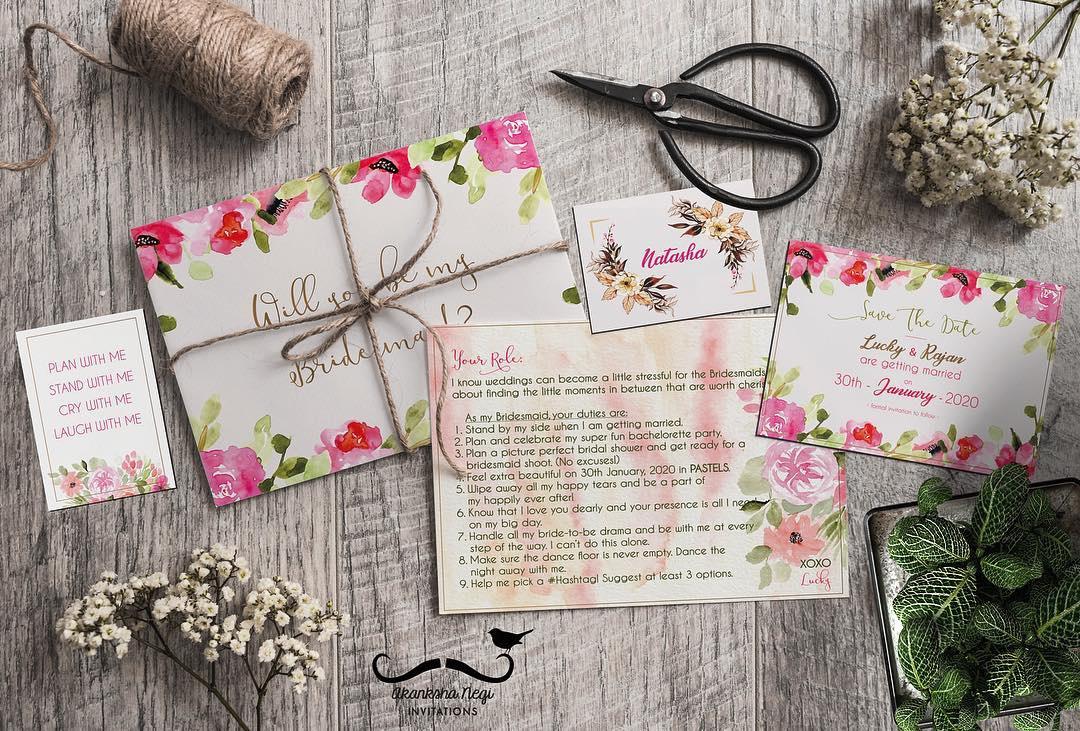 This is another wedding invitation card design that takes a more creative and a more personalised approach. These bespoke wedding cards design how your guests how important their presence is for the wedding and how much it means to you. This card design is extravagant with a painting style floral design to add to its beauty.
5. Red rose floral design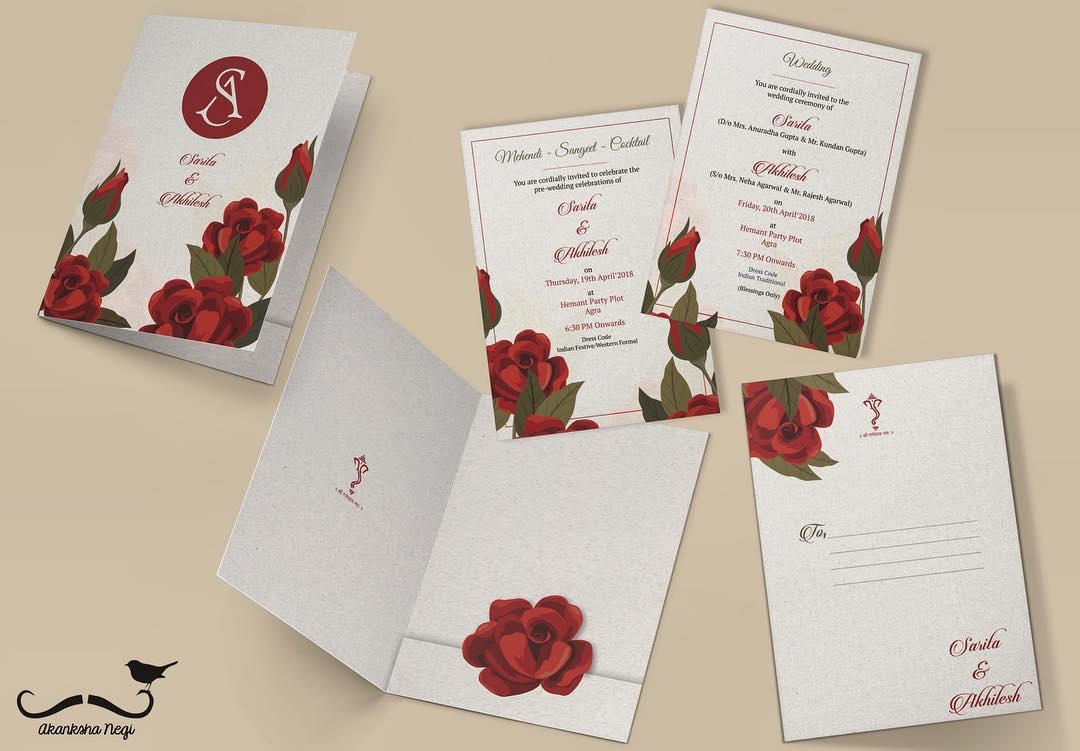 Red roses are a symbol of love, romance and adoration. They are a classic go-to when it comes to expressing your romance. This invitation card design is perfect to mark the ultimate celebration of your relationship with your partner and mark the beginning of a life full of adventures ahead.
6. Folk Inspired creative wedding invitation design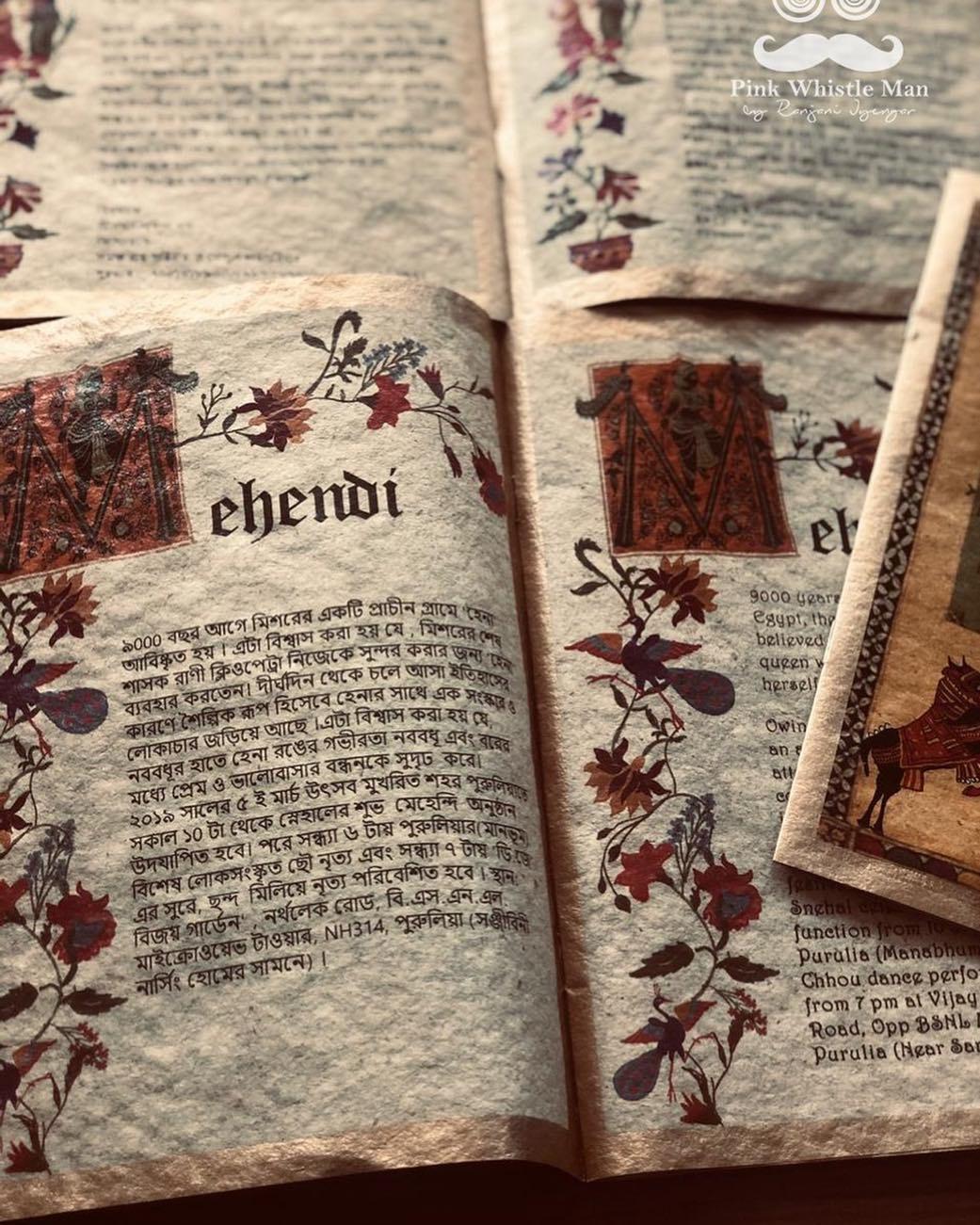 Next, on our list of invitation card designs, we have another unique and interesting design idea that takes inspiration from history books and our folklore. The floral design elements add to the charm of the design.
If you are having your wedding in a grand and historic palace or you are keen on incorporating elements from history and folklore to your wedding, such a design will be ideal for your unique wedding invitation.
7. Pastel floral invitation card design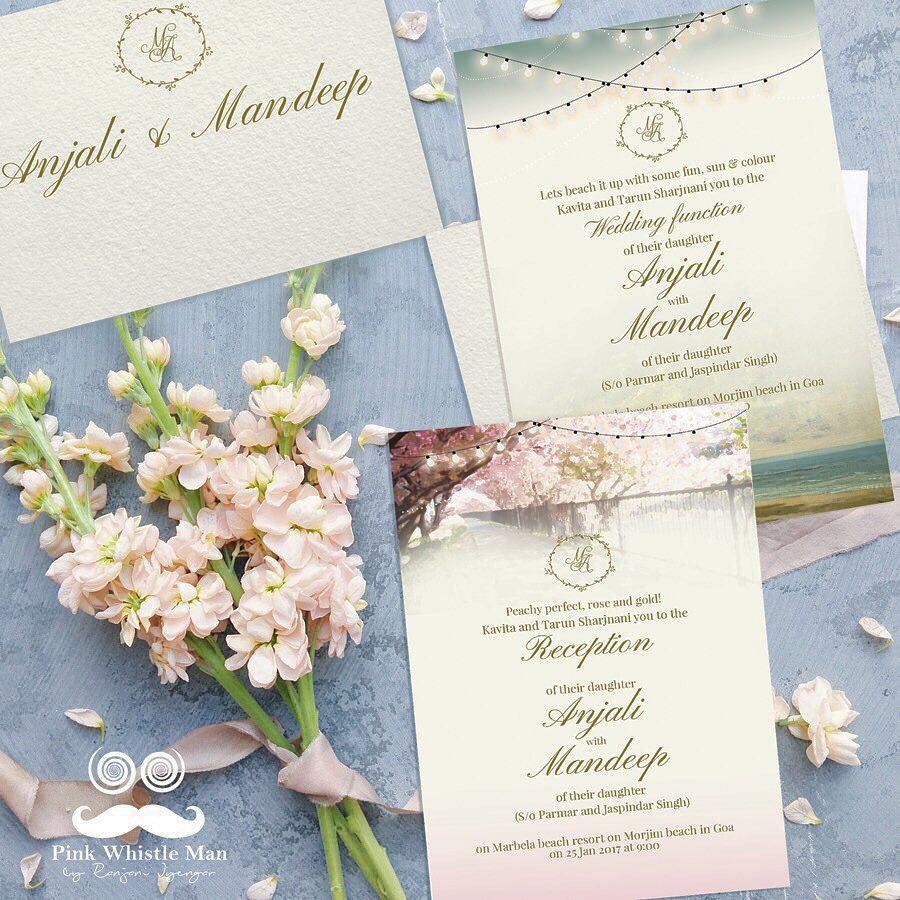 Pastel colours are very popular when it comes to wedding card designs as pastel shades give a minimalistic elegance to the invitation design and are a safe bet for a classy wedding invitation card design. This design uses faded pastel shades and a beautiful floral design in the background adding to its charm.
8. Temple door floral design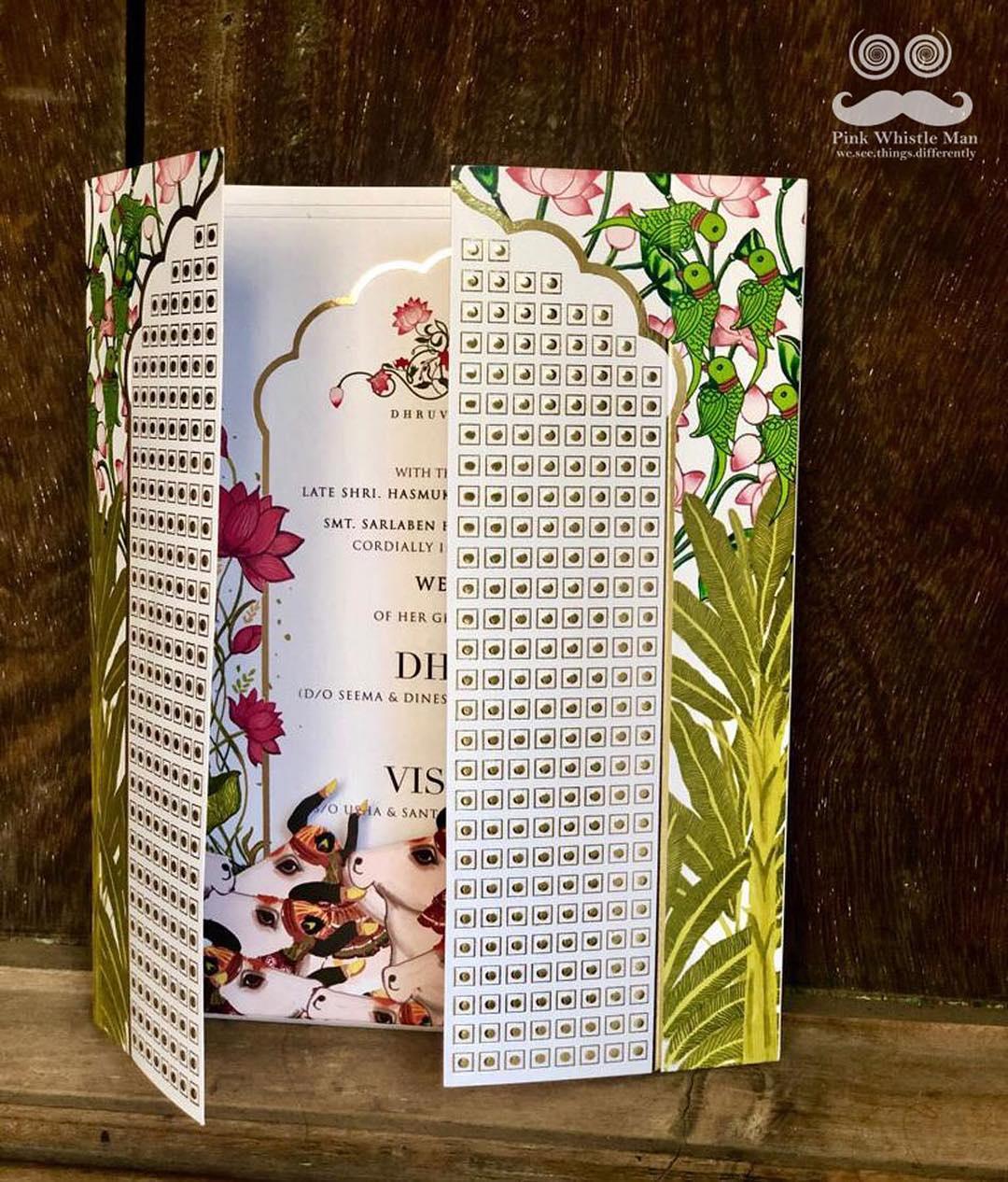 This invitation card design is an innovative and fresh approach to a wedding invitation. The outer cover appears like a temple door that leads you into the details of the wedding. The design also incorporates floral element and finer details like the parrots sitting on the tree that add to its charm.
9. The venue inspired floral design invitation card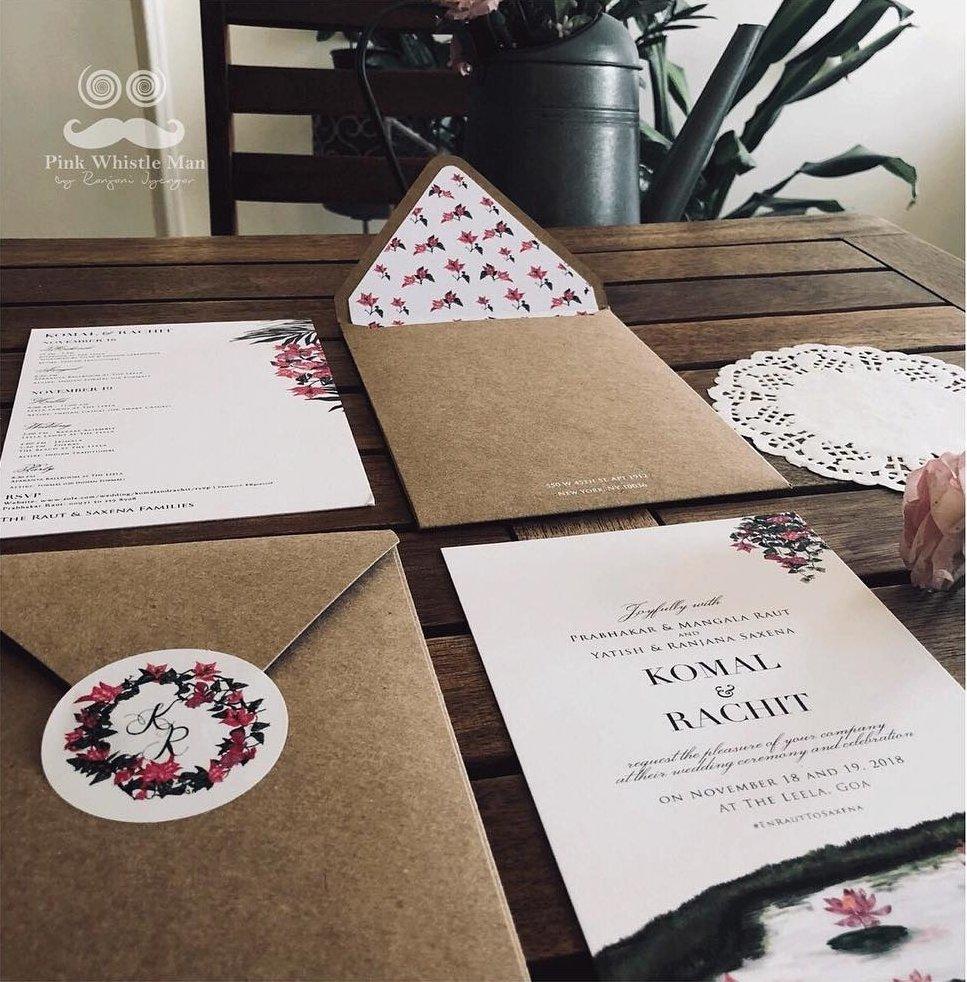 Another creative approach to take for a wedding invitation card design is to include elements of the venue of the wedding. For example, taking inspiration from tropical design elements for a beach wedding in the Maldives or Italian design elements for a country-side wedding in Florence. Here, we see design elements that are inspired by Goa with beautiful floral design elements.
10. Vibrant and colourful floral design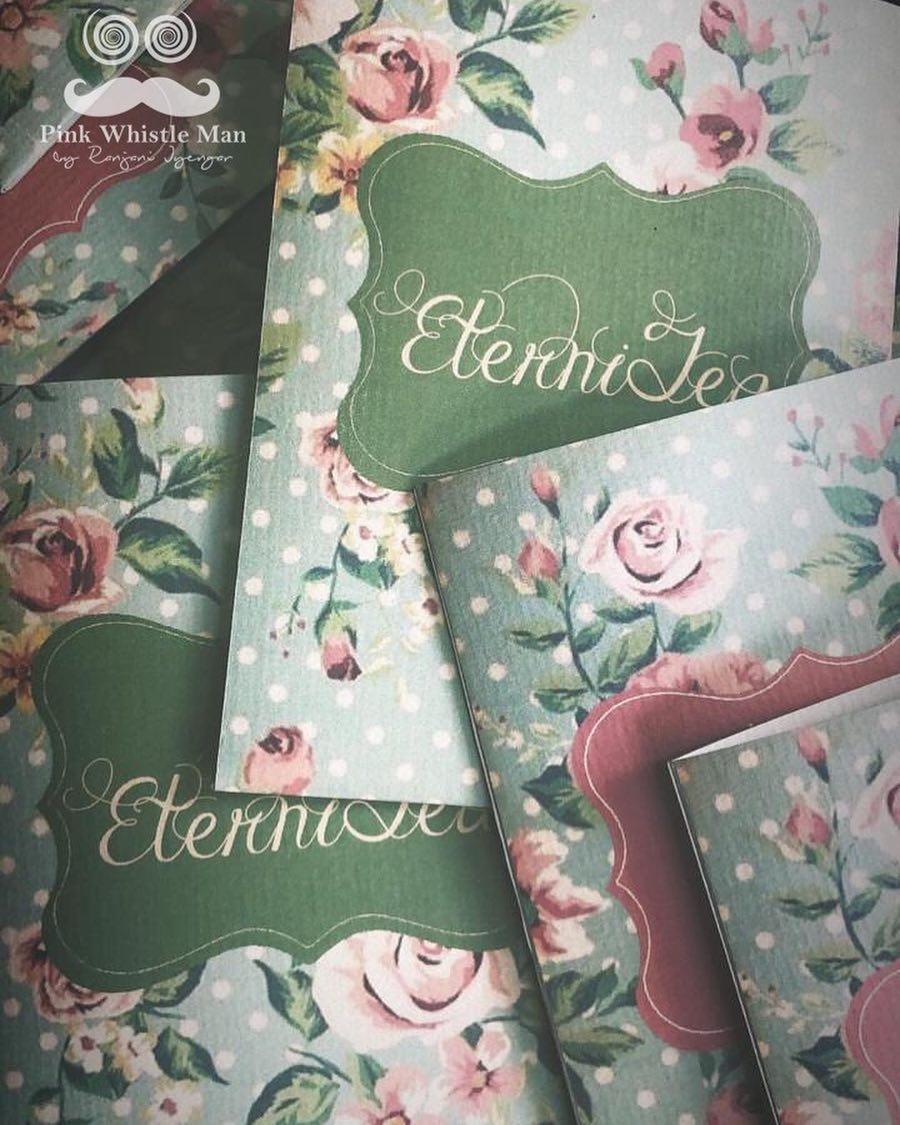 If you and your partner have a vibrant and youthful personality and you want a wedding in a similarly bright way, you might consider such a design for your wedding invitation. Bright shades are a breath of fresh air from the usual reds and goldens that we associate with wedding invitations and these are highly recommended by us.
Wedding invitation card designs should be crafted keeping in mind your personalities, the theme of the wedding and what message you want to send out to the guests. We hope that this list gives you plenty of ideas that help you draft the ideal wedding invites for your wedding!
Get in touch with our many wedding card vendors to have the perfect one created!