Calm, Cool and Collected? If These Words Describe You, You Need a Blue Theme in Your Wedding!
If you want your wedding to look poles apart from traditional ones, then why not look at the opposite end of the colour wheel? Here are 6 easy ways to design a blue theme for your functions!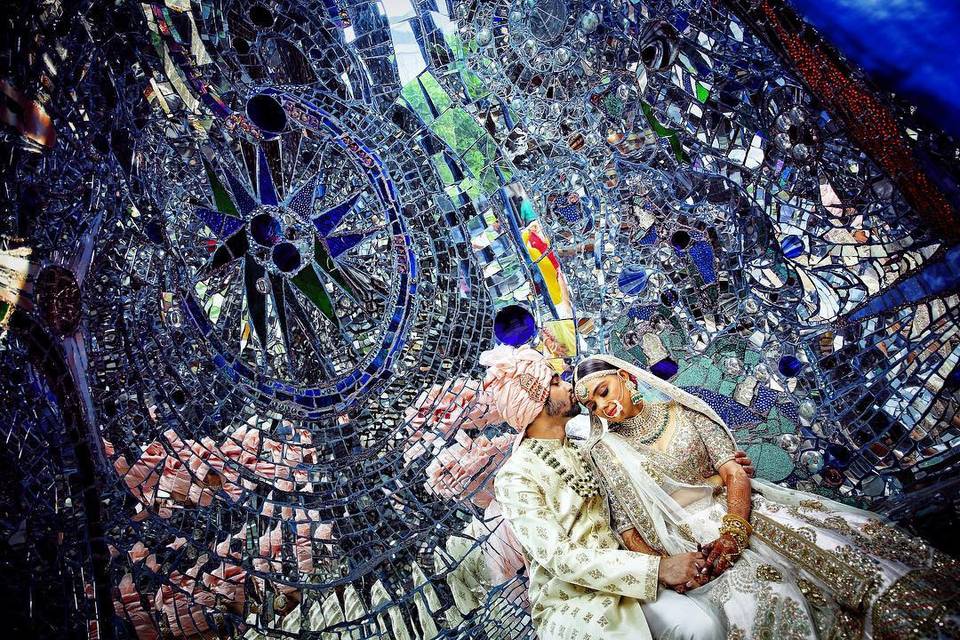 When it comes to colour psychology, blue is often associated with tranquillity. Though most Indian marriage themes tend to favour red colour combinations, we feel blue themes are a great way to stand out, especially for brides who love a cool and calm vibe. With blue colour combinations though, there is a fine line between the hue looking elegant and looking a bit much. This is why you must analyse each shade and how it works with the other colours you're planning to use to break the monotony.
Here are 6 different pointers you must keep in mind when planning décor that sticks to a blue theme!
1. Include at least one accent shade and one contrasting one!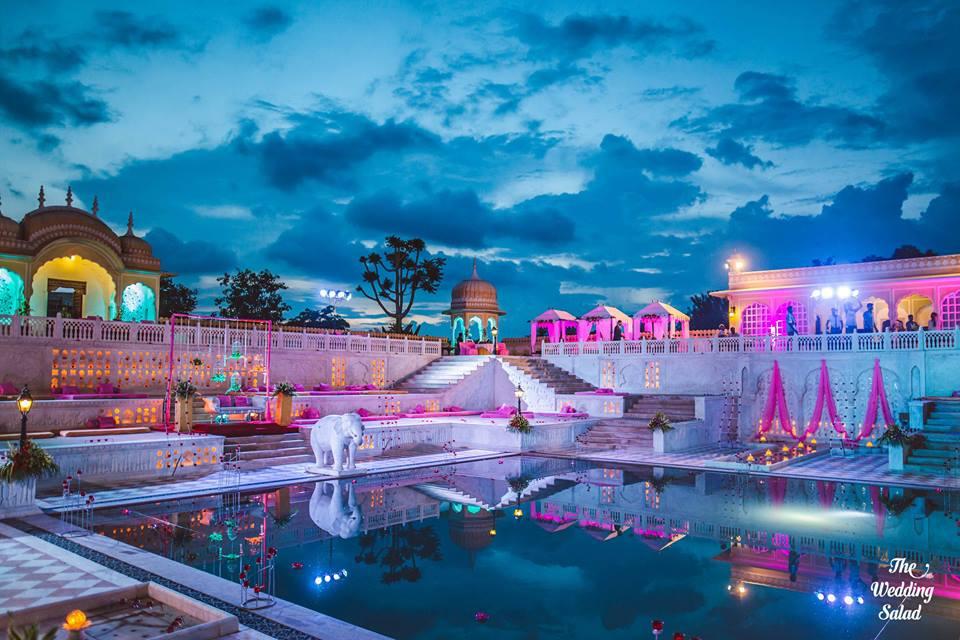 Accent shades compliment the main theme you've chosen while contrasting shades create a visual juxtaposition. For instance, in a blue theme, if your primary shade is a matte deep blue, the accent shade would be a pastel one while the contrasting shade would be pink. Your contrasting shade can also be a metallic one if you don't want to add a specific colour. In general, blue tends to match well with cool-toned silver shades.
2. Redefine blue with unique shades!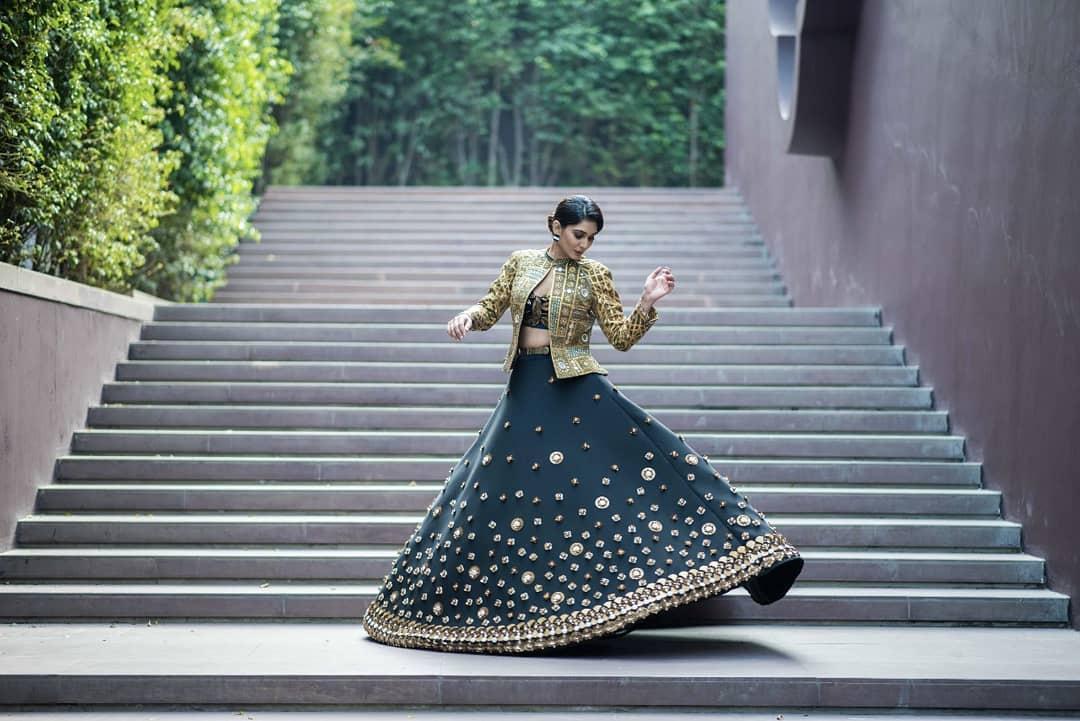 Often, when we think of blue themes, we think along the lines of royal blue and pastel shades. However, there are infinite shades of blue for you to choose from, and each shade brings with it its own vibe. A slate grey-blue mix is a great colour to pick because it's a bold shade that's unforgettable. Furthermore, due to the shades of grey in this colour, you can choose warm-toned décor and accessories without them clashing with the blue. This is ideal for Indian weddings as most brides have olive skin with warm undertones. Gold jewellery, a staple of bridal attire, won't clash!
3. Incorporate blue themes with your lighting!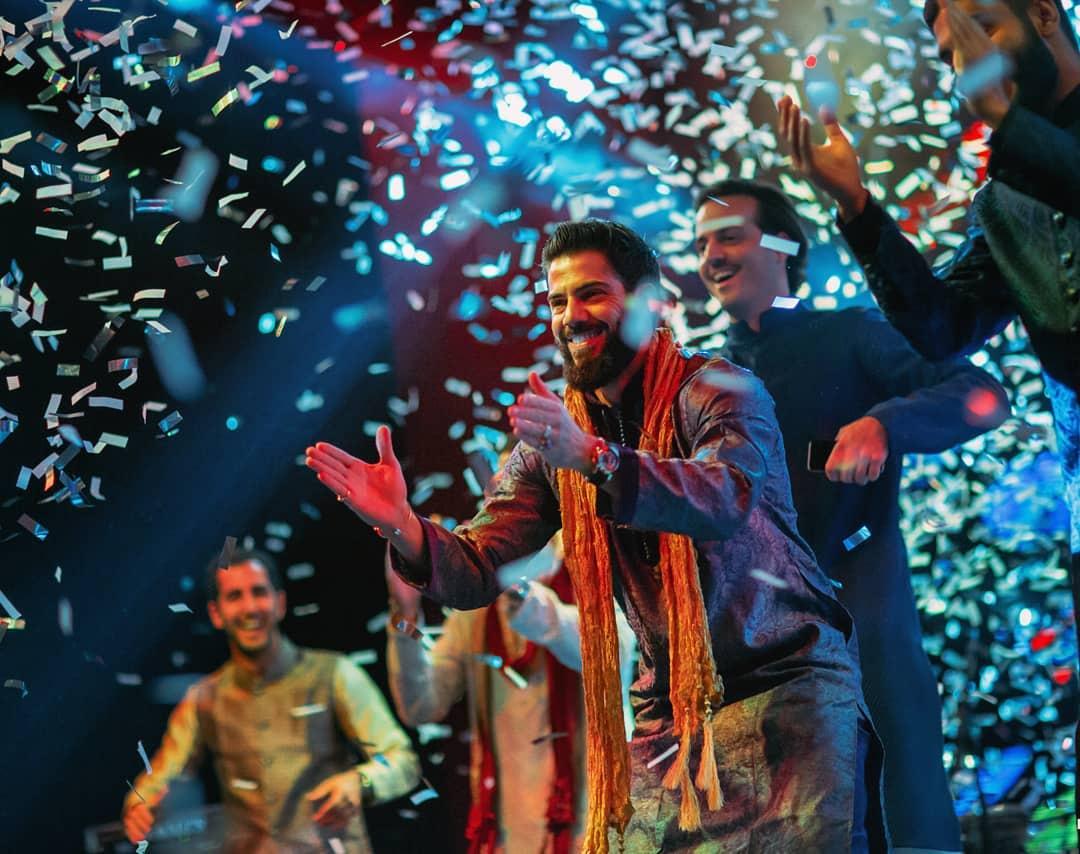 During the Sangeet, the dance floor acts as a major centrepiece of the décor. Thus, a huge part of the Sangeet décor relies on the lighting that you choose. Blue lights combined with flashing blinkers and a smoke machine can create a really cool aesthetic for your dance floor. You can alternate it with white lights to add pops of brightness mid dancing so that the blue theme does not get too repetitive.
4. Ask your bridesmaids to wear the same shade of blue!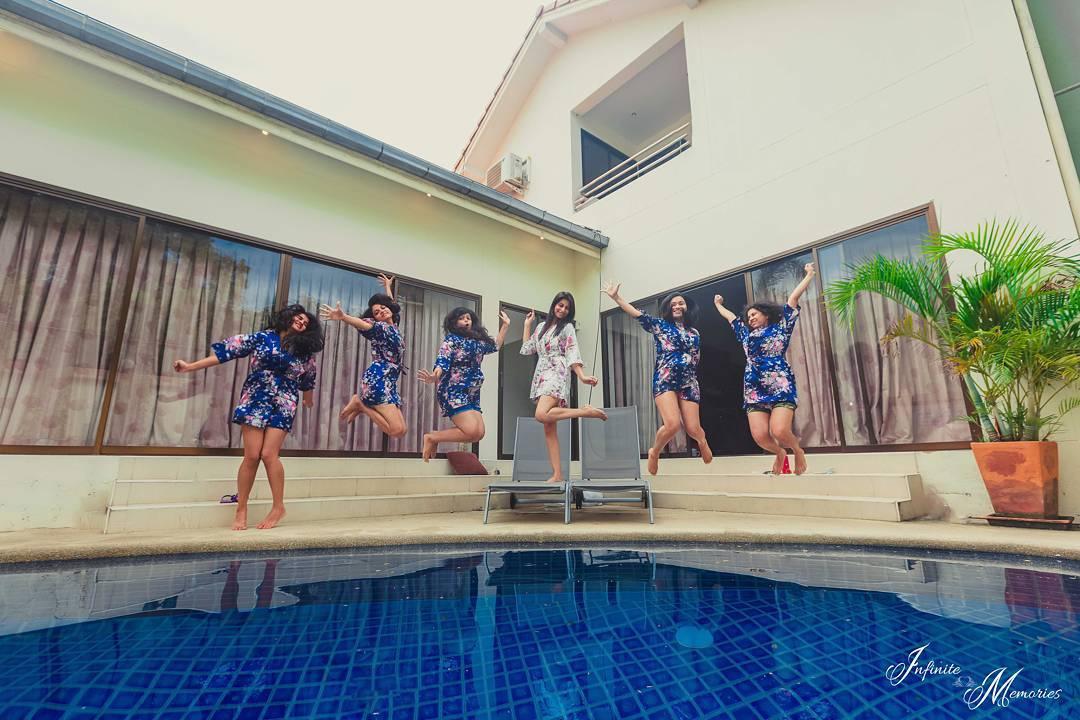 Bridesmaids have become a popular feature in Indian weddings, though they owe their origins to the west. One way that brides orchestrate a uniform look is by asking everyone to wear the same style of the outfit in a few different colour variations. Another way is to ensure that all the bridesmaids wear one garment that adheres to a specific colour tone. When trying to create a blue theme, ask your bridesmaids to wear a shade of blue that you've picked out for cohesion. Each friend can express their own personality by choosing different garments and this offers a great level of flexibility to them all.
5. Make your bridal lehenga pop by using this unique colour!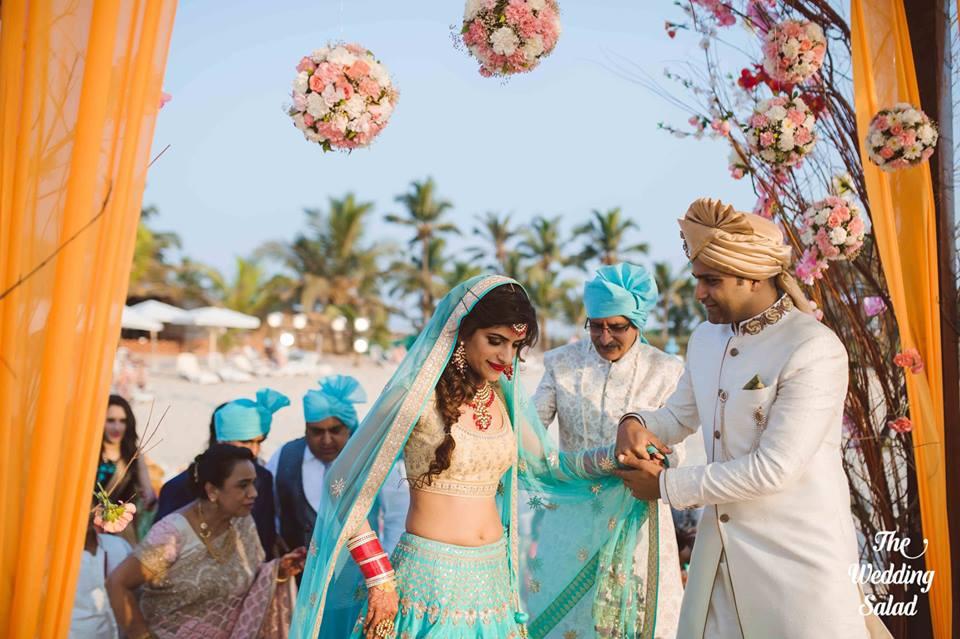 Bridal lehengas generally stay within the realm of reds and pinks. However, if you look at the current trending lehengas, you'll see that unusual shades and colour blocking styles are all the rage. Pick out elegant blue lehenga designs for your wedding day and watch how you dazzle your guests with your fashion sense! If you want an extra layer of synergy when it comes to the blue theme, ask your family to match their turbans (or pocket squares) with the shade of your outfit.
6. Accessorise within the same tonal families!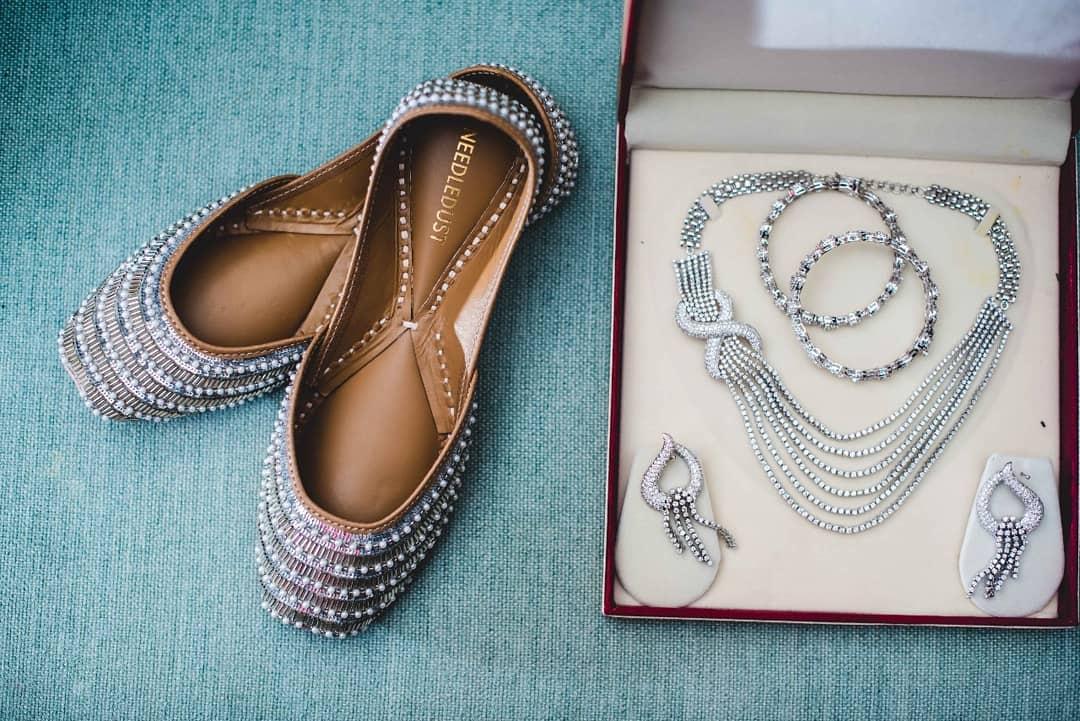 When it comes to blue themes, often, cool toned accessories are the most apt. This is because blue itself is a cool toned colour that will highlight hues of silver when you wear it. If this is the look you're planning to go for, check out the silver markets at Dariba Kalan for great bridal jewellery.
Don't fret if you don't like silver tones though! Like we said earlier, certain warmer shades of blue like grey-blue can give you the flexibility you need to pair it with warm toned accessories. A garment in that colour can look particularly stunning when paired with heavy South Indian jewellery.
Remember, when you mix tones (not to be confused with mixing metals and gold and silver that are cool toned can be paired together), the colours will always appear to be in disharmony. Tones can also help you understand your accent colours better. For instance, if you use a red-toned blue, your décor can include shades of deep reds and purples.
From your engagement to your wedding ceremony, you can add pops of blue to almost anything you like. Bring your own unique take on wedding décor and let the venue be an artistic expression of who you are! Finally, don't forget to use this colour in your wedding cards too!
Want your blue theme to look absolutely flawless? Get in touch with our wedding planners today for fabulous décor ideas!