16 Breathtaking Blue Lehenga Designs That Have Us Floored
This wedding season turn heads with an exciting list of perfect blue lehengas for you. We help you delve into the designs, styles, shades and more. Take a look.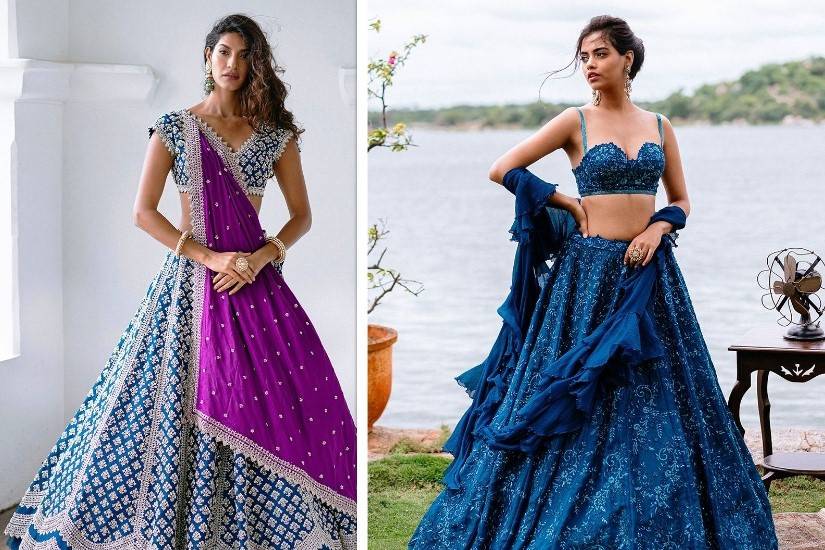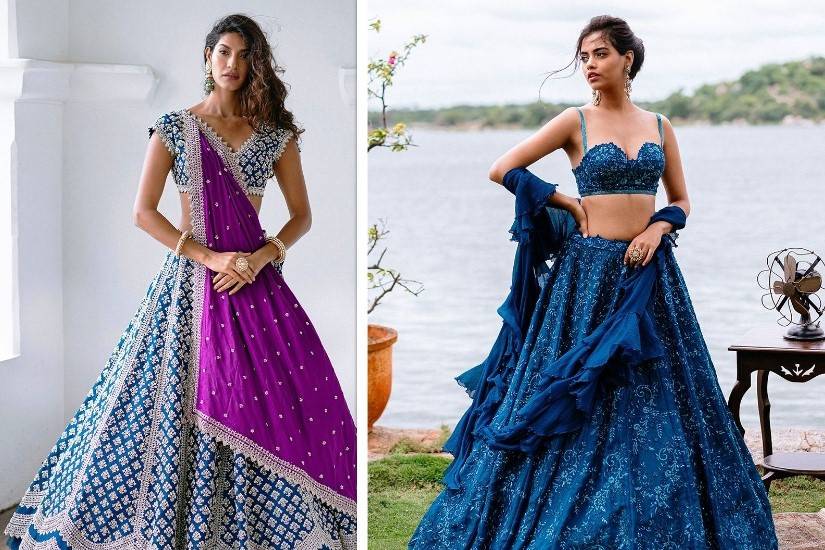 Picture Courtesy- Anushree Reddy
Wedding shopping is as hectic as fun it can be and it is one of the most awaited parts of the entire wedding planning. You want to look your best and you will probably do everything in your discretion to lay your hands on the best designs that are trending or that you wanted ever since you have imagined yourself as a bride.
Looking for an offbeat lehenga colour to show off at your wedding functions? For brides with a cool undertone to your skin, we have good news. Look no further because blue is your colour. Anything that you wear in the shades of blue will make your natural skin colour appear even more beautiful, we guarantee. Wedding is the season of colours be it of your dresses or the variety of emotions coming together.
If you wish to adorn an off-beat lehenga for your wedding festivities and do not like to go with the traditional red, then we just have the list for you. So, shall we dive into some of the latest designs for blue lehengas?
Explore the vast expanse of different shades of blue lehenga to pick your own.
Dive In Dark Blue Lehenga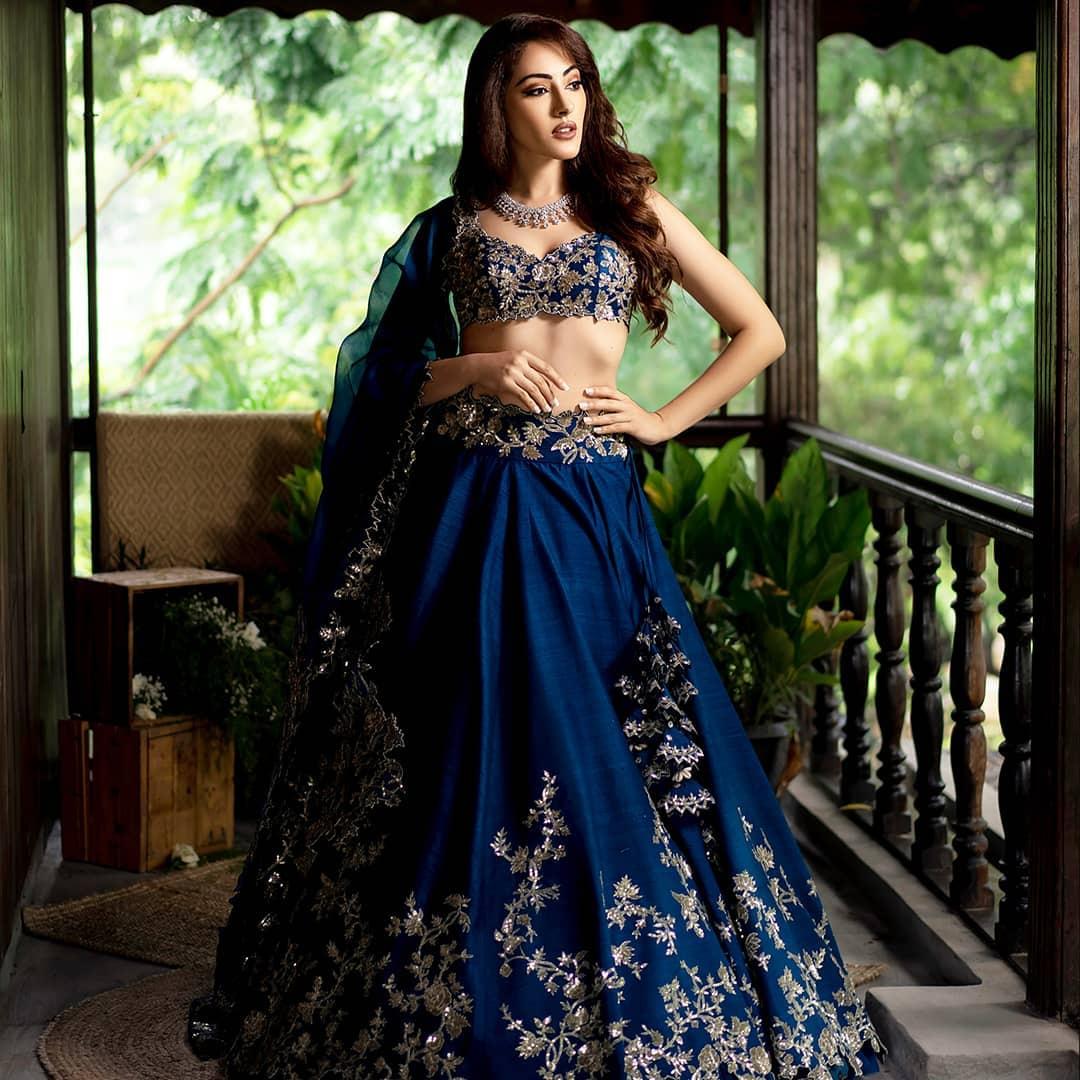 It is super important to opt for a perfect hued lehenga for D-day but when it's blue, the mind blows away with the beauty. Lift your crown queen, this charming navy blue lehenga for bride is perfect to ace the D-day look with eminence. Anushree Reddy knows how to top the embroidery game and this blue lehenga is an absolute example. The combination of gold and blue goes hand in hand and this lovely outfit depicts the charm of organza and beadwork. The lehenga capped with a hand-embroidered chic blouse looks fab too. Looking for a blue lehenga for the engagement ceremony? Your fetch ends here!
Styling it just right: Diamond choker necklace, diamond bracelets and maybe a diamond Maang Tikka
Pro Tip: Add roses to your hair to balance out the blue
Suitable for: Mehndi, Sangeet, Intimate Wedding, Reception
Swirl And Twirl In Blue Lehenga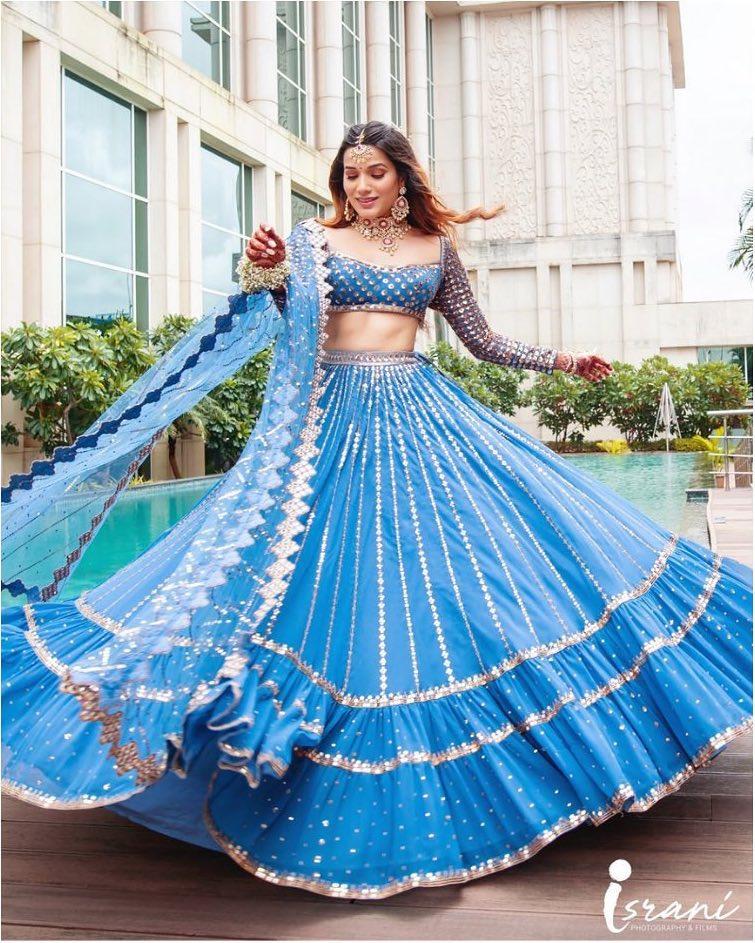 Wish to make your twirlable moment a memorable one? This blue lehenga is here for your rescue. Elevate the ambience of function in this pretty blue #Sitara lehenga. Blue lehengas hold a different charm and we are glued to this appealing blue lehenga. From fine embroidery work to exquisite wide neck blouses, this outfit is a bomber! If you want to pick the ball of pop colours on your cocktail or mehndi ceremony, then this blue lehenga choli is an apt choice. Vvani by Vani Vats indeed can never go wrong, with her magnificent outfits.
Styling it just right: A half-updo hairstyle with loose beach waves and a gold Maang Tikka
Pro Tip: Wear jewellery of contrasting shades to add to the beauty
Suitable for: Day weddings, sangeet, Mehndi
The Metallic Magic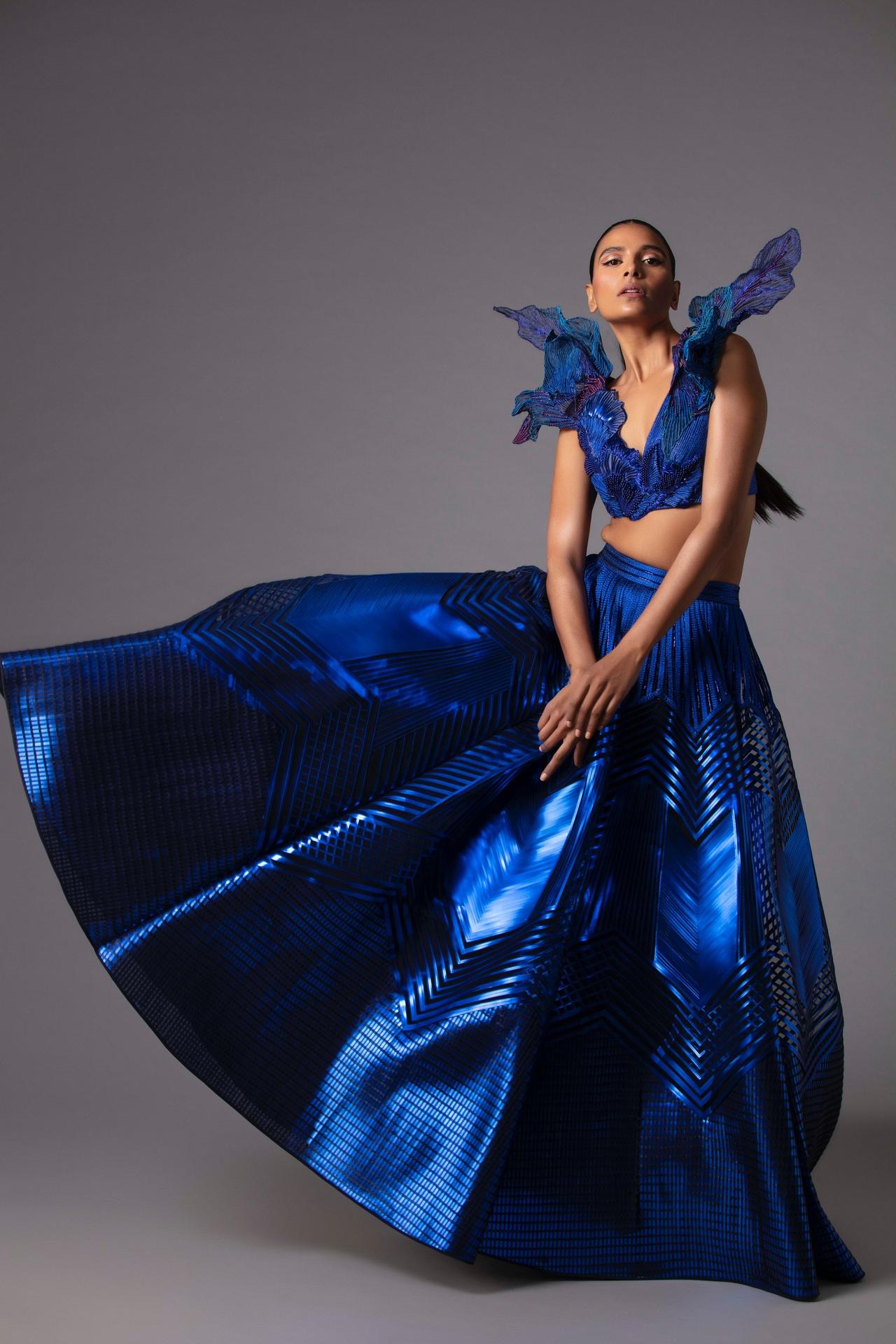 Image Courtesy: Amit Aggarwal
Looking for something #Hatke for your nuptial functions? Then this metallic blue lehenga is an ideal pick for you. This bold blue lehenga from the collection of Amit Agarwal is topping the stage of nerve and splendour. If you wish to add a pinch of regal and royal in the outfits then this metallic hues is going to be your saviour! The 3D hand-embroidered blouse in pearl and yarns is perfectly paired with structured hand weaved lehenga in metallic polymer and drape. Rock your happy days while you look the best in ravishing outfits. After all, happy brides are the prettiest brides!
Styling it just right: Use statement jewellery to add to the edgy design and a diamond jewellery set will be perfect
Pro Tip: Pull your hair back in a sleek ponytail and wear thick kohl in your eyes
Suitable for: Cocktail, Sangeet, Reception
The One With Pop Of Navy Blue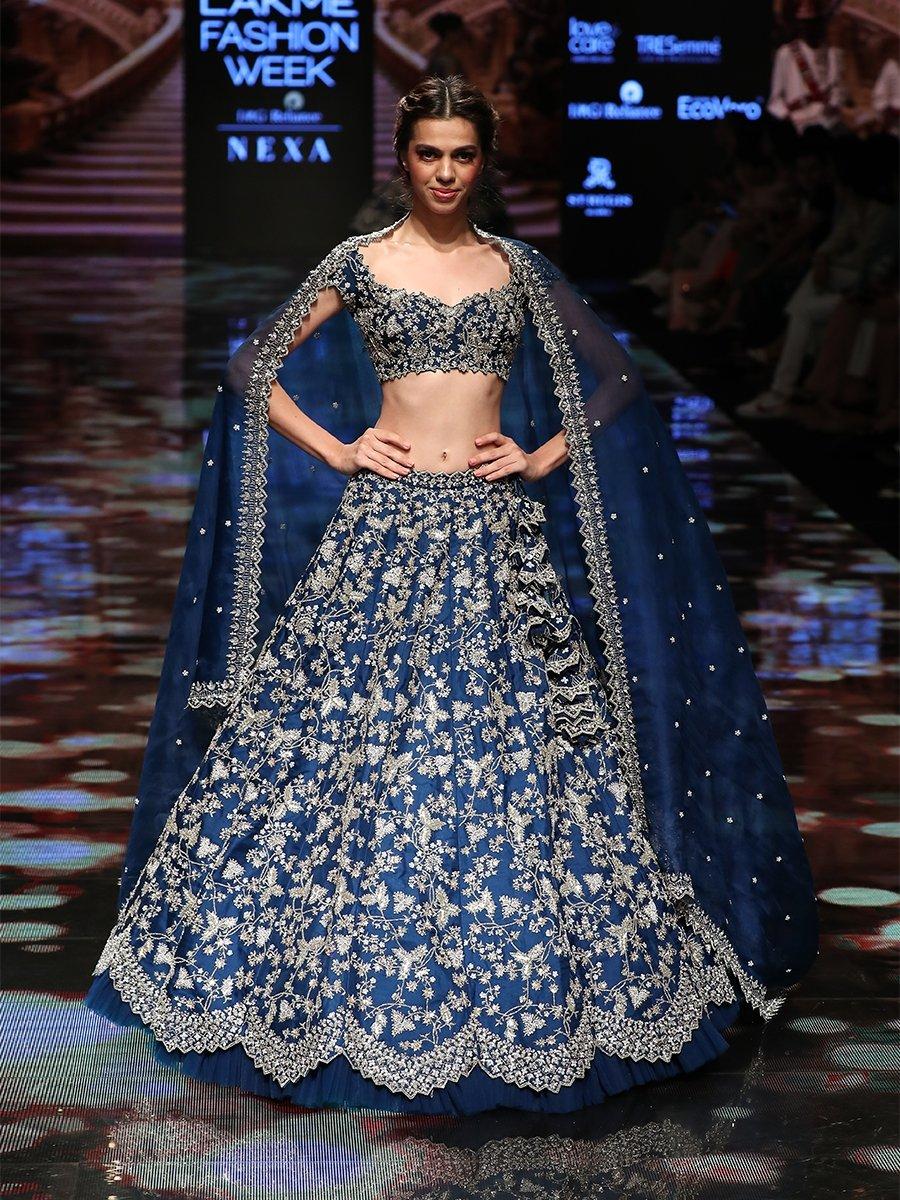 Whenever we hear of blue colour, a wave of subtlety flows our mind and when it's a blue lehenga the flow gets sprinkled with glee! If you are planning to ace the grace of your D-day dress, then this blue lehenga is the best choice. This blue lehenga for bride from the collection of Anushree Reddy is all you need to make a dreamy entry on your auspicious day. Navy blue organza lehenga with scallop beadwork embroidery is adorned with hand-embroidered drop sleeve blouse and navy blue dupatta. Ditch the traditional reds and pick a queenly blue lehenga for your nuptial functions. Ladies, we know you are going to slay your day in style!
Styling it just right: Double dupatta will work wonders
Pro Tip: Wear heavy necklace to deck up the neckline
Suitable for: Wedding, Reception
All Bling Blue Sequin Lehenga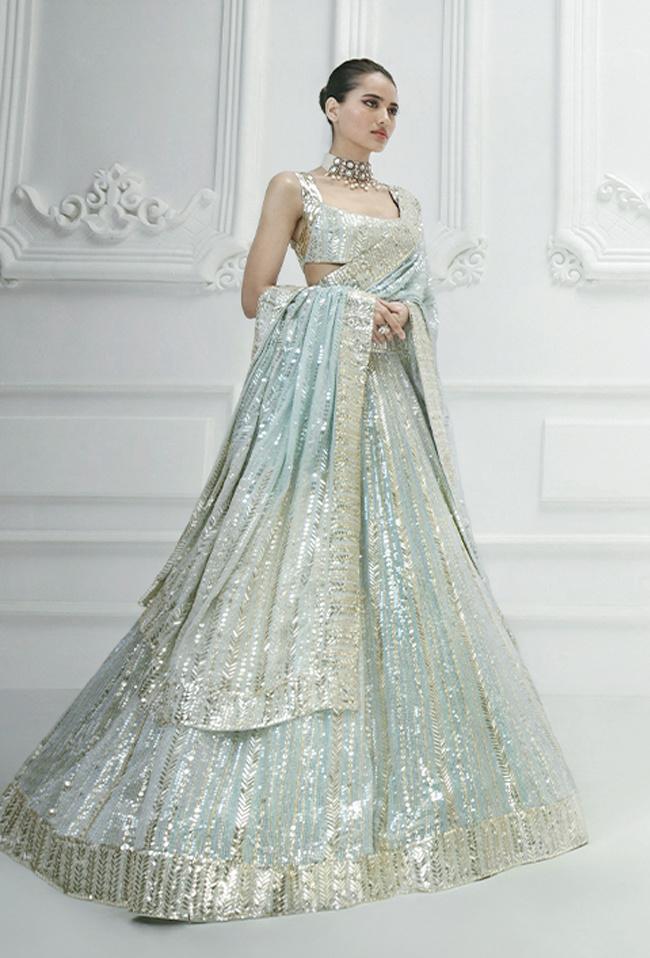 Image Courtesy: Manish Malhotra
Sequin lehengas are back and how! We can't take our eyes off this glistening blue lehenga topped with a pinch of elegance. If you are that bride who wants to add sparkle in the outfit and be the bomb at the wedding function, this is it. This georgette lehenga from the house of Manish Malhotra is paired with a sorbet blue blouse and sprinkles a hint of golden embroidery on the borders. If dainty and dazzling are your go-to things, then this blue lehenga is a perfect pick!
Styling it just right: Keep the jewellery minimal and let the lehenga do the talking
Pro Tip: Go for dark kohl eye makeup or smokey eye makeup
Suitable for: Reception, Sangeet
Lucy Off-White & Blue Lehenga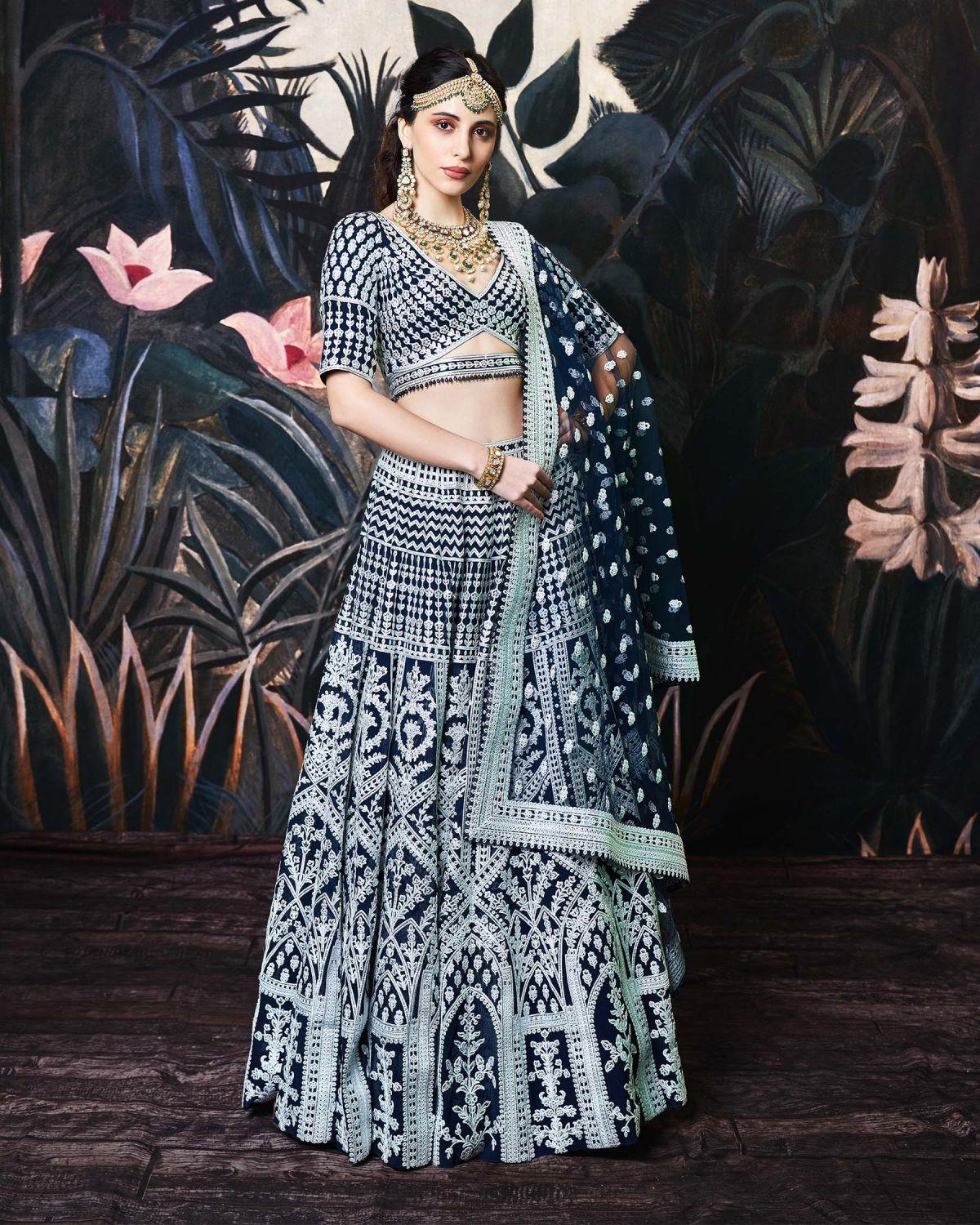 Image Courtesy: Falguni Shane Peacock
If you have a thing for threadwork, then this astounding blue lehenga choli is perfect for your precious ceremonies. With this beautiful blue lehenga, you will absolutely be the centre of attraction. This deep blue georgette lehenga from the collection of Falguni Shane peacock is adorned with silver foil and complements well with the embellished blouse. The combination of off-white and blue excels the bar of gleam and is must-have for topping the #OutfitGoals.
Styling it just right: Gold Kundan jewellery set with a heavy Matha Patti
Pro Tip: You could use glass bangles to enhance the look
Suitable for: Reception
When Majesty Meets Elegance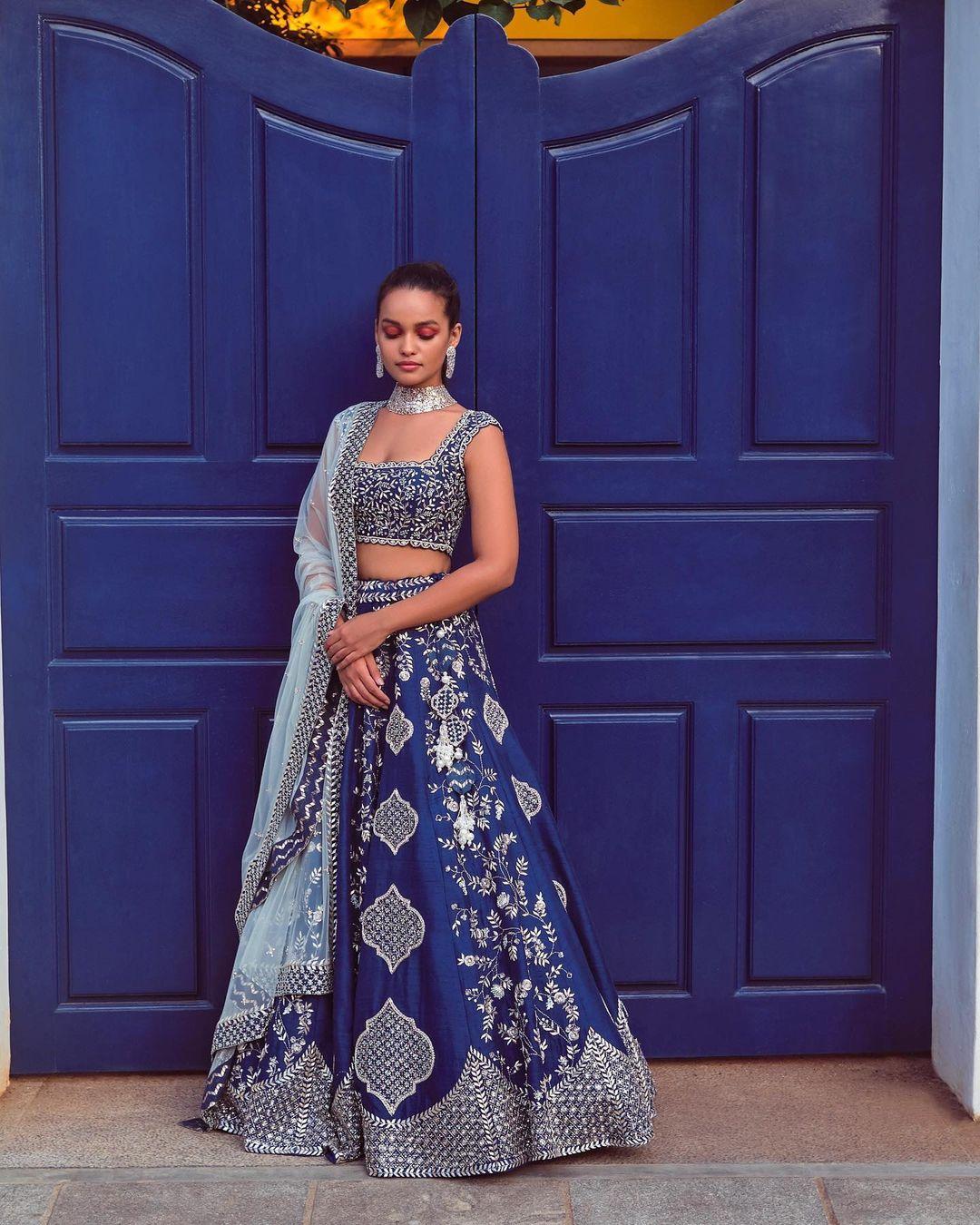 Image Courtesy: Mishru
When we talk about elegance, the collection of Mishru Official tops! If you always had a dream of channelling your #Dhulan feels, then this classic blue lehenga is going to fulfil every wish of yours. The blue silk lehenga topped with delicate zardosi, bead embroidery french knots is well complementing with well-embellished blouse. Be reception or Sangeet ready in this lovely blue lehenga as it shouts elegance and chicness. Agreeing much? Bookmark this beauty for your blissful functions and enter the space of new beginnings and happiness.
Styling it just right: Diamond choker necklace with heavy drop earrings
Pro Tip: Wear beautiful eye makeup
Suitable for: Sangeet, Reception
Sky Blue Lehenga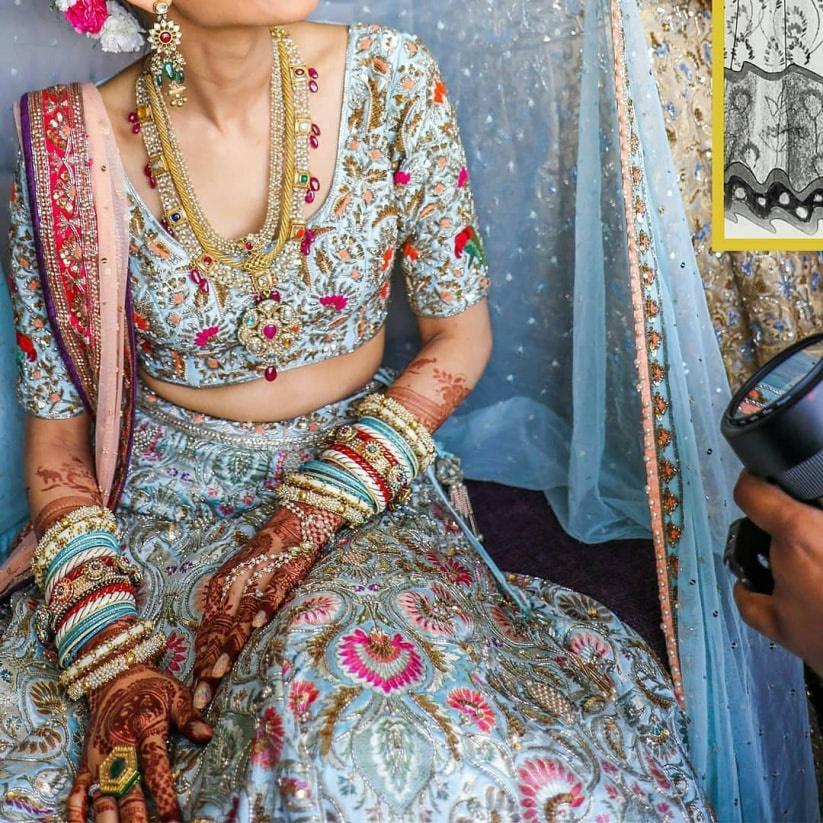 Another one of Arpita Mehta's richest creations, this light blue lehenga can captivate any onlooker. What makes it really stand out is the intricate embroidery in contrasting colours and the embellishments accentuate their effect.
Blue and pink have always been the princess combinations and Disney has made sure Elsa and Sleeping Beauty don't let us forget the regality of these colours. And this lehenga makes sure that the princess in you is cherished and caressed.
A light can-can lehenga in this design is perfect for any bride who wants to cast a spell. Blouse designs to go with it can be a personal preference for each bride.
Styling it just right: While you select blouse neck designs, keep in mind the design and colours of your bridal jewellery set. In order to flaunt a choker set, you can go with a plain round neck blouse. For anything longer than that length, go a deep-U neck.
Pro Tip: Don two bridal dupattas - one in complementing the colour and one in contrast.
Suitable for: Wedding
Aqua Blue Lehenga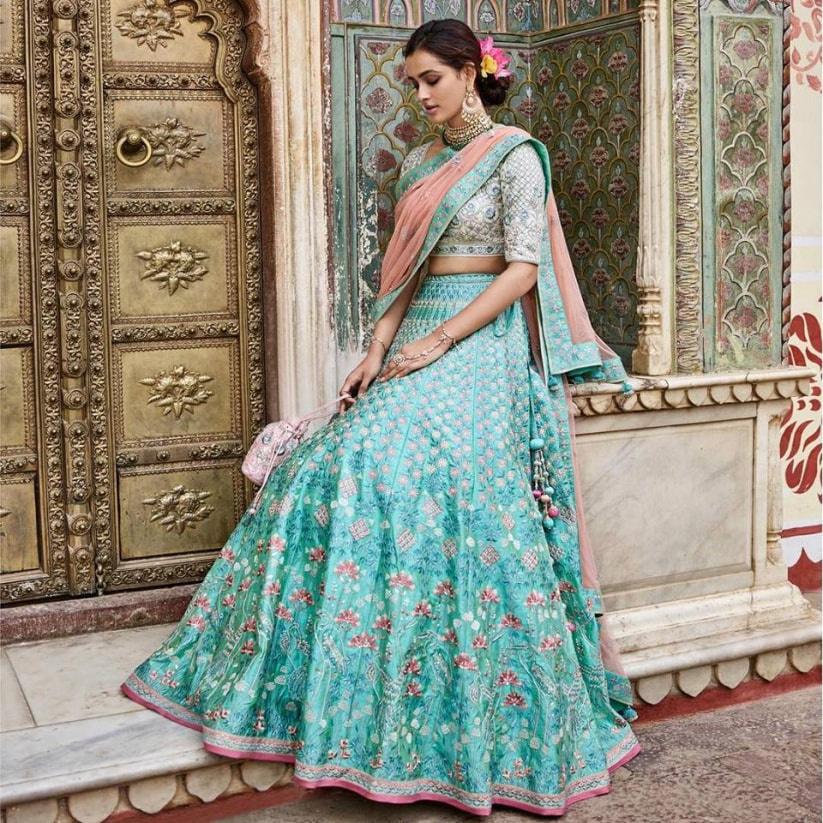 Anita Dongre creations bring to life some long-lost designs and techniques. The highlight of this otherwise sober blue silk lehenga is its handcrafted pink embroidery done all over in small sections.
The pink does not overpower the aqua in the skirt but gives it a charm of pink-blue contrast. You can avoid the can-can layers to make it fall free and give the flowy look.
Styling it just right: The pop of colour is amply balanced by the ivory bouse. And the Dupatta in a pastel peach just adds the icing to the cake.
Pro-tip: The lace at the hem of the lehenga gives it a polished look. You can also opt for this idea instead of a heavy border at the bottom.
Suitable for: Any daytime event, be it Mehndi, Haldi or Sangeet.
Aquamarine Lehenga

Have a burst of colours at your daytime wedding with this aquamarine lehenga. Filled with all-over design in Gota Patti, it is the blue and gold contrast that takes our breath away.
Paired with a golden blouse, this lehenga-choli combination is one of the freshest in town. The leafy embroidery and the simple net dupatta that accompanies the piece enhances the look to make it all the more elegant.
Styling it just right: You already have golden in your attire, what other colour do you need to jazz your lehenga just right! Make both of your Dupattas follow the same colour palette as your lehenga and you're good to go.
Pro-tip: Since this lehenga is a little Hatke, your bridal jewellery should be too. Don a Satalada necklace and look royal, just as this real bride does.
Suitable for: Daytime wedding
Ombre Blue Lehenga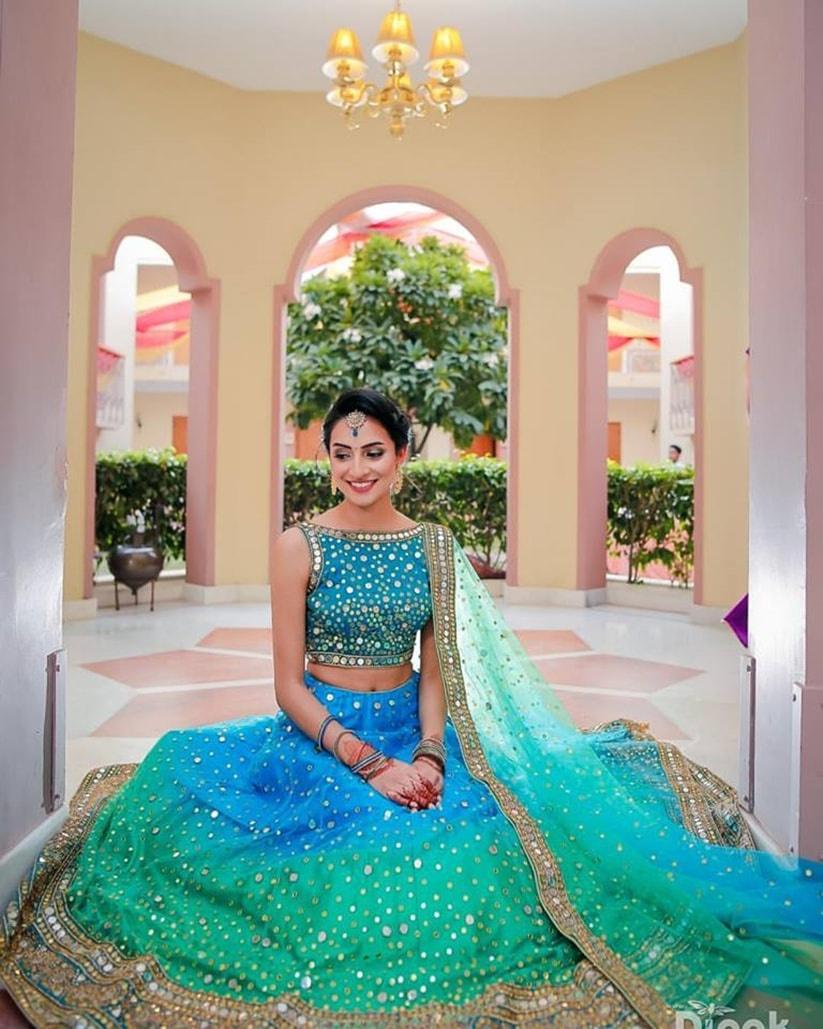 The ombre effect of this blue lehenga makes quite a striking resemblance to the pictures of the Gulf of Alaska, for which it is said that the two oceans meet but don't mix. The combination of Turkish blue, teal and sea green definitely make it a winning fusion. Did you ever imagine mirror-work to look like a starry sky? That's the magic this blue lehenga carries.
Styling it just right: The boat-neck blouse does not leave any need for wearing a necklace. And since it is full of mirror work, you already have enough bling and can go easy on the overall jewellery department.
Pro-tip: Even though you're keeping jewellery low-key, flaunt a pretty wedding hairstyle to match the elegance of your attire.
Suitable for: Mehndi and Sangeet
Turkish Blue Lehenga

Photo Courtesy: Deepika Deep Clicks
This raw silk marvel is an absolute stunner in terms of the design. You can go light on can-can since its rich colour already makes it look heavy. It's intelligent design, using huge motifs at the bottom of the skirt and keeping it minimal near the waist.
The intricate work on the blouse gives it a heavy look, but the fabric used is light and you will find your perfect summer wedding outfit in this piece. Flaunt it with minimal jewellery and gorgeous makeup.
Styling it just right: All the bling and blend go into the blouse design by turning it into an exquisite piece of Gota Patti art.
Pro Tip: Carry a single Dupatta as this bride did. One in ombre like hers would be just perfect.
Suitable for: Mehndi
Prussian Blue Lehenga

This Anita Dongre ensemble from the Odyssey collection for Autumn-Winter 2018 is a masterpiece in itself. This collection of hers has put Prussian blue on the map for the latest wedding season. Intricate patterns and detailed embroidery on the lehenga, blouse and Dupatta just melts our heart away at the very sight. If you plan to look as pristine as this model, Prussian blue it is for you.
Styling it just right: Anything with sleeves will kill the vibe of this lehenga, so keep the blouse sleeveless or opt for a cape lehenga design.
Pro Tip: Pair it with a diamond choker necklace for that wow effect.
Suitable for: Cocktail night
Navy Blue Lehenga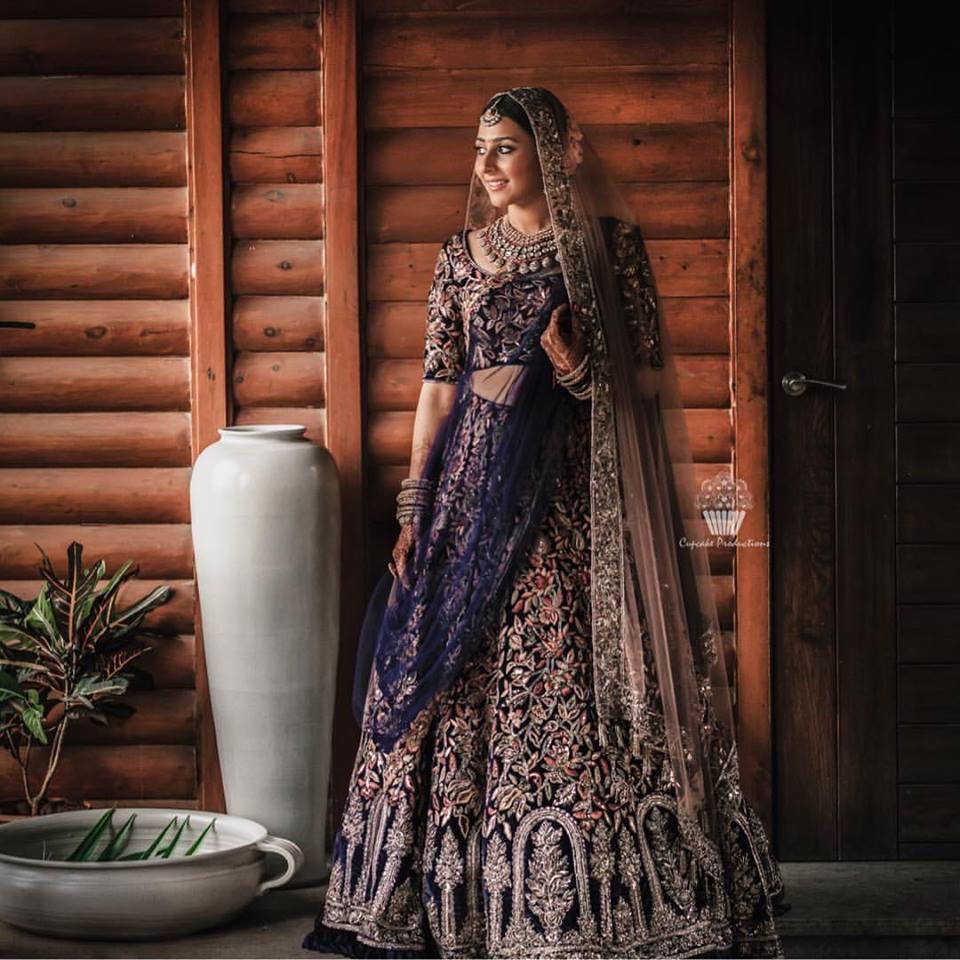 The beautiful and intricate embroidery of this blue lehenga design makes it a striking design that would definitely leave all of your wedding guests spellbind. The gorgeous floral patterns and motifs on it would definitely win your heart. The embroidery work on this lehenga is made from stunning craftsmanship that would certainly make you a showstopper at your wedding festivities.
Styling it just right: Add a sheer dupatta in the shade of embroidery work for that traditional look
Pro Tip: Pair it with a heavy Kundan set in similar colour with bangles and earrings
Suitable for: Wedding reception or engagement ceremony
A bridal lehenga might be the most gorgeous attire that you would wear while making your wedding day one of the most unique and wonderful days of your life that you would cherish for the years to come. Choosing a stunning bridal lehenga does not necessarily mean that it would burn a hole in your pocket, but would be a design that would create a style statement in its own.
These beautiful and off-beat blue lehengas are extraordinary and comprise vivid colours and the intricacy of beautiful craftsmanship. We hope that through our list of wonderful blue lehenga designs you were able to pick out your dream wedding attire.
Interested in looking at bridal jewellery sets to go with your blue lehenga? Browse through expert vendors near you.
-With words by Shrennya Kalyani.