The Mehndi Ceremony Guidebook That You Have Been Waiting For
Your mehndi will be the most fun part of your wedding celebrations. Use our tips to plan a ceremony you and your bridal party will never forget!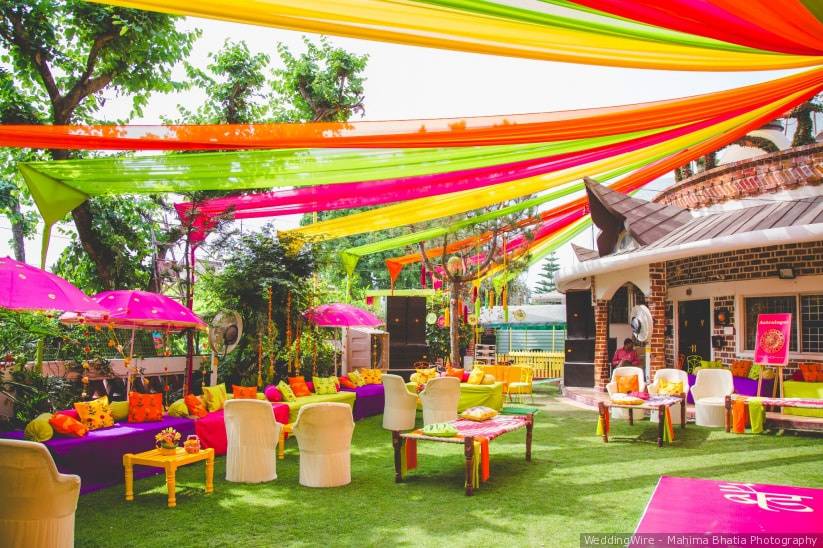 Let's be honest, if there's one nuptial ceremony when the families have the most fun, it's the mehndi ceremony. The environment is casual, even your elders are enjoying themselves and a lot of dance and party is going on in the jovial mood. Mehndi pictures are often the most colourful and happy ones in your wedding album. The Mehndi ceremony rituals are not only about getting your palms painted in the rich and dark colours of the mehndi paste, but it is also about the moments that will be created with fun and love that you will remember forever through photographs and other stories.
While you and your cousins and relatives are busy getting your palms tattooed in intricate designs, you will need to make sure everyone else who isn't a part of this is having fun too. So, it's crucial to plan the event right to make sure everyone is entertained. Here is a list of tips that will help you do just that!
1. Lock on your Mehndi ceremony venue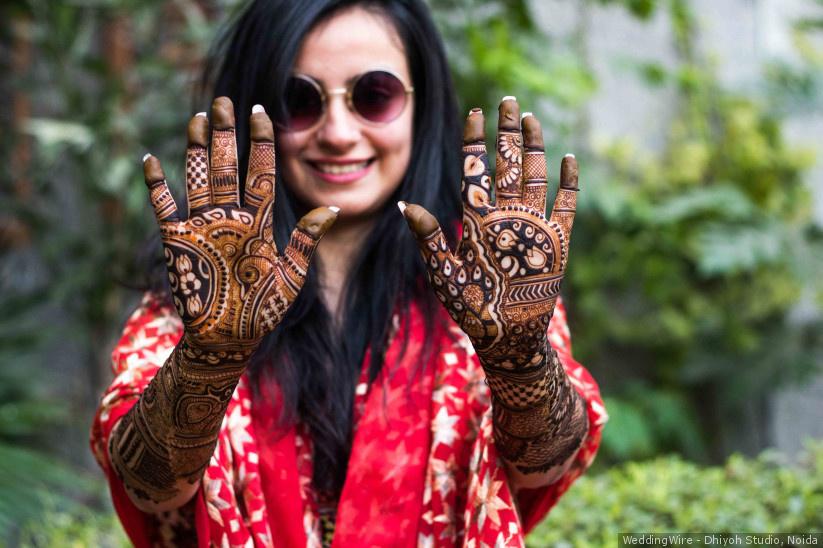 Wish to hold your Mehndi ceremony at home or in your lawn? Or want it to take place at your wedding venue? Make this choice before you go ahead with planning the details for your Mehndi ceremony.
The choice of venue closely determines how many people you could accommodate for your special day, how you would arrange for them (in seating, mehndi opportunities, food, games, dance and fun) and what time of day would work best for your event.
A lot of time, brides-to-be are so engrossed with their big day that they forget to make adequate arrangements for these pre-wedding fuctions. And by that we mean that your mehndi ceremony is just as important as your nuptials so don't forget to put it on your priority list as well.
2. Count out your guests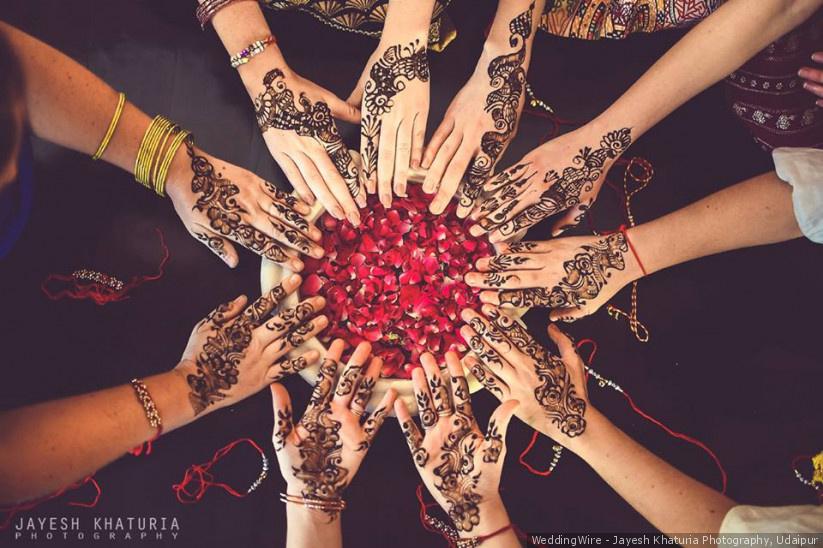 Before you begin inviting people over to your Mehndi ceremony, take a moment to plan out the list of people you'd invite to the event. This would have some practical concerns - how many people can be accommodated at your ceremony venue, the number of people which would come from either side (in case you're holding a combined mehndi function) and your own preferences.
Once you have the list in place it would be easier to either whittle it down or start inviting others. The number of guests also directs the kind of activities and arrangements that you can have and make provision for the same accordingly. As such it is a very close ceremony and mostly only the most close knit friends and relatives take part.
3. Get your mehndi decor on-point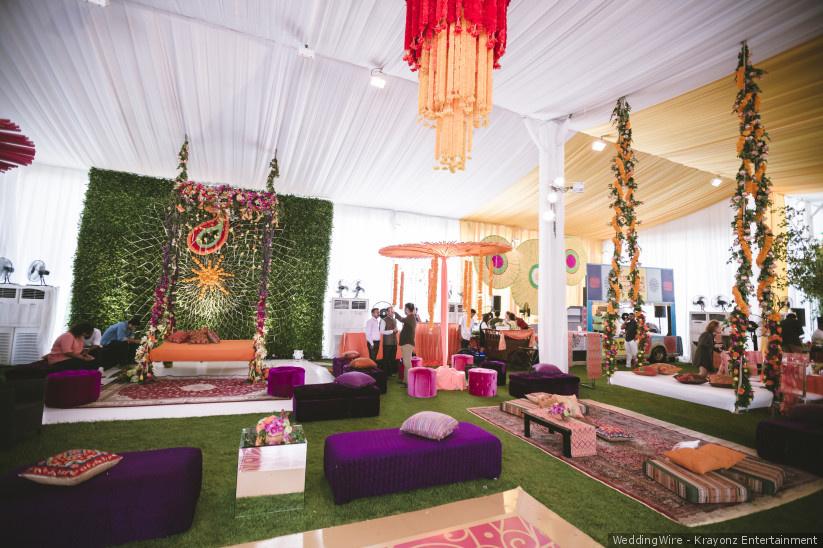 Are you sorted on your Mehndi decoration ideas? A Mehndi ceremony is all about delighting yourself and your guests with your creativity. So, your limit is as big as you can think. Create your own ideas for a happy place and celebration zone with a bridal seat, flowers, fun themes and props like fabrics, kites, jhoomars, backdrops and easy, comfortable floor seating.
The theme of your mehndi could be anything, from pastels to florals, using bangles to decorative umbrellas - there are a zillion ways in which you can make sure that your Mehndi celebration is unique and speaks about your perosnality.
4. Curate your playlist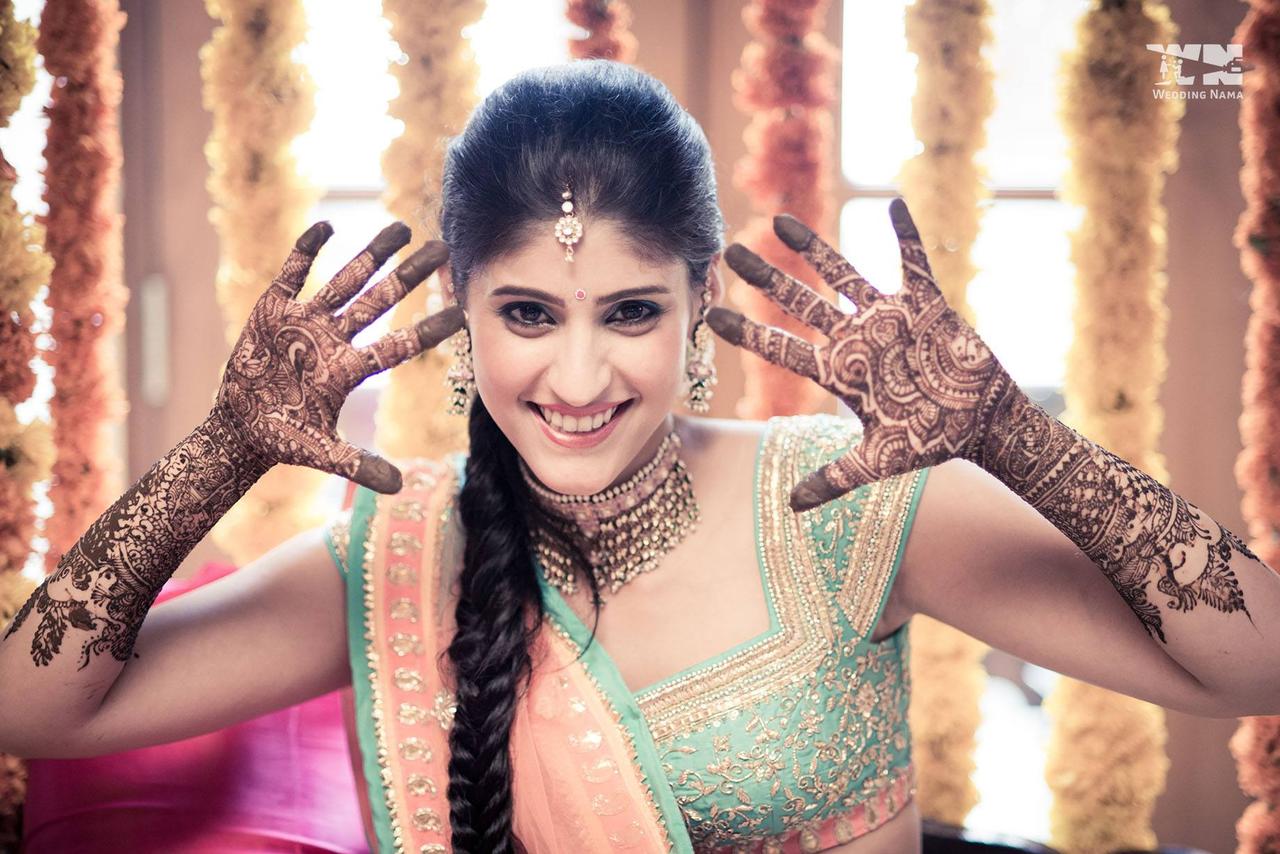 The selection of songs for your mehndi ceremony will go a long way in ensuring your party is a hit. Choose songs that evoke a sense of nostalgia and are easy to sing along to. You want your party to be a celebration of sorts, a happy colourful event.
If you're confused about the selection of songs, ask your friends and family to help out. Mehndi ceremony is all about having fun, letting down the stress of wedding planning and connecting and bonding with your close friends and family as you prepare to bid them adieu. Make your best friend in charge if curating a playlist for you that makes sure everyone is tapping to the beat and having a gala time.
5. Ask around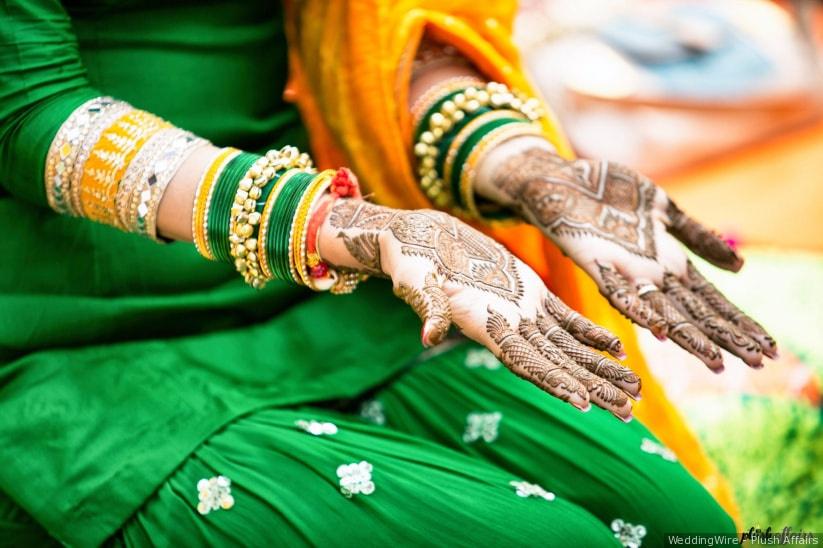 While choosing mehndi design artists, make sure you get solid recommendations. You want to avoid feeling disappointed later so ask the artists for a few work samples if that will help you reach your final decision.
Make sure you spend a little time on this because you want your guests to feel very pleased with their designs as well.
6. Opt for comfortable clothes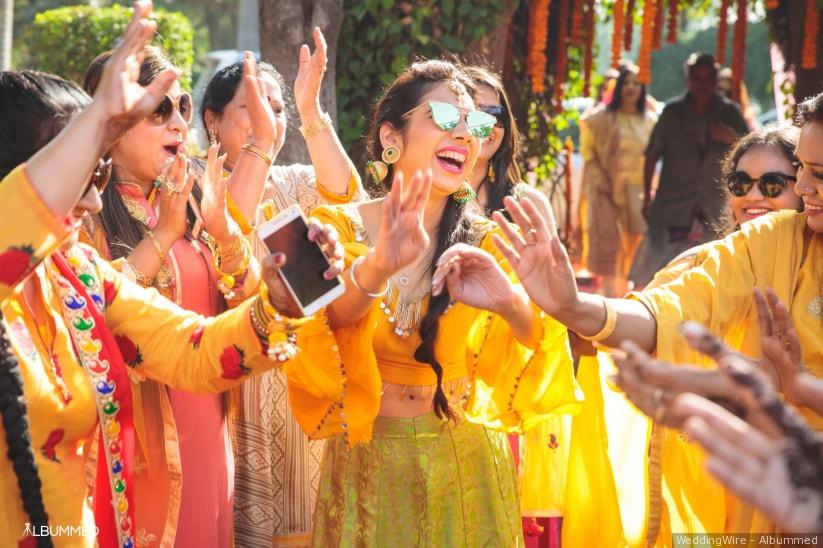 You can experiment with your outfit choices for the mehndi ceremony and perhaps even choose your favourite colour since there are no rules you absolutely must adhere to. However, make sure you choose clothing you'll feel comfortable in because the process is time-consuming. It is mostly involving outdoor matters and that is why you need to make sure that your clothes do not make you feel hot or humid in a summertime-wedding or you will also need to keep it simple so there is more surface for the mehndi art and your legs or arms don't start aching because the outfit is too tight and another outfit faux pas.
You don't want to feel flustered because of a heavy outfit and too much jewellery.
7. Confirm your loved ones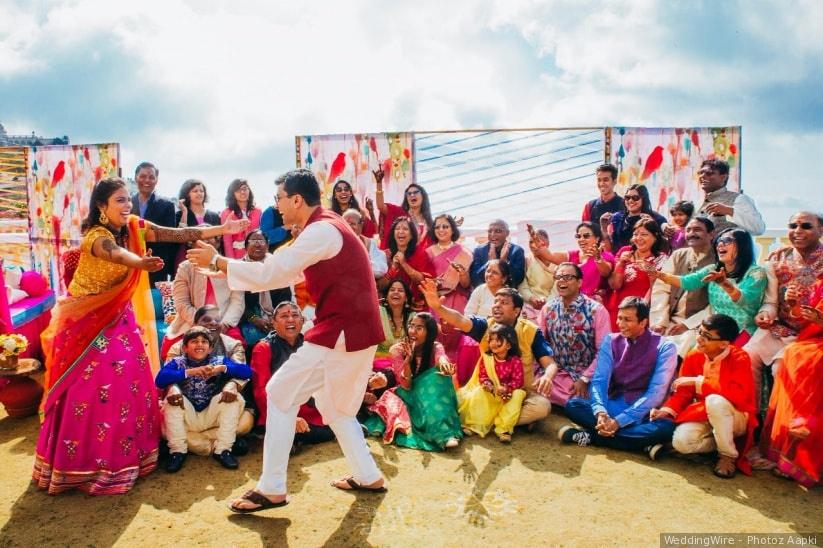 For the mehndi ceremony, you must ensure that you invite those you are closest to. Your childhood friends, best girlfriends, favourite cousins, happy aunts – you want to feel secure before your wedding day and need plenty of good vibes during the ceremony. You need a great company to keep stress at bay and it's essential you bond over beautiful designs and happy songs.
8. Have a little fun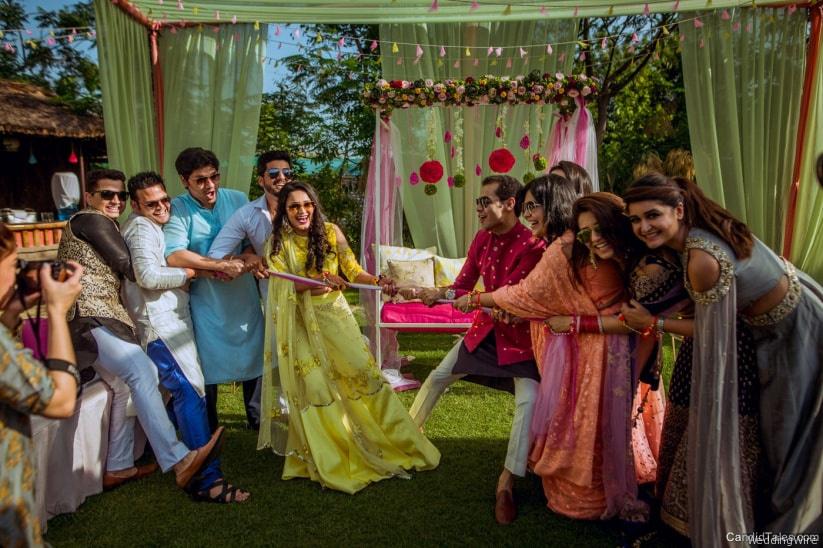 Arrange for fun games such as Antakshari and Dumb Charades. You can also arrange for a nice rapid-fire session with a list of quirky questions and lots of gift hampers. Or you could place a giant screen in the room and play popular Bollywood wedding videos to keep your guests entertained. The idea is to relax and enjoy yourself. This way when you and your family members are occupied in the ceremonies the guests can relax and enjoy a drink or two without breaking a sweat.
9. Experiment, experiment!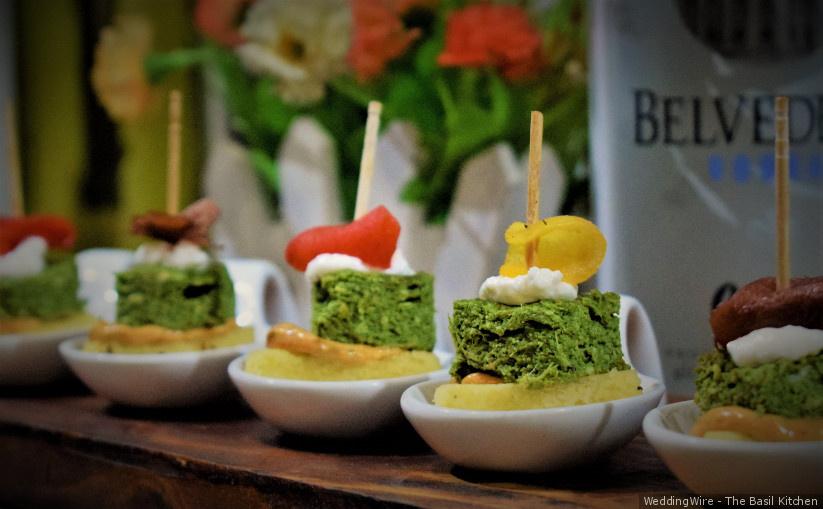 Organise for a fun menu and lots of light refreshments. You don't need to opt for boring and conventional food choices if you'd rather choose your personal favourite cuisine. Mix it up, ask a professional for tips. Don't feel restricted at all, get your caterer to personalise your food options. You can even have fun with a mini-cake which has an intricate mehndi design. Get creative!
10. Get creative with your photo-ops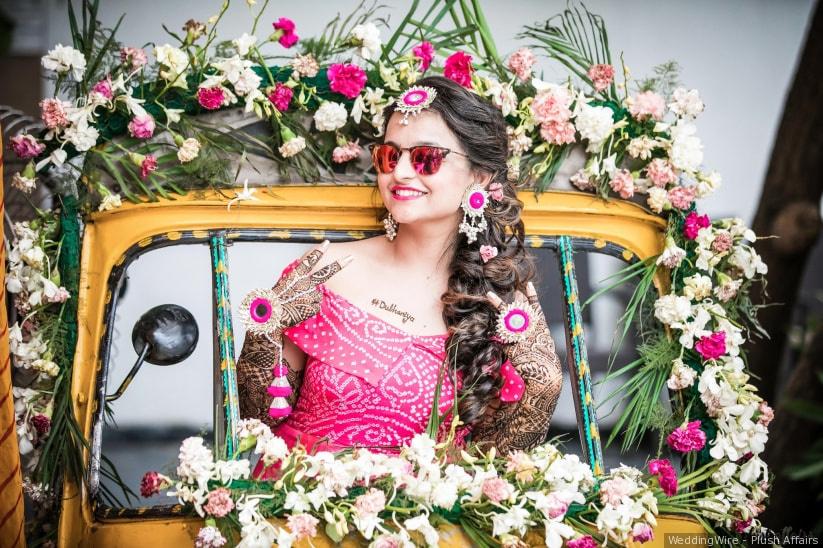 A Mehndi ceremony is also a good time to go a little wild, especially with your photo-ops. Apart from arranging for a wild photobooth, use all of your decor ideas, your mehndi designs and your besties for a set of pictures you'd always remember with a smile.
This guide must have given you a comprehensive idea about things you need to take care of. After completing them all, the only thing you should focus on is having a good time. What else is this event about other than bringing everyone together and de-stressing them from the wedding chaos!
Do share your amusing stories of the mehndi ceremony with us in the comments section.