Bollywood has given plenty of inspiration for weddings over the years. From grandiose gestures in the movies to elaborate dance sequences, there is a lot to learn from. Here's a list of some of the most iconic wedding scenes from the tinsel town and how you can work their magic into your own filmy wedding.
1. Hum Aapke Hai Kaun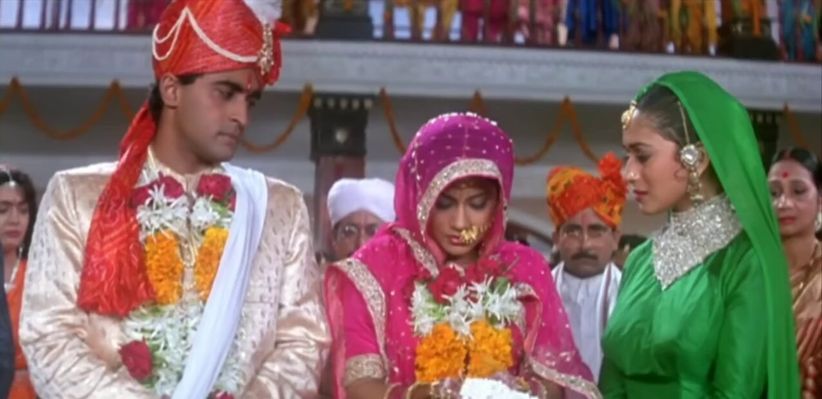 This film had one of the memorable wedding scenes of all time – when the elder siblings get hitched amidst a lot of fanfare. Fun traditions like stealing the groom's shoes were highlighted, and there was a definite feel-good factor at work with vibrant songs and dance.
This led to a lot of attention towards these nuances - the Joota Chupai and Joota Churai, Sangeet ceremonies and even a teary Bidaai sequence.
Even today, an odd 25 years after the film released, you can see reflections of it in large-scale wedding ceremonies and the inclusion of the parivaar in all of them.
How to recreate it:
Simply, celebrate the wedding in all of its ceremonies. For an obvious take, take your style notes as the sister of the bride from Madhuri's bright green blouse or white lehenga skirt or her blue embroidered bridal lehenga. Similarly, you could take your cue from Salman's white jacket as the brother of the groom.
2. Kuch Kuch Hota Hai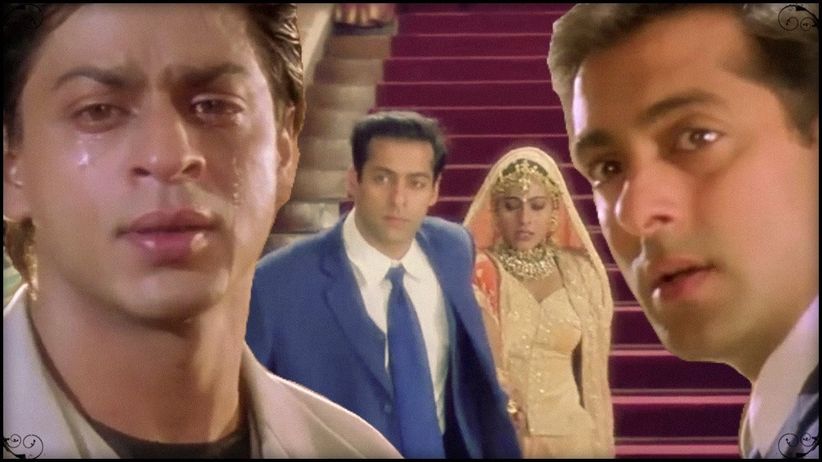 It's impossible to forget the climax – the part where everything comes together. It's a memorable wedding scene with a plethora of emotions and beautiful cinematography. You can't help but tear up a little as you finally get to breathe a sigh of relief. The happy ending is a hit among all viewers and has been cherished for decades.
How to recreate it:
This is with nods to the golden cream lehenga that Kajol wore as the teary bride. Recreate the look and dedicate a word to your new 'best friend for life', your partner.
3. Kal Ho Na Ho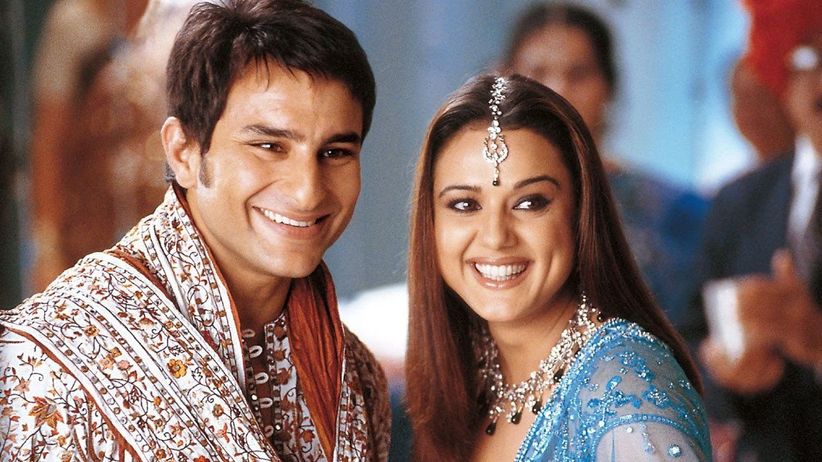 It is supposed to make you feel a million things at once. You find yourself laughing and crying as you take it all in. The colours, the melody, the celebrations, the heartbreak. It's one of those scenes you'll keep going back to, no matter how long it has been. There are several fun moments too, and an essential mixture of joy and pain.
How to recreate it:
As a bride, choose the 'Banno' track to depict what your mother, aunts and grandma may feel at the thought of your Bidaai. Consequently, get your partner to groove to 'Maahi Ve' as you match steps with the iconic fist punch step.
4. Dilwale Dulhaniya Le Jaayenge
A major part of the film has a wedding has the backdrop – and it's perfect. Endless chatter, food and exquisite clothing plus bonding with the extended family, so many elements of the quintessential Indian wedding have been covered here. The song, Mehendi Laga Ke Rakhna, still manages to put a smile on many faces, after all these years.
How to recreate it:
Ask your wedding choreographer to choreograph a 'boys vs girls' number to the popular track like Shahrukh and Kajol in the film (like the Punitya marriage choreographed by Nitya Srikishen above). You could also get your father to end his words of wisdom with Amrish Puri's iconic line, 'Jaa Simran, Jee Le Apni Zindagi'.
5. Yeh Jawaani Hai Deewani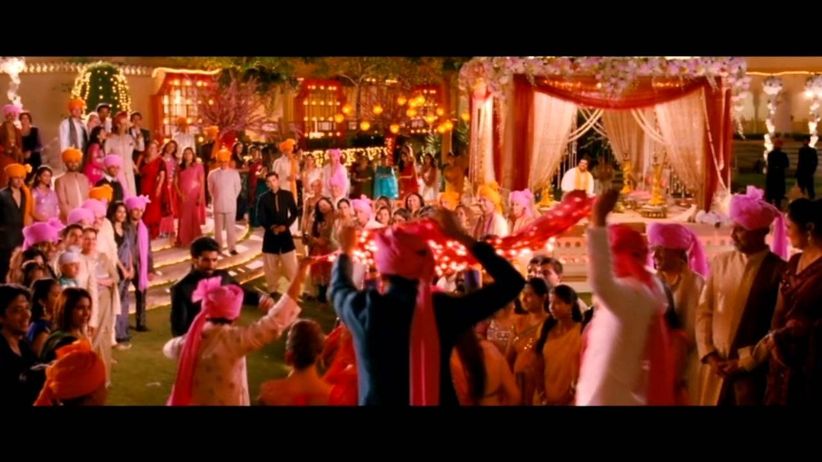 A decidedly more contemporary take on Indian weddings, this movie explores several relatable aspects of the big fat Indian wedding in today's times. From flying halfway across the world for a best friend's wedding to sending fancy invites to competitively preparing for a dance-off and experiencing the magic of a destination wedding, there is just so much to look forward to!
How to recreate it:
Brides and grooms, get your friends to spend some quality time with you as you count down to your wedding day. It's time that all of you would remember, for life. Also, putting together a crackling performance on 'Badtameez Dil' will be the best way to highlight how tight you are with each other.
6. Student Of The Year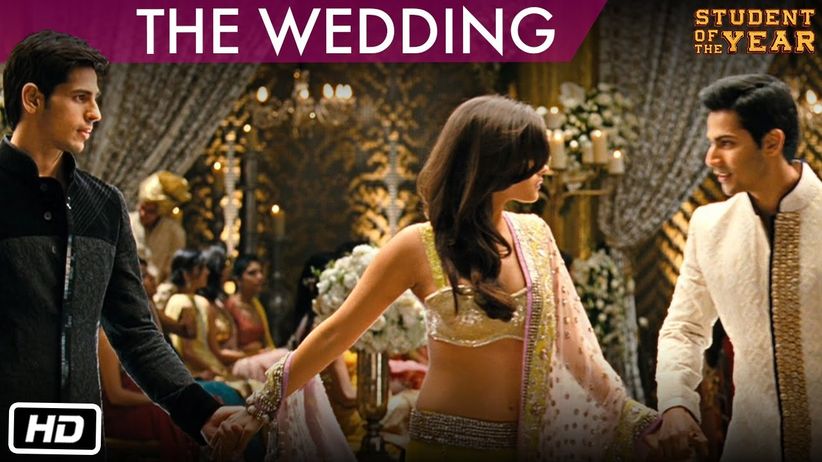 This one is again a relatively modern take on Indian weddings. You'll find yourself sighing especially in a pivotal scene between two of the main characters. There are no dialogues, just beautiful music and their chemistry which makes want to watch it again only to relive it.
Everything – from the outfits to the relaxed nature of the scenes will make you nod your head in recognition. It's a beautifully shot sequence and very dreamy in its approach.
How to recreate it:
Think about your stage moment and plan it accordingly, with the right dreamy backdrop and wedding decoration.
7. Raazi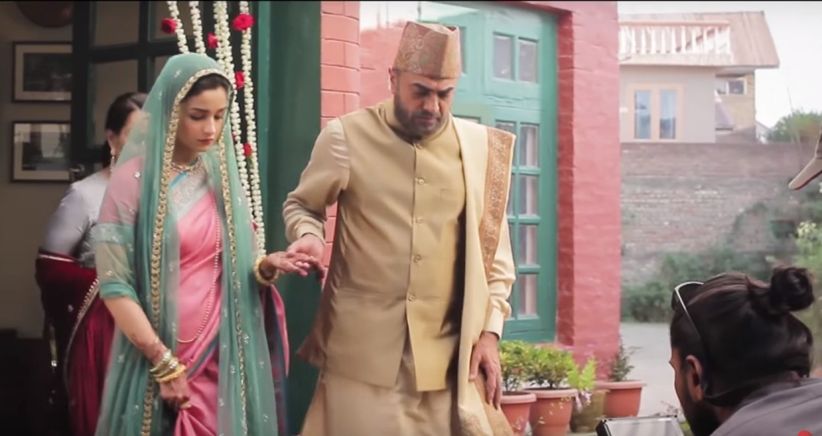 While 'Raazi' had Alia Bhatt's character choose between country and family, it's the wedding scene that brought out the most nods from all of the audience. The 'Dilbaro' track in itself, adds a vintage layer to the moment when a father gets ready to bid farewell to his daughter, onto a hard, tough road.
How to recreate it:
Take a hint from your traditions - be it your choice of bridal outfits (as Alia donned a red Sharara and a saree to depict herself as a 70s Kashmiri bride). More importantly, spend time with your father and steady him as he gets ready to bid you towards your journey ahead.
Were these Bollywood moments as emotional for you as they were for us? If yes, let us know in the comments section below.