11 Benefits of Planning an Intimate Wedding This Season
Cannot decide whether to go for an intimate wedding or not? Here is a list of the benefits of planning an intimate wedding for inspiration.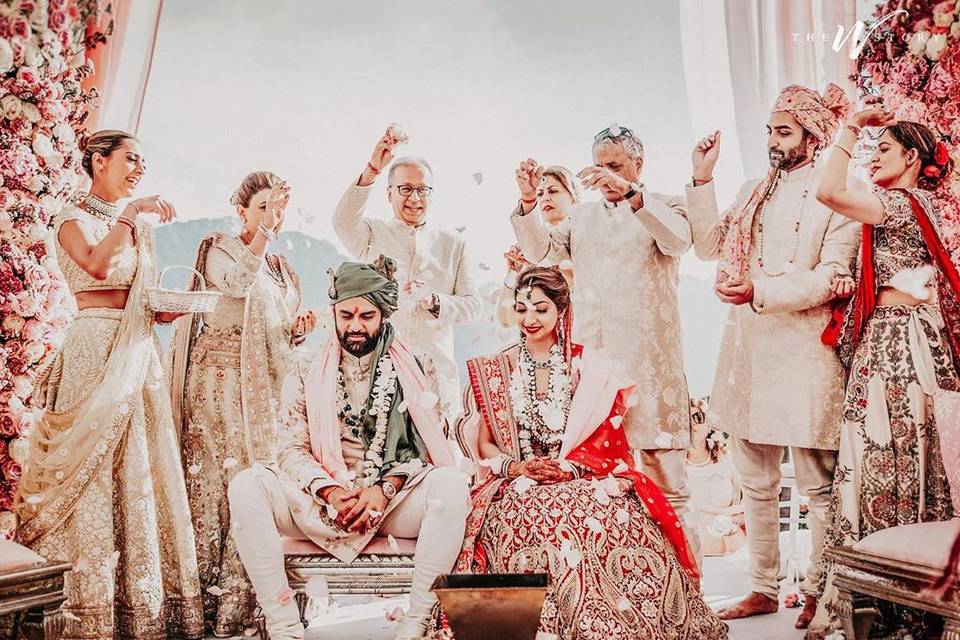 With COVID-19 hovering around our head, the idea of an intimate wedding is gaining more and more momentum among the millennial couples. While an intimate wedding was on the books of many couples even before the pandemic came knocking at our doors, the nationwide lockdown has given all the more reasons to opt for an intimate wedding.
Did we all not love the intimate wedding that Virat Kohli and Anushka Sharma hosted in Tuscany with only 40 people on the guestlist? A surreal wedding at a magnificent destination is indeed a dream come true.
While many couples love the extravaganza that a wedding is all about and plan on a huge guest list to invite people who can share the big day with them, these plans might be off the books for quite some time now. Owing to this, an easy way to go about your D-day right now is to plan an intimate wedding.
Apart from being on the list of what the self-isolation and social distancing protocols of the government allow, there are a lot of benefits of planning an intimate wedding. Here are some pros of planning an intimate wedding to help you make the right choice.
A Budget-wedding
The budget of a well-planned wedding is a lot more than what is required for an intimate wedding that is cut down to 50 people. With the long guest list that need invitations and finding a lavish venue that can accommodate your guests for whom you have planned a 7-course meal to enjoy, the wedding can fit in no less than a big-budget plan. But with an intimate wedding, the budget is certainly reduced without much ado. You can celebrate the wedding later with a lavish party when the lockdown is over!
More Venue Options
The venue options largely depend upon the number of guests that you plan on inviting. The capacity of the venue needs to match your guest requirements in order to make the cut. However, if you are hosting an intimate wedding ceremony, the guest list is short and thus your options of venues increase. There are many venues that offer indoor as well as outdoor spaces and you have the option to pick anyone that fits your requirements. Intimate weddings can also be seamlessly hosted at home, the backyard, your terrace or at religious places of worship.
Involvement of Guests
If you were to stand on a stage and smile at 2500+ people attending your wedding, the chances of you connecting with each of your guests are less.. However, having 50-80 people attending your wedding means you get to interact with each of your guests personally and involve them more in all the wedding celebrations. From playing games, raising toasts to a buffet or even the trousseau packing before the wedding - you can get all hands on board without missing out on anyone. Each of your guests can pick up a significant role to play on your wedding or a particular task at hand to be responsible for.
More Quality Time
The basic idea of an intimate wedding is to get to spend this day with a handful of people who are of superlative importance in your life. The friends and family who you can rely on blindly and love endlessly are the ones who you want on your wedding day - your constants. Having an intimate wedding ceremony allows you to spend more quality time with each one of your guests.
You know them personally and there is no awkward moments. It is like a whole big family. Instead of just shaking your hand for a few minutes at the stage while receiving gifts and smiling at the camera or hugging them for another few seconds right before they leave, you actually get to make warm memories to remember forever with your dear ones who you can attend to personally, without formalities.
An Eco-friendly Wedding
Planning an intimate wedding is not only a budget-friendly way of hosting a wedding, but it is also an eco-friendly one. While big fat weddings might be great to be a part of, all that fun and extravaganza results in producing a lot of waste from the wedding. From paper plates to the numerous floral streamers and other decorative items that are meant for one-time use only, the weddings produce a lot of garbage. It is often not recyclable and is, therefore, a menace.
While intimate weddings use various objects for decoration too, the scale is much smaller than the OTT weddings. The scope of hosting a rustic wedding with DIY decor using recyclable objects is easier when the wedding is an intimate one. Moreover, using proper cutlery instead of disposable tableware reduces a huge amount of garbage too. The impact of an intimate wedding as a green wedding on waste reduction is remarkable.
DIY for The Wedding
If you are the couple who loves DIY, planning an intimate wedding is a perfect platform for you to add to the ambience and beauty of your wedding ceremony by adding to the decor with your DIY ideas. You could, in fact, involve all your friends and family members to create handmade pieces of the decor to put together something beautiful on your wedding day. It could be origami, old bangle hangings, paper lanterns and so much more when it comes to DIY decor ideas for the wedding decor.
To decorate a space that is about to host 50-80 people approximately is a task of course, but a doable task that will be fun when you,your friends and family are in it together. However, decorating a venue that is about to host a royal wedding of more or less 3000 guests is impossible without professionals taking over.
Less Stress
The idea is to keep it intimate. When you plan on hosting an intimate wedding, only the close people to the couple get invited. The comfort of having to take one of the biggest steps to start a new life of togetherness with your partner in front of these people you call your own is commendable. Brides and grooms are no longer conscious thinking about the formalities and instead, they get to enjoy their candid selves at best. The emotional value that an intimate wedding adds to your married life is unfathomable.
The stress of having to walk down the aisle to take your vows and complete the pheras in front of thousands of people is not easy. In fact, the idea that you do not even know some of the people invited by your in-laws and relatives or the plus-ones, who are witnessing you begin a new life with your partner is not very comforting for many couples.
Easy to Manage
An intimate wedding is a wedding that is convenient and manageable. With a reduced guest list, the requirement of other professional vendor services like catering, decor, transportation, invitations and so on, reduce simultaneously. This means there will be less to stress about. While you take your vows you need not worry about your guests, the buffet or if your wedding is being managed seamlessly without any unattended affair causing chaos or that needs emergency action. Right from the planning, budget to the execution, hosting an intimate wedding is a feasible affair.
A Flawless Family Affair
If you are planning on hosting an intimate wedding, you can make it a beautiful family affair. While the guest list consists of close friends and family only, you get to spend time with your immediate family. In an otherwise scenario, when it is a big fat wedding, your immediate family members are the ones usually running around doing the needful like welcoming guests and keeping a track of the events while you take your pheres. An intimate wedding celebration gives you time to spend with your family. You could sit back and enjoy the little moments without fretting about anything else at all.
While you make it a family affair with people who are comfortable and need no special treatments and you do not have to go out of your way to make them feel at home. These could be the most fun couple of days with a lot of "remember that time when..." stories without any hesitation and boundaries.
Apt For Destination Weddings
The destination wedding planning is a tricky one. While you need to decide if you will provide your guests with just their accommodation or include their travel too, the guest list has an impact on the planning. However, if you plan on hosting an intimate wedding, it is easier for you to provide your guests with accommodation as well as their travel arrangements along with other optional luxuries like sightseeing at the destination or some adventurous activities too. Intimate weddings allow you to pay attention to the details and take care of the needs of every single person who is invited without much hassle.
There are various destination wedding etiquettes that you need to keep in mind while hosting a dreamy wedding at your favourite destination and with an intimate wedding, it is easier.
Less Pressure for Planning
Even for a residential wedding, there will be guests coming from various different places or from across the globe to bless your big day. The accommodation is not the only concern here. You will need to figure out the logistics of your wedding too. The airport pickup and drop, the cityscape visits, the to and fro from your venue and so much more need to be taken care of.
For a destination wedding, the logistical part of planning a wedding becomes larger and a lot is on the plate. With an intimate wedding and lower number of guests inclusive of only the ones you are comfortable with, there is less or no logistical planning pressure. Your family and friends could drive easily and the requirement of other means of transport can be taken care of quite conveniently.
If you plan on hosting an intimate wedding, you have the option to host a grand reception party for all including the acquaintances and other people who could not be included in your wedding ceremony. This has been a trend that is mostly nurtured by the B-town celebrities who had intimate weddings but hosted their guests royally at unforgettable reception parties.
You could also pitch in more money for your honeymoon and have a luxe honeymoon later. Since intimate weddings can be a great relief on your pockets, you could actually save money for your future instead of spending it all or more on just one day. As long as it is the way you planned it to be and you enjoy it to the fullest, it is nothing short of a fairytale come true.
Planning an intimate wedding allows you to make it as personalised as possible. You could pick handwritten invitation cards with personalised favours for each of your guests instead of readymade templates on huge bundles of printed cards. The favours or return gifts that you pick for your wedding day can also have a special touch of love in each. You get time to put in thoughts behind everything that you plan because these are people you know and they too get time to be thoughtful and help you plan the entire thing while picking up your choice of gifts without any disappointments.
Intimate weddings are a great way to make exceptional memories that will be cherished forever. While guessing "who was this" at your wedding when you look at the albums is fun, knowing what every guest wore and what they said for the newlywed couple is a warm souvenir you carry forever from an intimate wedding.
It is after all YOUR wedding and the only people that matter to you are with you on this auspicious occasion, nothing else really matters. While your parents have the time of their lives supervising the wedding and your cousins take every toast opportunity to embarrass you, you will be making your wedding more and more memorable even if it is not an elaborate affair for all to partake.
Get in touch with the best photographers in town if you are planning an intimate wedding because there will be some impeccable candid moments everyone will share and you do not want to miss it for the world!