12 Kanjeevaram Sarees We Just Can't Stop Drooling Over!
Kanjeevaram sarees are one of the most beautiful garments to come out of India. No matter which part of the country you belong to, this is a garment you must include in your trousseau! Check out these 12 styles we've curated for you!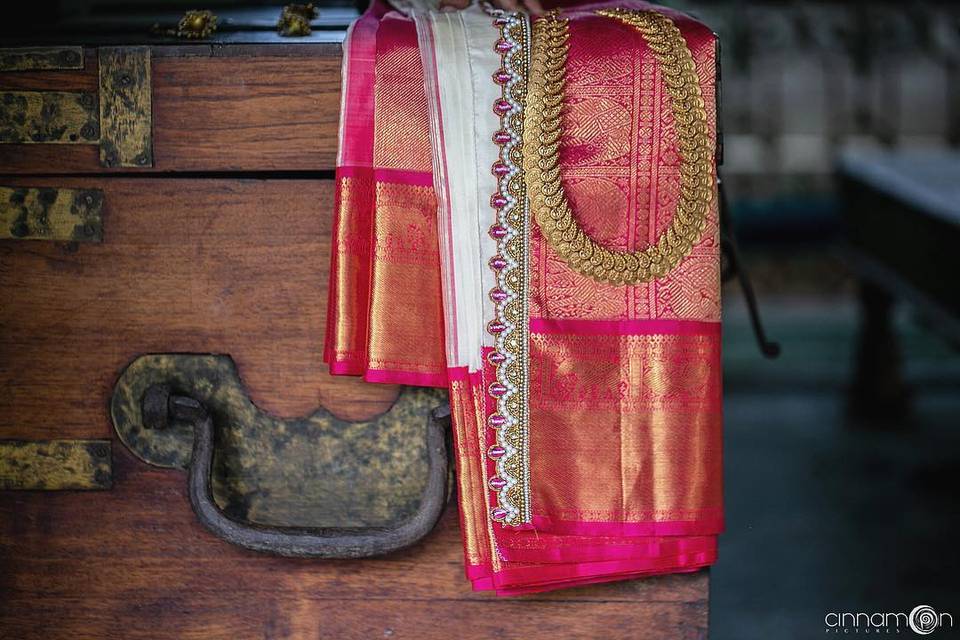 Kanjeevaram silk sarees have their roots in the Chola dynasty when the ruler Krishna Deva Raya kick-started the production and trade of silk. This is why these sarees are often associated with a sense of royalty. Considered the epitome of sophistication, Kanjeevaram sarees are as big a staple in South Indian weddings as temple jewellery, which is one of the many reasons that the two are often clubbed together.
Now, whether you are a South Indian bride on the hunt for an exquisite heirloom or a bride that wants to wear Kanjeevaram sarees during a wedding function, we can guarantee that you're going to have a great time scrolling through this list of 12 stunning Kanjeevaram sarees. Once you have an idea about the style you like, you'll be ready to shop!
1. This lovely peach saree that's on-trend!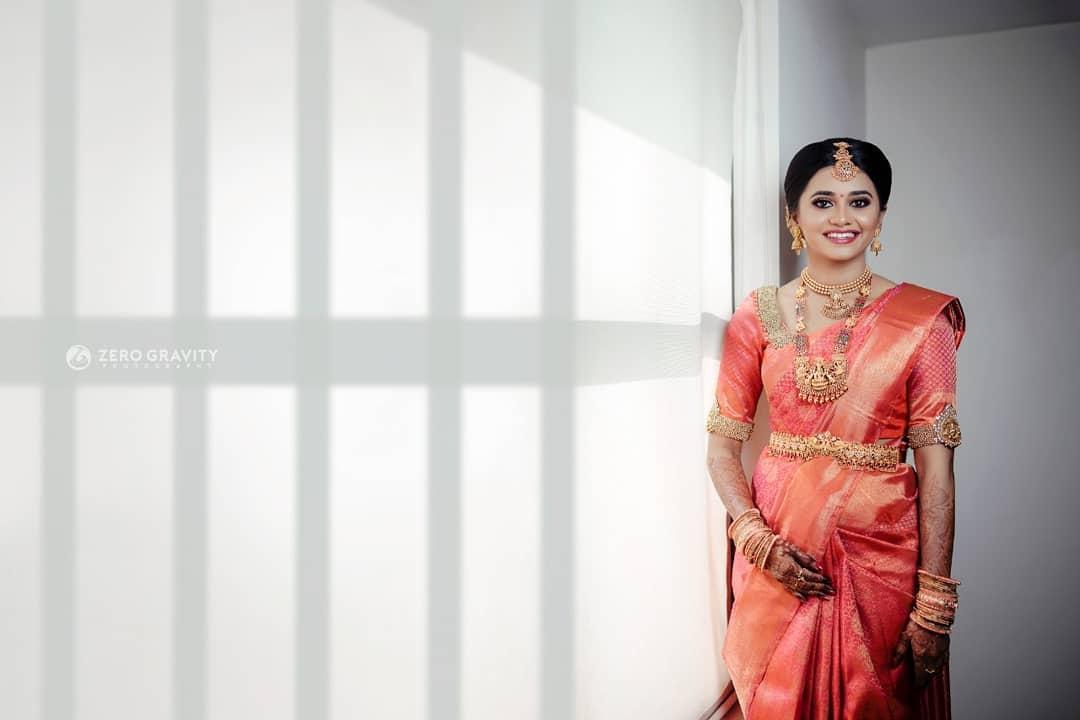 Peach has featured heavily this wedding season, with bride after bride favouring a peach colour lehenga over all other colours. This trendy colour has found its place in the South Indian aesthetic too, with peach Kanjeevarm sarees being all the rage. Paired with an intricate set of jewellery, this saree looks absolutely stunning!
2. This magenta and rust orange combo!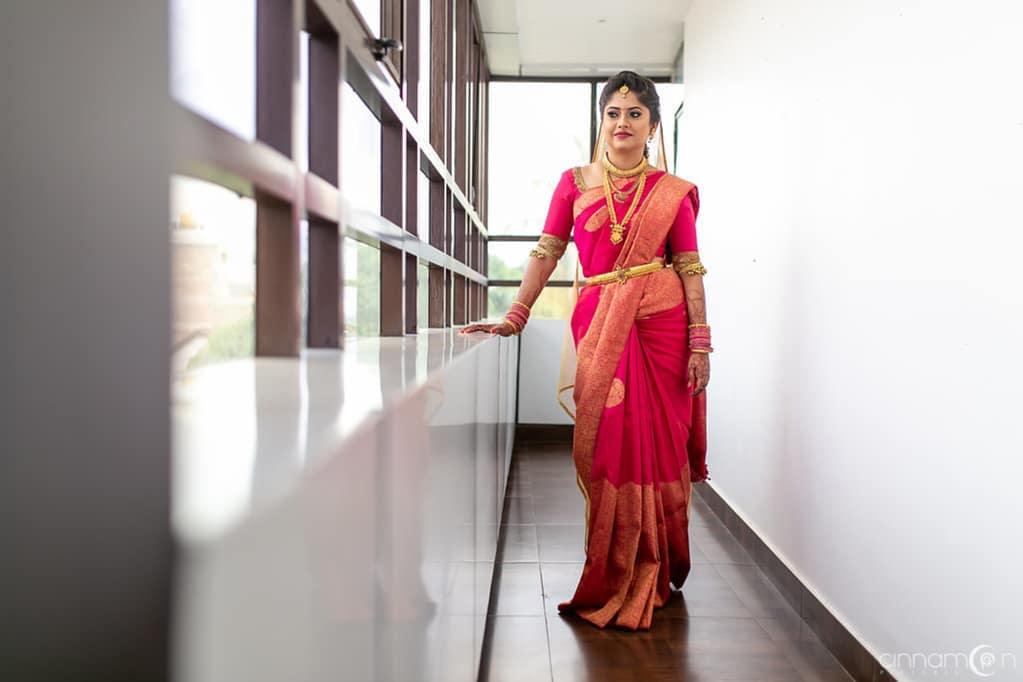 Magenta is a hot favourite amongst brides because it's the perfect blend of pink and red. The rust orange borders running across the garment create a great accent shade for the saree, and the gold jewellery acts as the perfect accessory for the same!
3. This understated beige saree!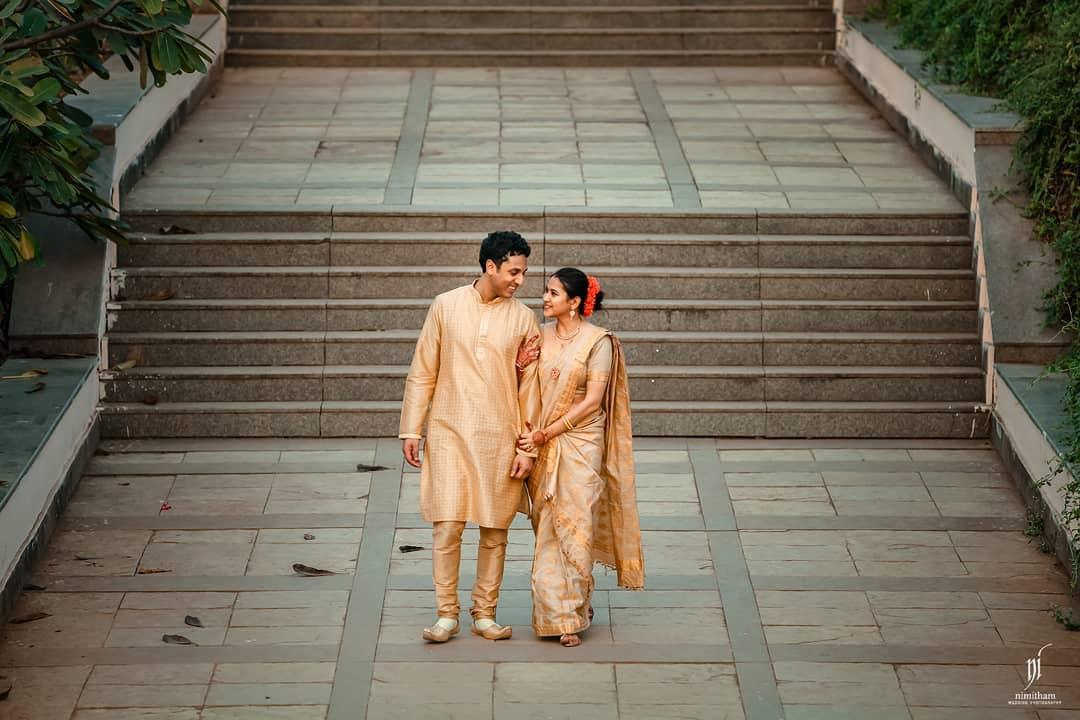 How stunning does this bride look? Beige Kanjeevaram sarees with metallic gold borders are the perfect example of trends meeting traditional outfits. We're totally crushing on the decision to use orange flowers as bridal hair accessories as they perfectly off-set the colour of the garment!
4. This funky purple saree!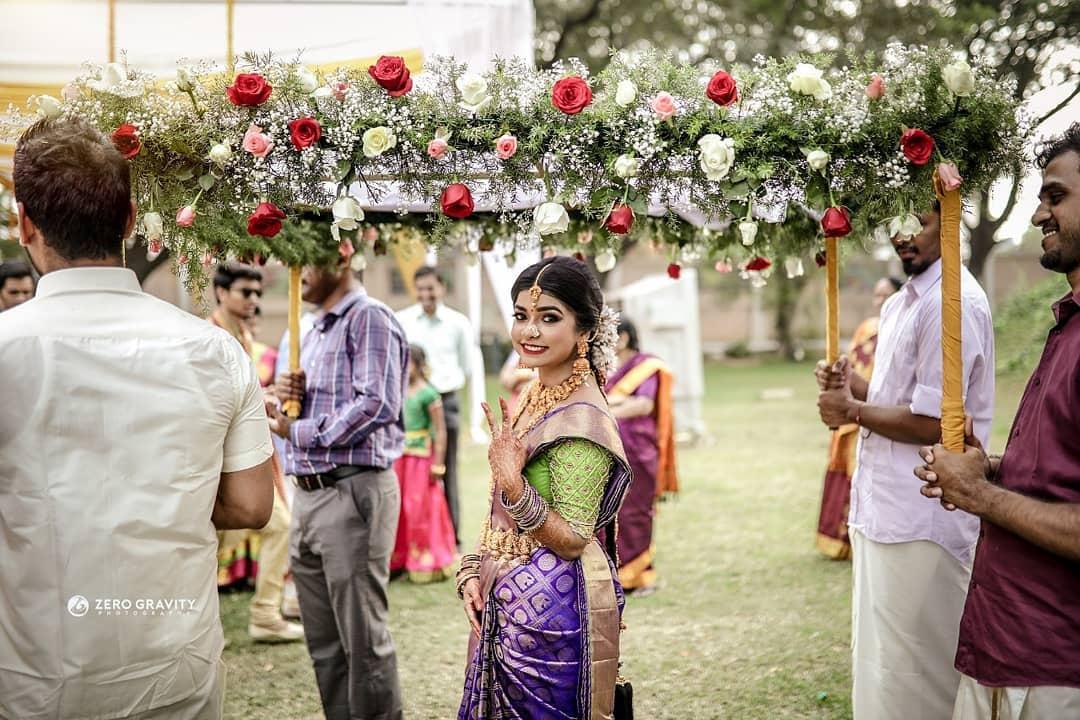 Love expressing how quirky you are? Wearing such Kanjeevaram sarees with parrot green blouse is a great way to do so. Don't miss the elephants and moons on the body of the saree!
5. This iconic red and white saree!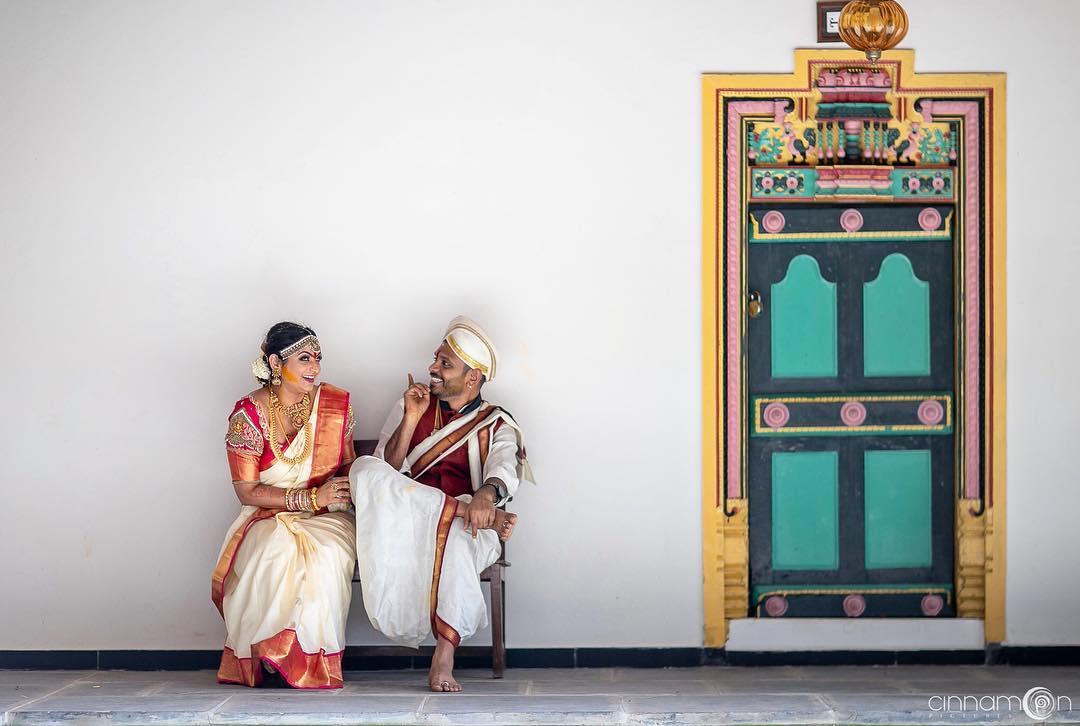 Not all garments are born equal. Some are iconic, while others aren't. The classic red and white Kanjeevaram sarees are the ones that come to mind the minute one thinks of silk! If you want a highly traditional look, then you've found your match!
6. This bridal red with gold!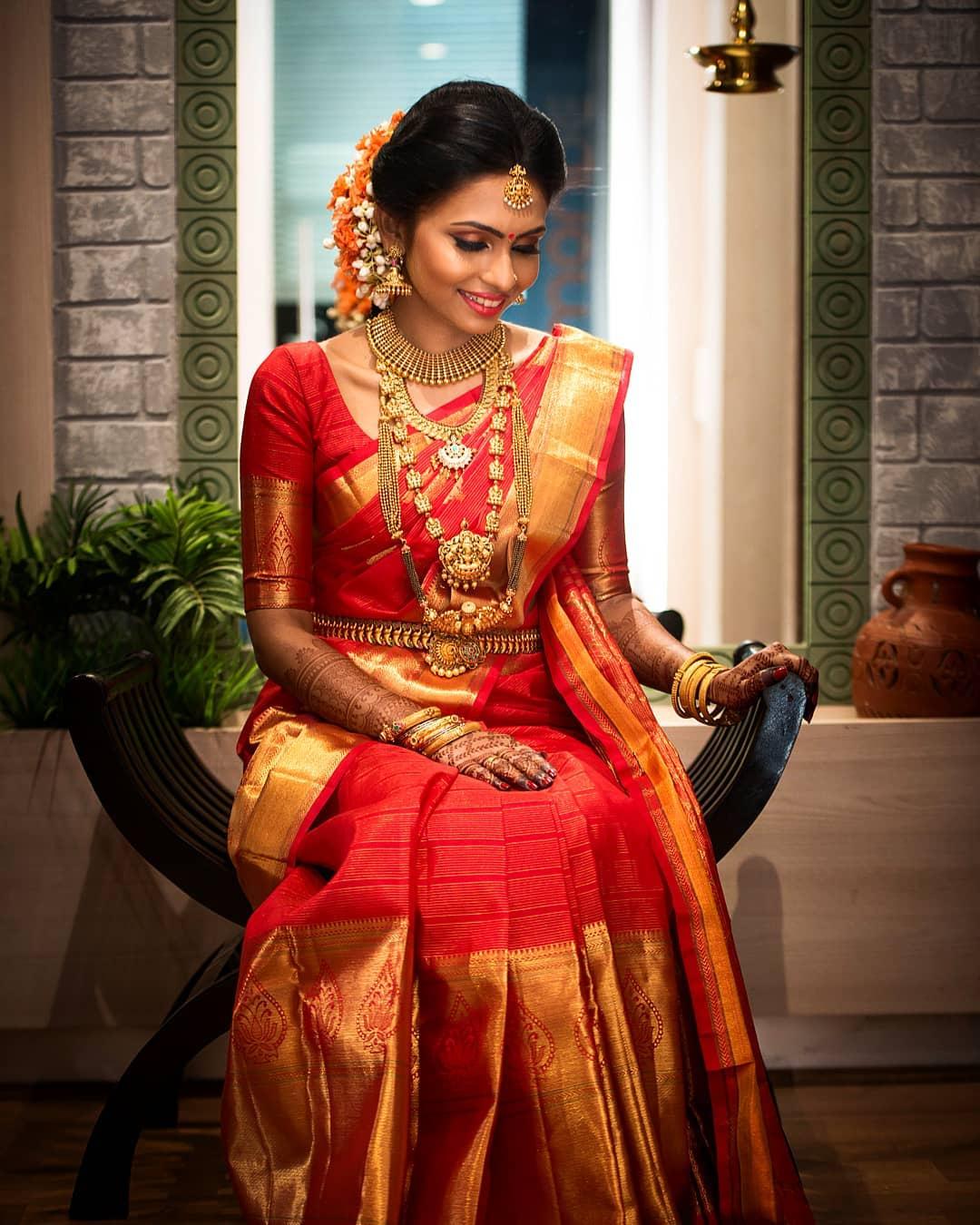 A bright pop of red with stunning gold borders make for the perfect bridal outfit for a woman who wants that red Dulhan vibe. The gold border blends in perfectly with this colour, making the bride shine brighter than the sun!
7. Contrasting green and pink saree!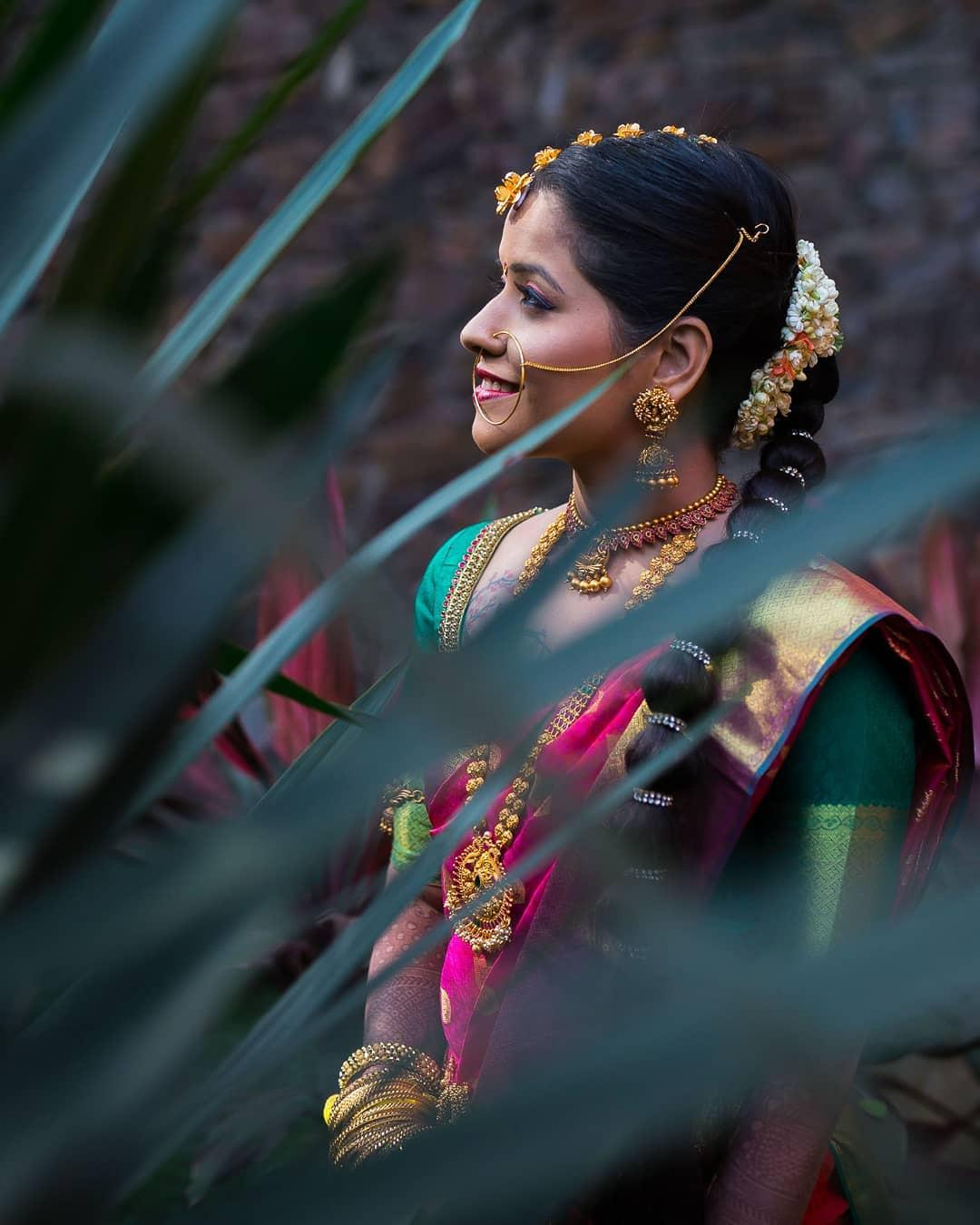 The contrasting look is another one that brides love to don. This saree has a deep pink fabric that's paired with an emerald green blouse. The subtle gold sheen on both, the saree and the blouse, ties the look together.
8. This cream and red saree with a pattern!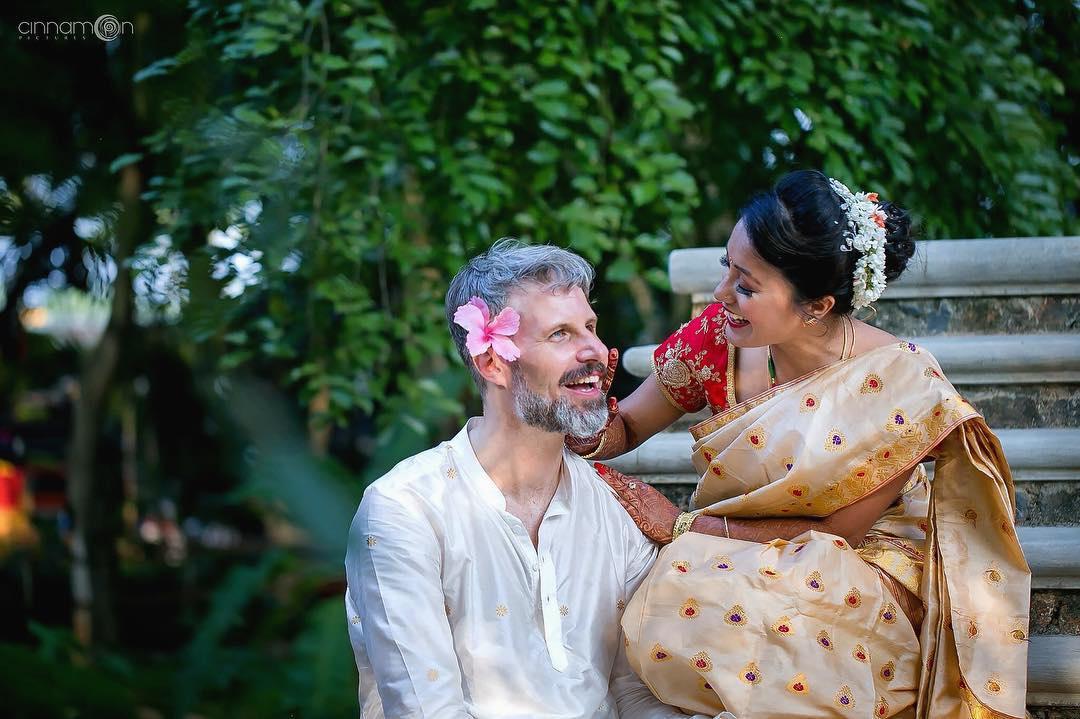 With alternating red and green embroidered patterns on a cream base, such patterned Kanjeevaram sarees are visually different from others. It even has gold embroidery on the red blouse, which matches the same thread used in the saree.
9. This deep pink saree with a network of gold chequered patterns!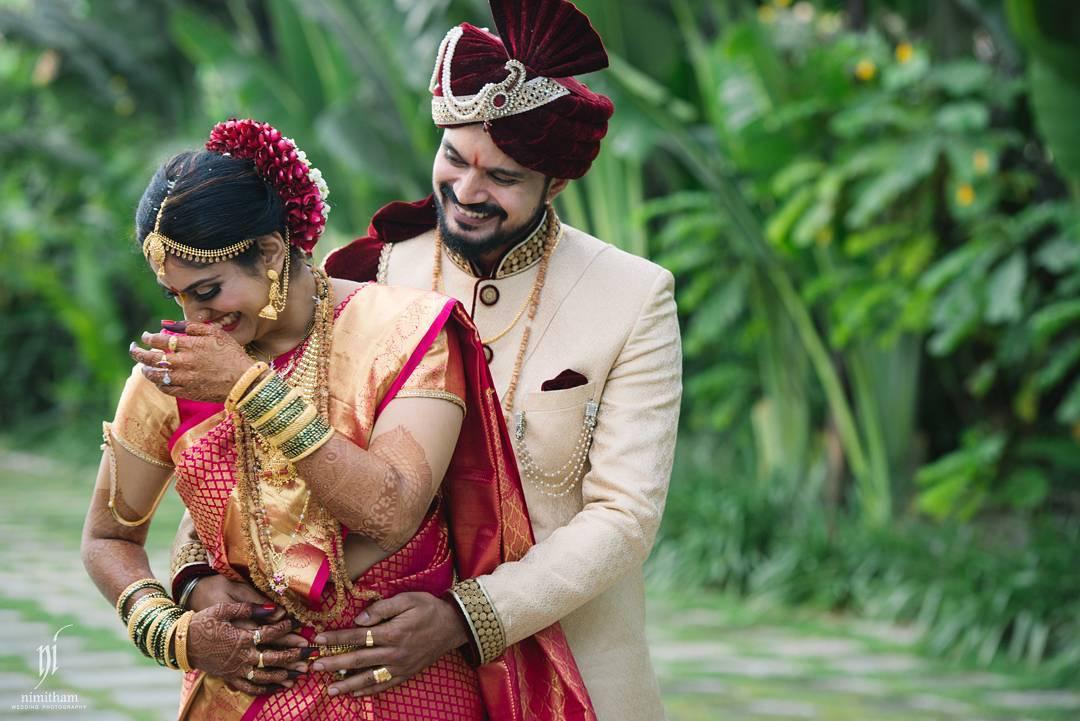 Speaking of Kanjeevaram sarees that have a great pattern, here's another one! The deep pink is the perfect colour to help the gold patterns stand out, making this saree an absolute hit in our list!
10. This deep red saree with a cool-toned border!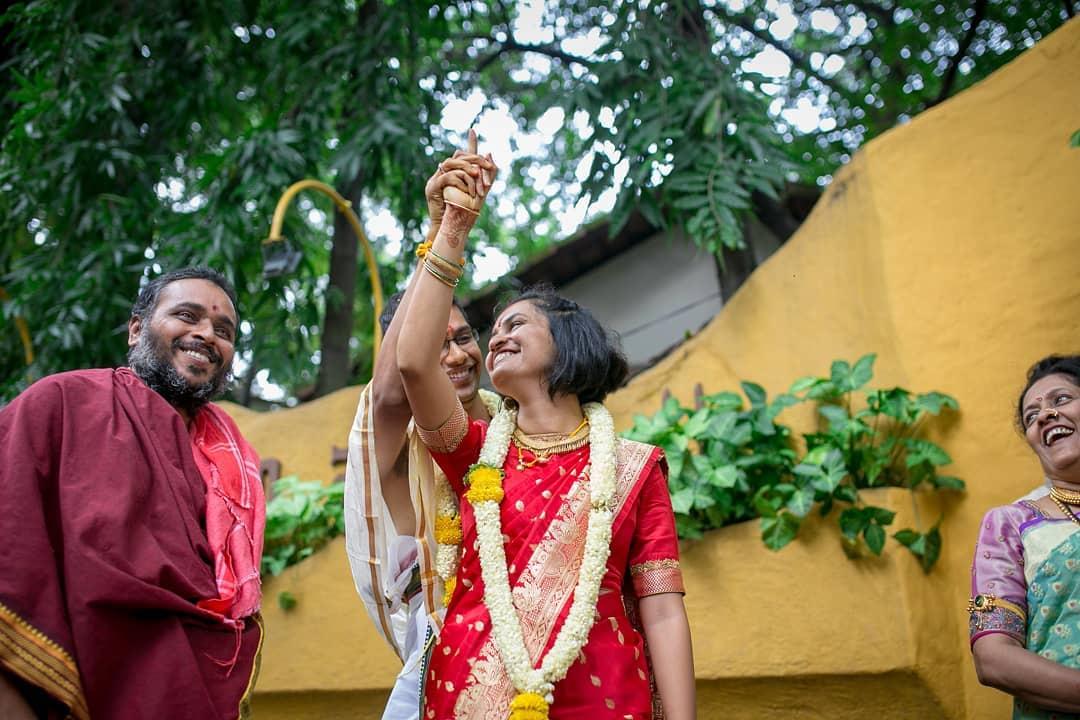 Here's another bridal red look, with a deep red saree that has such a cool-toned gold border that it almost appears silver. This style is ideal for brides who want to retain their love for silver accessories, even with decked from head to toe in gold! Who says tradition isn't flexible?
11. This saree that's paired with an embroidered blouse!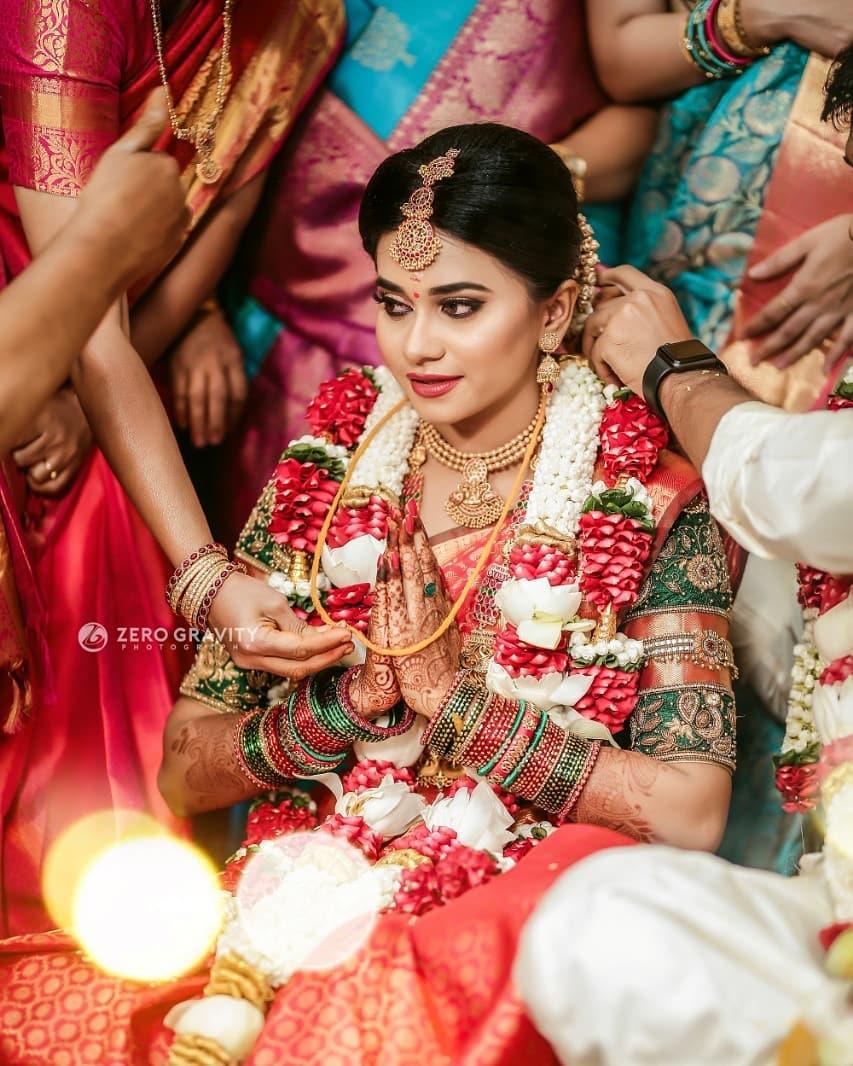 This bride is wearing a peachy-red saree that has been paired with an embroidered green blouse, showing that you can mix two different aesthetic styles to create your own look. She has chosen to ground the look with a predominantly South Indian aesthetic by picking temple jewellery to go with her attire!
12. This orange and gold saree!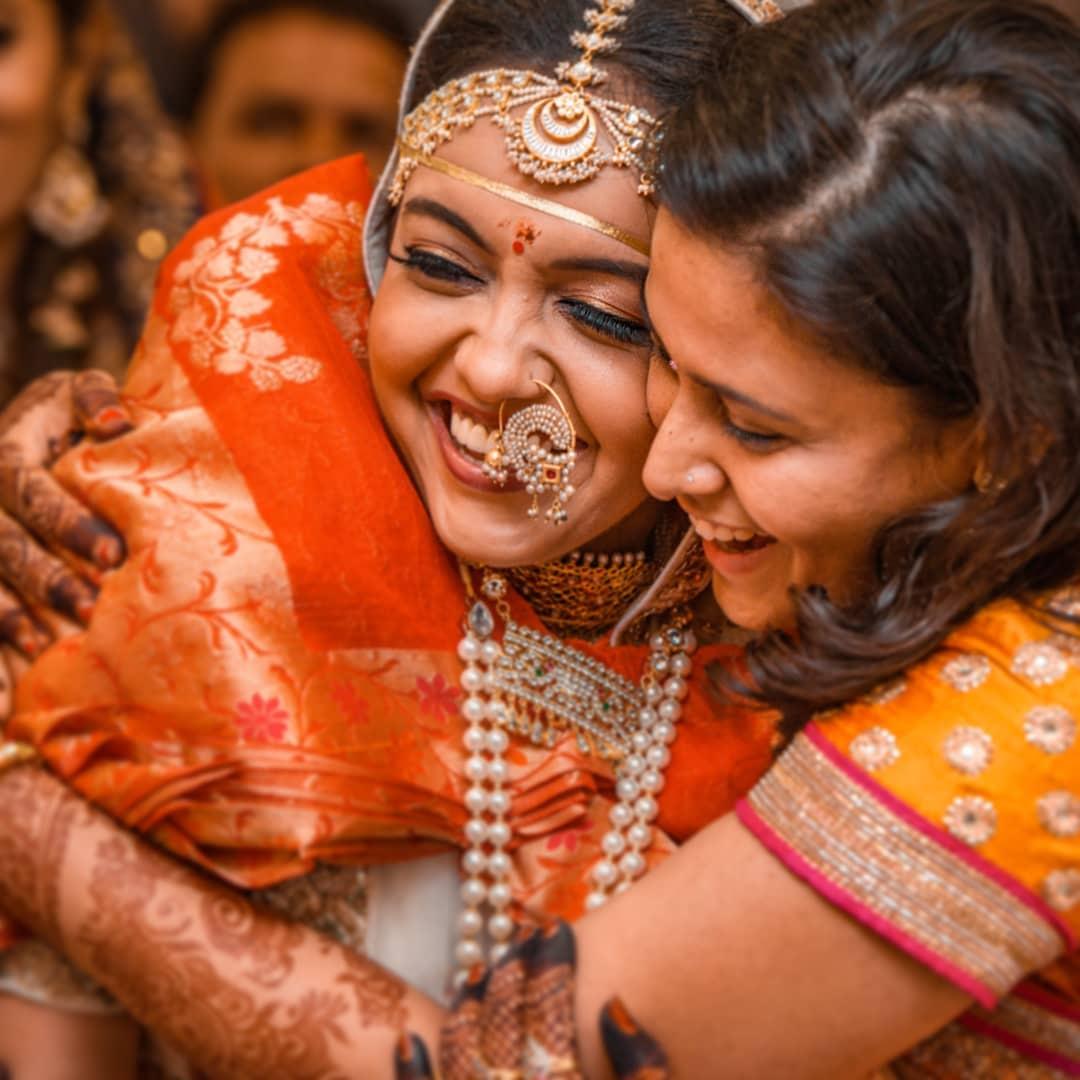 Finally, let's end things on a traditional note. Orange is a highly popular colour when it comes to South Indian sarees and this bride is wearing one with light gold borders that have floral patterns all over them. Needless to say, she looks absolutely stunning on one of the biggest days of her life!
If you are planning to emulate the South Indian vibe, you just cannot go wrong with Kanjeevaram silk. So, add it to your wedding collection and gear up to look lovely!
Get in touch with our makeup artists to complete your look!