Trending Patola Sarees for Millennial Brides
Some statement sarees in your wardrobe live on forever. One such favourite of ours are the patola sarees.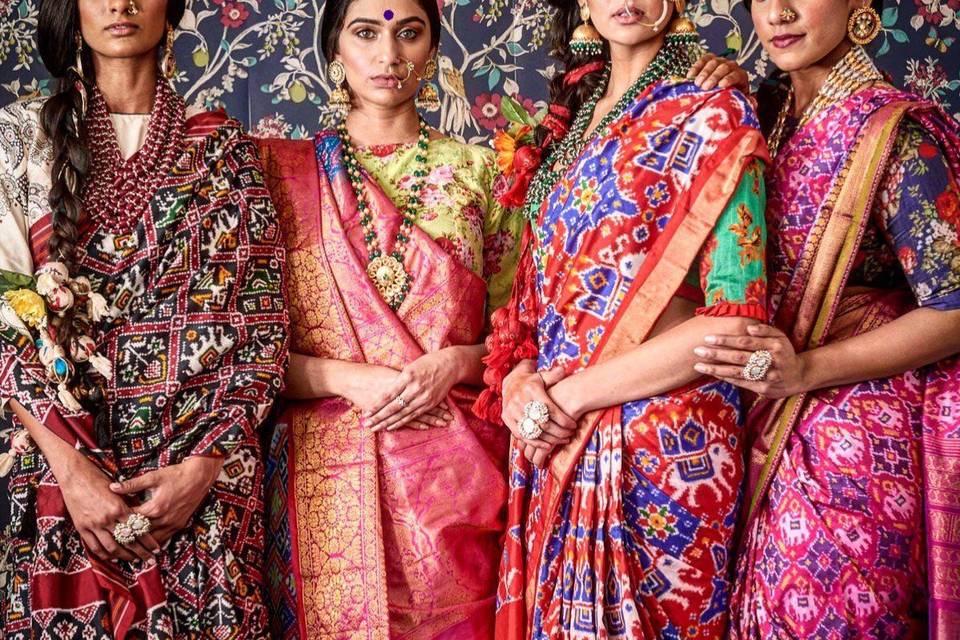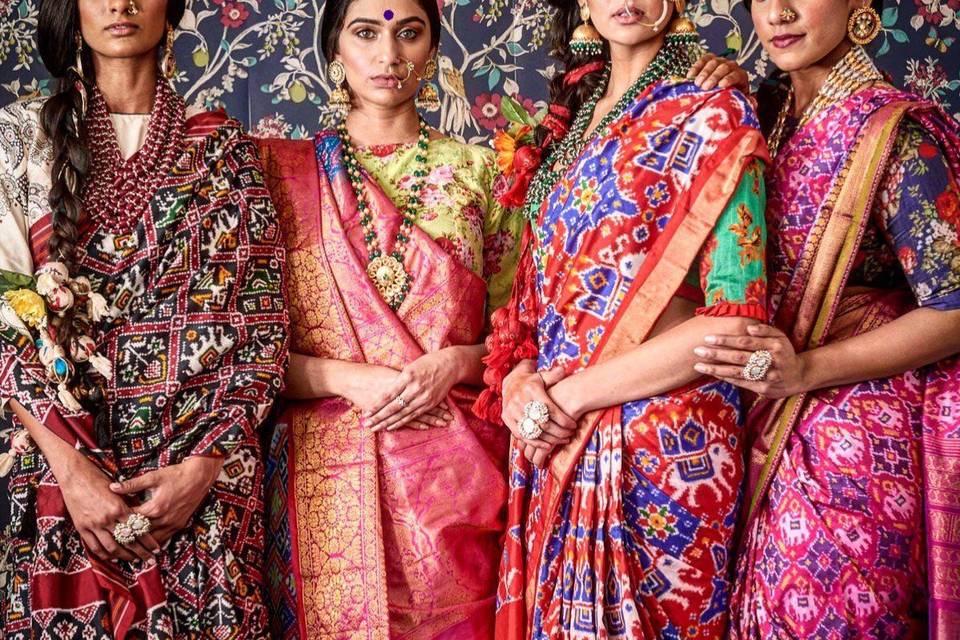 Image Courtesy: Ayush Kejriwal
Every millennial bride needs some classic choices in her trousseau that she can cherish forever. These are outfits that are never outdated or go out of style. Sarees according to us do that in today's times when every other style or fashion comes in and goes out in the blink of an eye. With the trend of sarees already diminishing, the millennials must begin to invest in classic choices that are a must-have in your wardrobe. So what do you think about patola sarees?
While some millennial brides might think it to be choices for the elderly, the truth is that they are also quite popular for their vibrant colors and geometric motifs that the brides of today love. Patola sarees are double ikat weaves that originated in Patan, Gujarat, and apart from the fact that it requires a lot of concentration and precision to make them, even a tiny mistake ruins their entire design. Their unique techniques make this saree reversible and look the same on both sides. To the extent that sometimes even the weavers can't make out the difference. This pure product of weaver's craft is not just very expensive but also one that is a timeless classic.
So if you have a more classic taste, then dig in because you will fall in love with patola sarees. For those that do not always wish to carry timeless classics, we've got you covered. With this article, we will tell you how to style different patola sarees in a manner to make them look both chic and modern. Are you ready to experience the world of patola sarees? If not, then let us promise you that you will thank us later.

So take a cue and style your patola saree like a pro.
Black and Red Patola Sarees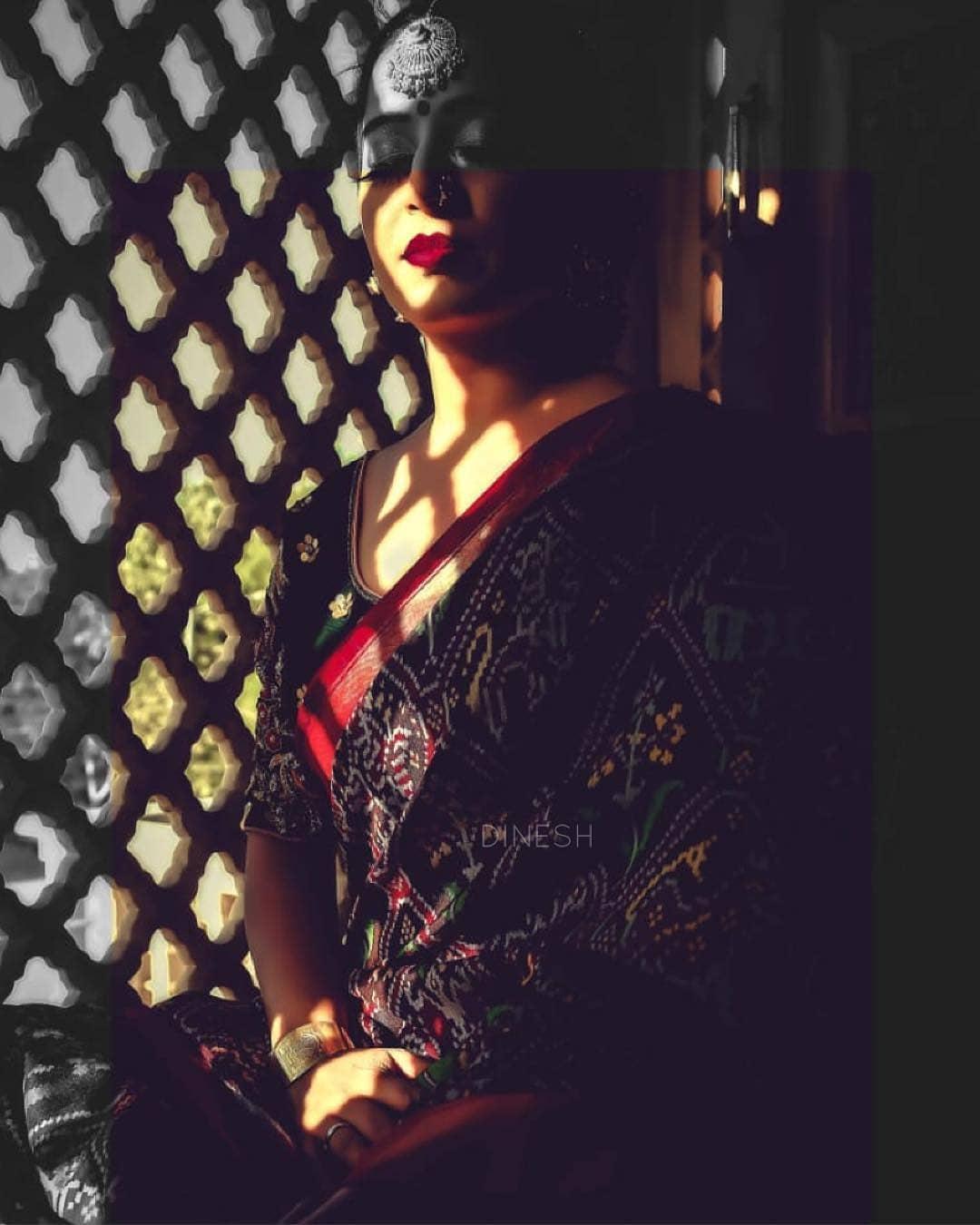 Image Credits - Dinesh Patola Sarees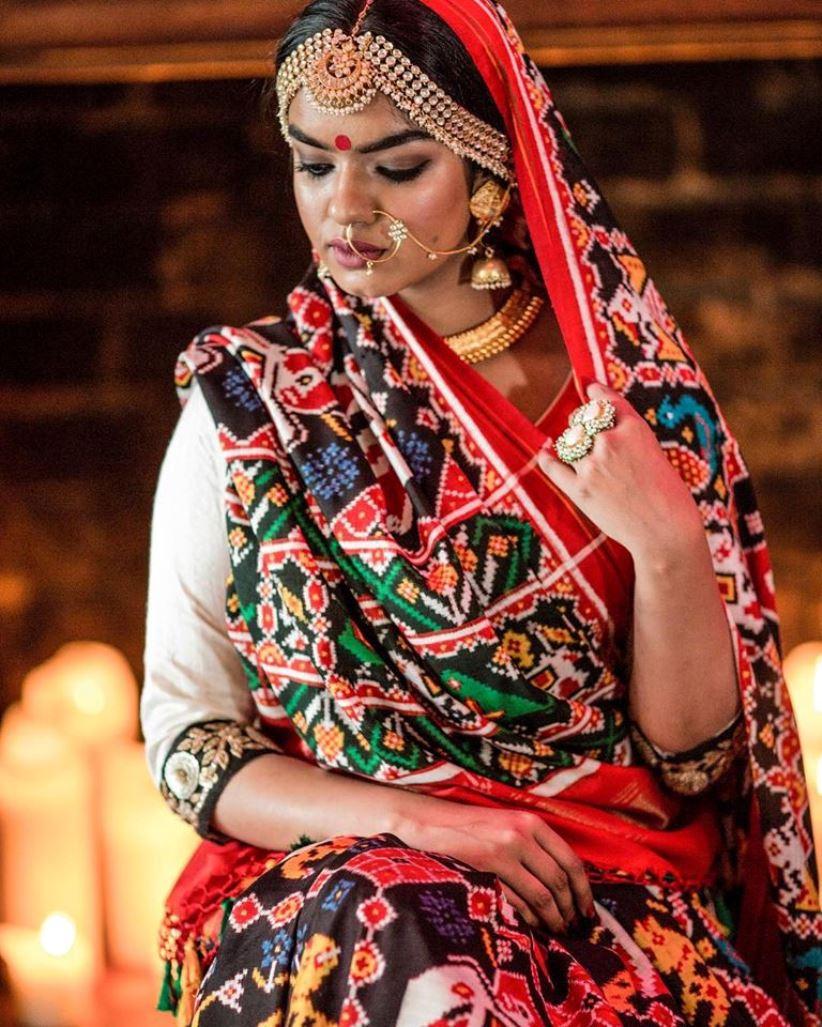 Image Courtesy: Ayush Kejriwal
Let's start with a color that looks best on patola sarees. The black patola saree that has human and animal motifs with hints of red and green looks beautiful when worn in the traditional front pallu Gujarati style drape. For the millennial brides wondering how to style this saree to make it look gorgeous, we'd suggest you go for a simple white blouse with a little golden work on the borders that accentuate the bold motifs on the saree. If you're wearing it in a traditional seedha pallu style for one of your traditional wedding functions, you can always keep the jewelry antique and in gold that makes you look like a bride.
Multi-colored Patola Saree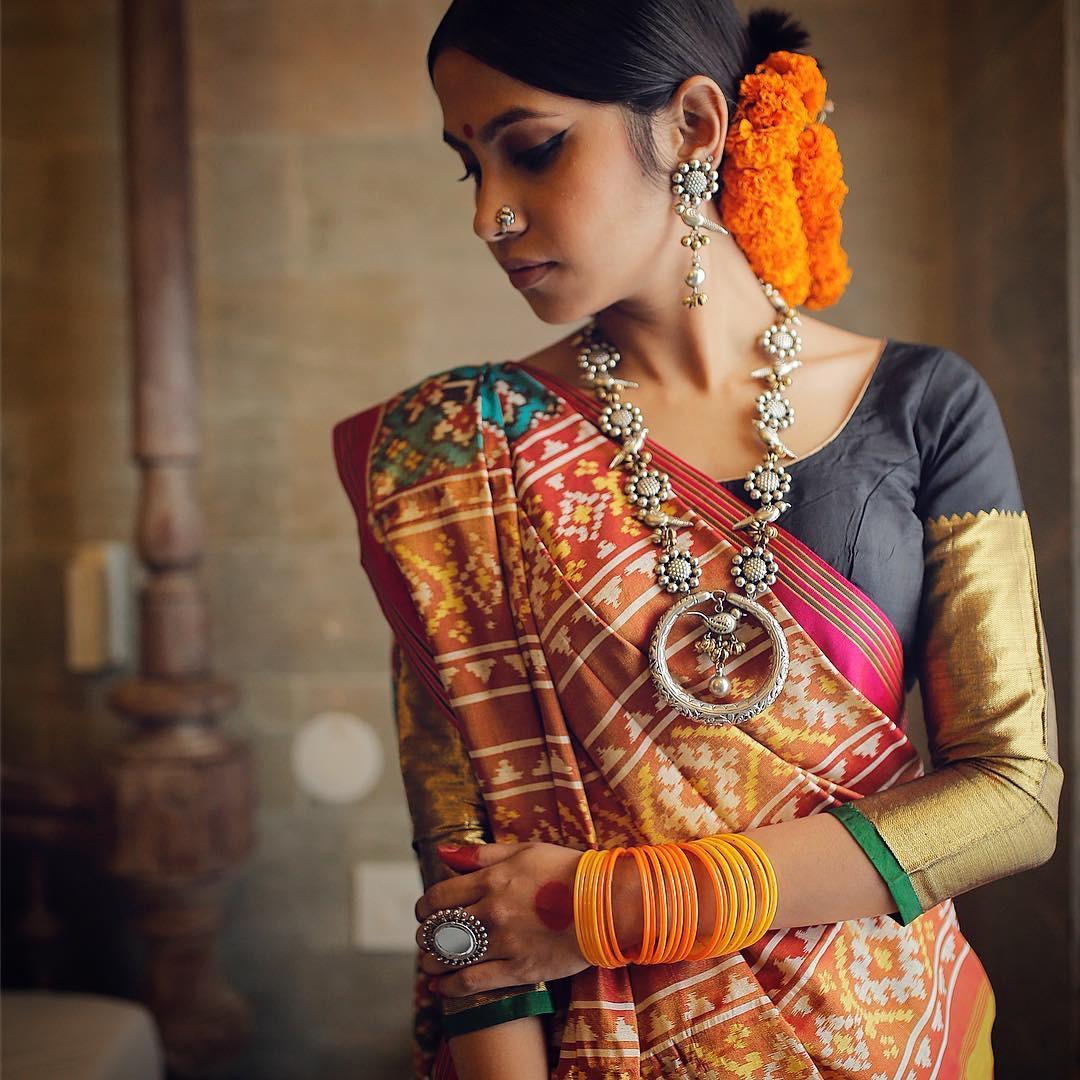 Image Courtesy: Ayush Kejriwal
Now here's something for our millennial brides that do not like dark colors or bold patterns. This is one of the most subtle patola sarees on our list that has abstract designs on a multi-hued weave. While carrying this off isn't everybody's cup of tea, for those of you that do choose to wear this make sure you don't kill its simplicity with jazzy styling. A simple black and golden blouse with silver jewelry and a bun hairstyle on your head would do the trick to nail this look.
Also Read - The Lookbook of Jaw-dropping Printed Sarees for Bridesmaids
Green and Red Patola Saree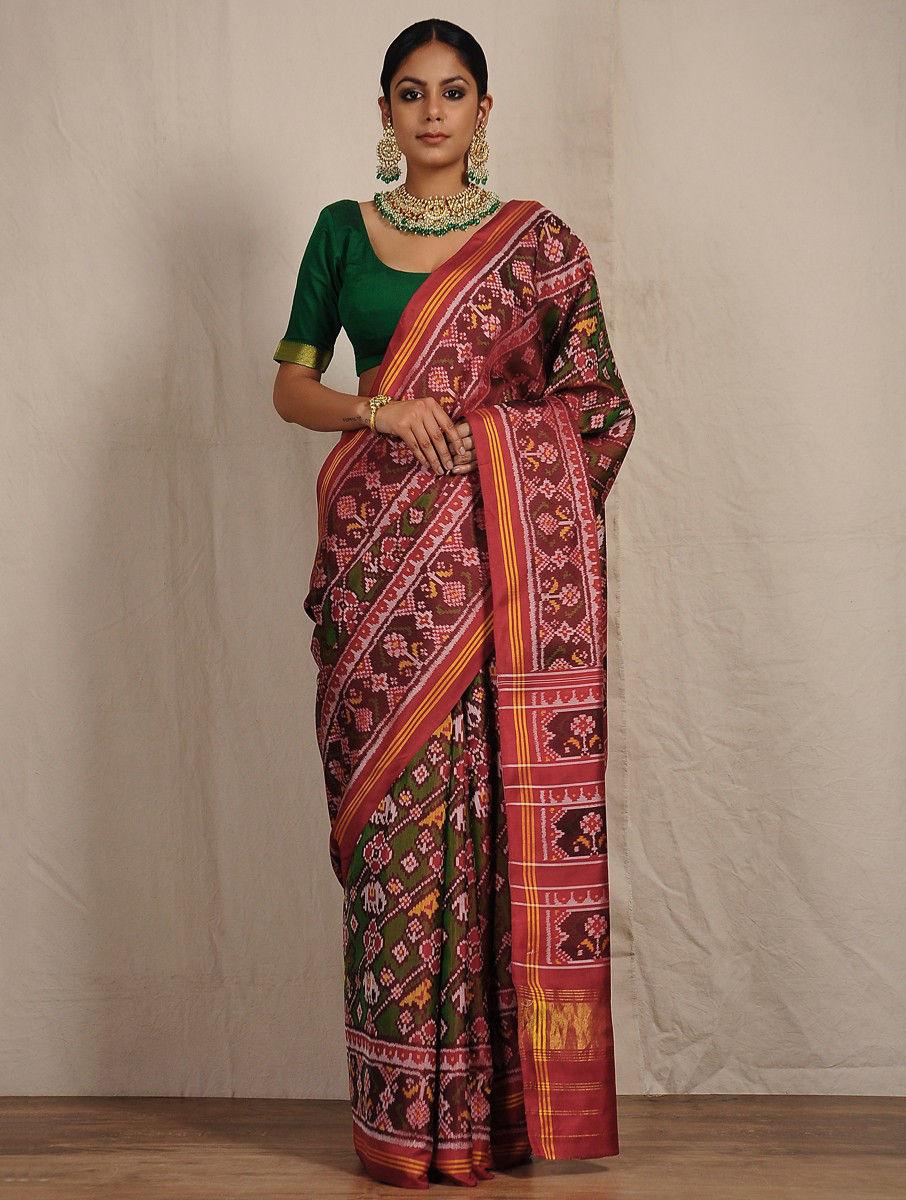 Image Courtesy: Jaypore
Now here's a choice for the millennial brides that love the flower motif in patola sarees. From a classic color combination of green and red to the prettiest design, this one is a sure-shot safe bet for them to wear during festivals or for a puja. Pair it with a green silk Kanjivaram blouse or one that has golden borders and accentuate the look with a heavy collar necklace that has pearls and emeralds.
For the millennial brides that want to make this look even heavier can also add a pair of traditional Jhumkas that match the necklace and go all-in with a traditional doughnut bun hairstyle for their hair.
Red Banarasi Meenakari Patola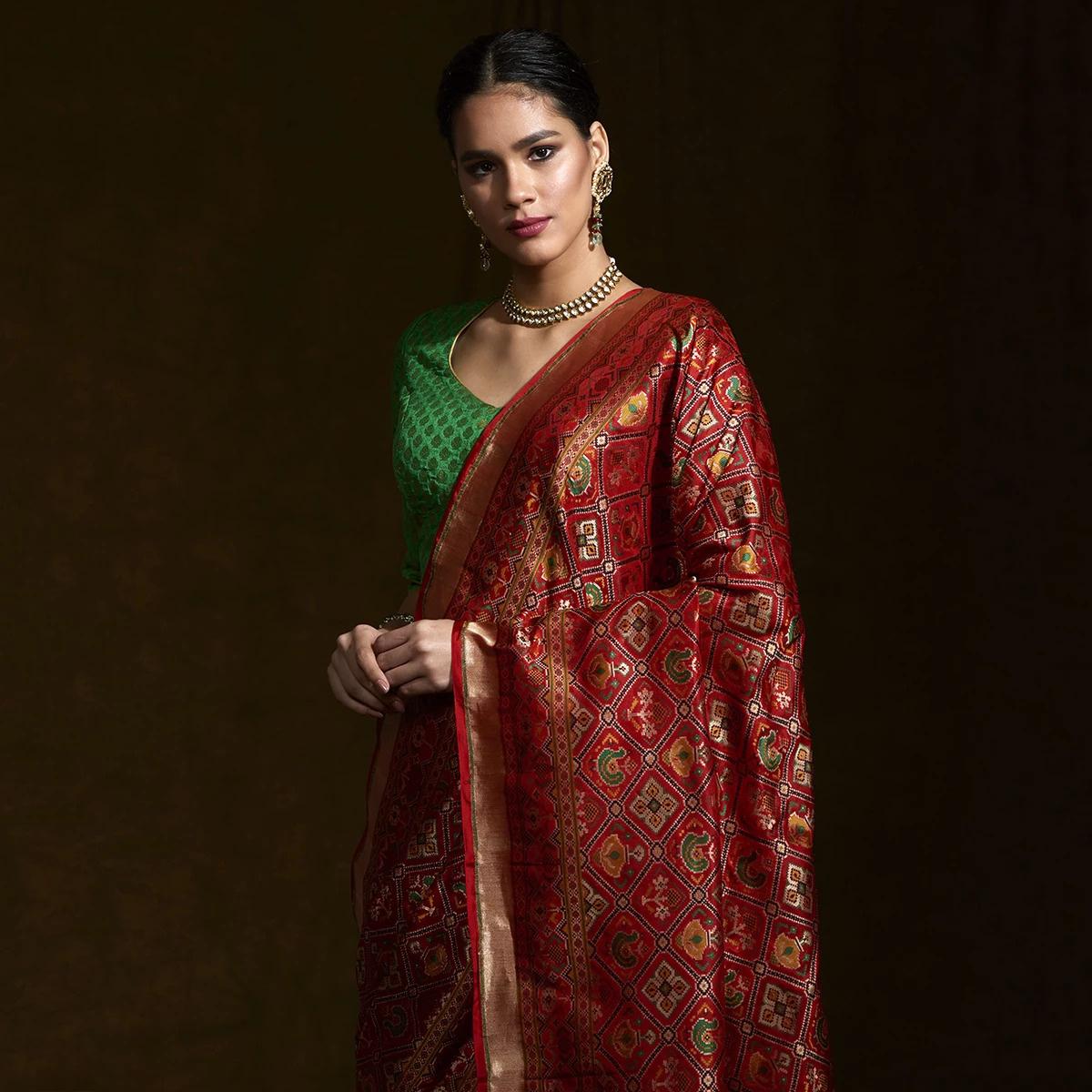 Image Courtesy: Weavestory
Now for the brides that want a touch of zari in their patola sarees so that it looks heavier than the other, the Banarasi patola is just what you're looking for. This red Banarasi meenakari patola is the perfect blend of a Banarasi saree and the patola weave that looks heavy and classy at the same time.
Brides that wish to change into a traditional saree at the time of pheras, can wear this draped with a front pallu and pair it with a green colored silk blouse that makes it the evergreen traditional combination. Keep the jewelry heavy to make sure that it makes you look bride-like. Opt for a bridal bun and cover your head with the saree at the time of the pheras.
Also Read - 8 Red Banarasi Wedding Saree Designs That Would Totally Steal the Show on Your Big Day
Blue Patola with Red Borders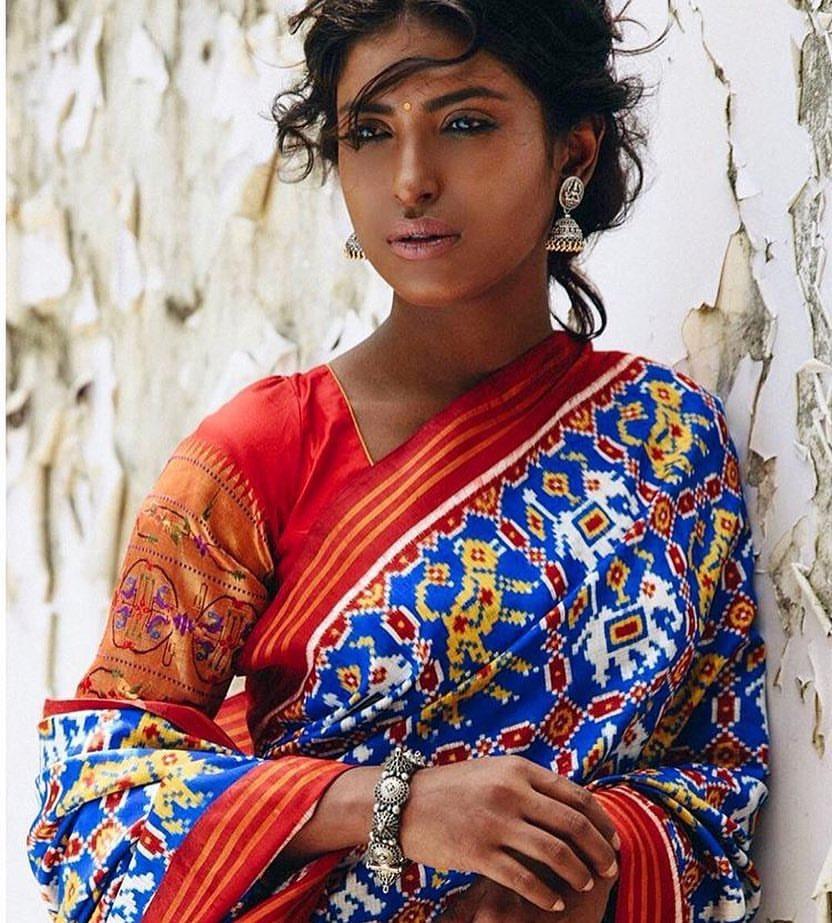 Image Courtesy: Gaurang Shah
Now here's a special color that looks beyond ethereal in patola sarees. The elephant motifs and the animal motifs on it make it even more irresistible. This one can be a part of your trousseau as it can be worn at multiple places combining it with different blouses depending on the occasion.
For brides that wish to wear this formal saree to work can pair it with a red Kanjivaram blouse or a plain silk blouse, accentuating the outfit with oxidized silver Jhumkas and a silver bracelet and make this look work like a pro. And for the millennial brides, who wish to go straight to a function from work, can just add a messy hair bun and some basic makeup to this look and make it more dramatic.
Pink and Orange Patola with Zari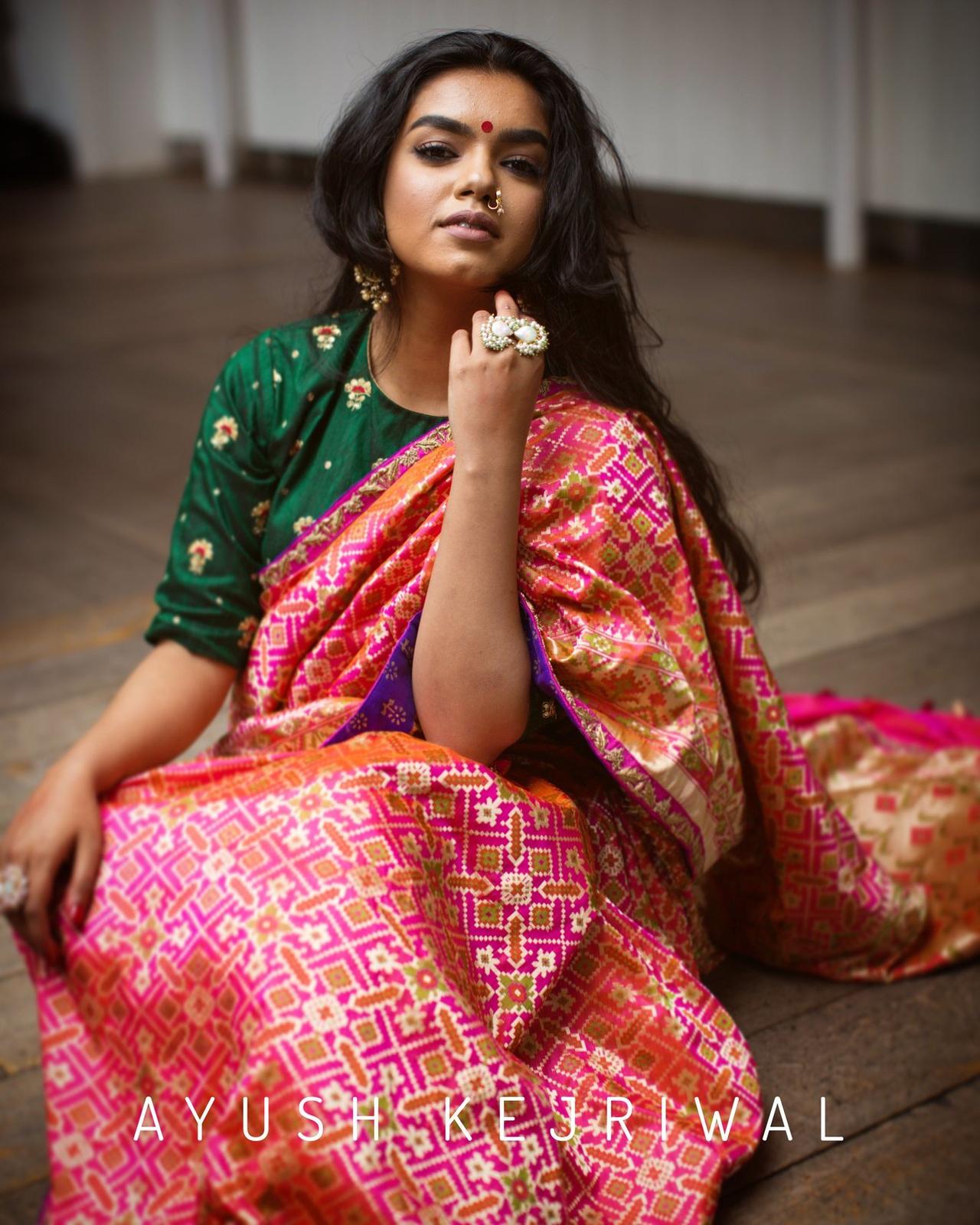 Image Courtesy: Ayush Kejriwal
With festivals like Diwali and Karwa Chauth around the corner, every millennial bride wants to have a classic timeless saree that does not just look gorgeous but also makes for a fashionable choice. This is one of those patola sarees in your wardrobe that you miss during the festivals.
Firstly, to start with the pink and orange saree has the perfect festive color, secondly, the embroidered Zari border and the hints of gold all over makes for a touch of intricate details, and thirdly pairing it with a quirky blouse combination makes it more stylish than even the Indo-western dresses that you love.
The green zari embroidered blouse brings the geometric abstract motifs of the Patola saree to life without making it look odd. A pair of statement earrings, a small Nathni, and some attractive hand jewelry are all that you need to make this look work.
Blue and Pink Patola Saree with Maggam Work Blouse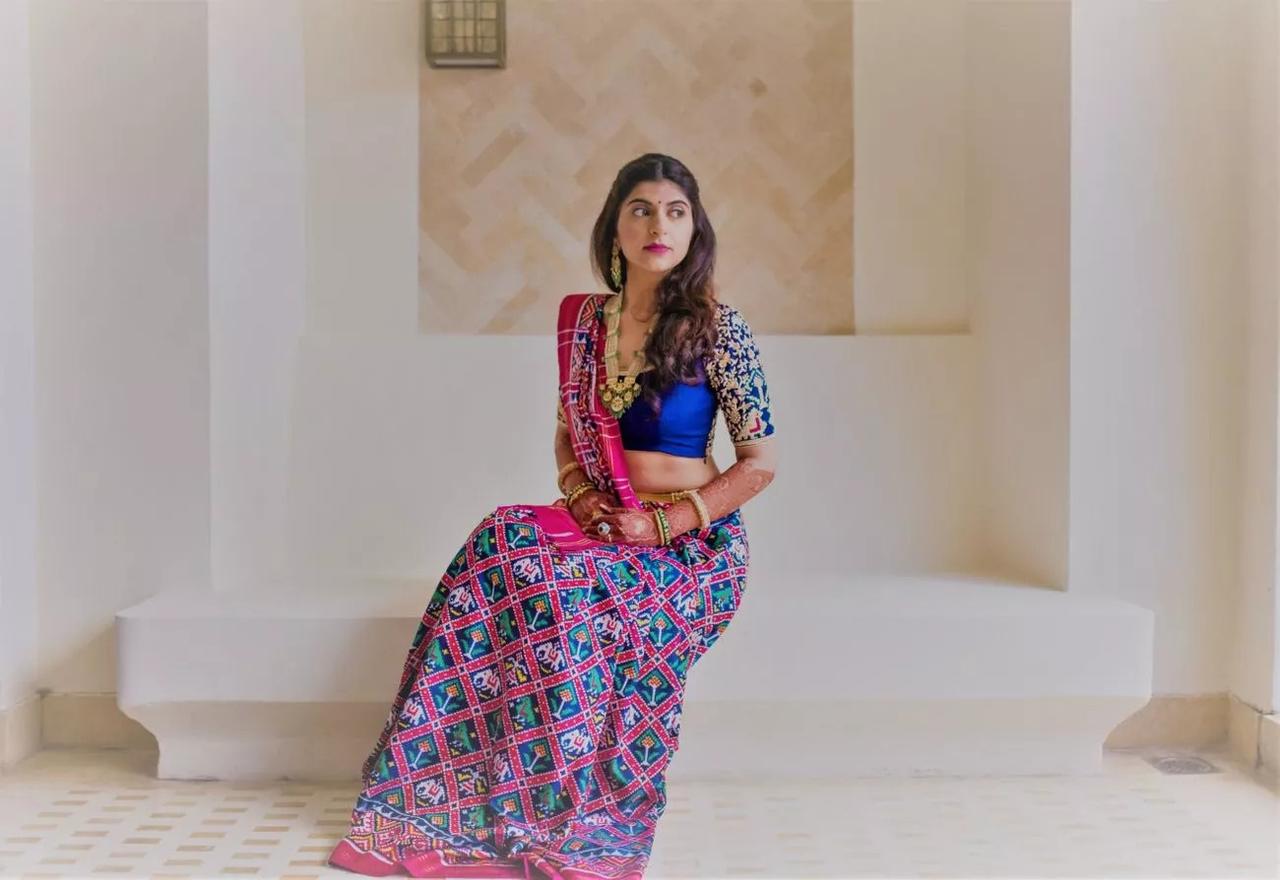 We have just the perfect pick for brides that wish to wear patola saree to one of their daily functions. This blue and pink patola saree with geometric patterns that has the most famous elephant and flower motifs when paired with a blue or pink Maggam work blouse becomes a combination that every millennial girl would want to copy at her wedding.
The front pallu style draping works best to wear for your Mehndi function. Add a touch of traditional jewelry like a heavy pearl and emerald mala with matching earrings to give it a bride a touch. Keep the hair and makeup minimal as for a day function that you decide to put on a classic patola saree, too much makeup and an elaborate hairstyle could make your look confusing. So, keep it classic and trendsetting for others to follow.
Red Patola Saree with Floral Blouse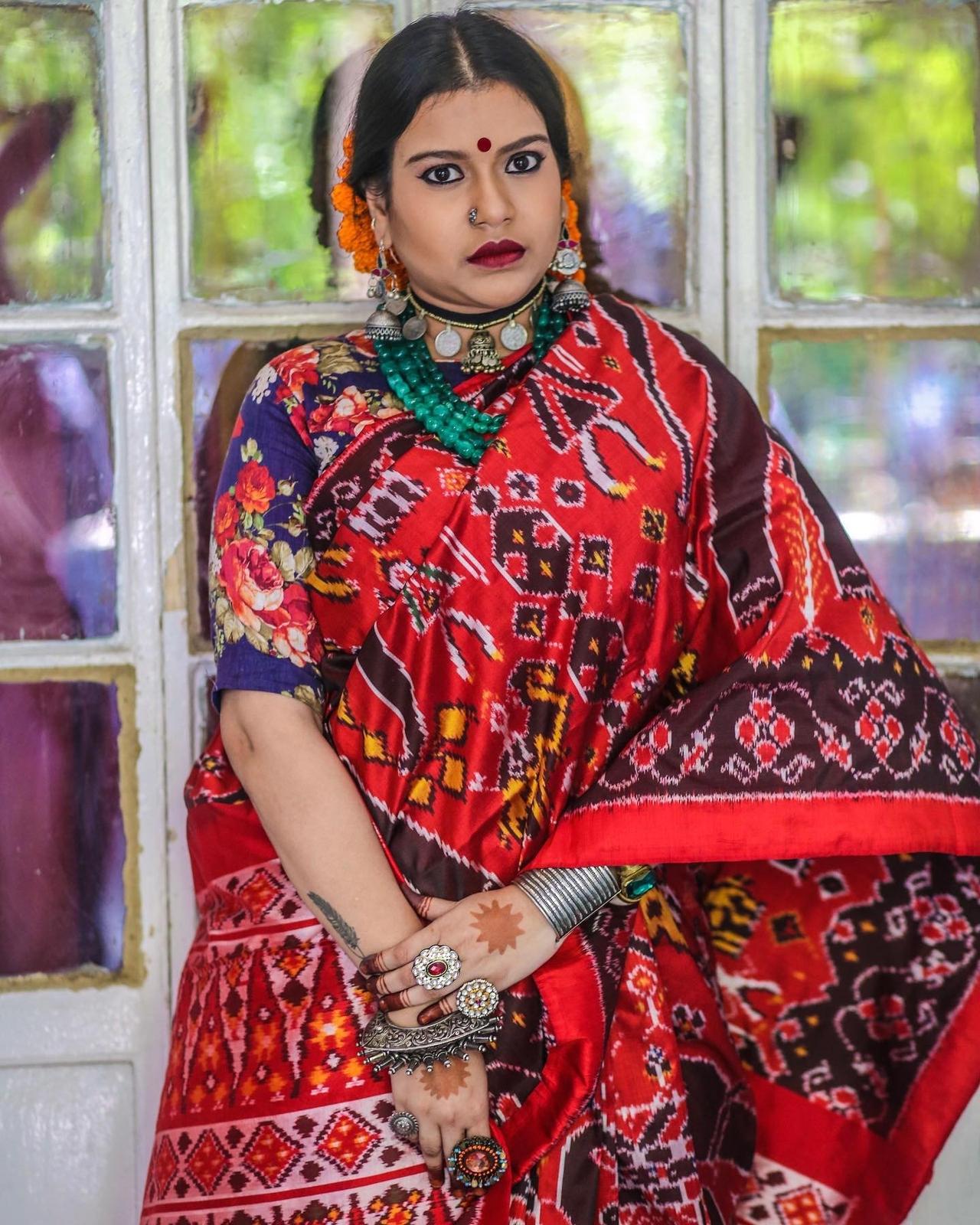 Image Courtesy: Ayush Kejriwal
Now here's a choice for the millennial brides that prefer a maximalist style of dressing over a simple minimalistic one. While the choice of patola saree for them is the basic red one that has abstract motifs, how they style it is what will tell a lot about their fashion choices and preferences.
This classic saree, when put together with a blue floral silk blouse, does not look as contrasting as you thought it would, does it? Just make sure you complete the look with makeup that blends in with your styles like a bold red lip or a big red bindi along with heavy silver jewelry and a dramatic bun hairstyle with Gajra to accentuate your look.
While patola sarees aren't considered very millennial, we truly believe that how you style it can make a lot of difference. We have put together 8 of our favorite looks attempted by millennial women and how their styling has made this timeless classic saree look eternally fashionable.
So, if you are a millennial bride that loves patola sarees, then think no further. Place your bets on it and we promise that you'll be raising stunned eyebrows with your choices.
Which of the above patola sarees would you like to place your bets on? Tell us in the comments which of these patola sarees are styled in a way that matches your personal choices.
With words by Meha Khera
Read More -
Mehndi Design | Proposal Lines | Simple Finger Mehndi Design | Arabic Mehndi Design | Propose Day Quotes for Boyfriend | Wedding Anniversary Wishes for Sister | Change Aadhar Card Name after Marriage | Tamil Wedding Calendar | Simple Mehndi Design | Pre Wedding Quotes | Engagement Anniversary Wishes | Funny Wedding Wishes for Bestfriend | Blouse Design | Rangoli Design | First Night Tips for Bride | Wedding Anniversary Wishes