All You Need is a Silk Blouse at Your Bff's Wedding to Do It Right
It's your best friend's wedding and you want to look classy. Have you considered a silk blouse to keep your fashion quotient higher than everybody else?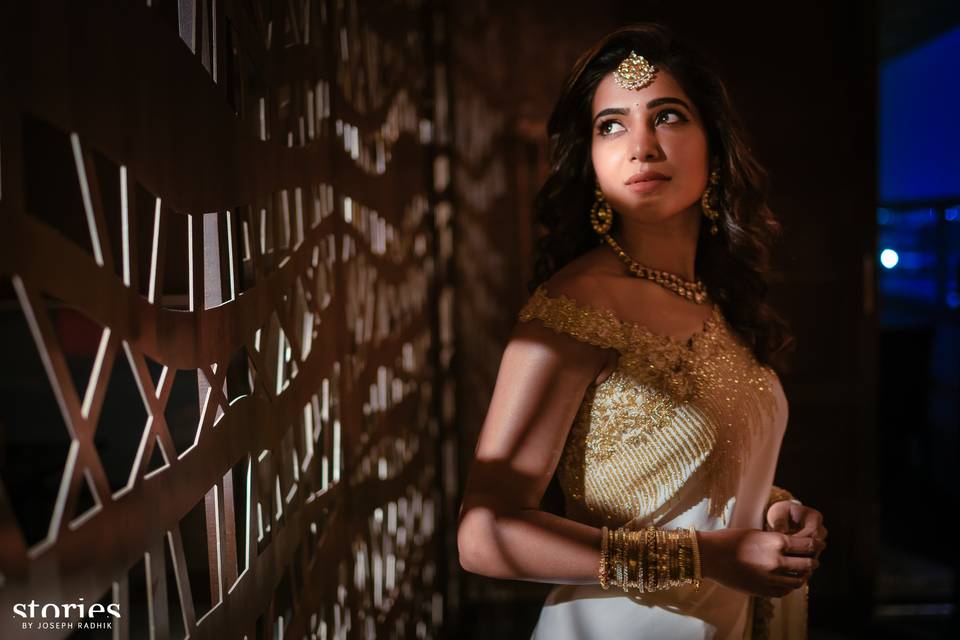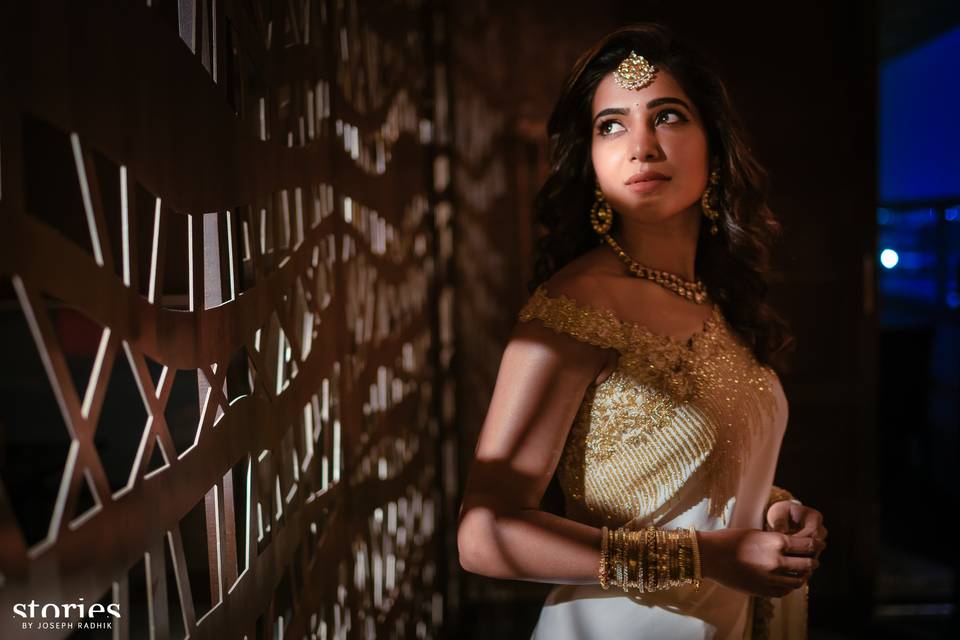 Image Courtesy: Stories by Joseph Radhik
Best friend's wedding is that occasion where it is almost mandatory for you to put your best foot forward because you know there are going to be several eyes on you too. So if wearing a sexy blouse is a pre-requisite to look your best, then let us help you figure it all out.
The millennials are increasingly dissing silk blouses when it comes to opting for a wedding outfit as they think it is the more traditional fabric that cannot give their outfit a steaming hot twist. Well, we obviously disagree but do not blame them for this misconception.
We have always seen the best blouses on our moms and we all know they have been slightly on the traditional side. However, that does not mean that silk is not capable of looking sexy.
A blouse has the ability to make any outfit look sexier, all you have to do is choose the right neckline, back design, embellishments and cut.
Still confused about how a blouse can solve your problem? Well, we've put together a list of the sexiest blouses that we've seen on brides and bridesmaids, so take a cue and get yours made immediately.
Our BFF tips will also help you figure what your BFF is most likely to say to you for the choice of these sexy silk blouses.
Embroidered Deep V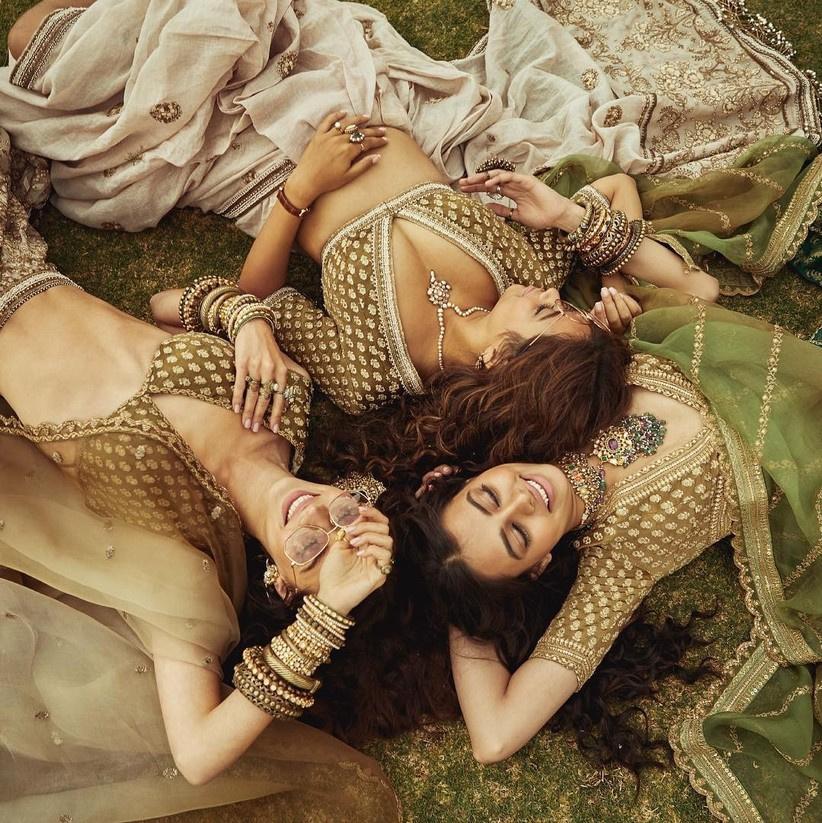 Image Courtesy: Sabyasachi's Official Instagram Page
Let's start the list with one of our favourite blouse that is not just sexy itself, but has the ability to make any outfit look sexy when paired with it. The thing that makes this blouse sexy is not just its deep V-neck, but also the subtle work on the border all around that matches the earthy colour tone of this silk blouse.
The print on the silk fabric despite being small adds personality to the entire blouse and also breaks the earthy tones of the fabric and the border.
BFF Tip: Pair this with a floral lehenga in either off-white/ beige colour or a similar earthy tone at my Mehndi to truly look like an important person and the perfect bridesmaid.
Off-Shoulder & Side Straps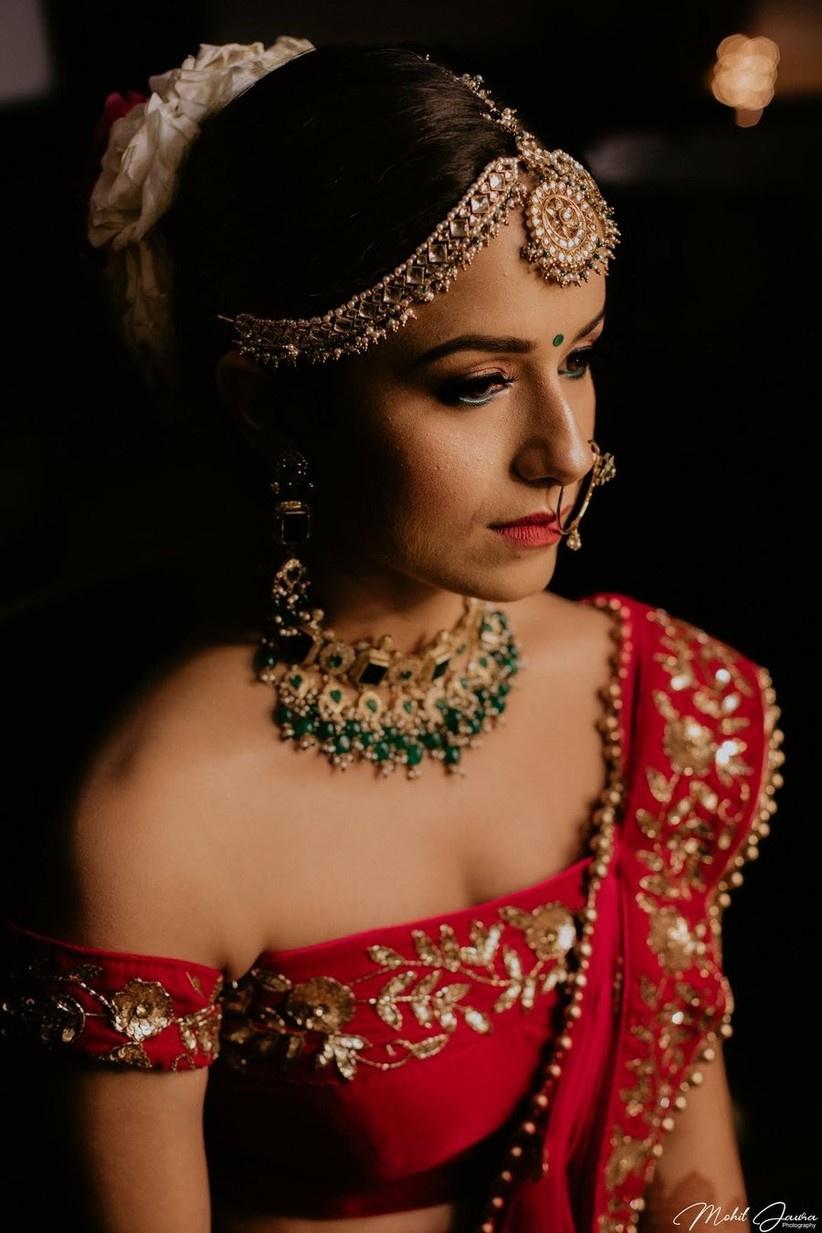 This one is truly a sexy silk blouse that any bridesmaid would die to wear. The off-shoulder blouse with intricate embroidery on the neck is what makes this blouse different from anything that you've ever seen.
The side straps, although for effect, add a lot of style to the blouse making it one of a kind. The colour might be a little traditional for a bridesmaids' liking, but trust me this formula is sure to work with any colour you choose to go for.
Just put on a chunky choker with it and you're ready to kill it at your BFF's wedding.
BFF Tip: Wear this blouse with one of your mom's pretty silk sarees and pin it all up for your sexy silk blouse to show and distract all my single brothers at my Reception.
Strapless Bustier Neckline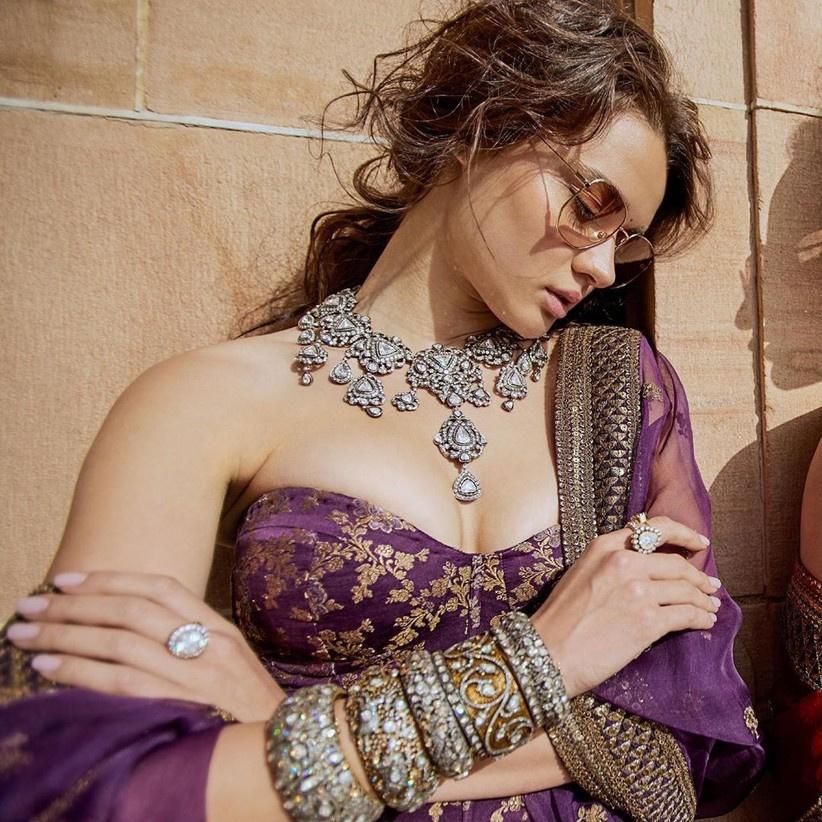 Image Courtesy: Sabyasachi's Official Instagram Page
Well, this is a clear winner when we talk about a sexy blouse because from its fabric, to its style, there is nothing that you can categorize as not sexy. The violet embroidered fabric in itself is a hit but when you make a strapless sexy blouse out of it, it just becomes irresistible to avoid. The sweetheart neckline is what we call the cherry on the cake that gives this blouse a fresh look. Go for statement neck jewellery to add to the oomph of the silk blouse.
BFF Tip: Get a lehenga done with the same fabric as the blouse and pair it with a light net dupatta for my Sangeet. But you dare not take away all the attention off me with your sexy silk blouse when you dance with me on stage.
Sexy Back with Halter Neck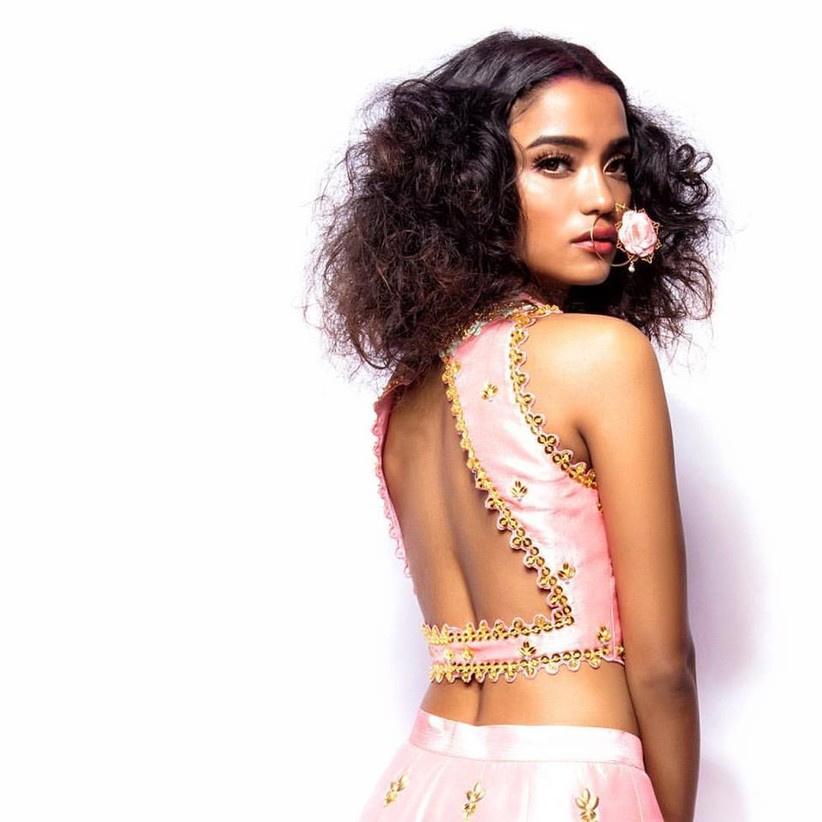 If you're someone that likes blouses that have a sexy cut at the back, then you're going to love this one. This comparatively simple pink halter neck blouse has a very chic border all around that makes it eccentric.
The cut at the back is the highlight and makes it just the perfect option for bridesmaid that want to go with something bohemian. If you wish to carry this look off with swag then choose contemporary jewellery like a nose ring or a Maang tikka to go with it and create an Indo-Western look for your BFF's wedding.
BFF Tip: Pair this sexy silk blouse with a belted skirt for my haldi but be aware when my cousins start playing Holi with haldi and run away to save your outfit.
Cape Style Fancy Blouse with Attached Dupatta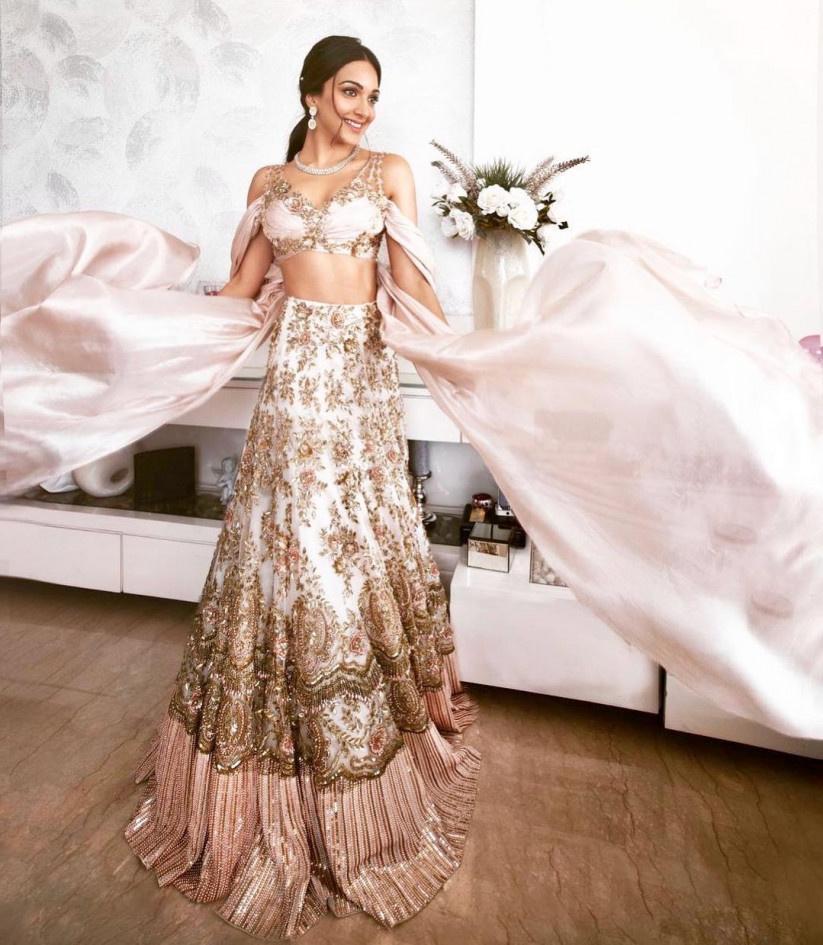 Image Courtesy: Manish Malhotra's Official Facebook page
If you're too clumsy to handle a dupatta, this fancy blouse with attached silk cape looks exactly how your dupatta would look. The best part about this silk blouse is the fine soft silk fabric that flows freely and makes you look nothing less than a princess. The soft shade of pink is ideal for your BFF's wedding while the embellished blouse is truly what dreams are made of.
BFF Tip: Pair this super sexy silk blouse with a fish cut lehenga to truly give it the princess look you want for my Sangeet or Reception. But don't forget that I am going to take revenge from you just at the right time for you stealing my thunder with an outfit as stunning as this one on my big day.
Sexy Blouse With a Cut-out Back Design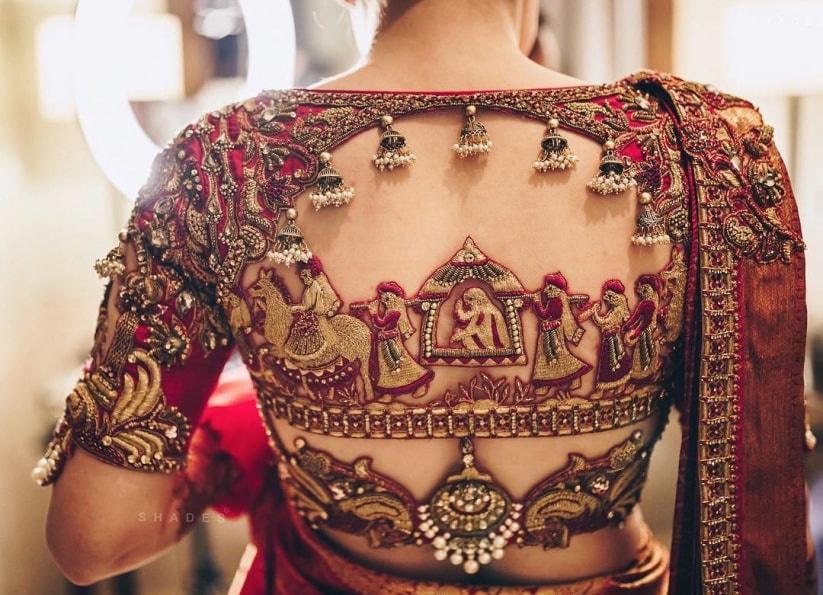 Image Courtesy: Shades of Photography
If you're looking for something that is sexy as well as traditional, then this is the perfect choice for you. A traditional red blouse with Ghungroo embellishments and a cut-out pattern the back is one of the most unique designs that we have come across.
For the bridesmaids that don't want to go with the idea of the cut-out of the Doli can choose to go with something else like that they like because this sexy blouse with cutouts at the back is surely going to turn all the heads around at your BFF's wedding.
BFF Tip: Pair this sexy blouse with a red saree to be one of the most stunning bridesmaids at my Pheras. Go in for a complete Indian look with traditional jewellery and a Juda in your hair to make a statement like nobody else.
The Peter Pan Collar Blouse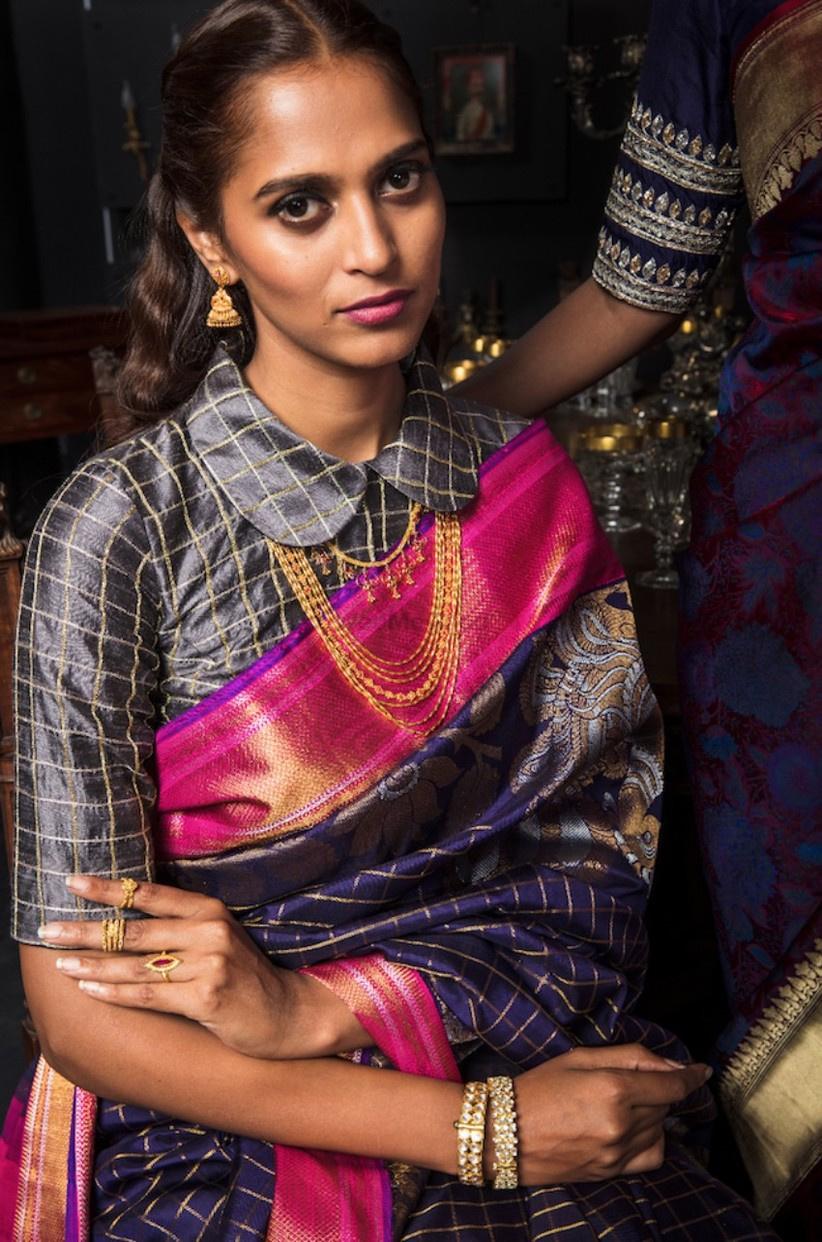 One of the trendiest ideas of this wedding season is that of pairing a modern blouse with a traditional saree. Being the bride's best friend you deserve to go for something unusual and yet very eye-catching.
This blouse with checks is one of the best modern blouses we've come across; they look sexy when paired with a traditional Kanjevaram silk saree, a modern updo and minimal jewellery because you do not want to look over the top in any case.
BFF Tip: Your peter pan collars with Kanjeevaram silk saree might take away from my bridal lehenga but I'd in all cases want you to be the star at my wedding after me. Don't forget because it's your turn after me and I want to prepare you well from now on.
Have we managed to change your perception of silk blouses? With so many choices for sexy silk blouses available to you, we hope you make a choice that goes well with the theme that your BFF has asked you to follow.
You know that weddings these days are all about the pictures, and for you to look stunning in your sexy blouse while making the pictures perfect too, following the theme is almost compulsory.
However, another factor that is of utmost importance while choosing a sexy blouse is how comfortable you are to carry it. Pick something that allows you to move around freely while also making sure that you get the sue attention that a bride's BFF deserves.
We can't wait to see what you picked up for your best friend's big day!
Don't you agree that a silk blouse has a unique charm of its own? Which of the above sexy blouses are you most likely to wear?