Brides, Buy These 9 Terrific Traditional Sarees for Wedding Functions Now as They Are Absolutely Gorgeous
Planning to wear traditional sarees for wedding functions? You're on the right track. Did you know Sarees with superior embroideries and prints set the fashion bar very high at any type of a function? Read on to find out more.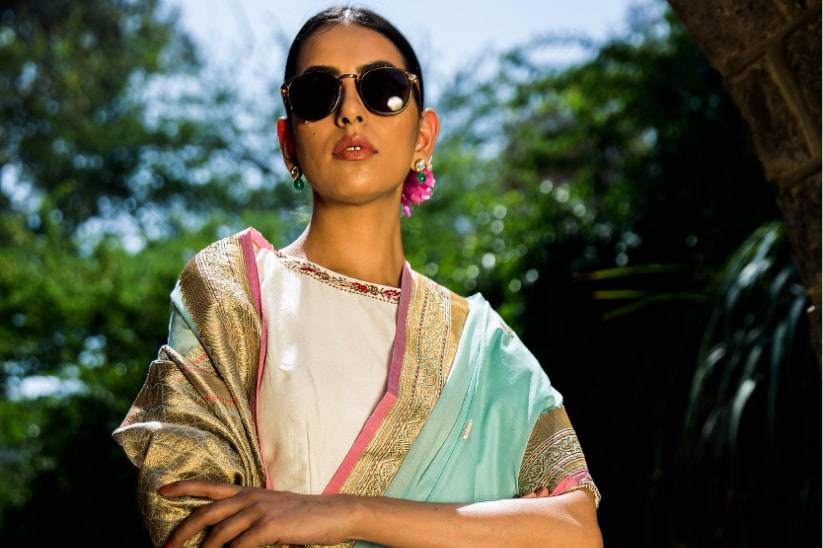 When a woman walks into a room wearing the nine-yard beauty, she's sure to make some heads turn. Whether it is your grandmother's closet or your mother's, you will surely find a saree that will be her treasured possession. If you're looking to build your own saree collection, we have collated a list of 9 different types of traditional sarees for wedding functions.
9 Traditional Sarees for Wedding
A saree is one of the most sensual outfits there is and there is a lot you can do in terms of styling. Play around with the draping of your saree, or bring a modern twist in the way you pleat your Pallu or better yet use a modern belt to hold your saree in place - the options are endless and you are your own master! So, check out these traditional sarees for wedding and make them your own! From going for the modern silhouette to unique prints of even quirky jewellery to amp it up - choose a way that brings your personal styling aesthetics to the fore!
1. The Paithani Traditional Sarees for Wedding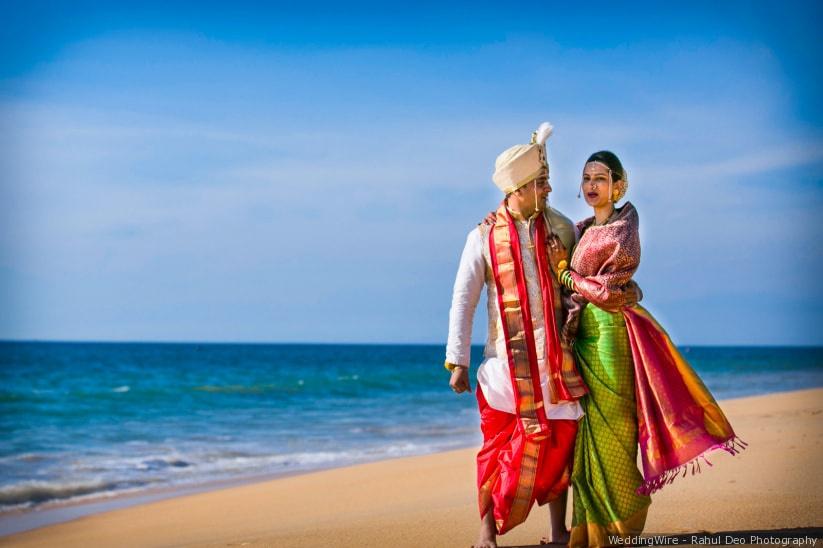 Marathi brides love flaunting traditional Paithani sarees on their big day. Woven in rich, vibrant colours (green, yellow, magenta) and golden thread, these are not whimsies, but rather expensive buys. A core part of any Marathi bridal makeup look, the Paithani is famed for weaving 'nature' into its Pallu. So, one would find patterns like trees, flowers and peacocks on any of these drapes.
Vendors to look for: Nalli Silk Saree, Vineet's Saree Store, Triveni Handloom
2. Kanjivaram Traditional Sarees for Wedding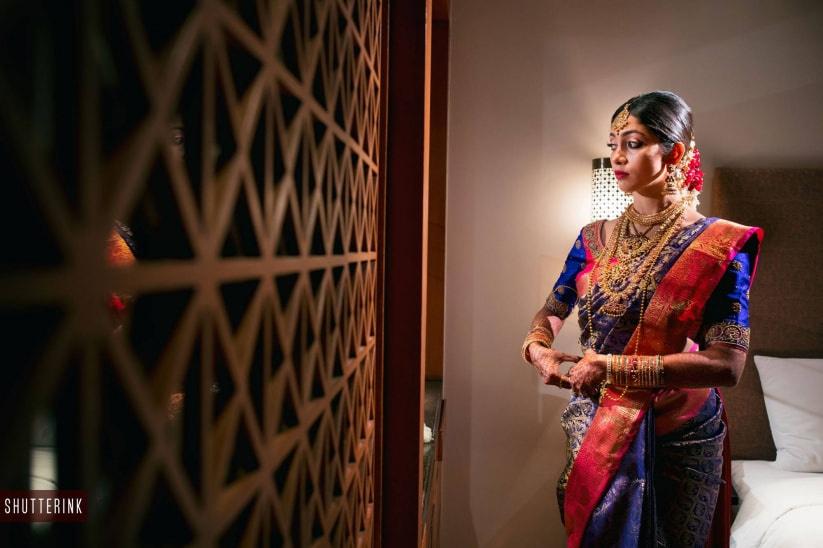 If you haven't heard about a Kanjivaram saree, then you're definitely living under a rock. The Kanjivaram saree is the most exquisite bridal outfit, found in Kanchipuram in Tamil Nadu. The design and pattern for each Kanjivaram saree are uniquely rich and vibrant.
Set in gold or silver thread work, these sarees are more like an investment, especially when paired with the right blouse designs.
Vendors to look for: Satyapaul's showroom, Nalli Silk Saree, Odhni's store
3. Banarasi saree Traditional Sarees for Wedding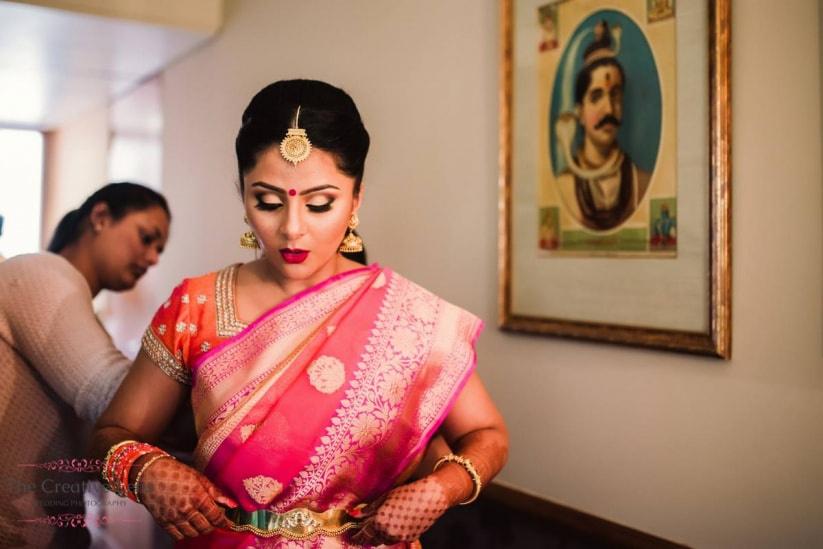 Hailing from the city of Varanasi, the Banarasi saree is one of the finest bridal silk sarees. The saree has beautiful gold and silver brocade designs that include a lot of inspiration from the Mughal era. This makes this gorgeous saree, a must-have for all women. Did you know that many Banarasi sarees receive their signature borders from Bengali weavers? Most Bengali brides still prefer donning Banarasi traditional sarees for wedding functions.
Vendors to look for: Banaras Emporium, Super Tex Styles, Neelanjali Sarees
4. Muga silk Traditional Sarees for Wedding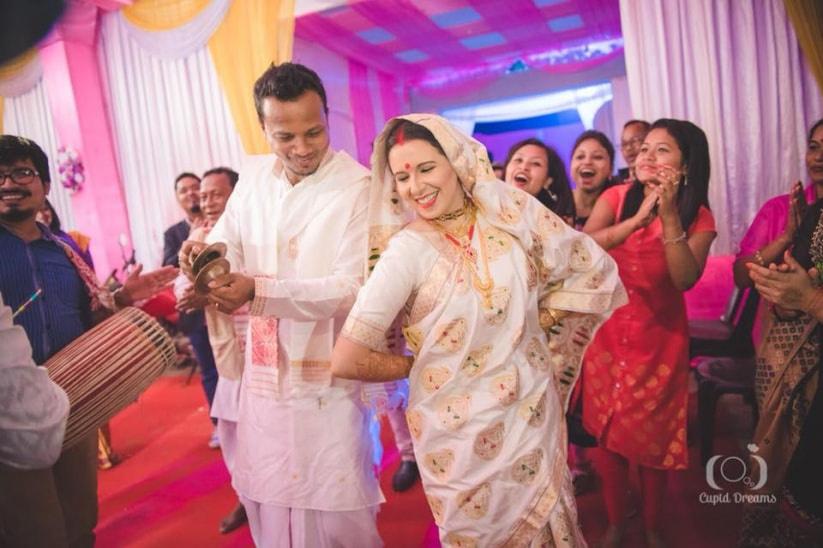 Muga silk is one of the rarest types of silk that is produced only in Assam. This silk is slightly yellow in colour, hence it's called Muga. Did you know that in Assamese, the word yellow is called Muga? Hence the name of this saree is Muga Silk Saree. This saree boasts rich embroidery. You can find a lot of flowers, leaves, trees and Bihu structures in this 9 yard of beauty. Are you an Assamese bride-to-be? Then read our guide to achieving the perfect Assamese Bridal look.
Vendors to look for: Triveni Handloom, Jaypore Stores, Nalli Silk Saree
5. Patan Patola Traditional Sarees for Wedding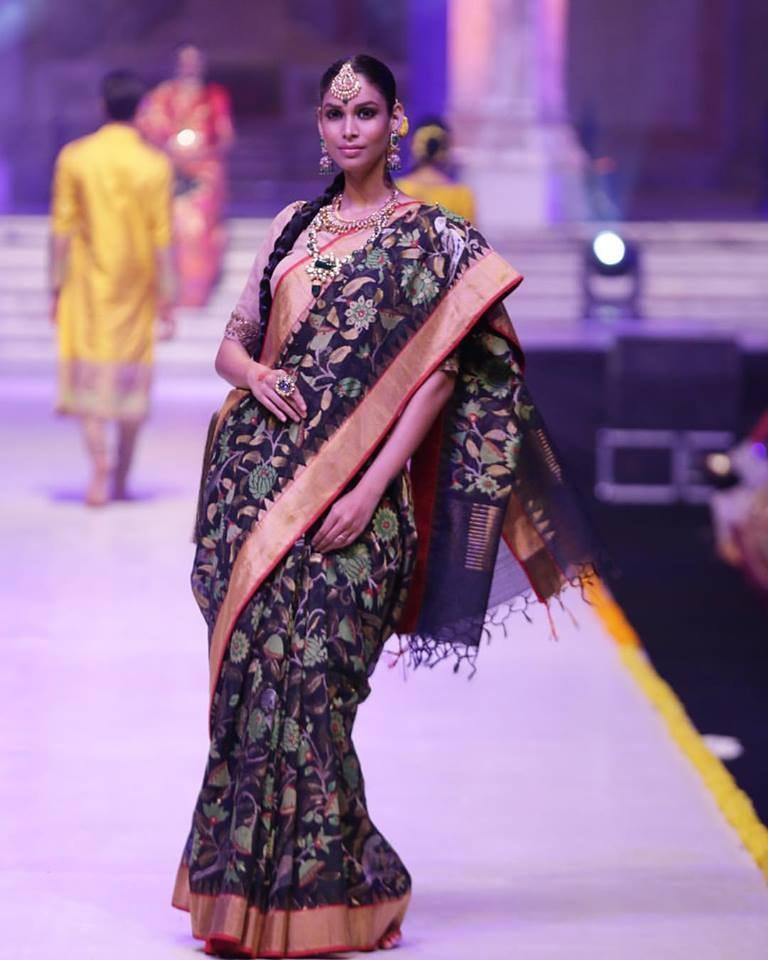 Founded in the small town of Patan, Gujarat, this silk saree brings with itself, prints and a geometrical weave design. If you're a saree lover, then you must buy Patan Patola traditional sarees for wedding functions. They will definitely add some colour to your saree collection.
Vendors to look for: Patola of Patan Pvt. Ltd., Sindhoi Patola Art, Patan Patola Heritage
6. Khadi Traditional Sarees for Wedding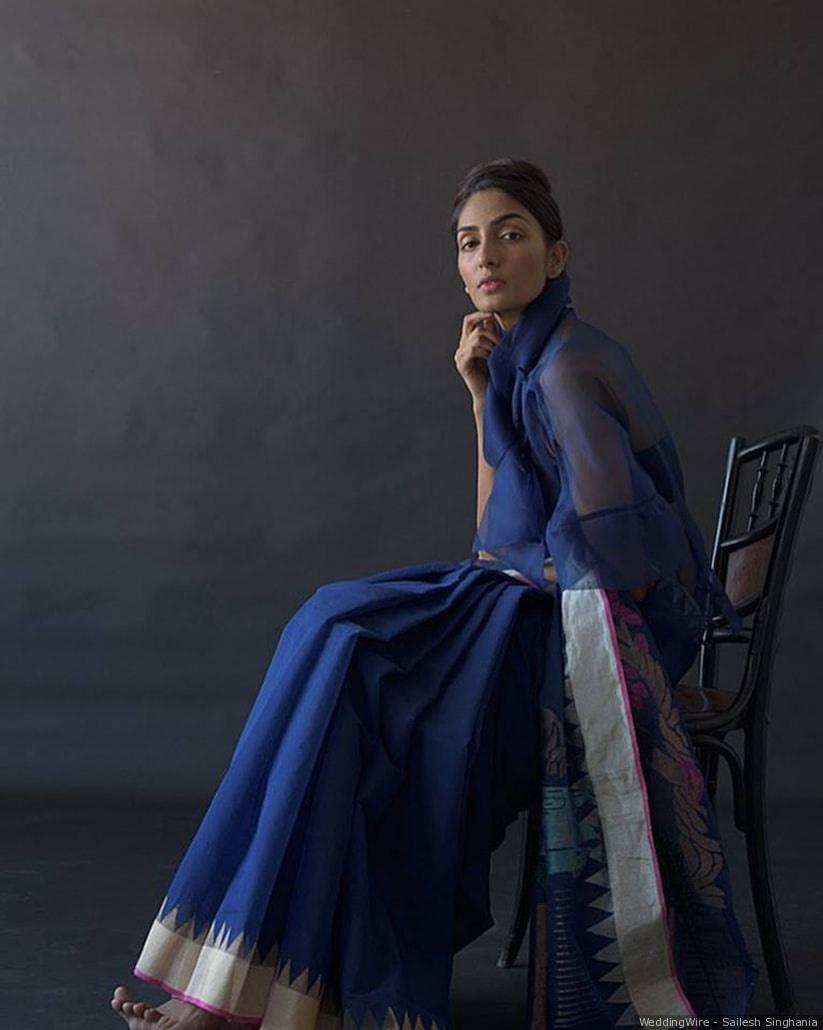 In winters, Khadi sarees work well. These sarees are very absorbent in nature, which makes them perfect for dark coloured dyes. A lot can be done on a Khadi saree, so you get a wide variety of looks and designs to choose from. Did you know Patchwork, Kantha, Phulkari, and Block Printing can easily be done on this fabric? Sounds cool, no?
Vendors to look for: Khadi Silk Emporium, Tulsi Saree & Khadi Bhandaar, Dwarkadheesh Emporium
7. Bandhani Traditional Sarees for Wedding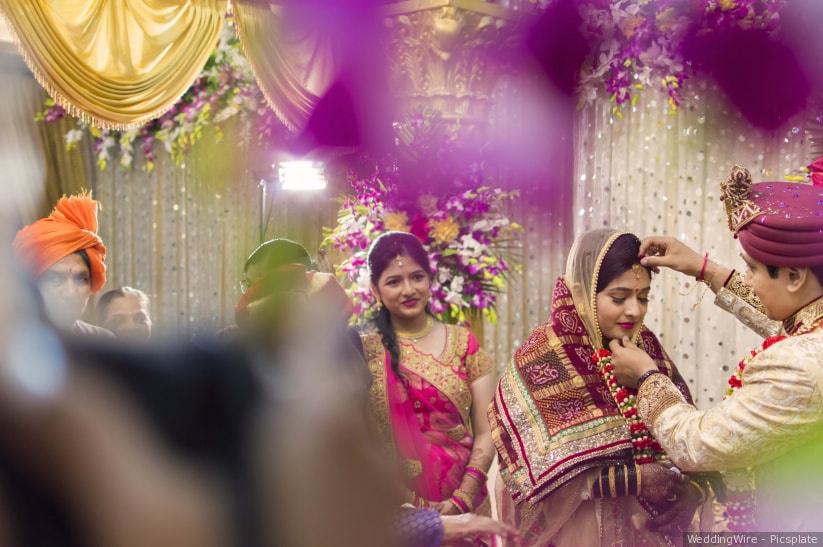 Also known as Bandhej, the chic Bandhani sarees are evergreen. The tie-and-dye design is done on different colour combinations, making it easy to sport the same saree at a wedding, lunch or a dinner date! These traditional sarees are most preferred Gujarati dressing style for weddings. With eternal cultural affluence, these sareeSarees are the perfect choice for your wardrobe.
Vendors to look for: Meena Bazaar, Fabindia, Talking Threads Experience Store
8. Tant Traditional Sarees for Wedding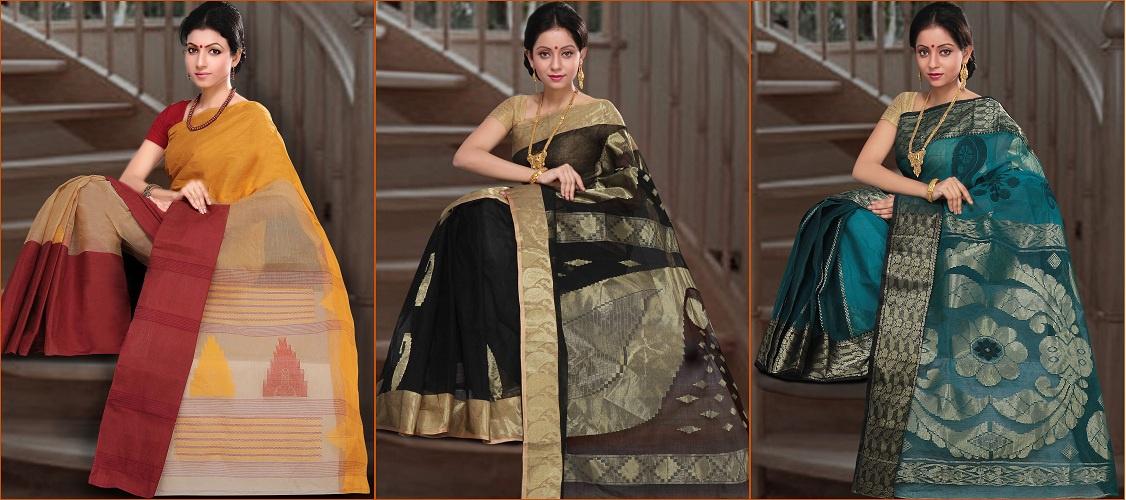 Image Courtesy: Fashion Buzzer
With Durga Puja around the corner, you can find the best Tant sarees in Kolkata. These crisp cotton beauties are known there as Tant. Since these sarees are starched, they don't flow like silk or georgette. With outstanding craftsmanship and intense thread work, makes these sarees worth a buy.
Vendors to look for: Meena Bazaar, Slice of Bengal, Bengali Tant Store
9. Pattu Traditional Sarees for Wedding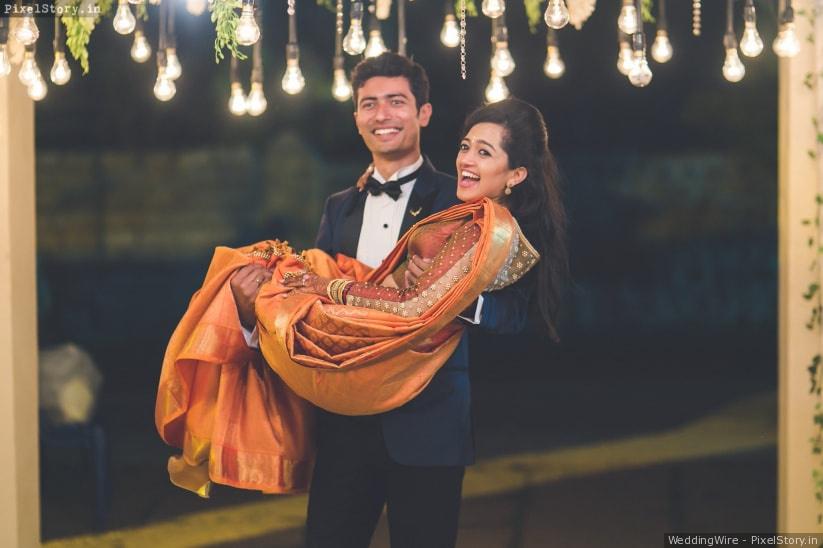 Originated in God's Own Country, Kerala's Pattu sarees are a work of art. Their simple design is preferred by most traditional South Indian brides. To know more about Pattu sarees in detail, please read our blog around wedding Pattu sarees.
Vendors to look for: Nalli Silk Saree, Radha Silk Emporium, Roop Silks & Sarees
Style your traditional sarees for wedding perfectly
Choose a style - It is very important to style your saree for wedding keeping in mind the weather so that you feel confident and poised and not struggling with the sweat or extreme cold. It is always recommended to go for lighter colours and breathable clothes for summer, while in winters, you can adorn fabrics like velvet and brocade while styling them with double draping.
Accessorise - While adorning a traditional sarees for wedding functions, jewellery is a must element that you can incorporate to enhance your overall look. Choose from trendy new designs or traditional jewellery pieces from your grandmother's closet as per your saree style, texture and colour. You can go for layered jewellery or defining pieces of jewellery like statement earrings and rings.
Footwear - It is always important to wear a pair of footwear that you are comfortable in, as it would be a style which you would be able to carry with elegance. Even if you are wearing a saree for wedding functions but are not comfortable wearing heels, you should avoid the option to go for something you would be comfortable in and enjoy your wedding celebrations to the fullest.
Colour for complexion - Choose a colour and style that would not only enhance your look but also define it. You can experiment with colours but always choose the ones you would be comfortable carrying.
Makeup and Hairstyle - There is a lot that you can do in these particular areas while styling your traditional sarees for wedding functions. You can choose to leave your hair down if you are wearing pastel shades and light colours while wearing statement pieces of jewellery. Or you can choose a beautiful updo for your mane and wear heavy and layered jewellery that not only accentuates your neckline but defines your entire bridal look.
So now that you have a rundown of the various traditional sarees that are making a knockout come back this wedding season, what are you waiting for? Go out, visit some famous markets and start your wedding shopping now!
We hope this guide into traditional sarees for wedding functions has been useful for you. Do let us know which right bridal saree would you choose for your wedding shopping spree.