A Guide To Buy Perfect Hand Jewellery For Every Marriage Function
Choosing jewellery for wedding functions is certainly not easy, and while trying to put the entire look together you sometimes miss out on your hand jewellery. So, why not learn about the perfect hand jewellery for every occasion.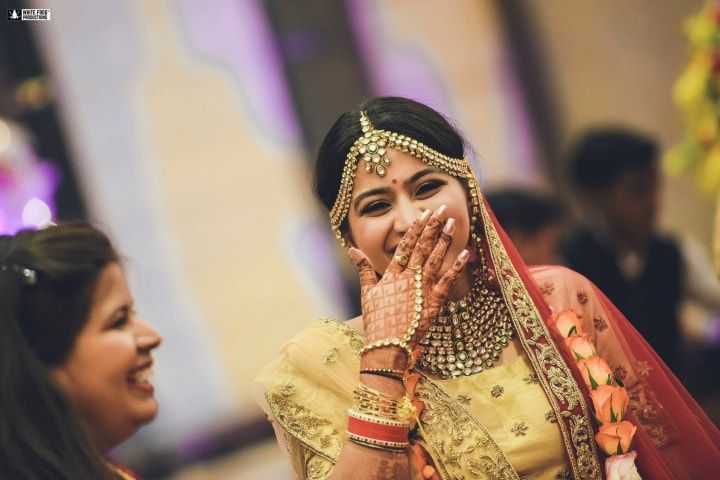 Every bride wants to look perfect in every way possible during her functions. From her clothes to her bridal jewellery everything is decided for well in advance. But during this, we sometimes make a mistake in selecting certain jewellery. This at a number of times is your hand jewellery. While preparing jewellery for all the functions, we need to make sure that that the hand jewellery we have is absolutely appropriate for the occasion. It also requires utmost care as it is that one jewellery that makes contact with outside objects a number of times.
Keeping all this in mind when you select your hand jewellery also makes an enormous difference. Brides must make sure that their hand jewellery is decided well in advance to ensure that there are no last-minute struggles. Looking at it function-wise, we decipher what kind of hand jewellery should you choose for each function.
1. Engagement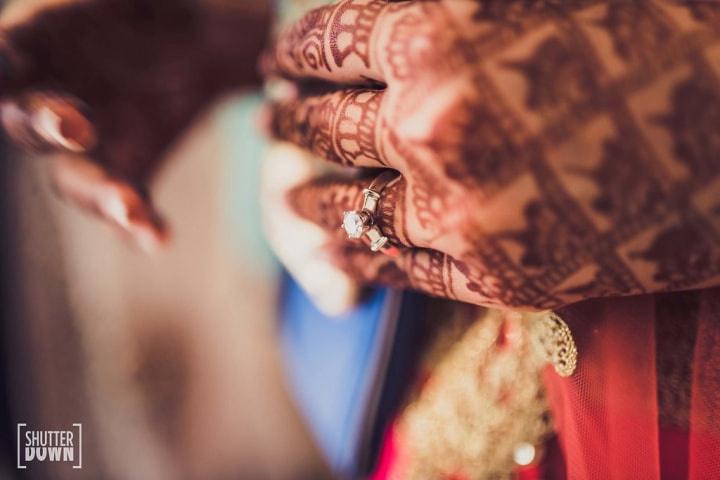 The engagement is a relatively a hassle-free function. You do not have to perform any dances nor do you need to be worried about things that would be put on you, well except for your ring. So, for this function you can wear hand jewellery that is made of gold, silver, or maybe platinum, you can even go for diamond jewellery here. Select the metal of your choice in accordance to what you are wearing, though white metals go with almost everything, if you have yellow work on your outfit, opt for the gold. Do not go for jewellery that is very Indian; rather go for something Indo-western.
2. Mehndi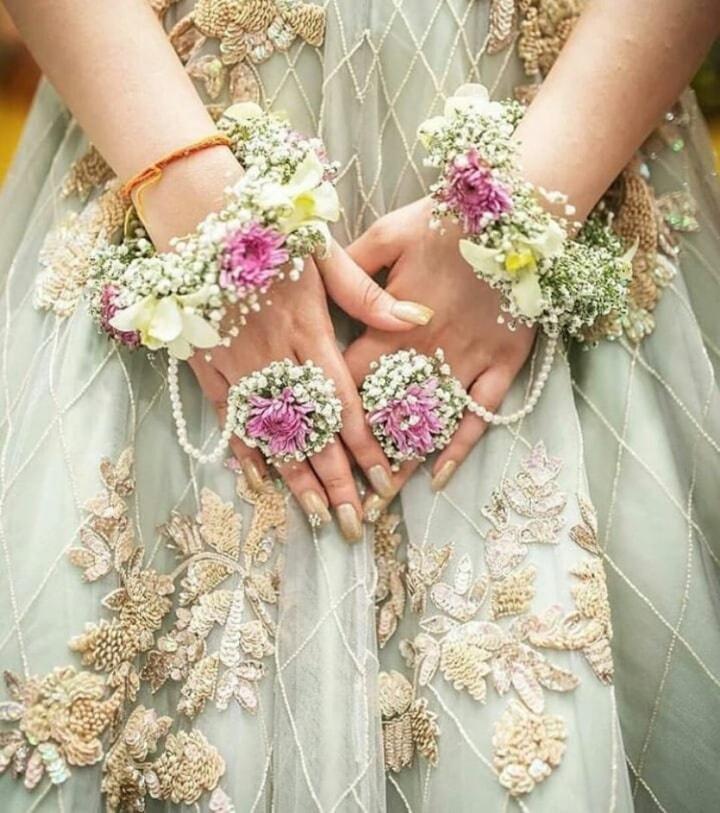 Everyone knows that the Mehndi function can be a messy one for your hands. For that reason, you hand jewellery for the Mehndi function should be made of a material that can get dirty, like floral jewellery or Gota jewellery. You can even wear silk thread bangles if you want for this function. The beauty of this kind of jewellery is that you can make it colourful if you want to, and no-one bats an eye. So, match your outfit colour for colour or just go for the contrast. Just make sure that for mehndi you do not wear a lot of hand jewellery, as it would need to be taken down eventually.
3. Cocktail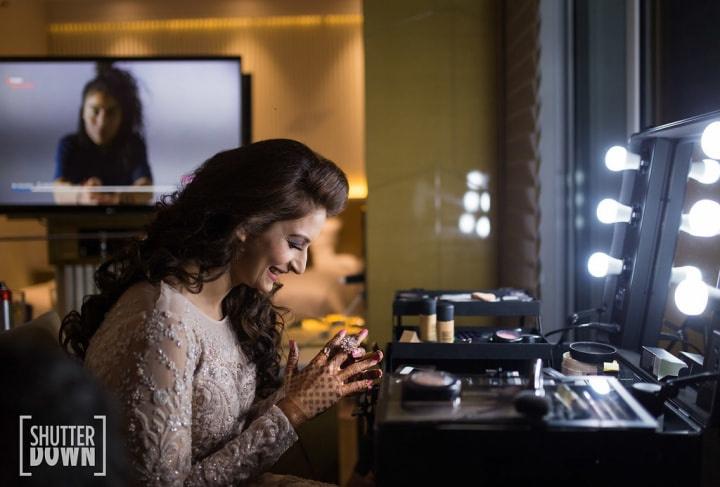 The only way to describe a Cocktail is, glamorous. It is the most modern of all functions, and the only thing you have to do is have a drink and enjoy. For a Cocktail, your jewellery should be modern and elegant. Since nowadays people tend to go for gowns as a preferred cocktail dress, your jewellery should also be modern. Go for precious stone jewellery- not necessarily diamond- or for white metals. Do not go for something very heavy as it will take away from the charm of the western glam.
4. Sangeet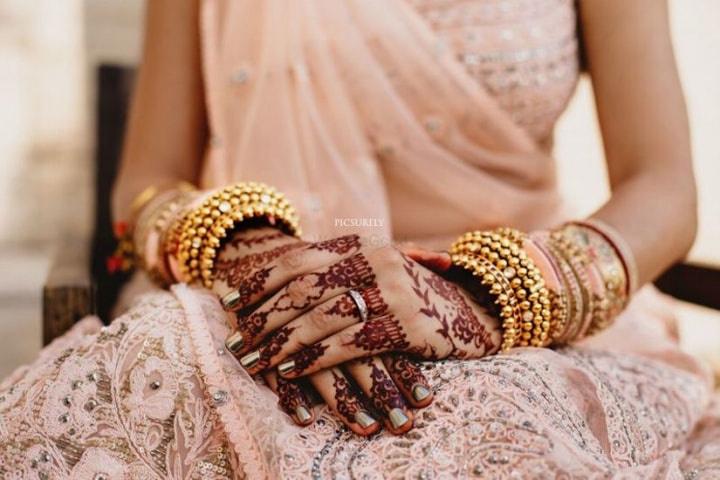 Your Sangeet is one of the traditional functions you have, but that does not mean that it is not fun. Which other function do you have when you can dance your feet off and have fun? For this type of function, it is better to wear jewellery that is a little sturdy. Gold jewellery can be an excellent choice, but if you want to go for something hip then opt for silk thread jewellery, like bangles. This gives you a traditional look, and also in the process adds a little charm to your look. Your hand jewellery on the sangeet night is totally dependent on what kind of outfit are you going for. According to that, it could be completely traditional, or even a bit Indo-western. Avoid wearing delicate jewellery for your Sangeet ceremony, as there is a greater risk of it coming to harm here.
5. Haldi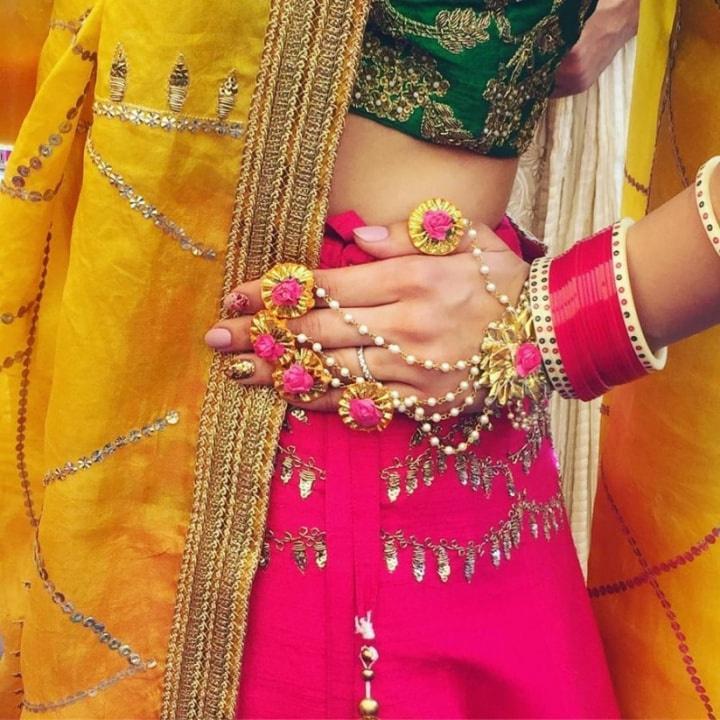 Haldi as far as we all know is the dirtiest function of all, and it can also be action-packed sometimes. Jewellery in this function is bound to get dirty, so why not elect for something that you wouldn't regret spoiling a little. For your haldi hand jewellery, you can go for materials like floral or Gota Patti. This jewellery is easier to let go off, than your gold or silver jewellery. Do not go for bangles in this function, but rather choose Haath Phool, as your hand jewellery. Since people usually wear yellow or white for the haldi function, matching Gota Patti jewellery to your outfit should be no problem, or you could go for white or pastel coloured flowers if you choose floral jewellery. Though said previously, do not wear anything you might regret getting dirty or might regret losing, this could be a result of your haldi function.
6. Reception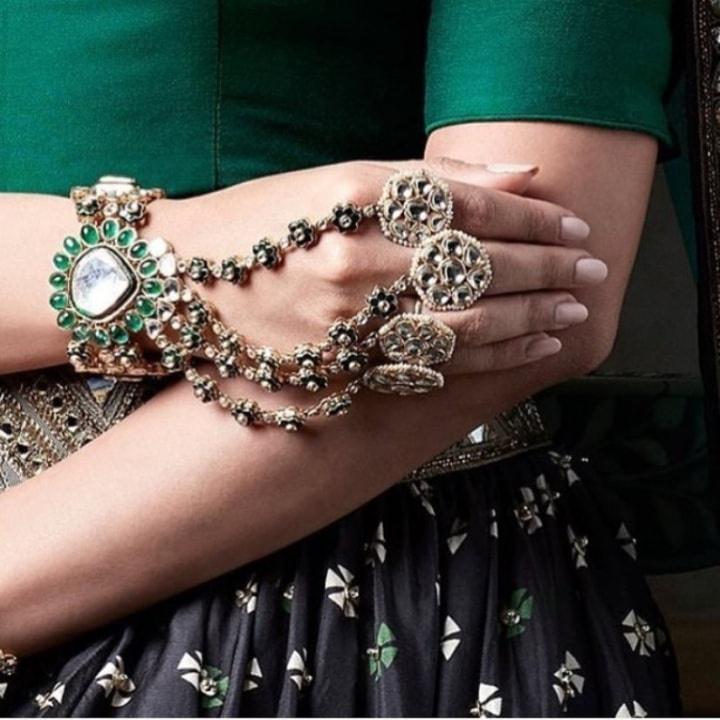 The reception is considered to be the second biggest function of your marriage, other than the wedding itself. So, what kind of hand jewellery should you decide for a function like this? Since most reception tends to bend towards not being so traditional, try your hand at cocktail rings for this function. You can also opt for delicate looking bracelets as opposed to bangles. Try for precious stone jewellery, with the colour of the stone matching your outfit. This adds to the appeal of the whole look and looks rich in taste. Likes of floral jewellery are to be avoided here as you are trying to come off as elegant rather than charming, and also it would just be mismatched with the environment.
7. Wedding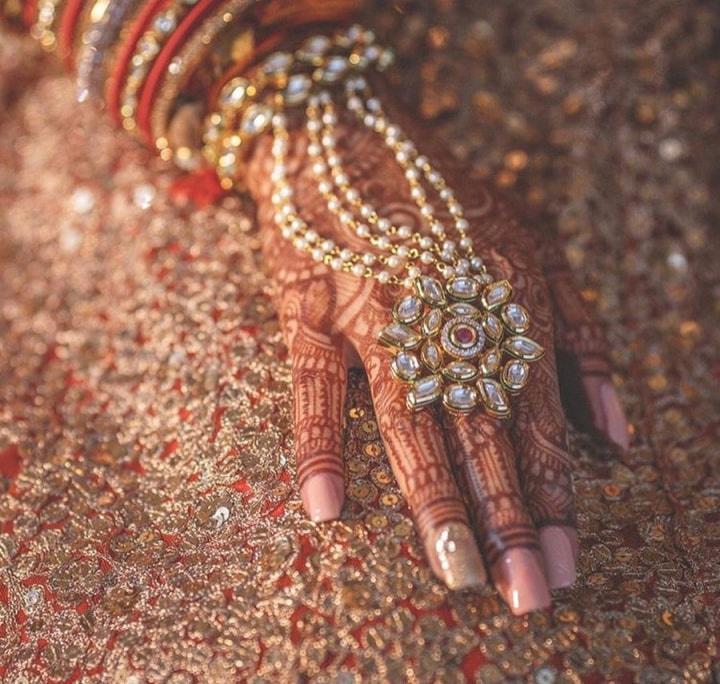 Speaking very obviously, this is the most important of all the functions you have to prepare for. At this time, whatever you wear and don on is under heavy scrutiny, so there is no room for an error. Here, you should go down the traditional lane and get your hand jewellery accordingly. Another fact to be noted for this function is that a number of cultures have their own traditions for hand jewellery, so it is better to go in the flow, as nothing looks better than your wholly traditional get-up on your wedding day. If you do have a choice, selecting kundan hand jewellery is an excellent choice as it looks royal and rich. Do not go for designs that are too modern on this day, as it would clash with your traditional get up.
Picking hand jewellery on trends
Now that we've talked about picking your hand jewellery by function, let us come down to picking your pieces based on some of the more rocking trends for this season:
A. Pick multiple colours -
Do not opt for just Kundan or white rings and Haath Phools. While these are timeless, choosing a contrast colour (emeralds against a traditional red outfit or pastels against a vibrant, dark colour) will elevate your game.
B. Choose charms for a personal touch -
While the traditional bracelets and Kangans are as timeless as time itself, you can opt to add charms to them which depict your individual style statement. These are things that matter to you or catch your fancy, like entwined hearts, initials or even a butterfly.
Take these tips, and apply them as you want. Nothing is set in stone for any wedding. So if your functions are a little different than usual, so can be your hand jewellery.
Now go shop your heart out, finding that perfect hand jewellery for your upcoming nuptials.