6 Absolutely Beautiful Gota Patti Jewellery Real Brides Are Loving
With the resurgence of out-of-the-box bridal jewellery options, Gota Patti Jewellery is a budget-friendly option real brides are opting for these days. We bring for you stunning designs which brides are loving and owning this jewellery like a boss.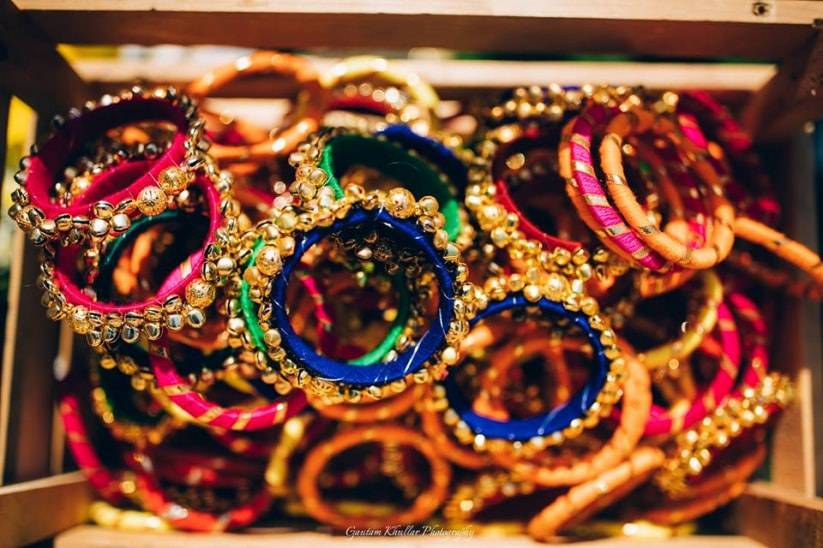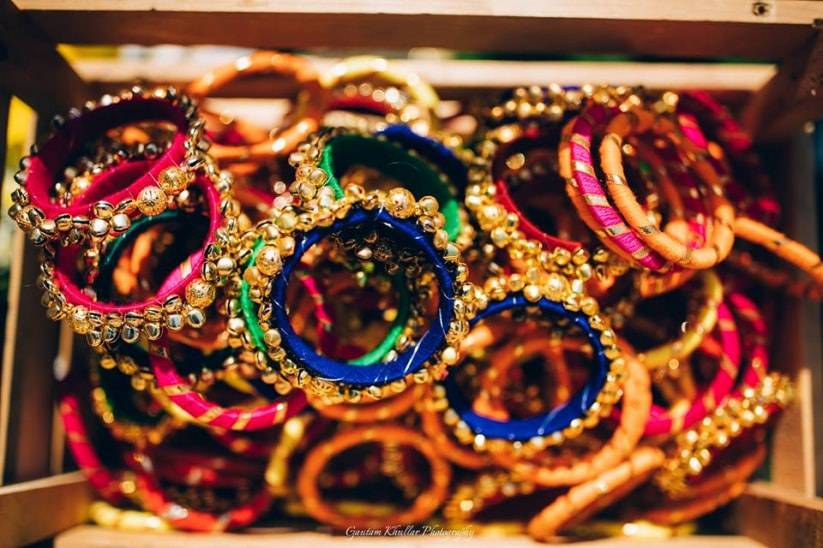 Jewellery is a girl's best friend and for all the right reasons. But, who says gold or silver ornaments are it. Brides today have a sea of options to choose from. Gotta Patti jewellery is either a hit or a big miss. It will either elevate your look and transform you into a bohemian princess or not. It is affordable, available in almost every colour and you don't have to spend long hours scouring the markets to find the one for you. Take inspiration from these real brides and don Gotta Patti Jewellery for some major slaying.
Here is a list of stunning designs which you can make a part of your Mehendi look and be assured that it will transform your look and make you look absolutely perfect and ready for your wedding festivities.
1. Traditional yet Chic with These Anklets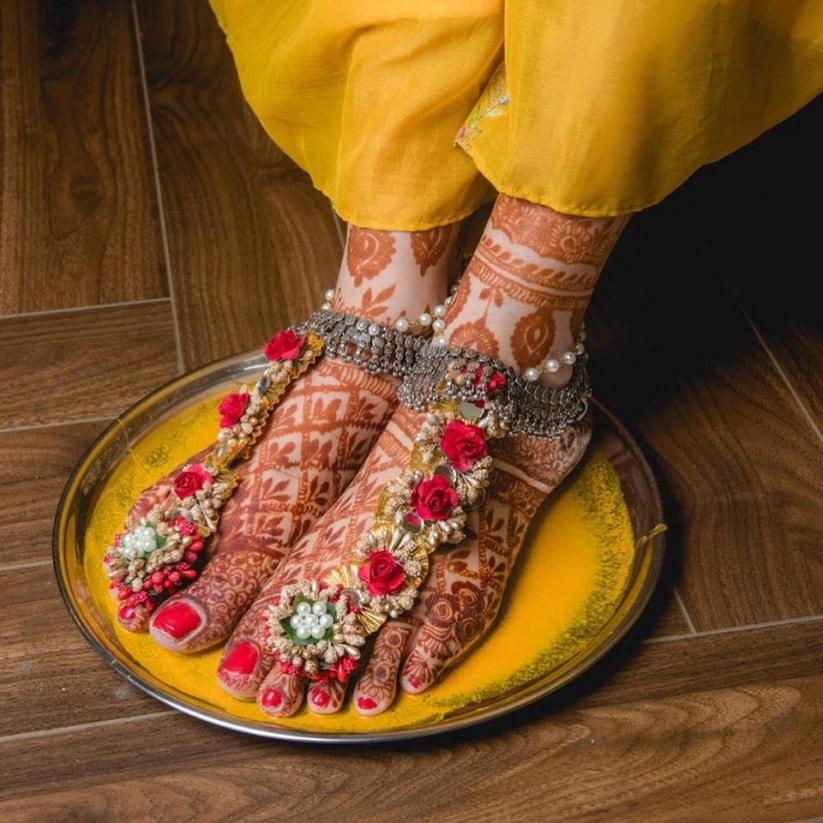 If traditional yet chic is the look you're going for then take some inspo from the Gota Patti jewellery choice of this real bride. Doesn't she look stunning? Soulful strokes of Haldi and bridal henna, adding beauty to this bride's foot with a concoction of artificial flowers and Pajeb. You can find these stunning pieces at Flosaira. It will surely be a one of a kind look to flaunt at your wedding festivities.
2. Entice Them with This Modern Anklet + Toe Ring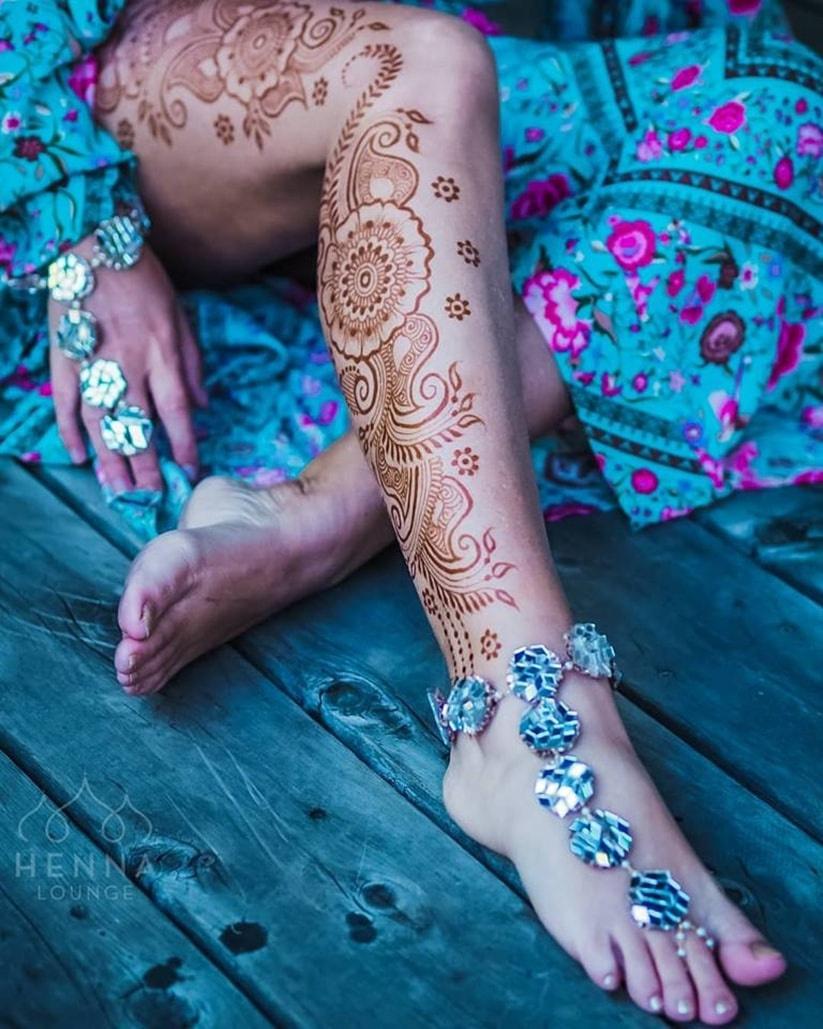 Want to make a fashion statement with your bold pre-wedding look? We love this bride flaunting her Gotta Patti Jewellery through the slit of her skirt with mehndi cascading sideways. This look is surely giving some major bohemian princess goals. If you are looking for something similar, this is the way to take inspiration.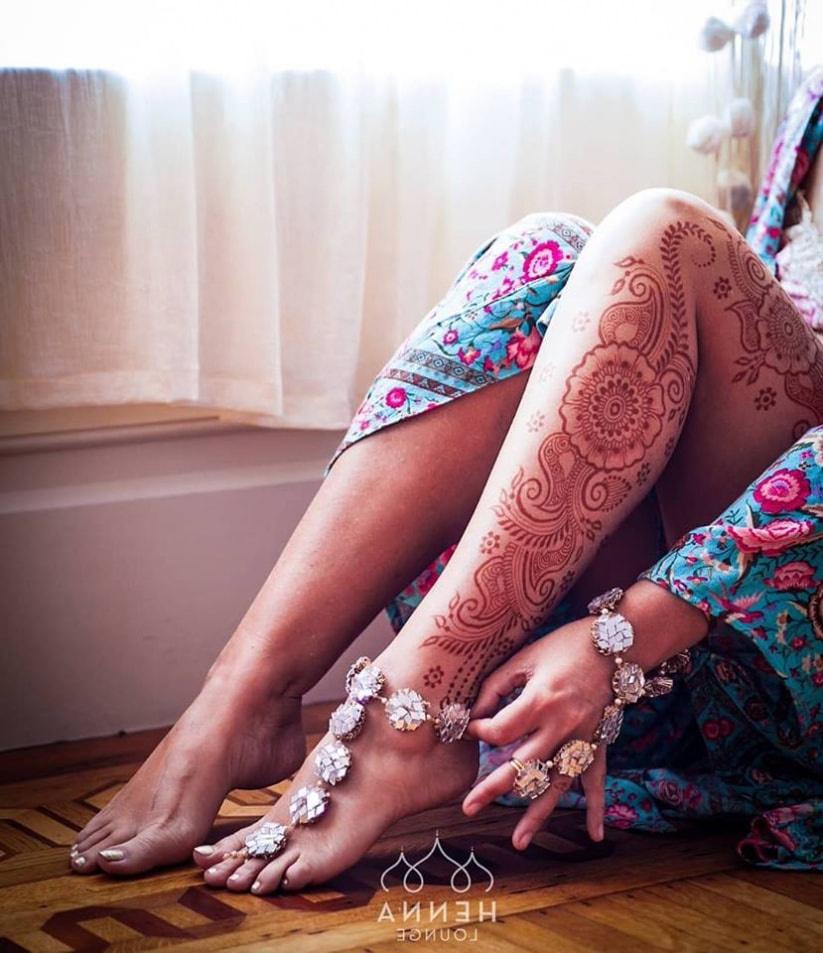 This anklet+toe ring looks delicate and chic at the same time. A deadly combination we must say! Also, let's not forget how stunning her Haath Phool looks. Crafted using cutwork mirror pieces this bride looks like a boss woman who is out to serve some major jewellery goals. You can find these stunning pieces at Prune.
3. Say It out Loud with This Matha Patti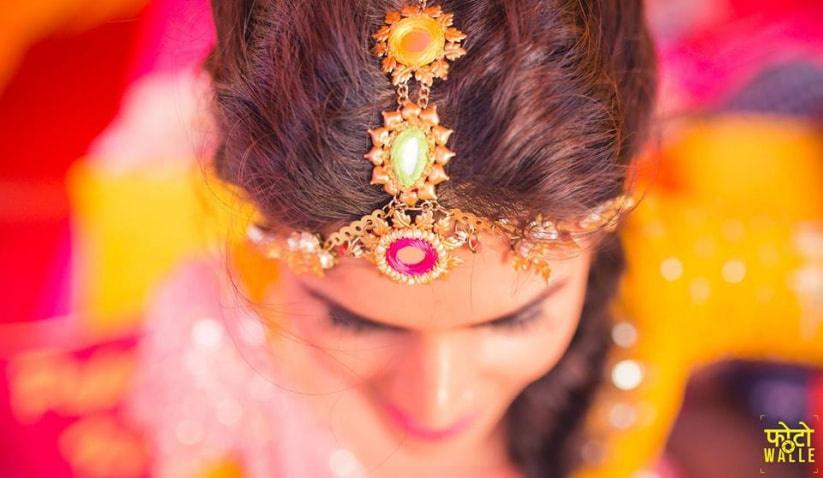 Look at this real bride flaunting her choice of Gotta Patti jewellery in this matching Matha Patti and earrings. Being one of the most essential accessories for the bridal look, a Matha Patti is chosen carefully as per the face cut and the colours that you would be wearing.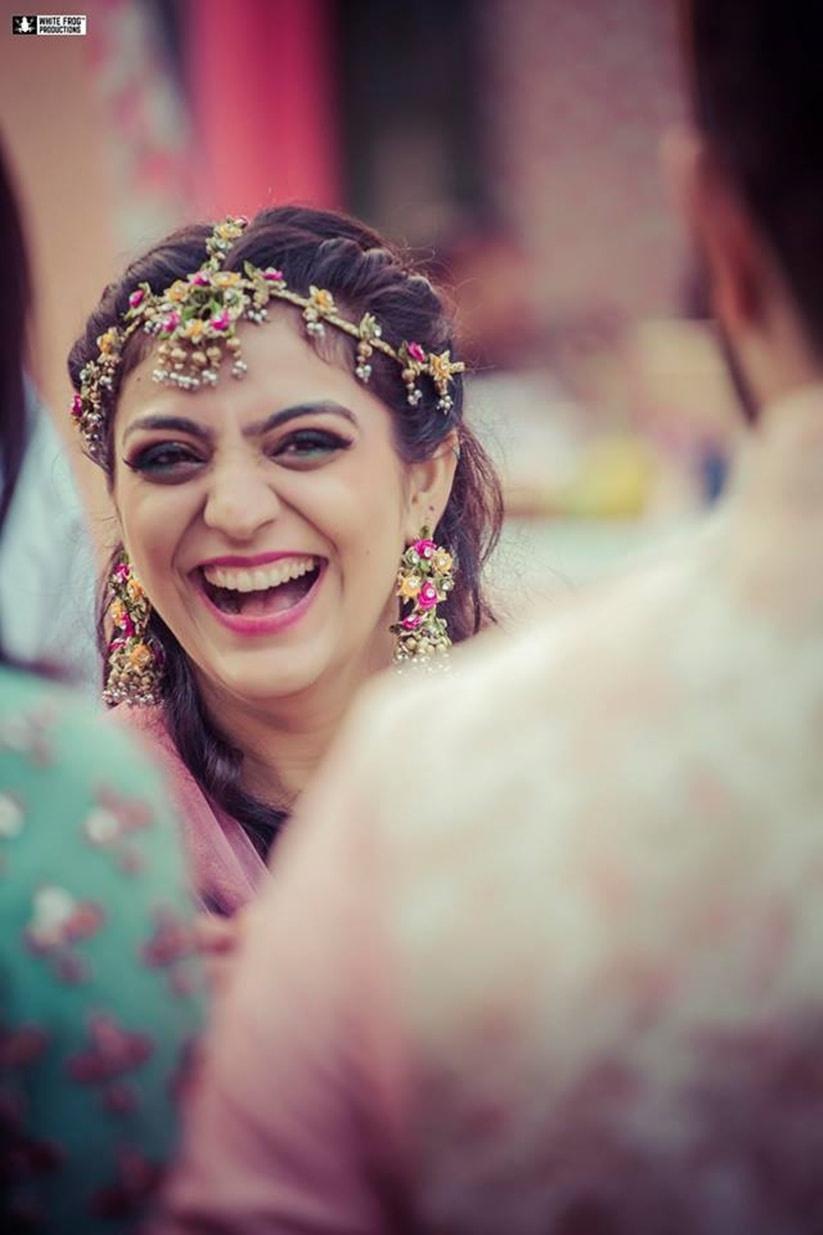 A subtle combination of pastel hues and small trinkets, we love this thoughtful concoction of design. A conventional and beautiful design, styling your Gota Patti jewellery in this manner would surely take it the talk of your events.
4. Sufiyana Touch with a Gota Patti Paasa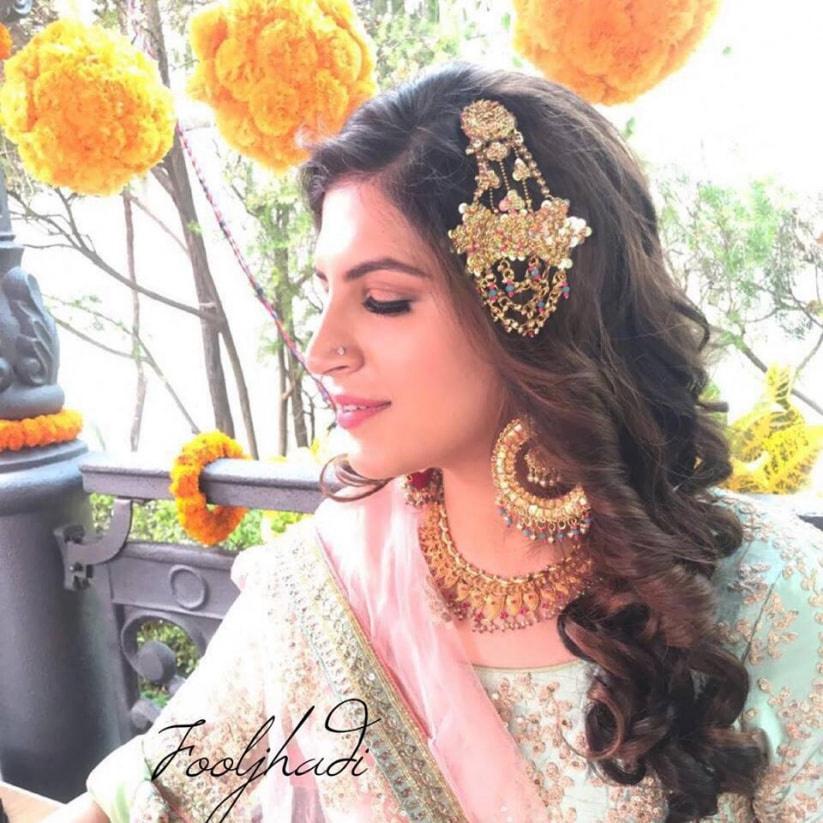 If you want to make a statement with your choice of Gota Patti jewellery then this is the one for you. A little bit of pink with a dash of gold, this jewellery is enough to bring your fairytale moment to life. Traditionally worn to protect the bride's beauty on her wedding day, Passa now has become the new range in the bridal jewellery. Such intricate and light jewellery pieces will complement your vibrant Mehendi attire perfectly. You can find this stunning piece from Fooljhadi, among a variety of designs.
Or, perhaps this?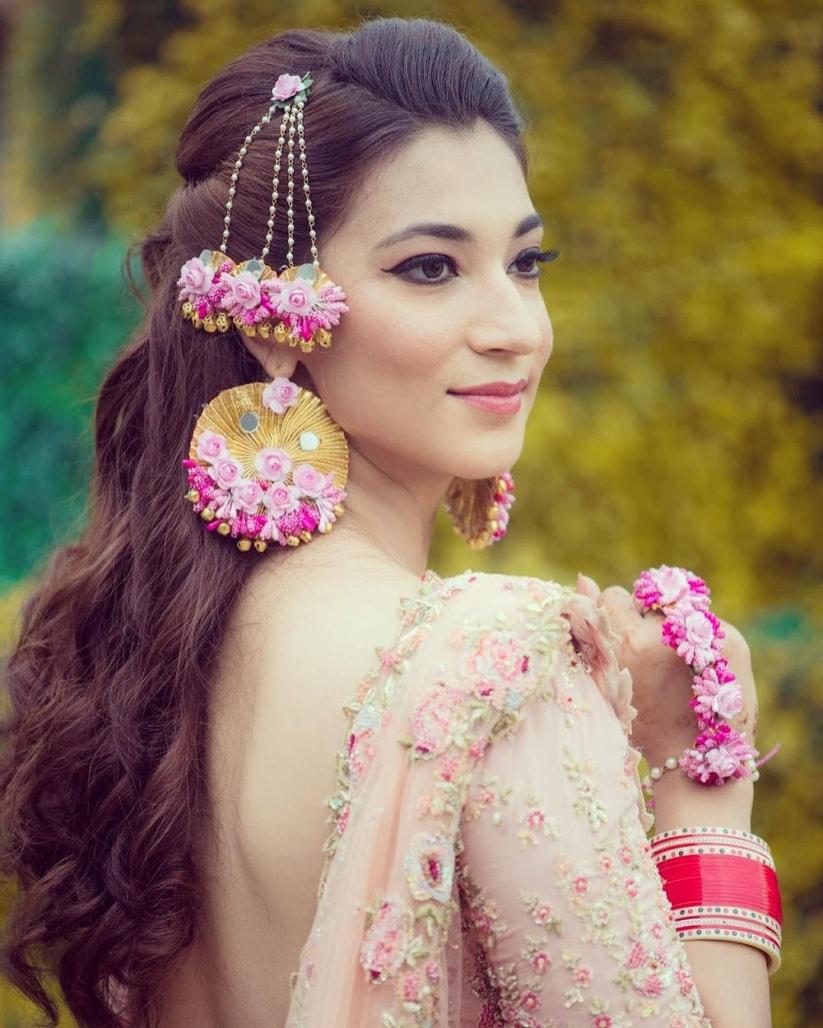 A total Umrao-Jaan feels! Look at how scintillating this real bride looks in this stunning golden Paasa. A delicate design with golden and white beads, a sheer piece of art and mastery of design. You can find this beautiful Paasa from Flosaira. It would add the pop of colour and galore to your overall bridal look.
5. Haath Phool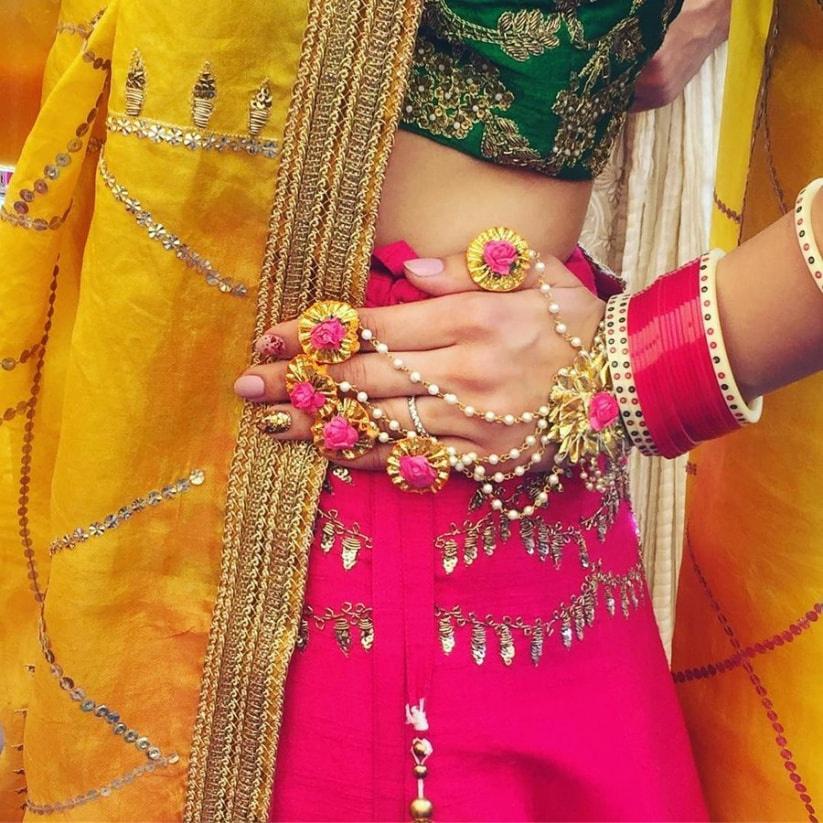 Who knew Gota Patti jewellery could look so modern as well? Love how these intricately woven beads add up to creating this masterpiece. What a stunning real bride she makes and the design which she has chosen is truly a jewellery inspiration. It is beautifully complementing the yellow and pink lehenga while her hands look effortlessly elegant.
Or, perhaps this?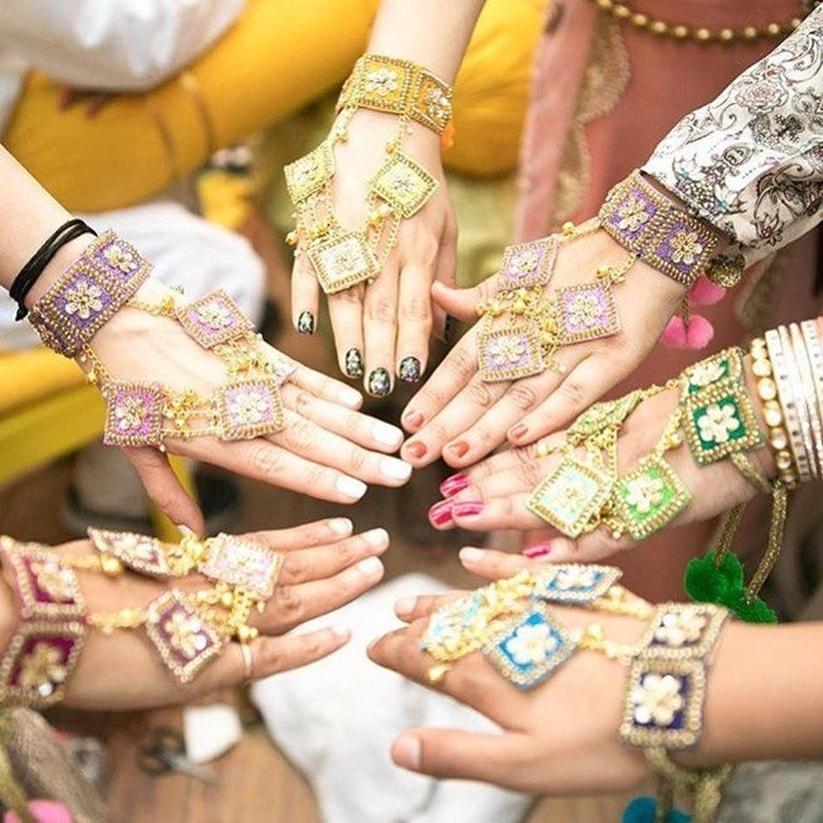 Being one of the essential elements of the solah shringaar, they have rocked the fashion world with their old-world and traditional charm. We love how these bridesmaids are giving us major slay goals with their colour-coordinated Gota Patti jewellery. A sight for the sore eyes really! This stunning Haath Phool jewellery will certainly make you stand out in the crowd.
6. Rings, Rings, Earrings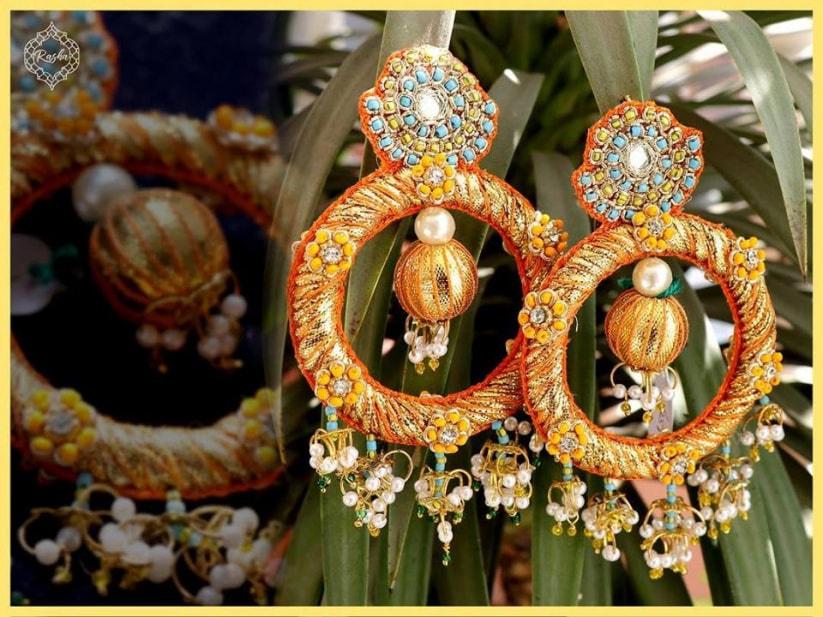 Love these stunning earrings. Don't you? They are light in weight, colourful and trendy and will complement any outfit you choose to wear from traditional to Indo-western. These beautifully designed jewellery pieces will add elegance and beauty to your outfit while also giving it an edge unlike anything else.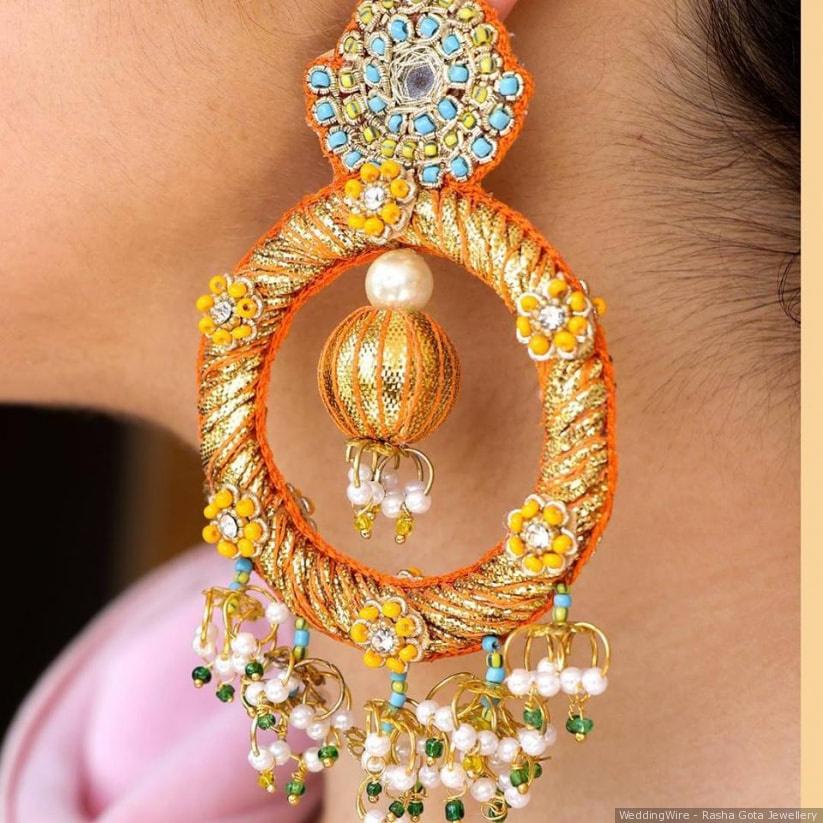 And, look at how effortlessly she's carrying them off with so much grace, might we add. The best thing about this jewellery is you can also wear them after your wedding is over. It can be paired up with a plethora of clothing choices while you can rock that look with these trendy gota Patti jewellery designs.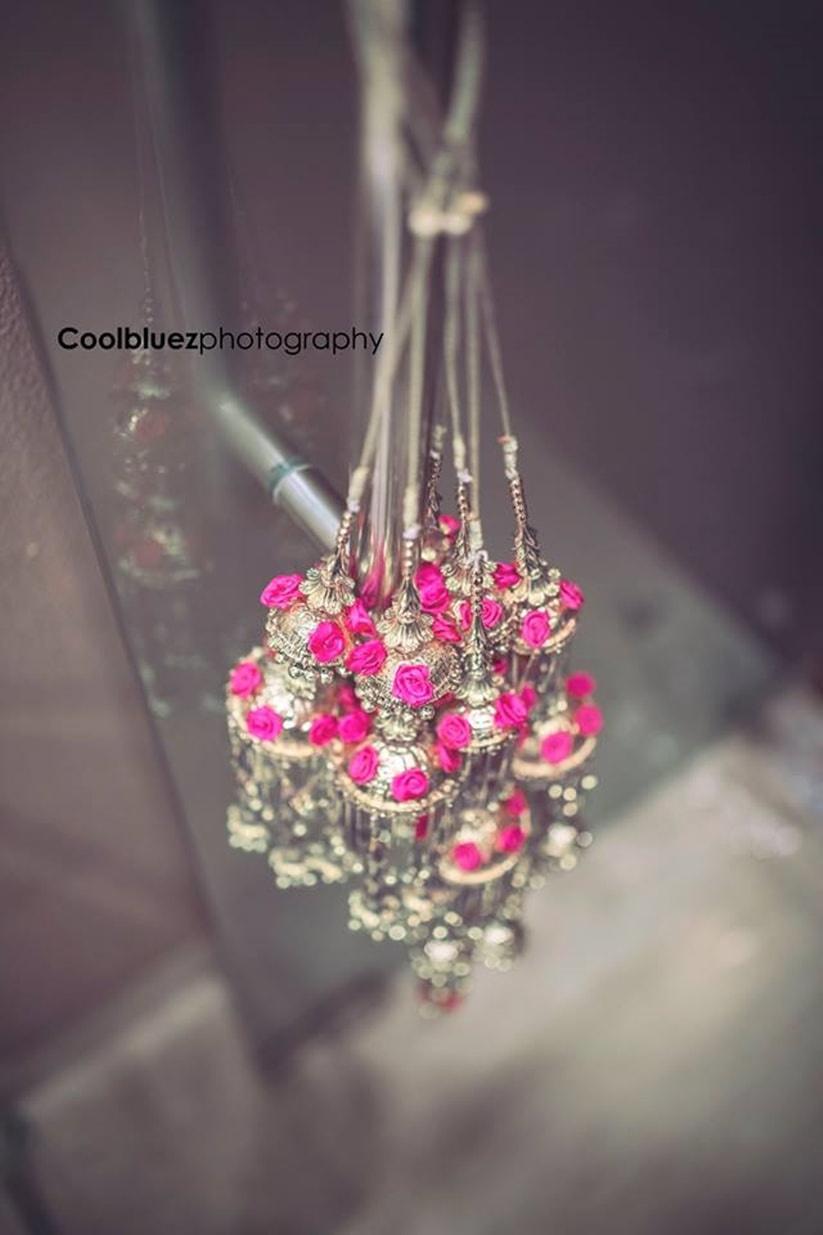 Style These Brilliant Designs Beautifully
Where to shop - While there are many vendors available with a variety of beautiful gota Patti designs, some of the leading names which you can trust on are: Flosaira, Krafted with Happiness, Prune, Fooljhadi, and Rasha Gota Jewellery
Minimalistic approach - Gota Jewellery is a flamboyant design, and it is preferred that other elements of your outfit are toned down so that your jewellery is the distinctive element and can look much more beautiful.
The shining galore - Gota Patti Jewellery is versatile in a manner that there are just too many options available. You can choose the perfect one that can complete and define your bridal attire while making you look flawlessly perfect for your celebrations.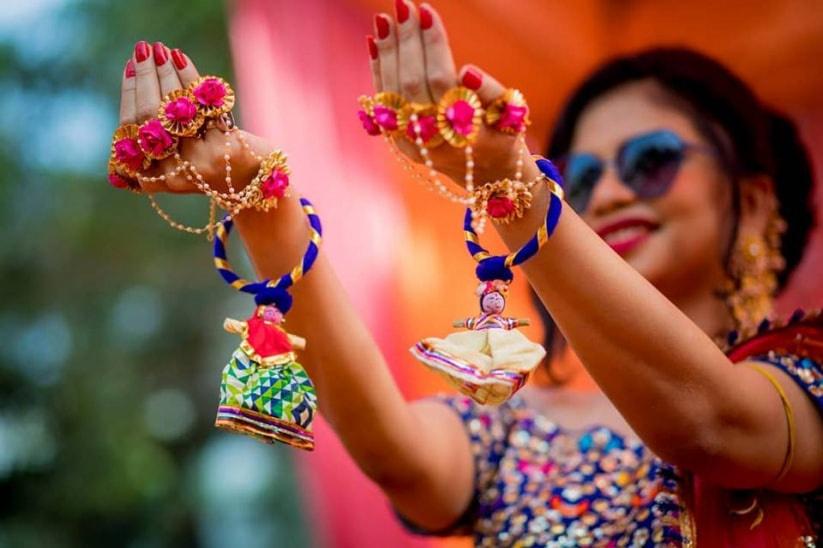 Dearest Banno, we hope you found these Gota jewellery designs awe-inspiring, we sure did. You can also create a piece or two for your wedding trousseau with an easy DIY guide and become a real head-turner. Take inspiration from these real brides and don Gota Patti jewellery to serve some looks.
Have a personal favourite? Tell us through comments.