Gota Jewellery and 5 Renowned Stores on Your Must-Check List Before You Buy Your Jewellery for the D-Day
Flaunting gota jewellery on Mehndi and Haldi has been a trend for some time. Learn about the latest gota creations, where to buy them from and how to look fabulous in them!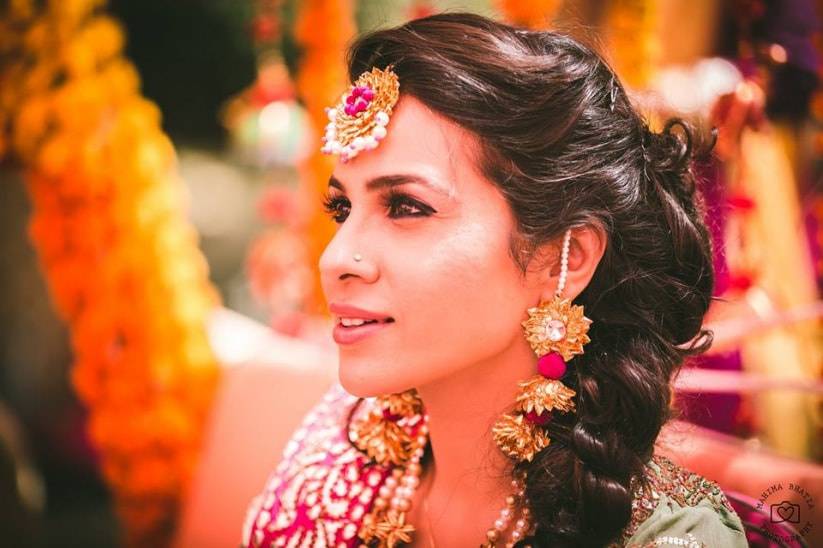 Applying Mehndi among oodles of gold and diamond jewellery on your Mehndi function? Any bride today would laugh at that idea. In fact, for the last few years, brides-to-be have opted for floral jewellery instead. Letting loose, however, after an elaborate mehndi design, isn't a good idea when you're wearing it. The petals fall apart, the flowers lose their freshness, and at the end of the Mehndi function, the bride doesn't exactly look 'gorgeous'. That's when the Gota jewellery trend took over and it's been around for the last few years. The best part: it's reusable!
Gota Jewellery - All You Need To Know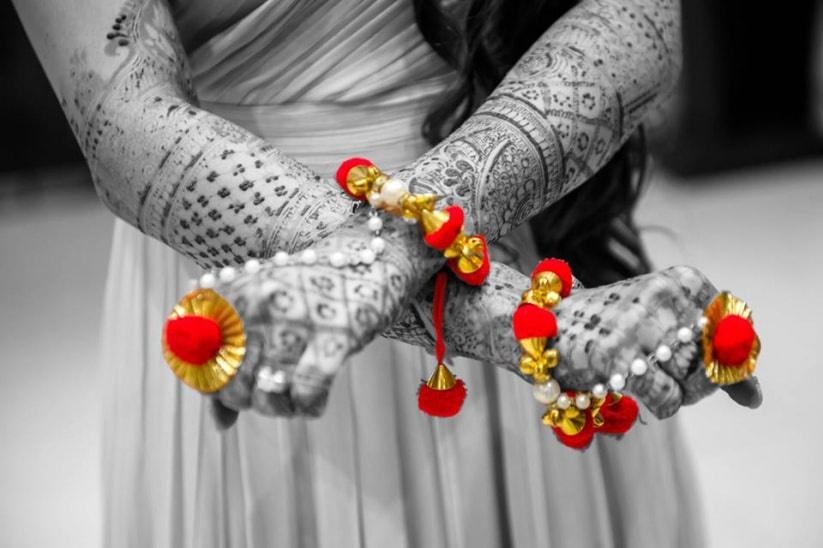 Over the last decade, Gota work has completely taken over all of our traditional costumes and jewellery. This beautiful technique has inspired countless fashion designers and influencers to embrace Gota work and recreate the magic on their clothes. Wouldn't it be like a dream come true if you had an alternative jewellery option other than gold, diamond and platinum? One that is beautiful but doesn't burn a hole in your pocket at the same time? Gota jewellery is that realm of possibilities where you can find a myriad of jewellery designs which come in a dozen colour palette, with or without sequins or embellishments. There is literally a pool of designs for every bride-to-be, their bridesmaids and family members to choose from.
Gota jewellery is essentially made from either gold or a silver thread that is woven into a fabric and then cut and sewn into fancy shapes. This technique originated in Rajasthan and can be seen on clothes and other handicraft items. Gota jewellery uses the same Gota fabric. It is cut into different shapes and sizes and sewn together to make lightweight jewellery as Passas, Maang Tikkas, cocktail rings, chokers, necklaces and Haath Phools. These quirky accessories are stylish, yet extremely low on maintenance.
Gota Jewellery as a bridal trend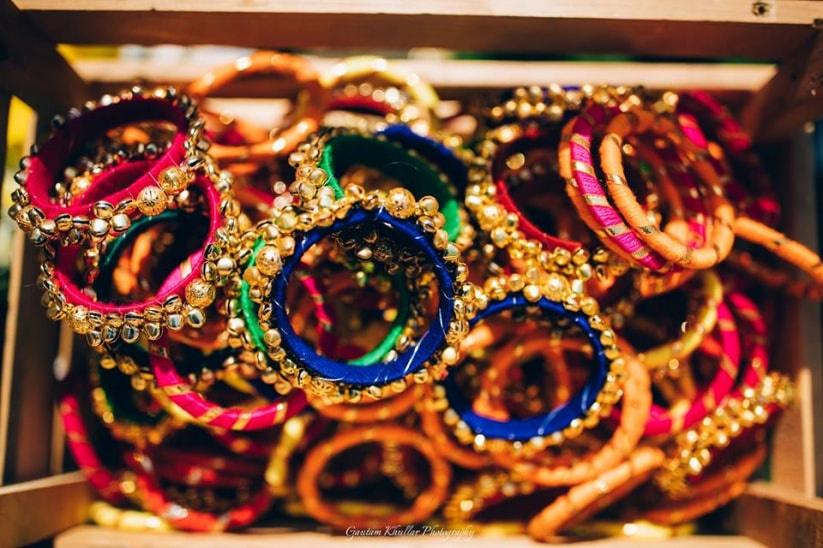 The new age brides are opting for Gota jewellery for their pre-wedding functions. It is also a loved giveaway as wedding favours for family and bridesmaids. While some brides opt for the Maang Tikka, others opt for quirky pieces like the Gota Passa. Gota bracelets, Haath Phools, Baju Bandh, earrings and rings are also some of the most bought jewellery items.
Gota Jhumkis come in a variety of colours and elegant designs. Since these earrings are extremely light in weight, they make a perfect choice for a pre-wedding function. The Jhumkis and their bright colour variants are one accessory that will fit in every attire that you choose to flaunt and the elegance lies in the trinkets and the little beads of gold or gold coloured metal that adds the right amount of glitter to the brightness.
Brides can also opt for Gota necklaces for the pre-wedding celebrations, as they are budget-friendly and can be matched to the outfits. Brides can either opt for the long necklaces or chokers. The new Gota jewellery designs include a combination of mirrors, pearls and stones, giving it a regal look. They are light and perfect for even the day time events such as Mehndi ceremonies and so on and the heavier versions of the same, are a ready accessory for your engagement and you will look stellar.
Bangles are an essential part of every bride's outfit; brides today opt for Gota bangles. These bangles can be worn with any outfit. Lehenga, saree, suit, or an Indo-western outfit – these bangles will add oomph to the overall look. We have curated for you a list of stores which sell quintessential Gota jewellery suitable for all occasions and budget.
Here's where you can get the best Gota Jewellery in India
1. Barkaat Atelier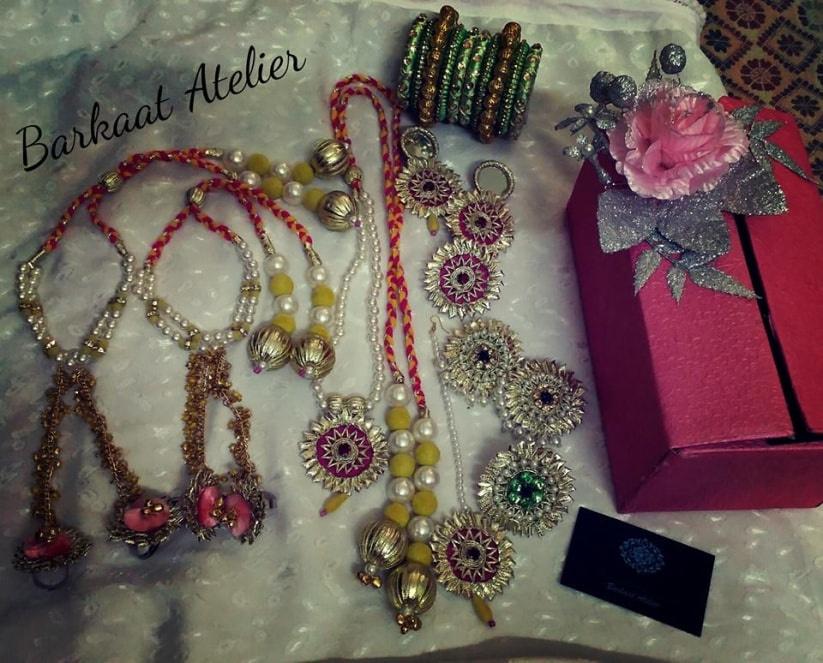 Barkaat Atelier is an exquisite store in Hyderabad which stocks everything Gota-related under one roof. Whether you're looking for Gota earrings, necklace, Haath Phools or Maang Tikkas, you'll find everything here in all possible colours. If a couple of designs inspired you to get your own customisations done, that option is also available. So, if you still haven't found jewellery for your Haldi ceremony or are on a look out for some Mehndi favours you want to gift to your bridesmaids, then you must check out their collection.
2. Prune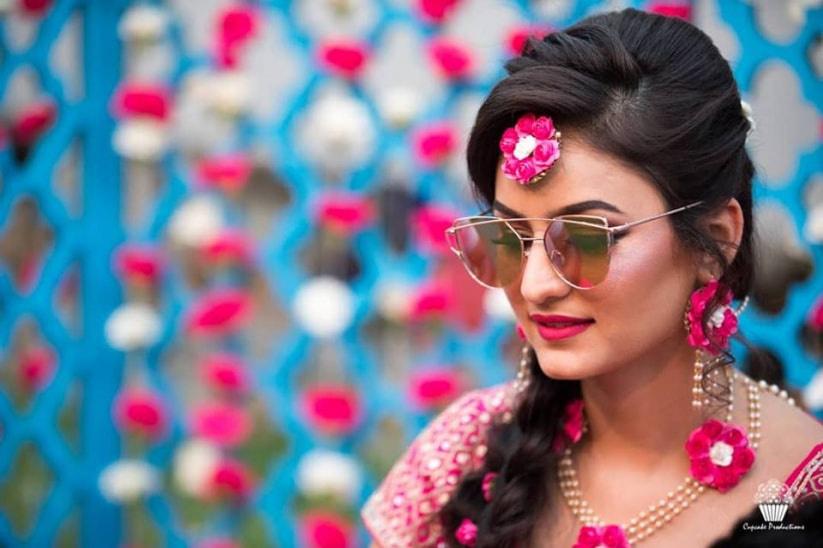 This quaint jewellery store is situated in Shahpur Jat, Delhi. Prune stocks handcrafted Gota jewellery, adding that vintage touch to your pre-wedding outfit. Even though the store is in Delhi, they ship all over India. You can get in touch with them to customise Gota jewellery according to your outfit. The jewellery curated by this store could literally give a run to all others for its impeccable mastery over designs and creativity. Their pieces are legit a pleasant sight for sore eyes.
3. Fooljhadi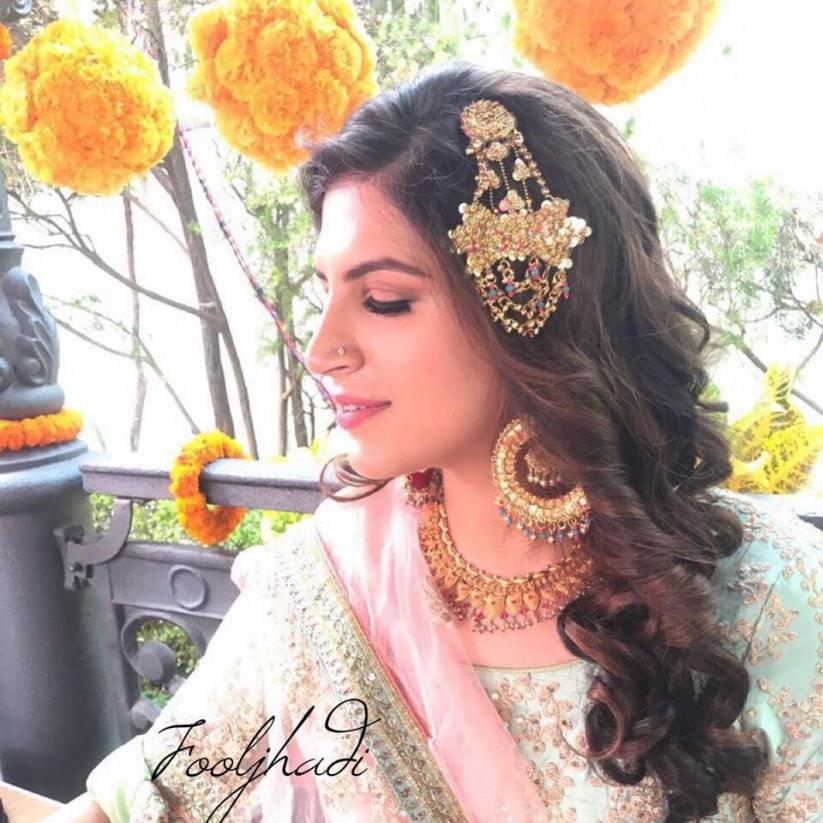 If you're looking for hand-embroidered Gota neckpieces, heavy necklaces and everything unique – Fooljhadi is your best bet. They also have Gota Kalires that are beautifully laced with Jhoomars. You can shop the entire collection online on their website. Fooljhadi, as their name suggests, will make you look like a bomb on your wedding ceremonies and the shine and colour of the Gota necklaces that they provide you with along with a promise of premium quality is everything lovely that you need for your D-day.
4. Rasha Gota Jewellery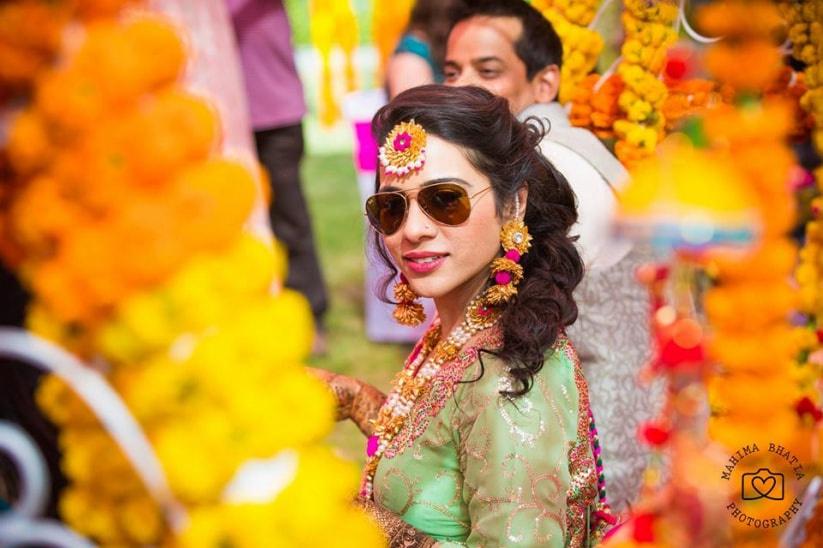 Rasha Gota jewellery is the place you want to go for buying delicate jewellery pieces that look gorgeous on brides! The jewellery can also include some pearls and embroidery and can be customised according to personal choices. They are finely designed jewellery that you can handpick especially for you and the precision of work exhibited in the pieces will make you look elegant. Let your fairytale come to life in the perfect wat with you adorned in finesse and glam that Gota jewellery can give you.
5. Lime by Manika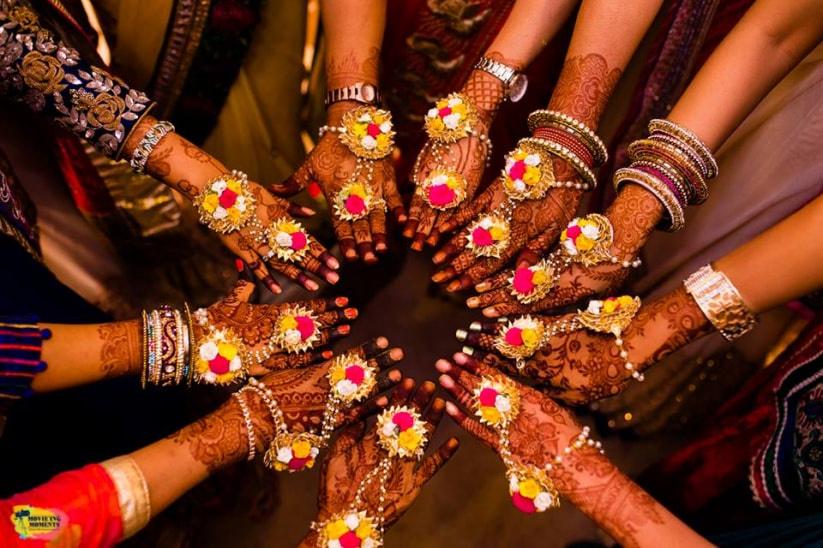 If you're looking for Gota jewellery that's chic and long-lasting, then Lime by Manika is your bet. Manika adds the bling to the Gota jewellery by adding mirrors and pearls to it. Sounds exclusive? It's time to buy these beauties!
Gota jewellery is trending because it is handmade, long-lasting, lightweight, affordable and can be customised to match outfits. Unlike floral jewellery, Gota can stay the way it is and can be reused.
Gota jewellery designers use a lot of different techniques and raw material to create unique designs. Some designers team up Gota jewellery with fake flowers, semi-precious stones, crystals or pearls to create an exclusive piece. So, visit these stores and feast your eyes!
Tell us in the comments if you would like to flaunt Gota jewellery at your own Mehndi or your friend's and which designs appeal to you the most.