Your Wedding Hairstyle Is Incomplete Without These Pretty Blooms
Flaunt trending flower jewellery in creative styles, not just at your wedding but Mehndi, Sangeet, cocktail and reception too!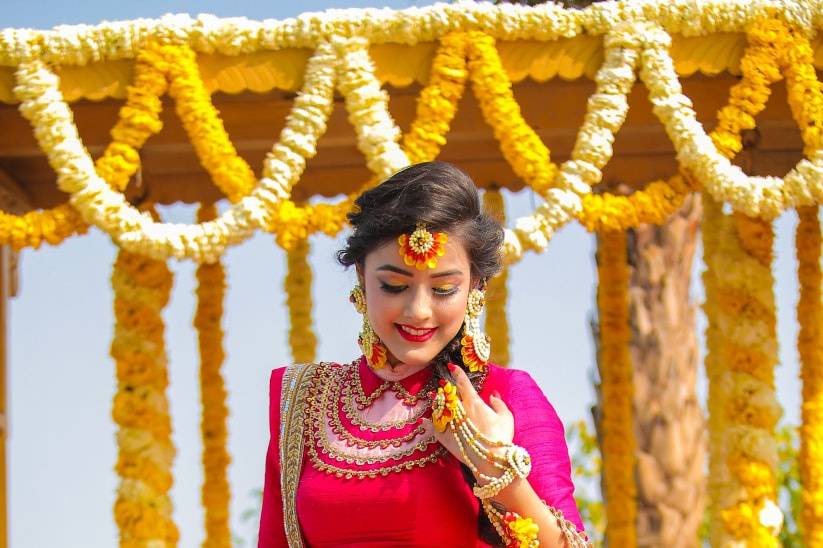 Floral jewellery isn't new but its designs sure are. Every wedding season we see brides and bridesmaids innovate with floral jewellery, and adding some chic accessories to their Mehndi and Haldi looks and for their wedding hairstyle. Unlike traditional gold and silver pieces, floral jewellery comes with no colour restrictions so you can mix and match according to your outfit.
Adding flowers to your wedding hairstyle is a masterstroke. They work not just for the day time ceremonies like the Mehndi or Haldi, but look equally stunning even as part of your final bridal ensemble. And owing to the sheer variety of flowers available, there is something in it for every bride-to-be.
If you're wearing bold colours you can opt for delicate white flowers such as carnations or jasmine or white rose, and for pastels, you have the option of contrasting flowers like orchids and marigolds. If you're looking for ideas, we're listing the most popular floral jewellery options that you can incorporate in your wedding hairstyle that will surely make waves this wedding season:
1. A beautiful floral crown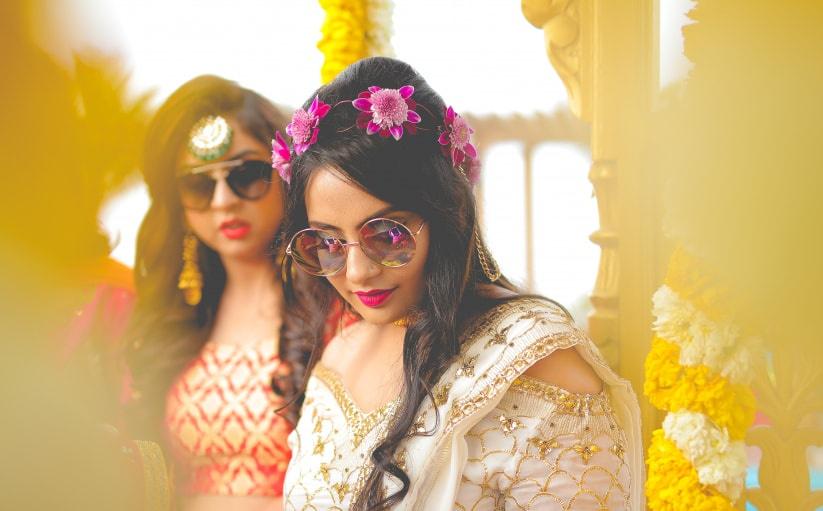 Sport a chic bohemian look by donning a floral crown for your Mehndi Ceremony. Choose from a variety of flowers depending on your lehenga and wedding colours. This can also be a great giveaway for your bridesmaids. We're sure you will get great squad pictures flaunting them.
You can wear these as headbands or as delicate crowns as your wedding hairstyle, which work well for a sundowner or a pool party. Rashmita Reddy from Anoo Flower Jewellery shares, "Most Indian brides are opting for a minimalistic look and thus, go for the fresh flower tiaras. The most popular ones these days are made of roses and carnation with strings of pearls intertwined."
This kind of a crown adds to your wedding hairstyle like none other and is a great way to stand out in your wedding pictures. Alternatively, you can also have matching floral crowns made for all your bridesmaids so that people can easily make out the Bride's tribe.
2. The evergreen Gajra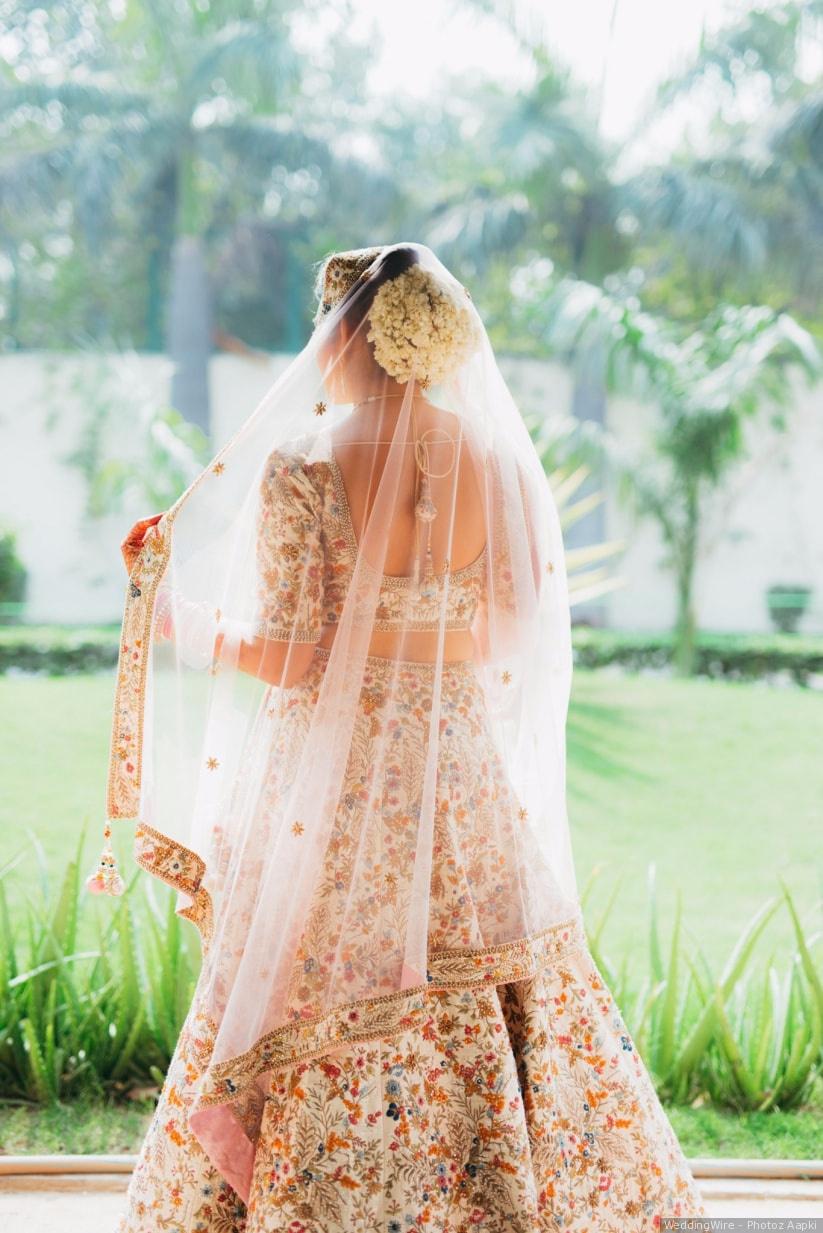 You can never go wrong with Gajras as part of your wedding hairstyle. If you're seeking a traditional look, Gajra should be your go-to pick. It is a classic whose elegance never fades away.
Though usually made of jasmine, these days you will find Gajras made of the South Indian flowers, Cassandra (Kanakambaram) and Barleria (Vajradanti) too. Choose colours that are in contrast with your veil so that the Gajra stands out properly. It will blend with your bridal lehenga and silk sarees perfectly and the fragrance will keep you fresh throughout. How would a rose Gajra look to you? Stunning, doesn't it?
Add a Gajra to your wedding hairstyle to bring together the best of both worlds.
3. A unique Maang Tikka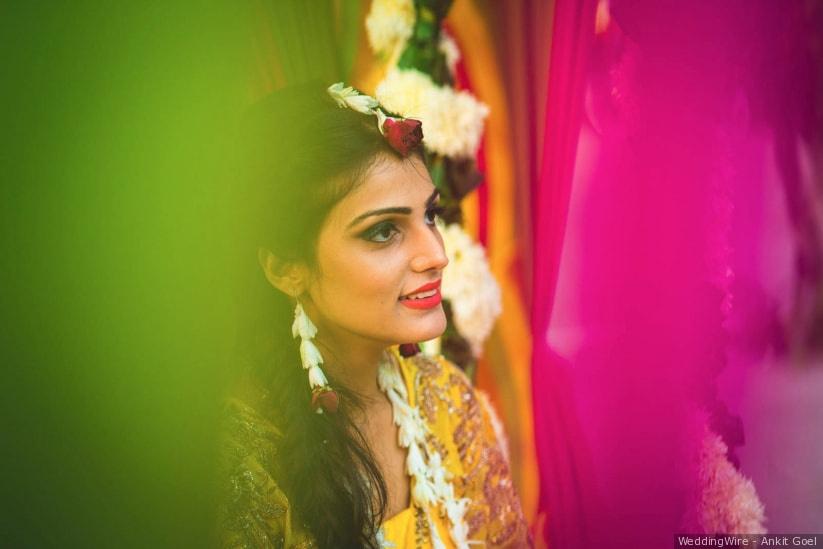 For any day-time event, opt for a floral Maang Tikka to really make a statement. Pair the Maang Tikka with matching Haath Phools, Baju Band and earrings for a complete look. These days you'll find designers combining flowers with beads and Gota Patti work to create some funky and colourful pieces.
Maang Tikkas are anyway a great way to add some definition to your bridal look and the kind of options floral jewellery gives you are endless. There is something different for every occasion, mood and colour schemes. Not to forget that floral jewellery doesn't cost you half as much as even artificial flowers.
Wear this hair jewellery as part of your wedding hairstyle and your Mehndi pictures will surely be phenomenal. Owing to the trend of flower jewellery and Gota jewellery, the term Mehndi jewellery has come into the picture. Makeup artist Riddhi Verma recommends Devanshi Seth Designs for innovative bead and flower jewellery pieces like Matha Patti, Passas, chokers, bangles and rings.
4. The classic hair vine
Hair vines are commonly used in western weddings and have now trickled down to become an important part of Indian bridal hairstyles too. You can add these delicate accessories to your updo or bun for a vintage look. Bridal hair accessories like floral vines are easy to carry and work well with loose twirls, too.
Some of these come with attached hairclips so wearing them becomes simpler. Makeup artist Sohni Juneja recommends brides to go for light-weight flowers like the carnation or gypsophila flowers, popularly known as Baby's Breath over heavier flowers like roses for their wedding hairstyle.
Since they are light-weight flowers, you'd hardly notice their presence. And we can assure you that everyone else will. The best part? These look great on every wedding function so you can amp up the style factor on any ceremony with this accessory!
Not just that, a floral vine is a quintessential item that can be added to almost any and all kinds of hairstyles, be it a braid, bun or waves and curls. Just pick the blooms of your choice and prepare to mesmerize.
5. The freshest - floral dupatta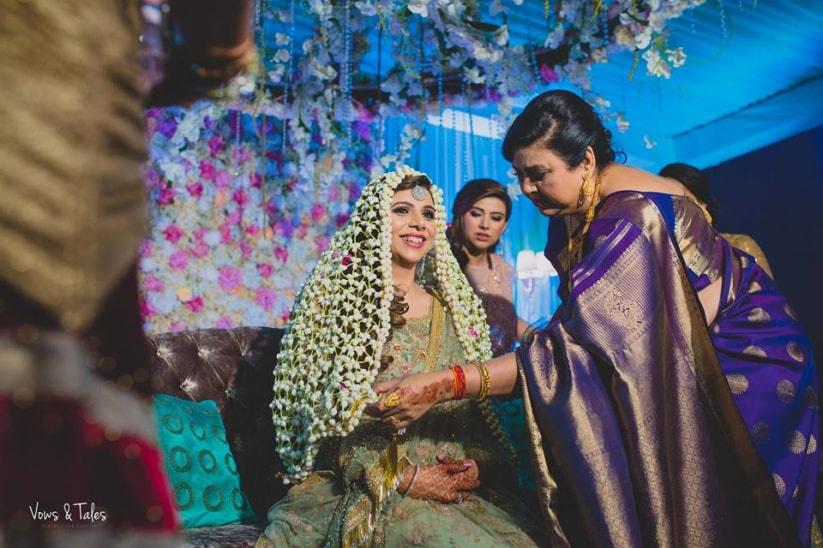 The newest way of adding flowers to your bridal attire is with a floral Dupatta. We've seen some stunning examples on Instagram this season, which you can show your florist as inspiration. Your floral Dupatta may not last the entire function but will help you make that one-of-a-kind bridal entry.
Imagine the sight, your groom gazing at you while in awe of your stunning look. We recommend lighter flowers like mogra, Rajnigandhas and jasmine buds with a floral border for impact. Going for a Dupatta like this would definitely make sure that you are one of a kind bride whose style just cannot be matched.
Take inspiration from the above pictures and head out shopping with your gang of bridesmaids. You can even DIY some of these styles with the help of your wedding florist. Regardless of whichever idea you pick, make sure that the flowers are properly cared for before putting them on. Keep them fresh so that you can have exactly the effect you want.
Have some tips, tricks and hacks of your own for adding flowers to your wedding hairstyle? Share with us and other brides-to-be in the comments below.