India is so diverse in a culture that literally every season is wedding season. While North Indian brides like to experiment with their hairstyles for their wedding functions, South Indian brides prefer their traditional and timeless classic braids, embellished with flowers and jewels.
If you're anything like Monica from the sitcom FRIENDS, you would have already decided everything about your wedding – outfits, makeup, and hairstyles. But if you're still confused about what hairstyle to choose for your big day that would compliment your outfit, worry not, we're here to help!
Indian Bridal Hairstyles
Indian bridal hairstyles are all about finding what's right for your bridal look, comfortable with you and goes well with your face structure. A fashion trend may come and go and be an inspiration for your chosen piece, but ideally shouldn't dictate your choice.
Bridal Hairstyles for long hair
What is the point of having gorgeous long hair and hiding it in a bun? Gone are those days when brides did their hair in a simple bun. Have a look at the gen-next brides who have all chosen to flaunt their beautiful hair. As one bride opted for side-swept curls, she added a set of bridal accessories like the passa on the other side to add drama. Another bride opted to keep her hair straight, clutched partly and added a flower hair band for her white wedding.
Face type to hairstyles:
If you have a round or an oval face, it's best to let your hair open – straight or curls. This type of hairdo takes away all the attention from your chubby cheeks and double chin. Avoid too sleek and straight hair as this can make your already round face appear rounder. For a heart-shaped face, you want to take the attention away from the forehead and appear to have a fuller chin and cheeks. And then, there are specific styles which work best with square-shaped, rectangular-shaped or diamond-shaped faces. Here are a few pointers for all of them:
Round face - Open hair with a sideways fringe, fringe with bun or braid
Oval face - Open hair, straight or soft curls or up done hair
Square face - Long, layered hair with a mid-parting
Diamond face - Layered soft waves
Heart-shaped face - Flowy waves, curled or tucked below chin length, either in side-swept style or with a fringe
Triangular face - Shoulder length hair, with sideways bangs
Here are a few hairstyle inspirations:
1. The long braid
Braids – whether they're fishtail braids or waterfall braids – are extremely loved by the brides. Braids usually work well on brides with medium or long hair, but fret not, if you have short hair, you can opt for some hair extensions and you're all set.
South Indian brides are known for accessorising their long braided tresses with gold jewellery, gajra, juda pins and a lot of hair jewellery which transforms them into a complete traditional bride.
Here are a few other inspirations:
Instead of running the floral accessories like the gajra throughout the braided section of the hair, you can choose to add trinkets here and there and leave some gaps while wrapping the gajra around so that section of you luscious mane is also flaunted beautifully.
2. Flowing Tresses
As we discussed above, there's nothing more freeing than letting your hair run in the wind. Long hair calls for appreciation and not only from the hairdresser but from everyone who gets to witness this beauty. And the best way to flaunt the long tresses is to let them flow free and let the wind in your hair enhance the beauty that you own. Here are a few inspirations:
Or, perhaps this? A simple Borla to accentuate your look while still letting your open tresses being the show stopper element of your overall look.
You can get the lower ends of your hair curled using a curling iron or other techniques if you do not want the heat to affect your mane. The loose curls give volume to your hair and at the same time make you look elegant without much efforts put behind doing so.
3. Bridal up-do
The classic bun, curly waves pinned to the top of your head and carefully done up twirls - you can have all of these hairstyles and tuck them under your bridal dupatta. This dramatic hairstyle is apt for a go-getter bride who likes to keep interesting. Someone who has voluminous hair and doesn't know how to manage them? This is your cue to follow. The curls can flaunt some small accessory or wildflowers that are small.
You can also add some fresh flowers to add that missing pop of colour. And, that fragrance is definitely an add on. The curls can be defined well while being pinned like this bride shows off a rose shaped curl in her bun.
Let some locks of your hair loose from the front and from behind as well and curl them up to follow the flow of the bun and your messy yet elegant bun is good to go.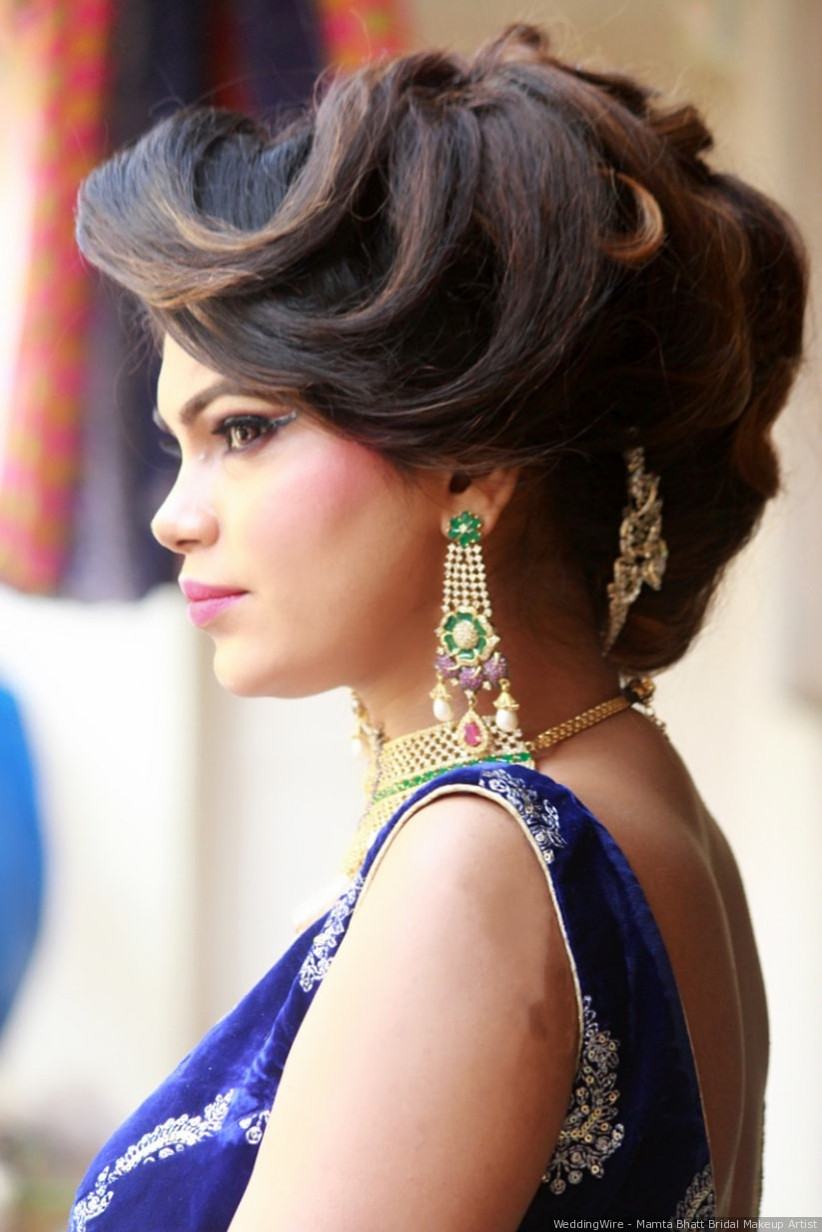 You can ask your hairstylist so give your front hair a little wave and tuck them on the side by using a pin or a trendy hair clip. Dramatic and beautiful at the same time. Isn't it?
Bridal Hairstyles for Medium hair
Medium hair length sees most brides opting for a bridal bun. It is a traditional yet classic style that stays evergreen. Whether you opt for a middle parting or a puff on top, adding quirky hair accessories makes the hairstyle pop.
Bridal hairstyles to face type
Medium length hair can be accommodated to all types of styles, be it trending fishtail braids or braided headbands, pulled back to heavy, ornate buns (think ballerina buns), half updos or French twists. Again, it's important to try a style that goes with your face type. Here are a few suggestions:
Round face - Side bangs, textured braids (read Fishtail braids, French braids), polished top bun, long bobs, loose curls
Oval face - Open loose curls, relaxed hair-dos, partial updos
Square face - Loose curls, relaxed braid with flowers
Diamond face - Layered soft waves
Heart-shaped face - Bangs, either side-swept, deep bangs a long bob or wispy ones
Triangular face - Sideways bangs
Here are a few ideas and inspirations:
4. Flowing tresses
There is real beauty is trusting your instincts and letting your hair down once in a while. All you need to do is blow dry your hair and comb them in a side pleat. Use a curling comb to get the little wave at the length of your hair. If you want more dramatic curls then use a curler instead of a comb.
5. Partial updos
This hairstyle is apt for someone who has straight and sleek looking hair. A simple hair tuck at the back of your head will do the trick.
6. The classic bun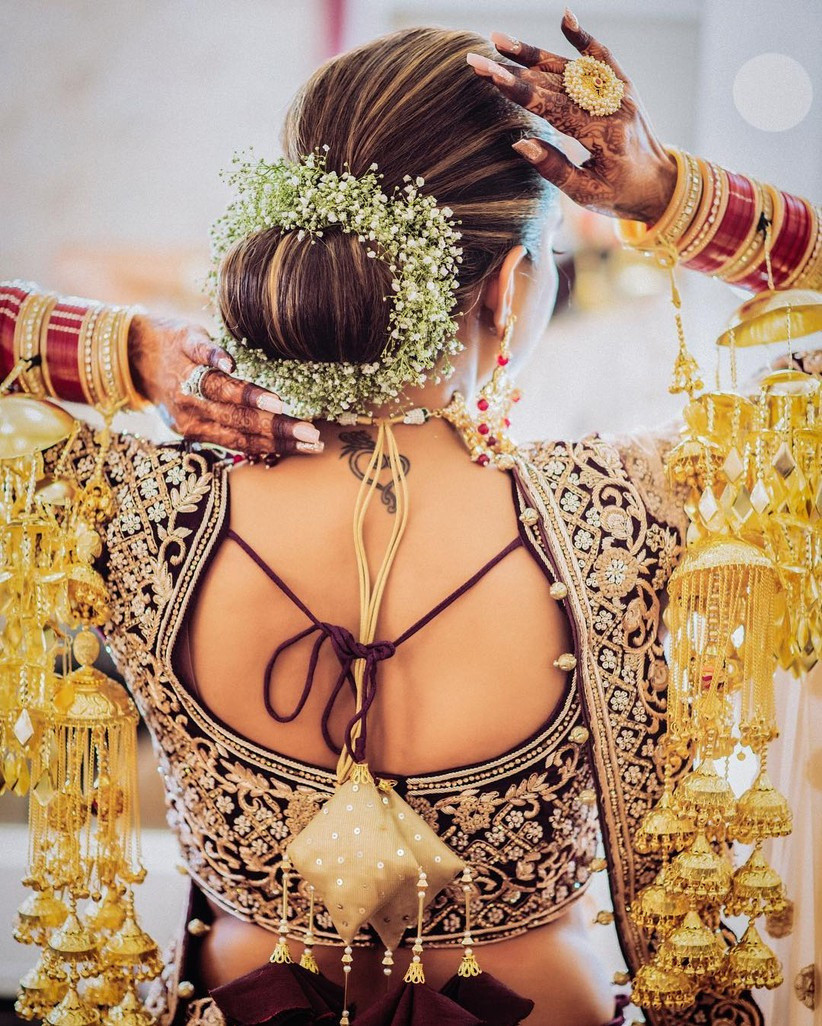 Image courtesy: Simmy Makwana
If you are confused between opting for a traditional or a modern bun, try a decorative side bun or a messy bun. You could also opt for gorgeous head accessories to make your groom go weak in the knees.
7. Side-swept curls
Another bridal hairstyle that is a hit among brides with medium hair is the side-swept curls. If you have a pear-shaped or an oval-shaped face, this hairstyle will encapsulate your facial features.
8. Bridal Hairstyles for Short Hair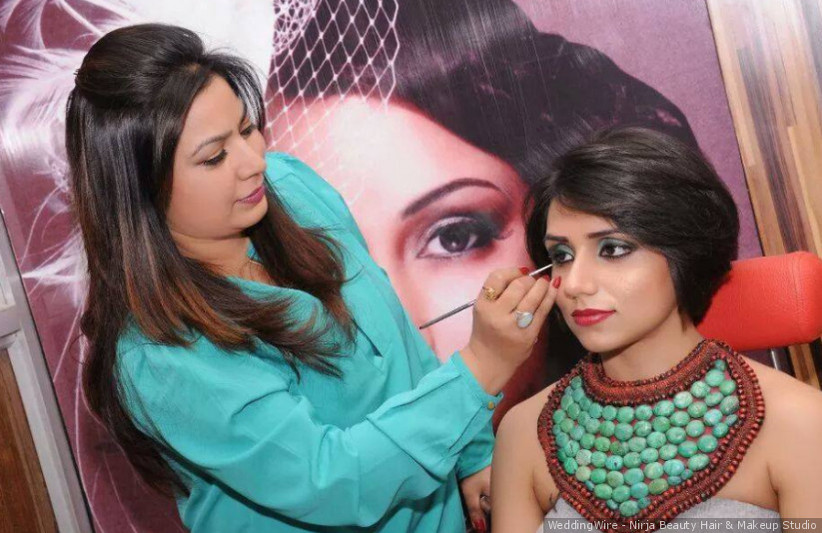 One of the most sought-after Indian bridal hairstyles for short hair is the low side up-do. It is an extremely low maintenance hairstyle, keeping hair out your face, leaving you enough room to dance the night away.
Another bridal hairstyle that works well for short hair is the low twirling bun. If you add fresh flowers to it, you're all set.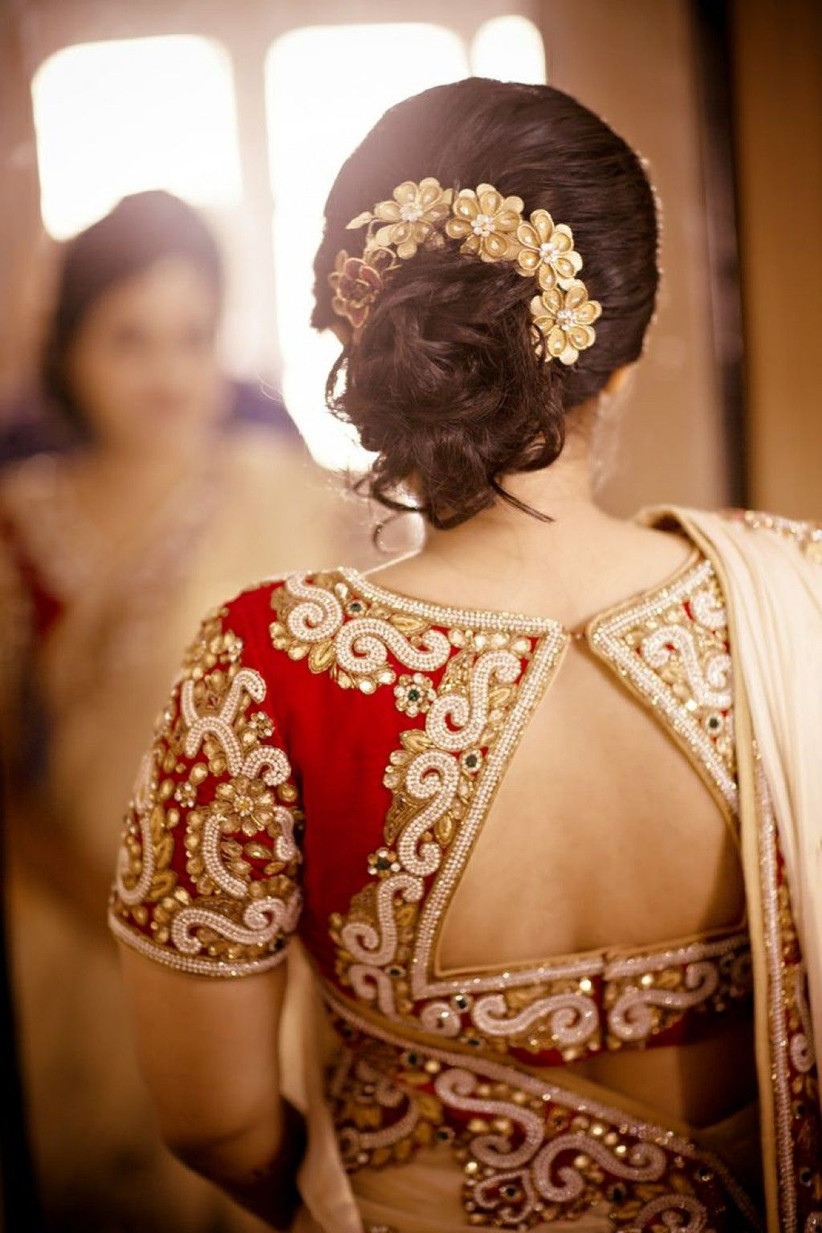 Image courtesy: Vagabomb
Last but not least, a simple headband made from flowers can also add the right amount of drama to your bridal outfit.
How to choose a bridal hairstyle?
Fashion trends may work one season and will be out of fashion in the next season. Always remember that just because one hairstyle suits a celebrity, doesn't mean it will suit you too. To avoid a huge blunder, we suggest you follow these thumb rules before you choose your bridal hairstyle:
A. The Bridal hairstyle should suit your face cut.
Not all hairstyles are meant for all face-cuts. It's true that hairstylists can experiment more with long hair, but even short hair can be styled in a number of ways to give you an elegant bridal look.
B. Opt for a hairdo that doesn't take too much time.
Most brides take 3-4 hours to get ready for their big day that includes hair, makeup and draping of the outfit. Choose a hairdo that will not take too much time and effort – and ends up making you late for your own wedding.
C. Opt for a hair and makeup trial before the wedding.
To keep things organised and not leave anything ambiguous, it's best if you try the bridal makeup and hair a month before the wedding. So you have enough time to make any changes – whatsoever. Also, a tip: play safely on your wedding day. You don't want an experiment to go wrong on your special day. In fact, we have a list of questions you should ask your hairstylist.
D. Make sure the bridal hairstyle compliments your outfit.
If you plan on draping the dupatta over your head, ensure your hairstylist uses some kind of hairspray so that the dupatta doesn't end up messing with your hairstyle. You should also not end up in a stuck up situation over your bridal lehenga. Also, the hairdo must last you 8-10 hours as most weddings stretch late into the night. It's extremely important for brides to follow a hair care regime, just like it's important to take care of your skin. Regular oiling, getting a hair spa and using the right shampoo ensures your tresses shine brightly on your big day.
E. Ensure that you are comfortable with the hairstyle and accessories.
A bride should be able to enjoy her own wedding. As a bride you must ensure that the hairstyle and accessories you choose don't poke you or make you uncomfortable. You can opt for a jewelled matha-patti, real flowers, artificial flowers, gajra, passas, or anything that screams bling!
Regardless of the length of your hair - whether they're short, medium or long; make sure to finalise a bridal hairstyle that is dreamy and yet attractive.