10 Creative Bridal Entry Ideas for the Uber Cool Brides
Here comes the bride, walking down the aisle. Doesn't every bride dream of a grand bridal entry to her wedding ceremony! Make it extremely special with these styles.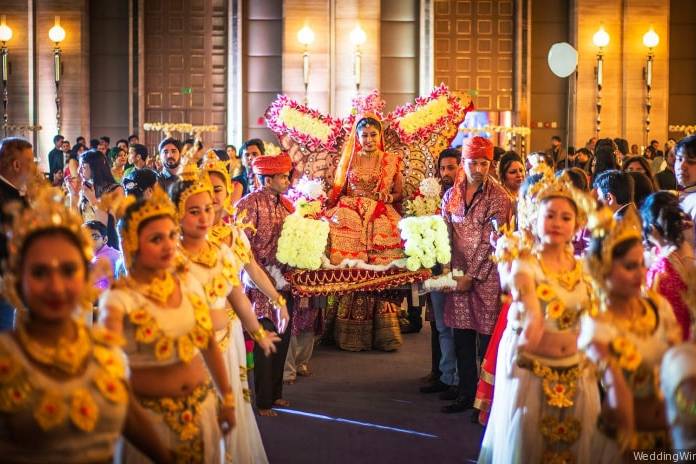 The music stops as you prepare you to arrive, with butterflies in your stomach you take your first step forward. You are the star of the show and the stage is yours. Make a stunning bridal entry; arrive in style and make it grand! After all, you will have each and everyone's attention as you walk the aisle.
Give a head-turning appearance with your bridal look in the awe-inspiring lehenga complete with bridal makeup and jaw-dropping jewellery. And then make a breathtaking entry that will stay etched in the memories of your guests.
1. The Dulhan in the Golf Cart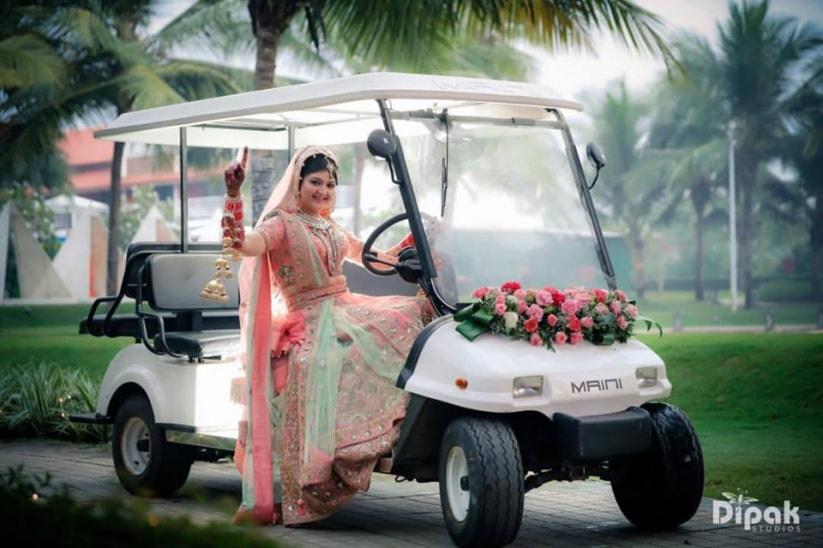 Who knew that a bridal entry in a golf cart but possible? But, this real bride just left us shook and we cannot get enough of how cool and effortlessly chic she looks seated in this gold cart as she makes her way to the wedding aisle. If you are unafraid from travelling on the road less travelled by then this bridal entry inspiration is the one you should consider to fix your very own bridal entry. You can always ditch the golf cart and come on in on a bullet - the epic bullet rani moment, after all, you are a braveheart bride, are you not? So, let your hair down and make a statement with your bridal entry now!
Pro Tip: Be comfortable and careful while riding your golf cart.
2. The Classic Phoolon KI Chaadar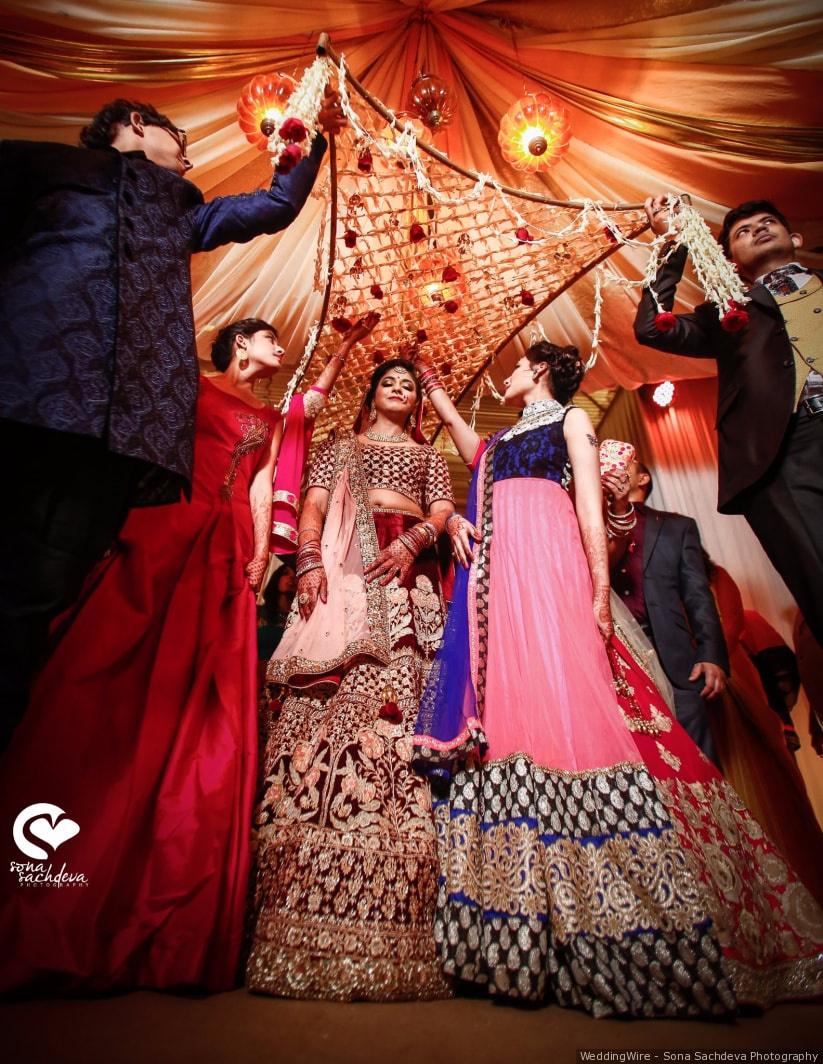 Walking under Phoolon Ki Chaadar is a timeless bridal entry style that's traditional as well as fuss-free. It's best suited for you if don't want to go over the top with the entry and like to present a sober look. You can get it customised to be designed out of your favourite flowers, be it Indian & Foreign flowers.
Pro Tip: Put on aviators and arrive in style.
3. Umbrella Wreath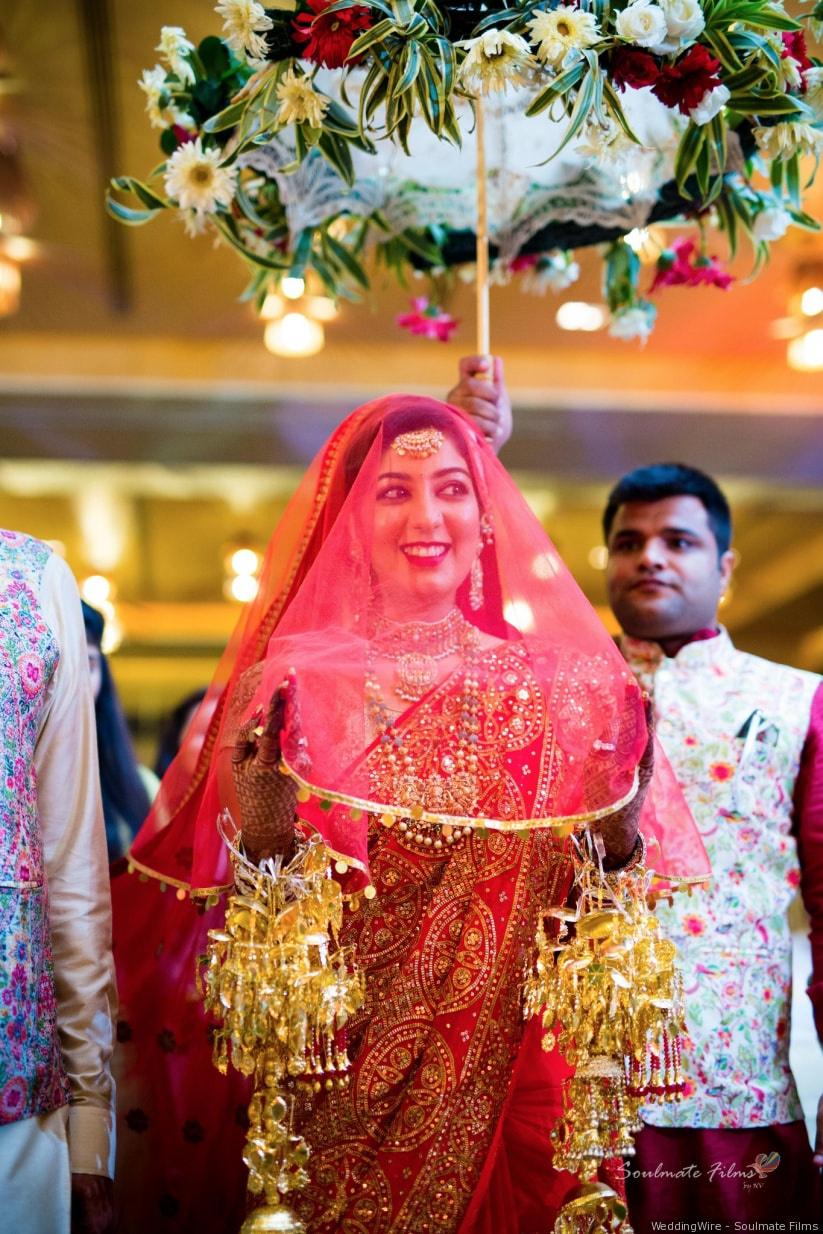 Giving a twist to the idea of Phoolon Ki Chaadar, replace it with an umbrella decorated with beautiful lace and gorgeous fresh flowers. This bridal entry style will give your wedding that extra oomph. Customise the colours of lace and flowers according to your theme and maybe add a dash of fairy lights to shine brightly.
Pro Tip: Add some fresh leaves for the vintage feels.
4. Rajasthani Palki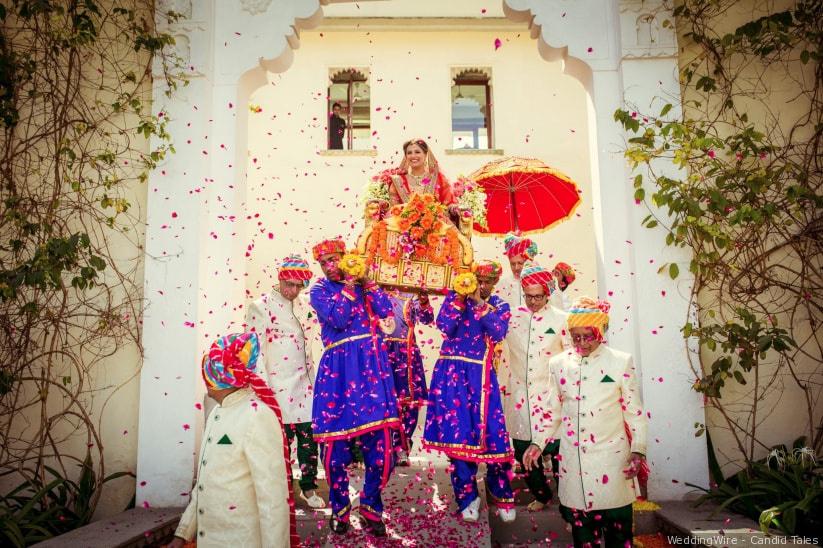 Make heads turn by arriving at the mandap on a Rajasthani palki. It is sure to make you feel like a princess and give your bridal entry a royal look because did we not adore Princess Jodhaa getting off the gorgeous palki when she arrives at the gate of King Akbar's castle in the movie Jodhaa Akbar? If you're having a destination wedding in Udaipur or Jaipur, then this addition will enhance the fun factor for the guests as well and fit perfectly.
Add a shower of flowers to it and your groom will not be able to take his eyes off you.
Pro Tip: Choose the palki colours that are in sync with your wedding theme.
5. Entry in a Doli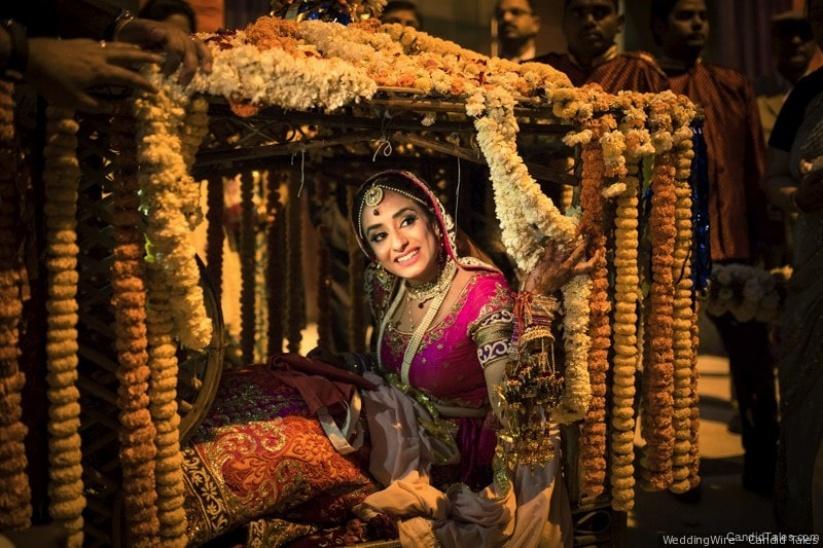 Traditionally, a bride is carried in a Doli to her in-laws' place after the wedding. But that tradition has become obsolete in the modern days. Why not bring it back with a slight twist? Make your bridal entry in a Doli! Loaded with strings and garlands flowers, make the freshest bridal entry this season. Because the song Doli saja ke rakhna is not to be taken lightly and your bridal entry will be an authentic epitome to be remembered forever.
Pro Tip: Add fabric to the design to avoid getting entangled in the flowers while getting off the Doli.
6. A Bollywood Dance Entrance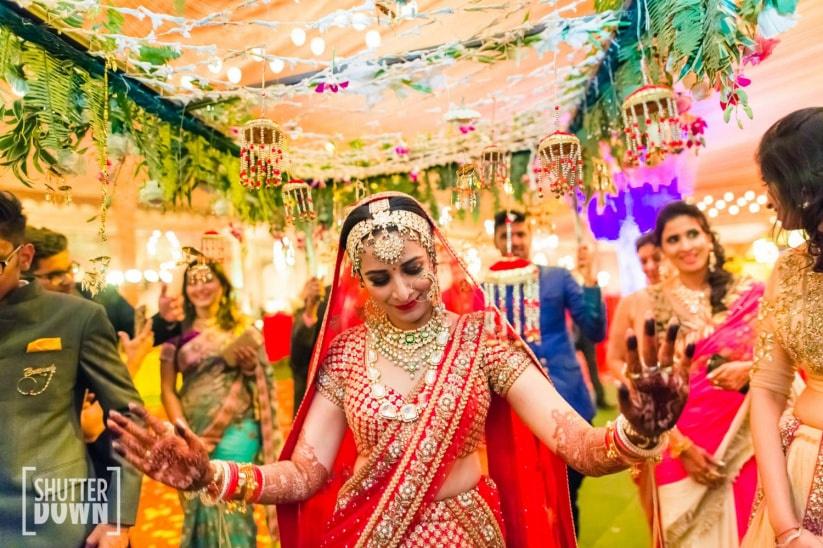 Bollywood movies are known for their superb dance and song numbers. If you are a natural dancer or singer, instead of the plain walk why not turn your wedding entrance into a Bollywood style dance number. Add in funky dance music to be played by the wedding DJ and you get a dramatic wedding entrance that will surely have all the guests and the groom moving as well.
Pro Tip: Choose a song that's easy to groove to in that heavy lehenga.
7. Sail on a Boat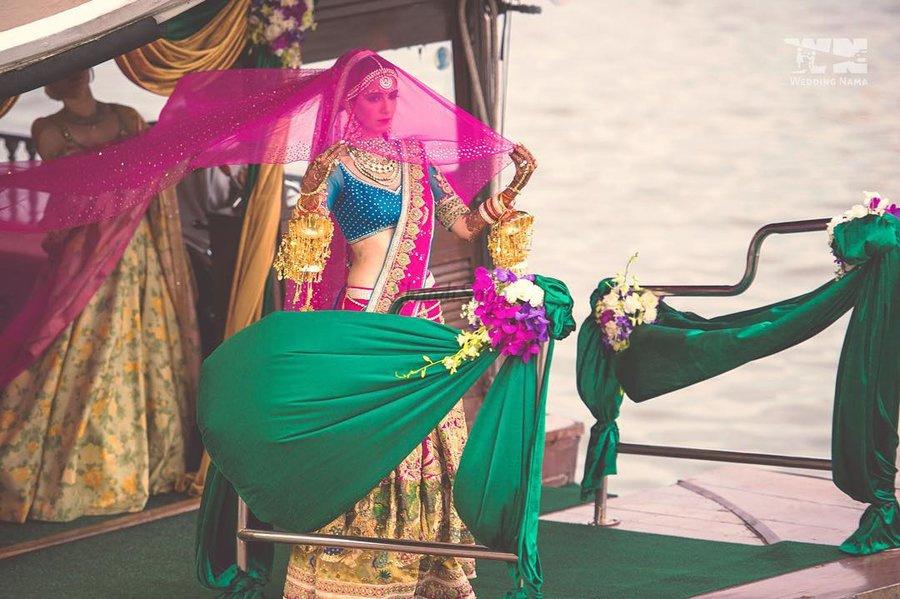 If you are planning a beach wedding, then this is a bridal entry idea just for you. Image yourself sailing to your wedding venue in a motorboat or plan simple wooden one which is beautifully decorated and provides a wonderful experience for a lifetime. It would surely result in a lasting impression on your groom and all the wedding guests. You can choose to sit like a royal queen or stand tall in all your bridal glory.
Pro Tip: Choose a shorter distance to travel by boat as you would not want to arrive at your own wedding late.
8. A Vintage Affair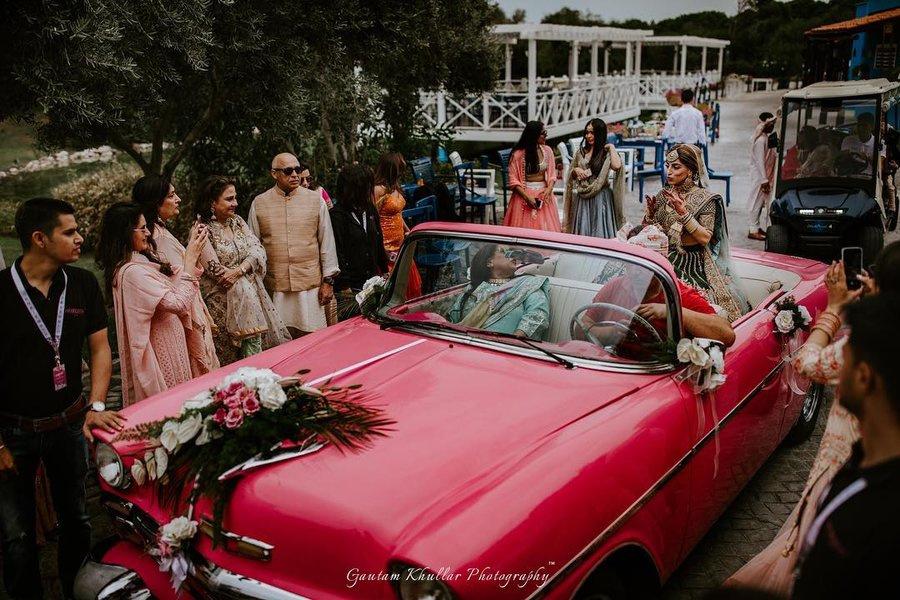 Vintage cars have an unmatched glory and class quotient that makes an event truly breathtaking. This is a bridal entry idea many of the brides are opting where they arrive in a classic and elegant vintage car decked up in a stunning floral decoration which adds a unique style quotient to their wedding festivities. You can choose a car that aligns with the theme of your wedding and you would have lasting memories to cherish for life.
Pro Tip: Get clicked with your chosen car to forge a memory for life.
9. Glorious Entry with Pets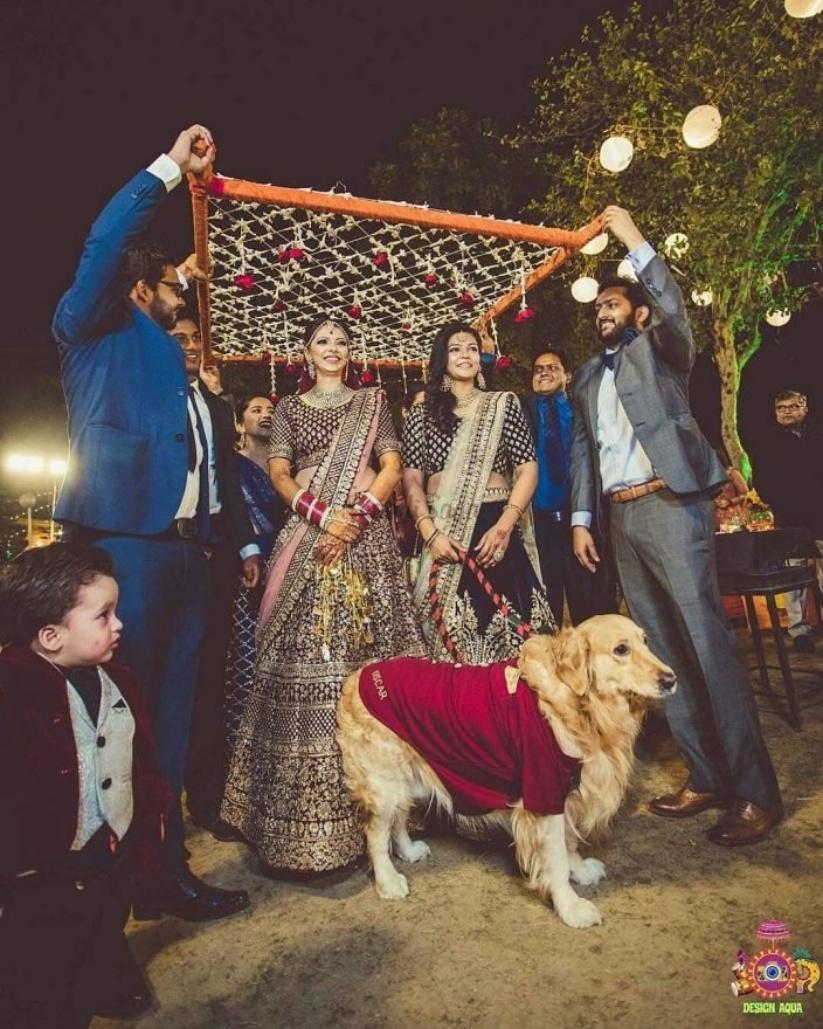 You can let your arrival be announced by your pets. Entering your wedding venue with your furballs will not only result in some awe-moments and attention from all of your guests, but you can also spend some quality time with before saying goodbye and starting a new journey of your life. They can be your best man with whom you can arrive in style. Did the wet nose and wagging tail add to the paw-someness?
Pro Tip: Choose a mellow song that your pets can enjoy too.
10. Entry with Parents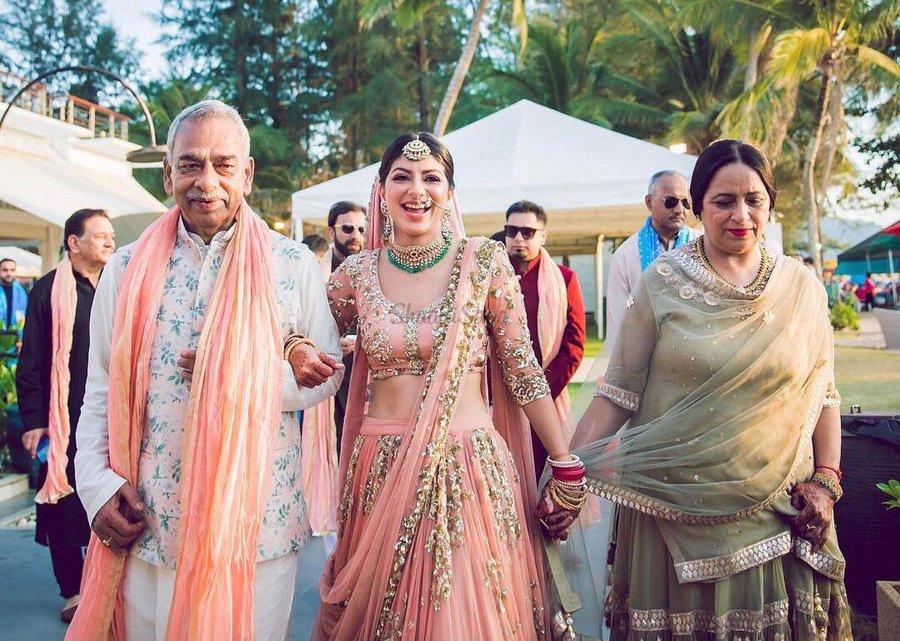 A wedding is an emotional ride not only for all the brides but their parents as well. It is a bittersweet moment for them as they are happy for their daughter to start a new chapter of her life while even being sad, that it would soon be the time to say goodbye. You can make this special moment much more unique and momentous by arriving with your parents by your side.
In a Christian wedding that is a tradition to walk down the aisle alongside your father who gives away the bride, but why not do it otherwise too? Maybe bhangra your way into the mandap with your gorgeous parents!
Pro Tip: As it would be an emotional moment, you would need to keep yourself calm and composed.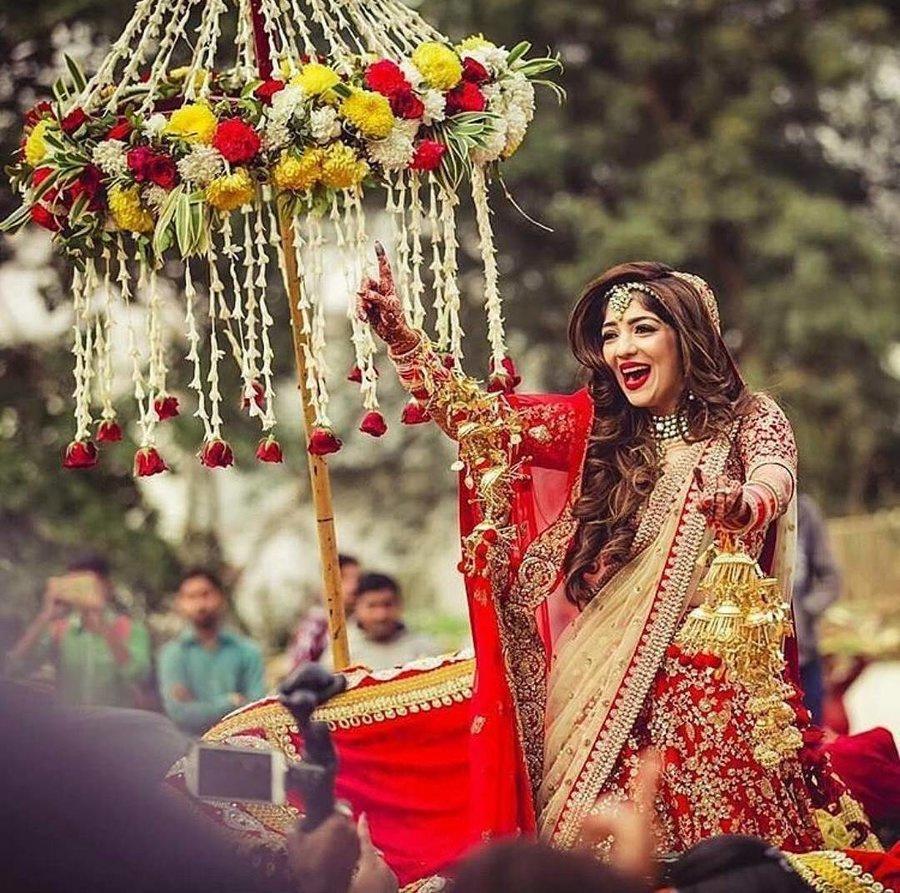 Imagine yourself arriving in these styles before deciding on a final one. Though, do consider your comfort on a Doli or in a palki. Regardless of the style you choose, make sure to personalise it using some funky elements. Get creative and tell us any styles that we've missed. And don't forget to share your final bridal entry style in the comments section below.
Now, that we have spilt the beans on what happens to be some of the coolest ways in which a bride can enter her wedding venue - in full swag and looking like a million bucks, we certainly hope that you will incorporate one of these cool bridal entry ideas for your very own. No matter which you pick, we know you will look effortlessly beautiful and like a million bucks as you glide on the floor, walking towards your groom-to-be.
How did you make an entrance? Was it under the Phoolon Ki Chadar or with your dearest pooch? Tell us through the comments!