6 Indian Wedding Game Ideas to Add Fun on Your Wedding Day
Make your wedding experience fun for everyone by including a few wedding games. Here is a handy guide to the most popular Indian wedding games: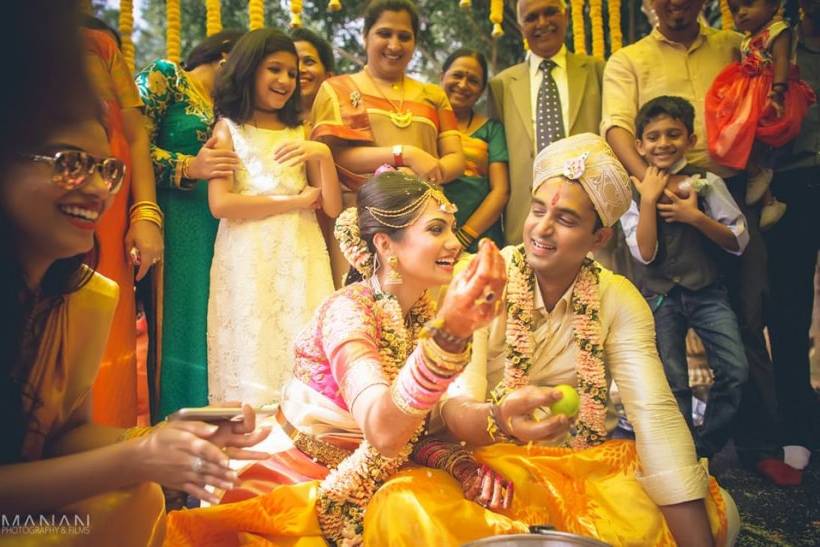 What is any wedding couple's biggest nightmare? A dull and boring wedding! And that's why to make it fun we traditionally have Sangeet and dance performances. But amp it up, millennial couples prefer to add quirky and traditional Indian wedding games to the mix. That's how it all becomes even peppier. Of course, the concept isn't new as there have been traditional Indian wedding games as well, but bringing a modern twist to this form of wedding entertainment can set your wedding apart from the others.
If you're having a destination wedding, you can even host some involving the terrain of the place. Indian wedding games are known to be more fun and exciting because it involves more people and this allows more involvement and you will be thrilled by the joys that come from these games.
Once you get your thinking hats on, there's no stopping. You will encounter such creative and crazy games that people play at weddings these days. Your research on Indian wedding games might also give you ideas for your bachelorette party games. To help you decide, we have shortlisted six interesting and popular and traditional Indian wedding games that will raise the bar for entertainment at your wedding.
That's my Wife's - Play this one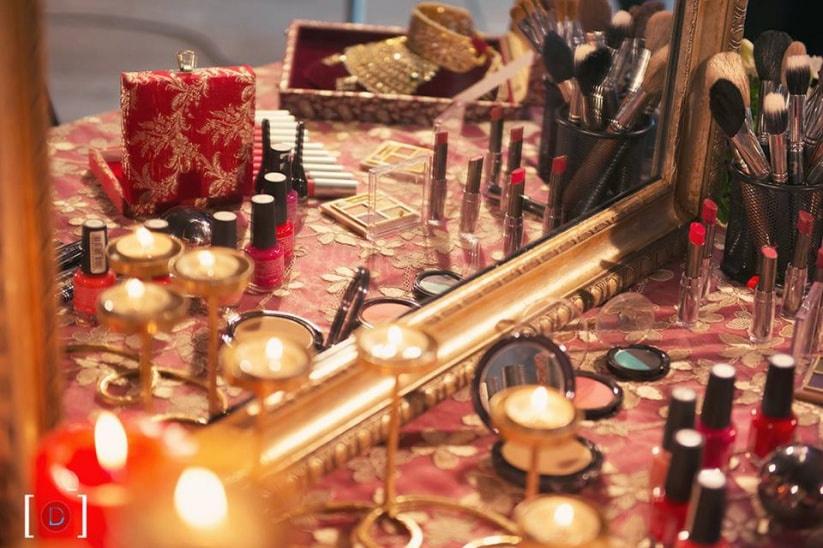 This is an a traditional Indian wedding game for all the married men including the groom. The MC asks married ladies for any of their belongings and arranges them on a table. The men have to take a look at the table and pick the object that belongs to their wife and take it to her.
Whoever knows his wife best will pick up the right item and win exciting prizes too. It gets all the more fun when the ladies have a whole lot of articles in their closet that most of their husbands never notice, but this game demands for the men to know their ladies well. Imagine how fun the fails are going to be!
The Shoe Game - Is Always Fun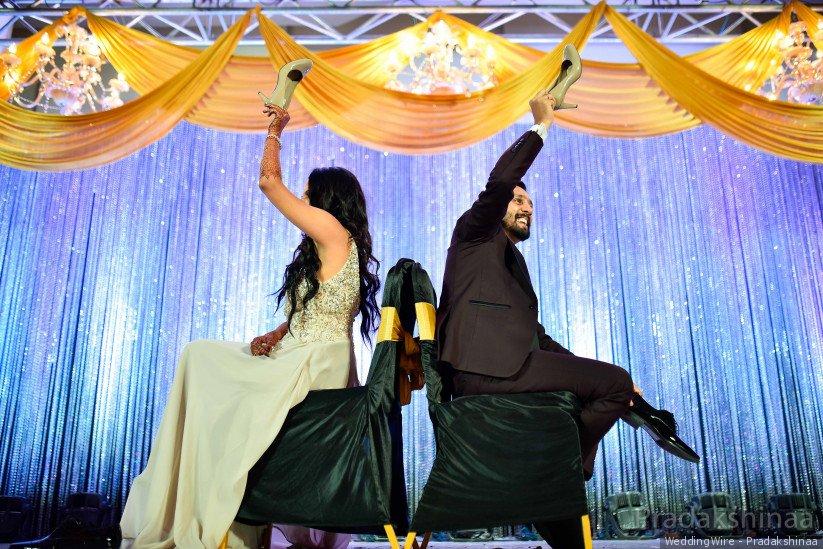 Ask the bride and groom to sit on chairs facing each other's back. They have to exchange their shoes so both of them are holding one of other's pair. Ask them questions to which the answer would only be 'the groom' or 'the bride'.
They have to raise the respective shoe to answer the question, for example, is the both of them feel that the answer to the question is the bride, they will both raise the bride's shoe in the air. It is an interesting Indian wedding game that can last for around 15 minutes with 30-40 questions.
Prepare a list of really quirky and embarrassing questions for this one for maximum fun. However, keep in mind that the elders of the family will also be there in most of the ceremonies, some questions can only be asked in the bachelorette or other celebrations.
Scavenger Hunt - Fun For All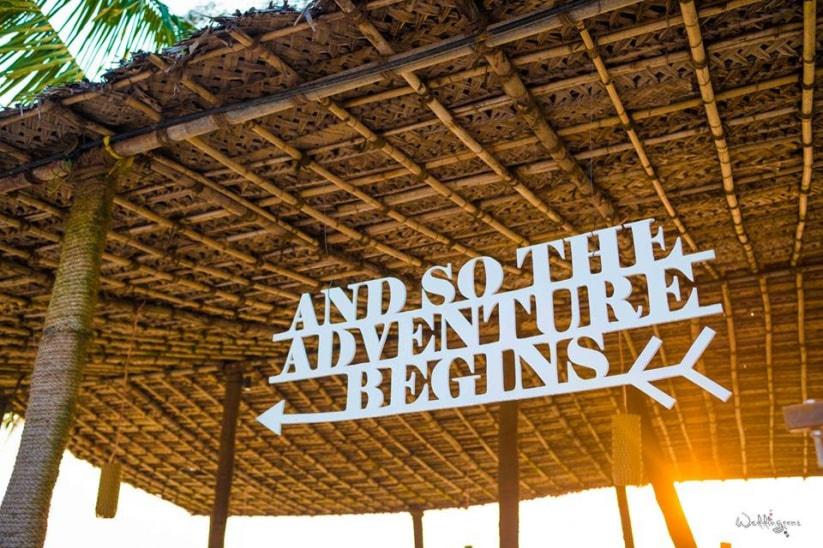 Wedding venues are usually spread over a large area. If not, there are plenty of places where a small clue can be easily hidden. We used to play scavenger hunt as kids but playing it at an Indian wedding makes it more thrilling. Keep exciting prizes like a couple's date night package at a five-star resort or a fully-paid trip for two. Host this traditional Indian wedding game on the Mehndi ceremony as an open wedding venue would be ideal.
This is even more fun when a wedding venue is an outstation place where the destination has a wide area or a resort or a fort where there will be different spaces to hide the cue cards and make for a perfect treasure hunt and this will let the child in you live to the fullest.
Guess the family member - Because Family Comes First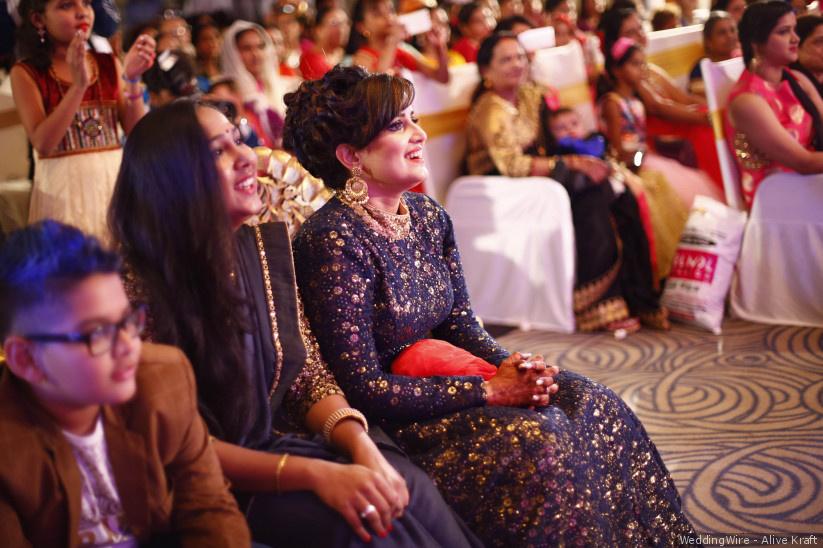 Often, in Indian weddings, the bride knows many members of the groom's family. But when it comes to the groom, he barely knows any of the bride's cousins (unless it is a love marriage, he knows who's who!).
All you need to play this traditional Indian wedding game is a projector and laptop. Project some photographs of family members from the bride's sides and ask the groom to guess the name of that person and vice-versa. Keep hilarious descriptions of the family members as hints to make it easier for the groom. After all, having fun is the whole point of it.
Not only is it fun for the people who don't know the family members, but even for the ones you know so well, put up a picture of their childhood or teenage and ask the everyone to guess who.
Knot So Easy - Well, Yes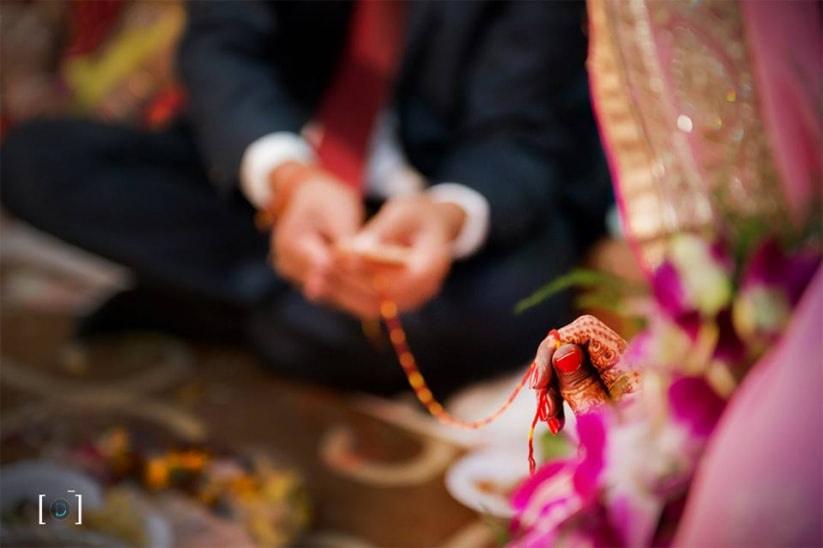 Take a string or Nadaa dipped in some water and make 3-4 tight knots in it. Ask the couple to untie the knots only with their non-dominant hand. It's a fun way for the newlyweds to check their coordination. This is an easy Indian wedding game and it's a lot more fun watching the couple when they can't talk to each other and yet manage to untie most of the knots within a minute.
This wedding game has also been included in the rituals and traditions of many cultures where it was a part of the wedding. This is mostly for a wedding gathering that has fewer people because to watch the couple work their way through the string and gather up around can be confusing and chaotic. This is a classic example of cool meets the amazing and for that reason, you must add it to your list!
Romantic Rhymes - Cute as Hell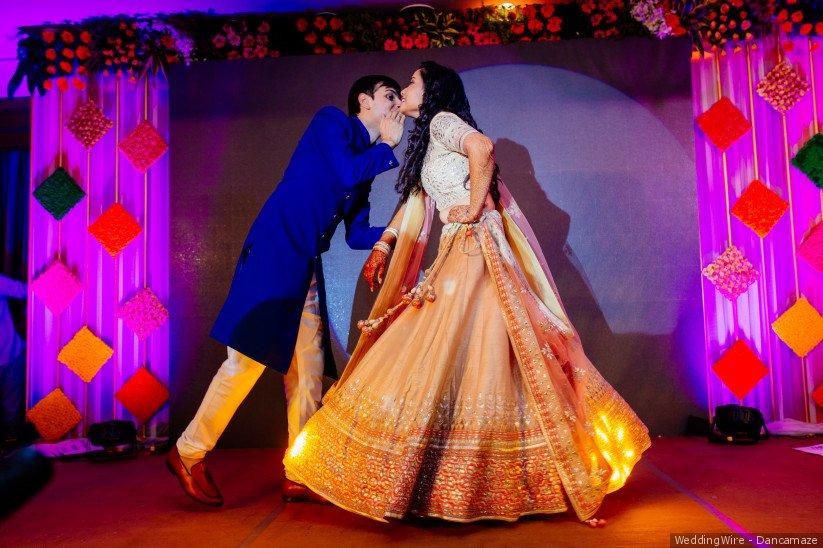 This is a common traditional Indian wedding game for brides in Maharashtra. The bride is asked to fit in her husband's name in a two-line poem. Both the lines of the poem should rhyme with each other. Something like: 'Four plus five is equal to nine, …. is mine.' You can also ask the groom and all the other married couples to play along. This seems like a very good game for a couple to spice up their romance or rather fall in love all over again. Who can say no to that, right?
Which one from this list is your favourite? You can even go totally Desi with Pani Puri games and what not! Just ensure that all the guests present during the game feel involved. For games that require an MC, make sure that their scripts are enough to keep everyone entertained for the duration of the games. Host these Indian wedding games at whichever ceremony allows you the time for it.
Some games about the rings on the engagement, open venue games for Mehndi, if you're hosting Haldi by the pool then include some funky pool party games. In short, make your wedding as fun as possible because you get married only once and if you do it right, once is enough!
Now that you have checked out these amazing Indian wedding games, we feel that you are ready to make your wedding ceremony the best version of itself. After all, what are Indian wedding if not an overdose of never-ending fun, right? So go on and surf some more Indian wedding games or talk to your friends who recently got married, we are sure they'll be able to suggest to you a name or two that will fire up your wedding festivities tenfold.
Do you know any other Indian wedding games that we should add on to this list? If so, then share them with us through the means of the comment and we shall add it to this list!