11 Pool Party Games To Add Wet & Wild Cheer To Your Shaadi
If you're planning a pool party for your wedding, you need to bookmark these pool party games right away. Have a blast with fun for everyone involved.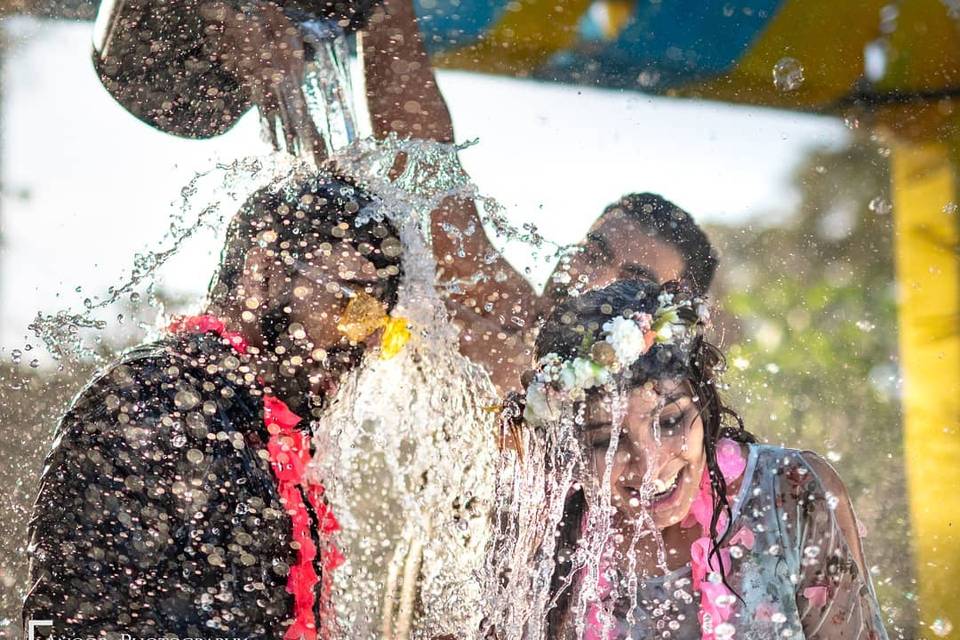 The coolest party to have during your wedding celebrations is definitely a pool party. It is a no-brainer for summer weddings. Whether you are clubbing it with other events like a bachelorette or Haldi ceremony or having it as a breather in-between ceremonies, you will need mindblowing decor, lots of props, life juice and, of course, great music.
But even with all the ingredients in place, there is one other thing that will ensure that people are interacting and having oodles of fun at your party - pool party games! Let's explore the most popular pool party games for you to organise.
1. Treasure Hunt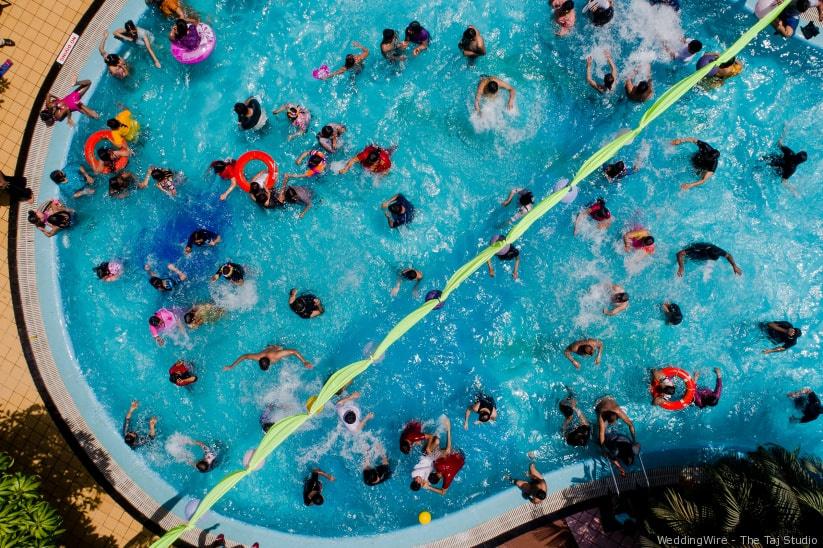 Becoming a pirate to search for lost treasures that sunk to the bottom of the sea is one of the most loved childhood fantasies. That's why a pool party game revolving it would be a sure hit. All you need for this game is lots of coins or poker chips and spread them across the pool.
Your wedding guests have to dive into the pool to find them. The one to find the most number of coins or chips wins the game.
2. Dodge Ball with Water Balloons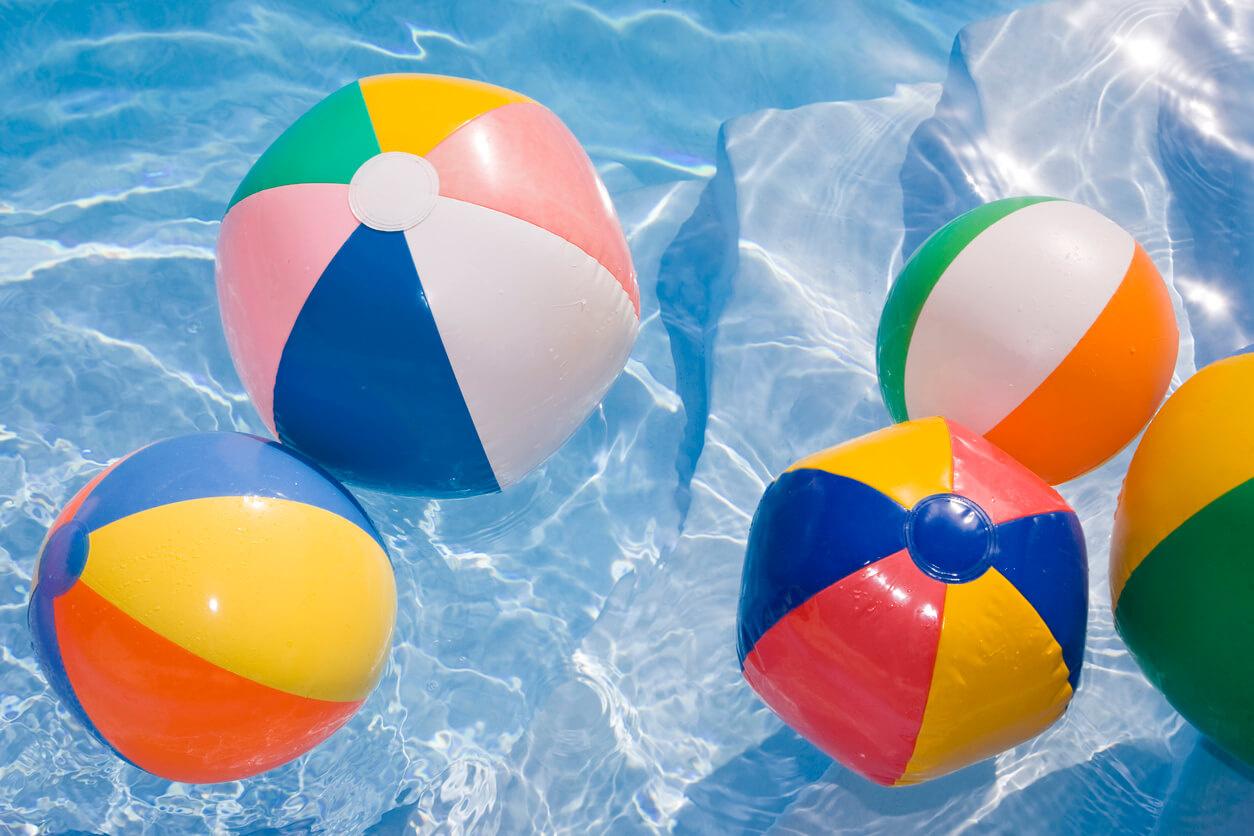 Image courtesy: iStock Photography on Swim Jim
We've all played Holi and shot water balloons at one another during the festival. This game is about bringing the energy of the festival to your pool party. Playing dodge ball with water balloons as one of the pool party games is sure to bring back a lot of childhood memories for your wedding guests.
Make sure to play this game at the end or else clean up the area after the game since bits of plastic balloons can be dangerous for small children and also pose an environmental hazard.
3. Tug of War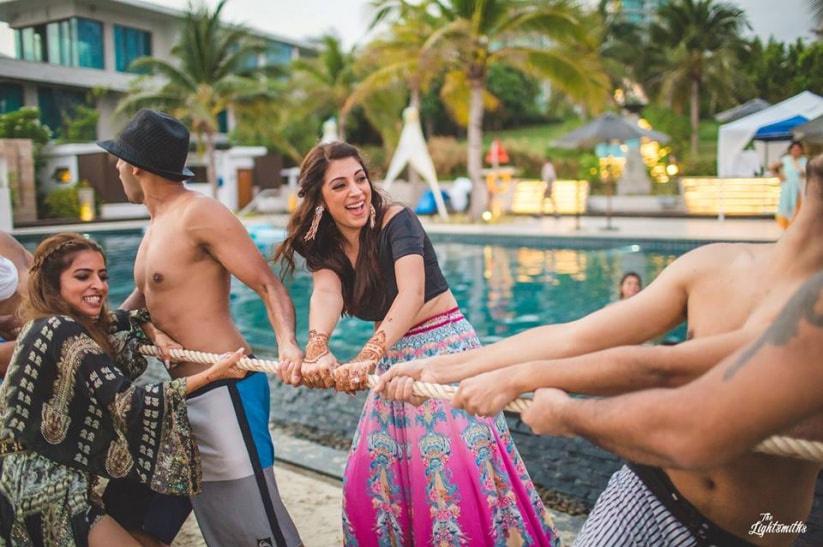 A popular team groom vs team bride idea is the game of tug of war. We all know it, we all love to play it and you can play it anywhere. Just get a rope, someone will have to be the referee and then just let the game begin. Turn the fun factor of this game up a notch by playing it across the pool.
The team that loses will be dunked in the pool.
4. Water Transfer Relay Race
For this game, you need plastic cups, if you can arrange bowls, even better. Fill them up to the brim and distribute among all the teams. Each person has to balance the cup or bowl over their head and cross the pool. The first team to finish the race wins. The cup or bowl should still have water in it for the team to qualify for the win.
You can always turn such pool party games into team groom vs team bride themed game. That would double the fun and make for an epic entry into the wedding teaser or trailer.
5. Frisbee Toss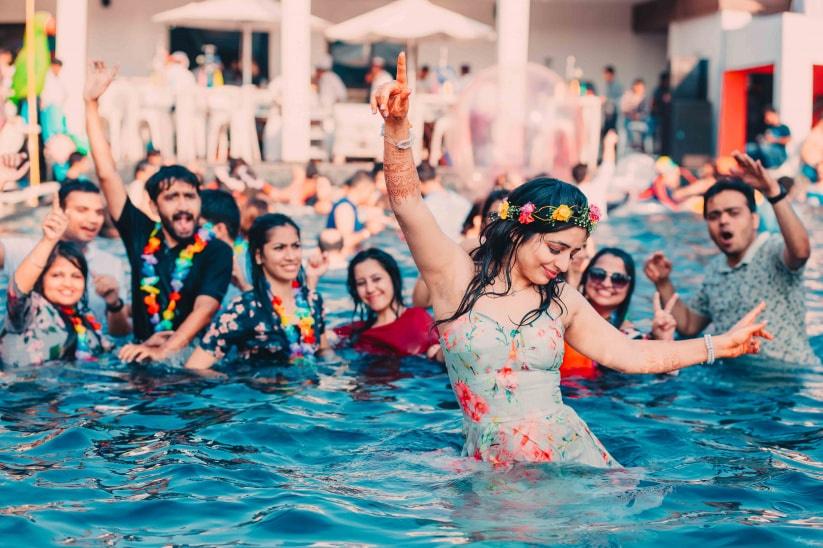 One of the pool party games that require the least bit of arrangement is a frisbee toss. Let there be two teams standing inside the pool, one player standing next to the pool will throw the frisbee and participants standing inside the pool have to catch. The team will the most number of misses lose and have to do a punishment task.
6. Bowling with Pineapples
Who said all your pool party games have to involve the swimming pool? You can easily arrange for a bowling game in an inexpensive manner right by the poolside. Get a bunch of the most fashionable fruit of the current times, pineapple, arrange them as bowling pins and use a basketball or football as the bowling ball. All your wedding guests will enjoy this game regardless of their age.
7. Rubber Duck Race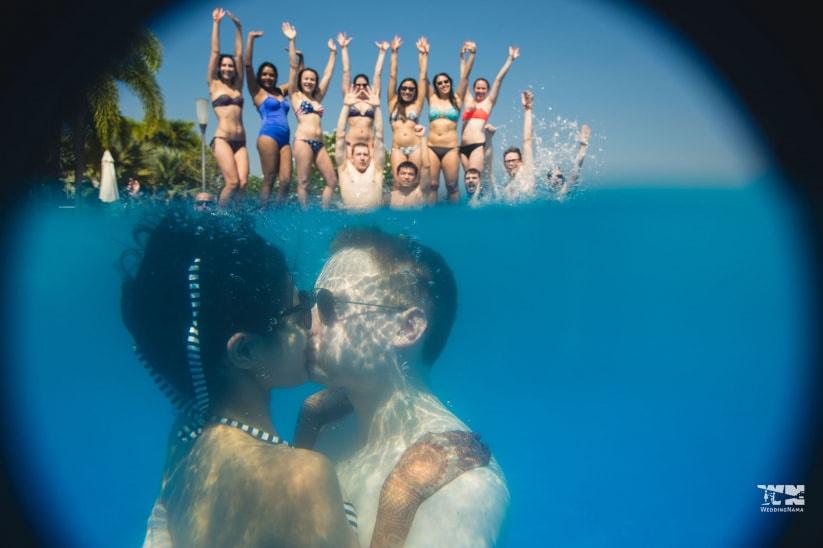 We are familiar with rubber ducks for kids to play in bathtubs or as the toy Mr Bean plays with. Distribute them among the participants in the pool. Now, this is a race but the catch is, that the participants can not use their hands or arms to push the rubber ducks. Imagine the creative ways your friends and family will come up with to push the rubber ducks forward. Make sure your wedding videographer is around to record all this madness.
8. Inflatable Bull Riding
Get inflatable pool toys for kids, find the bull if you can or any large toy would do. The deal is that one of the guests will mount the toy and the rest of the people will try to push them off the toy without actually touching them. Let the wildness ensue for this one.
You could make it restrictive by age (one round for the kiddies and one for the kiddies at heart), to ensure that everyone gets a go at it. If your guest list is short enough, you could have multiple rounds at it.
9. Ping Pong Ball Frenzy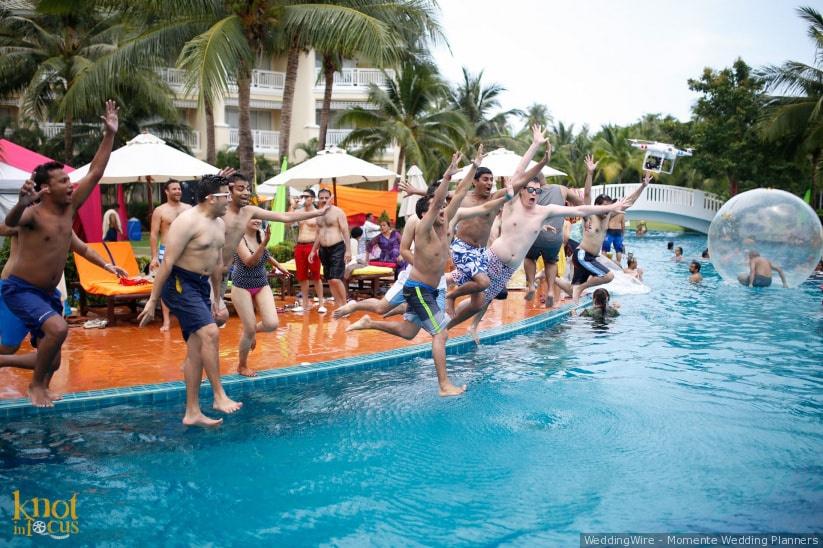 In this game, fill the pool with ping pong balls with numbers on each. Have all the participants stand around the pool and as someone yells "go", everyone would jump into the pool and try to catch as many balls as possible in a fixed amount of time. When the time gets up, the person with the maximum number of balls in hand would win. Be sure to take some crazy pictures of this whole session.
A tip, click the shot of the moment when everyone jumps into the pool.
10. Poolside Jenga championships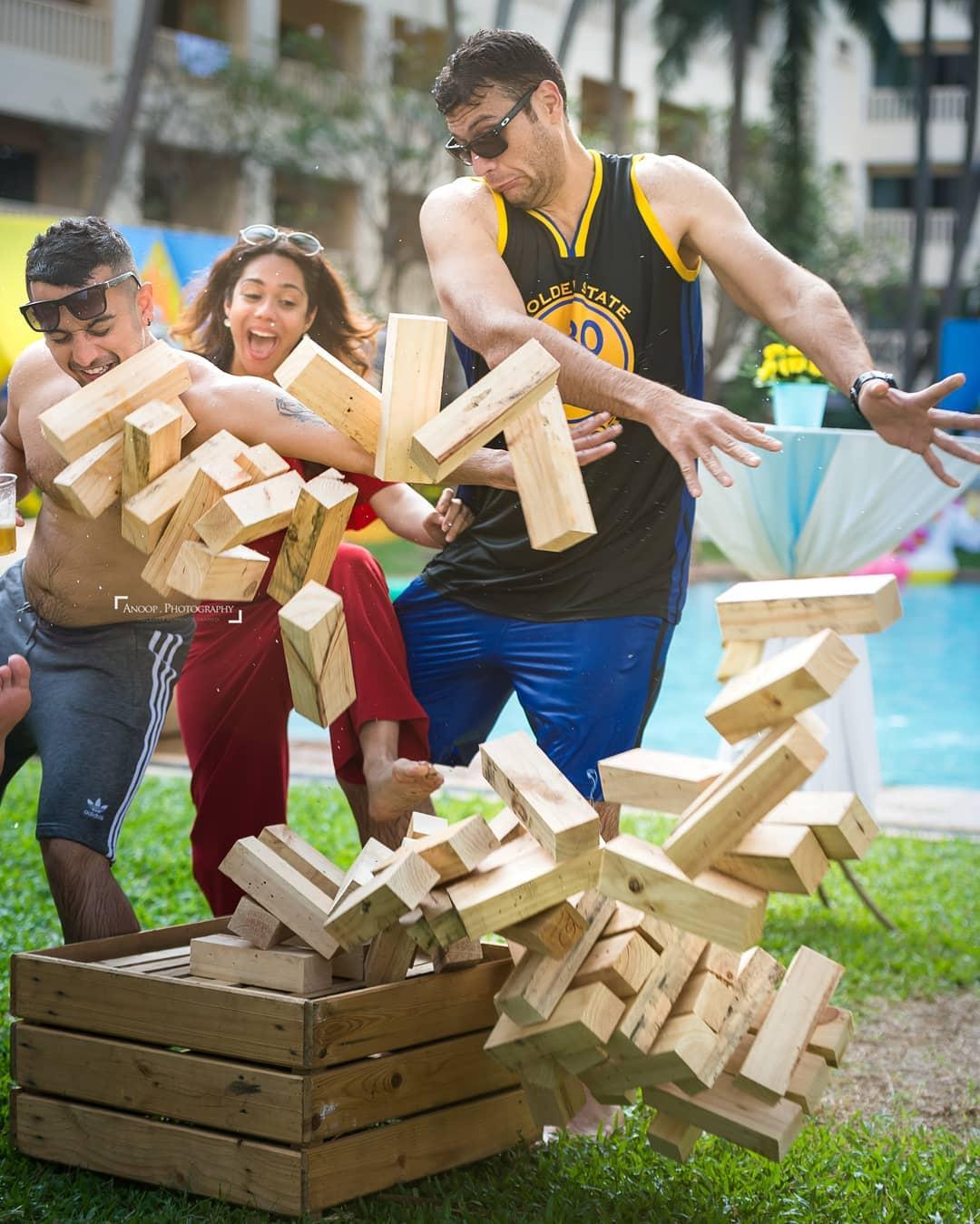 Amaze everyone with your ability to stay levelheaded after a bunch of beers as you strive to maintain your set and sink the blocks for your fellow competitors. Whew! Now, that's a mouthful. This makes for a great set of pool party games on the sidelines of an epic wedding party. To add a water-filled surprise to the scores, ensure that the loser gets dunked each time you find the need for it.
11. Pool dunks and drinking games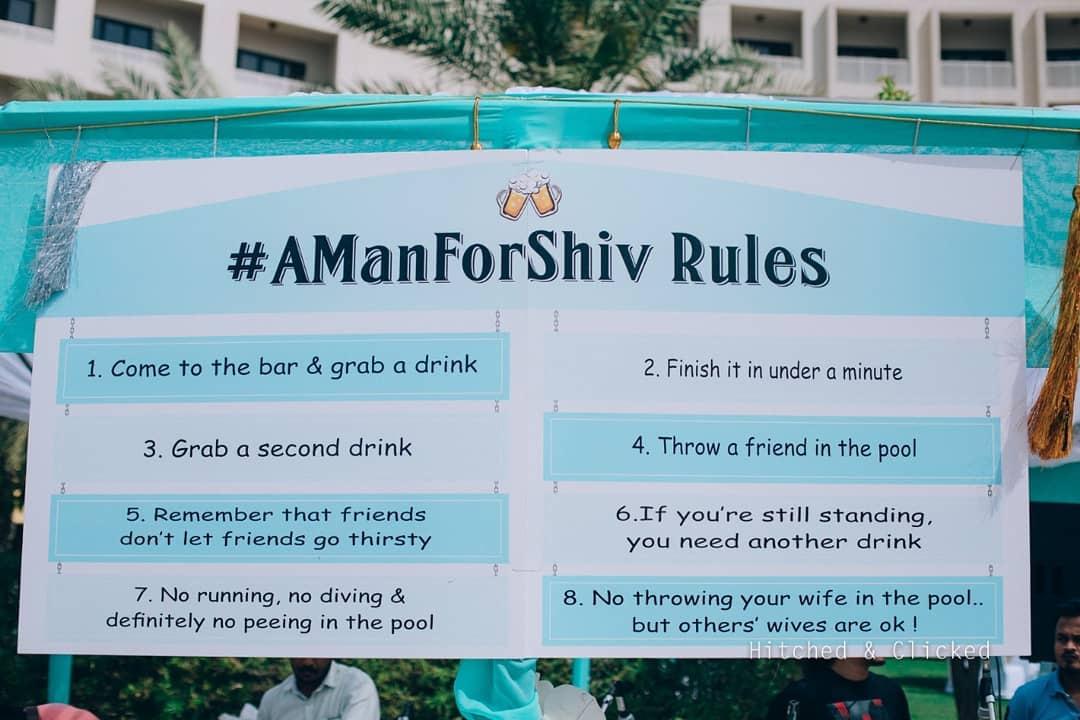 And then, we come down to pool dunks and drinking games galore.
Entertain yourselves and your guests with pool party games which ask your friends to grab the nearest (willing) people and push them into the pool. To make it more entertaining, you could come up with a set of rules (like the ones above) or give periodic shout-outs to people in different colours, outfits or moods to be dunked in the pool.
While pool party games are a lot of fun, be sure that you follow all the pool rules to ensure safety. Make sure that the children are supervised by someone responsible at all times. Have a first aid kit at hand in case anyone gets hurt. After you've taken care of this aspect as well, you can go ahead and enjoy your pool party games with total freedom and make sure that your guests have an amazing day.
Do you have any more games in mind that would be a hit as pool party games? Share them with us in the comments below.