Take a Look at Some of These Epic Pool Party Ideas That Inspire You to Plan Your Own Splash Party Before the D-day
Planning a summer wedding and want to include a poolside venue? Here are some ideas by which you can organise pool parties for your wedding functions.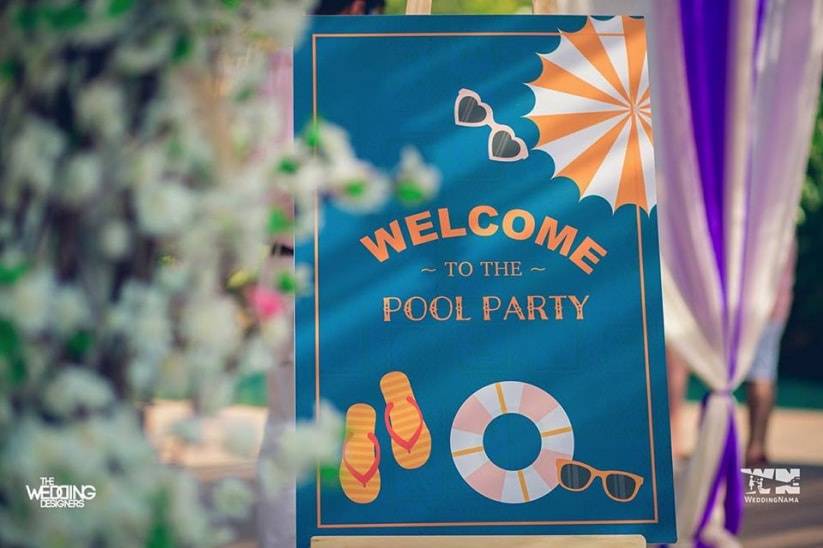 Want your summer wedding to be epic? Host it under the open skies, where your guests can dance barefoot, toss back cool drinks, dip their feet into cool water or even go for a dip themselves. Yes - it's 2018 and all of this will happen with these pool party ideas, which are absolutely in the groove.
Haldi, Cocktails and more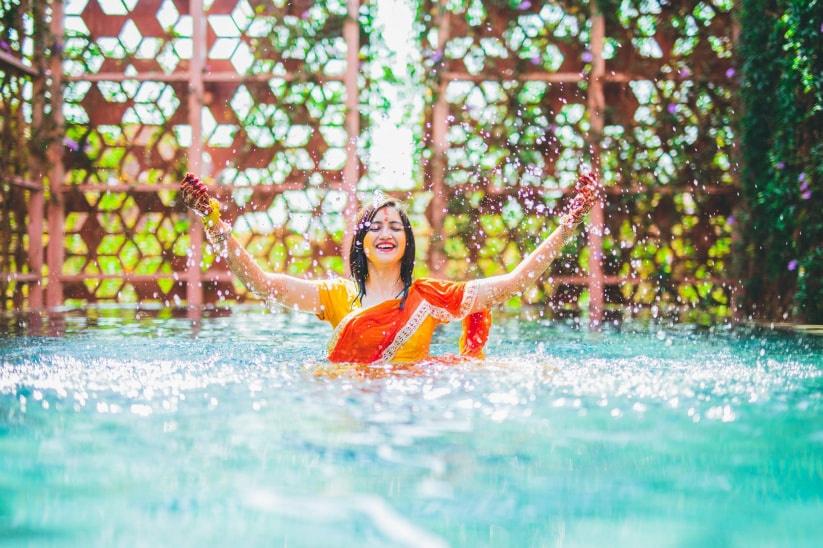 Organise your Haldi ceremony by the poolside. Get clicked in cute and funny poses with your close ones on a bright summer morning. Take a plunge (or 'assist' others). And then, bring out your favourite wedding games, to keep the spirits high.
You could also do it for your cocktails (or combine both of them). Instead of taking your guests into a bar or a lounge, make your own lounge by the swimming pool. Have a classy cocktail party for your summer wedding with gorgeous lightings and exquisite music.
You could also go wild with your bachelor/bachelorette party by the pool. Play pool volleyball or beer pongs for some crazy fun. And when you run out of ideas, pushing each other into the water never gets old! It's definitely one of the ways to ensure an epic bachelorette party and tops the list of your pool party ideas.
The Perfect Ingredients For Wedding Pool Party Ideas!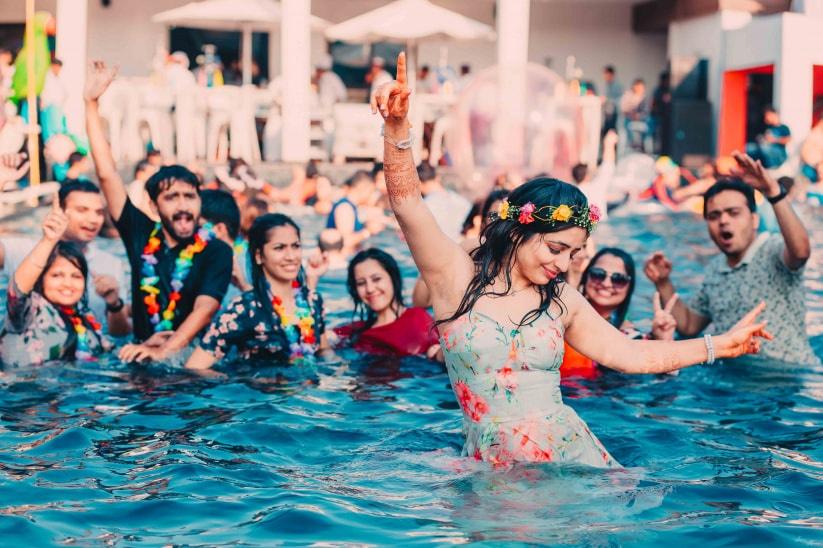 The good pool party ideas for a wedding is all about location, themes and the occasion involved. The right theme, props, right designs, ornaments and the perfect music...these are the ingredients for hit pool party idea! Take a look at some of our cues:
Deck it up: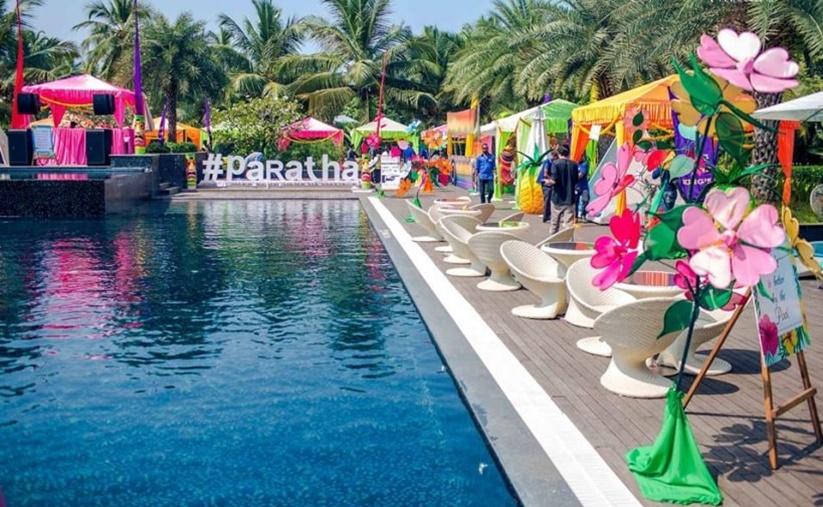 Put up banners with 'Pool Party' or 'Bachelor party' signs above the pool area. Hang colourful balloons, thematic hangings, flowers according to the occasion. If it's a night party, you can hang up paper lanterns or place colourful lamps on the tables. You can also put up fun signboards with directions to various events. Decide on a theme and stick to the decorations accordingly.
Prop time: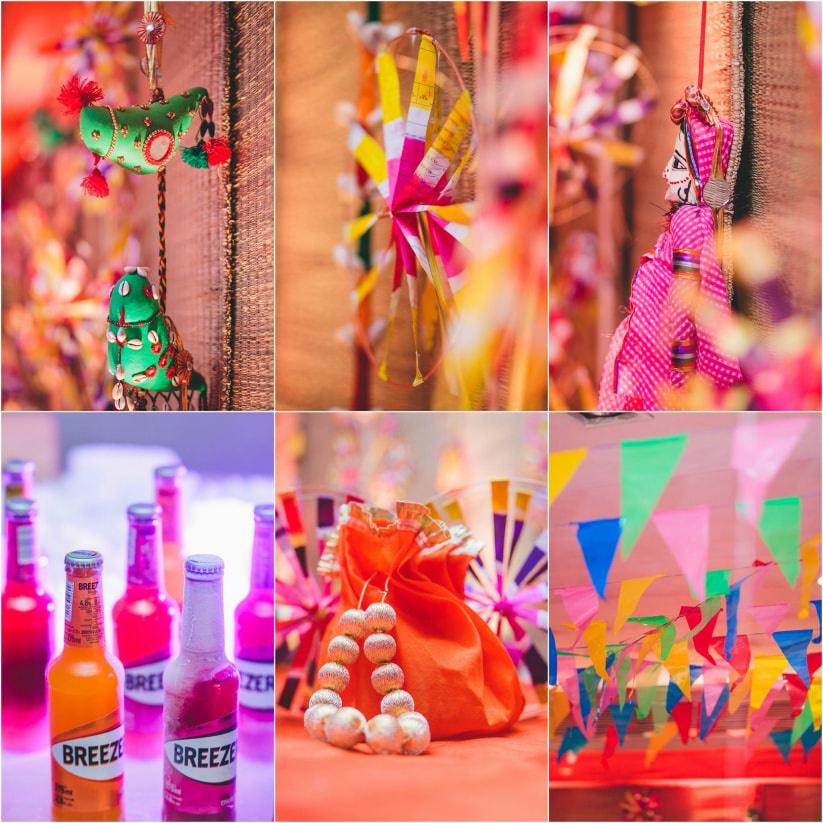 Inflatable balls & tubes for pool games, quirky sunglasses, flamingo floats, water guns, sun protection kits, hats and bandanas, a photo-booth to capture candid moments for fond memories...there are endless possibilities to spice up your Pool party this summer with fun pool party ideas. Think about some cool ceiling hangings. Beer bottles perhaps? You can suspend empty beer bottles from the ceiling with a ribbon and voila you will have a DIY ceiling that will make all your guests gasp with wonder.
Or, If you're hosting a pool party that will extend into the evening hours or only begins at night, then why not opt for something as electrifying and exhilarating as some neon pool lights? Simply add glow sticks to the bottom of the pool to add a cool party vibe. And, you don't even have to worry about electric shocks or shortcircuits since these glow ups have a fluid that gives it the light and glow. So its a win-win for you and a pleasant surprise for your guests.
Eat, drink and dance: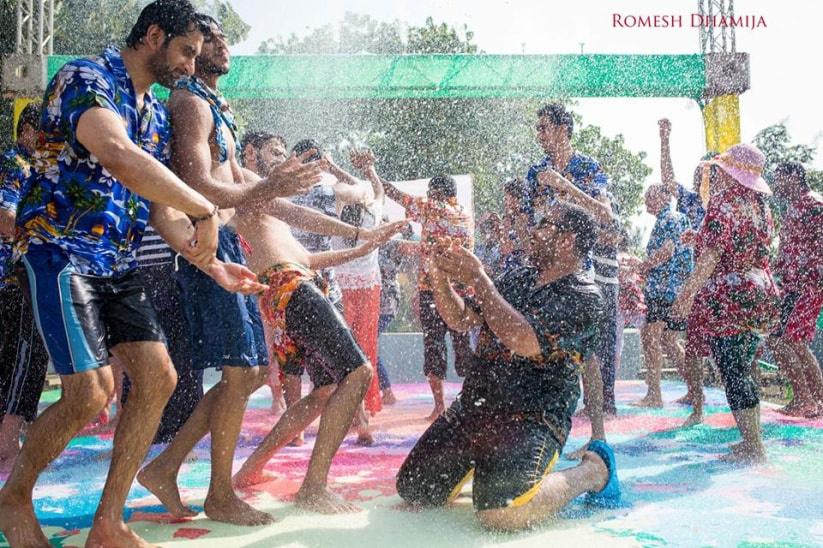 Choosing the right food and drinks to go along with your pool venue is very significant. Go for light snack foods and refreshing summer drinks. You can keep a tropical cocktail bar at one corner and ask the bartender to make fresh, custom drinks for the guests. Hire a wedding DJ to set the perfect mood for the pool party and let your guests groove to the music. With the perfect food, drinks and music, you can never go wrong on your wedding pool party.
For reference, you can check this piece we did on the right wedding menu for your summer wedding.
Some Points to remember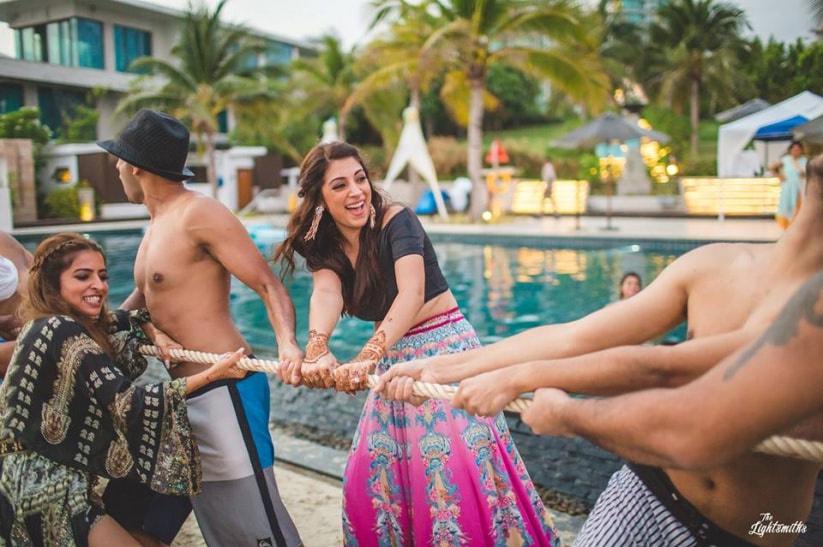 Planning it already? Keep these things in your mind! These are some handy points that will help you plan the best pool party of the year.
Venue and Vendors:

Select an appropriate venue for your pool party ideas to be executed in terms of location, space, capacity and architecture & design. It's advisable to select a pool venue which has ample walking space, alongside and near the pool area. Finalise your wedding planner, wedding venue and other vendors in advance and make sure you communicate your requirements well enough to avoid any surprises
Safety first: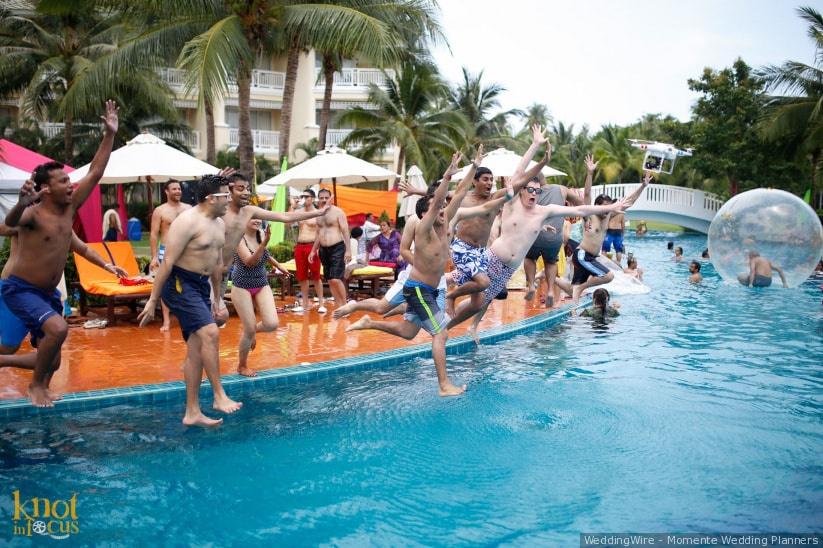 While on a pool party ensure there are lifeguard crew members around at all times in case of any emergencies. Hire nannies or babysitters to keep an eye on the kids and if possible, opt for a venue where you have a kiddie pool as well. Ensure there are enough towels, dry clothes and an adequately stocked first aid kit. These are some basic things that one must keep in mind when planning and going forward with your pool party ideas since safety comes first.
Clothes and accessories: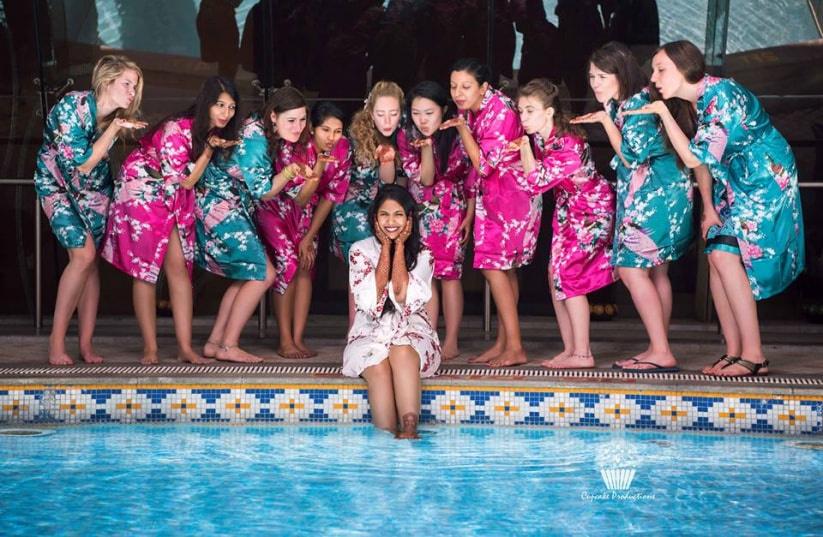 Request your guests (in your party invite) to wear appropriate pool attire. Still, keep a spare set available for those who forget. Add a fun touch to your pool party by giving away whacky accessories to your guests, like floral tiaras, Luaus, oversized glasses; coconut shell hats...let your party favours be hip and happening! Pool parties are all about having a gala time.
We hope that you find these pool party ideas inspiration-worthy. Click as many weird and hilarious pictures as you can as they will go into the making of your wedding album; add a little colour and spice to your summer wedding and give yourself a chance to look back at your wedding album and laugh remembering these moments.
Share your pictures of a pool party and pool party ideas at this summer wedding and tell us more in the comments below.