Virtual Bachelorette Party Ideas for Bridal Shower in Times of Corona
Wondering how to plan an unforgettable virtual bachelorette party for your BFF? We have curated a guide to help you put a smile on your BFF's face with a virtual bridal shower.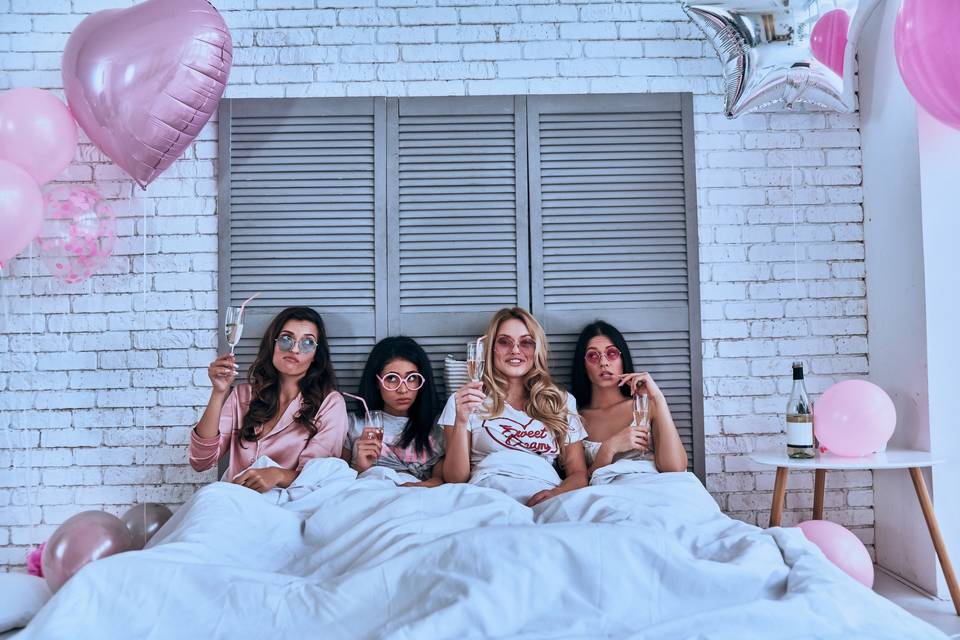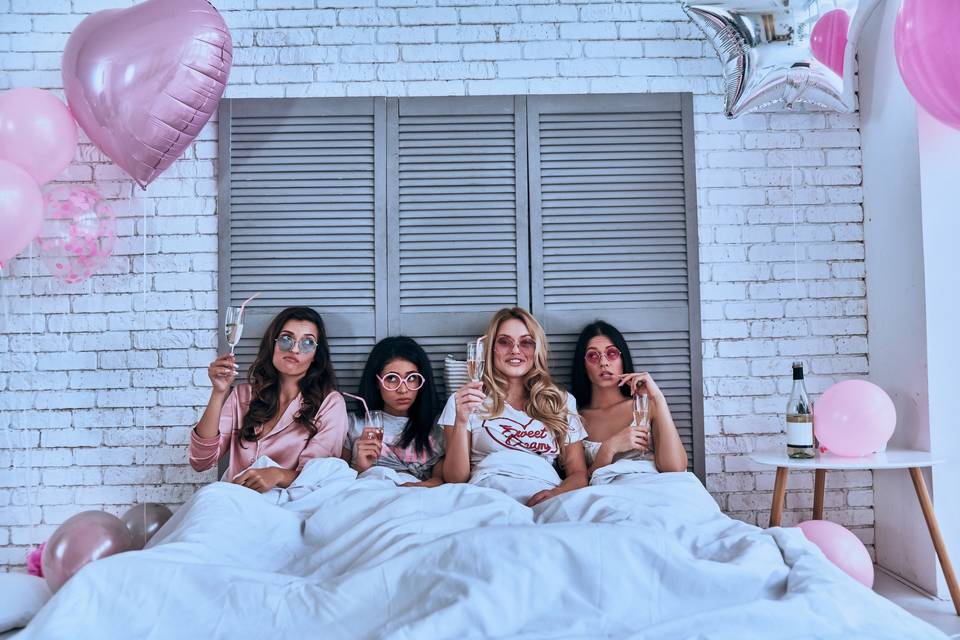 Image Courtesy: Toronto Tees
The Coronavirus pandemic has put a lot of celebrations on hold. The unfolding of the pandemic has however not stopped the to-be-weds from carrying on with their plans. They are carrying out the simple wedding planning tasks that can be done from their living room couches or online. Hiring vendors while you are social distancing, is also possible through virtual tours and interviews with vendors.
While some couples are keeping the celebrations on standby by postponing the wedding dates and looking forward to better times, some others are finding their own silver lining amidst the unfortunate times. Thank God for the virtual world that the pandemic and social distancing has brought to life on our screens. You can still get married over a video call and host a virtual wedding. Not only that, but you can also host some of the fun pre-wedding celebrations online.
If you are looking for virtual bachelorette party ideas then here is a guide to hosting an innovative and epic virtual bachelorette party for your BFF while happily abiding by the self-isolation and lockdown rules!
Pick up a Location - a Platform in this case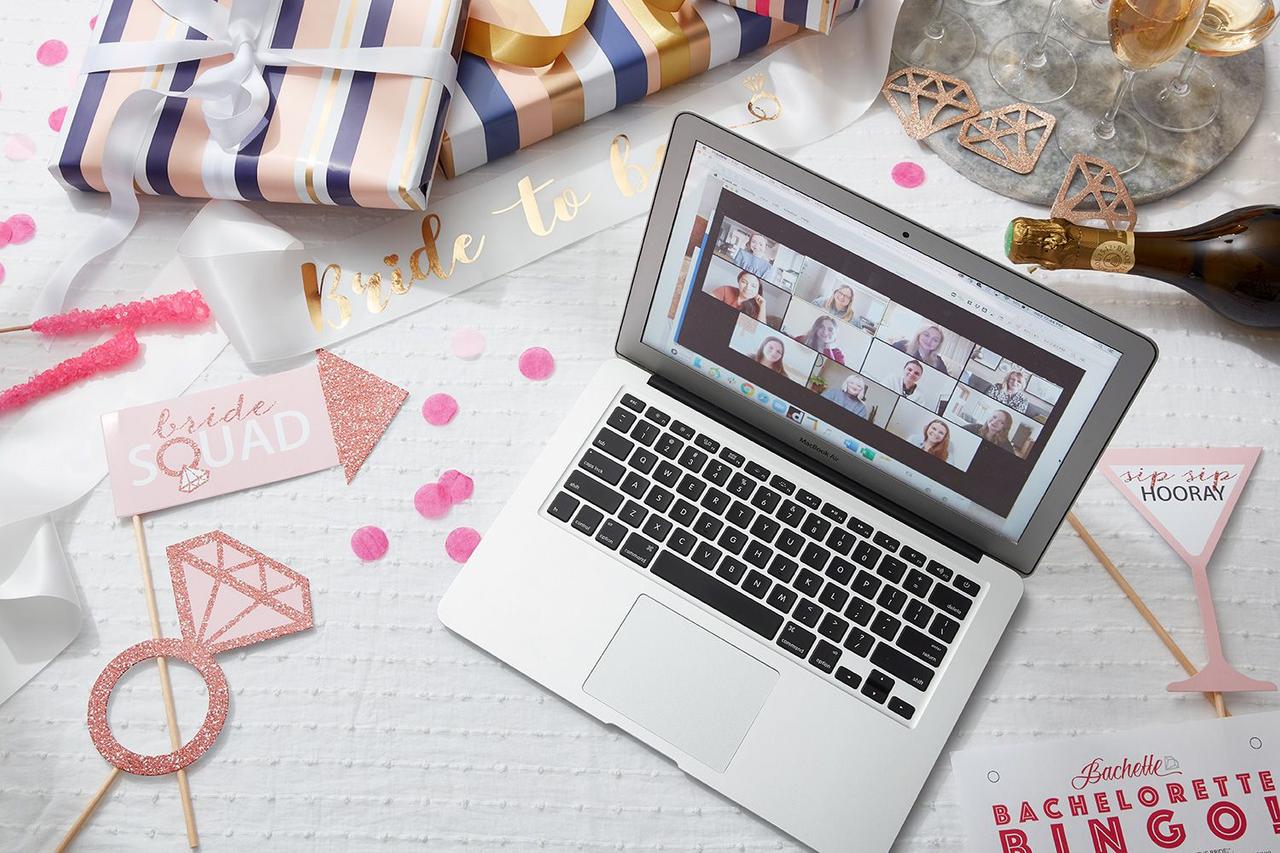 Image Courtesy: Pinterest
Ideally, you and your friends spend months planning the perfect bachelorette for your bride-to-be BFF to some exotic destination with a tagline "What happens at a bachelorette, stays at a bachelorette." But with the current situation and the travel restrictions that come along with the lockdown, that "drive into the sunset" plan has to be kept on hold. A virtual location is however in the books. Pick up an online platform or a website that allows you to join a group video call to host the virtual bachelorette. Make sure that everyone who is invited can access it and the connection is convenient and flawless for all.
E-invites Only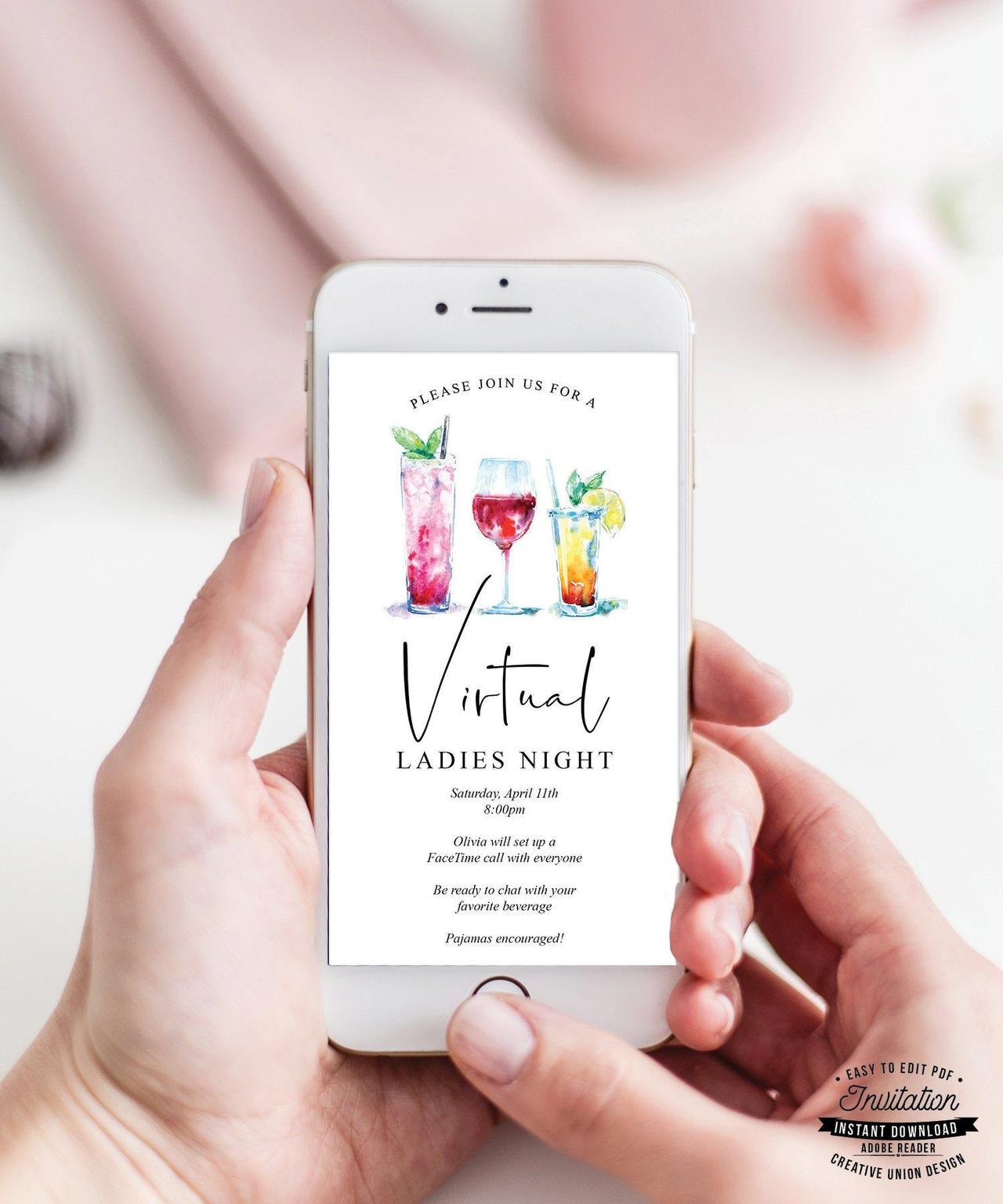 Image Courtesy: Pinterest
There is no other convenient way of inviting the guests to a virtual bachelorette party that you have planned for your BFF other than E-invites. You can send Wedding invites and Change the Dates through online and social platforms too. It could be an email or an online Save the Date for the virtual bachelorette party invitations. Make sure the date and time you pick are convenient for the bride-to-be and the guests too because a full house is a must!
Here's a sample of how to word an e-invite your bachelor party -
"The bachelorette is still happening! Not at the original location.
We have a new place to celebrate.
Meet us @ www.theonlinewebsiteyouchoose.com
Date: 4 pm, 31st May 2021."
Pick a Theme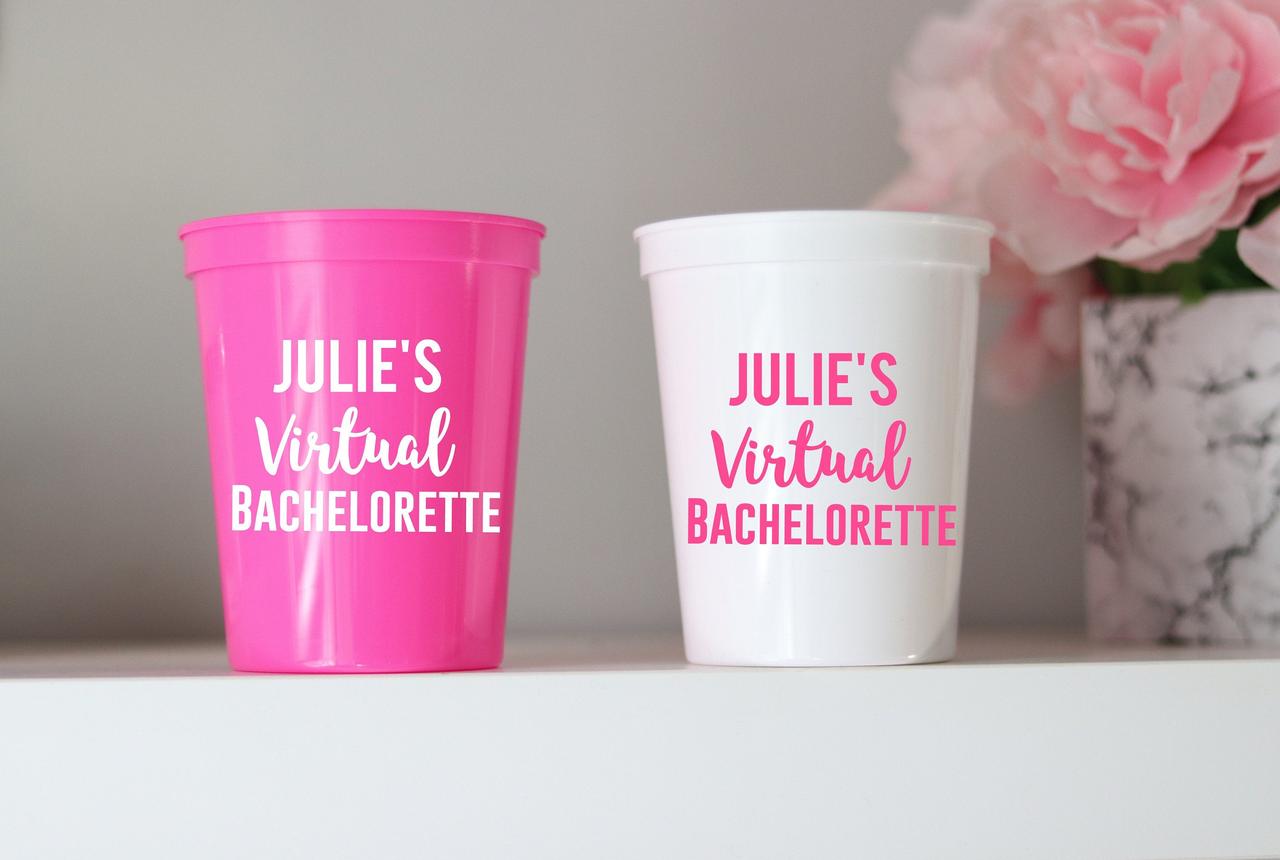 Image Courtesy: Sassy & Co on Etsy
Ask the bride-to-be to pick a theme for the virtual bachelorette party. You can even surprise her by picking her bachelorette party theme based on her favourite budget destination for a bachelorette party or party plan. It could be a beach-themed party, a Las Vegas themed virtual party, or a High Tea bachelorette. So what if you cannot come together physically to enjoy the party? It is still a party and no bachelorette celebration is complete without a theme. Let the bride-to-be and guests know about the theme.
Plan the Schedule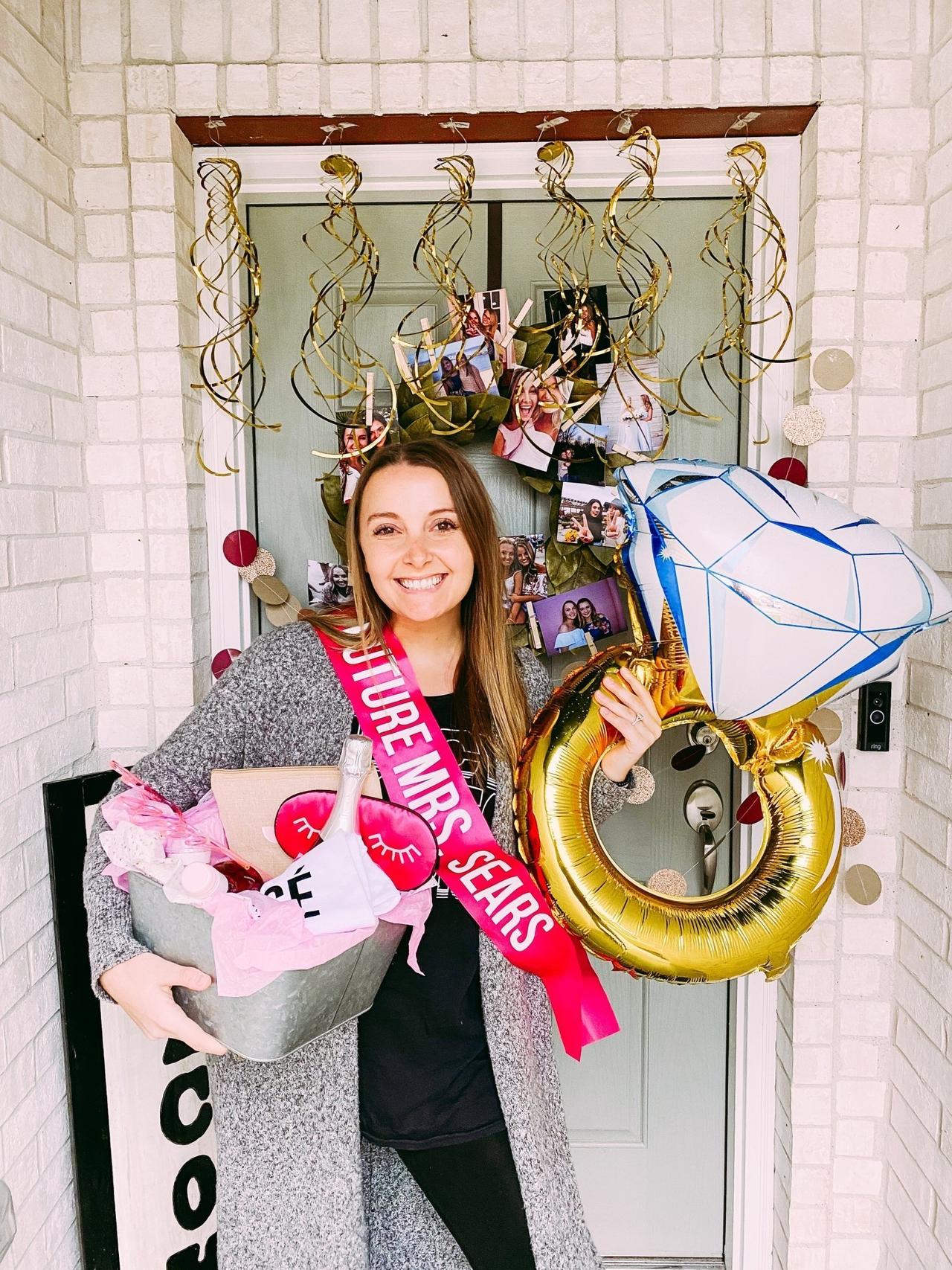 Image Courtesy: Sprinkled With Pink
If you are the one planning the bachelorette party for the bride-to-be, it is very important for you to plan the schedule of the event, even if it's happening online. Do not take impromptu decisions when everybody is online on the virtual bachelorette party call. The first step on how to plan a virtual bridal shower and make it a successful one is to plan it well. You need to figure out when to start the party, when can the toasts happen and what time is right for the virtual bachelorette party games. Announce the itinerary at the beginning of the party call to ensure a smooth flow of events.
Get Dressed Up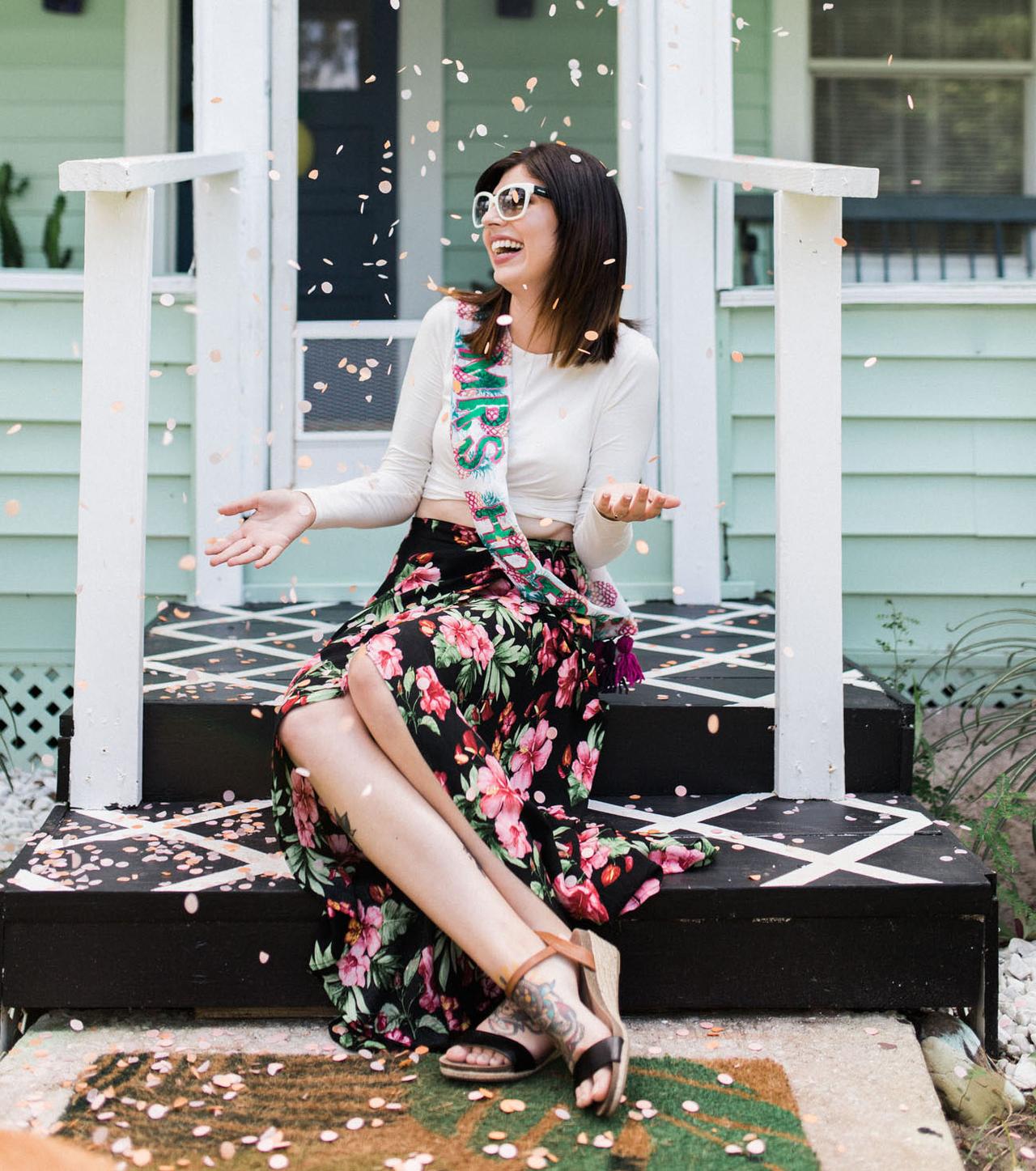 Image Courtesy: Kaity Brawley Photography
Get dressed up and ask each and every guest who is attending the virtual bridal shower to dress up too, even though you have nowhere to go. The screen that hosts a fun virtual bachelorette party is reason enough to step out of your PJs and wear something nice. The lockdown is somewhat the reason why most of us do not change from PJs anymore because we have nowhere to be. This could be a fun opportunity to get all dolled up according to the theme of the virtual party. You can get your hair rolled up like the 80s B-town beauts and raise your champagne glasses to cheer the bride-to-be!
Games on the Ready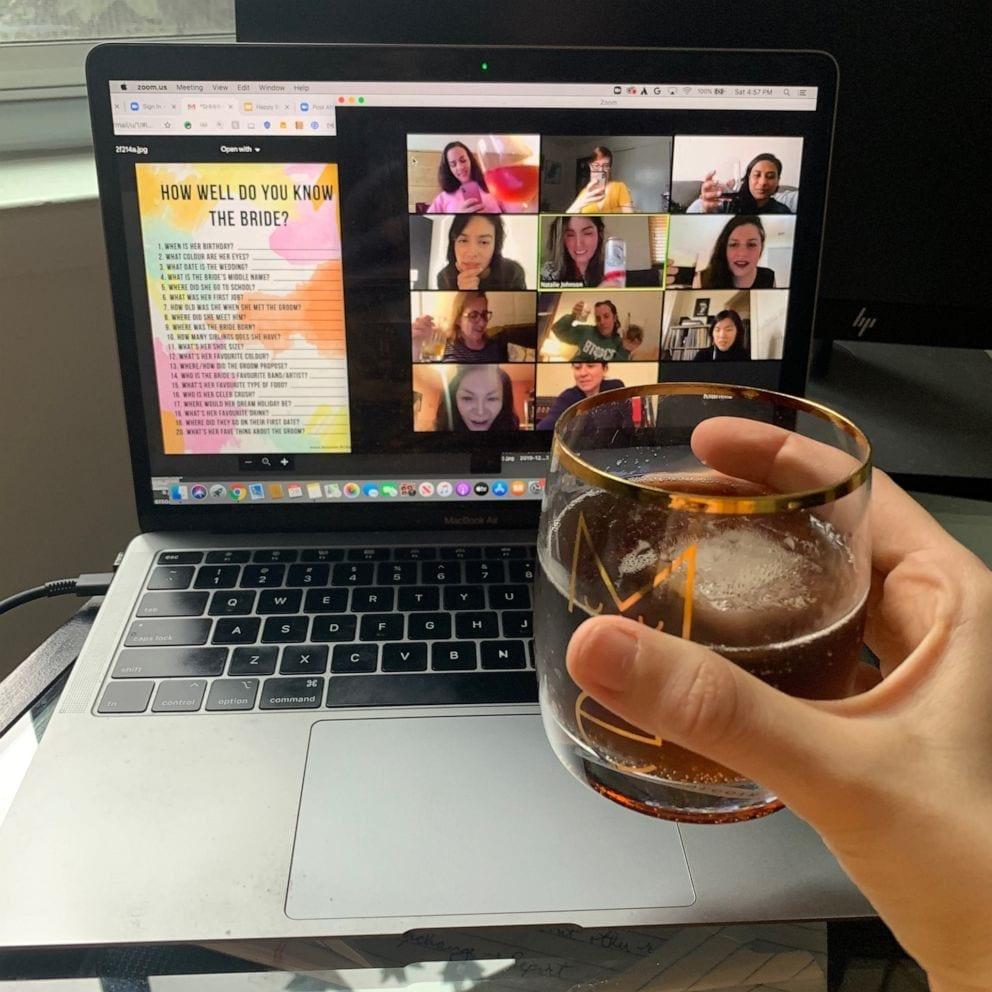 Image Courtesy: MJ Madda
Bachelorette party games are a super hit among the bridesmaids and the brides-to-be. And nothing can stop you from including the fun bachelorette party game ideas in your virtual party plan. There is a long list of virtual bachelorette party games too that you can opt for like online Tambola, UNO, House Party, Pictionary, virtual charades, pub trivia, a virtual bachelorette party drinking game and so on. Plan a fun game that can be played online while staying indoors, away from all troubles of the outside world. While you plan a memorable virtual bridal shower for your BFF who is going to walk down the aisle, you can also host a fun computer Karaoke party.
DIY Decor for Ambience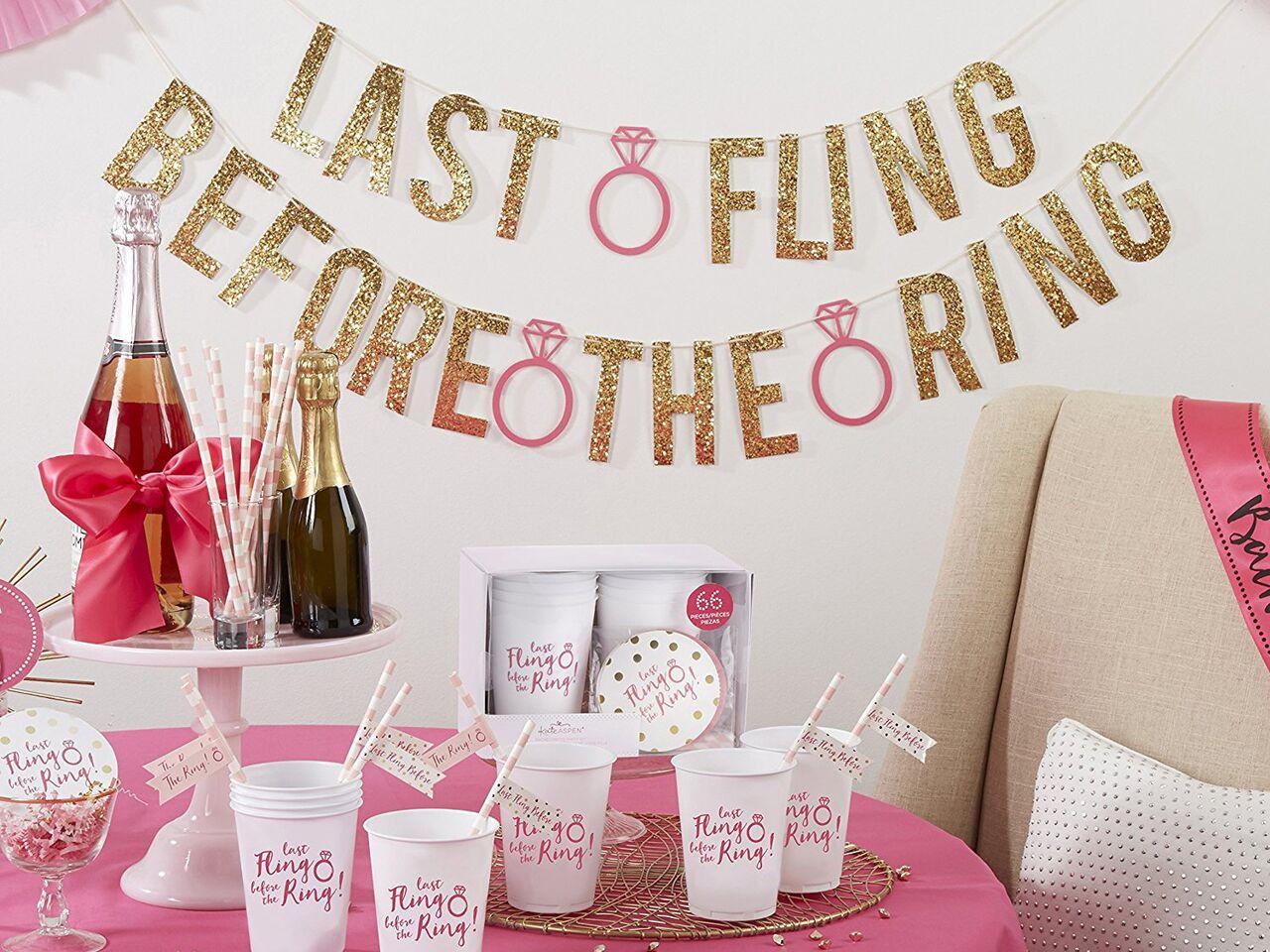 Image Courtesy: Kate Aspen
There is no fun in a party that has no decor and ambient lighting to set the mood right for the celebrations. Even if it is a virtual bridal shower, you need to set up decorations. We suggest DIY decor ideas that each of you can indulge in to deck up the walls that will be visible on your screen during the call. Paper cutouts that say "BACHELORETTE" or a "Team Bride" sash worn by all are quite easy little ideas that can add to the overall vibe of the party . For the creative ones out there, maybe use origami to decorate or try other DIY decorations. You can opt for fairy lights and lace decors too. If the lockdown protocols allow doorstep delivery, you can even send some decorative things like a ribbon or flowers and metallic letter balloons to the bride-to-be so she can deck her home up.
Send Gift Cards & Doorstep Deliveries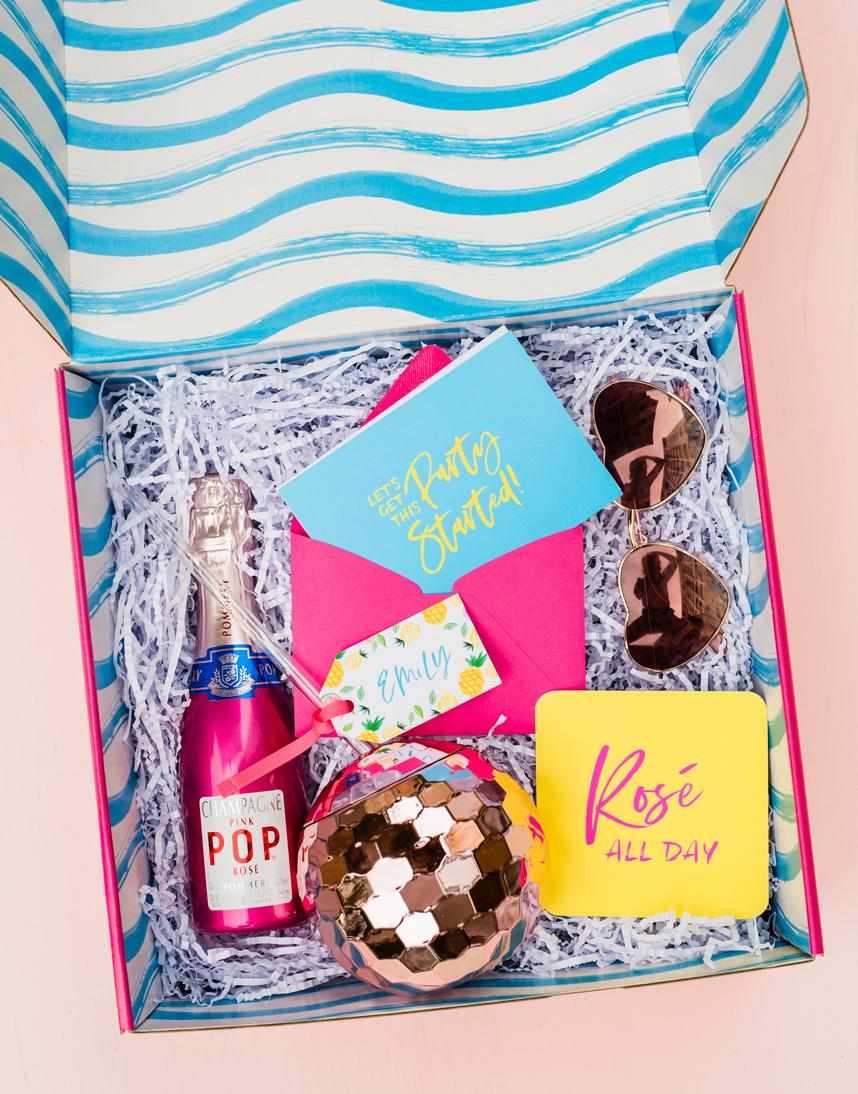 Image Courtesy: Caroline Lima Photography
The idea of the bridal shower is to celebrate the new beginnings of the bride-to-be while also celebrating the end of her bachelorette days by showering gifts and love. While you cannot drive down to the bride-to-be's house and shower her with amazing gifts given the circumstances, you can send her a gift card. Gift cards are a blessing to mankind. They never go waste and the bride can use it whenever she wants to and to buy whatever she likes. While the most appropriate gift for a virtual bachelorette is a gift card, you can also opt for doorstep delivery if it is available. While you cannot carry the gifts yourself, you can get the professionals to deliver it to your doorstep. It could be a cake, some champagne, a packed brunch and so much more.
Virtual Photobooth with Props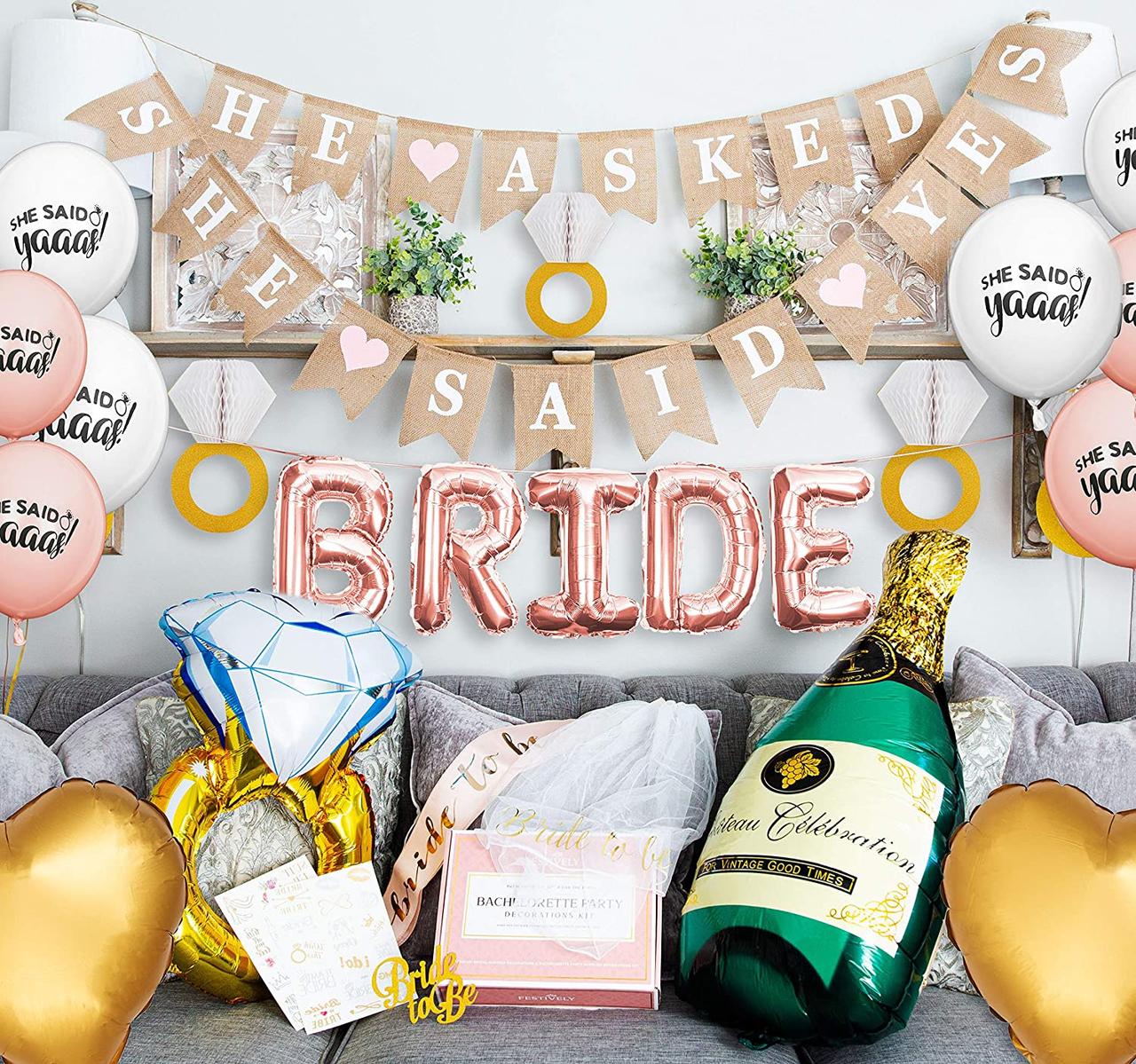 Image Courtesy: Amazon
While a regular bachelorette party would have a hep photo booth where all the ladies can get clicked in quirky poses and make memories to cherish forever, you can use a virtual photo booth at a virtual bachelor party. Create your own little photo booth corners in your houses using paper cutouts and other decorations, make some fun and quirky props like hats and so on to add to the feels. Each one of you can then stand by your own DIY photo booth and take a photo (in this case, a screenshot.) Let the bride-to-be have her own set of special props like a handmade crown or a sash.
BYOB - Ofcourse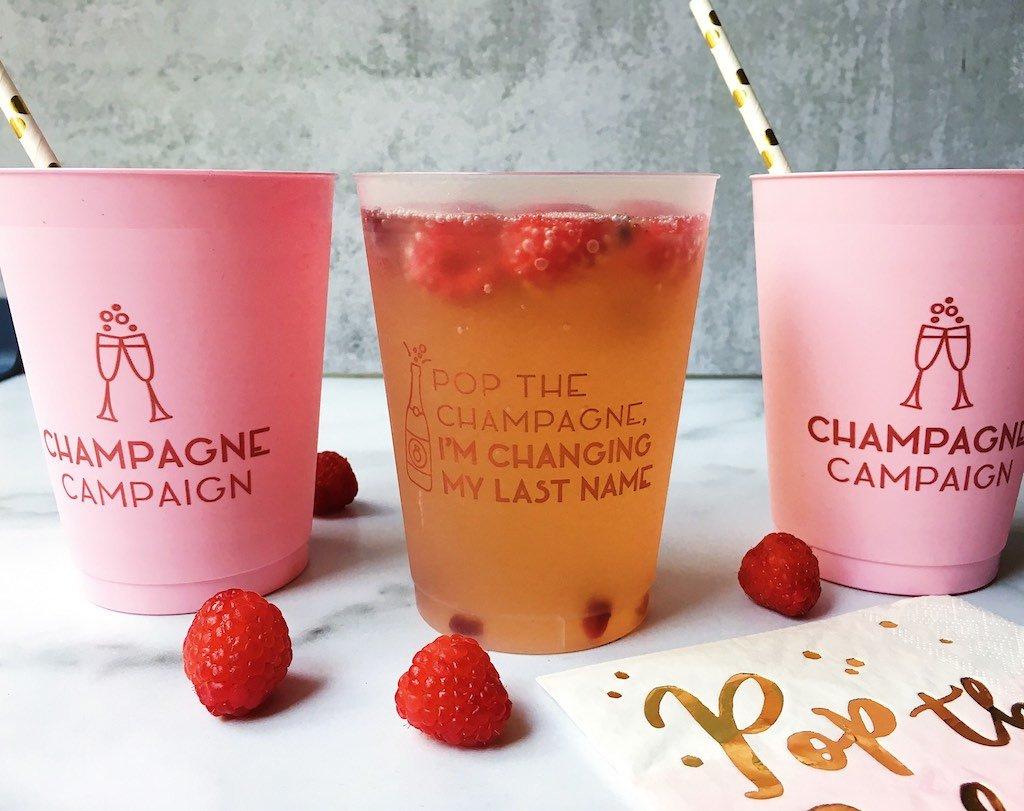 Image Courtesy: Stag & Hen
While BYOB could be optional in an ideal scenario, in a virtual bridal shower BYOB is a must. There can be no bartender or your best friend dishing out delicious cocktails into your glasses but you can always have a virtual happy hour (you can add something about the cocktail blog here). You could all plan to make one specific drink like mimosas or martinis for the party and pour yourself a glass over the video call that hosts the virtual bachelorette party.
The Bridal Shower Playlist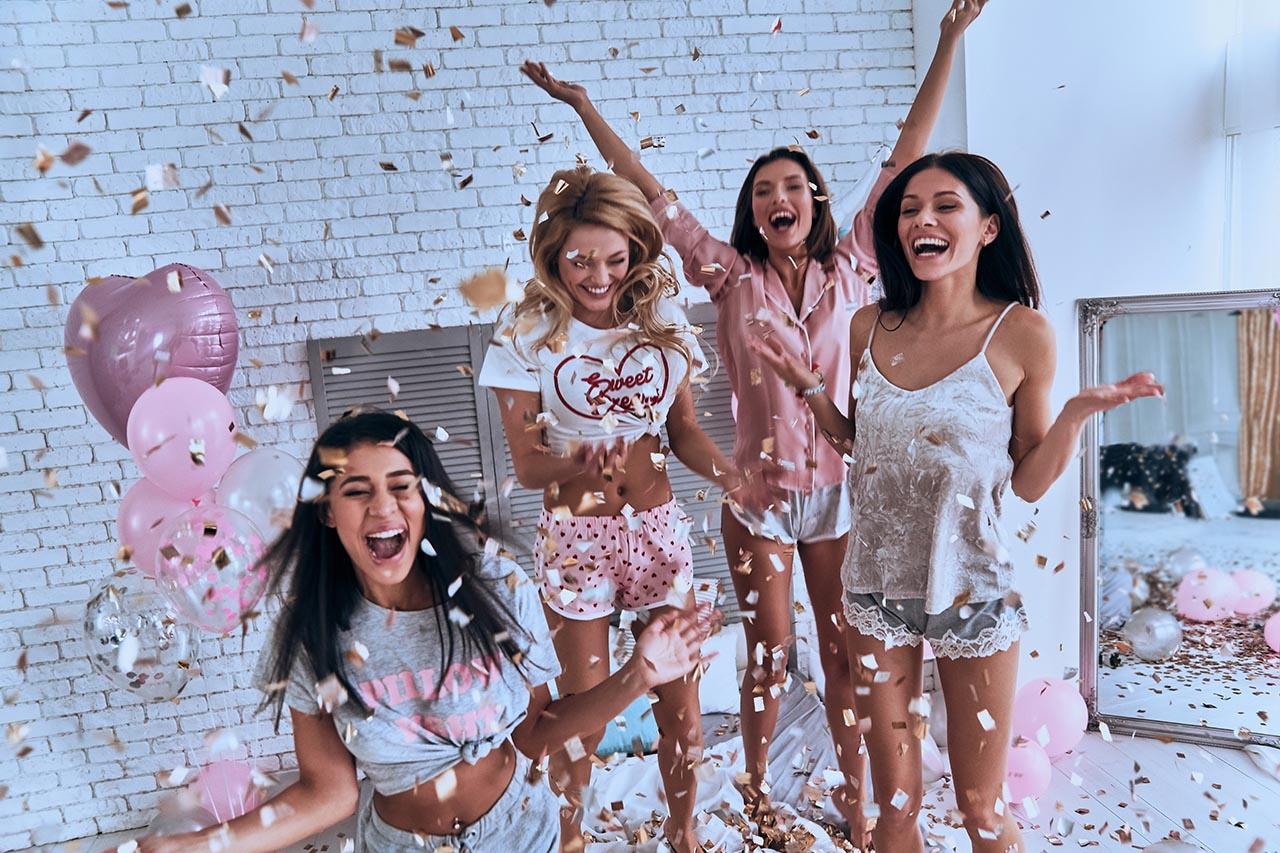 Image Courtesy: Toronto Tees
The bridal shower playlist is a must-have. It could be all the bride-to-be's favourite songs in one place or it could be one song that each one of the guests or her bridesmaids wants to dedicate to the bride on this special occasion. In whatever way you want to get it done, make sure to curate a playlist for the virtual bachelorette party and let the bride play it on her system.
Virtual Dance Party
Dancing is a must in a party! While you play all the songs that have been put together in that unforgettable bridal shower playlist, you make sure that you include dance numbers too. Play the music on blast in one of the computers or a music system in one of your homes turn by turn to burn up the dance floor (in this case, your living room). Make sure to get enough screenshots of the virtual dance party and maybe screen recordings too!
Toasts & Speeches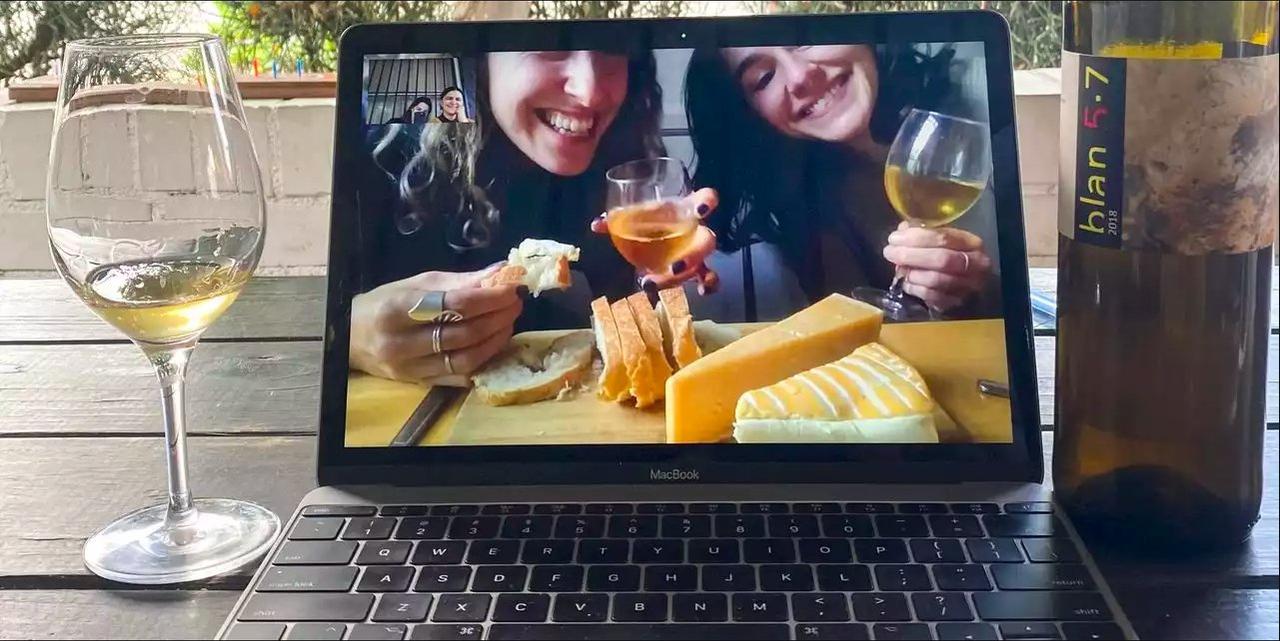 Image Courtesy: Pinterest
After all the fun and happening, you have to keep some time in the schedule dedicated to toasts and speeches. Each one of you can raise your glasses to wish the bride-to-be. It could be your favourite memory of her, how you first met her or maybe even some uber embarrassing stories that should be buried after the virtual bachelorette party is over. Make the bride-to-be feel as special as the time allows because a little effort to lift her mood especially during these difficult times will go a long way.
A Movie Party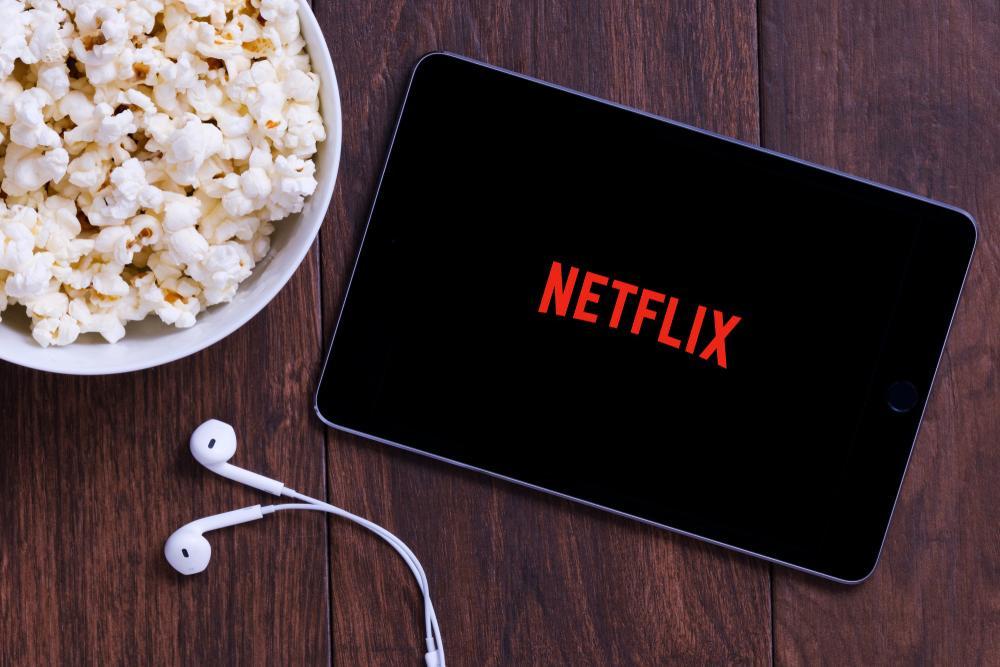 You can continue to have this fun virtual bachelorette party by switching to movie night. Apps and platforms like Netflix allow a watch party where you can enjoy the movies in real-time. You and your gals can laugh together or even cry together if the scene makes you mushy. But a movie night has never gone wrong with a girls night plan. Maybe you can get out of your fancy outfits and retire to watch the movie relaxing in your PJs and robes.
Relax with Spa Session
While the night has been fun and happening, it was still one helluva night and you need to relax. Get the relaxing scented candles, your essential oils, a face mask and just chill. There is no better way to end a happening night than a spa session at home.
Now that you have hosted a successful and innovative bridal shower for your BFF, share the pictures from these unique and candid moments on your social media. You should have a hashtag to add while you share them to make it unique and united for all. If you need any help with the DIY hashtags you can get in touch with our Community team who can assist you further.
Planning a virtual party is not at all taxing and the fun is unbelievable. When you and your #bridesquad come together - be it physically or virtually, there is nothing that can stop the fun from rolling out of your sleeves. You can even host competitions among yourselves if the virtual bachelor party is planned for the entire day like get the most common 5 ingredients from the kitchen to cook something delicious for the bachelorette party food.
We hope these tips and tricks will guide you to host an unforgettably unique virtual bachelorette party of your own. Step out of the regular and make sure to let us know if you have any more fun ideas to host a virtual bridal shower in the comments below.