The Technology Driven Small Wedding in Udaipur in the Times of Corona
Akshita & Raunak hosted their technology driven intimate wedding in Udaipur and the details will just blow your mind. Read to know.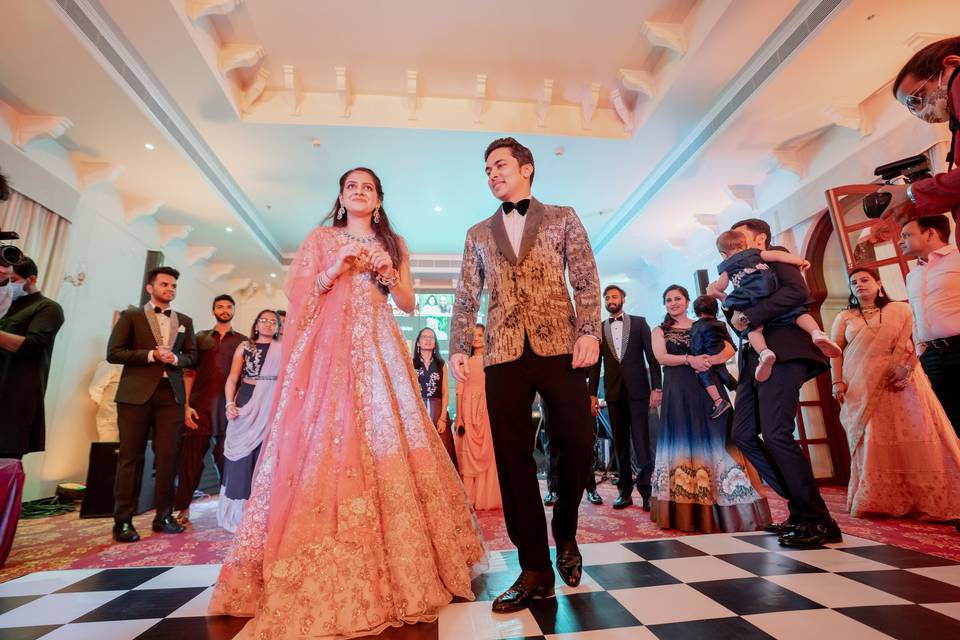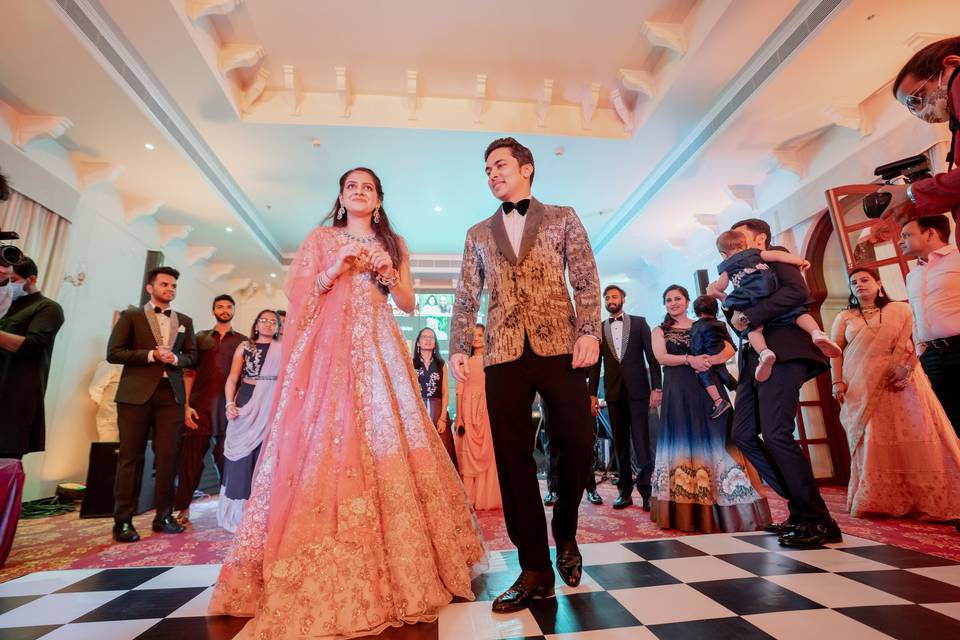 The ongoing COVID-19 pandemic has definitely slowed the wedding industry down but it is still far from a standstill. The big fat Indian weddings might be out of the books for now but numerous couples are going the court marriage way, while many others are choosing to get married at home or other places where one can host an intimate wedding in the presence of only immediate family and close friends. These small weddings are becoming the next big trend and it might just be here to stay even without the pandemic disrupting the normalcy.
The one thing that the situation has revealed is that people definitely tend to cling on to their loved ones especially during the hours of crisis. Considering the coronavirus outbreak late in March 2020 and the uncertainty that gripped the world following that, Akshita Maheshwari and Raunak Singh Mohnot had to postpone their wedding.
However, they decided to get married amidst the pandemic and their Wedding in the Times of Corona was a technology-driven wedding celebration and therefore a story worth telling. Read to know about the details of this GenZ wedding.
It All Started @ A Conference In Goa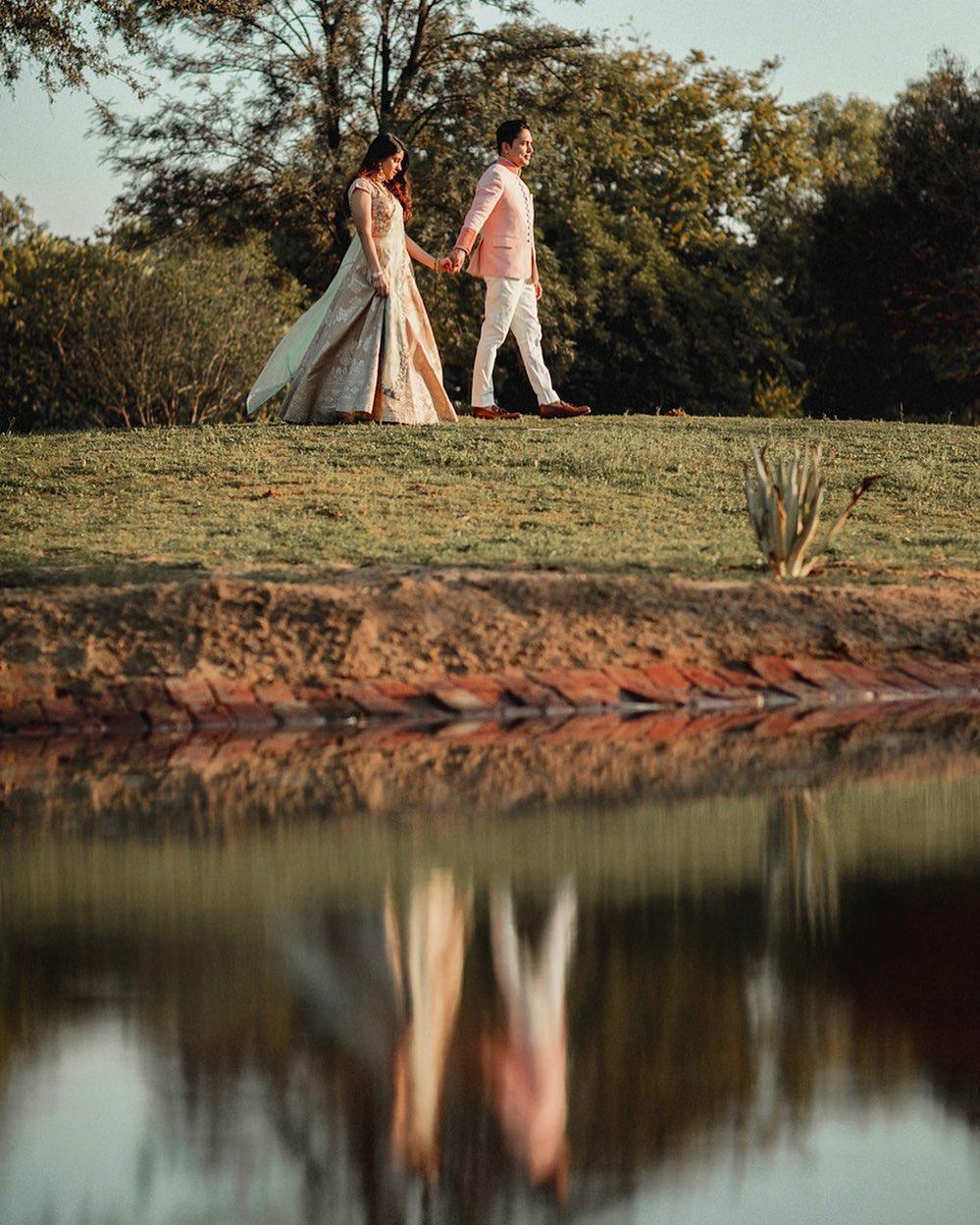 In a conversation with WeddingWire, India Akshita says, "We met in Goa, but not under the usual circumstances! We were representing our families there at a Barclays Bank conference for the next-gen entrepreneurs. We met on the first day of the conference at their dinner party and instantly became friends. We enjoyed each other's company so much that we spend time with each other even on the following day. We laughed, talked, texted each other even when we were sitting one hand apart. The boring conference turned out to be not so boring after all. On the last day of the conference, all our acquaintances there planned to meet up and have some fun later that night. It was a night to remember! We had an amazing time with everyone but it was mostly the night when Raunak and I realised that there is something between us which even our friends couldn't miss. The rest is history. We are based out of Kota and Jaipur. It took us a long time before we could convince our families for the wedding though!"
Amidst the foam-washed beaches of Goa, the conference did spark up the romance for the two. Akshita further adds, "We have known each other for 3 years. When we decided to get hitched, we shared our decision with our families just 15 months ago."
The Original Plans & The COVID-19 Improvisations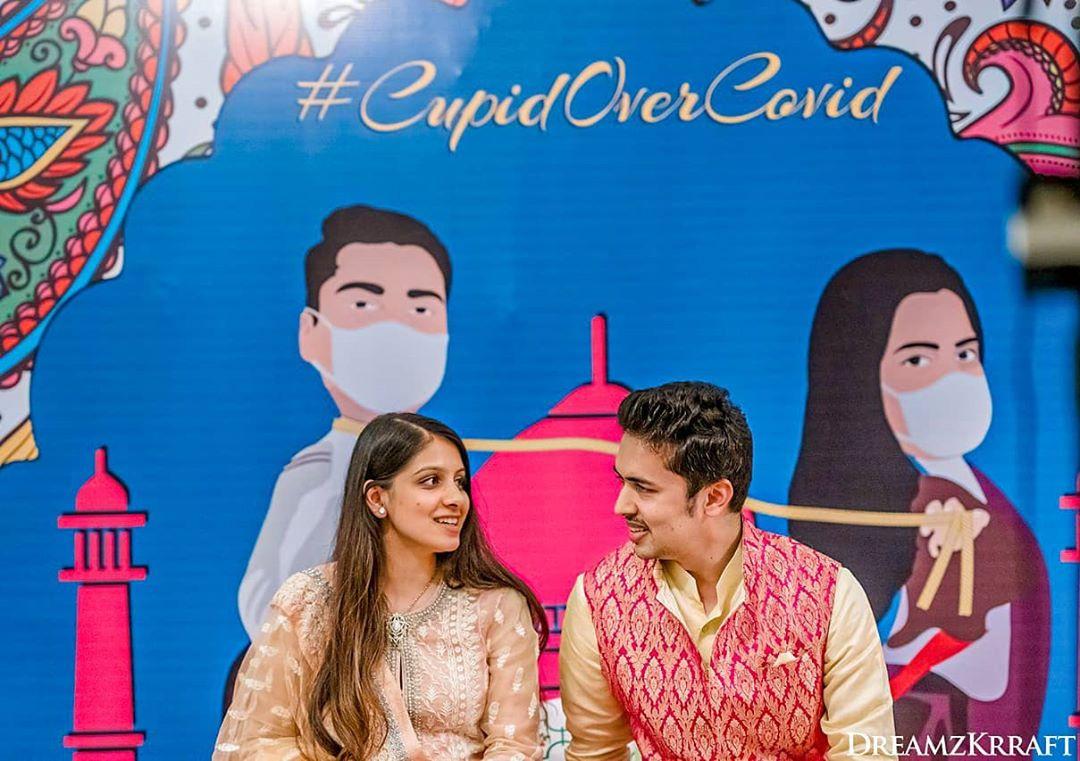 Akshita says, "Initially, the wedding was supposed to happen on the 24th of May, 2020. But due to the lockdown, the date got postponed. 24th of May was a very auspicious day as per the astrology calendar but our wedding got further postponed and all preparations were put on hold due to the pandemic. There was also a death in the family and that created a lot of unfortunate circumstances. But none of these would alter our course. We eventually got married!"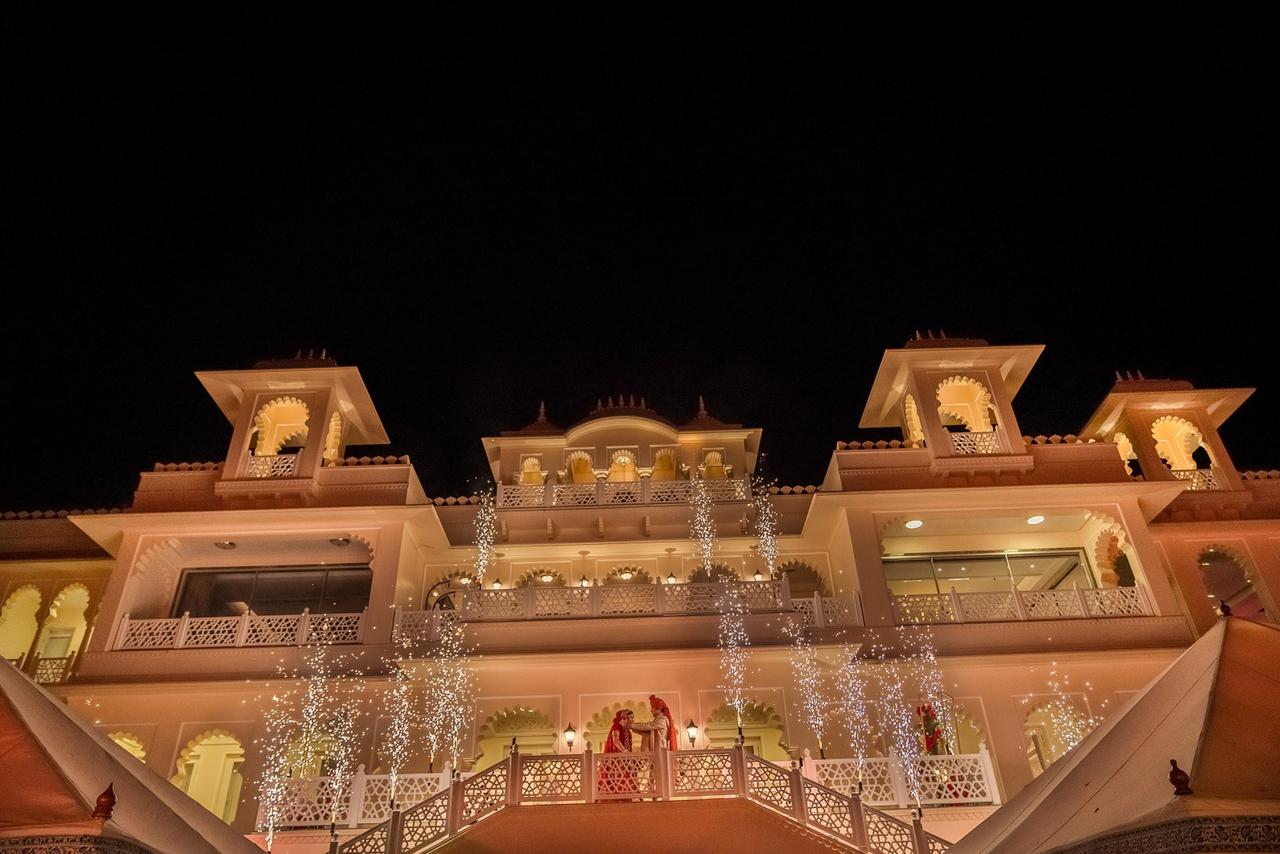 A technologically driven ceremony brought to life by DreamzKrraft was a successful affair that was planned in approximately two weeks. They had a handful of wedding venues on mind for their original wedding like the Hotel Lake Palace, Leela palace and Trident along with Zenana Mahal and Jagmandir too. However, given the circumstances, their wedding had to be shifted to their family estate in Udaipur instead.
Akshita says, "After the wedding in May got postponed, we were all playing wait and watch. But soon we realised that COVID is gonna be around for long and that the wedding should take place in June. So we only had less than 15 days to plan everything. We had to face a handful of challenges while putting this together mainly in terms of safety. We knew that most of our close family and friends won't be able to make it to our wedding. We were constantly trying to resolve that and take the wedding to their homes to make them participate actively in the wedding despite the distance."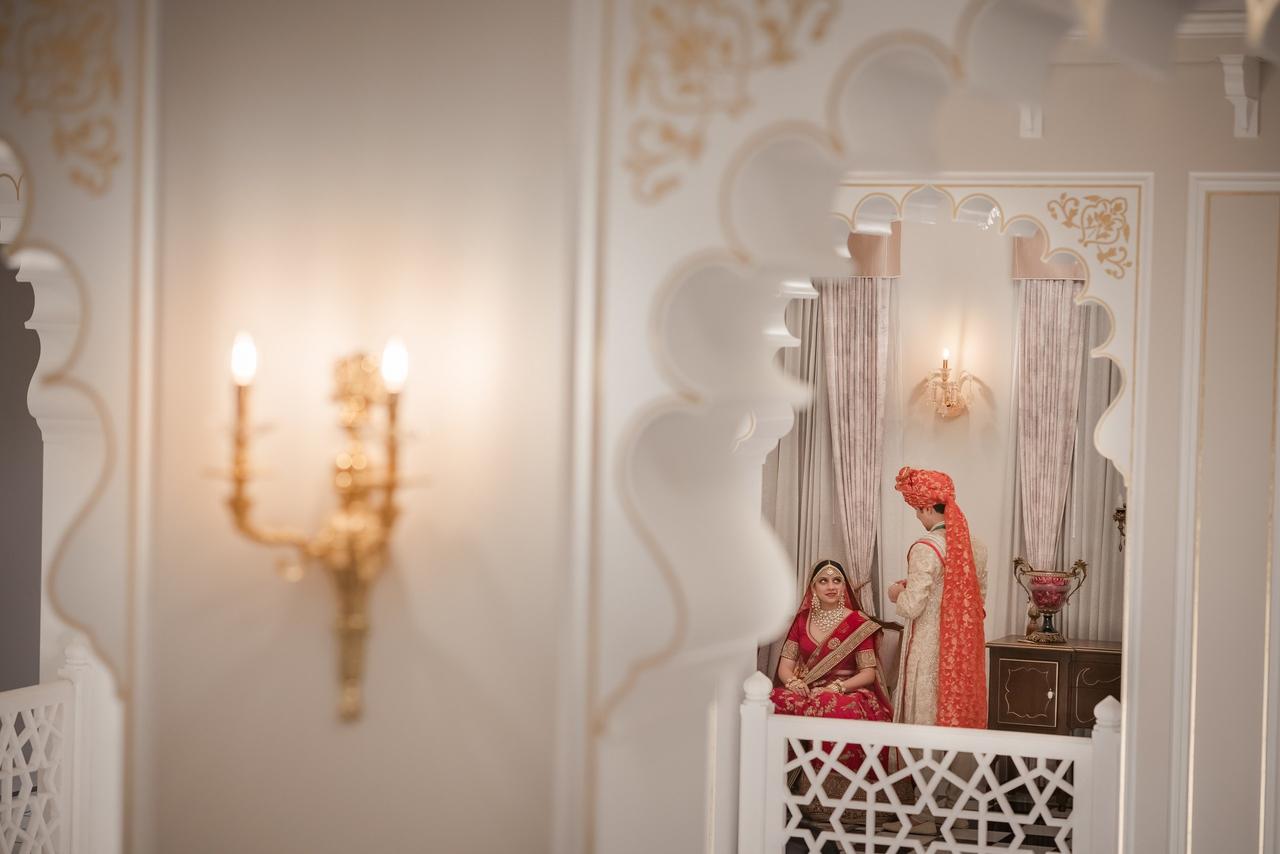 She continues about the hurdles they faced in terms of shopping and that it wasn't an easy task to get their hands on their outfits and jewellery amidst the lockdown. She tells us, "Picking up the outfits and ensuring delivery during lockdown was a major hurdle. Most of the bridal outfits were ordered before the lockdown commenced, but there were a lot of challenges to get them completed in time and delivered. There was no time for trials and alterations. There were labour and factory closure issues faced by the major designers like Sabyasachi, Falguni Shane Peacock and Sahil Kochhar. There were a few last-minute changes in the designs as well as the designers couldn't manage certain parts of the outfits. But some designers like Shyamal and Bhumika and Liz Paul gave their deliveries when it was needed. Raunak's outfits were not even ordered before the lockdown. Outfits from Manish Malhotra, Rahul Mishra and Abhinav Mishra were ordered via video calls. Measurement tutorial videos were sent and accordingly the measurements were given to the designers. The other outfits were made in Jaipur by Mr Rohit Kamra, and he did a fantastic job of delivering all outfits on time, and was also nice enough to alter the other outfits from other designers which didn't fit well at all!"
Team of Dedicated Service Partners Who Made Their Dreams Come True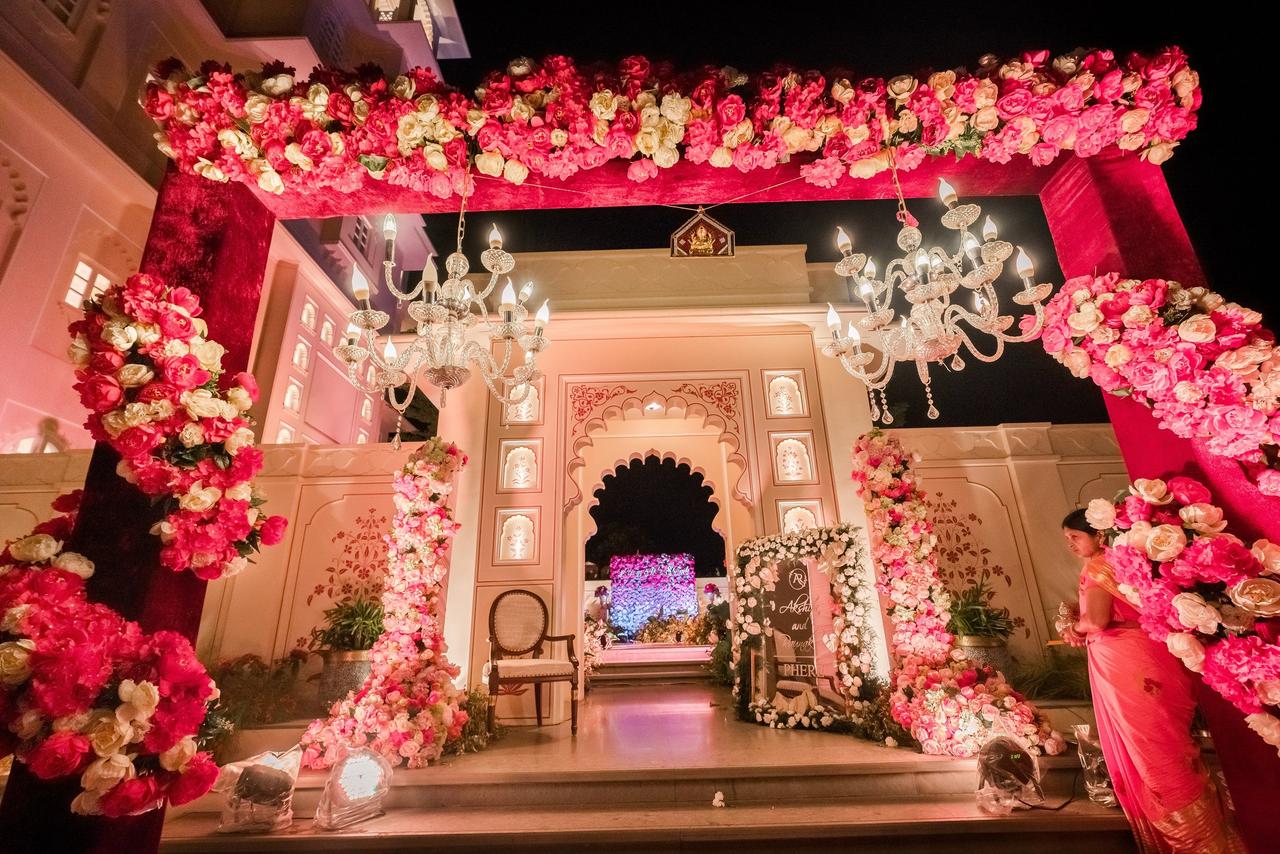 It was safe to say that a big fat wedding with a guest list of 500+ people was not happening anytime soon all thanks to the pandemic. However, planning an intimate wedding is as much of a task to put together and Akshita has to say, "Getting DreamKrraft on board was probably our best decision during wedding planning. They made our life extremely easy and managed to plan and execute the wedding in less than two weeks. Their teams were working day and night to make this happen for us."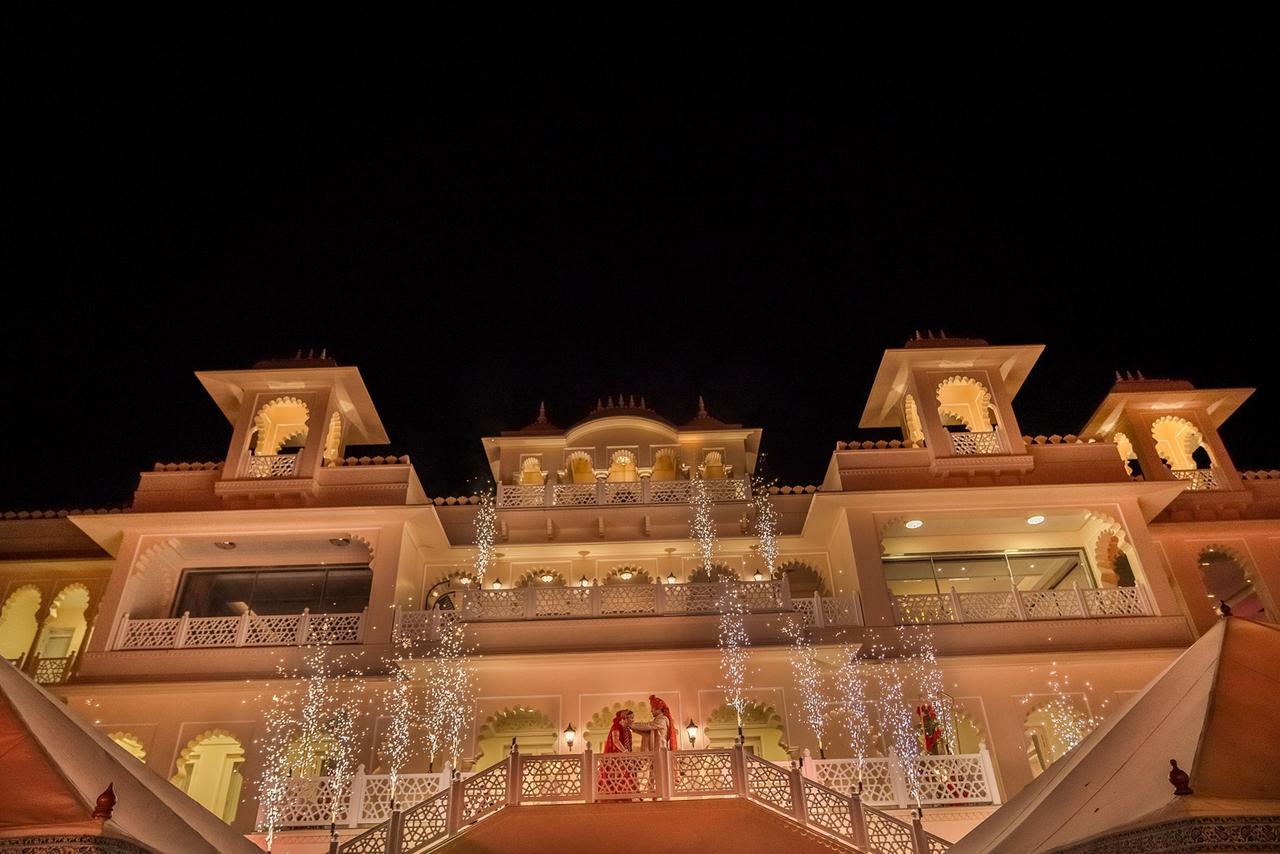 Apart from this, they had other professionals on-board with them to make their wedding nothing short of a fairytale. The extravagant list of professionals involved in making this wedding a super hit includes Terence Lewis who helped with the choreography, Hojography by Abhishek Datta for photography, Wedding Filmer by Vishal Punjabi for videography and makeup artist Nishtha Bhandari. They also had the entertainment part of the wedding well taken care of by Bhawin Dhanak and DJ Kumar Swamy for music.
Prioritising Safety Precautions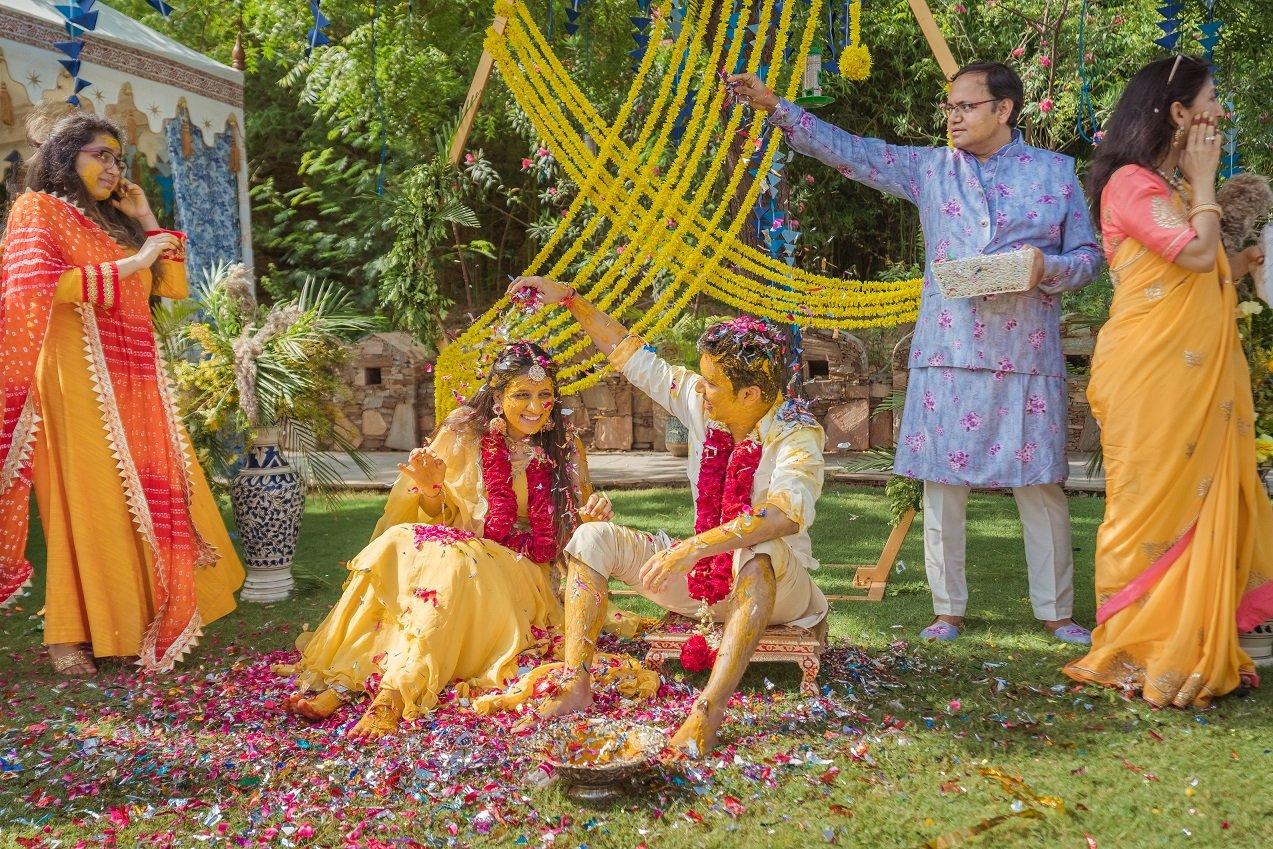 Since the circumstances are not at all normal and the world is still struggling to find their way into the "new normal," safety has to be an uncompromised priority. With a guest list of around 30 family members, each of whom were quarantined for fourteen days in their homes and were asked to travel by road specifically in their own cars their wedding was a hit. There was also the entire events team that travelled from Mumbai to get things done seamlessly.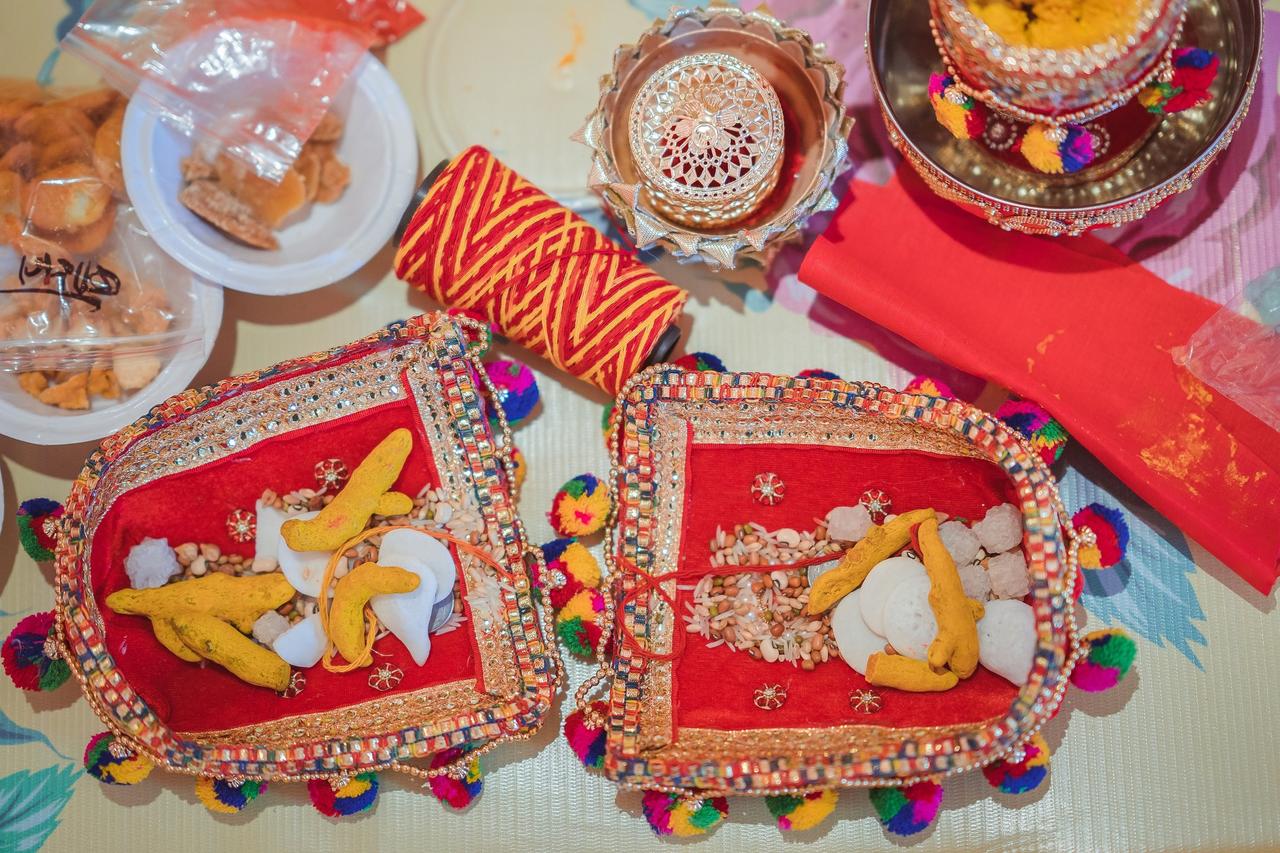 Akshita tells us, "With safety as our foremost priority, our discussions with the vendors were very clear right from the start. We wanted them to reach the venue and quarantine themselves a week before our wedding took place and they had to avoid public transport. So our event team, cinematography team, photography team and music artist all travelled by road from Mumbai one week before the wedding festivities were going to start. Even the local decor vendor, along with all his material and equipment was quarantined at the venue 14 days before the wedding. The makeup artist team was quarantined for 14 days in Jaipur and pandits were also sent to the venue 5 days prior after getting COVID tested."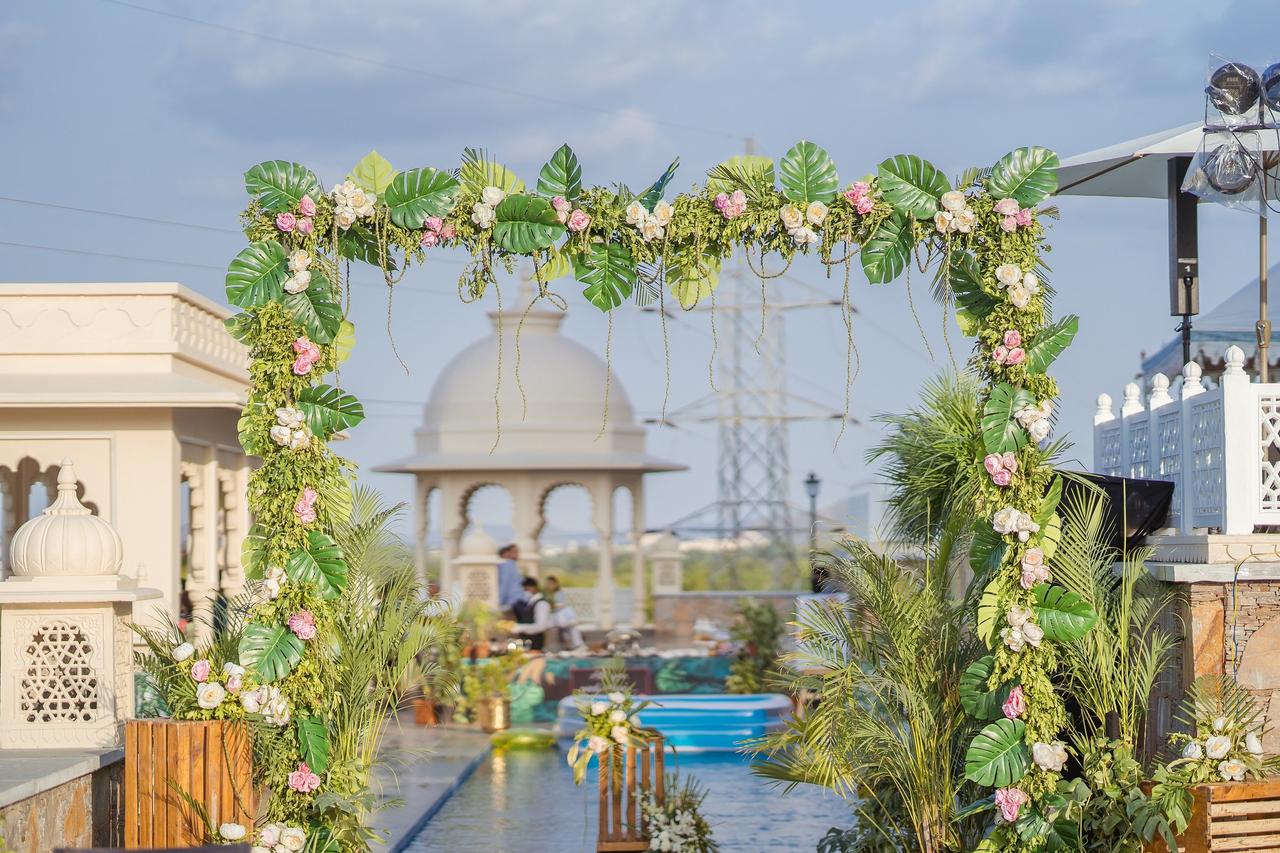 She adds, "We had a lot of constraints with the decor part of the wedding as we were not allowing any movement of people to and fro the property, we had very limited hands at the venue. DreamzKrraft team designed most of the themes and decor based on what the local decor partner had with him, and they supplemented that decor with their own material which was also sent to the venue 3 days prior to get sanitised. The major focus was on the personalisation aspect of the events. Most of the flowers used for the decor were artificial. Fresh flowers were used only where extremely necessary. The flowers were also procured in advance and stored after being sanitised. Even the Varmalas reached the venue in advance and were sanitised."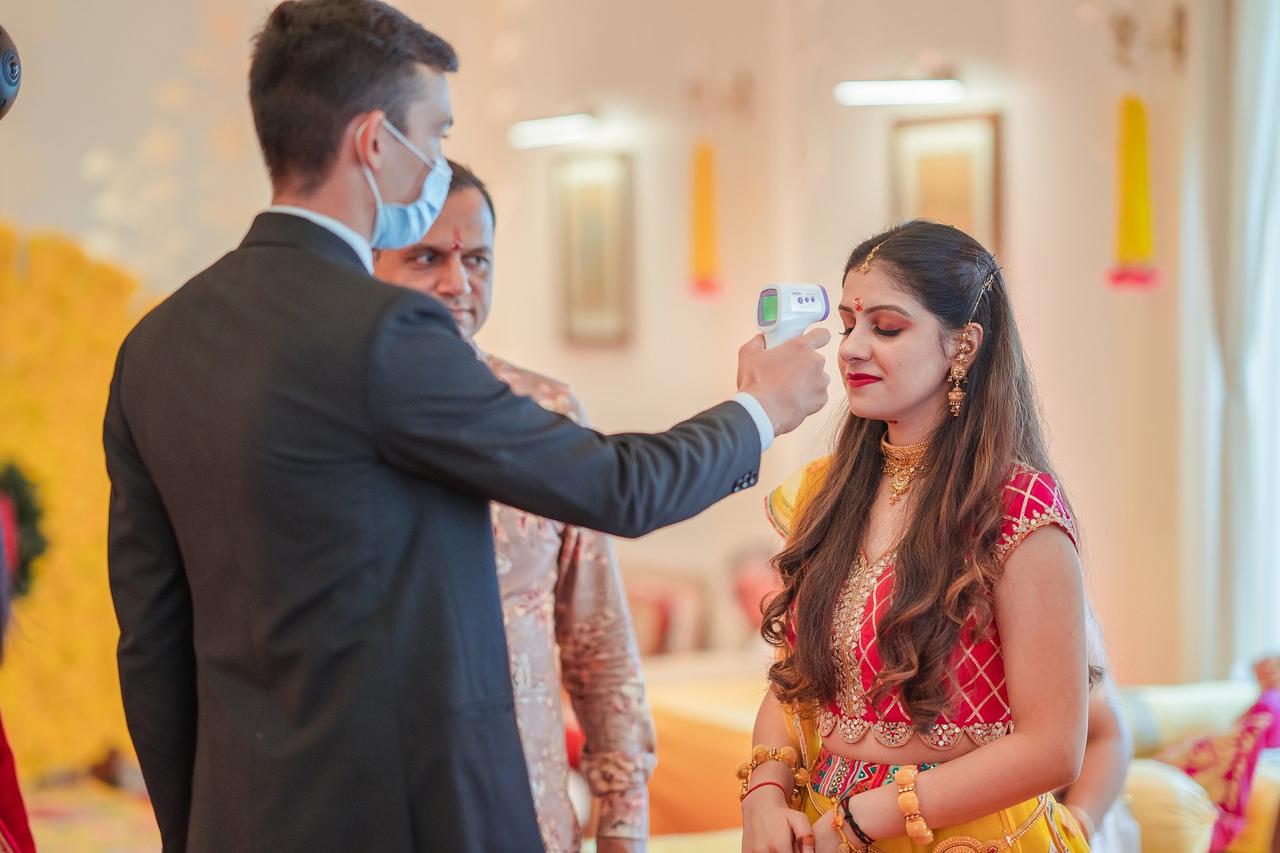 A total of 200 temperature checks were done daily and every guest vehicle was completely sanitized on arrival. The DreamzKrraft team ensured routine temperature checks and oxy-meter readings twice a day. Around 100 sanitizer bottles were used during the span of this wedding and 12 hands-free sanitisation stations were set up at various spots at the venue. Additionally, each function had a personalised giveaway. For instance, the Haldi which was the first function, there was a giveaway station of organic Haldi and honey to be consumed as an immunity booster.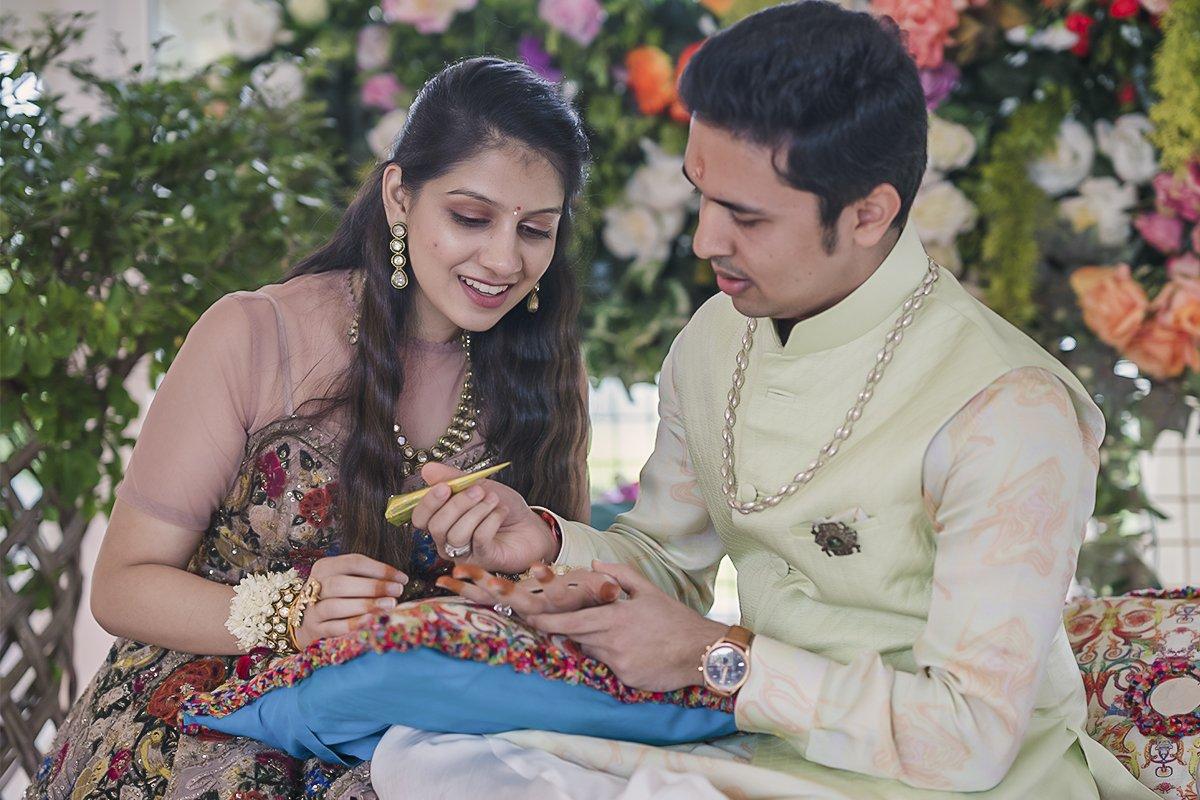 At the Basan function, a DIY face mask counter for ladies to use as most of them were unable to visit a salon prior to the wedding. Even for the Mehndi ceremony, a DIY activity was planned where guests were handed out catalogues of Mehndi designs and applied Mehndi for each other. In-fact Raunak even tried his hands at applying Mehndi for Akshita. Most friends and family members of the couple also sent in video messages for them which were played at the Mehndi.
The Guest List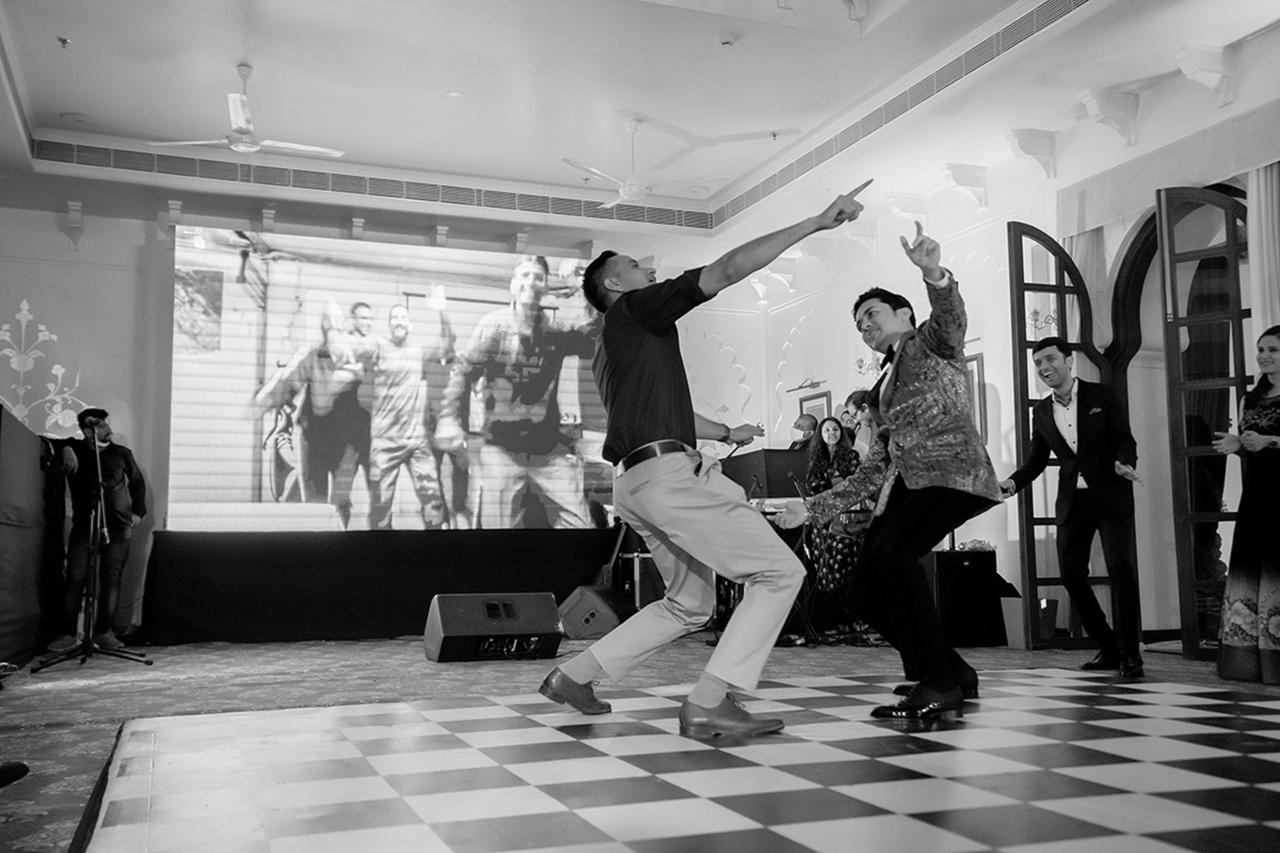 Virtual reality played a major part in all the ceremonies as it was one of the key ways to engage the friends and family members who weren't able to attend physically. A total of 300 guests were virtually present at the wedding, watching and blessing the couple in all the ceremonies as if they were there throughout. Many family members were dressed in wedding clothes and were enjoying the celebrations as they otherwise would have.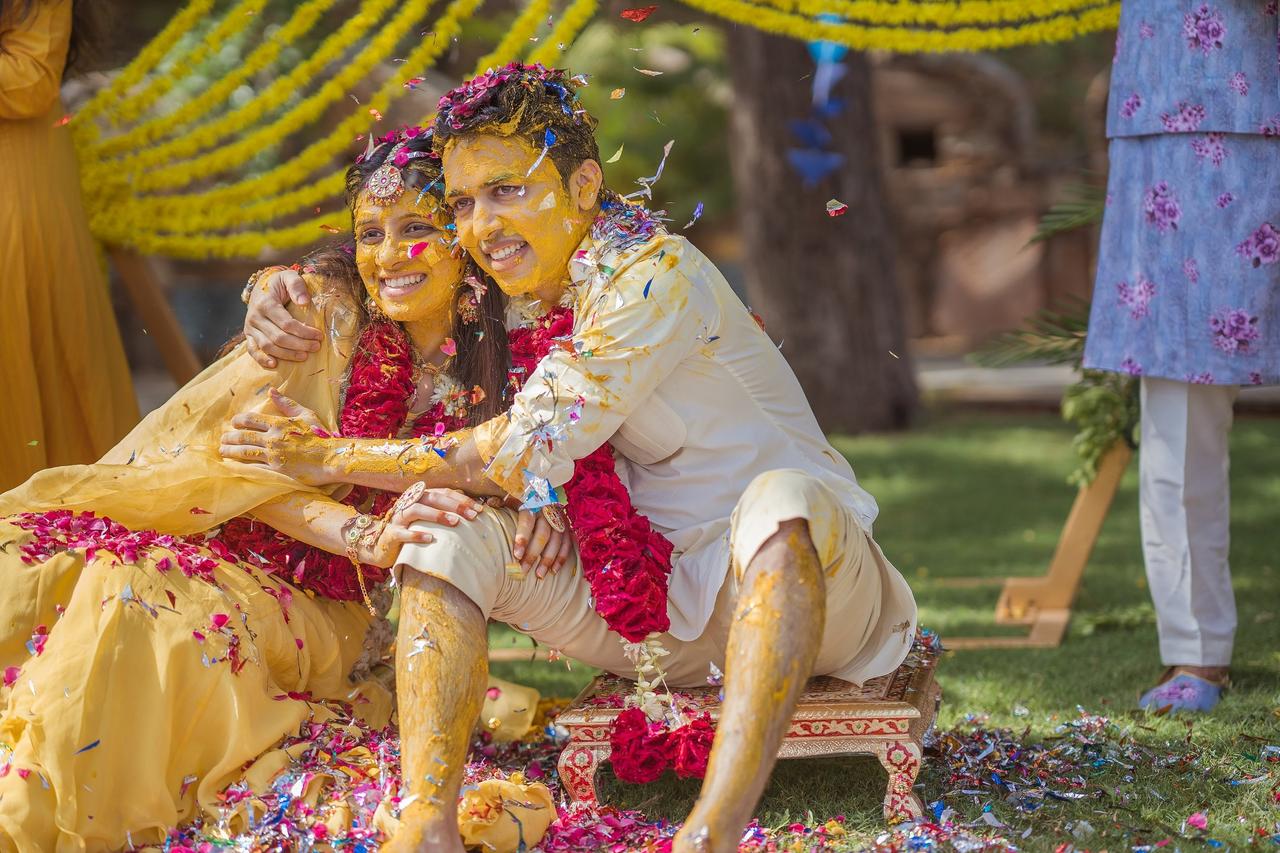 Akshita gives us more insight, on that note, saying, "There were two ways one could connect with us virtually. One was the live virtual reality streaming on YouTube live. And the other was through dedicated Zoom meetings for separate groups. Overall, more than 2000 people joined us virtually for the wedding. The feeling was unreal and nothing like we had ever imagined. The intimacy of the physical gathering allowed us to thoroughly enjoy each and every moment of our wedding. And the scale and participation of the virtual gathering made us feel really special. However, not having our immediate family and closest friends with us physically was something we missed the most."
For guests who joined the wedding virtually, The Wedding Filmer had a set-up of seven to eight cameras all over the ballroom, including the VR camera, so that one could get a 360-degree view of the ceremonies, live, and feel like they were right there in the midst of the celebrations. A meeting link was circulated for every event with VR sets shipped prior to family and friends in the country and abroad. WhatsApp groups were also made, so different groups could coordinate different things, for example, a group for chacha-chachis, a group for the girls from the bride's side of the family, and so on.
In fact, Terence Lewis choreographed for the wedding sangeet via Zoom calls too and many family members who were virtually attending pre-recorded their dance videos beforehand to merge it in the skit. Friends and family present at the wedding did live performances making a nice version of virtual meets live!
Their Ceremony Outfits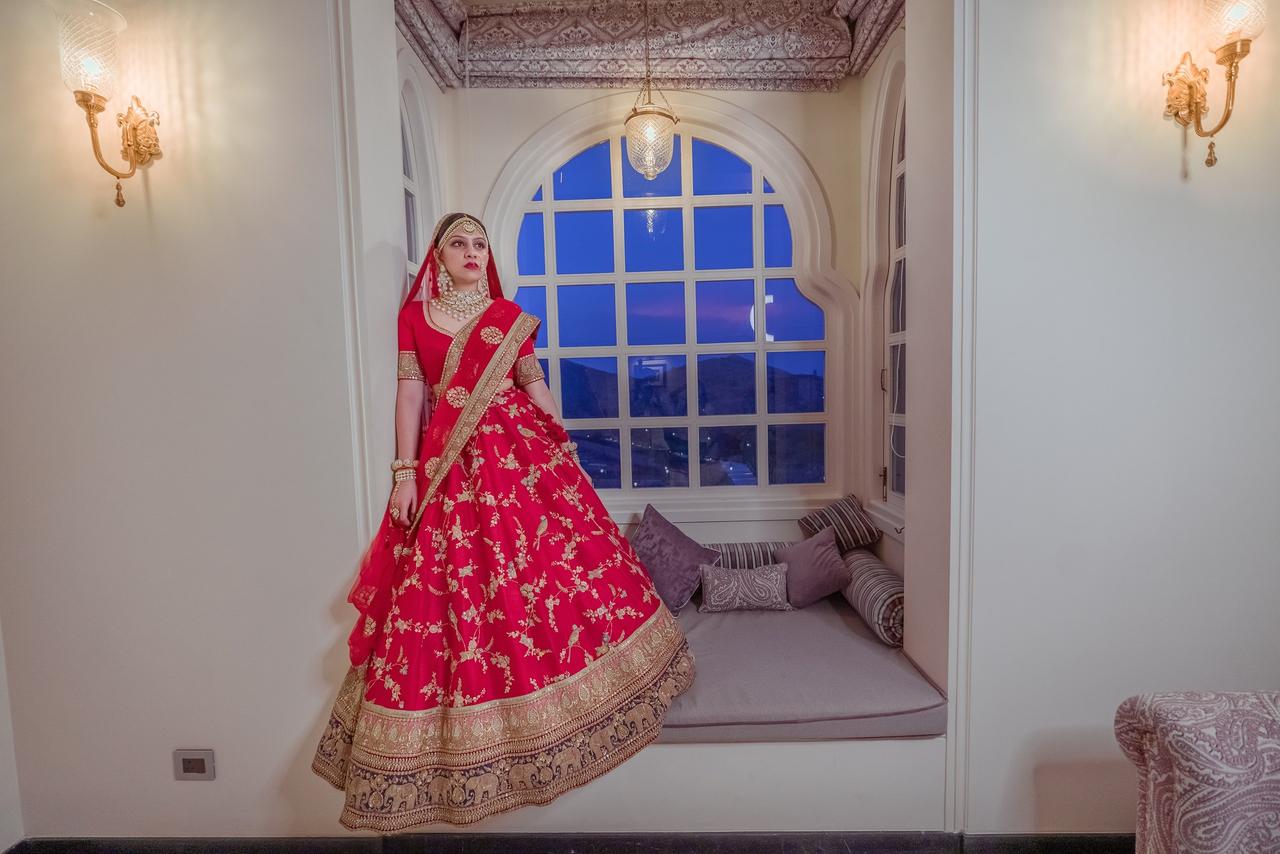 For the pre-wedding celebrations where there was a stand-up comedy night planned, Akshita wore a Ritu Kumar outfit and Raunak perfectly complemented her with a Rohit Kamra outfit. Moving on to the Haldi ceremony, Akshita's outfit was picked from Pink Lotus, Jaipur and her accessories were from Fooljhadi. Raunak went with a Rohit Kamra ensemble again. The Basan ceremony witnessed Akshita in a breathtaking Liz Paul outfit with gold jewellery from Birdichand. Raunak flaunted a piece by Abhinav Mishra.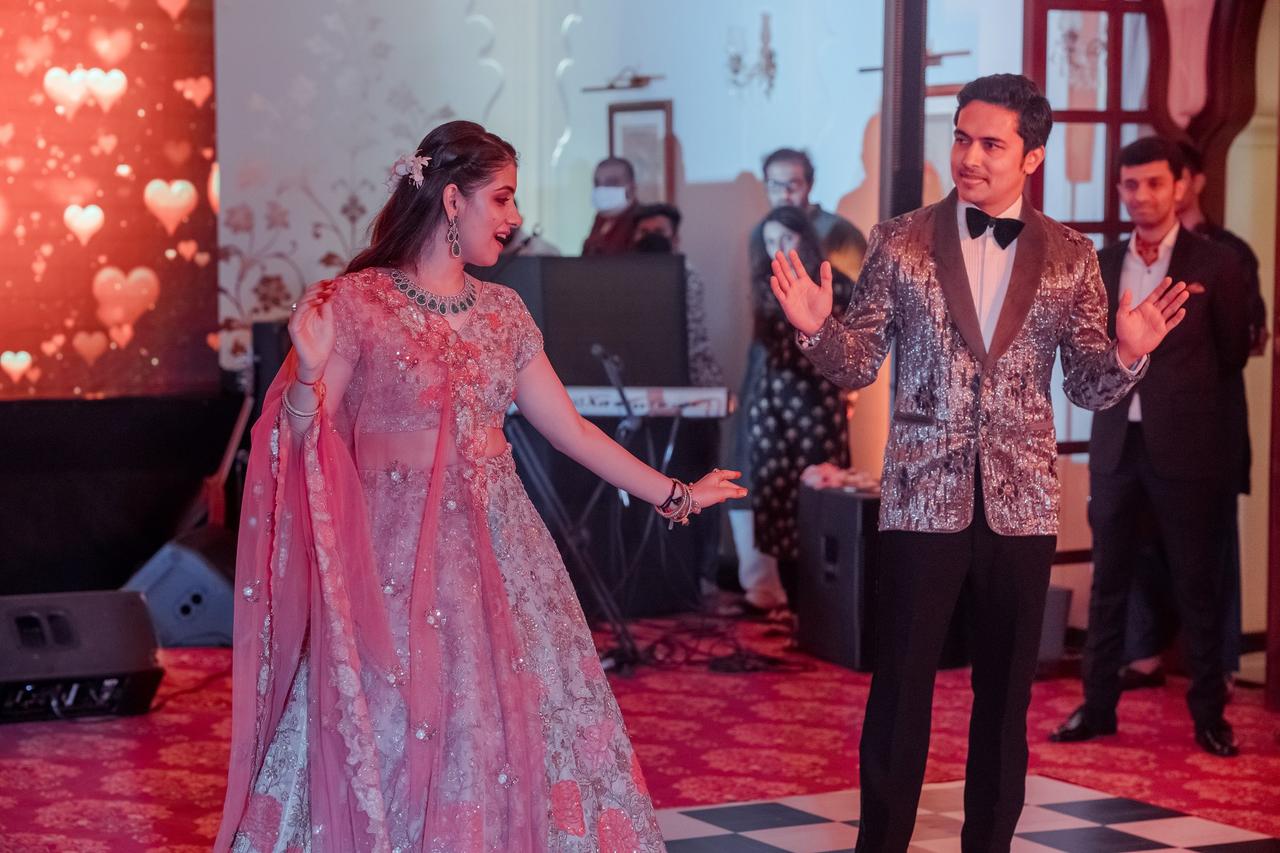 On the Sangeet night, Akshita wore a gorgeous Shyamal & Bhumika piece and paired it with jewellery from Canary's Jaipur. Raunak looked dashing as ever in his Manish Malhotra look. A beautiful outfit from the house of Sahil Kocchar was picked for the Mehndi by Akshita and Raunak picked a Rohit Kamra piece. Finally, Akshita decked up as the quintessential Sabyasachi bride and completed her stunning look with Polki and Jadau jewellery from Rambhajos Jaipur. Raunak looked handsome in his Manish Malhotra ensemble.
They had also celebrated the Bahu Swagat ceremony in beautiful Ritu Kumar (Akshita) and Rahul Mishra (Raunak) outfits.
Bigger celebrations are lined up for the newlyweds and they are waiting for the times to get better. Concluding this amazing interview, Akshita has some valuable suggestions for the couples who are planning their wedding now.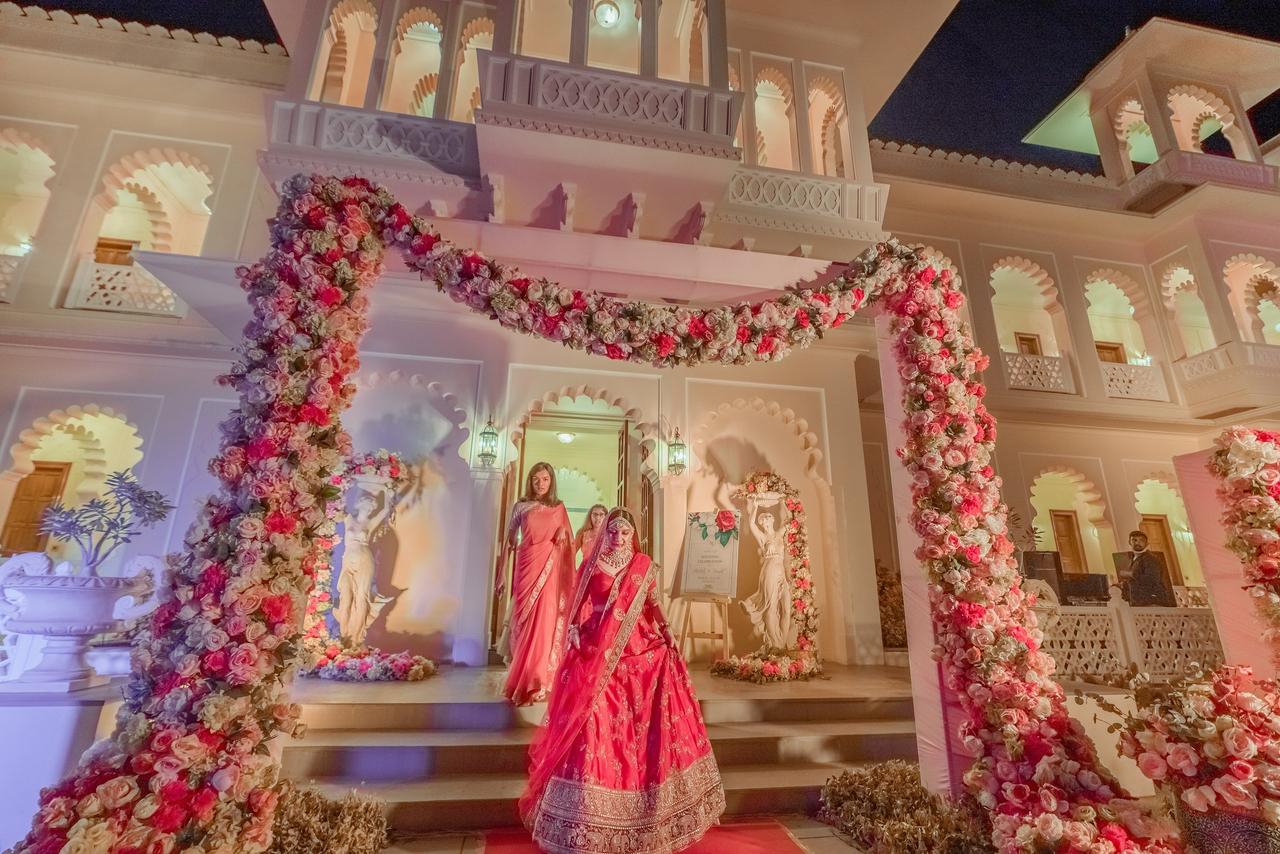 She says, "Look at the bright side - a lot of people told us to wait till November or February and increase our chances for a grand wedding. But what we realised was that a grand wedding is still possible with an intimate gathering. And the lockdown and work from home rules allowed us to spend quality time together. Get an event planner on board! One might think that for an intimate gathering you can do away with the planners, but that is not the case. We realised the value that can be added by getting the planners on board. And go digital! The sky is the limit when it comes to digital participation. We had sent VR headsets to all close family members so that they can feel like they're physically present with us. A lot of such ideas can shape up if planned in advance, but they add a lot of wow factors to the entire wedding. Lastly, focus on personalisation - this adds a lot of personal touch and thoughtfulness to the wedding. From digital, to physical, many things can be personalised to the wedding."
This wedding of Akshita and Raunak is the poster example of the fact that the size of the guest list does not matter in order to make a wedding big and luxe. Your intimate wedding ceremony can be made into a luxurious extravaganza with the extra efforts and investments put to use in the detailing and personalisation. With just 30 guests, Akshita and Raunak's wedding was no less than a big fat Indian destination wedding and we cannot stop gushing over how beautifully it turned out.
Note: All images have been clicked by The Wedding Filmer by Vishal Punjabi and Hojography by Abhijit Datta. The images have been provided by Dreamzkrraft.
If you are looking forward to celebrating your love by tying the knot amidst the contemporary circumstances, get in touch with WeddingWire India and the professional planners on board will make sure your D-day is a dream come true - big fat or intimate.