Real Couples Show Us How to Host Weddings in the Times of Corona
The lockdown has not stopped the millennial couples from tying the knot. Here are some couples who have gone out of their way with unique weddings in the times of corona for inspiration.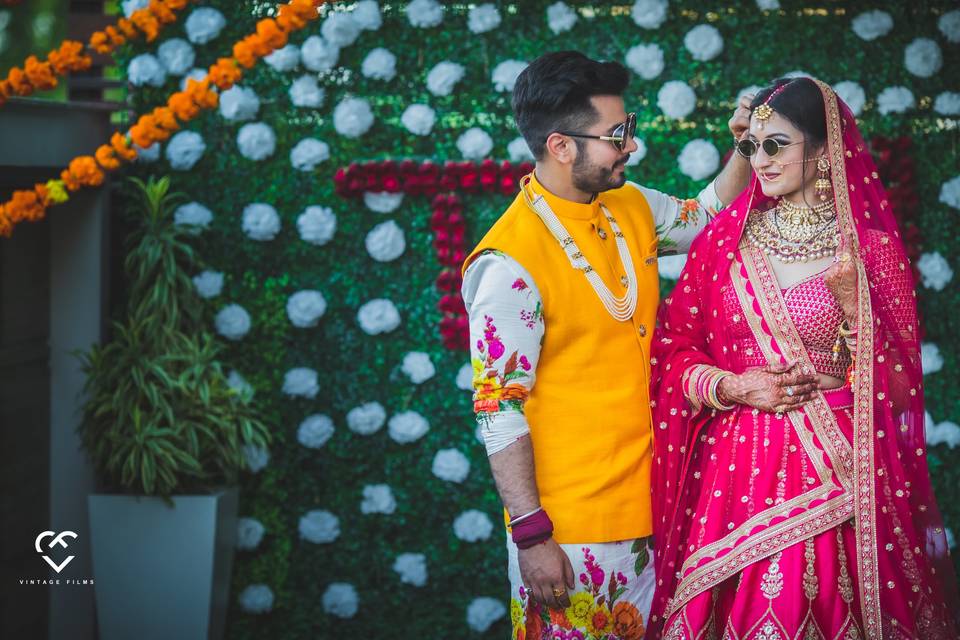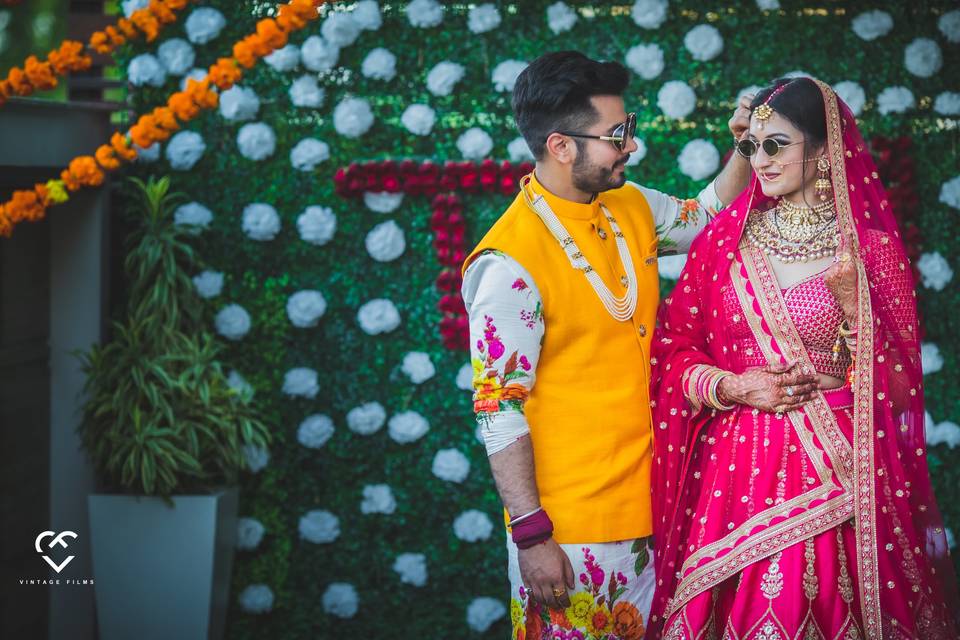 Image Courtesy: Vintage Films
With the coronavirus pandemic that put the whole country on lockdown, a lot of events have come to a halt. While some couples have planned on postponing their wedding amidst the situation, many couples have resorted to innovative ways of getting married. Wedding planning has not come to a standstill and wedding planning online right from the comfort of your homes has become the current trend. While a big fat wedding celebration with the band baja baraat might not be in the books right now, you can still choose to take your vows in an intimate wedding ceremony or through a video call. (Surprised?) We found the concept surprising too until we spoke to some real couples who chose to tie the knot even during the lockdown.
Weddings have seen a whole new horizon during these difficult times and the enthusiasm to make it perfect even as we sail through unprecedented times is remarkable. The saying that "love always finds a way" has never been so apt before!
Here are some real couples who share their stories about weddings in the times of corona to uplift your spirit and inspire you to pull off a beautiful wedding even if it cannot be the one you had planned for.
Tushar & Manika's Intimate Wedding Ceremony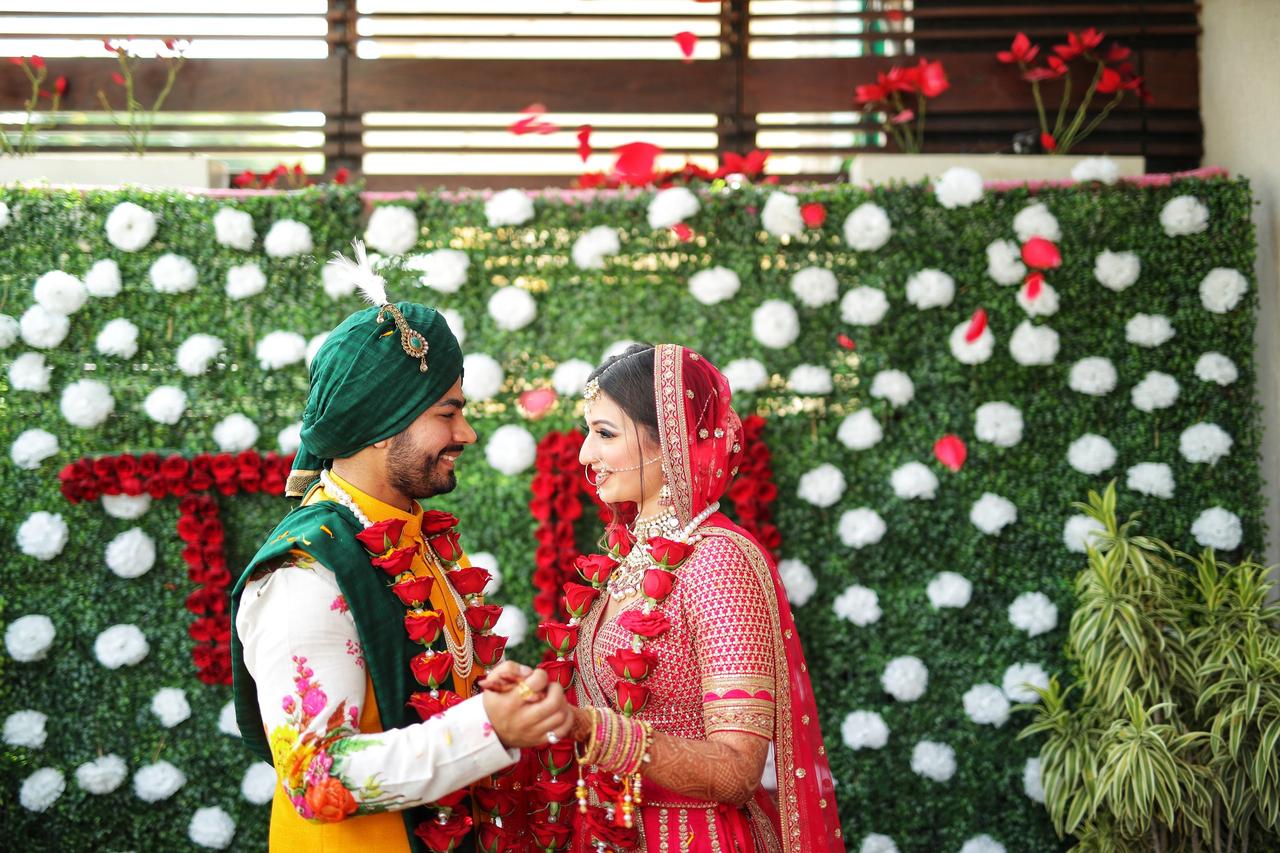 Image Courtesy: Vintage Films
Tushar and Manika fell in love when they met for the second time. They had met in an arranged set up and by the time they met for the second time, they had realised that they were made for each other. The lockdown had created quite a lot of confusion for the couple but they managed to tie the knot and make it an unforgettable wedding story.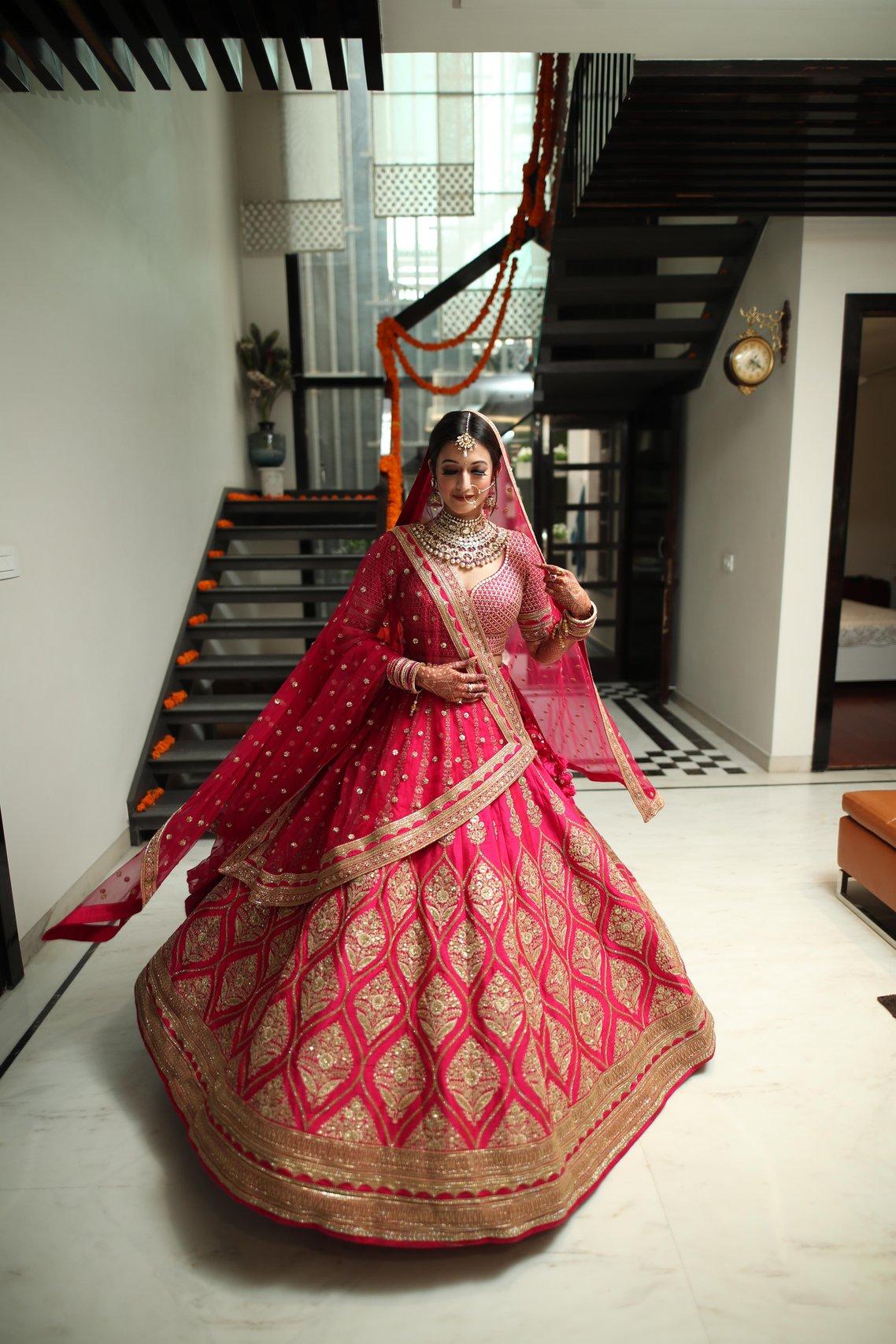 Image Courtesy: Vintage Films
"It became important for us to get married on the same date because we were uncertain if the COVID situation was going to get better anytime soon and we both thought that it is going to be a great idea to spend time with each other as a married couple and be quarantined together. We both might never get this chance again."
The groom, Tushar, and his bride, Manika, looked at the bright side of the situation and took a leap of faith. They had to get the permissions done from the SDM of Yamuna Nagar, to get an allowance of 10 people attending the wedding and arrange for the bride's family to travel from Chandigarh to bless the auspicious occasion. There were other hurdles that they faced like the arrangement of decorations, the lack of inventory for the vendors to make the wedding happen and so on.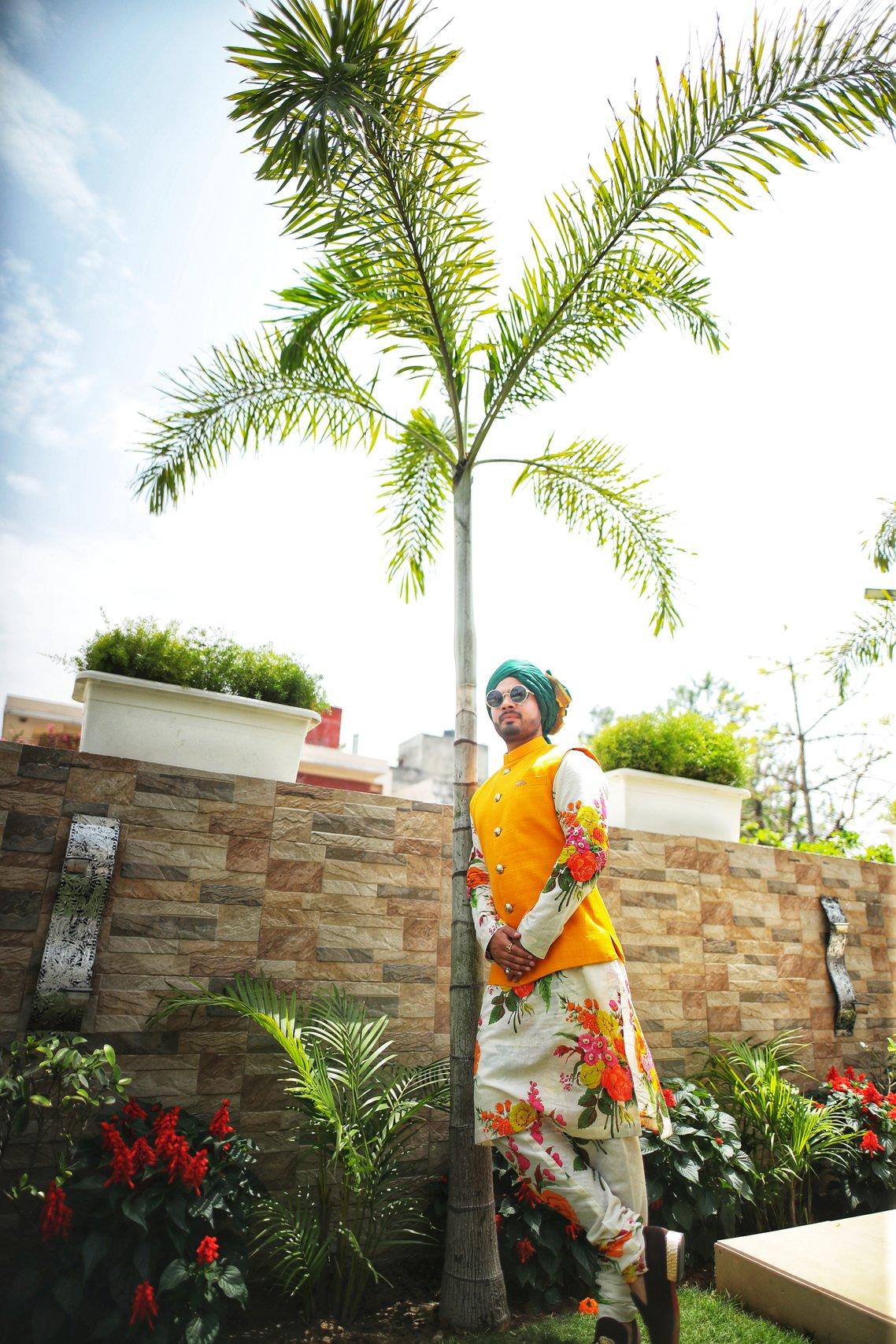 Image Courtesy: Vintage Films
Through it all, they managed to make their wedding a beautiful celebration marking the beginning of their new lives together.
They said, "Though our families were a little confused about the lockdown wedding as everyone had big dreams related to the wedding, but when they saw that their children were happy about the idea of the lockdown wedding, they were really supportive about taking it further."
Tushar and Manika have set the spirit right for weddings in the times of corona. It is, after all, a day that is meant to celebrate the coming together of two soul mates and how you celebrate it should not matter because when it is meant to be, it finds a way to happen.
Tushar and Manika have also set an inspiring example of how to celebrate your day in spite of the challenges you are facing because of the pandemic. They dressed up in Sabyasachi outfits and gleefully completed their pheres. They had a professional photographer, Vintage Films, onboard to document the wedding along with She Beauty as the makeup artist for the bride. The venue of the wedding was the groom's uncle's residence and this intimate wedding will be a priceless memory for all.
Keerti & Sushen's Wedding on Zoom Call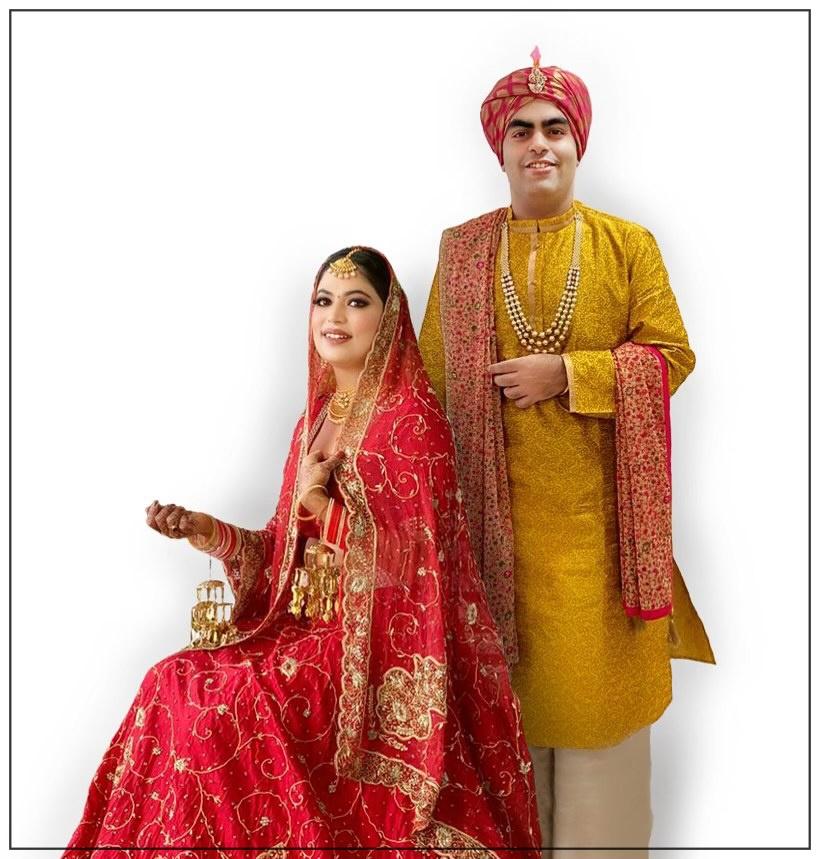 Image Courtesy: Keerti & Sushen
When Mumbai based Sushen decided to tie the knot with Bareily's beauty Keerti Narang, they resorted to an online wedding because of the lockdown. Many matrimonial websites and apps like Shaadi.com are hosting online weddings through video calls. Keerti and Sushen took their vows and their phere via a Zoom call right from their homes.
To spread the positive emotions of weddings in these heartbreaking times, Keerti says, "It was a relaxing experience for me to be at home, get all dolled up for my wedding and get comfortable in front of the camera to take my vows with my Mr Perfect on the other side of the call. I did not have to worry about anything, it was all planned and ready to roll."
Keerti is a professional makeup artist and had always wanted to do her own bridal makeup. It would have been difficult if this was a conventional wedding because then she would not have been able to manage the time. But the stars were in her favour and she was able to do her own bridal makeup, even if it was not anticipated.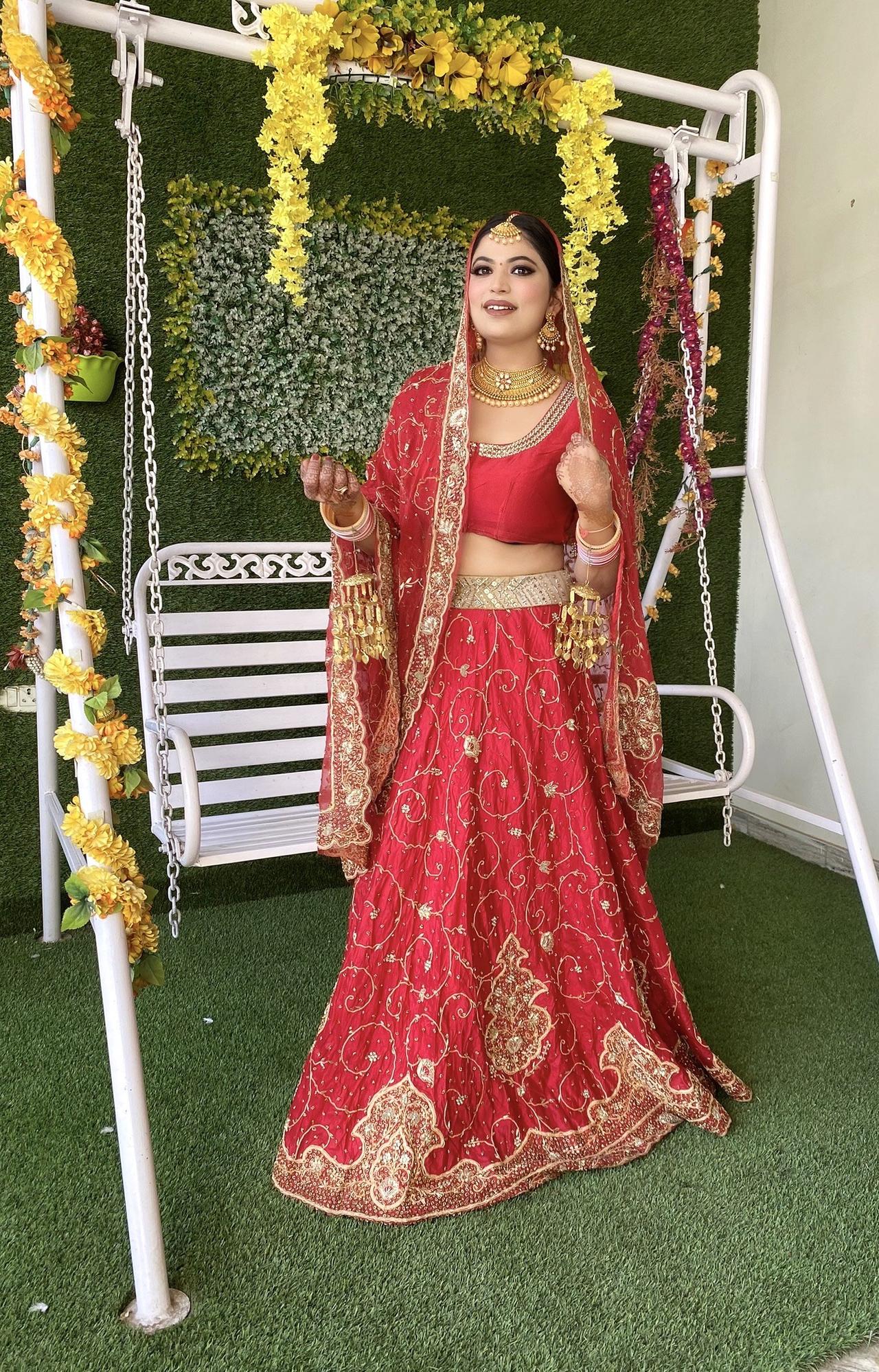 Image Courtesy: Keerti & Sushen
The groom, Sushen tells us, "I am using a sherwani that I already had and pairing my mother's necklace that adds to the royal feeling. I am in fact using my mother's dupatta to make it into a Safa and another of her dupatta as a stole over my shoulder that matches the sherwani. All thanks to the YouTube tutorials on DIY, I am set for the wedding."
Who knew heirloom could be so seamless yet necessarily become a part of the groom's outfit for his big day!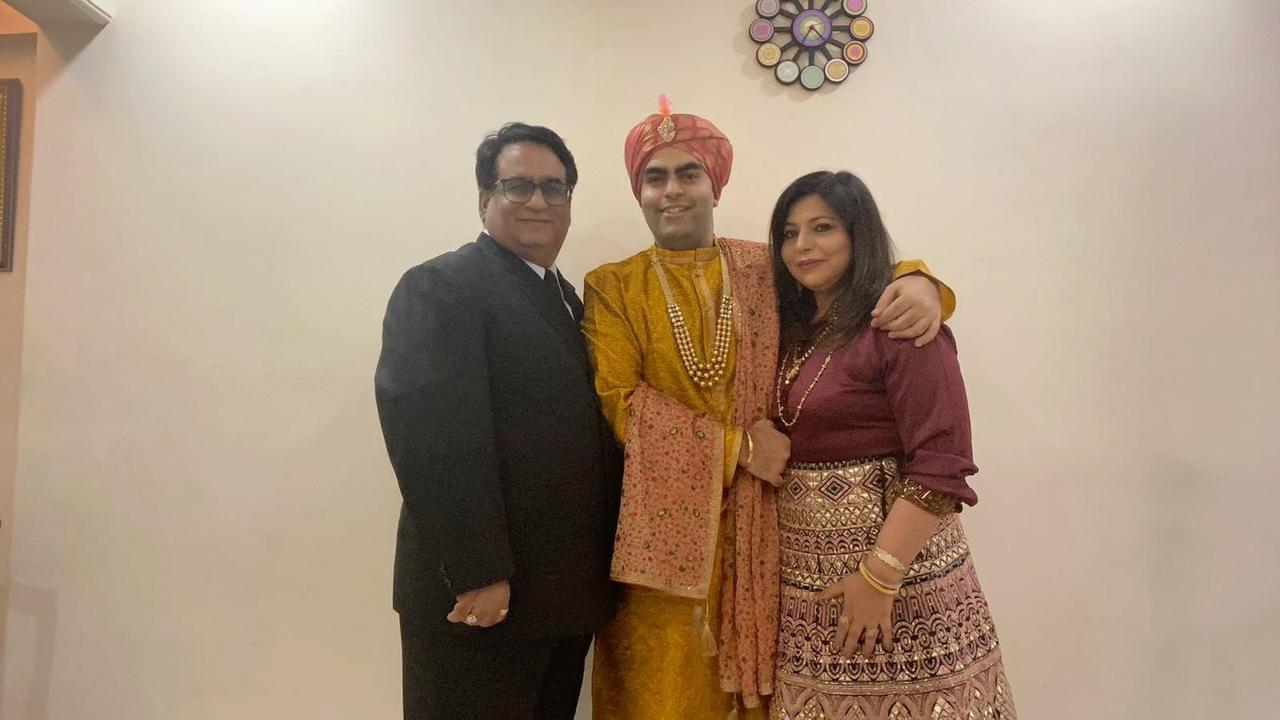 Image Courtesy: Keerti & Sushen
To add to the WOW part about this online wedding, they had a priest overseeing the rituals and chanting the prayers for the couple, while being seated before the holy fire at his own home in Raipur, Chattisgarh.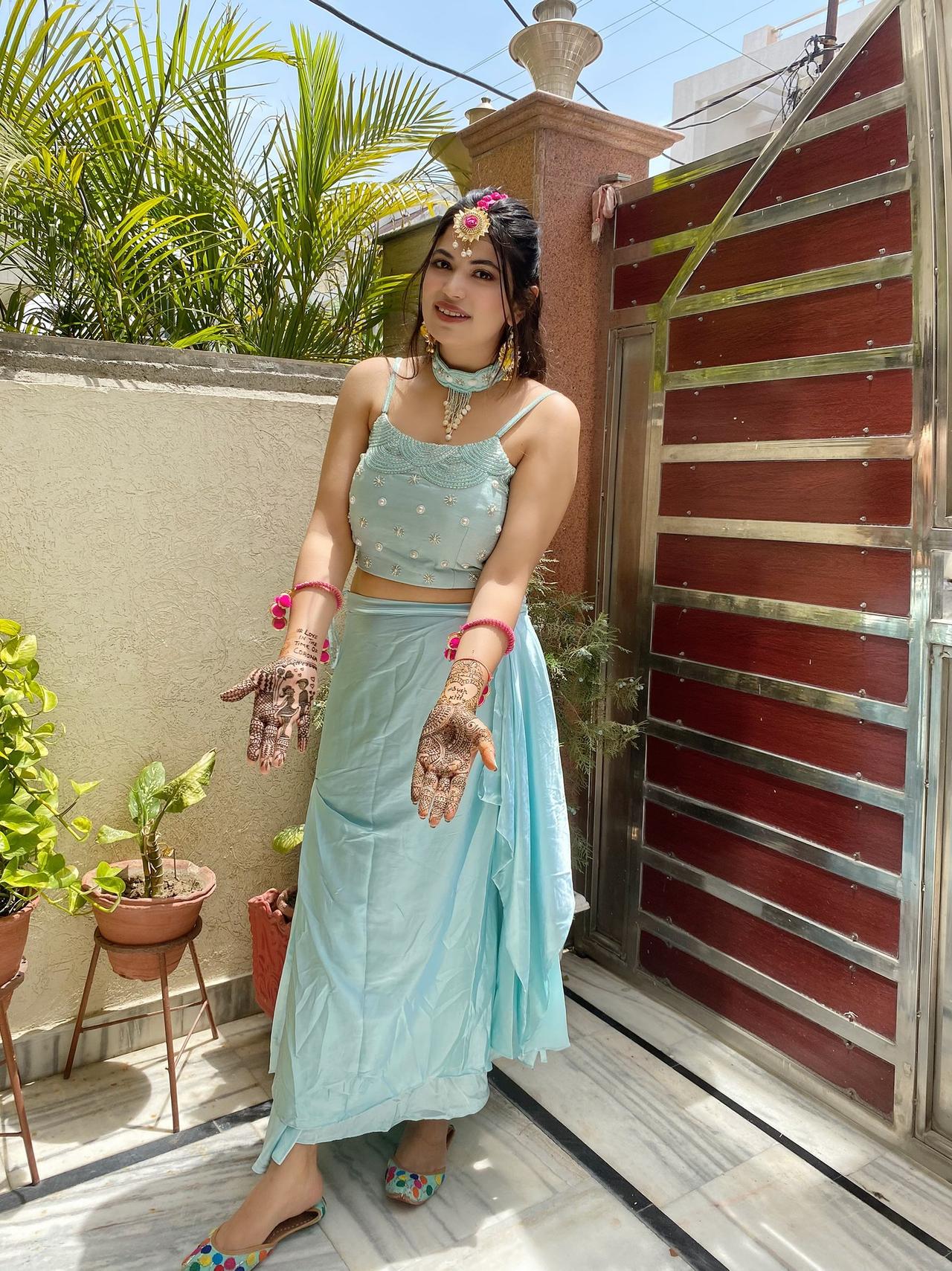 Image Courtesy: Keerti & Sushen
Keerti and Sushen had been planning an unforgettable wedding affair for a very long time but they had no idea that their wedding would be a unique and absolutely inspiring event. Keerti and Sushen's online wedding saw the presence of 100 of their friends and families who watched them get hitched over a zoom call. They also celebrated by dancing and jiving up the zoom ceremony to celebrate the couples' big day. The video was later streamed on Facebook that also had millions of people watching it. This Zoom wedding took the nation by a whirl for sure.
Megha Khanna & Tusshar Arora's Wedding at Home
The couple never imagined that an arranged marriage was what fate decided for them. They met each other and quickly hopped on the bandwagon of planning a destination wedding at ITC Mughal Agra on the 13th of April. It was planned within a couple of weeks and ready to roll, but we all know what happened with the pandemic unfolding and the lockdown that followed.
"The following lockdown paused all our wedding plans indefinitely. Not knowing any way forward we sat confused and disappointed. We decided that the best way to kick start our new lives, is an intimate wedding, with our close families, following all possible safety guidelines. So as soon as we were given the relieving news and wedding guidelines by the government is when we started planning it again."
As soon as the lockdown guidelines were made a bit flexible, they immediately planned an intimate wedding ceremony in a week's time. They had the entire family together to help them. The bride Megha says, "With an overly enthusiastic group of family and friends organizing it all felt like a piece of cake."
She flaunted her mother's vintage tissue saree from a few years ago that her brand had created, accentuated her looks with a beautiful clean bun and simple gold jewellery to accessorise. The guests were seen in masks and gloves abiding by the safety requirements.
The bride shares the hurdles in their way of planning the wedding, "Going down from 300 people to just 30 was hard to come to terms with, in the beginning, but then we realized it's the wedding that matters the most and our families and close friends will be there with us. Doing the décor ourselves with makeshift materials and the ever-blooming flowers we are seeing around us these days, we created backdrops. We literally had to personally cut off spring flowers from the trees around our house. Our aim was to limit external interference."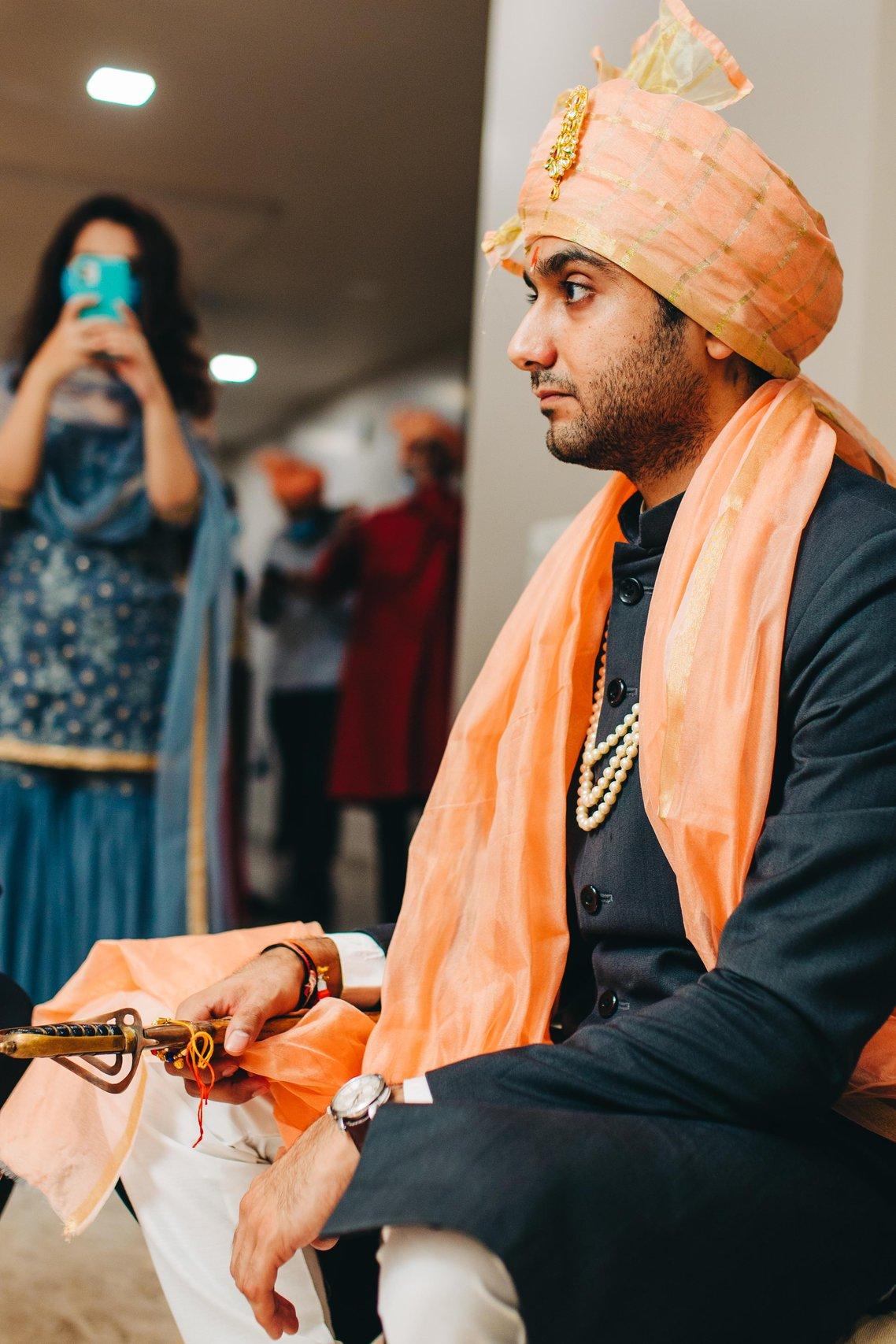 The stunning wedding of #FinallyMeTu also had the support of over 150 people over Zoom. Their dear friends Gomit Chopra and Gautam Khullar agreed to do the bride's makeup and the wedding photography making it just perfect.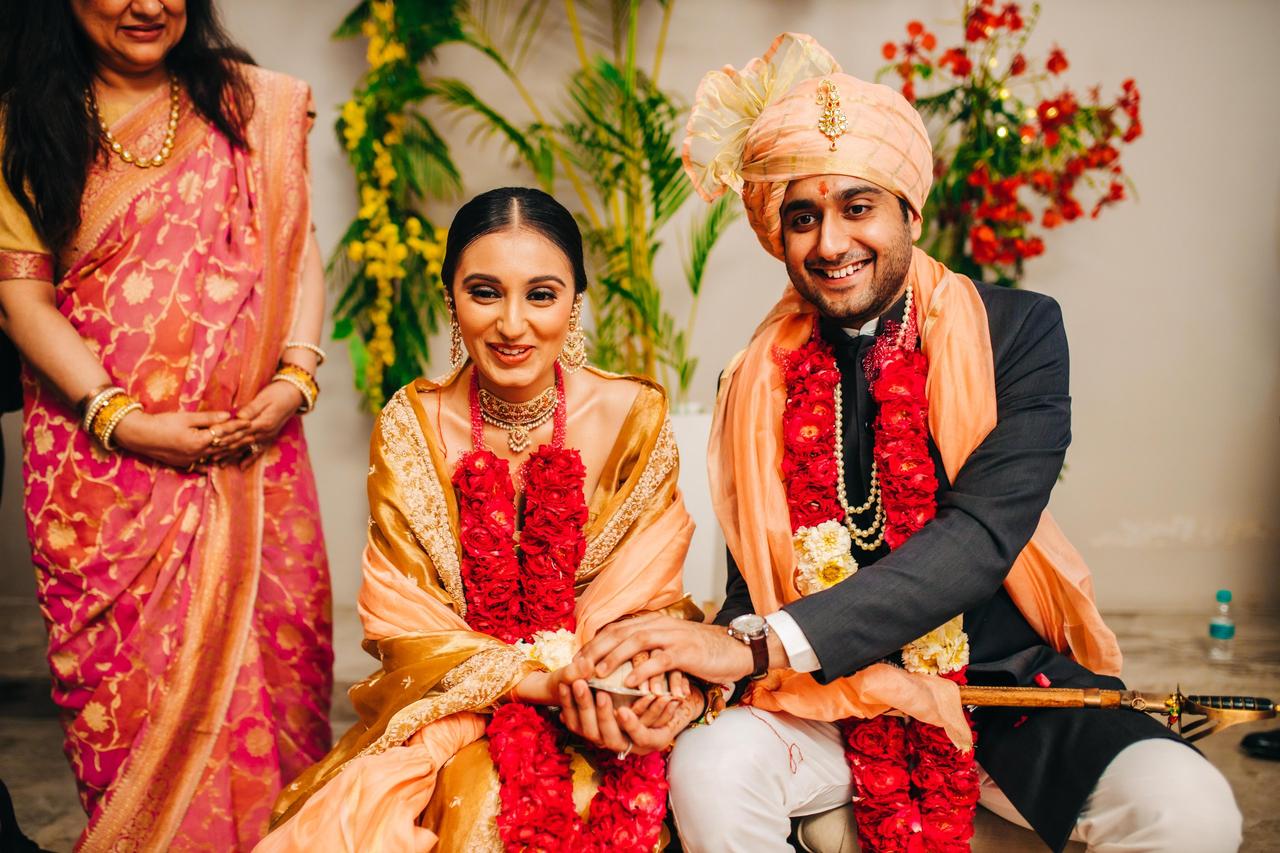 While a lavish wedding is off the books for a while owing to the lockdown and the pandemic, the millennial couples are going out of their way to celebrate their love and come together in the most unique ways possible. The couple has turned the situation towards a better one because if life gives you lemons, you make lemonade. They are a benchmark couple who have shown the world that love is never cancelled. And any time is a good time to tie the knot if there is love to celebrate.
There are no limitations to celebrate the coming together of two souls and there are also pros to hosting a unique wedding during the lockdown.
If you are planning to host a virtual wedding during the lockdown, take a look at the tips and tricks that will help you host a virtual wedding.