Simple Wedding Planning Tasks to Do From Your Living Room's Comfort
Simple wedding planning steps that can be checked off your list right from your living room's comfort. Wedding planning is still game with social distancing & how!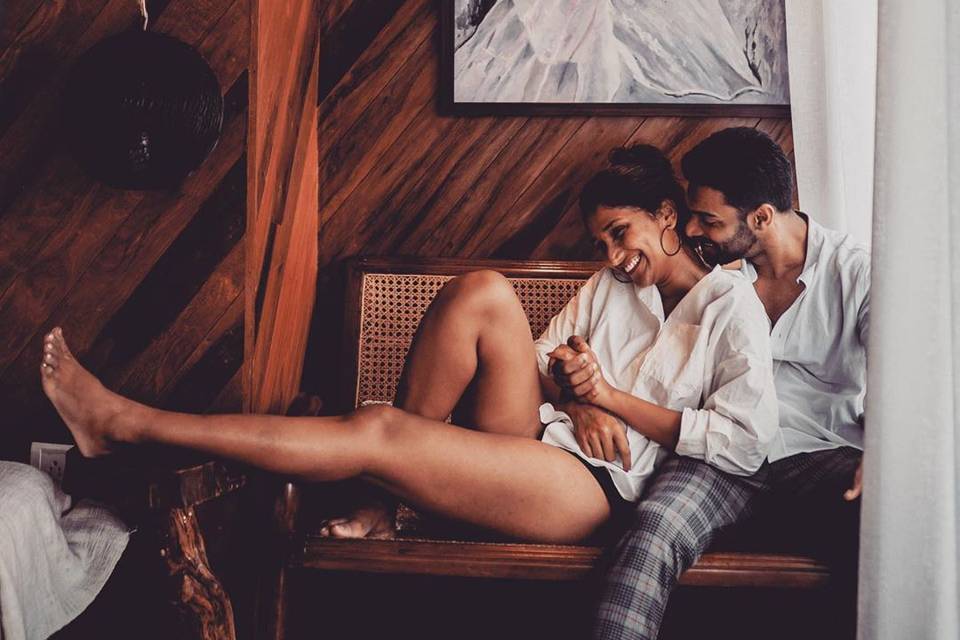 Wedding planning is a task and we won't deny. Touring venues from one to another, visiting the vendors to pick them right and even something that sounds as simple as picking the stationery, wedding planning demands a lot of physical and mental energy. But somedays you might just want to lay back and tap on your screen to get things done with one touch.
You might even want to put on some of the 90s songs on your speaker as you and your family sit down to get work done! With the social distancing that prevails in the country right now,#ShaadiKiTaiyari from the comfort of your homes, might be the best way to utilise the time and plan the little things that are not so little.
You might be wondering what things can be done from home while you watch Netflix wrapped in your favourite comforter?
The list turns out to be really long and some of these are just one tap away on your phone screen! Here are some of them handpicked for you. Ready to get things done?
Browse Trending Wedding Ideas to Pick Yours
Be it scrolling on Instagram, making a board on Pinterest or going through the latest trends on our wedding blogs, you will need to tread the wedding ideas before you select the theme of your wedding. Be it rustic or #OTT or Bollywood themed or a dainty destination one, the theme of the wedding affects the colours and decor of the big day. You can spend a Saturday evening sipping some wine and picking out the theme and everything else will fall in place eventually!
Read Vendor Reviews
Before you start calling the vendors for the quotes and other detailing, you can spend some time to narrow down your options based on vendor reviews. You may read about them on our website or on the testimonials on their page. This will save you the hassle of having to call 50 vendors and losing it! You can shortlist 20 of them and make those calls whenever feasible.
Join The Community
The WeddingWire Community is here to help and keep you entertained. There are many more brides, couples, families of to-be-weds and even bridesmaids and groomsmen who are on the Community. Whenever you find yourself wondering, the Community is a great place to pop the questions. In fact, you can help others looking for answers and post discussions.
Spend Time in Making Your Wedding Website
Making a wedding website of your own is going to make a lot of things easier. The west has adopted this concept very smoothly and it is one of the basic steps of wedding planning there, it's our turn now. Registering for a wedding website is an easy-breezy task that you can get done on the WeddingWire website. You get to choose your theme, add the details of the wedding - venue, time, wedding registry gifts and so on too. This could be that one-stop destination for you and your guests!
Sending Out Invitations
If your invitations are supposed to be through emails or other ways of sending e-invites, congratulations! You can use this time at home to send these invites and check their names off the to-do lists. If you have boxed invitations or enveloped ones to send out, there are a lot of personalised things that might be required like inserting the favours or writing the name of the guests to make it extra special and not just print it. This might turn out to be a fun time with your family too.
Arrange the Wedding Favours
If your wedding favours are not yet ready, make use of this time at home to pick your wedding favours. Be it an assembled box of mithai, or chocolates or other stuff that you pick for wedding favours, you will need to label them and get them ready. Call your family members to the living room and start packing them in small Potli bags or the boxed invitations together while sipping on to some good tea with the fam.
Welcome Baskets & Thank You Notes
If you are planning to put some thoughtful gifts at the entrance gate for your guests, you can use your Saturday noon sitting and putting them in pretty baskets with tags. You can also ready some Thank You cards to be left near the exit gate for your guests.
Shortlist Your Photographer & Photo poses
This is also a great time to browse through the long list of professional photographers we have onboard and browse their Instagram and Facebook to get an idea of the kind of work that they provide. While you surf the options, you can also pick photo poses for your pre-wedding and wedding photography. You can also stumble upon and find places where you can have your pre-wedding shoot.
Apart from these handfuls of tasks that can be done during the social distancing period, there are other things that could be done too. One of these is making a Whatsapp group and telling your fam about your wedding registry if you want to have it. Once acknowledged, you can keep updating your wedding website and at the same time start picking gifts that you want to include in your registry.
While you enjoy sufficient time in hand until the wedding, it is important for you to relax and keep your wedding planning going on lowkey. This will save you from the burden of last-minute changes and overwhelming moments.
The COVID-19 has confined our movements to within the house and while we support each other in ending the pandemic and stay put, WeddingWire is here to help you continue with the planning for your fairytale wedding.