Latest Pre-wedding Shoot Ideas With Stunning Backdrops
Planning your pre-wedding shoot? Here are some genius pre-wedding shoot ideas you could use with amazing backdrops. Check them out for inspiration.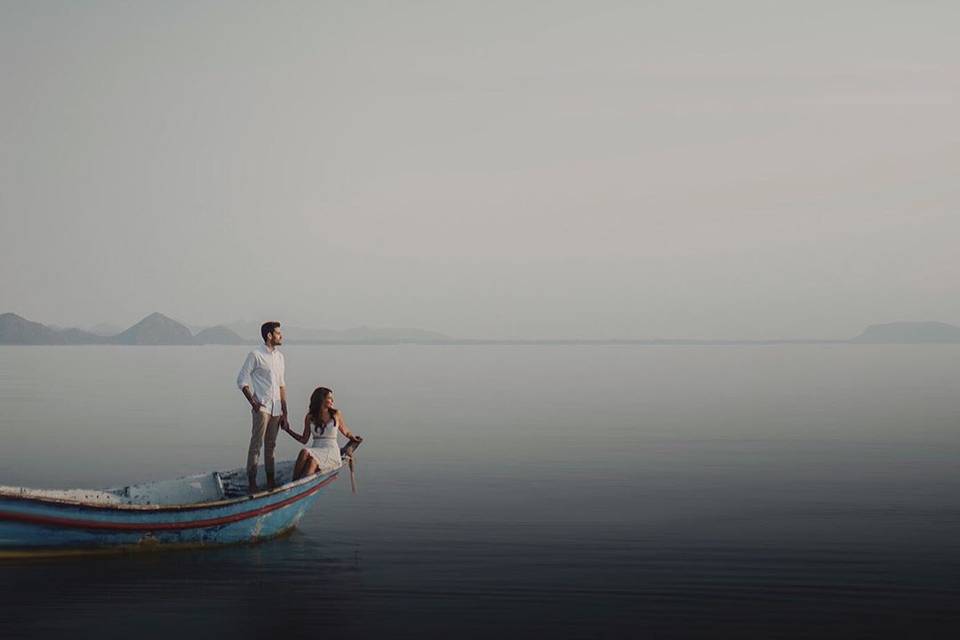 A pre-wedding shoot has its own charm. The narrow lanes of old Delhi, the street food, the gorgeous monuments or the super lavish hotels....there are endless possibilities to achieve an epic shoot for your pre-wedding. With smart photography hacks and imagination, wedding photographers can give you some unbelievably remarkable results. Whether it's candid photography or staged poses, a great photography idea can make a simple shot look like a Bollywood movie!
So, here we are! Take a look at some latest pre-wedding shoot images with beautiful backdrops and you might just fall in love with your wedding album later!
Rickshaw Swag

One of the coolest and latest pre-wedding shoot ideas you could use is with the cute rickshaw! The colourful and floral rickshaw looks extremely photogenic. Have some fun of your own by taking your fiancee for a ride maybe! Wear clothes with coordinated shades that would go nicely with the colours, like a blue lehenga for her and a pastel kurta pyjama with jacket for him. Share a joke, flirt a little for that candid laughter and natural expressions.
Get Goofy on a Bullock cart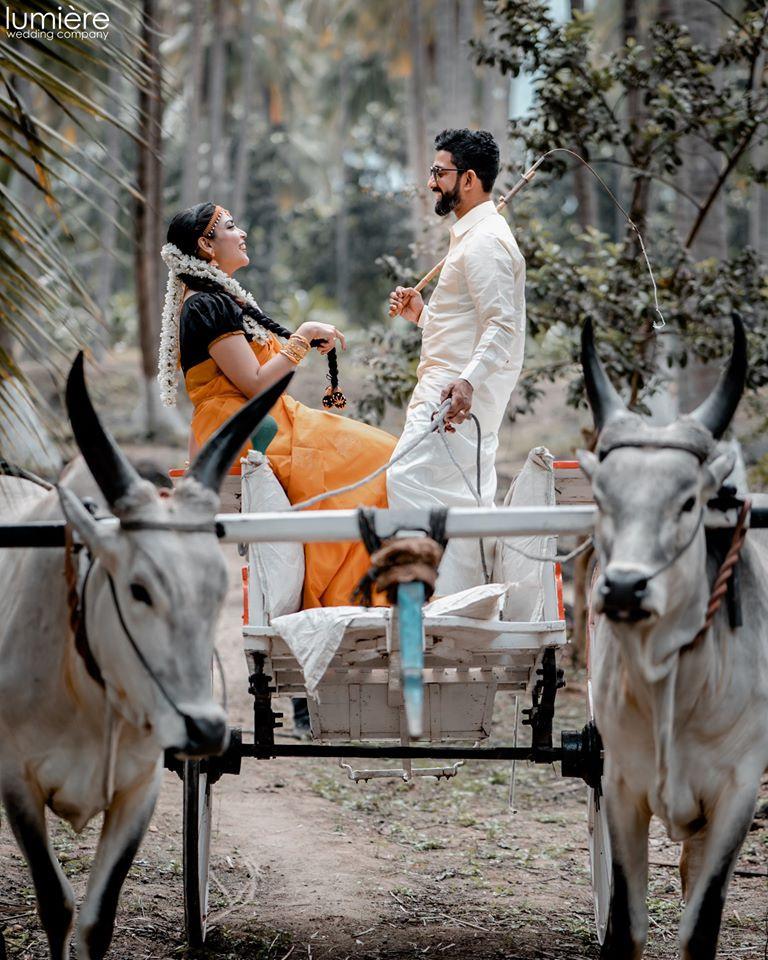 Our country is known for its abundant rural sites. So why not use them? Getting clicked in quirky poses on a tonga, boat or a bullock cart; in this case, is one of the latest pre-wedding shoot ideas that you could hardly go wrong with. However, you need to totally let go of yourself to obtain that natural quirk! Forget about the camera, wear traditional or formal outfits to make it pop and just have some fun moments with your special one - that's one of the golden rules of candid photography!
Vitamin Sea backdrop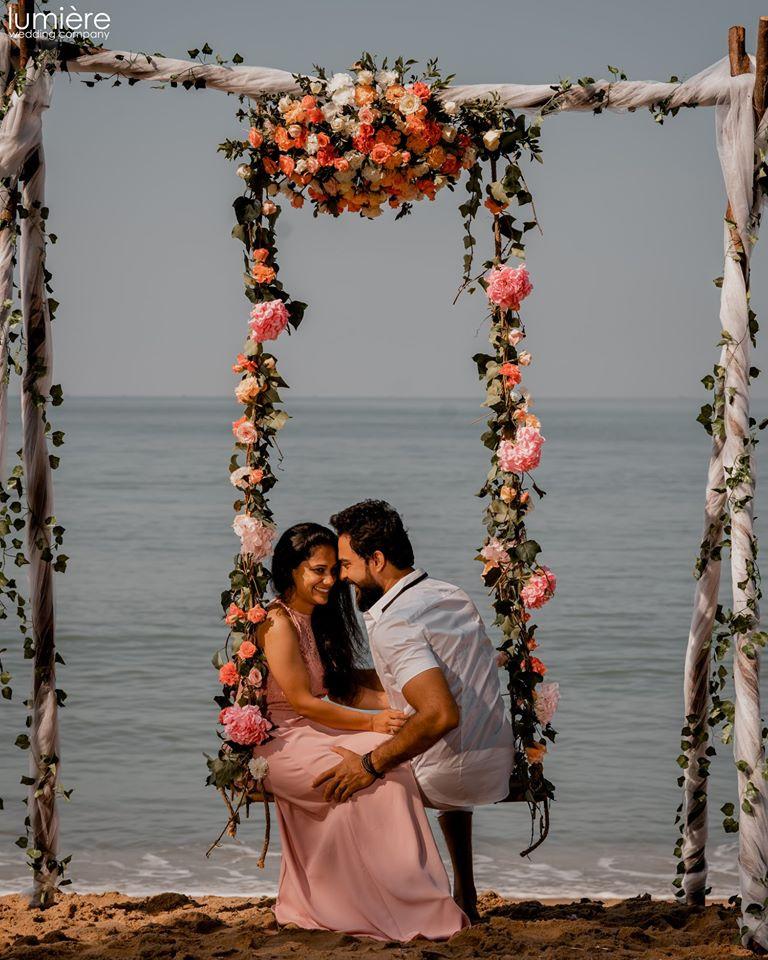 How can we not use the majestic sea as one of the backdrops? When you're looking for the latest pre-wedding shoot images on the internet, you'll see different couple poses using the sea or beach as the backdrop. You too can try something like this one. It's part abstract because the face of the groom is half-hidden but it still depicts the story of togetherness as they hold hands!
Get cosy underwater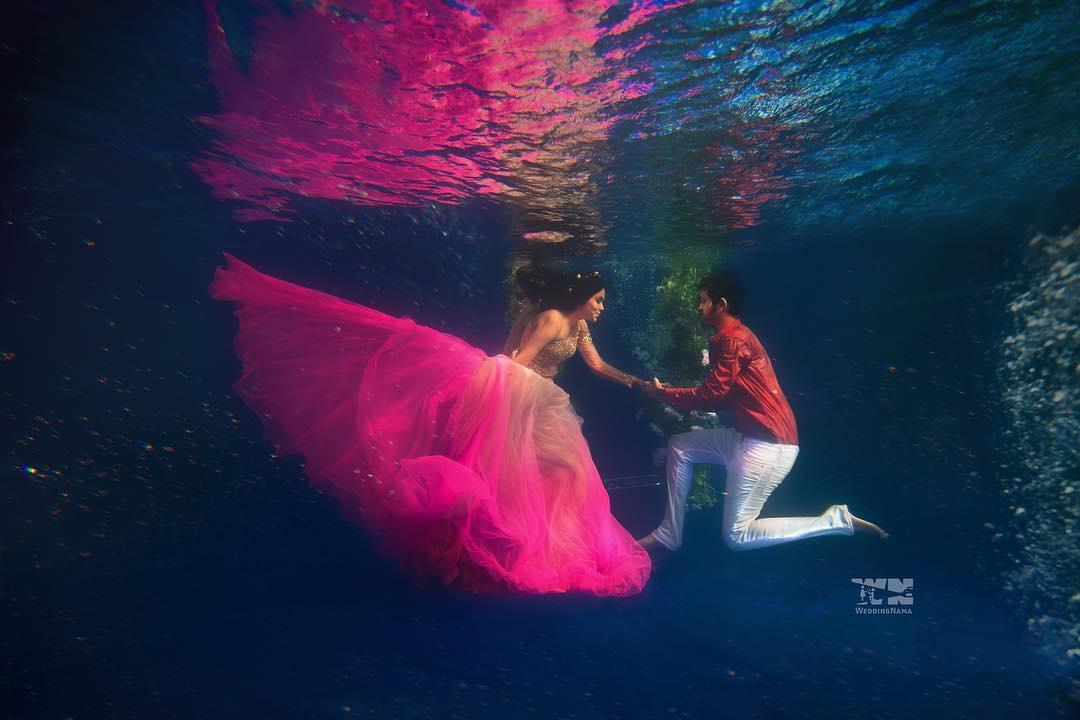 Hug, kiss, hum a song or quote a love poem to your partner. One of the successful latest pre-wedding shoot ideas is to get cosy with your partner...UNDERWATER! You heard us. The photographs will automatically be a winner! To further the beauty of the moment, wear coordinated outfits in western wear like a bright coloured gown and a satin shirt!
Monuments & Bollywood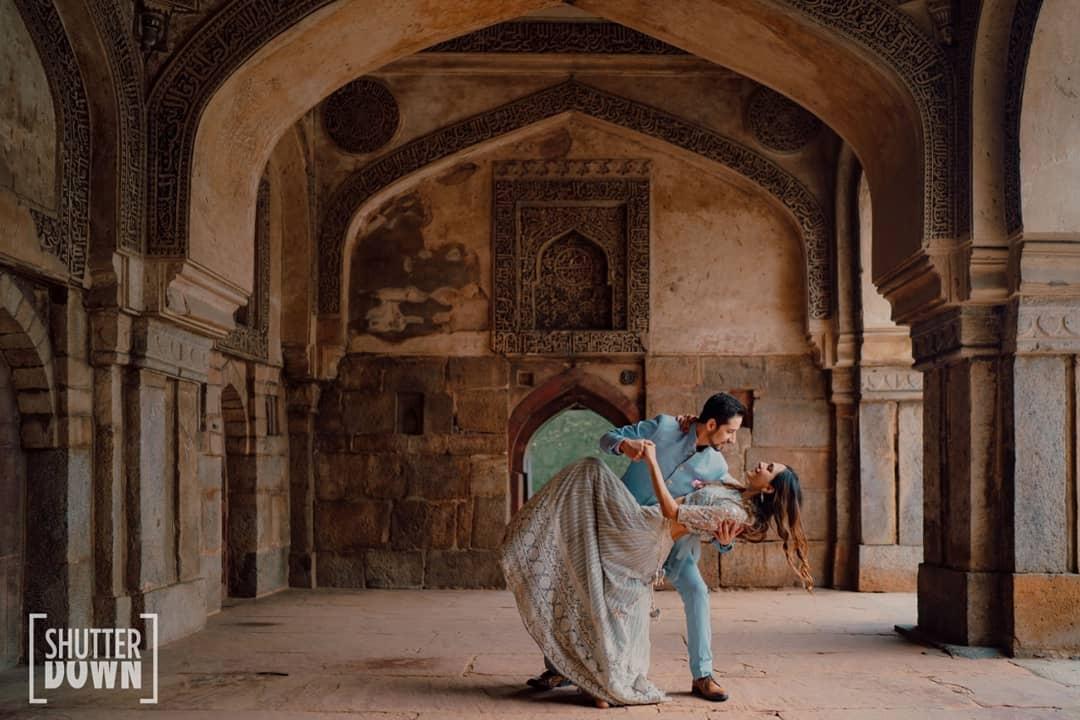 Any Indian latest pre-wedding shoot is incomplete without some Bollywood moves and enactments. Whether it's wearing chiffon saree with the Humayun's tomb at the backdrop, or dancing with your partner in a quintessential Bollywood romantic song...we just can't get enough of our filmy vibes! Let the photographer capture that twirl!
Get chic on a bridge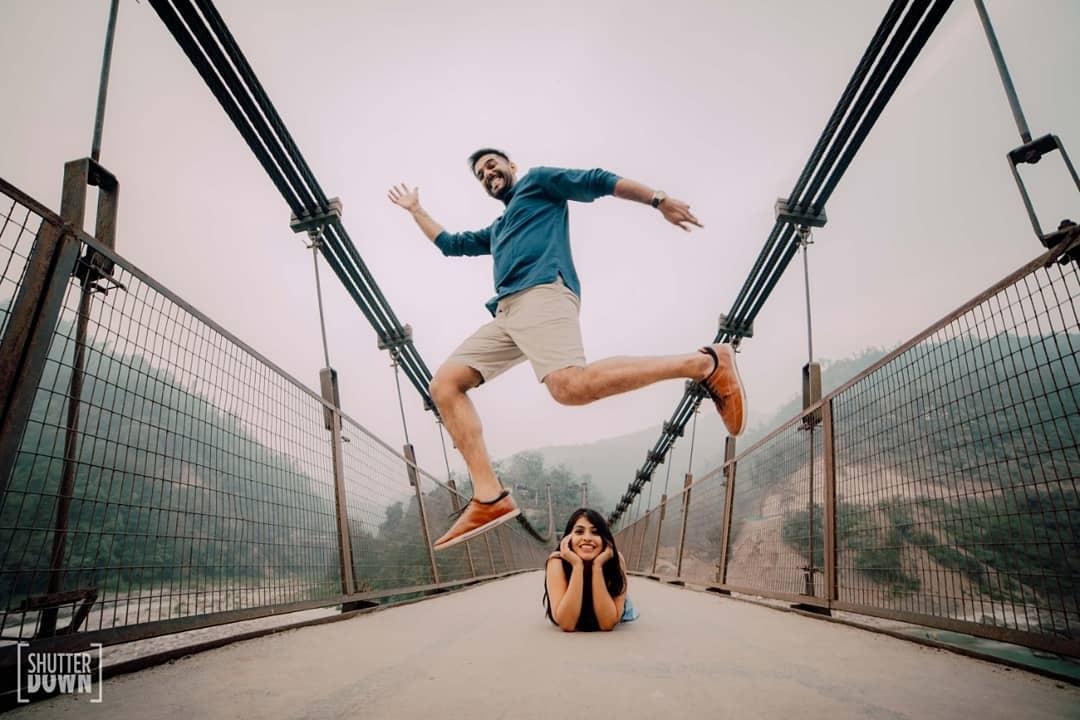 Now if you want to give some chic treatment to your latest pre-wedding shoot, you need to try some stylish poses in swanky outfits, true! But have you tried goofy on a bridge? Share a fun moment in front of the camera. Be genuine with your expressions. Bring out the goof in you and enjoy with your Mr Perfect and let the photographer capture it all.
Explore some street food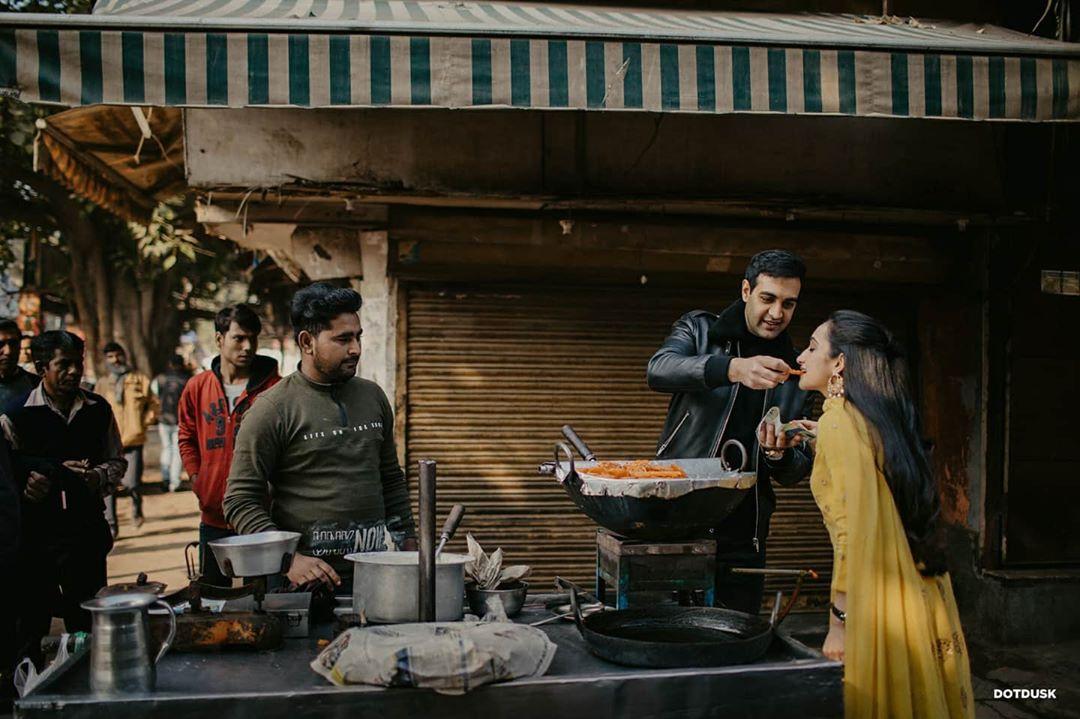 Did you meet your partner for the first time while enjoying your favourite jalebis? Then why not recreate that delicious memory through food? Make your latest pre-wedding shoot unique and nostalgic by revisiting those old Delhi lanes where you both might have fallen in love for the first time. Share some mouth-watering street food while your talented photographer captures some brilliant candid shots for you!
Take the Horse to an Old Town Road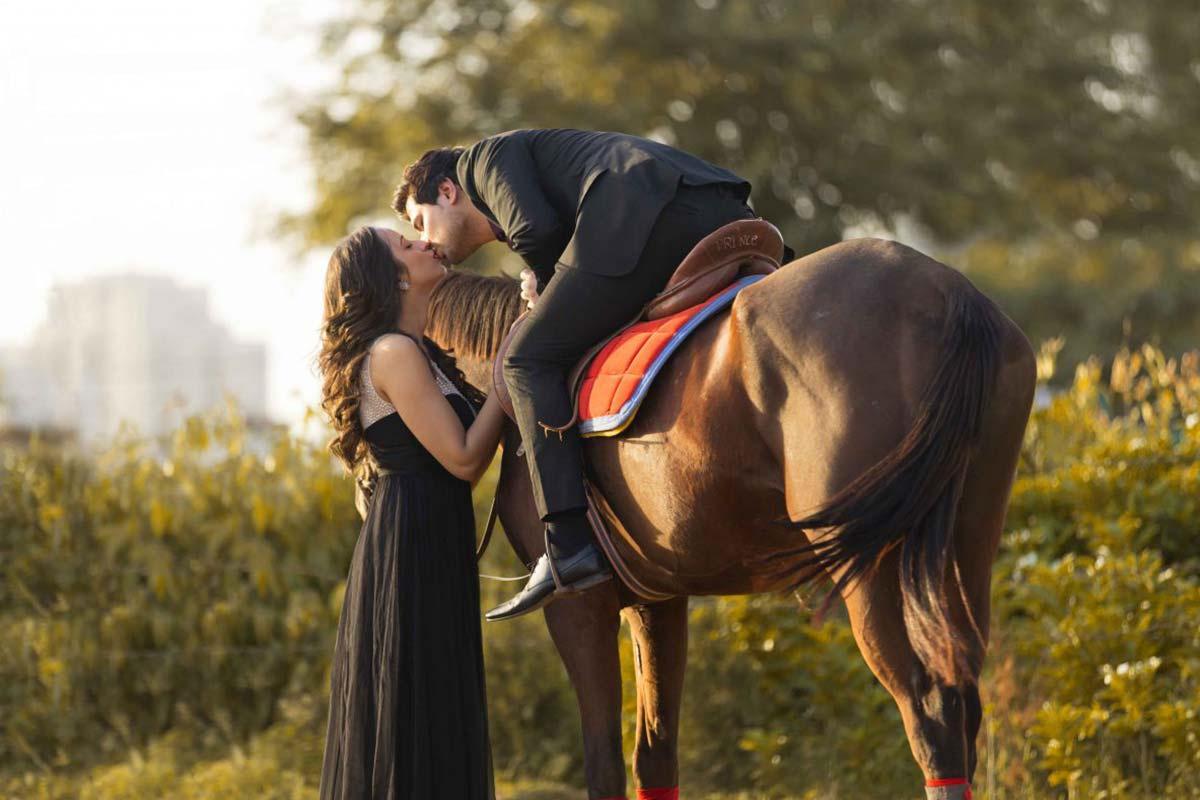 Want to woo your beloved in a true debonair style? We say, incorporate some horses and cowboy vibes in your latest pre-wedding shoot! Saddle on and take your partner on a majestic stallion ride. Enact some cowboy movie scenes and kiss your fiance before galloping to the horizon! Now isn't that romantic? Wear smart casuals and high boots and a flowy evening gown!
Hop-On The Love Boat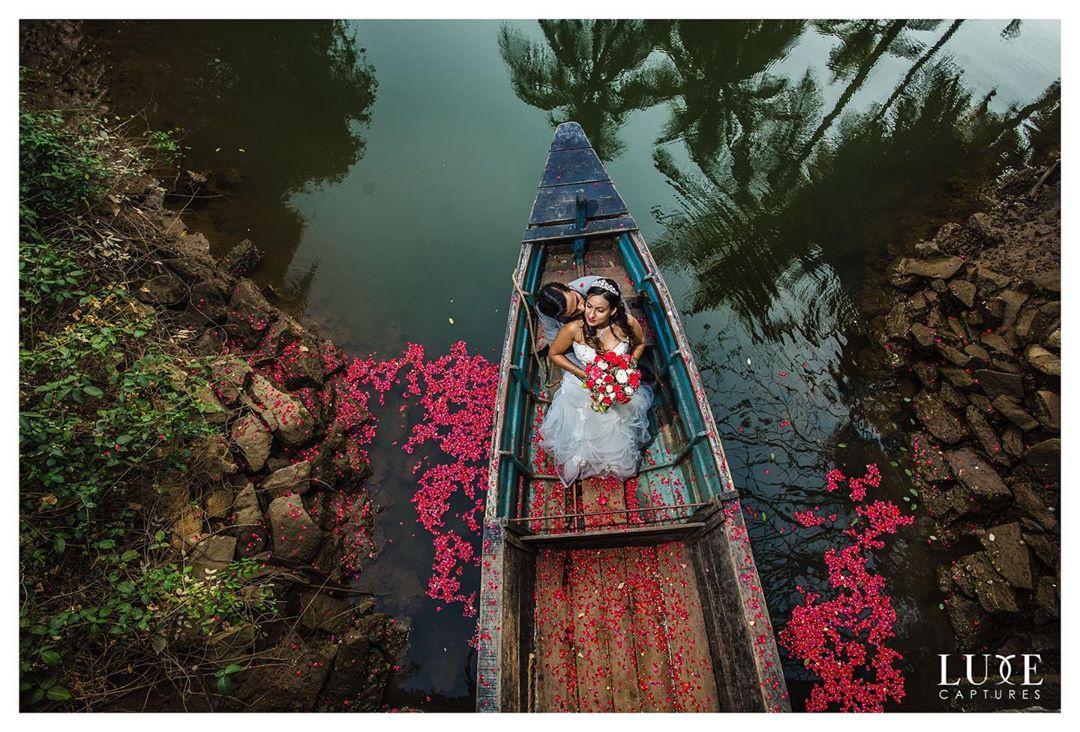 Image Courtesy: Luxe Captures
One of the latest pre-wedding shoot poses that can be considered as the most romantic one is on a boat! The top shot of the couple in a cosy intimate pose on a boat over pristine water can't really go wrong! "Accessorise" the lake with flower petals in contrasting colour amidst rocks and you got yourself a brilliant shot! Try on some gorgeous Indian gowns in bright colours to complete the frame.
Love On The Wheels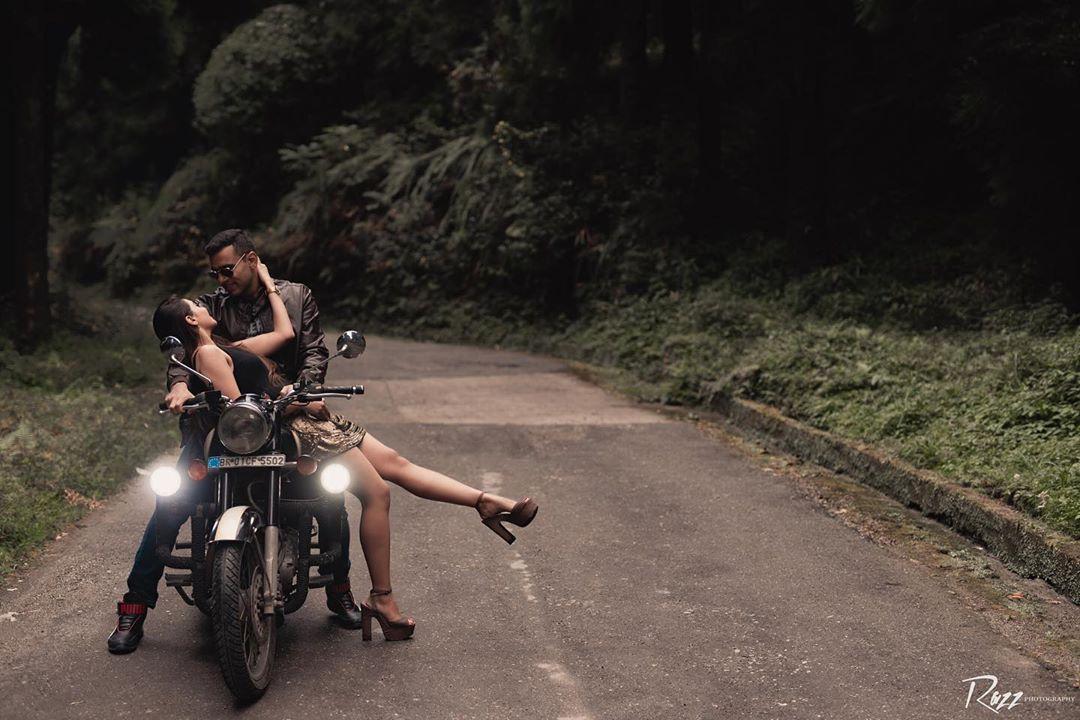 Got an adventurous streak? Ride on the Royal Enfield while getting your latest pre-wedding shoot done in style! Whether you're riding the machine or simply using it as a prop, the mere presence of the chic bike will totally glamourise your couple photo. Choose a stunning backdrop to give your photoshoot a theme. Like forest photo-shoot or mountains or beach...whichever backdrop you pick, make sure to dress in smart casuals with high boots and perhaps, matching jackets & denim pants!
Get Candid & Cute!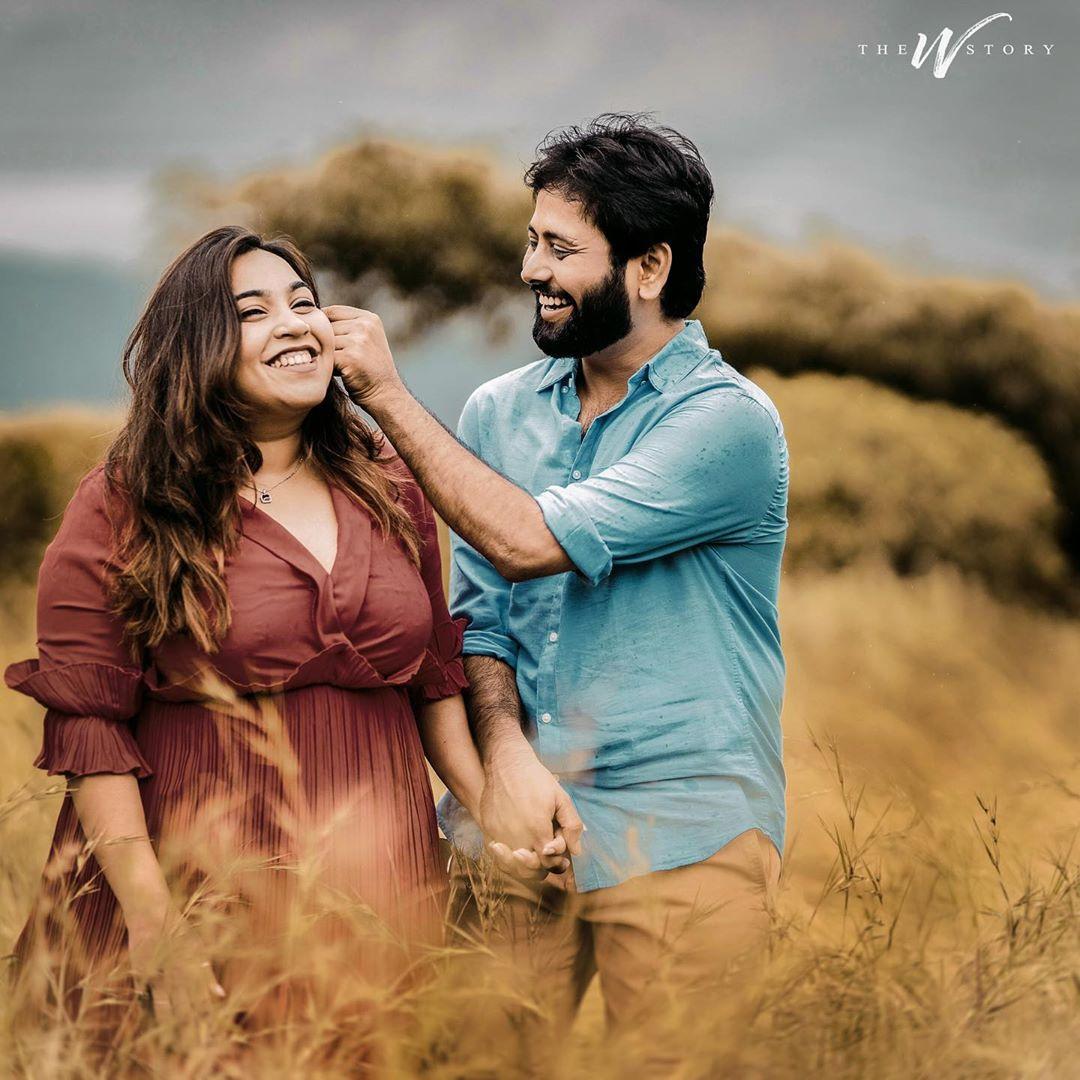 Because sometimes, just being yourselves is the best key to attain a stunning photo! One of the fool-proof latest pre-wedding shoot ideas is to be as candid as you can be. When you forget there's a camera following you, enjoy your partner's company, cuddle, share jokes together- there is no way you won't get brilliant results. The grasslands at the backdrop only make things better for you! Hold hands and talk about your first date or maybe about the silly ways you used to propose her. Make each other laugh naturally to make it work! Flaunt some beautiful evening gowns or western dresses in maroon or teal to make it perfect!
Sensuous Moments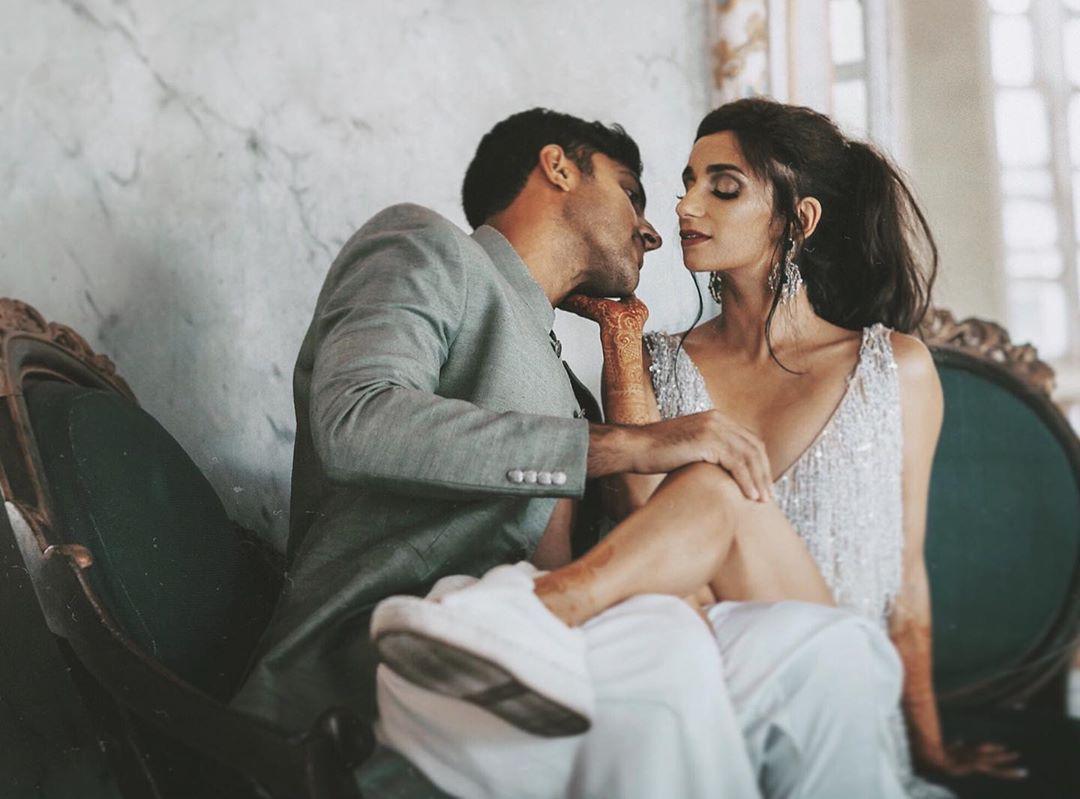 Image Courtesy: Shades Photography by Ashwin M.
Take inspiration from this couple for an indoor photoshoot. If you're up for it, give some sensual vibes to your latest pre-wedding shoot by getting closer to each other. Share your intimacy through the pictures to make your pre-wedding photos look hot and alive. Dress up in your swanky white gown and dark suit with wine glasses, strawberries and red flowers as props. We promise you'll be awestruck when you see the final outcome!
Grand Giant Wheel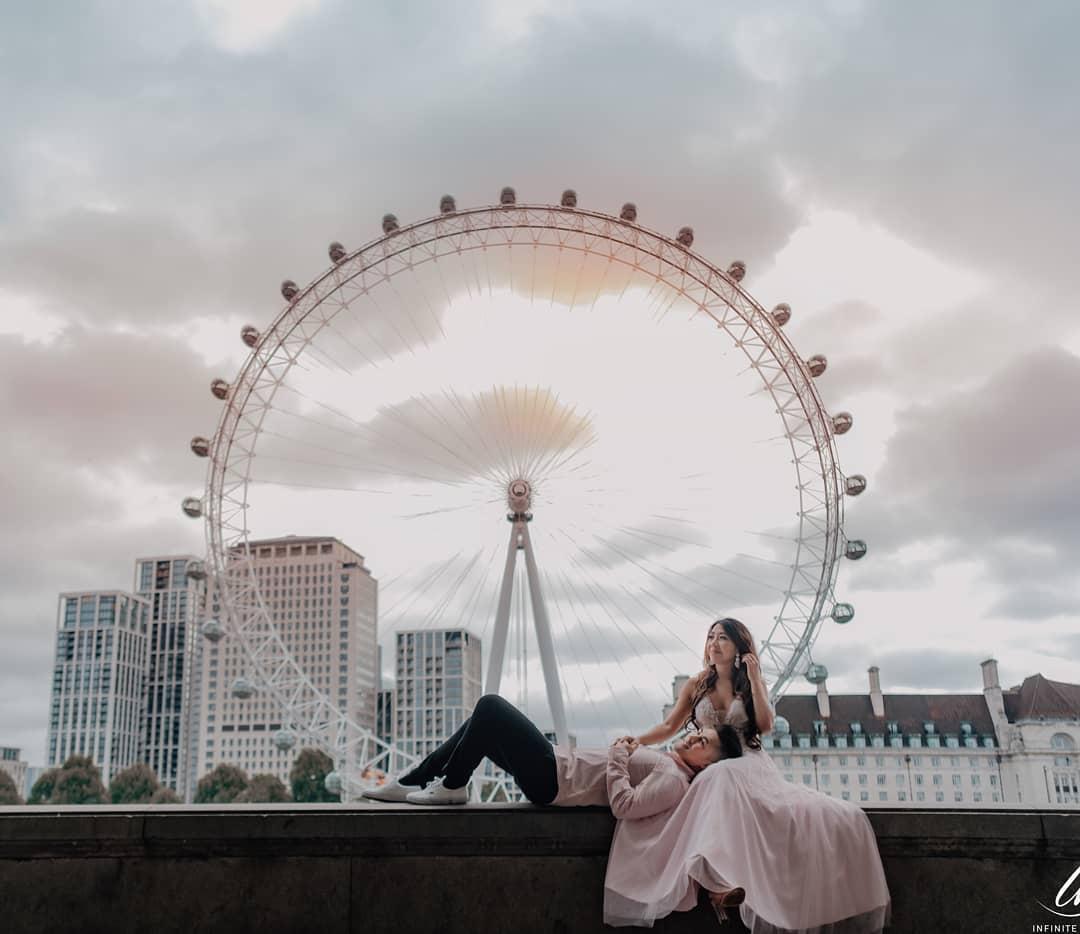 Getitng clicked in front of a giant wheel is one of the latest pre-wedding shoot ideas couples are opting for. The grandeur of the ferris wheel adds an element of grace with beauty to your photographs. Try cute or quirky poses in front of the wheel in soft shade outfits to complete the beautiful frame. Pink flowy dresses, party wear in soft pastels or summer frocks...accessories with floral tiaras or subtle pearl jewellery pieces to go with the ambience.
Romance By The Sea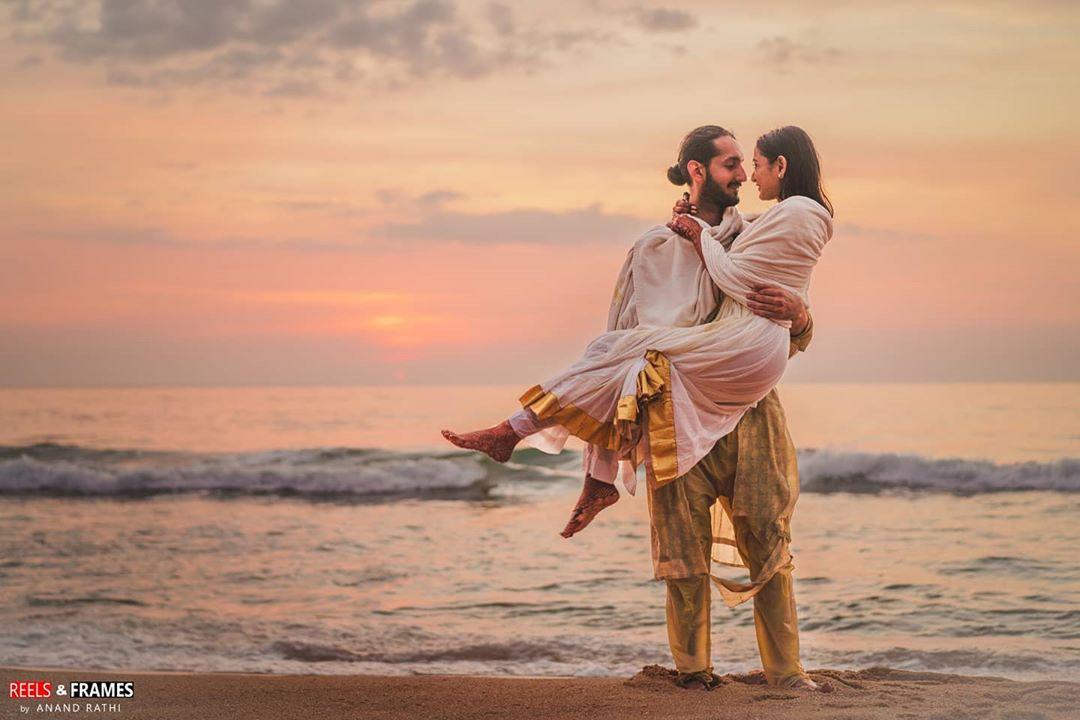 When you're shooting with sea background, you won't need to worry much about your latest pre-wedding shoot! Shoot right before the dusk for some golden sunset backdrops. Or after the sunset for stunning silhouettes. The grainy sands and the mighty sea waves will simply do all the work for your photographs! Dance together, do the dip or lift her up...showcase your own dance moves to make the most of this magical location. You could either wear sarongs, floral dresses, skirts or go traditional by draping a chiffon saree or a fusion pre-stitched saree for some extra punch!
Recreate DDLJ Moments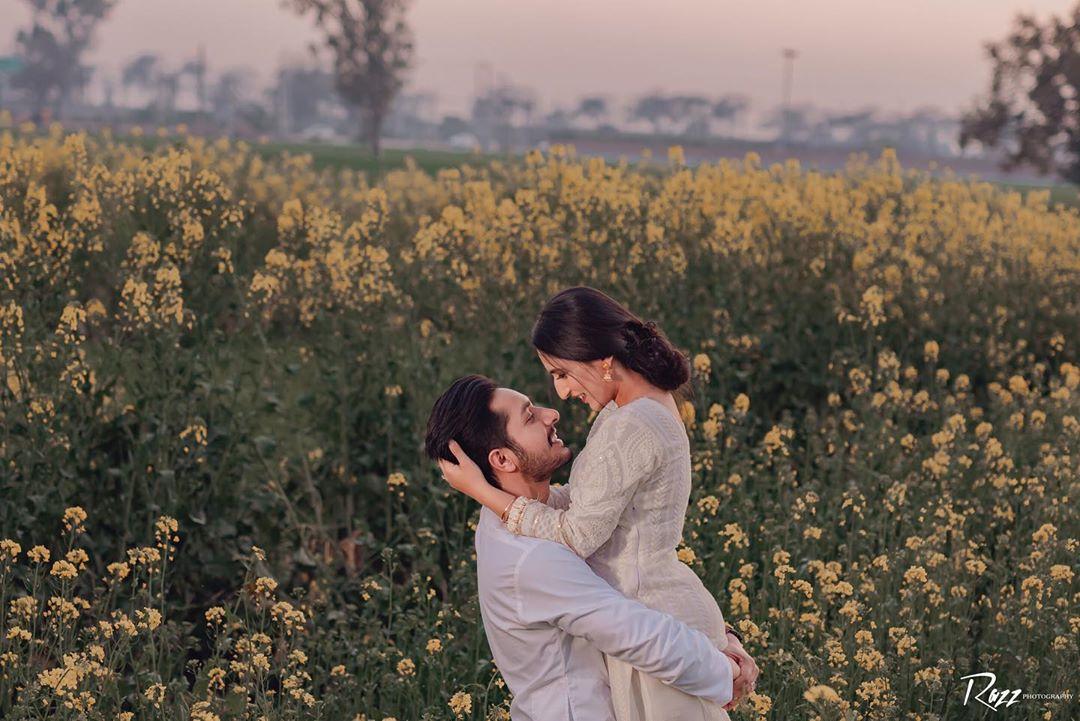 Want to recreate that mustard field scene from DDLJ for your latest pre-wedding shoot? All you need to do is, dress in white salwar kameez and a black leather jacket and just let the Bollywood vibes lead your way! This iconic 90's Bollywood song sequence is still very much in fashion whenever it comes to couple shoot. So if you too are a fan of the era and its romance, why not just go for it! This one can hardly ever go wrong!
The Serene Deserts Of Dubai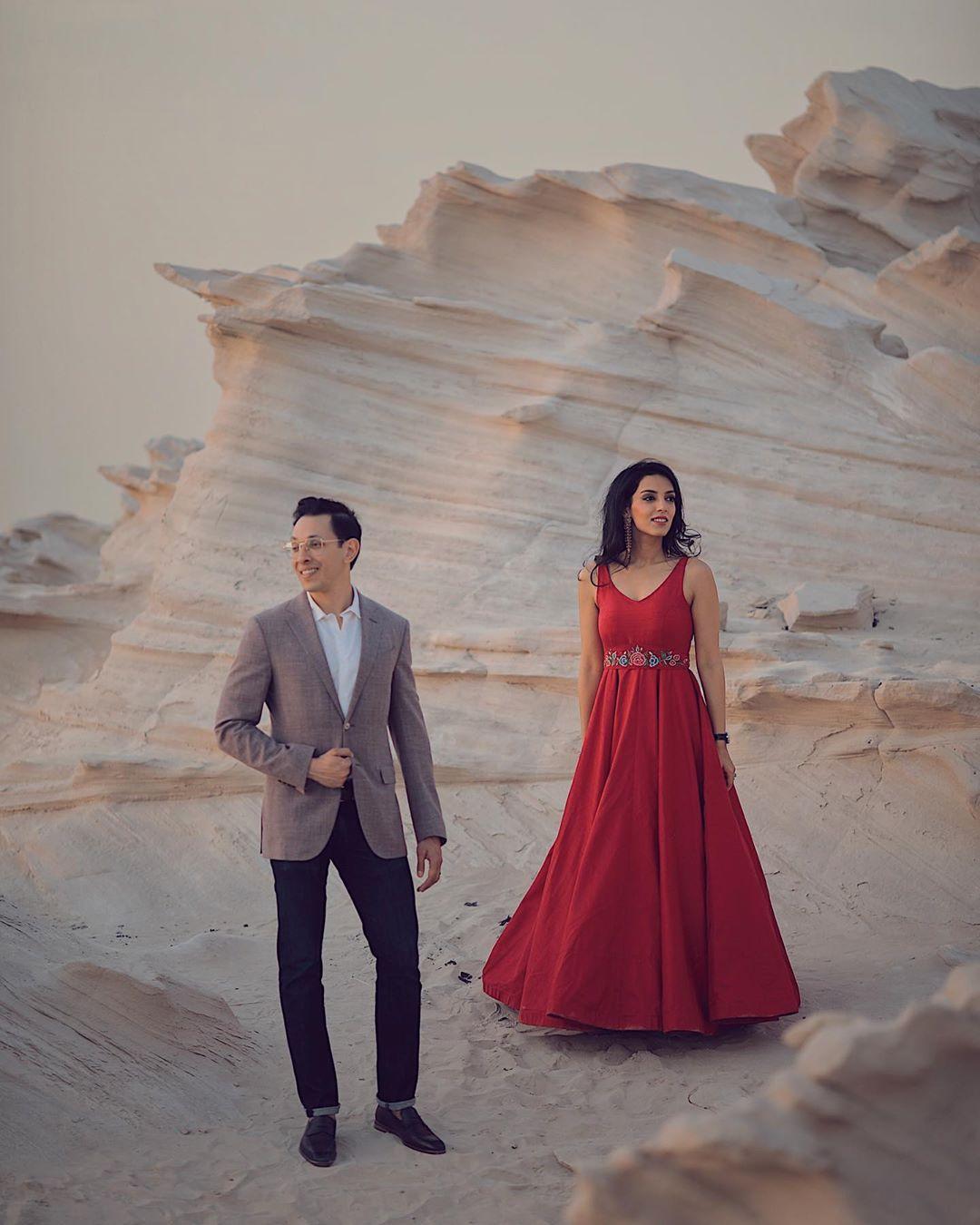 Enjoy the grand deserts of Dubai while you get your latest pre-wedding shoot done there. The vastness of the brown desert naturally makes for a gorgeous background for your pictures. Make sure to wear bight colour outfits to bring out the contrasts. A blood red gown or vibrant shades of blue dresses would do wonders with a desert background.
By The Mountain Lakeside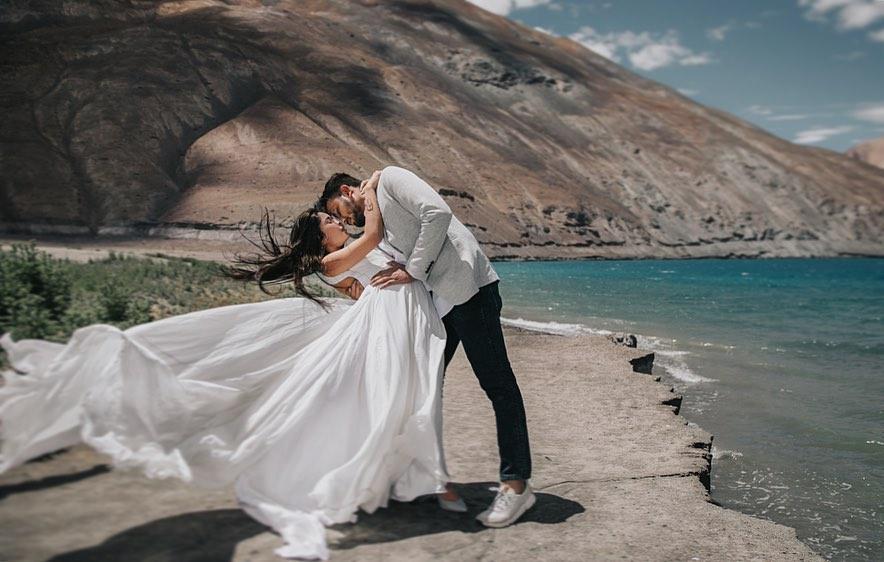 Image Courtesy: Shades Photography by Ashwin M.
Imagine it's just you and your beloved with the majestic mountains at the backdrop and a pristine lake by your side! Wouldn't that be a breathtaking shot? If it's a brown rocky mountain, then go for a contrasting flowy white dress or you could also wear a golden gown. In case of lush green mountains, stick with a white gown for the best frame. The lake would only enhance the beauty of the overall composition to give you a stellar pre-wedding photo!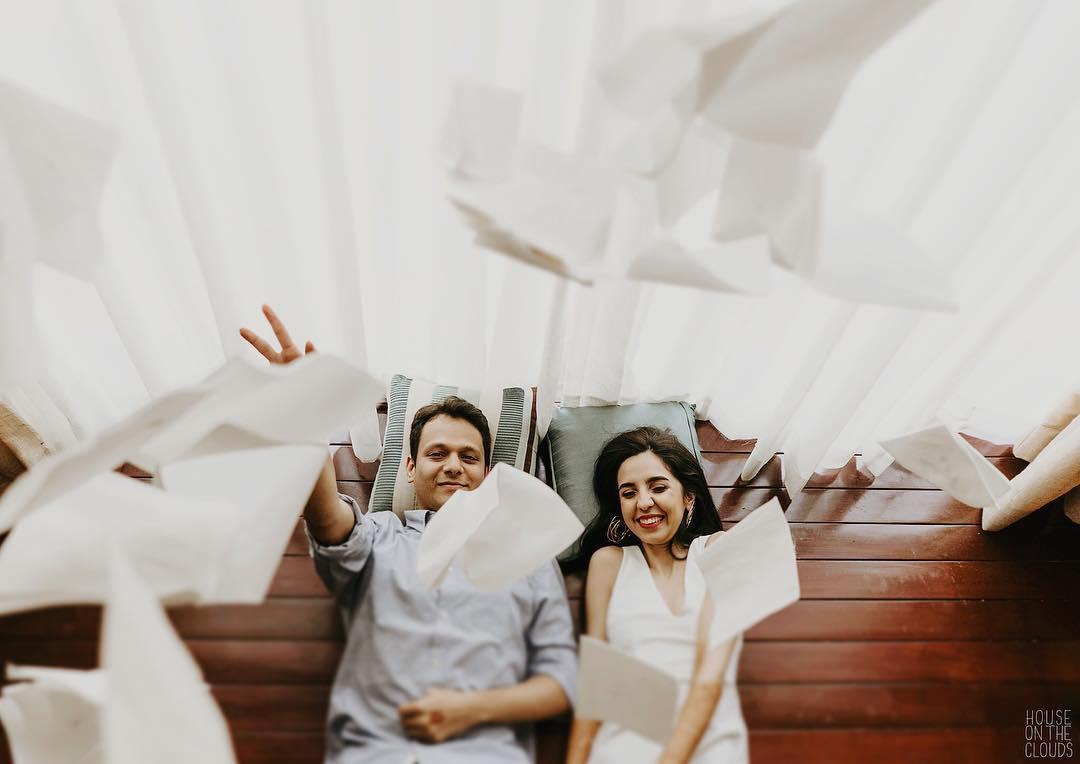 Image Courtesy: House on The Clouds
Use interesting props for your latest pre-wedding shoot. If you're doing an outdoor shoot, make sure you're well protected with sunblock and moisturiser. Forget the camera and be yourself for best photography results. Talk, smile, share jokes with your partner. Even if you're posing, try the carefully careless look to make it look candid! Choose your pre-wedding outfits keeping the backdrops in mind. Pick a theme and go with a pattern. Visit your proposal location or first date spots for experiencing some nostalgic moments. Trust your photographer and enjoy the few stress-free days with your partner away from all the wedding woes!
Haven't picked your pre-wedding photographer yet? Check out our vendors' list for some great deals!