18 Wedding Photo Poses You Need To Recreate For Your Big Day!
Team bride vs Team groom, who does wedding photo poses better? We know, everyone has an opinion on that. So here are some examples for you to make a call.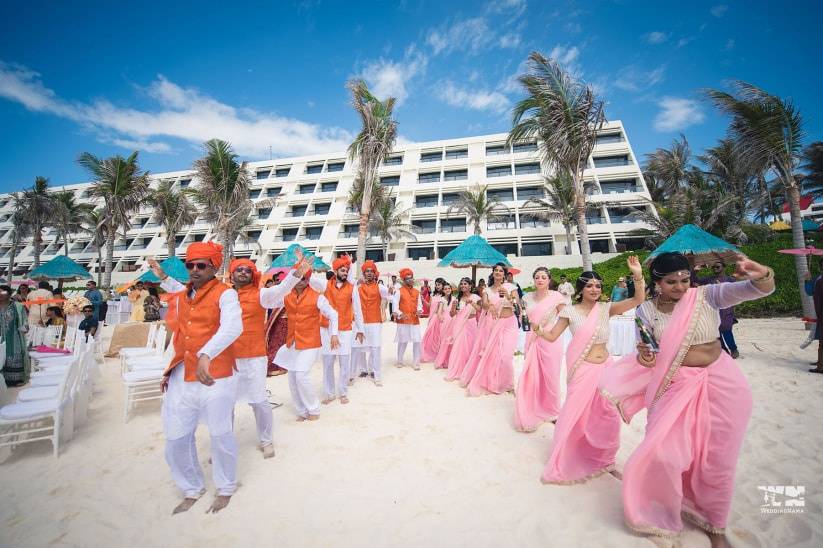 We all have seen a myriad of pose suggestions for the bride and groom - how they should research some for their pre-wedding shoot, for the wedding, the couple poses, solo poses and so on. But what about the clan that is always their moral support? We're talking about team bride and team groom. They also need their share of appreciation by your wedding photographer. Make some funky poses with your squad the highlight of your wedding album. Today, we showcase some wedding photo poses from real weddings doing the same.
Team Bride
1. One Must-have Bachelorette Picture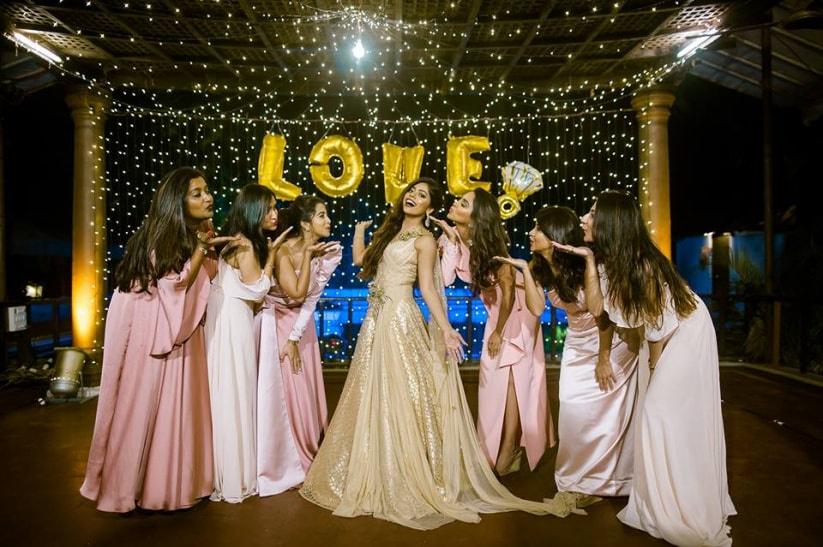 This photo instantly brings a bachelorette party to our minds. Elegant gowns, bridesmaids surrounding the bride and blowing kisses make it one of those wedding photo poses which show the bride being pampered. After all, that is the entire reason for throwing her a bachelorette party, to get her mind off the wedding planning chaos by pampering her with gifts, attention and more.
2. One with the Photobooth

Grab your girls and have fun with the photobooth at the ceremony. Look at all of them here, posing by making a heart with their hands standing next to each other. You can do something similar with your bride gang to amp up the funk.
3. One While Waiting to Loot the Groom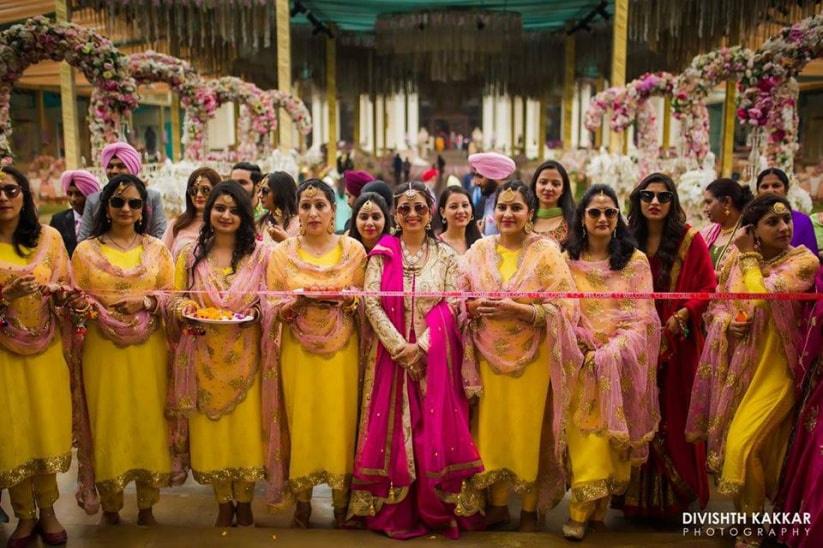 While all your girlfriends and sisters are waiting to welcome the groom at the entrance of the venue, ask the photographer to capture all the innocence and mischief they carry in those moments. Make sure Dwar Rokai becomes their time to shine in your wedding pictures.
4. One While Helping the Bride Get Ready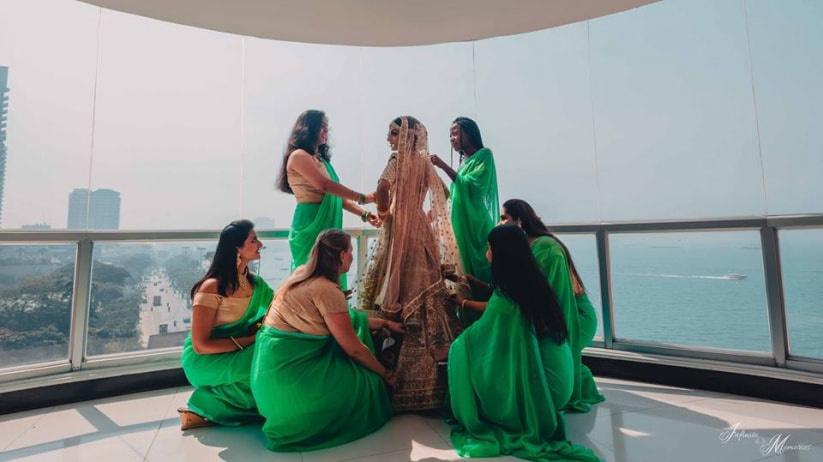 They know exactly how to be there for you, their best friend! Reciprocate that warmth by getting keeping those efforts as a cherished memory in your wedding pictures.
5. One While Cheering on the Star of the Day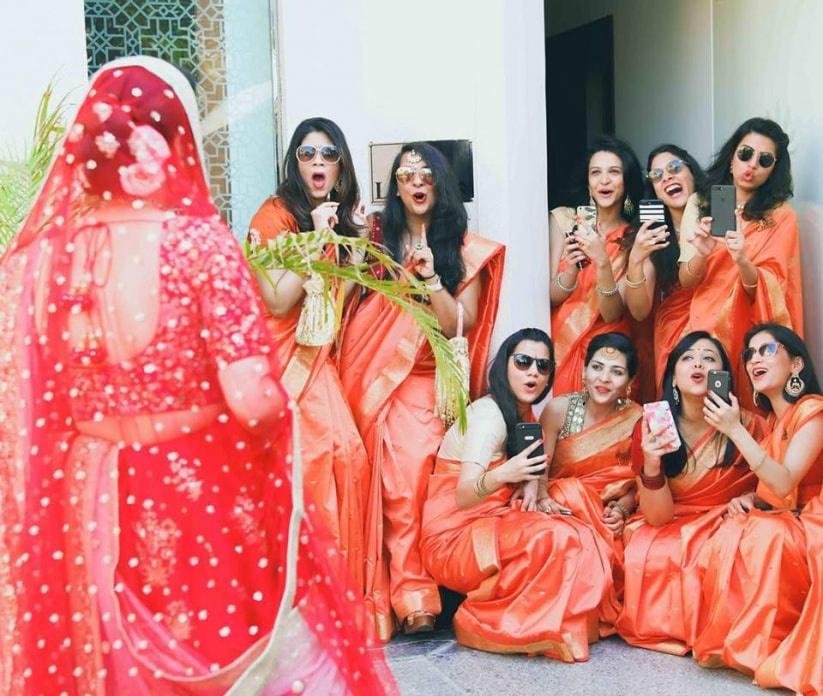 When the bride's all set, what do the bridesmaids do? Cheer her on! This can be one your of your wedding photo poses to show how much your squad loves you.
6. One with the Superstar Ladies of the House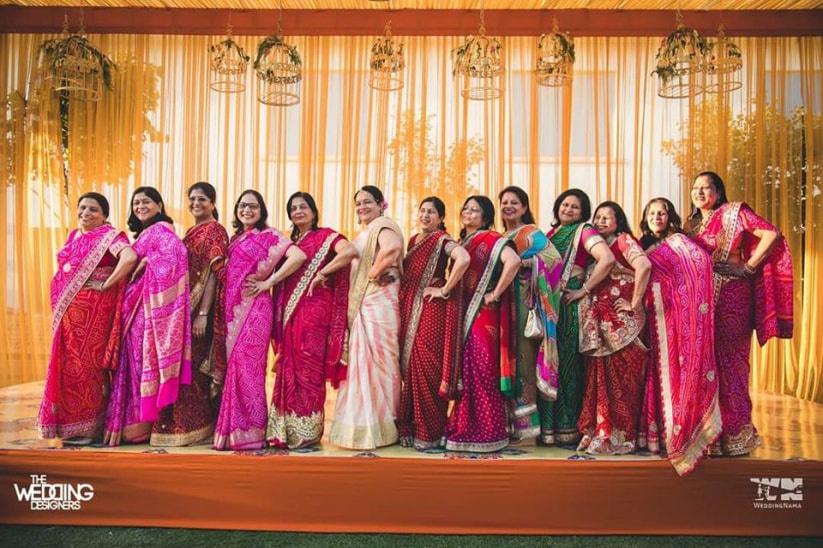 We know it's your day, but it's one of the most important days of someone else's life as well. Your parents! Get your mum, Maasi, Chachi and all other ladies together for an epic shoot with some classic wedding photo poses. Make them the superstars they very much deserve to be.
7. And the Regal Arrival Moment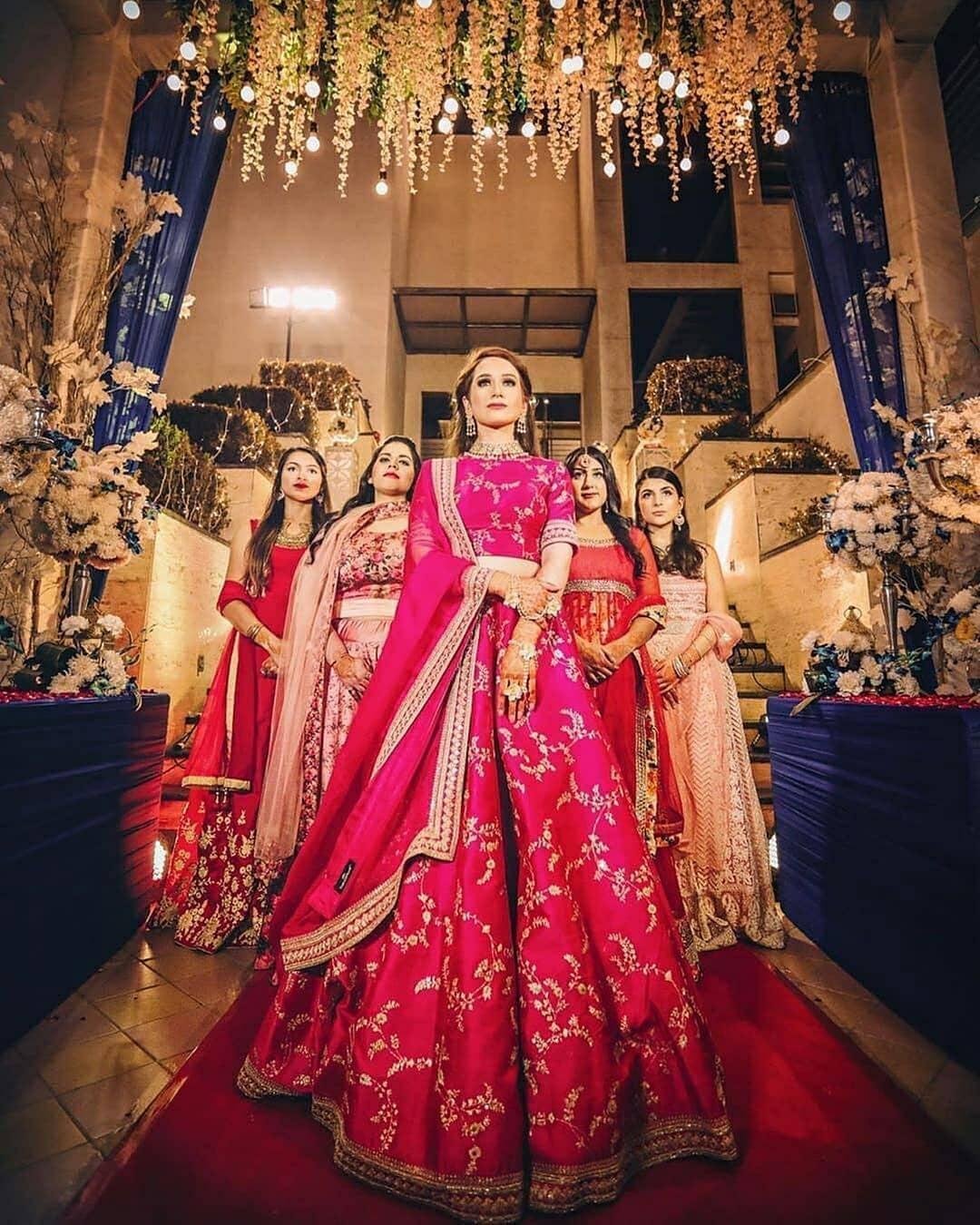 It's your moment. And when you arrive, the eyes better be on you. Get clicked from the ground for spectacular Maharani feels for this set of wedding photo poses with your #bridetribe and #bridesquad. Get the junta to note that you've come, especially on your social feed and wedding album.
Team Groom
1. One with the 'Sawari' of the Groom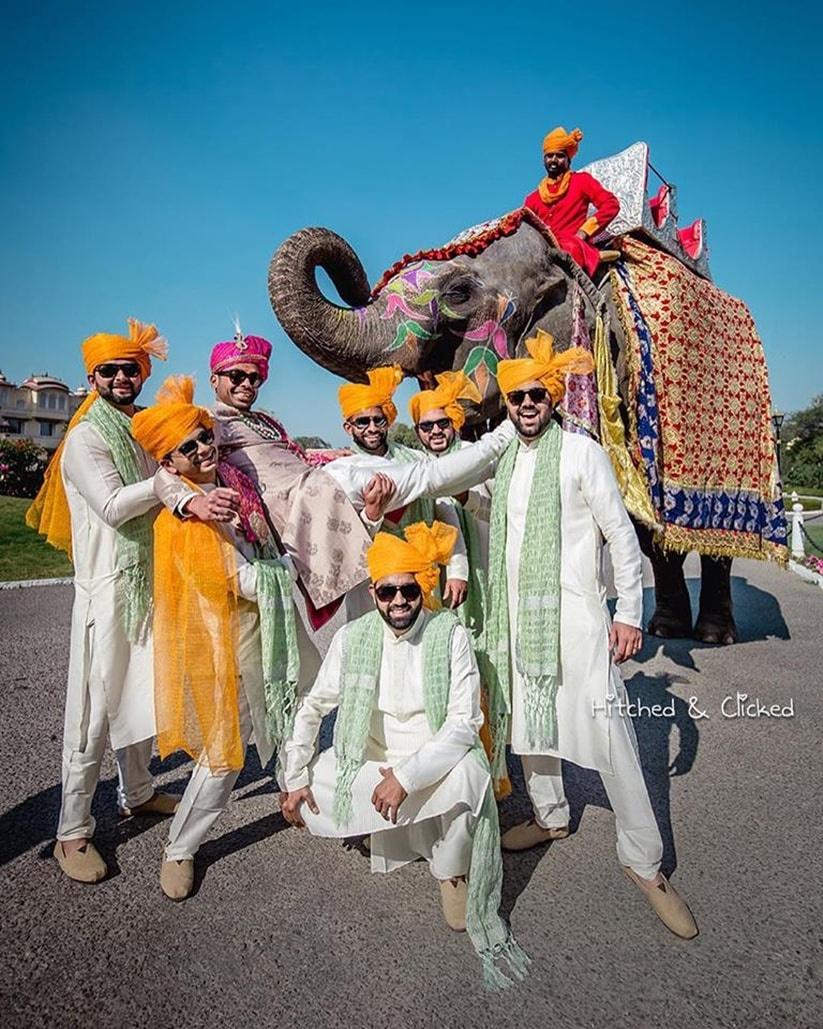 Every groom wants to make a royal entrance into his wedding, whether in a buggy or on an elephant. But it doesn't match the swag of an entry on the shoulders of his groomsmen. Capture these wedding photo poses in their full glory, even if that means more than a couple of retakes until you get it right.
2. And Then One with Sawari Swag Feels!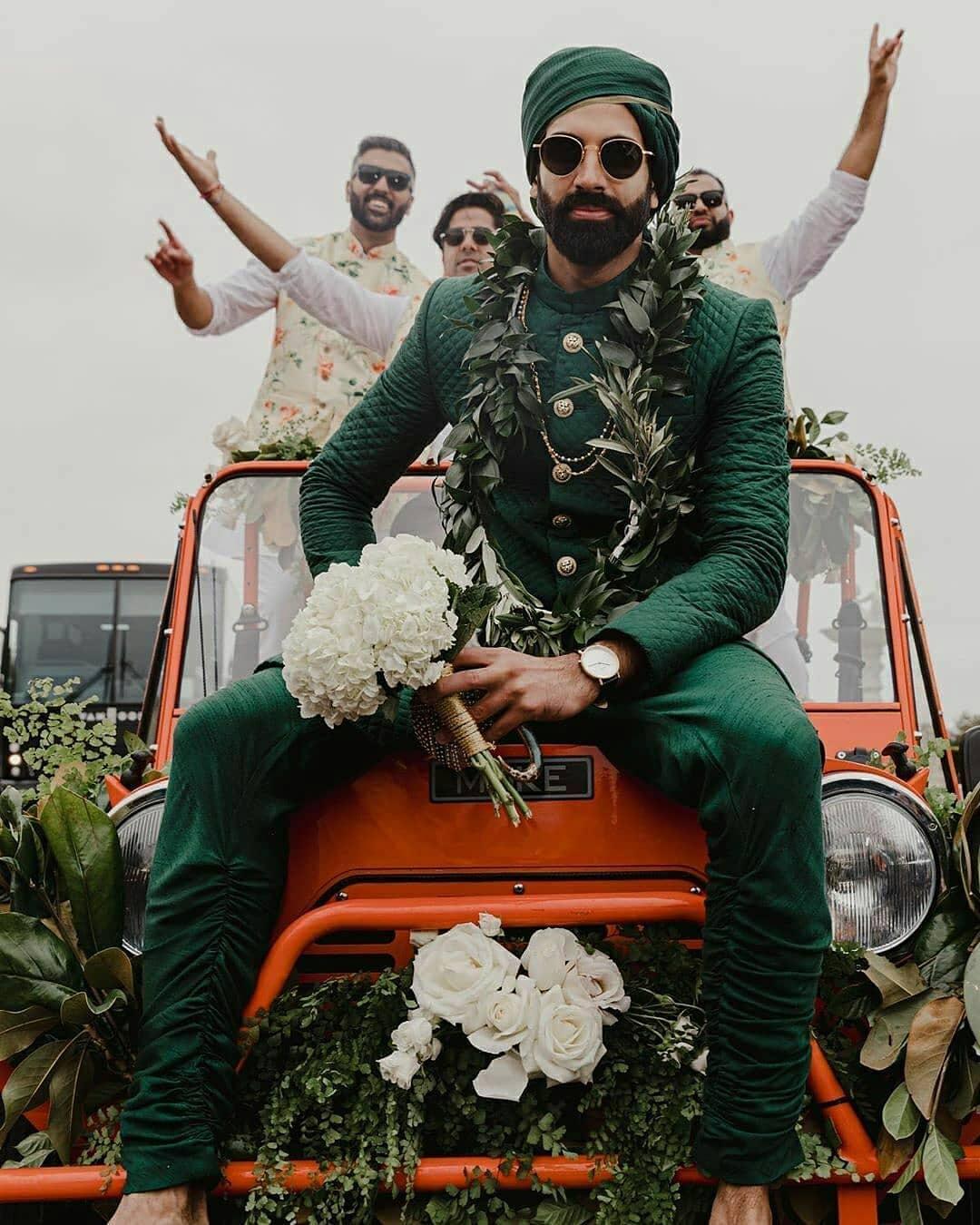 Image courtesy: Sabyasachi on Instagram
Keen on being high on the Bhai mode? Bhai has arrived and that's what this arrival on a bonnet top has to say, especially with the groomsmen paying standing ovation to him. Such swag wedding photo poses make one helluva impression on your feed, especially as a throwback to the big day.
3. One with the Clan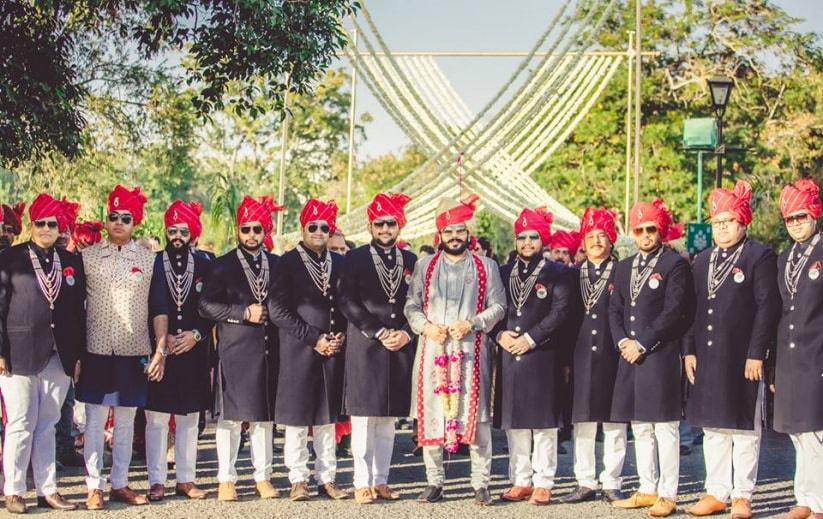 Image courtesy - Shades Photography by Ashwin M.
Get your dad, Chacha, cousins and everyone together for a handsome group photo. When the clan looks so royal, such wedding photo poses become a must-have for any wedding album.
4. One with On-Point Swag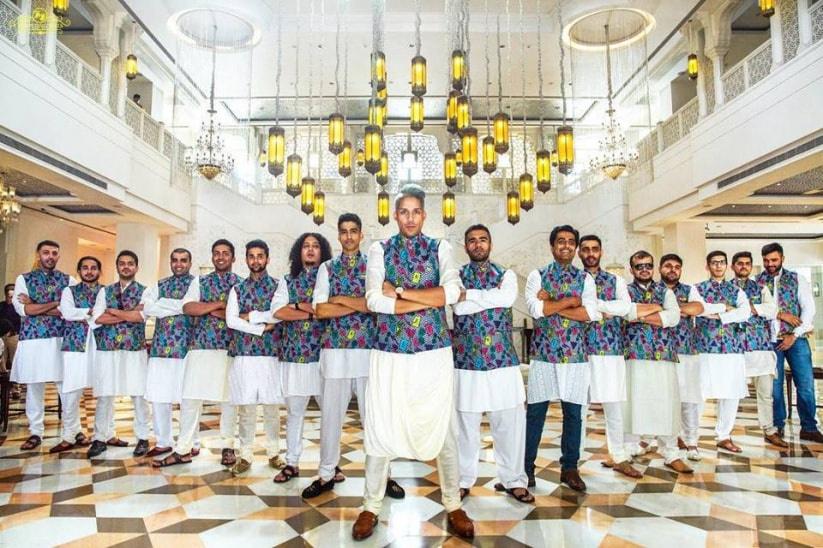 A dapper team groom such as this deserves a photoshoot of their own. You won't even need to research special wedding photo poses, just making them stand in a 'V' does the trick.
5. One in the Mundus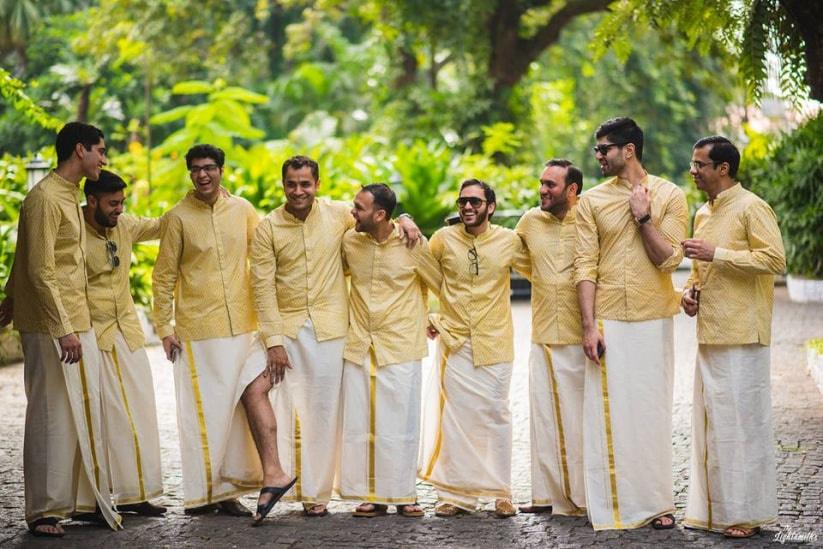 If you are having a Kerala wedding and your groomsmen have decided to sport Mundu, make sure you freeze this memory in time. Ditch wedding photo poses and ask your photographer to click candid shots for the ultimate quirky pictures.
6. One with the Groom Getting Ready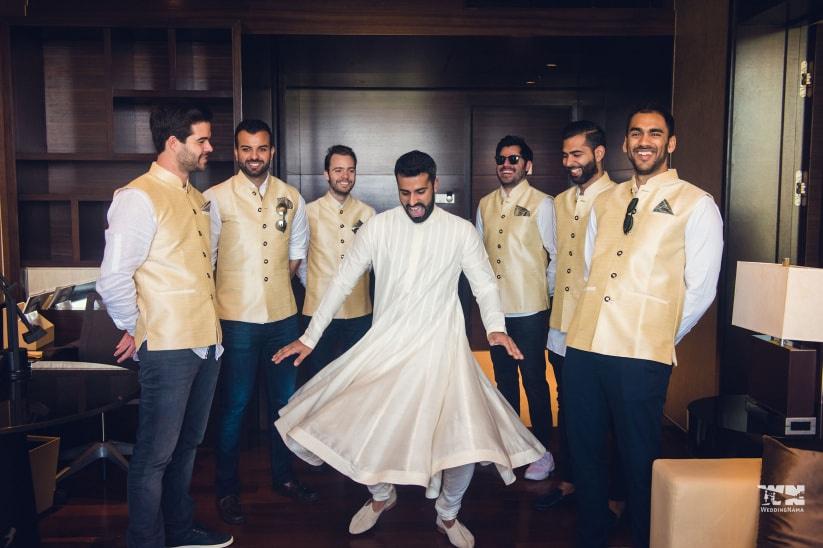 Bride's getting ready shots can be seen at any wedding but getting ready shots of the groom are a rare sight. Dig up some real wedding photo poses to get some precious gems such as the one above.
7. One for the Happy Team Groom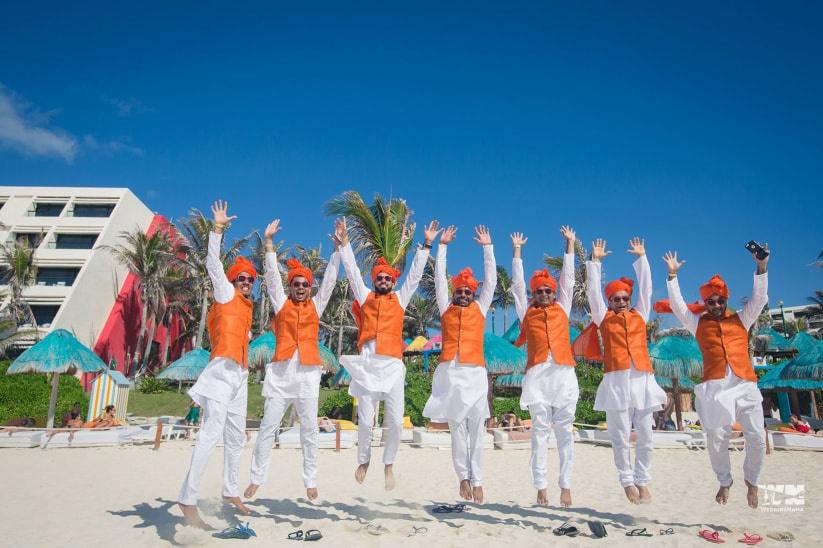 Turn the excitement of your team groom into one of these wedding photos poses. Let the emotions flow and get some spectacular shots such as this one.
The Lovely Couple
1. One for the Candid Moment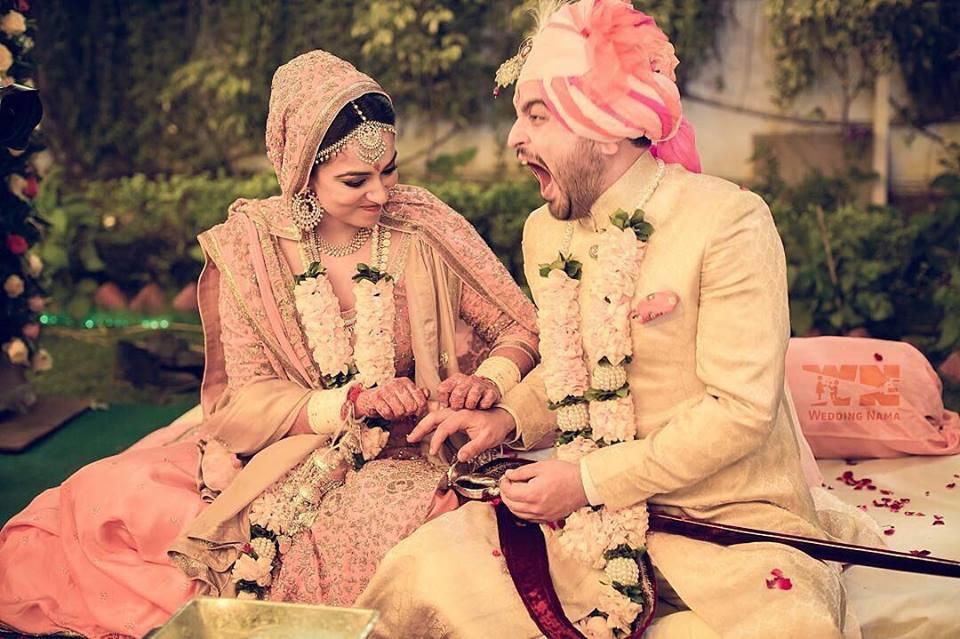 There might be times during the wedding where the bride and groom steal some moments for themselves and capturing them in a candid manner would surely result in beautiful memories for life. Be it them talking or having a moment, it would capture a story which you can tell and retell for the year to come.
2. One for a Personal Moment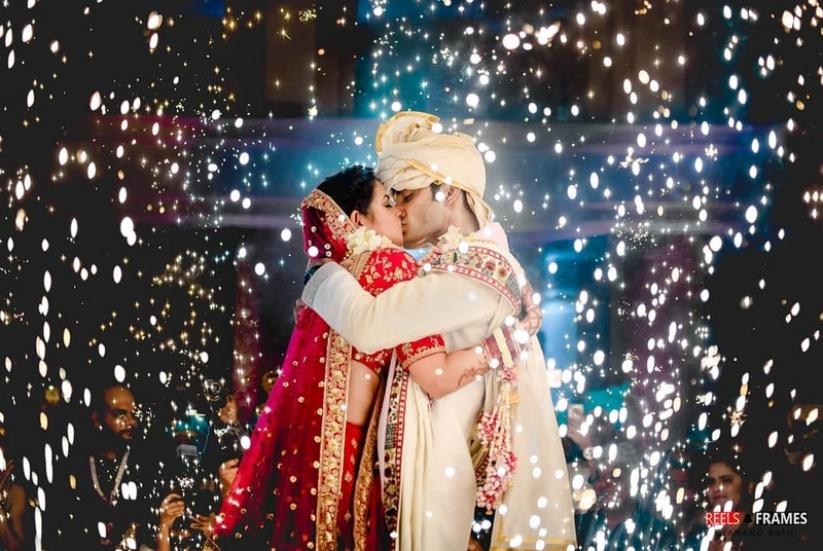 In your wedding album, you would certainly have a lot of ideas and poses that you wish to try. But if you want to have a truly romantic moment, this is one of the wedding photo poses that you should try. It would be a memory that would last a lifetime and if some sparkles and fireworks accompany it, then it would be a memory worth sharing.
3. One While You Dance Your Shoes Off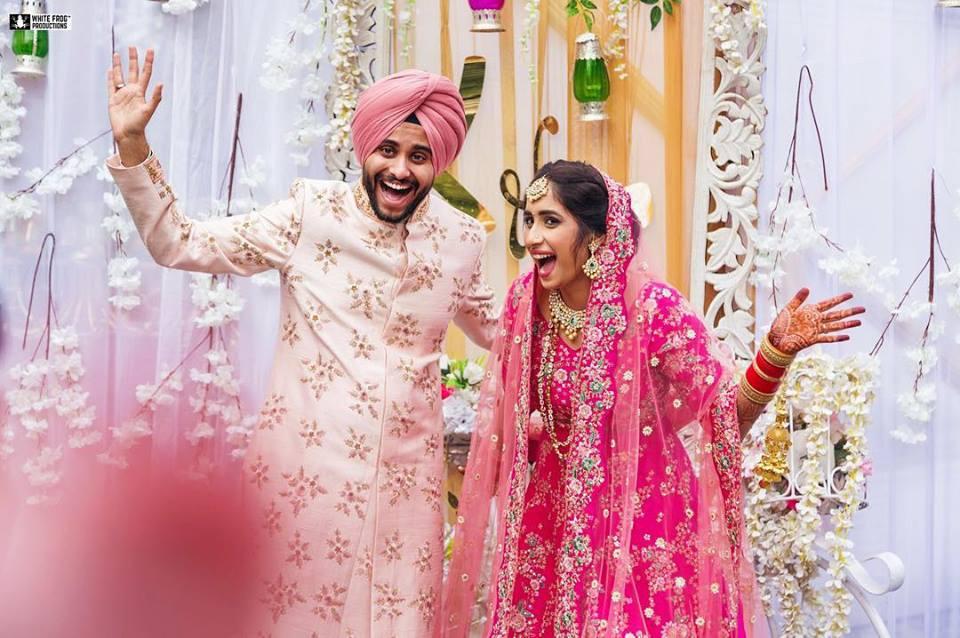 It would be one of the most fun captures in your wedding photo poses where can be seen having fun and enjoying your festivities. It can be candid photography but you can always provide a fun dancing pose for more drama in your photos.
4. And The One That's Pure Pyaar, Pyaar, Pyaar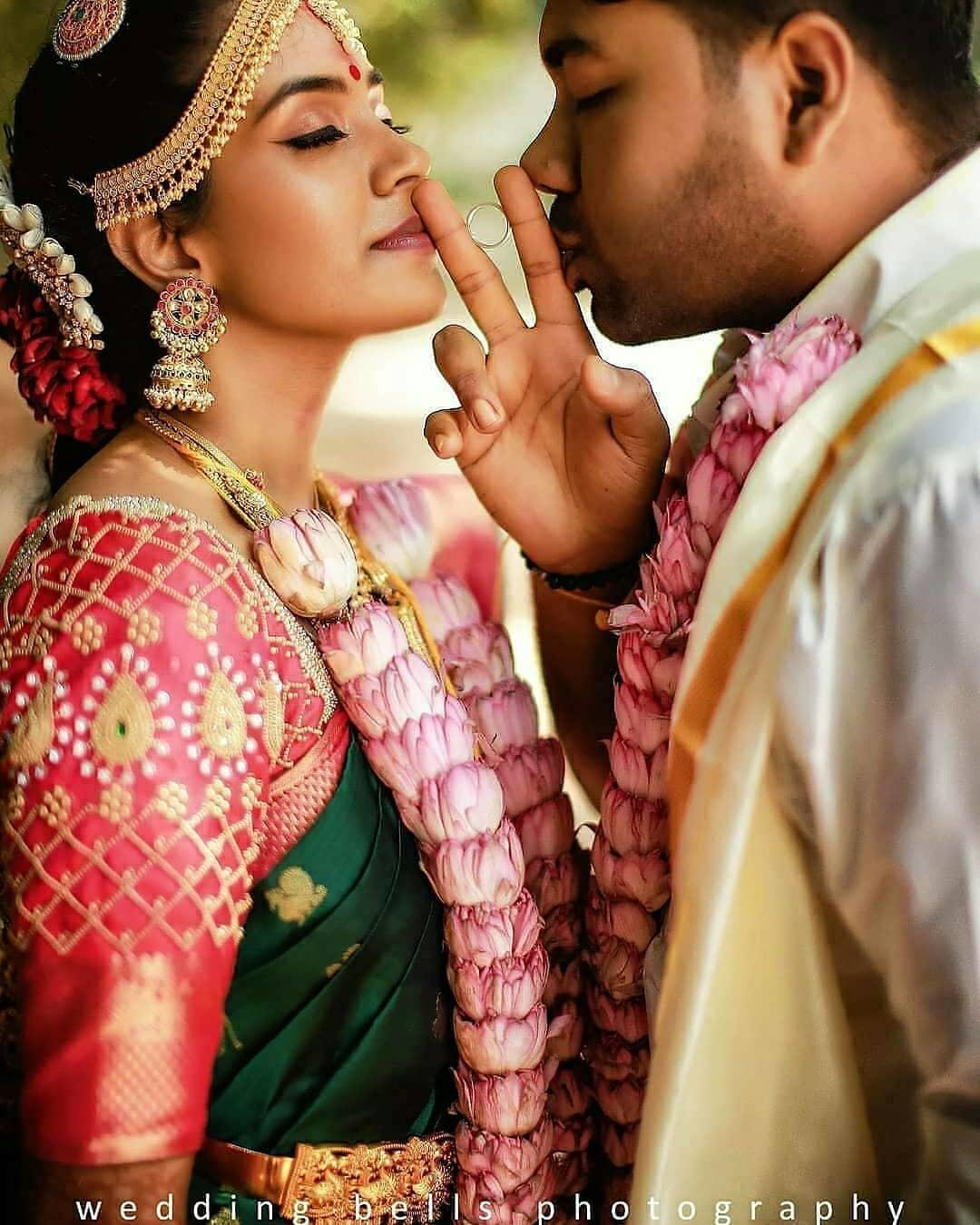 Mark your passionate and pure emotions as part of the stellar wedding photo poses that you're bound to get clicked for your wedding day. Choose an emotion and get into a discussion with your photographer - you need to be very, very comfortable with them as prying eyes into such moments for you and your beloved.
And once you're done, retain these as that one-bedroom portrait you would want to look at for years.
So, whose wedding photo poses were better? Team bride or team groom? Or the couple that is gonna shine the brightest? While that is always an ongoing debate, we hope you got a number of ideas to pull off with your squad and the one you so love.
Got ample inspiration for your wedding photo poses or do you need more? Tell us in the comments below.