10 Creative Ways to Nail Your Wedding Pictures with the Correct Dose of Romance
Before you get all busy with your wedding preparations, here are 9 awesome wedding pictures you need to check out. Pick the best ones out of these trending ideas and don't forget to get them clicked on your big day.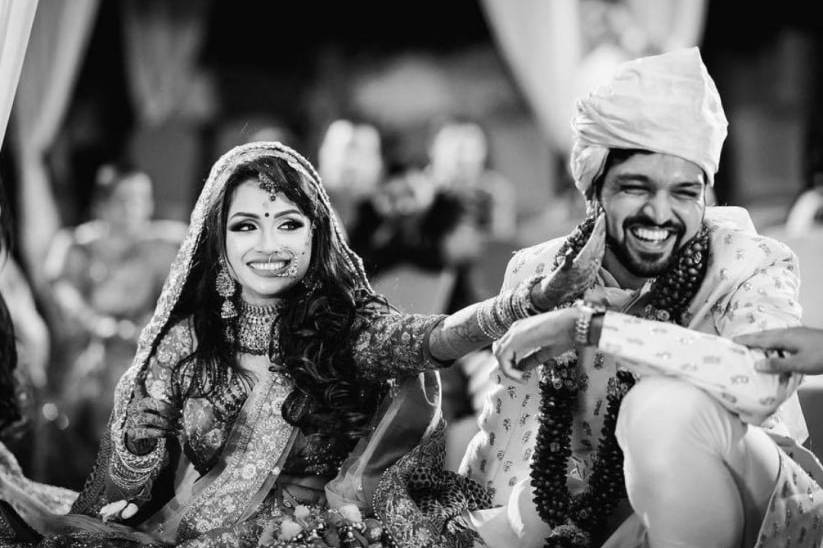 Once the wedding is over, the only thing that remains with you are the wedding pictures of the entire ceremony. It's extremely important to get a good photographer for your big day and even more crucial to get memorable and unique pictures clicked. If you're wondering what are the latest trending ideas that couples have been using these days, check out these 9 wedding pictures and don't forget to try them at your wedding. Wedding pictures are one of the most looked up to spectacle at any wedding. Who wouldn't want to freeze the epic memories through the sands of times clicking as many wedding pictures as humanly possible? No wonder it is a raging trend to source for a wedding photographer, one who is the best from the lot and trust him with what happens to be the most important occasion of any person's life.
Epic Ideas for Wedding Pictures
1. Solo Bridal Entry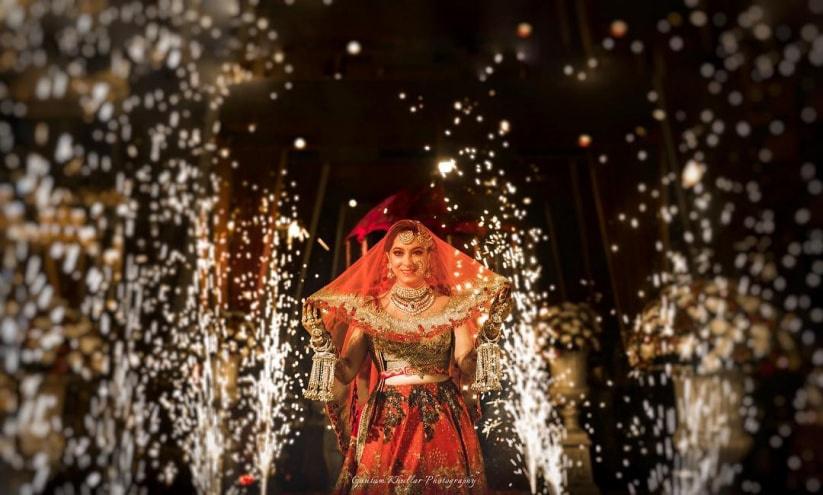 This stunning bride took the decision of making a solo bridal entry on her wedding day and believe us, it is one of the best bridal entry wedding pictures we've seen this season. While most brides drape their dupatta around their forehead, this one went for a traditional veil and looked nothing less than a dream. It was beautiful and bold at the same time. So, we say put on a music track that vibes with your attitude and makes you feel more confident and have your photographer capture multiple perfect shots as you descend the staircase and walk towards the man of your life.
Make a statement and walk down the aisle solo for an amazing set of wedding pictures.
2. Bride & Her BFF's Gossip Sesh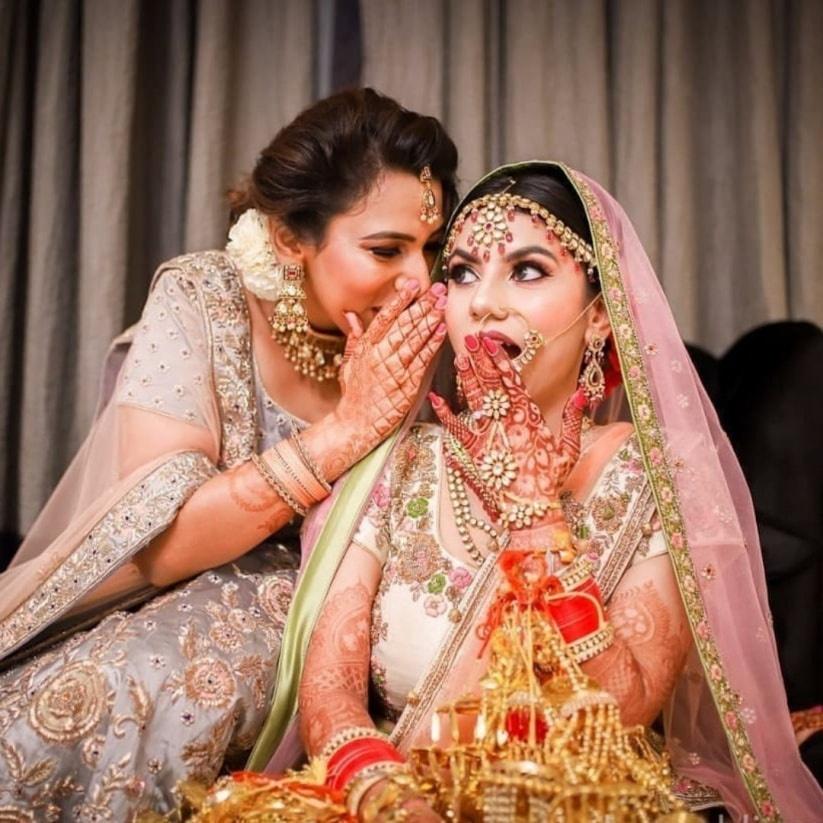 Brides love getting pictures clicked with their best friends on their wedding day and this is one shot which perfectly emotes the relationship two BFFs share with each other. Your friends are there with you every step of the journey - sharing secrets, turning into bride shopping companions, organising spinster parties, sangeet performances and pairing for coordinated outfits.
So when you're getting married, get your best friend and don't forget to get a picture like this one. We assure you, you're going to cherish it for a long, long time. In fact, you can even do a series of pictures with all your bride's squad and make an album out of it, anyway.
3. A Unique Pre-Wedding Shoot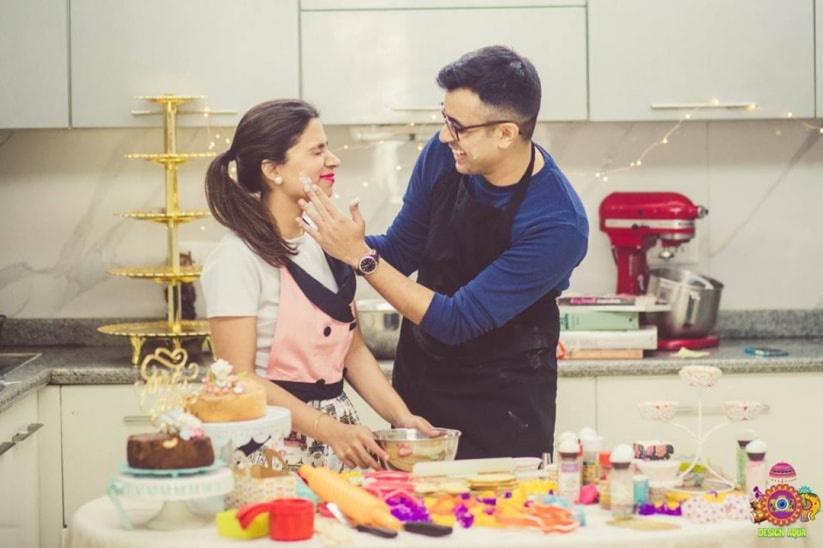 Pre-wedding shoots are getting extremely common and it's tough to get pictures which are not cliched. This couple chose a unique idea of getting a 'baking' pre-wedding shoot because the bride is a baker and we loved the concept. You can pick something similar from your life, and give your pre-wedding shoot a spin.
Discuss the possibilities with your photographer and finalise on a pre-wedding theme you're both comfortable with.
4. Fun Solo Shots Of The Bride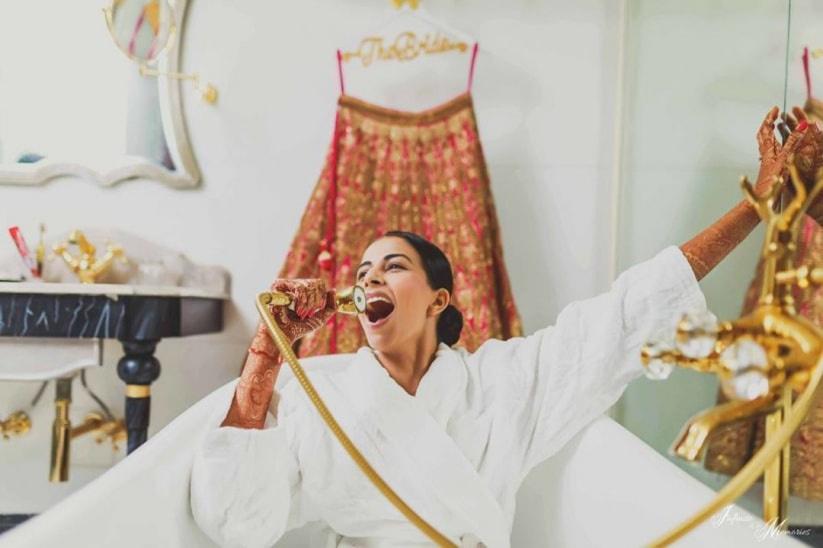 Look at this bride, lying in a bathtub and singing her heart out holding the hand shower. Doesn't she look the happiest bride there can ever be? You can ask your photographer to take a fun, candid photos and solo shots like this one for you. You can play around in the hotel room you're getting dressed at and make the most use out of it.
It's a unique concept and not everyone does it, so yeah, if you do go for this, you're definitely going to make heads turn with your stunning pictures.
5. Bridal Entry With Her Pet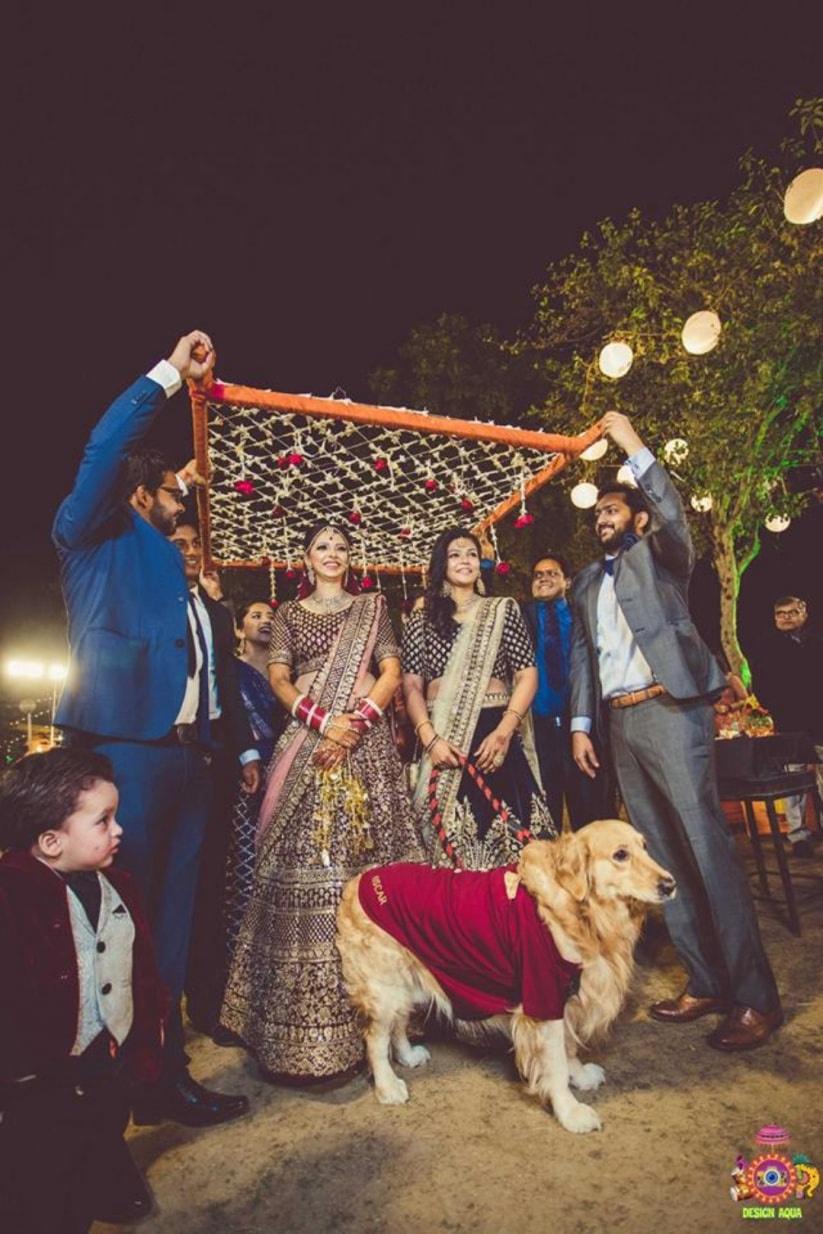 If you have a pet who you love just as much as you love anyone in your family, you have to make him/her a part of your wedding. This bride walked aisle along with her brothers, sisters and her pet - and it's indeed one of the cutest pictures we've seen in a long, long time. You can even go for an entire shoot with your pet for your wedding day. We are sure you will hold onto these pictures for a long, long time.
6. Bride Going Down On Her Knee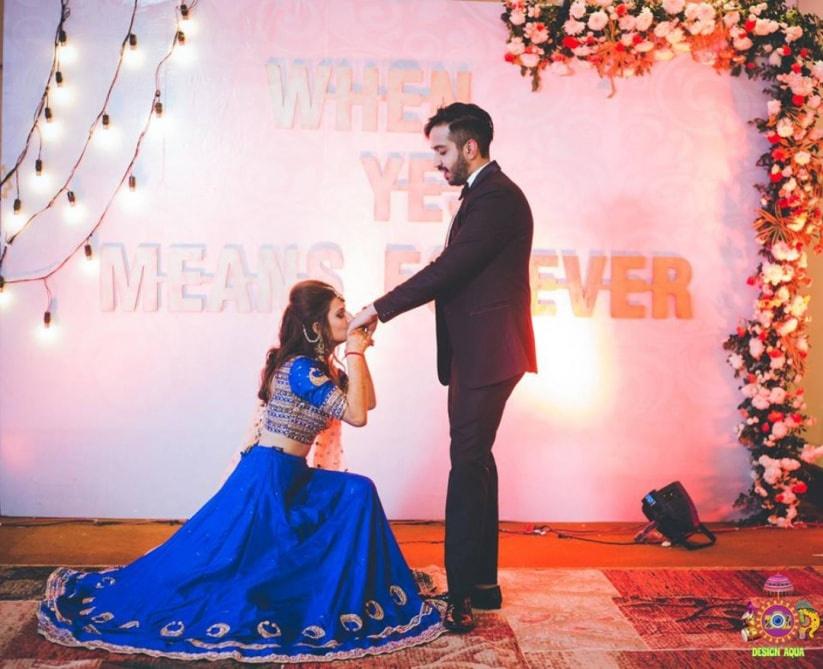 Who said that only the groom has to go down on his knees? A bride can do that too. It's time to break gender stereotypes and what better way to get a picture clicked like this one? This couple looks happier than ever and if you are someone who doesn't believe in following the rules, think out of the box and get photographs as this one clicked on your wedding day. While also being a fun wedding picture pose, a picture like this might help people have an open mind about prevalent gender stereotypes.
7. The Dancing Bridal Entry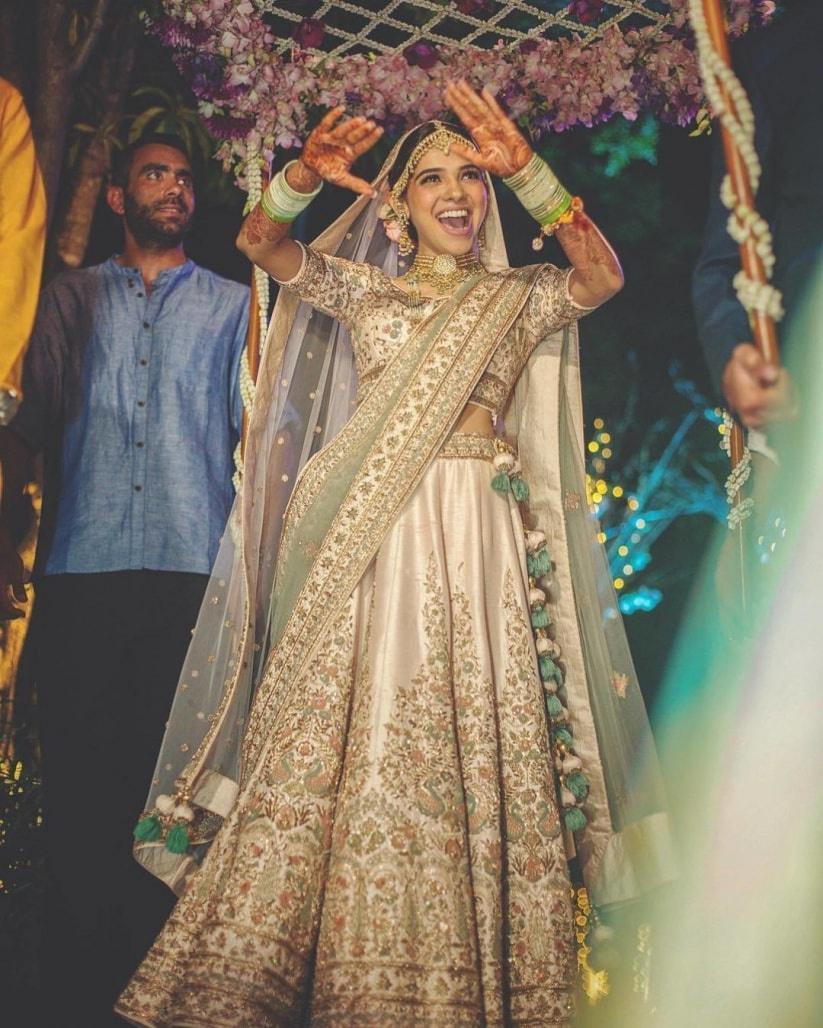 Traditionally, the brides-to-be were told to look down while making their bridal entry. But that's not a rule any more and it's time that you have your fun too. Make a statement by entering the venue dancing your heart out. Play your favourite song and get your squad along. You can keep it as a surprise for the groom too. We're sure he will love it. As they say, dancing brides are the prettiest. Even you should get the chance to enjoy your own wedding festivities to the fullest, so think of you perfect jam and groove to the beats as you enter your wedding venue.
8. The Bride Who Loves Food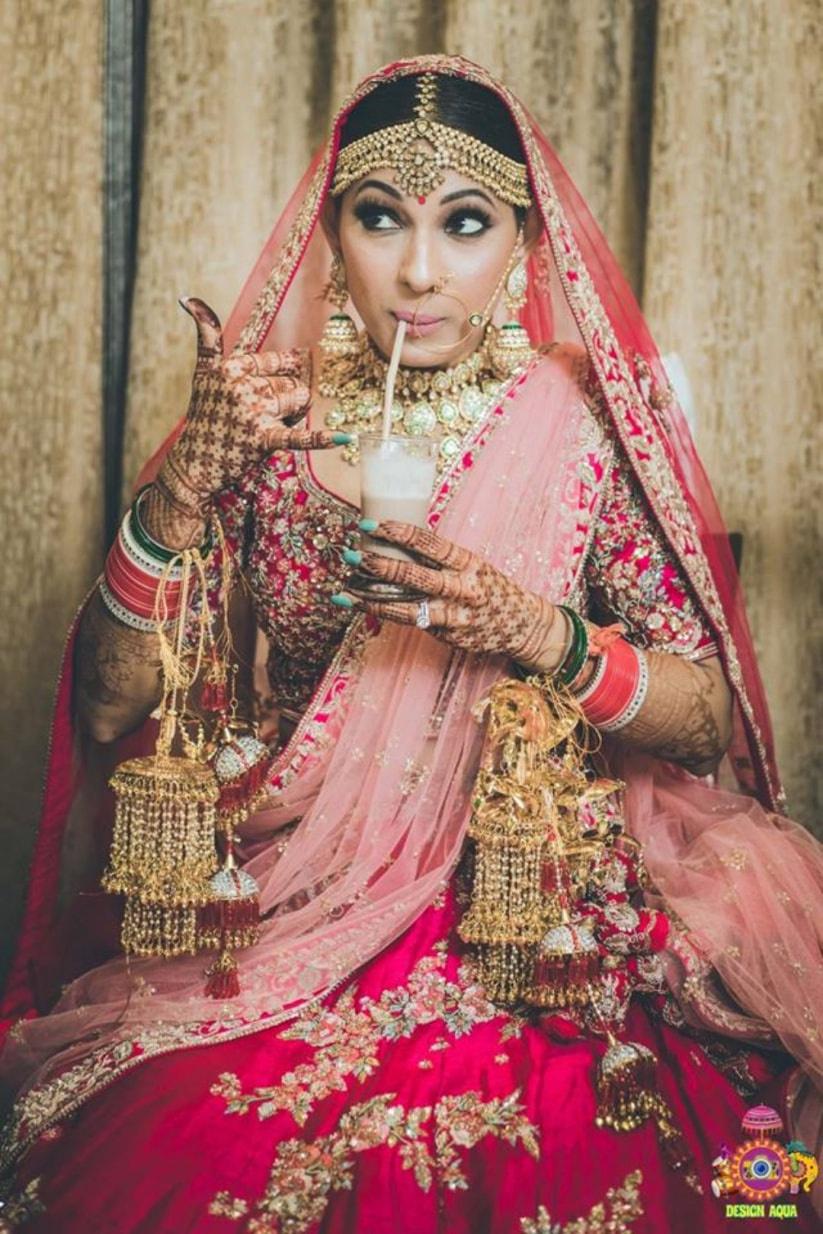 Often on the wedding day, the bride is so busy getting ready, she forgets to eat but believe us, you don't want to do that to yourself. There's no point in starving, rather you need to get a photoshoot done with your favourite snacks once you're ready. It's a unique concept that a lot of photographers have been following these days and we find it amazing. Whether it is your favourite drink or food, you can create it a prop while relishing it and get some wonderful pictures clicked with it.
9. The Dab Pose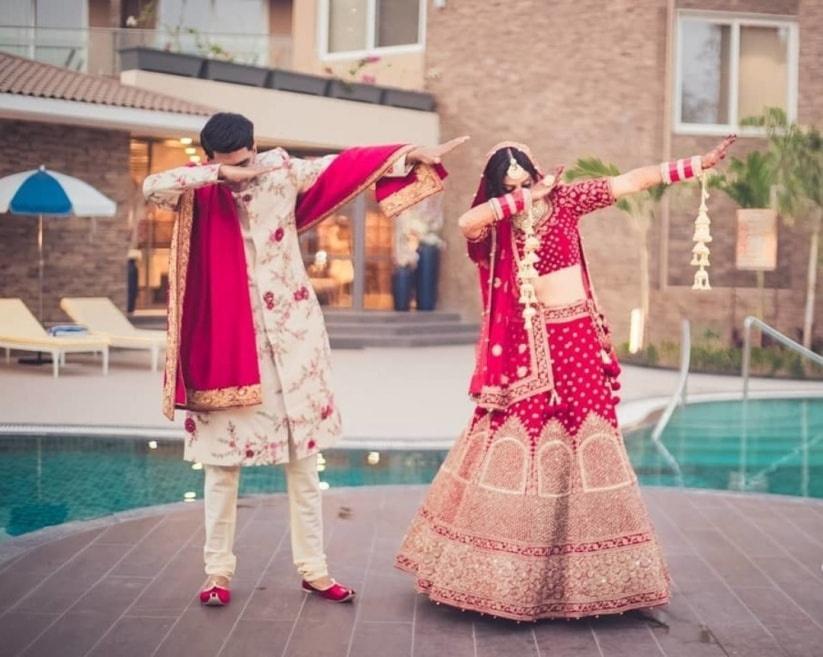 When you see everyone doing the same dancing step on the internet, why stop doing it at your own wedding, right? This couple nailed the dab pose and you can try something similar too. Currently, everyone is doing the #KikiChallenge or the #DeleAlliChallenge and so, what you can do is, whenever you're getting married, find a viral internet trend and include it in your wedding pictures and we are sure those pictures will stand out. There will surely be some candid and fun moments attached to these wedding pictures which you can instantly relive just by looking at them.
10. Up the Fun Quotient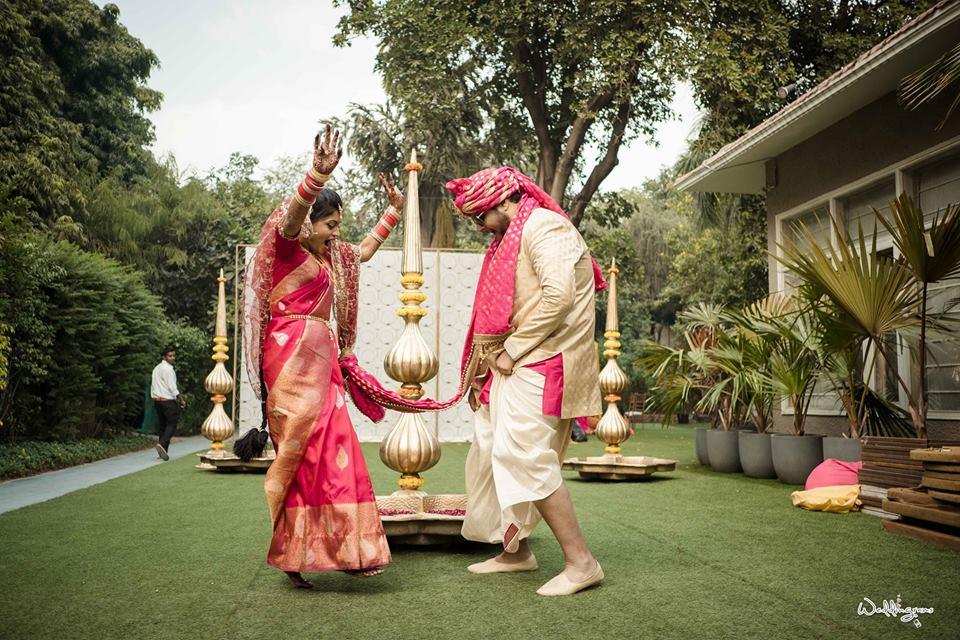 While you would be having all the traditional and candid photos to reminisce all of your beautiful wedding memories, you should even have a fun picture where you can just live in the moment. It would be the moment that you would cherish all of your life. Any wedding ceremony is accompanied by a range of nervousness, anxiety and additional pressure of embarking this new journey. If you wish for all this seriousness to be not a part of your wedding pictures then creating a moment with your partner can be a great idea to ease the pressure.
We hope you enjoyed feasting your eyes with the best of the lot that we especially chose for you to get the much-needed inspiration for your very own and personalised wedding pictures photoshoot. go solo or as a couple but remember it goes big or goes home. Go all out as you get hundreds of wedding pictures clicked because they will make you smile twenty-thirty years from today, we assure you!
So which ones were your favourite amongst all these stunning wedding pictures? Do tell us in the comment section below.