Picturesque Locations for the Epic Pre-wedding Shoot in Delhi
Want to make your Pre-wedding Shoot In Delhi look like a fairytale? Check out a mixed bag of these romantic, beautiful and rustic locations in "Saddi Dilli"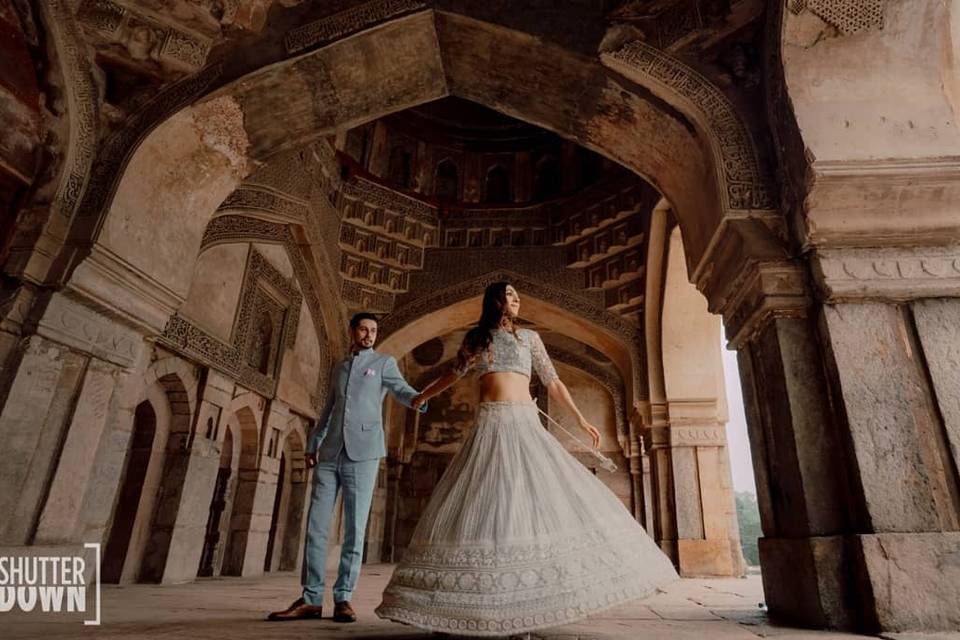 Did you know that Delhi is the greenest metropolitan city in India? Thanks to the parks, gardens, and ridges that cover 20.6% of Delhi's total area. This means, there are ample beautiful locations where you can get your stunning pre-wedding shoot done!
Not just that, the architectural marvels like the Qutub Minar, Humayun's Tomb, Hauz Khas Fort, Tughlakabad Fort, and so on provide excellent backgrounds for your pre-wedding outfits in contrasting colours. Photography in Delhi is one of the favourite subjects for wedding photographers because of the liveliness of the city.
So, here we are, with some top locations for your ultimate pre-wedding shoot in Delhi! Check hem out right now!
Humayun's Tomb at Dusk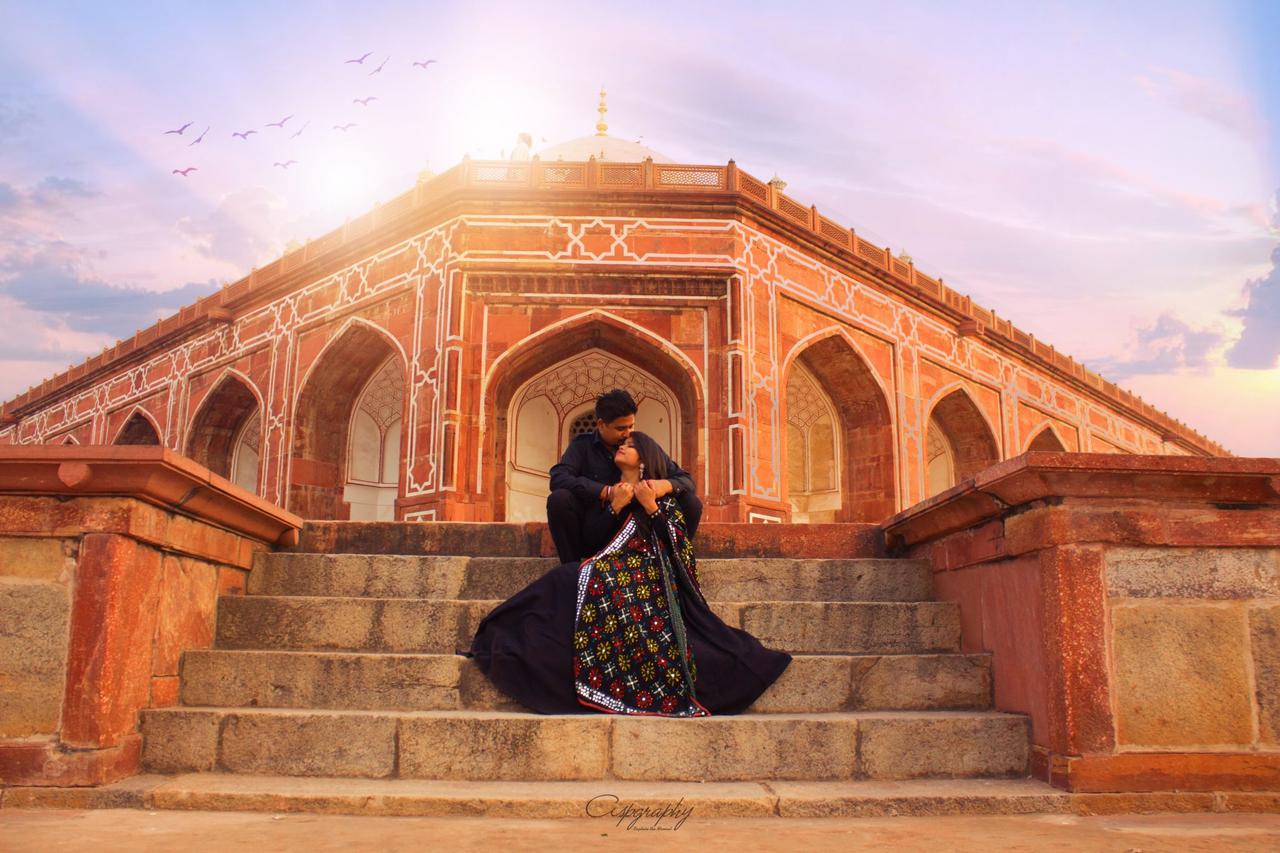 One of the most popular locations for pre-wedding shoot in Delhi is the gorgeous Humayun's Tomb. The rust shade of the monument and the perfect Mughal architecture gives your pre-wedding couple photos a regal touch. Wear a contrasting black & gold lehenga and a black kurta pyjama for brilliant effects. Choosing dusk as your photography time will further add some magical lighting.
Royal Fort Palace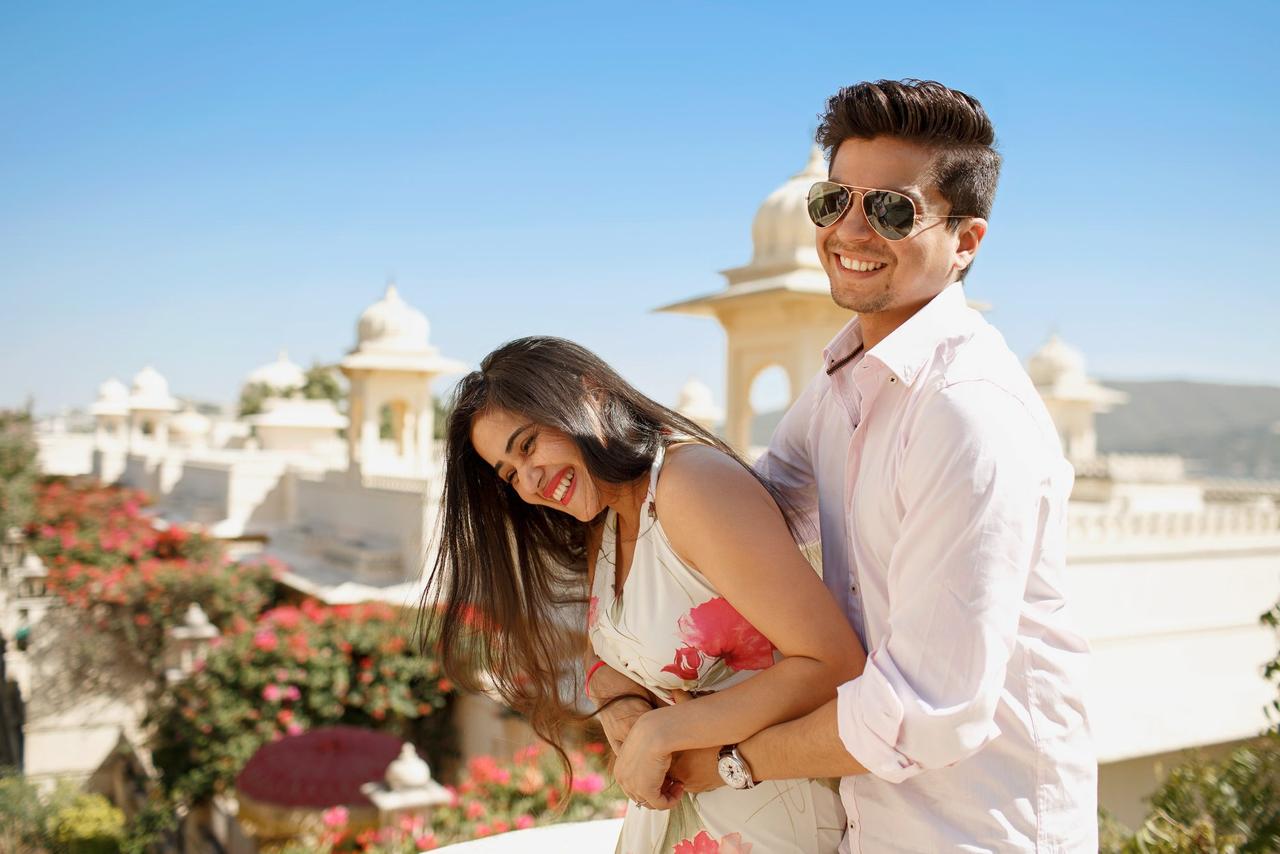 Get candid by a fort palace or a palace hotel. When you're looking for places to arrange your pre-wedding shoot in Delhi or surrounding areas, there are many majestic palace hotels you could book. The royal backdrop would naturally enhance your photo quality. Sport a stylish ethnic lehenga in floral prints or go casual with a skirt and Kurti. The location will take care of the rest!
Rural Outskirts by Aravallis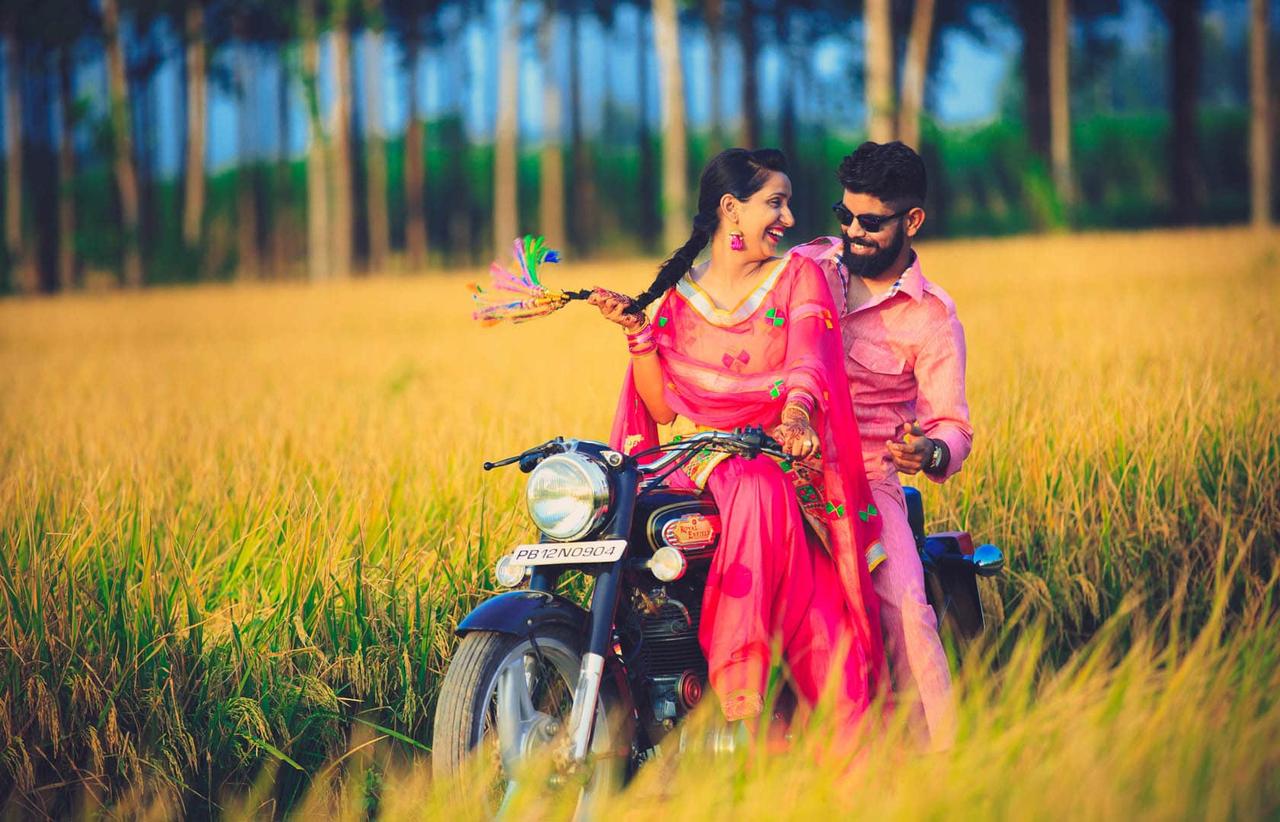 Want to add some rustic vibes to your pre-wedding shoot in Delhi? Visit the outskirts of the city by the Aravalli ranges and get your pre-wedding photos shot in a typical village style. Ride on a bicycle amidst the golden wheat farms, giggling & saying sweet-nothings to each other. Wear bright colour Patiala salwar suit with a long Parandi and a Pathani suit to go perfectly with the entire ambience.
Lodhi Garden Romance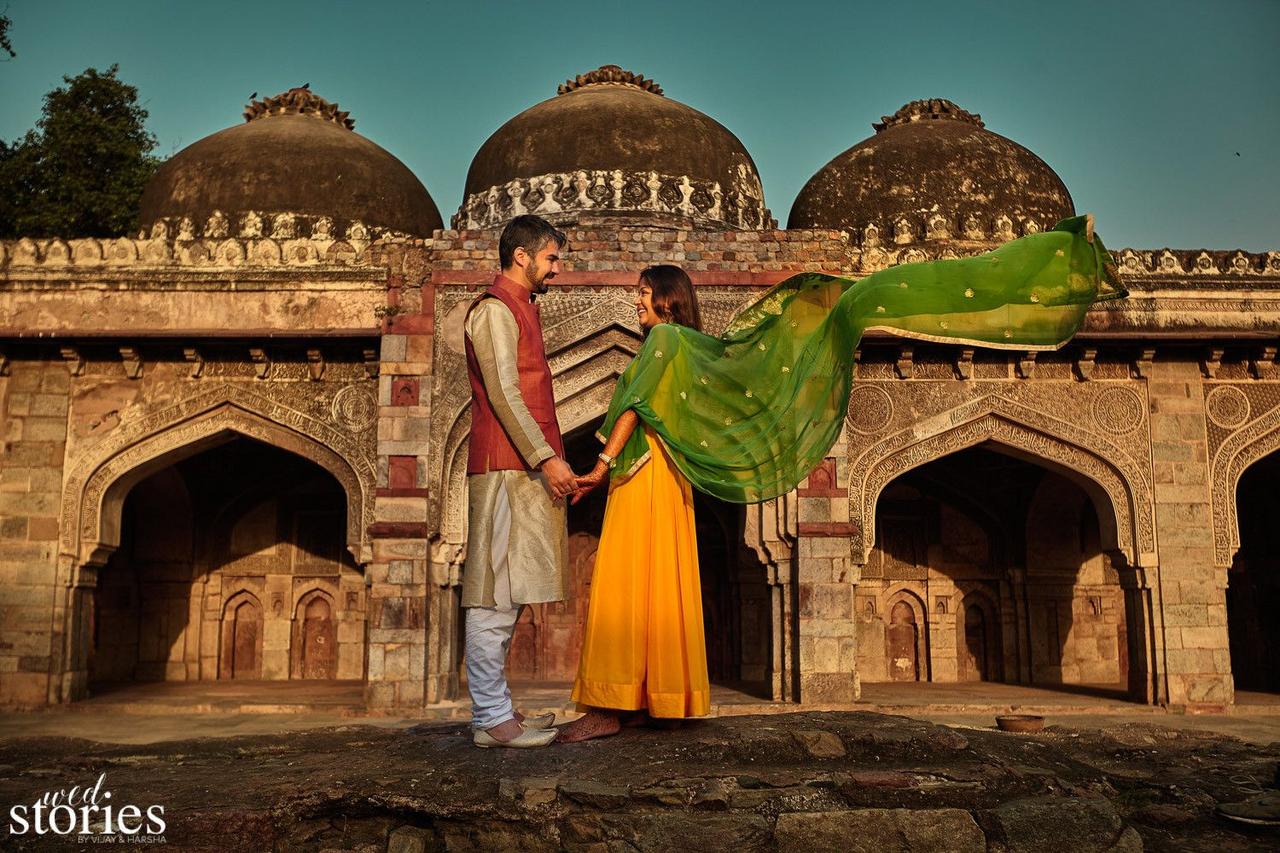 The gardens are a great background option for pre-wedding shoot in Delhi. Pose romantically or get quirky. Bring the inner child in you alive and share some fun moments together. You could choose to wear casual outfits like skirts and crop tops or t-shirts to go with your actions. Or, you could actually bring a surprise element by wearing a formal suit and designer sarees and yet behaving like a child!
Vibrant Photo Studios in NCR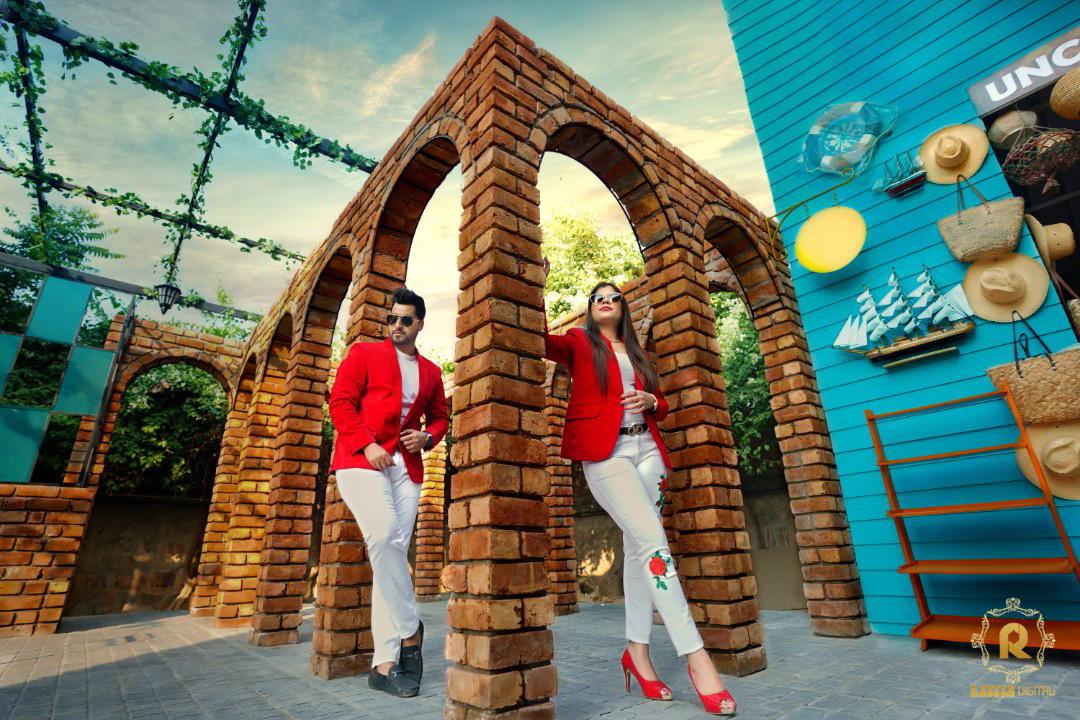 There are many photo studios in Delhi/NCR who have beautiful sets for pre-wedding shoots. Create your own story picking a set that would take you to the wonderland! Dress up accordingly keeping the backdrops in mind. Pop colour coordinated outfits in vibrant shades are quite popular to go with these photo studio sets.
The Passages of Qutub Minar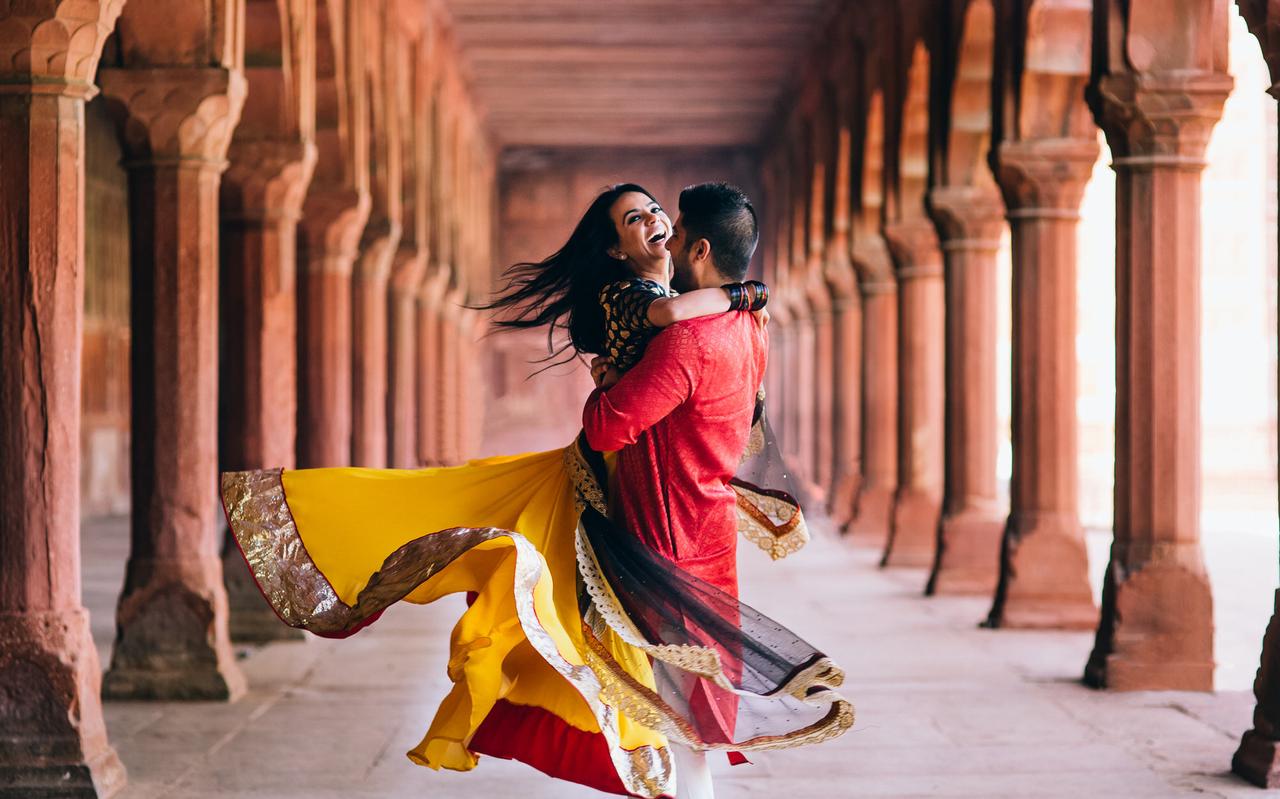 One of the most loved locations for pre-wedding shoot in Delhi is the pillar area in Qutub Minar. The play of lights and shades through these pillars is something almost every photographer fancies. The old brown colour of the monument and the historic elegance further add depth to the shot. Twirl in your red Anarkali suit with straight long hair- you'll be surprised to see the results on your wedding album!
Street Shots at Chandni Chowk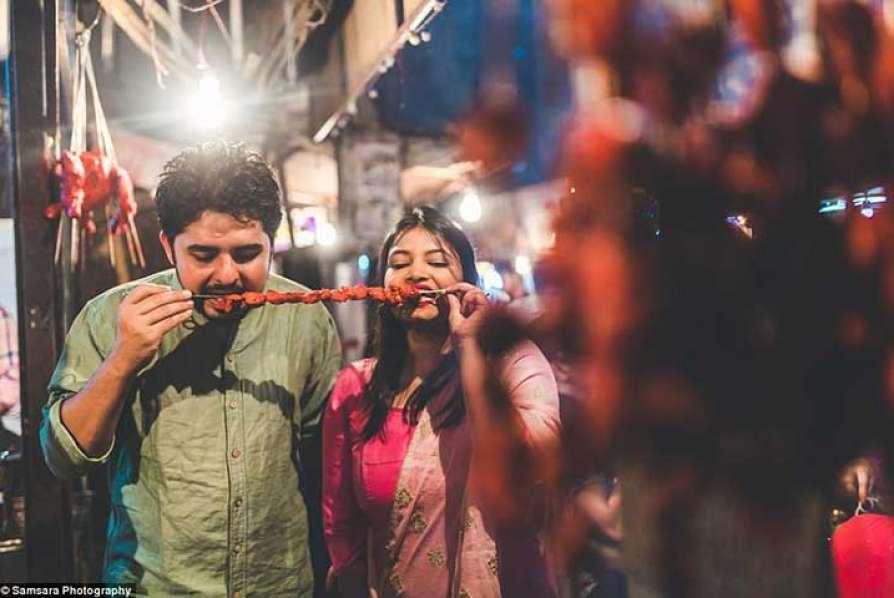 Are you a foodie couple? Then you just can't miss the street food shots for your pre-wedding shoot in Delhi! Especially when Delhi's street food is so famous across the nation! Stroll in the Old Delhi alleys like Chandni Chowk, tasting some of your favourite Kachoris and Jalebis along with Kebabs! Give your pre-wedding photos some real-life vibes!
Deer Park at Dawn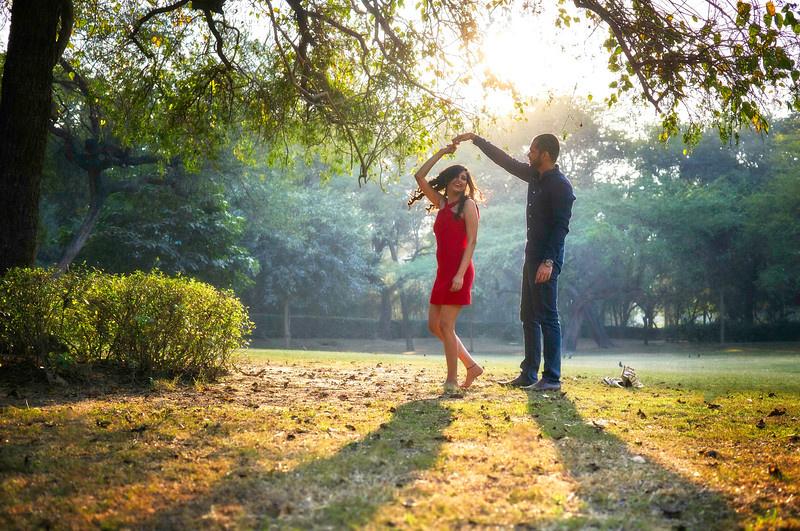 How can your pre-wedding shoot in Delhi be complete without the touch of Bollywood in it? Take out those latest gowns or some dresses and dapper tuxedos and get ready to flaunt some moves. Try romantic poses, spread your arms like King Khan, sway your Banarasi silk dupatta amidst the green ridge or a park...do what it takes to feed the filmy bug in you at the Deer Park in Hauz Khas!
India Gate's Backdrop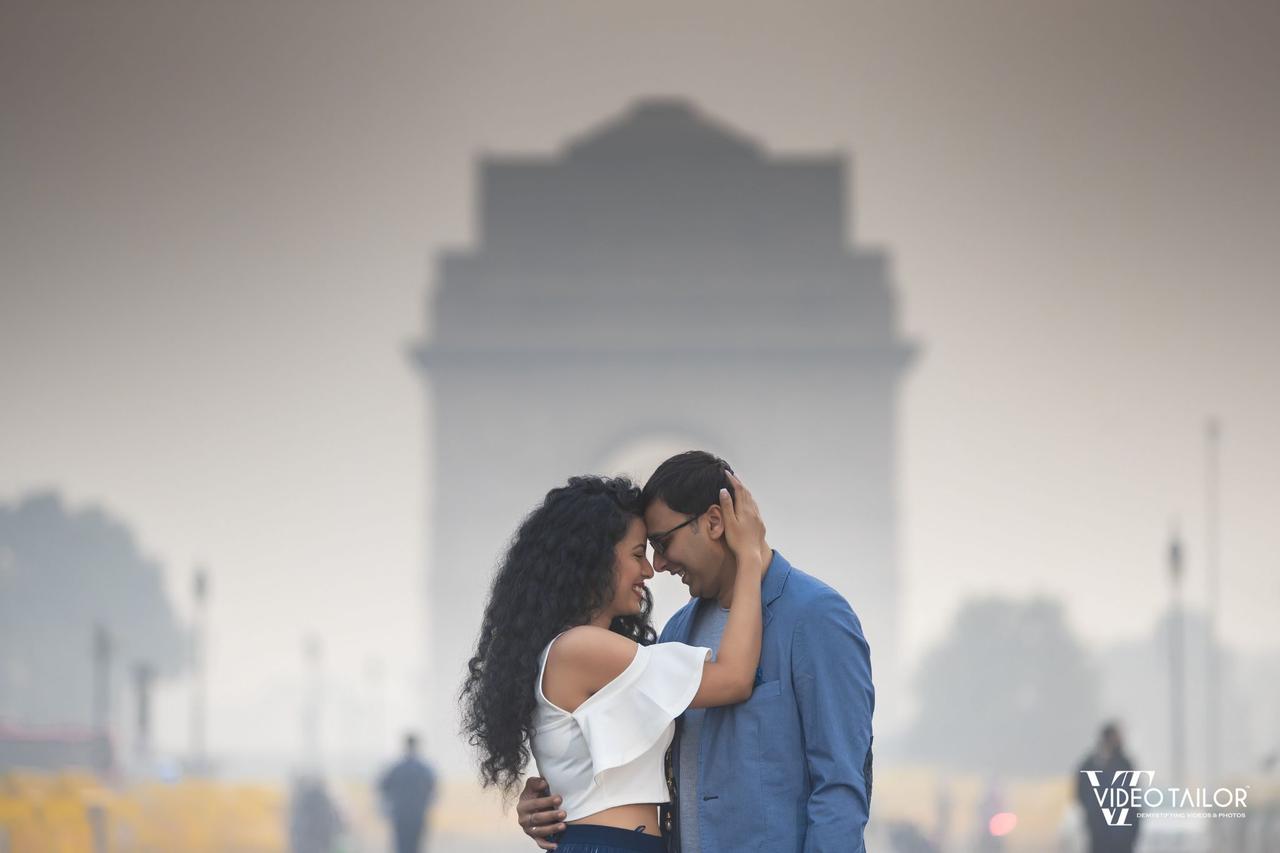 Blurring the India gate as your pre-wedding photo backdrop is yet another excellent idea. The significance of the gate is so well established that even a blur image is easily identifiable. But it heightens the aesthetic element in the photo.
Agrasen ki Bauli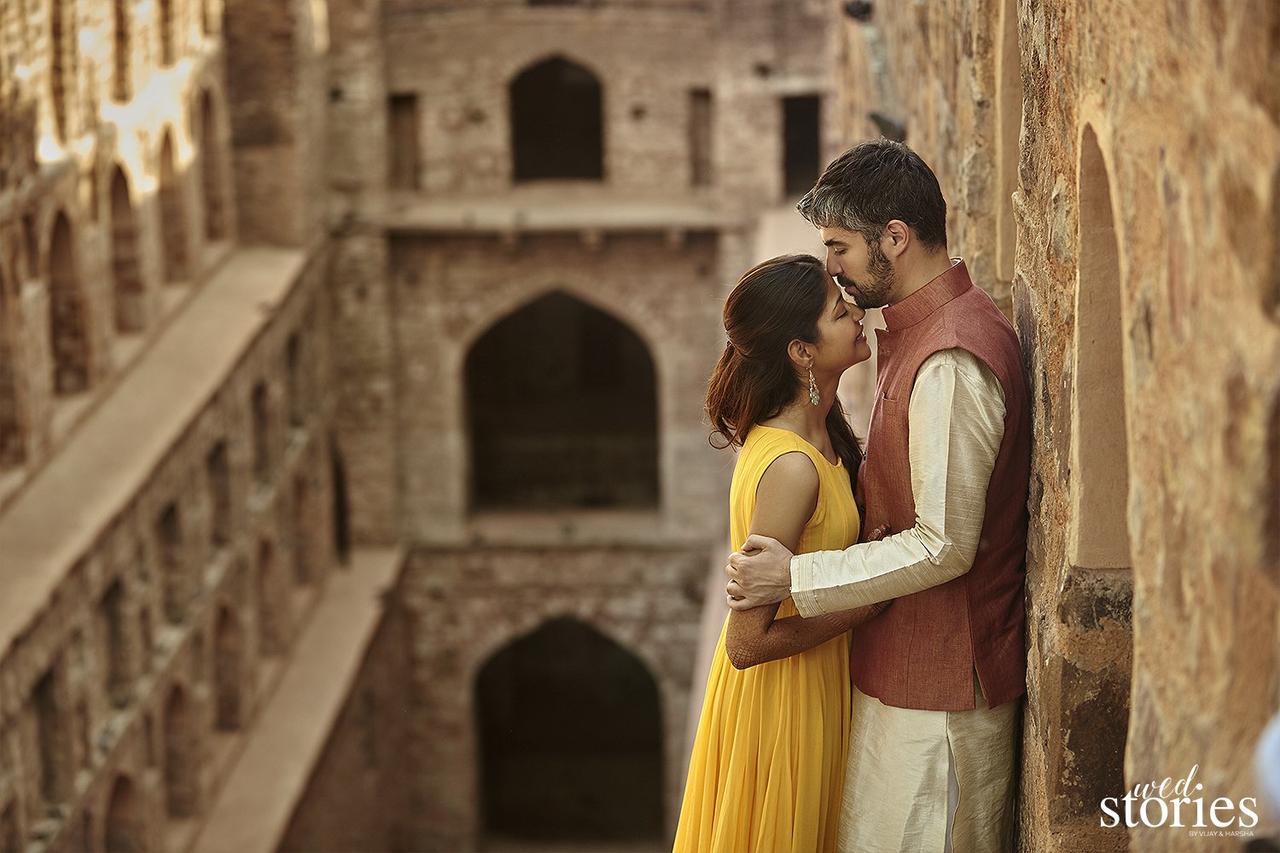 There are many Baulis (or step-wells) in and around Delhi. And do they look stunning on a pre-wedding photoshoot! Use these beautifully designed Baulis as your pre-wedding backdrop. Wear breezy lehenga or salwar suit to go with the ethnic vibes. Do not forget to try the #followmeto pose while you are at it! The amphitheatre stairs make it just perfect.
You could choose multiple locations for your pre-wedding shoot in Delhi to create a versatile album. A mix of gardens, monuments, food, and fort palaces would make your pre-wedding album look like a journey to exotic places! Pick your outfits keeping the backgrounds and themes in mind. Consult with your wedding photographer on your costumes, hair, and makeup. Be the stars of your love story while you get to visit some gorgeous spots of Delhi!
Take a look at our vendors' list to hire your wedding videographer, if you haven't booked one yet!