Did Anyone Say Romantic Pre-Wedding Photography Shots? We Have 5 Expert Tips to Help You Get the Perfect Album
Pre-wedding photography is here to stay, from location-based beautiful shots near a waterfall or cascading water streams or complex concepts. We enlist some classic ideas to ace yours with your better half, family & friends.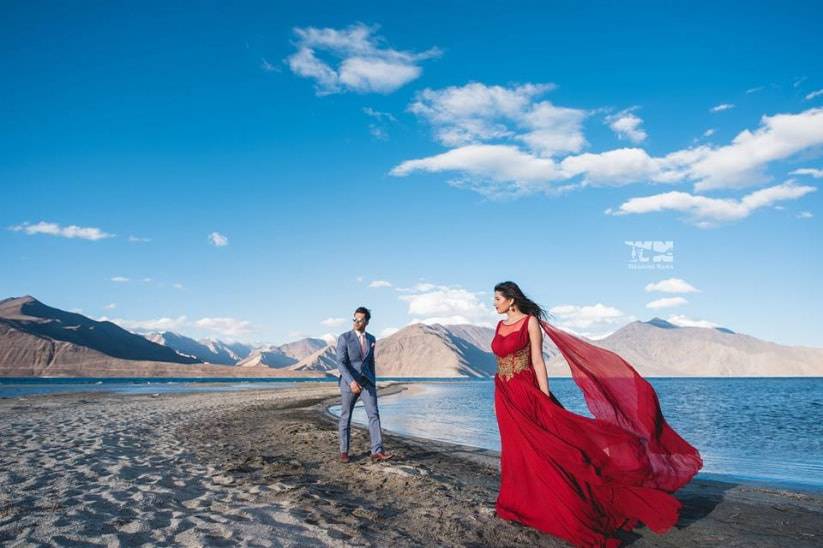 Popped the big question? And, she said yes! Well, congratulations on your big decision. Isn't your love story the best one there is? As a couple who is about to tie the knot, a pre-wedding photography shoot will give you ample time to get to know each other better. The very idea of pre-wedding photography is to capture the love and passion the couple has for one another. Just imagine all your photographs, a memento of love frozen in time, turning your sweet moments into everlasting memories.
Be it an arranged marriage or be it the one you have chosen for yourselves, to get to spend time before the big day is a must and getting to do it while getting some awesome pictures being clicked is just the ideal situation. If you already know each other well, you might think it is easy to tell your story through frames, however when the camera lens points at you, some people tend to get conscious.
If it is one of those initial days of knowing each other, slight discomfort or conscious attitude can be expected. However, to your rescue, we have 5 professional tips that will help you click the best pictures that you can cherish forever and probably your family photo wall can flaunt your love story forever.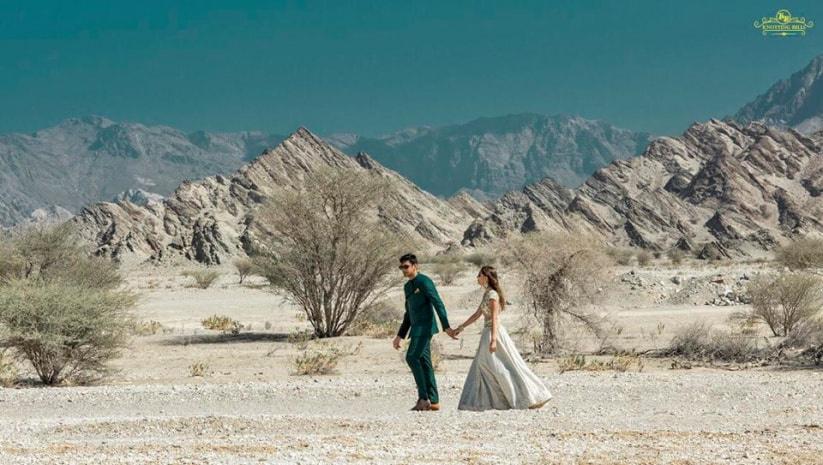 So, it goes without saying that everything from scouting the perfect location to calling the right shots is important. We have curated a list of tips that you should keep in mind before you hire a photographer to capture your journey so that every time you look back at these frames, you get to relive the moments all over again and hence freeze these gorgeous memories in the sands of time.
1. Add sparklers & colour bombs to get the desired effect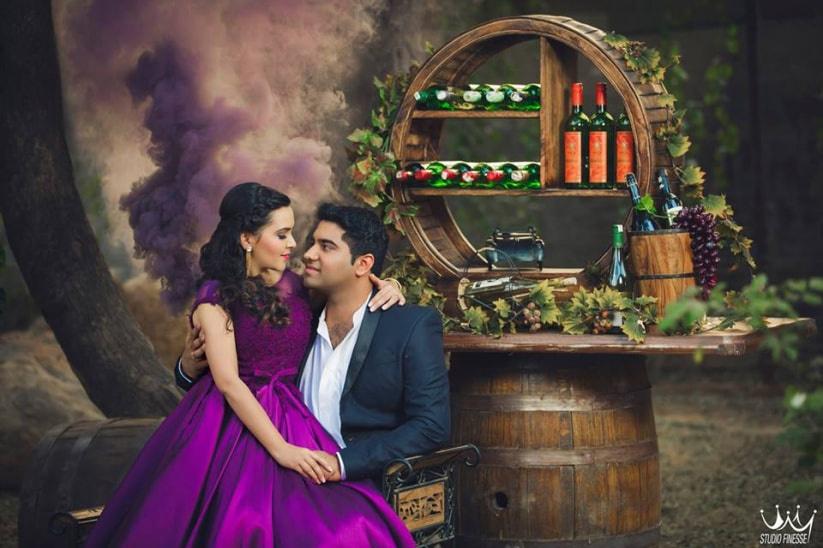 Wedding sparklers are the new bee when it comes to pre-wedding photoshoots. Photographers today are equipped with technology which creates a lighting trail with prolonged exposure while you and your lover draw hearts in the air to get the desired effect. It creates a fairytale effect in the images as if the scene is straight out of the mystical woods of Snow White.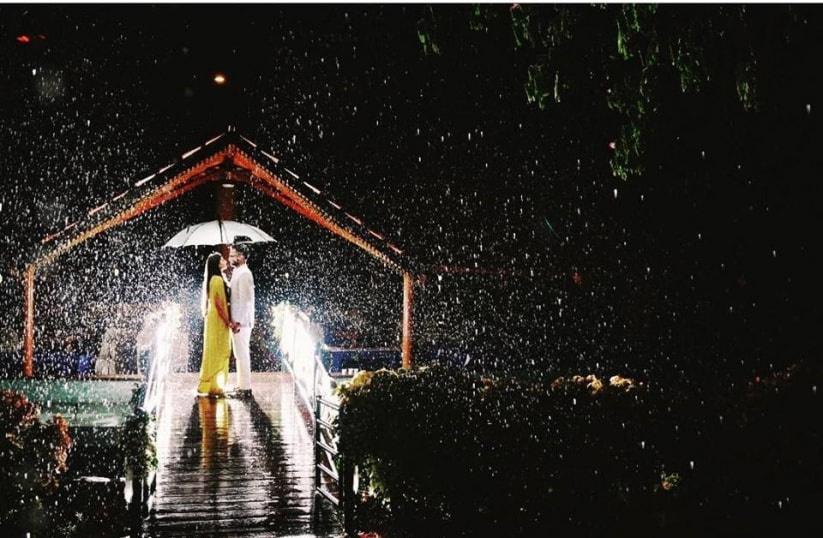 Imagine seeing a picture of your initials, glittering, sparkling, creating the background for that perfect shot. Place colour bombs across your photo shoot venue. They are all the rage when it comes to pre-wedding photography. The beauty of these will be in how craftily they add colour to your pictures and videos. This wedding shoot aesthetic will add life to your pre-wedding photography with their colourful plumes.
2. Ask your photographer to shoot in burst mode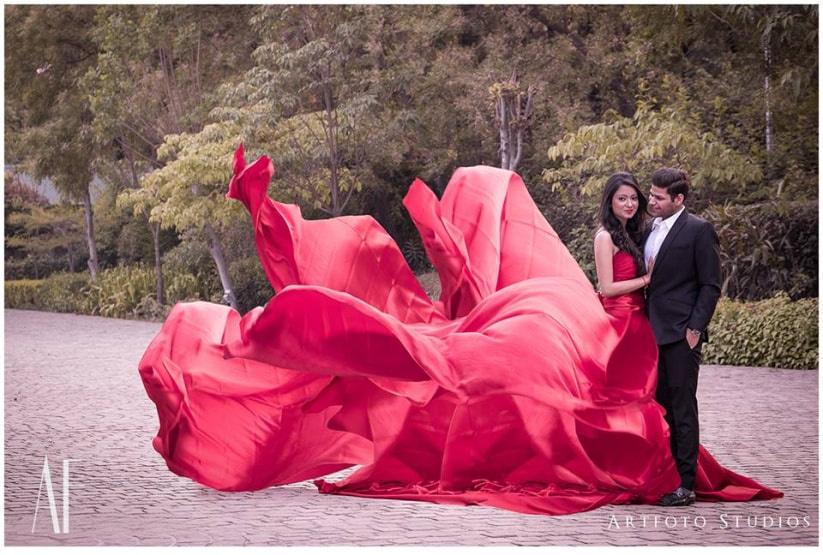 Burst mode or continuous shooting mode enables the photographer to click multiple pictures at once. The fact that it will capture your fleeting moments within a click of the camera is what makes this shooting mode an excellent choice for pre-wedding photography inspiration. These are in fact, candids that you will cherish forever caught in between posed frames.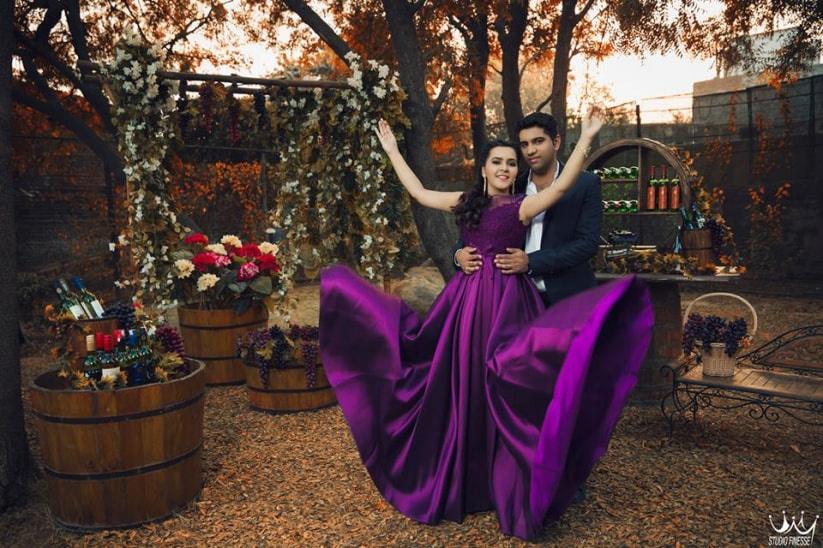 You will have some unexpected shots, yet memorable ones to cherish forever. A fleeting flying kiss or a wink or a twirl shot, each of these will transform into perfect silhouettes creating pictures of a life well lived.
3. For added glitz and lighting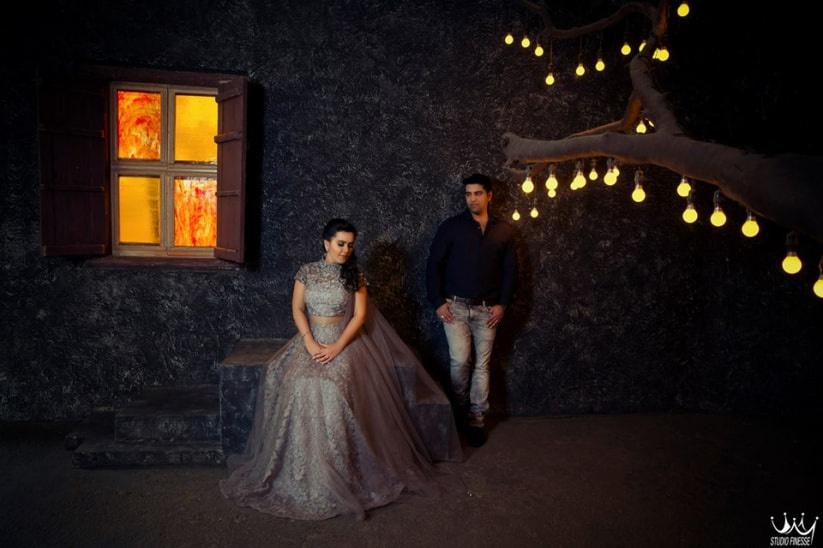 Ditch the traditional daytime shoot for a night vision photoshoot instead. In the still, starlit and moonlit night, let your romance be the only source of illumination. Give your images a larger than life effect by exposing yourself to the darkness and using an artificial source of light to bring the beauty of the photographs.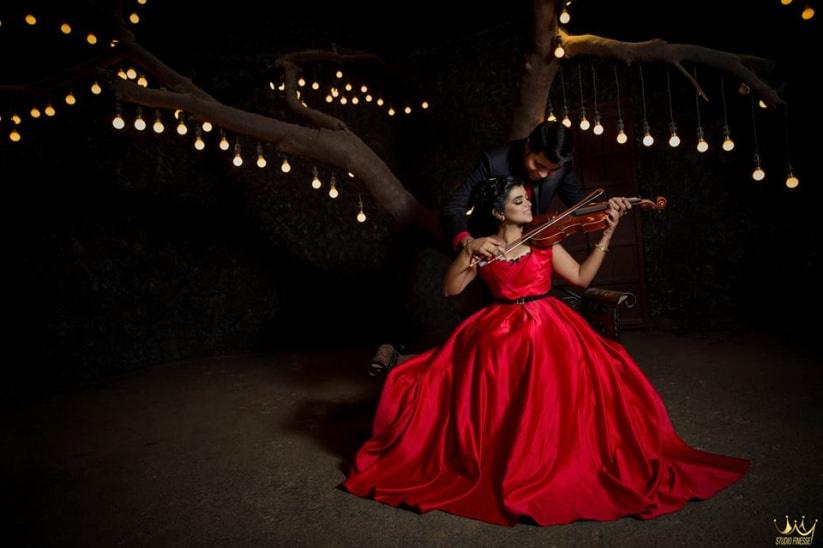 Use firecrackers, neon lights, and efflorescent LEDs to bring out the desired effect. Not only is this idea out-of-the-box but you will be amazed at how different your pictures will appear as a result.
4. The perfect location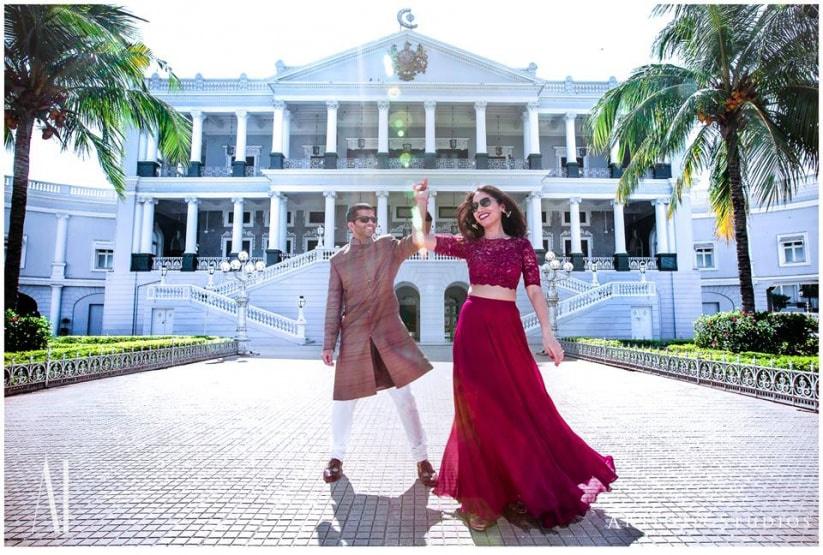 The next big question is where to have the photoshoot. Near a waterfall or amidst the forest or Rail Museum. The list is endless. A good photograph speaks louder than words. Recreate the background of your favourite monument or bespoke location, one that resonates the most with you as a couple.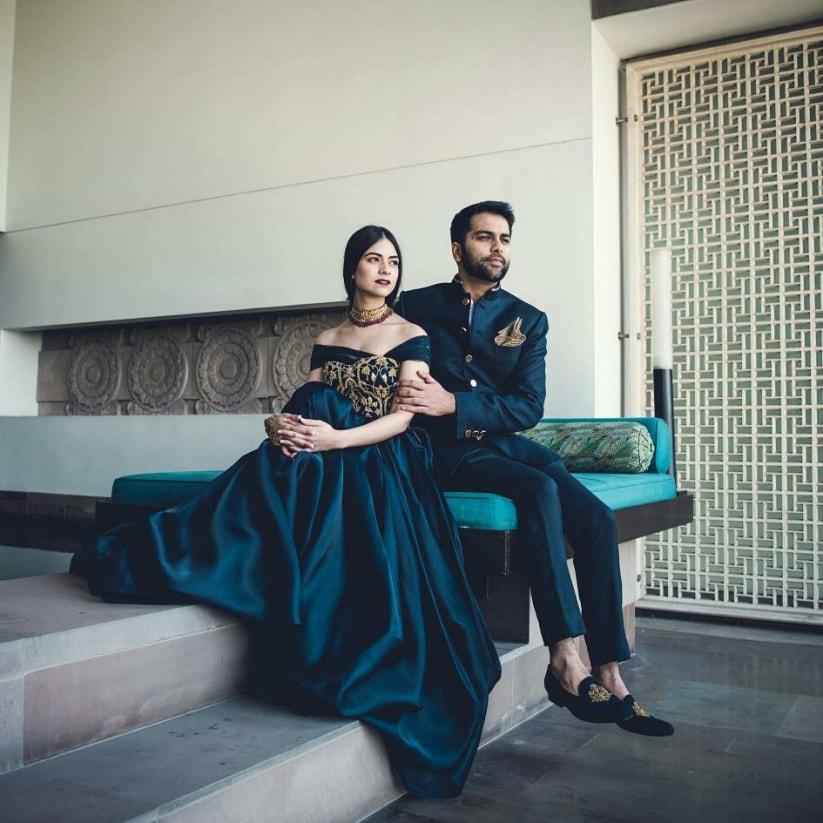 Home is where the heart is, and your heart is obviously devoted to the person you have decided to share your life with. Turn your home into the perfect location for your pre-wedding photography. Let each of your belongings be a part of your pictorial journey. Keep it simple and real. Let your emotions be expressed as you use your cushions, photo frames, living room or that balcony swing to master your pre-wedding photography and videography.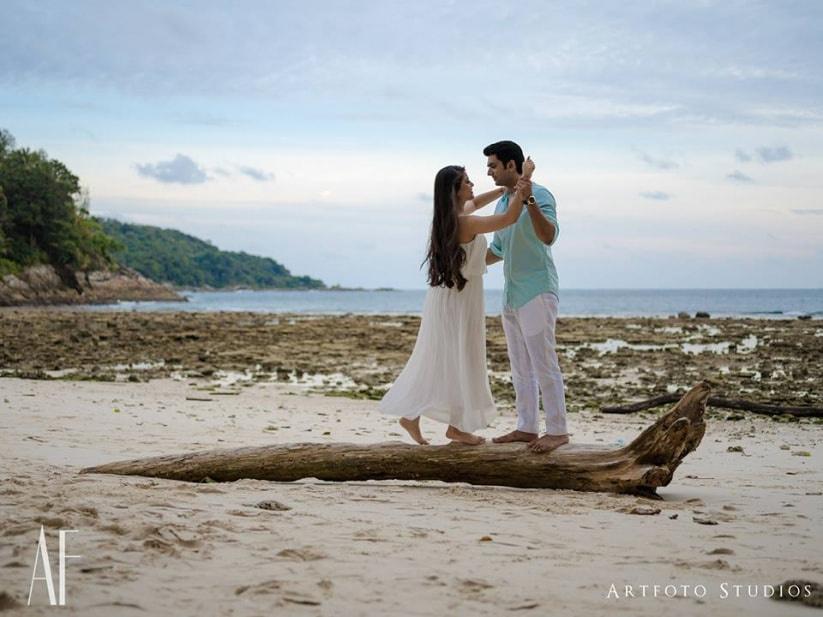 What is better than clicking your pictures standing on a beach with fresh sea breeze flowing through your tresses.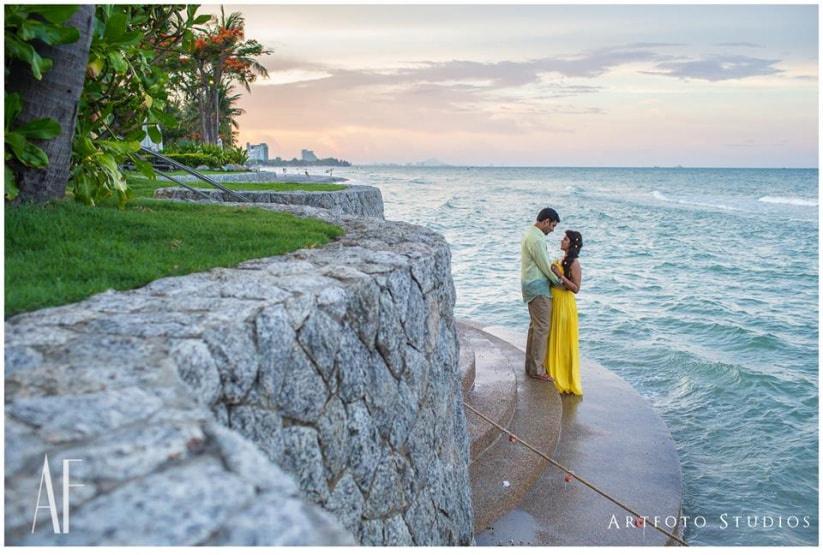 The beach has always been a popular choice and there is a lot that you can do from holding hands, creating bespoke figurines or a candlelight setting. The choice is yours.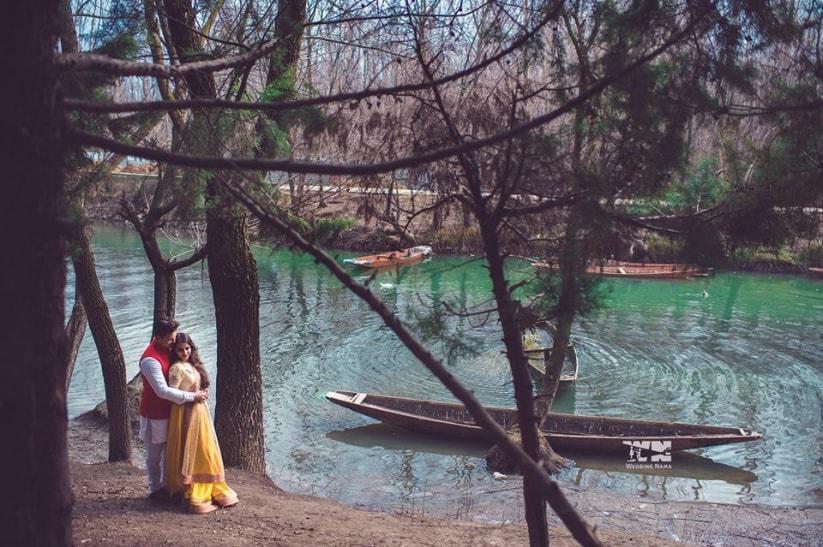 If this city made you fall in love with each other then why not make it the background of your everlasting memories. Find your inspiration from around you. It could be the restaurant you first met at or an activity you enjoy most with your partner.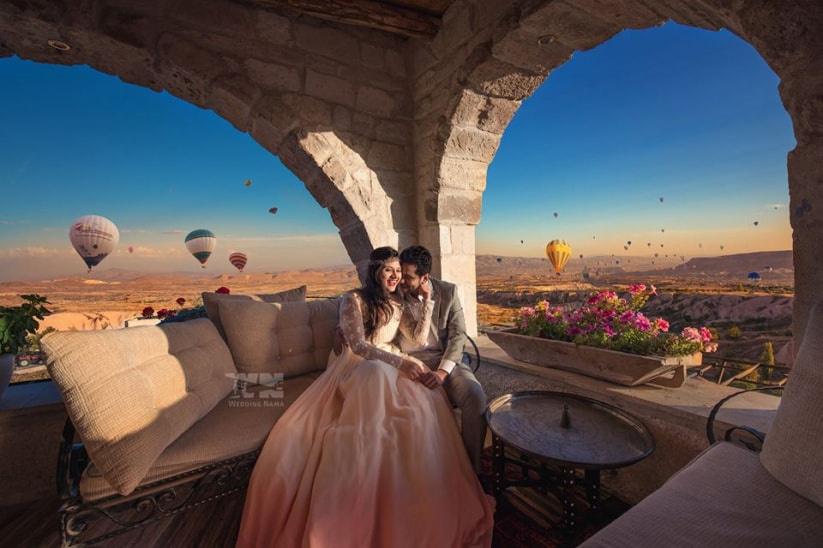 Change the ways, bend the rules and most importantly don't forget to have some fun as today is the youngest you'll ever be.
5. Reverse the gender roles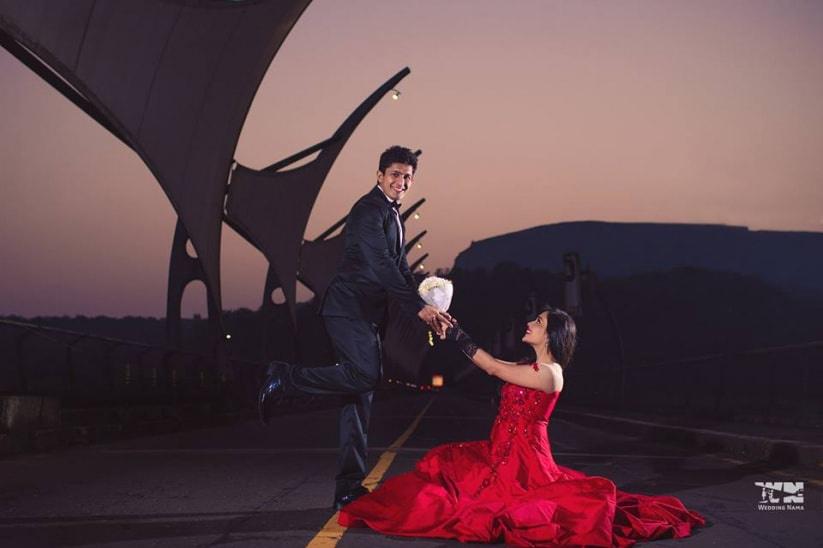 Let the bride-to-be do the pampering as the groom-to-be rejoices in the attention. Twist and turn the rules. Cross-dress for one of your pre-wedding photography shoots. Kneel and pop the question to the groom while he sits and enjoys his martini. Or, if you know how to ride a Bullet? Let your man take the backseat as you make your way on that Bullet serving looks. These will create some stunning pictures for you to remember for times to come.
Some Tips to Make Your Pre-Wedding Photography Photoshoot More Dreamy, Picaresque and Memorable
Now that you know of some ideas to make your pre-wedding photography shoot look even more dreamy, we will help you out with what kind of clothes and poses will work wonders to amp up your pre-wedding photography shots!
1. If you are shooting in an outdoor location, then wear long and flowy dresses. Perhaps, a gown with a long trail? In a natural setting with a breeze running through your tresses, every time your gown's trail will blow, your photographer will capture the shot you will forever remember
2. Less is more when it comes to a day time shoot. If you are planning to have your pre-wedding photography shoot anytime during the day, then opt for a more natural looking makeup. There is nothing more beautiful than raw faces
3. Let your emotions take over. Let them flow and don't restrict yourself. the entire idea of a pre-wedding photography shoot is to capture your love and emotions, so don't concentrate on getting the pose right, just be with one another like you always do and you will see the magic in your photographs
As far as pre-wedding photography is concerned the possibilities are endless. Since it is the beginning of your everlasting journey make it a memorable one. Be as innovative as you can as this is a once in a lifetime opportunity and you won't get to relive this moment ever again. Every love story is unique and beautiful in its own way, so make yours the most beautiful with the right photographer.
Share your thoughts in comments and quirky ideas for pre-wedding photography inspiration for others to follow.