7 Awe-Inspiring Dulhan Entry Videos from Across the Country
Making a grand entry can mean a myriad of things in today's world. Curious about what we're referring to? Check out these outlandish Dulhan entry videos!

If you're planning to bedazzle everyone with your Dulhan entry style but are falling short on ideas, we've got your back. Here are some videos of brides who went out and beyond to show the world that it was their day...their wedding day. Be it going super crazy by sitting on top of a camel or on a bullet with her brother, these brides have tested all waters. Take a cue from any one of them, add the zing of your personal style and...voila! You will get yourself some of the most memorable moments of your life. Learn how to arrive like a queen from these boss brides.
1. Dulhan entry on a camel
A Dulhan entry on a camel! Could you have even imagined in your wildest dreams that you will ever watch something of this sort? This bride stole the groom's thunder of arriving on a Ghodi by going higher than him. Now that's what you call a boss bride! You can totally follow her lead for a destination wedding in Udaipur or Jaipur, basically in Rajasthan where camels are readily available.
2. Dulhan entry on an eagle
We did say outlandish, didn't we? The daredevil brides out there can go for this Dullhan entry style. The eagle-like structure is connected to a harness and slowly descend towards the stage with fireworks creating a dramatic effect. Figuratively speaking, you will look like a phoenix stepping down on to the stage. Fly to the stage in a similar fashion and make all your dreams of a fairytale wedding come true.
3. Dulhan entry while afloat on water
This Rath makes for a gorgeous entry while being afloat on water. Going for all the royal feels in this one. If your venue can accommodate something like it, we say, go big! When you're adorned in your bridal diva avatar sitting on a Rath being hand-pulled making such a stupefying Dulhan entry, you will surely feel like a queen. None of your guests won't be able to help but be in awe of your ferocious style.
4. Dulhan entry in a palki
"Palki mein ho ke sawar chali re, main to apne saajan ke dwar chali re" can be your bridal entry song in the background if you're planning to make an entry in a Palki. This has the possibility of turning into quite an emotional entry as well when your brothers, uncles and father lift you up. Keep tissues handy for this one.
5. Stage on the move
Instead of making an entry towards the stage, this bride decided to bring her's along. Sitting atop this illuminated stage with dancers wearing illuminated dresses, it seems like a heavenly fairy has landed on earth. You can also make a similar entry and your groom won't be able to take his eyes off you. This one would definitely make you feel like you're on top of the world.
6. Dulhan entry on bullet
Now, here comes the most trending Dulhan entry idea for the millennial bride - bullet entry. This bride entered her wedding venue on a bullet driven by her brother. Switch to your 'swag' mode for this one and, of course, ask your bridesmaids to help you with your lehenga while you hop on to the bike. Then slay all the silly ideas of how a bride should act.
7. Band, Baaja and the bride
Start with the traditional Phoolon ki Chaadar entry. Then bring in the twist by showing off your dance skills. What better way to announce that you're not a shy or coy bride but a millennial rockstar! You will take your wedding party by surprise since it is the bride's family and cousins who perform at the wedding and not the bride herself. Keep your choreography simple wince you'd not be able to move freely in your wedding lehenga and the heavy bridal jewellery.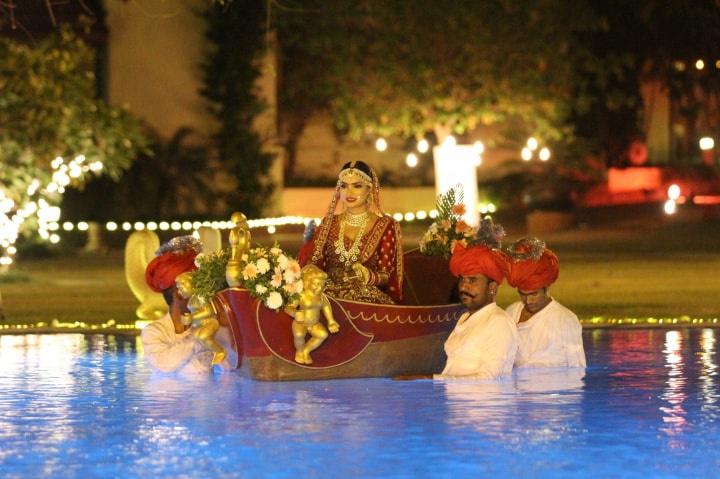 When you have such inspiration in sight, your own ideas start to sputter inside your head. Give them wings by sharing them with your wedding planner and see which ones can actually be executed. You'd be surprised to know what all is possible these days when it comes to Dulhan entry. A unique is the best way to personalise your wedding and making sure that it gets etched in the memory of your guests.
What is your idea of a Dulhan entry? Share with us in the comments below.