8 Romantic Couple Video Shots That will Add Spark to Your D-day Video
Hold your breaths brides and grooms-to-be! We have assembled an epic collection of Romantic Couple Video shots for you to see. Watch them, get inspired and make your own romantic video a saga of romance!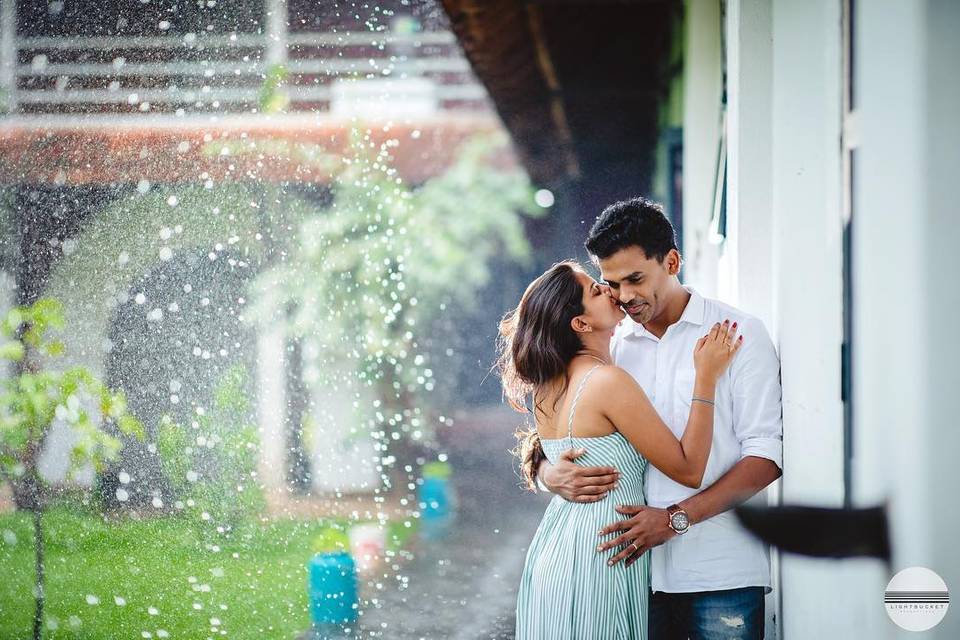 Are you a creative couple who is keen to document your story into a romantic saga? Well, guess what? You have a beautiful way to turn your expressions for each other into a captivating novella! So, if you are planning for some romantic pre-wedding shots or an elegant wedding video - then you can seep in the romance through some intimate captures! Thereby, to let you document your romantic journey in a beautiful way - here we have some latest inspirations for you. Scroll down to explore more.
Romantic Video Shots Near a Beach Resort
You will fall head over heels in love with this romantic couple video filmed by Vipul Sharma. This romantic couple video is compiled with numerous romantic shots of a beautiful love story. Yes, this video depicts the love story of Himanshi and Rishi. The featured duo in these pre-wedding shots has exhibited their love chemistry through some moments of pure intimacy! The photographer has captured this romantic couple video in a scenic backdrop of the land of beaches "Goa". This romantic video narrates how they are bonded. This pre-wedding video will melt your heart. So, if you are looking for some inspiration for your own romantic couple video - then this romantic video should serve the purpose.
Surreal Couple Video Amidst Royalty
If you have a thing for royalty, forts, scenic backdrop, mesmerizing grandeur then you must have a look at this romantic couple video for some inspiration. The romantic couple video has everything so dreamy! Further, direction, cinematography, theme and video shots are taken brilliantly by an ace photography company- Sunny Dhiman Photography! The romantic photo video is breathtaking and inventive and we are sure that this romantic video will sway the millennials of today! So, without further ado- just bookmark this video for your own pre-wedding romantic couple video.
Romantic Couple Video with a scenic backdrop
If you have envisioned your couple video as something ethereal, alluring and romantic then you should save this only. Yes, this romantic video by White Frog Productions is stirring because of the raw sentiments in it. These romantic shots are taken to form a perfect pre-wedding romantic couple video. Romance shooting with the real emotions is something you should look for in your own romantic video photo. So, click, view and plan your own romantic couple video whilst taking inspiration from this couple video with a scenic backdrop.
Romance Shooting amidst the Sand dunes
If you are planning a destination wedding for yourself at an exotic destination, then here is something for you. Yes, make your own romantic video and photo exotic whilst you take inspiration from this romantic wedding video. Nilakshi and Vijay went to Dubai to get this video done by Studio Kelly Photography. If you are contemplating getting captured amidst pristine water, suave yachts and sand dunes - then don't miss watching this romantic video with a romantic song!
Riverside Romantic Photo Video
This romantic video by Photoklicker Photography is a complete narrative of a beautiful love story. The rendezvous that bloomed into a beautiful bond is all depicted in the romantic photo video, The riverside backdrop in Rishikesh is further elevating the entire vibe of this romance shooting video. We are in awe with the chemistry of these romantic shots. We are sure that you will love it too! Press and explore to see how you can make your romantic video photo a mesmerizing one.
Couple Romance Videos for Millennials
So what if you can't sing? Neither do most of our movie stars!! You can always lip-sing! Watch this lip-dub couple romancing video created by Amit Sood Photography where the couple has so efficiently shot their pre-wedding song by lip-singing the lyrics. Coordinate with your videographer to match your dubbing with the song to make a spectacular romantic video com.
Dream-like Romantic Couple Videos
These romantic couple videos beautifully narrate the story of the couple's journey with each other. The first romantic couple video by Nitish Thakur and the second romantic video by Prism Films are stealing the limelight for all beautiful reasons. So do take cues from these romantic couple videos and blend them with your own unique love story! Have a clear conversation with your photographer about your needs and just have a good time shooting! Also, remember to choose romantic video couple song as per the chemistry you both share. The video that shows the real romance shooting is often cherished and treasured for lifetime. Bookmark these romantic couple videos now for your romantic pre-wedding video now!
Have you finalized your wedding photographer yet? Do take a look at our vendor's list and let us know! We will be happy to help!
- With Words by Alaknanda Bhattacharya